10 Top-Rated Resorts on Anna Maria Island, FL
A serene, old-school paradise lies on Anna Maria Island, a seven-mile isle on Florida's Gulf Coast. Spotted with lush mangrove forests, pristine white-sand beaches, and sparkling emerald waves, this is a quiet destination flanked by charming resorts perfect for couples, families, and pet-lovers.
Old Florida Charm seeps from the walls of Anna Maria Island's best resorts, offering guests a chance to lap up some Floridian sun while lazing about in a quiet beach setting devoid of high-rises and loud revelers found at busier Florida locales (we're looking at you, Miami).
Whether you're looking for a quaint family-friendly resort or an accommodation with added luxury, you'll find it on our list of the best resorts on Anna Maria Island.
1. Anna Maria Beach Resort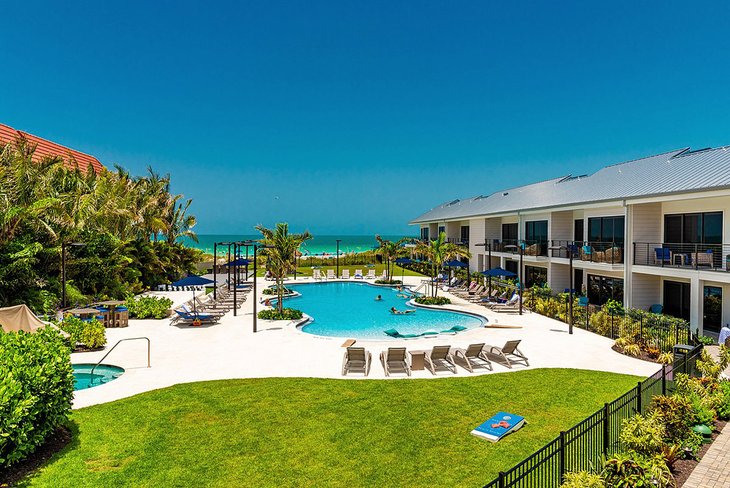 Accommodation: Anna Maria Beach Resort
If you're looking for a touch of luxury with your island vacation, you've come to the right place. Anna Maria Beach Resort combines modern amenities with sleek California Coastal design in a beach setting you'll find hard to resist.
Boasting a large, heated outdoor pool with a hot tub, and a prime location on the pristine white sand beach, it's hard to dislike this island getaway. Plus, the staff are uber friendly and exceedingly helpful.
All 31 units boast private balconies, kitchens (in the suites) or kitchenettes (in the other rooms). If you're hoping for an optimal view of the Gulf, choose a room on the upper floor. That said, many lower level rooms offer great vistas, and the pool view is just as beautiful at this pretty resort.
Relax in a pool cabana (for a fee), play a game of giant chess, or challenge your travel partners to cornhole on the lush, green lawn. You can also spend an evening by the outdoor fire pit or cook up dinner on the grill.
Formerly the Blue Water Beach Club, this newly renovated resort offers guests a high-end experience at an affordable price.
Address: 6306 Gulf Drive, Holmes Beach, Florida
2. Palm Tree Villas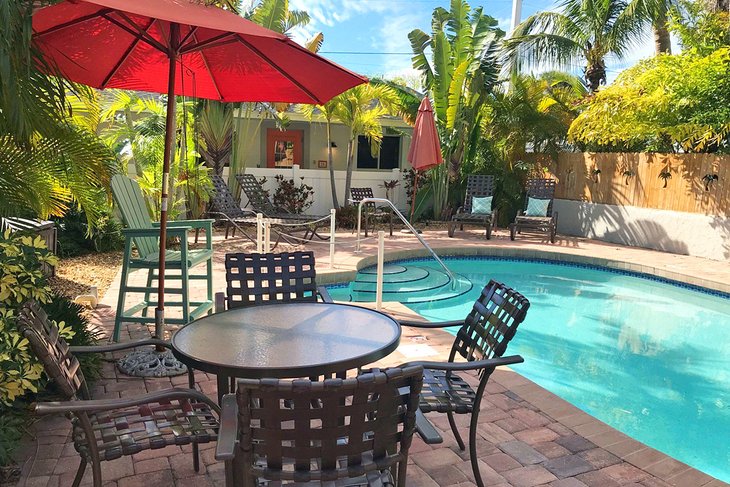 Accommodation: Palm Tree Villas
Whether you're a couple looking for a romantic weekend away or a family hoping to build sandcastles on the beach, you'll find Palm Tree Villas to be an ideal place to stay.
Newly renovated and super clean accommodations are on offer at this three-star resort, and they come at a price that won't leave you breathless. Set on the pristine Holmes Beach, this eight-suite resort values serenity and convenience. You won't have to fight for a lounge chair at the pool.
Need more space? The team at Palm Tree Villas can combine multiple suites to offer three bedrooms and three bathrooms to use during your stay. New pillow-top mattresses and private patios are welcome additions to every room, while full kitchens make it easy to stay in for a home-cooked meal. The outdoor grills are another helpful tool for dinner prep, which makes this an uber convenient resort for families.
During the day, lounge by the heated swimming pool or wander around the property before walking just over a block to the beach.
Address: 207 66th Street, Holmes Beach, Florida
3. BridgeWalk a Landmark Resort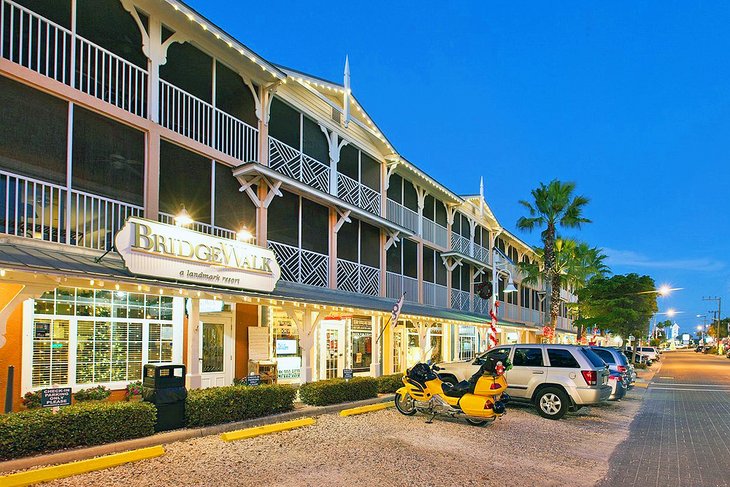 Accommodation: BridgeWalk a Landmark Resort
BridgeWalk consists of a stylish building set on Bridge Street in historic Bradenton Beach. Its 28 rooms are funky and fun, spread between three buildings: the Royal Palm, Sabal Palm, and Queen Palm. Almost every unit offers a Jacuzzi tub and large, screened-in verandah. Blink, and you may just think you're in Key West.
Guests have access to a relaxing spa and outdoor pool, both of which make it easy to unwind. The resort is conveniently situated in the heart of town, making it easy to reach nearby attractions, grab a bite to eat off-site, or shop for sundries and souvenirs. Speaking of eating, BridgeWalk is home to the Island Time Bar & Grill, a quaint venue offering tasty fare in an open-air setting with a spectacular sunset view.
Another bonus, if you decide to make your own meal or snack in your unit, the daily maid service will take care of your dishes. Now that's what we call a vacation!
Address: 100 Bridge Street, Bradenton Beach, Florida
4. Cedar Cove Resort & Cottages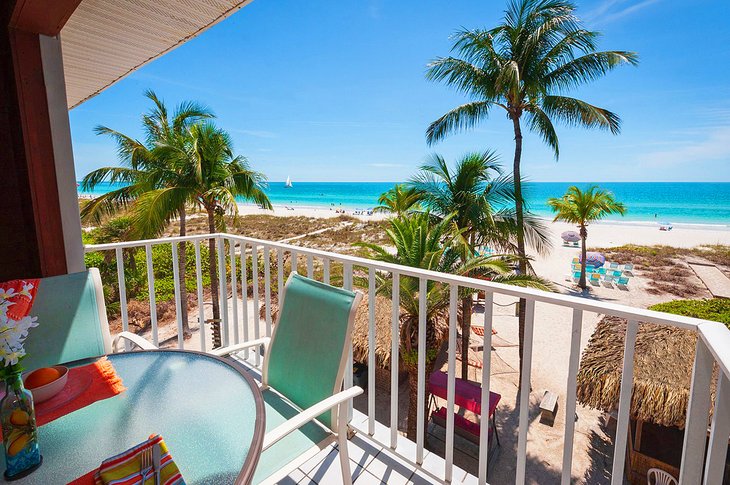 Accommodation: Cedar Cove Resort & Cottages
Visitors to the charming Cedar Cove Resort & Cottages have lots of options when it comes to where to rest their heads. These include 19 accommodations ranging from a one-bedroom, beachfront penthouse to the two-bedroom Key Lime Cottage set mere steps from the white, sandy shore. They're all designed to make it easy to feel at home here, especially for an extended stay.
This boutique resort consists of multiple buildings, a main lodge featuring penthouses and suites, and quaint cottages boasting plenty of space in their separate units, as well as patios or balconies and access to a private section of beach. The style throughout seeps Old Florida charm.
Marvel at the scenery, rock on a hammock, or cycle the bike trail. While there's no pool on-site, the majority of guests don't mind since the ocean is a wonderful place to enjoy a cooling dip. While on the beach, be sure to take advantage of the complimentary beach chairs, umbrellas, and towels provided by the resort.
Are you an avid fan of watching the sun set from your room? Only some of the suites offer an ocean view, so be sure to request this when booking. When hunger pangs hit, whip up a meal in your kitchenette, use the on-site grill, or head into town for a bite.
Address: 2710 Gulf Drive, Holmes Beach, Florida
5. Bungalow Beach Resort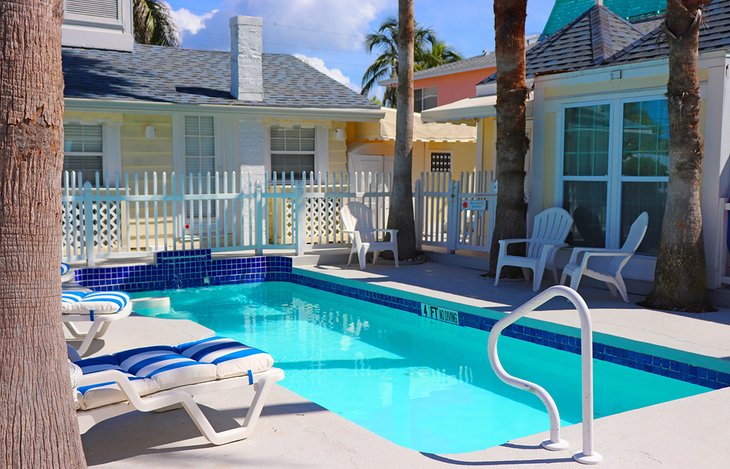 Accommodation: Bungalow Beach Resort
If you like to feel at home while on vacation, the romantic Bungalow Beach Resort will tick all your holiday boxes. Choose from one of 15 spacious bungalows, which are rumored to have once been used as army barracks. They've been revamped into romantic one-, two-, or three-bedroom enclaves filled with creature comforts like full kitchens or kitchenettes.
If you're a real fan of the beach, book the one-bedroom Mermaid bungalow (a.k.a. Room 116). It sits right on the sand, offering a spectacular view of the Gulf. Those who prefer more privacy can opt for a stay in the larger, more lavish Island Pool Home, which boasts its own heated pool.
While there's no restaurant on the site of this Old Florida charmer, two grills are available in the courtyard, and there are plenty of restaurants nearby. Of course, you also have access to your kitchen or kitchenette. Lounge by the pool, relax on the private stretch of sandy beach, or tour the island on the free trolley that stops mere steps from the resort and takes you to places of interest in the area.
Address: 2000 Gulf Drive N, Bradenton Beach, Florida
6. Sunrise Garden Resort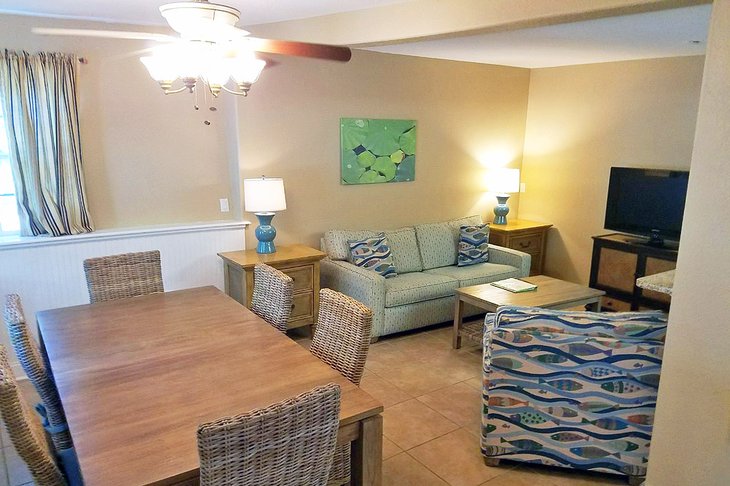 Accommodation: Sunrise Garden Resort
It's hard to feel down at the Sunrise Garden Resort. This relaxing hideaway features an inviting lagoon-shaped pool surrounded by lush vegetation, tiki umbrellas, and grills. A quiet gem, this lovely spot acts more like a small hotel than a resort. You won't find amenities such as a fitness center or restaurant, but you will find comfortable rooms complete with kitchenettes at this three-star property.
The resort contains 15 very homey and comfortable rooms, each boasting a private patio or balcony to help you relax and breathe in the fresh Florida air. Opt for a two-bedroom apartment if you're looking for extra space.
While kids are welcome, the majority of guests here are older and travel without families. The pool is quite small, so if you have little ones who love to frolic in the water and cannonball all day long, you may want to look elsewhere.
Inside, the décor is basic, but you won't be spending a ton of time in your room, so that won't matter. With the beach a two-minute walk away and shops and restaurants also within walking distance, you will likely spend most of your time enjoying Florida's sunny skies from outside.
Address: 512 Spring Avenue, Anna Maria, Florida
7. Seaside at Anna Maria Island Inn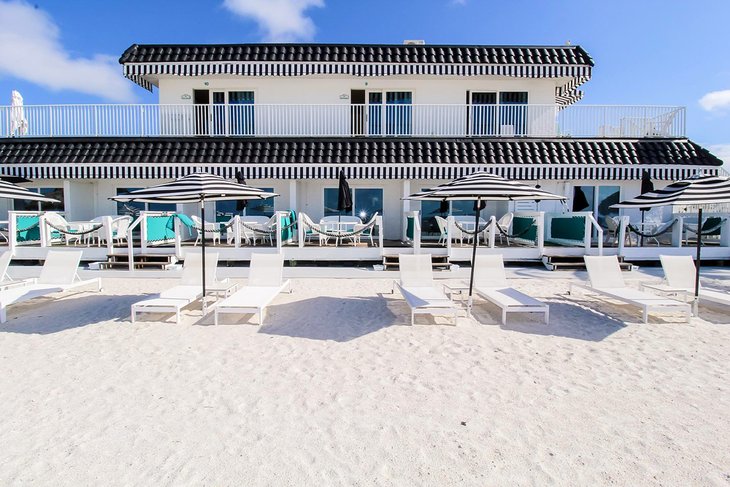 Accommodation: Seaside at Anna Maria Island Inn
Seaside is one of multiple properties that comprise the Anna Maria Island Inn. A small resort, it boasts the beachfront location many hope for in a Florida vacation. This charming spot is set upon 600 feet of soft, white sand and offers guests stunning views of the Gulf.
It's here that you'll find tiki-shaded tables and stools, Adirondack chairs, beach loungers, and umbrellas to make your day more comfortable. At night, head to the nearby shops and restaurants that are within walking distance. Or relax on your private balcony with a homemade meal.
Despite this being a three-star resort, you'll gain a bevy of higher-end facilities and amenities like furnished balconies. Each room comes with a small kitchenette, which makes life much easier if you're traveling with kids. Open your sliding door and step onto the beach — it's hard to get closer to the sand.
During the day, jump in the pool for a much needed cool down, or play a game of cards. At night, head to the nearby attractions, shops, and restaurants that are within walking distance. Or relax on your private balcony with a homemade meal.
Address: 2200 Gulf Drive N, Bradenton Beach, Florida
8. Tortuga Inn Beach Resort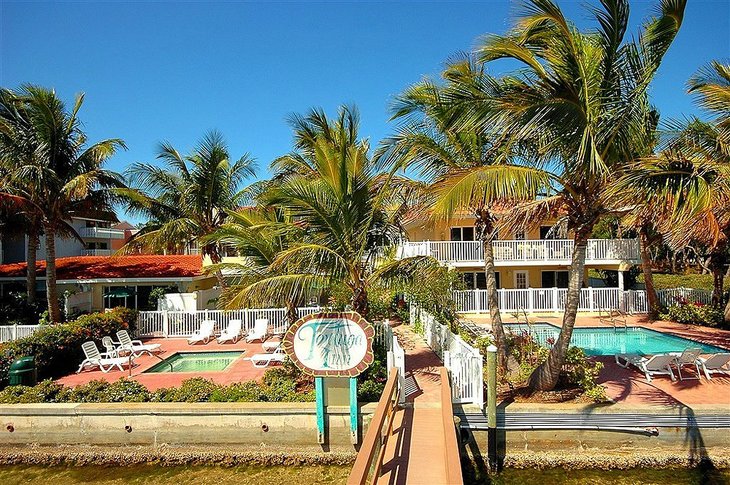 Accommodation: Tortuga Inn Beach Resort
One of two Anna Maria Island Resorts, Tortuga Inn offers travelers an affordable and very comfortable stay steps from the beach and within walking distance of tourist attractions, shops and restaurants. Complimentary beach chairs and umbrellas make it easy to set up for a day spent marveling at the sparkling waves, while two pools are the perfect place to enjoy a cooling dip.
When you've had enough sun, head back to your clean, airy, and well-decorated room - you can choose from a hotel-type unit; a studio; or a one-, two-, or three-bedroom condo. Then, lounge on the screened porch, soak in the tub, or cook a meal in the well-stocked kitchen or kitchenette. Many units offer a washer and dryer, which is perfect for those traveling with kids.
Tortuga Inn's sister resort, Tradewinds Beach Resort, is just two hotels away and offers one- and two-bedroom units featuring kitchens and outdoor patios. It boasts a private fishing dock and a bay front pool.
Address: 1325 Gulf Drive N, Bradenton Beach, Florida
9. Bali Hai Beachfront Resort and Spa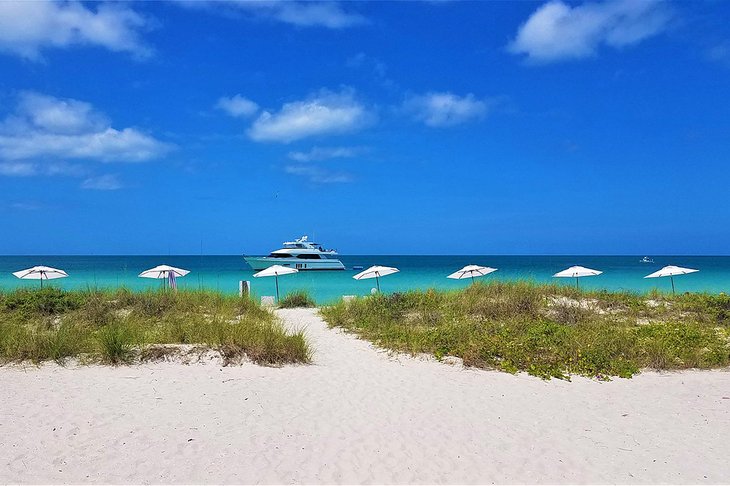 Accommodation: Bali Hai Beachfront Resort and Spa
The updated sections of the Bali Hai Beachfront Resort and Spa are truly luxurious. We're talking luxury beachside suites boasting luscious views, upscale furnishings, a kitchenette, and carved wood accents. It's very easy to forget you're in a three-star resort with such high-end finishings.
The new Island Rooms are also worthy of a stay. They boast large smart TVs, uber comfy beds, and a mini-fridge and microwave. On-site, you'll find all you need for an enjoyable Floridian vacay - a heated pool, poolside cabanas, 300 feet of private beach, complimentary beach chairs and umbrellas, and the relaxing Sea & Sol Spa. With such great amenities, this is one of the best places to visit with the family.
The Bali Hai Lounge offers coffee, cool beverages, and light eats, including "grab and go" goodies like sandwiches and chips. Hoping to explore the area? Rent an electric GEM car for the day (or longer) on-site.
Address: 6900 Gulf Drive, Holmes Beach, Florida
10. Silver Surf Gulf Beach Resort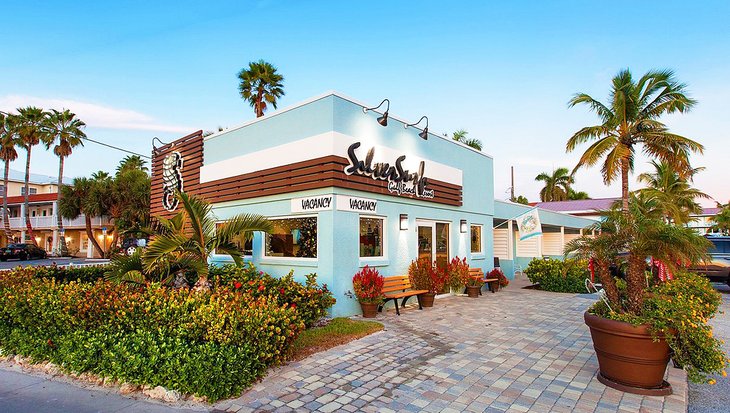 Accommodation: Silver Surf Gulf Beach Resort
Silver Surf Gulf Beach Resort is BridgeWalk's smaller, more affordable sister property, a two-star accommodation with a private beach. Operating for more than 30 years, this popular resort is located on Gulf Drive North, also in Bradenton Beach.
Guests can choose between 50 units, which are set just across the street from a private section of the soft, sandy beach. Complimentary to-go breakfast is available daily, and each room includes a kitchenette, patio, and free Wi-Fi, as well as access to a grill. If you're in town for more than a couple of days, this is an ideal place to stay. It's easy to make your room feel like home, and there's plenty of space on hand to house a family.
A heated pool is perfect for those who prefer to dive into calm water or lounge on a deck chair nearby. Book a massage on the beach, hop on the island's free trolley, or rent a bike to explore the neighborhood.
Address: 1301 Gulf Drive North, Bradenton Beach, Florida
Map of Resorts on Anna Maria Island, FL