12 Top-Rated Resorts in Tampa, FL
Authors Michael and Lana Law visit Tampa on a regular basis and love the vibe, restaurant scene, and great accommodations in one of Florida's best cities.
Whether you are visiting Tampa to explore Busch Gardens with your family or for a romantic or fun getaway in the city, there are accommodation options for all budgets in the Tampa Bay metro area.
Most of Tampa's tourist attractions are found in a couple of different central neighborhoods, like Hyde Park North, Ybor City, downtown, and the Channel District, and in all of these, you will find a solid mix of good-value and luxury properties, as well as plenty of dining and shopping choices.
The city's network of roads and the I-275 Interstate make getting around Tampa quick and easy, and you can get to almost anywhere in the city from these resorts within 10 to 15 minutes.
Just north of downtown is one of Tampa's biggest tourist draws, the African-themed Busch Gardens amusement park, where you'll find both safari adventures and roller coasters. This area is also home to an assortment of dining options and hotels and resorts in multiple price brackets.
Heading west from downtown, you'll run into the bay itself, and Raymond James Stadium, where the Tampa Bay Buccaneers play football, is also in this area.
No matter what you have planned while you're visiting, find a great place to stay with our list of the best resorts in Tampa.
1. JW Marriott Tampa Water Street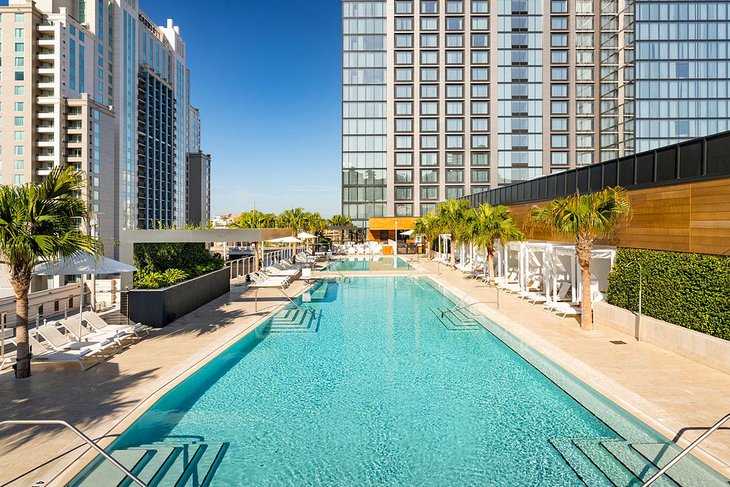 Accommodation: JW Marriott Tampa Water Street
Highlights: Spacious rooms, amazing views, luxe pools, and top-notch restaurants
The newly opened JW Marriott Tampa Water Street has been the talk of Tampa since it was announced that the city would be getting its first 5-star hotel. This luxury hotel is set in the Water Street neighborhood and features multiple restaurants, resort-inspired pools on the sixth floor, a spa, and a 24-hour fitness center, to name just some of the highlights.
Spacious rooms and suites, many with floor-to-ceiling windows, come in various sizes and configurations for whatever your needs may be. Water-inspired decor, high-end amenities, and many personal touches provide the ultimate in luxury.
The hotel's location puts you in close proximity to many of the city's highlights, including the Amalie Arena. In front of the hotel, the Riverwalk offers easy access to several key areas of the city, including Sparkman Wharf, just a 10-minute walk away.
2. Epicurean Hotel, Autograph Collection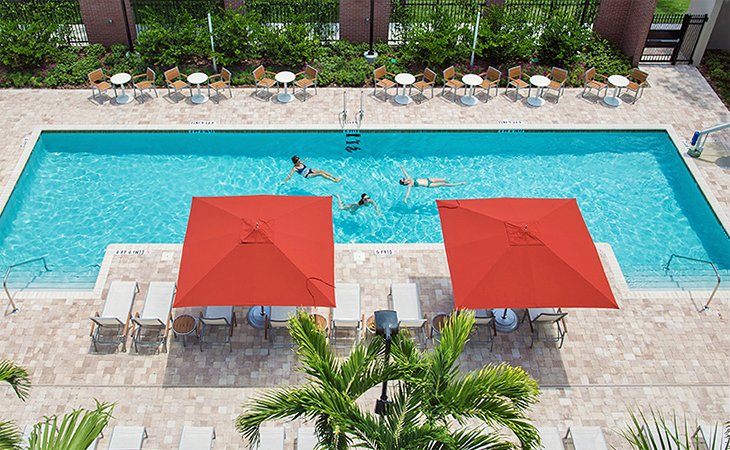 Accommodation: Epicurean Hotel
Highlights: High-end rooms and one of Tampa's best restaurants, plus a patisserie
In the historic Hyde Park North neighborhood, the Epicurean Hotel is one of Tampa's top luxury hotels and an excellent choice if you are looking for a foodie experience right at your hotel.
Besides swanky rooms with flat-screen TVs and L'occitane bath products, this boutique hotel is known for its restaurant Elevage Soho Kitchen & Bar. where the James Beard Award semifinalist for Best Chef, Chad Johnson, has created an imaginative global menu.
Beyond the restaurant, there is an on-site patisserie; a lovely swimming pool; Spa Evangeline, with a unique treatment menu; and a rooftop area, with views of downtown Tampa and the bay that is awesome for sunset viewing.
3. The Current Hotel, Autograph Collection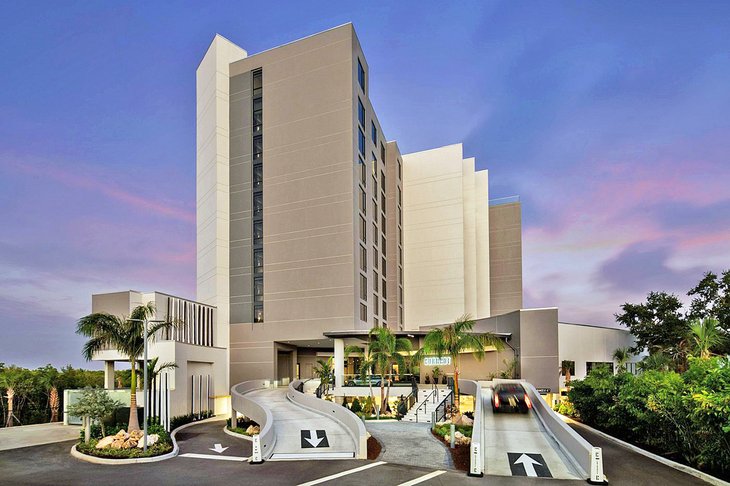 Accommodation: The Current Hotel, Autograph Collection
Highlights: Floor-to-ceiling windows with incredible views, marble bathrooms, infinity pool, private beach
With its own beach and a fantastic setting on the waterfront, The Current, opened in late 2019, offers a resort experience without having to leave the city limits. Relax by the oceanside infinity pool, gaze out from the private beach, or enjoy the views from an indoor or outdoor rooftop table.
Each room at The Current offers fantastic vistas over Tampa Bay from floor-to-ceiling windows. Wake in the morning to a fantastic sunrise, and watch the birds along the shore. The spacious rooms are tastefully decorated and offer luxurious amenities, including large marble bathrooms, mini-fridges, and coffee makers. Some of the corner suites offer views in two directions.
The hotel's Julian Restaurant on the main floor provides a tasty option for breakfast, lunch, and dinner. Also on-site is a fitness center, as well as ballrooms and conference and event space.
Due to the location on the waterfront, the only option for parking at The Current is valet parking, but it is extremely efficient. Drive time to downtown Tampa is about 15 minutes, and the airport is less than 10 minutes away.
4. Grand Hyatt Tampa Bay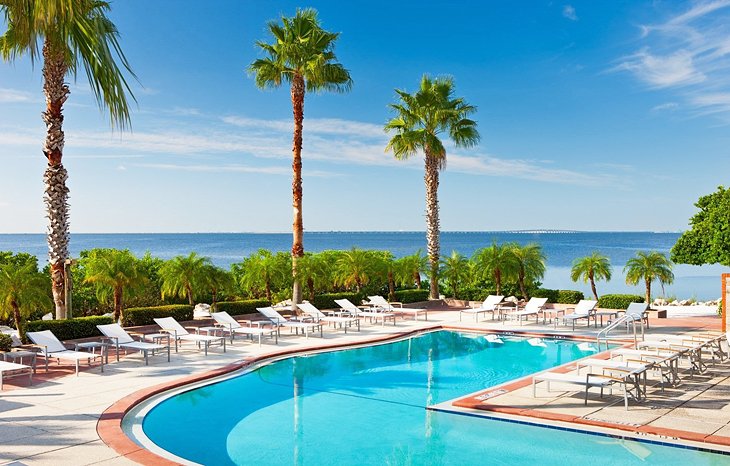 Accommodation: Grand Hyatt Tampa Bay
Highlights: Quiet waterfront location, private beach, two pools, three restaurants
Another waterfront resort hotel, the Grand Hyatt Tampa Bay is set on a 35-acre nature reserve. Two swimming pools and an artificial beach complete with lounge chairs looking out over the ocean are some of the key highlights for guests looking for a resort experience. It also features three restaurants to choose from, along with pool service.
Other amenities include a 24-hour fitness center with high-tech equipment, two tennis courts, ping-pong tables, and even a fire pit.
The Grand Hyatt caters to a mix of business and leisure travelers in its 442 rooms and private casitas, which are set in a cluster surrounded by mangroves. The luxury property features modern decor with neutral hues in the rooms, flat-screen TVs, mini-fridges, and coffee makers.
The hotel is very close to the airport, and convenient if you have an early morning flight. The drive to downtown takes about 10 minutes.
5. Renaissance Tampa International Plaza Hotel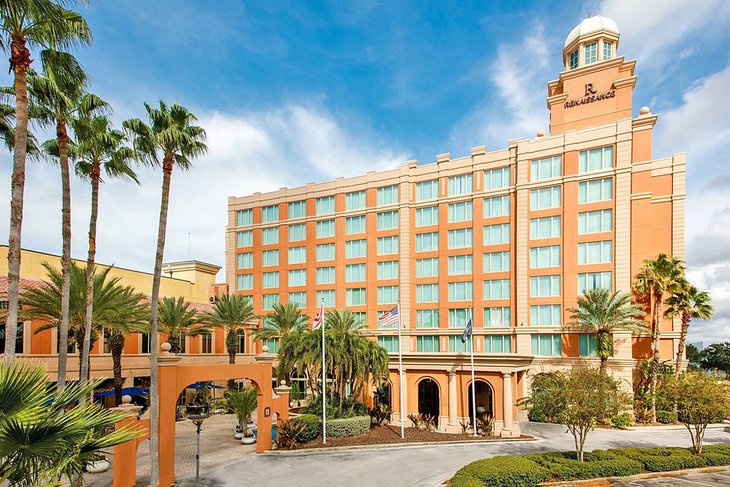 Accommodation: Renaissance Tampa International Plaza Hotel
Highlights: Ideal location near the stadium and airport, top-notch Italian restaurant
A favorite with business travelers, the Renaissance Tampa International Plaza Hotel is near Raymond James Stadium and the airport. It features contemporary and comfortable rooms with 42-inch smart TVs, iPod docks, and marble bathrooms. It also has a club floor with lounge access.
Beyond the rooms, you'll find a very good Italian restaurant, Pelagia Trattoria; an outdoor swimming pool; and a business center with some 15 event rooms.
This isn't the best pick for families, as it doesn't really have much in the way of child-friendly amenities. Staff members, however, are very friendly and attentive.
6. Le Meridien Tampa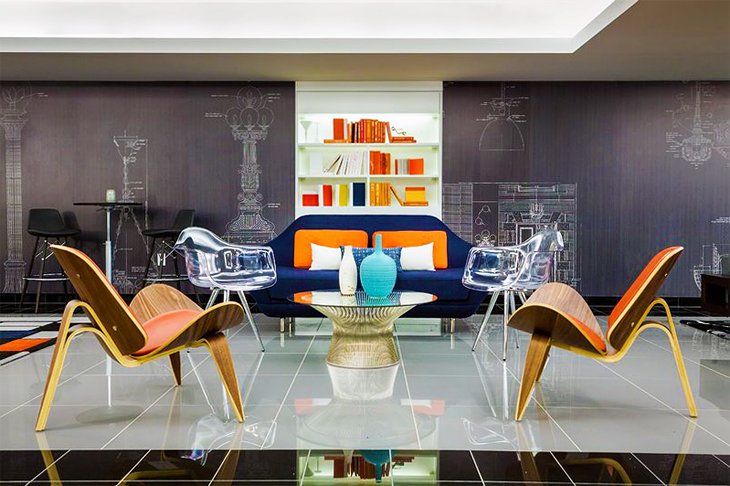 Accommodation: Le Meridien Tampa
Highlights: Prime downtown location in a historically significant building, seafood restaurant Bizou Brasserie
Le Meridien Tampa is one of the best hotels in the city and, although it is not a waterfront resort, it offers a resort-like experience in the heart of the city. Once a federal courthouse, this property is located downtown with access to many of the city's top attractions.
Where Le Meridien shines is the interior decor, which maintains original courthouse details, including signs notating the judge's chambers, marble columns, and historic fixtures. The property is on the National Register of Historic Places.
The 130 rooms are comfortable with modern furnishings and amenities like flat-screen TVs. Also on-site is the French restaurant, Bizou Brasserie, which focuses on fresh seafood.
There is also an outdoor swimming pool and a 24-hour fitness center. It is a good pick for families, couples, or business travelers.
7. The Westin Tampa Waterside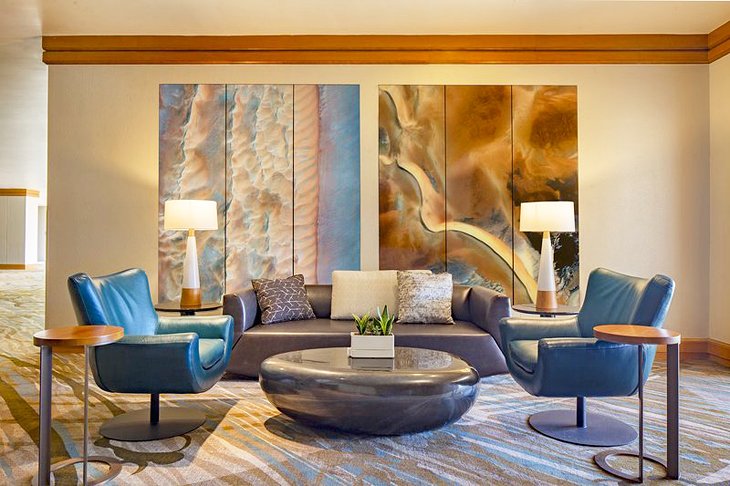 Accommodation: The Westin Tampa Waterside
Highlights: Recently renovated, bathrooms have both showers and bathtubs, private beach
Expect awesome Old Tampa Bay views from many of the 244 rooms and suites at the newly renovated Westin Tampa Waterside. The rooms also feature the brand's super-comfy trademark Heavenly Beds, floor-to-ceiling windows, and contemporary decor.
Bathrooms have separate showers and tubs, and you can book one of the WestinWORKOUT Rooms if you need an in-room spin bike or treadmill, adjustable dumbbells, and a few other fitness-forward extras.
On-site amenities include a beach fronting the bay within stumbling distance of the lobby, a heated indoor pool, and the Blue Harbour Eatery with delicious food. Staff members are friendly and attend to guests' every whim.
8. Emerald Greens Condo Resort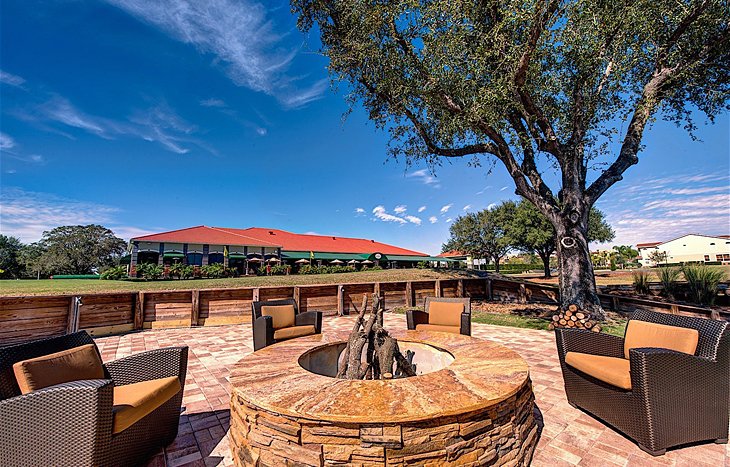 Accommodation: Emerald Greens Condo Resort
Highlights: Spacious condos with full kitchens and spacious patios, three golf courses, tennis courts, outdoor pool
Emerald Greens Condo Resort is a great-value property that's especially popular with families. Set on the grounds of the Carrollwood Country Club, which is home to three golf courses, it offers modern all-condo accommodations, with large bedrooms; screened-in porches; and views of either the clubhouse, pool, or tennis courts.
And despite the private vibe of the one- or two-bedroom digs, this property offers all the services of a hotel. There is an on-site restaurant at the clubhouse as well as a huge swimming pool, tennis courts, and a fitness center with a steam room.
9. Seminole Hard Rock Hotel Tampa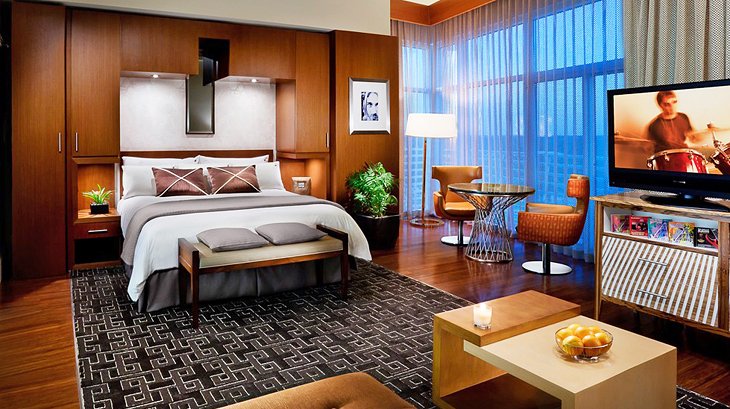 Accommodation: Seminole Hard Rock Hotel Tampa
Highlights: Cool décor, three restaurants, jetted tubs, on-site spa, pet-friendly
The rooms at the Seminole Hard Rock Hotel Tampa get high marks for their contemporary design, with Art Deco-inspired flourishes and luxury extras like Egyptian cotton sheets, flat-screen TVs, plush Hard Rock robes, and signature bath amenities.
The higher-end rooms also feature floor-to-ceiling windows and extra-large bathrooms with separate showers and jetted tubs. For families, there are adjoining room options.
The destination resort property also features multiple restaurants. Try Cipresso if you are craving Italian fare. It is one of the signature restaurants on the grounds and has a creative menu inspired by Italian classics. There is also a chef-driven American menu at the more laid-back Rez Grill.
Other on-site amenities include a swimming pool and a relaxing spa, which does a full range of massages, facials, and body wraps and treatments.
The location is a bit removed, on the eastern side of Tampa, and you'll need a car to get around.
10. Sailport Waterfront Suites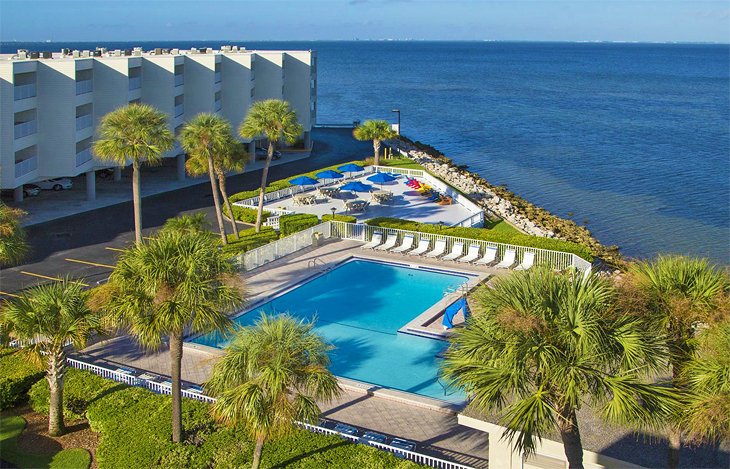 Accommodation: Sailport Waterfront Suites
Highlights: Full kitchens in spacious one- and two-bedroom suites, waterfront pool, and BBQs
Looking out onto the bay and just a mile from Ben T. Davis Beach, which is known for its sunset views, the Sailport Waterfront Suites is a great family pick. The property features contemporary one- and two-bedroom suites with plenty of space to spread out.
They come with full kitchens, workstations with ergonomic chairs, pull-out sofas, and private balconies with views. Some units even have bunk beds for the kids.
While there is no restaurant on-site, amenities beyond the suites include a geothermal pool, outdoor fitness area, and even barbecue grills.
11. Hotel Alba, Tapestry Collection by Hilton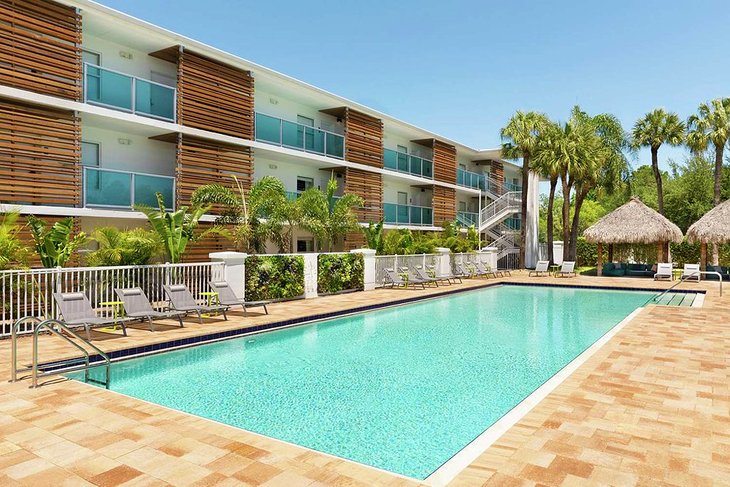 Accommodation: Hotel Alba, Tapestry Collection by Hilton
Highlights: Recently renovated, outdoor pool with cabanas, and a well-regarded Spanish restaurant on site
The Hotel Alba is not far from the Raymond James Stadium, where the Buccaneers play NFL football. It is also convenient to the airport.
The recently renovated hotel has a trendy, modern vibe throughout. Expect bold-hued accent walls with matching chairs and hardwood floors in the rooms and suites. The beds are also comfy. Suites are great for families, as they have pullout sofas in separate living rooms.
The heated outdoor swimming pool with cabanas and sun loungers is a popular amenity. There is also a 24-hour fitness center on the grounds and free parking.
You can grab a bite to eat at their casual restaurant The Spaniard, which features innovative Spanish-influenced fare with fresh, local ingredients. It has live music some nights as well.
12. Westin Tampa Bay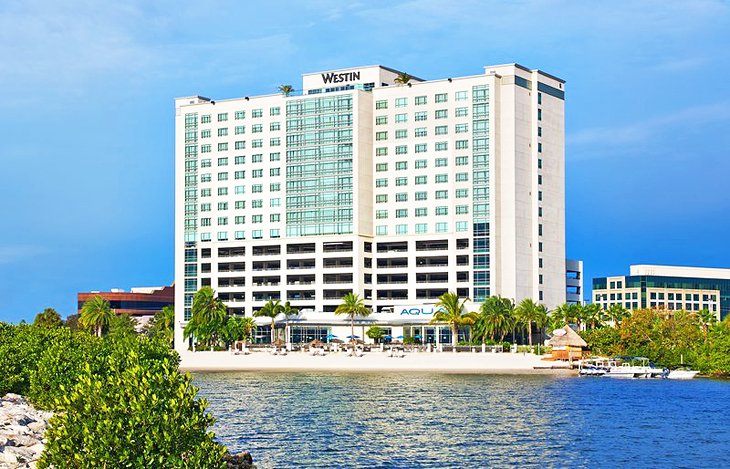 Accommodation: Westin Tampa Bay
Highlights: Waterfront rooms with awesome views, private beach, and Aqua Restaurant has an amazing patio
Just two blocks from the Tampa Convention Center and a 10-minute stroll from downtown, The Westin Tampa Waterside is right on the water and a popular choice for business travelers.
Located on Harbor Island, the mid-rise hotel with a marina features lush landscaping and a mix of rooms and suites with city or bay views, comfy pillow-top mattresses, and ergonomic chairs. The suites add space, with separate living areas and pullout sofas.
Grab breakfast, lunch, or dinner at Aqua. The restaurant features harbor views, an open kitchen, and modern American cuisine. Other amenities include a coffee shop, a heated outdoor pool, and an exercise room.
The hotel is located in the same general area as the new Current Hotel.
Map of Resorts in Tampa, FL
Best Time to Visit Tampa
The best time to visit Tampa is in the late fall during the months of October, November, and December. At this time the temperatures are pleasant and the threat of unstable weather resulting from hurricanes will have passed.
This time of year sees low humidity and predominately sunny skies. For those looking to hit the beach in nearby St. Petersburg, you'll find the waters of the Gulf of Mexico nice and warm and the beaches deserted.
Another great timeframe to visit is in March and April. At this time of year, the temperatures start to rise, the humidity returns, and the sun-starved northerners arrive in droves, especially around Easter and March school break. It's definitely warm enough to hit the beach, although the Gulf waters are cool.
May is the start of the rainy season that lasts through June, July, and August. Although it's the rainy season, this means that it mostly rains late in the afternoon when the heat and humidity combine for tremendous downpours.
The winter months of December, January, and February are surprisingly cool, have low humidity, and tend to be windy.