7 Top-Rated Resorts in Pensacola, FL
One of the most beautiful beach destinations in the US, Pensacola is a popular spring, summer, and fall haven for those seeking a relaxing seaside holiday. White-sand beaches stretch on for endless miles along the Gulf Coast here, near the Florida and Alabama border.
Most vacationers looking for beach resorts head to Pensacola Beach, where you can find a good selection of accommodation options, as well as restaurants and things to do. Most of the resorts are found along Via de Luna Drive (State Road 399) or to the west on Fort Pickens Road. These roads front the most beautiful stretch of beach in Pensacola, and most of the restaurants and retail are found at the intersection of Via de Luna Drive and Fort Pickens Road.
When it comes time to book your stay, you'll find a wide variety of accommodation to match any budget or style, whether you are here for a family vacation or a quiet getaway.
Whatever your preference — and whatever the season — you'll find beautiful places to stay on our list of the best resorts in Pensacola.
See also: Best Things to Do in Pensacola, FL
1. Margaritaville Beach Hotel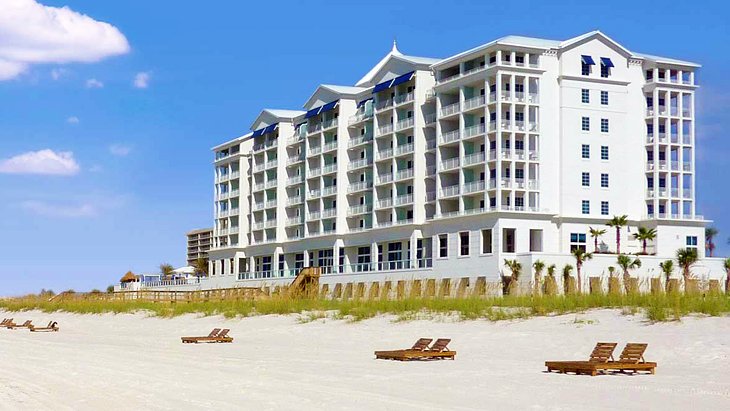 Accommodation: Margaritaville Beach Hotel
There's little denying the lasting effect singer Jimmy Buffett has had on tourism in Florida. The recently renovated Margaritaville Beach Hotel is no exception, and conjures dreams of a tropical paradise for those booking a stay here.
Consisting of 162 guestrooms, this 4-star resort offers a number of larger suites that are certainly worth considering. Of these, one of the most popular options are the spacious corner king rooms with their large wraparound balconies.
The resort offers plenty of things to do on-site. Most people stay here for the fabulous beach, and if you want to do more than soak up the sun from a lounge chair, you can rent kayaks, paddleboards, and bikes. Staff can assist with booking various adventures, including dolphin cruises, snorkeling, and fishing expeditions. For children, the resort offers great programming and events, including crafts for kids, painting parties, and beach bingo to name but a few.
The resort also has a large outdoor swimming pool, a fitness center, and on-site and in-room dining. You can also rent beach gear, including chairs and umbrellas, and a gift shop is located on the premises.
Margaritaville Beach Hotel is in a great location, just a quick stroll from the Pensacola Beach Pier, where you can find plenty of action and fun beachside restaurants.
Address: 165 Fort Pickens Road, Pensacola Beach, Florida
2. Portofino Island Resort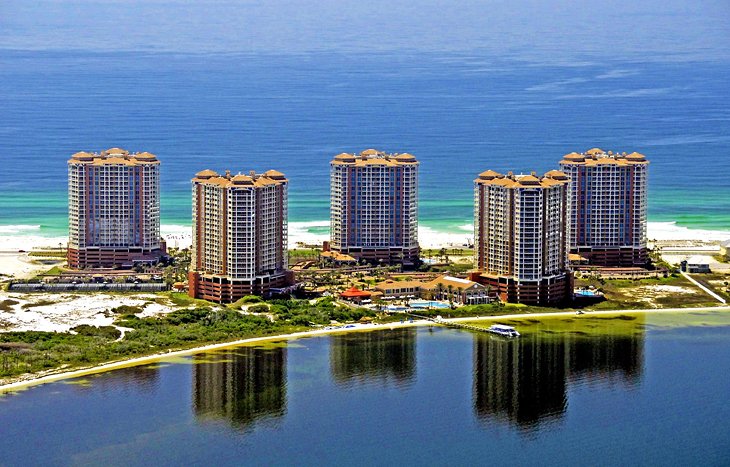 Accommodation: Portofino Island Resort
One of the largest luxury vacation properties on the Panhandle, Portofino Island Resort is a mix of hotel-style rentals and full-ownership condos. The property is large and sits on a beautiful stretch of beachfront with magnificent views over the Gulf of Mexico.
The perks are plentiful for those who choose to stay here, from the inclusion of beach seating and umbrellas to discounts on activities and excursions, cruises, and rentals of bikes and watercraft. A free round of golf is also included.
Resort amenities are world-class and include seven outdoor swimming pools, a large, well-equipped fitness center with classes and personal trainers, five tennis courts, a full-service spa, and three restaurants offering alfresco (and in-room) dining.
Among the most luxurious accommodation options are the magnificent two- and three-bedroom "Sky Homes." Each of these modern and spacious units comes with superb water views from the living areas and from the large balconies and barbecues, as well as full kitchens, two bathrooms, and access to an exclusive heated, outdoor swimming pool and hot tub. Added services if required include in-room chefs and massage treatments.
Address: 10 Portofino Drive, Pensacola Beach, Florida
3. Holiday Inn Resort Pensacola Beach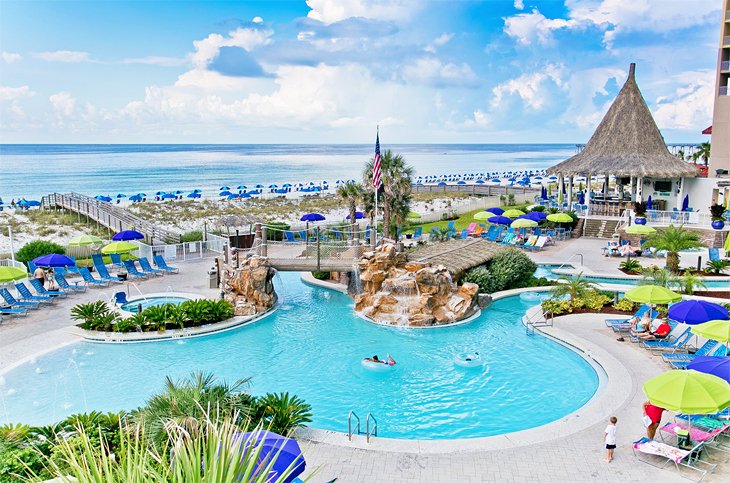 Accommodation: Holiday Inn Resort Pensacola Beach
Thanks to its proximity to the water — the beach is just steps away from the resort's guest rooms and amenities — the Holiday Inn Resort Pensacola Beach is a great place to stay. It's very much a family-friendly place, as evidenced by the availability of its colorful kids' suites and plenty of kid-friendly activities.
And young and old alike enjoy relaxing on the resort's 250-foot heated lazy river, and around the large swimming-pool with its huge deck and waterfall, along with two hot tubs. Other on-site amenities include a large business center with meeting rooms, a restaurant (including beachfront dining), a fire pit, fitness center, poolside movies, games room, convenience shop, and laundry facility.
The guest rooms at the Holiday Inn Resort Pensacola Beach are well-appointed, clean, and comfortable and come with a choice of king or two queen beds. Nice features include the addition of fridges and microwaves, Keurig coffee makers, large screen HD TVs, and spacious balconies. If available, request one of the larger family suites with the large wraparound balconies - they're worth the additional charge.
This resort is in the heart of the action on Pensacola Beach, not far from the Pier and within walking distance of several good restaurants, including the popular Flounder's Restaurant.
Address: 14 Via De Luna Drive, Pensacola Beach, Florida
4. SpringHill Suites by Marriott Pensacola Beach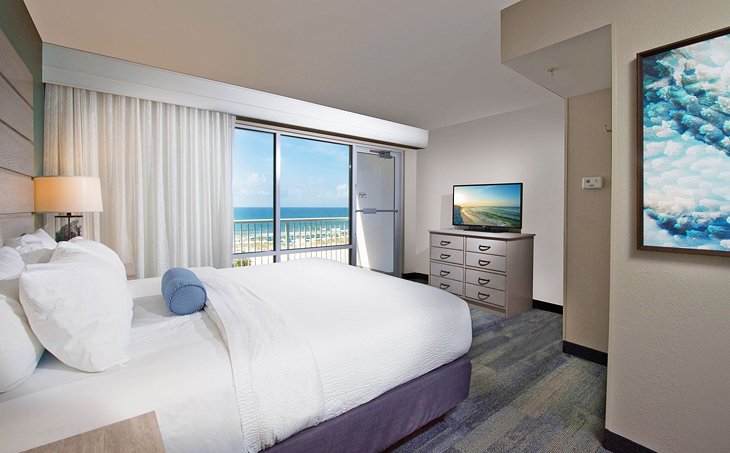 Accommodation: SpringHill Suites by Marriott Pensacola Beach
One of the newer hotels to spring up in the increasingly popular Pensacola Beach area, Marriott's SpringHill Suites Pensacola Beach is perfect for those wanting to explore the beautiful surroundings.
Notable on-site amenities include three heated outdoor swimming pools (one for adults only, plus a family pool and a kids' pool) and a fitness center. A nice perk is the inclusion of a free breakfast. For those who need to bring their work with them, there's also a business center.
The well-appointed guest rooms consist of a range of spacious suites. Popular options include the 450-square-foot standard rooms with a good-sized living area (separated from the bed by a half-wall), or the larger 600-square-foot deluxe version. Accessible rooms for those with mobility issues are also available.
Address: 24 Via De Luna Drive, Pensacola Beach, Florida
5. Hilton Pensacola Beach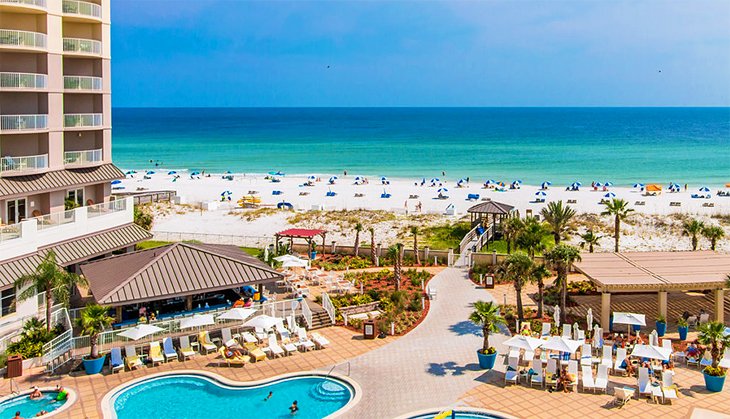 Accommodation: Hilton Pensacola Beach
The luxurious Hilton Pensacola Beach is well-known for incredible views. Each of the resort's 275 guest rooms come with uninterrupted views over the gulf or over the beautiful Santa Rosa Sound from their large balconies and through their floor-to-ceiling-windows. Rooms include a choice of spacious and bright king and double queen suites with features such as HD TVs, granite countertops, comfortable seating areas, along with handy fridges and microwaves.
For those needing more space, a number of elegant one-, two-, and three-bedroom suites are also available. These spacious units include everything needed to ensure a real home-away-from-home experience, and also make for a great romantic getaway for couples.
There's much to commend the resorts' first-rate amenities, too. Highlights include two heated outdoor swimming pools (plus a hot tub), as well as an indoor swimming pool, beach access, and poolside cabana and lounge rentals.
Also worth mentioning are the choice of casual or fine dining options at the resort's popular restaurants, a fitness center, and ample meeting and function spaces. There's also a handy gift and snack shop.
For those wanting to up the elegance, consider looking into the Executive Lounge options with its upgrade perks and privileges, including a complimentary breakfast.
Like several other resorts on Via de Luna, the Hilton Pensacola Beach is also in a great location, close to the Pier and good restaurants.
Address: 12 Via De Luna Drive, Pensacola Beach, Florida
6. Holiday Inn Express Pensacola Beach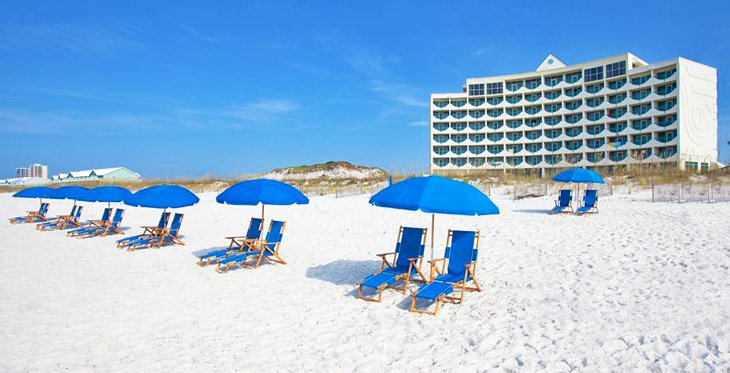 Accommodation: Holiday Inn Express Pensacola Beach
Fully renovated throughout, the Holiday Inn Express Pensacola Beach offers guests an affordable, comfortable option when it comes to a great Panhandle beach vacation. In addition to its complimentary breakfasts (be sure to try the cinnamon rolls), on-site amenities include a large and well-equipped fitness center, an indoor heated swimming pool, as well as laundry facilities. A food delivery service is also available from area restaurants. The resort also features a business center and meeting rooms.
The resort's standard guest rooms and suites have also been renovated recently and include a handy mini-fridge and microwave, along with a Keurig coffee station. Large screen HD TVs are also provided, as is high-speed Wi-Fi.
Other notable features included with your stay are blackout shades and a choice of pillows to ensure a great night's sleep, plenty of closet space, separate bathtubs and showers, desks, and complimentary bottled water.
The Holiday Inn Express Pensacola Beach is about three quarters of a mile from the Pensacola Beach Pier and is set on a quiet stretch of beach.
Address: 333 Fort Pickens Road, Pensacola Beach, Florida
7. Hampton Inn Pensacola Beach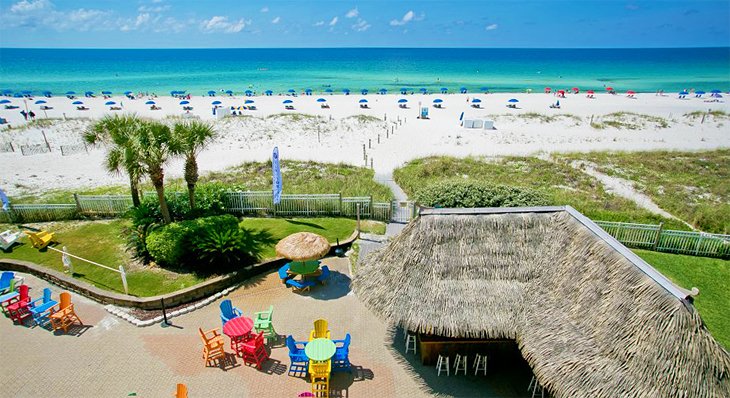 Accommodation: Hampton Inn Pensacola Beach
Another big brand name offering reasonably priced and comfortable accommodations, along with a great location, the Hampton Inn Pensacola Beach provides guests with a choice of 181 rooms.
On-site features of note include two large, heated beachfront swimming pools; a fitness center; great restaurant; business facilities; function rooms; and laundry facilities. As for the beach, lounge chairs and umbrellas can be rented. A free breakfast is also included with your stay.
When it comes to accommodations, the double queen or king bed units are a popular room choice. If available, see if an upgrade is possible to an ocean-view room. Notable features include mini fridges and microwaves, pull-out couches, free Wi-Fi, and big screen HD TVs. The larger one-bedroom suites are a great option for those traveling with kids - or perhaps those simply wanting the chance to be self-sufficient while on vacation.
Additional features of these bright, spacious units include a second private balcony overlooking the beach, a large living room with a pull-out couch, and a well-equipped kitchen with modern appliances, including a large fridge plus a dishwasher.
Address: 2 Via De Luna Drive, Pensacola Beach, Florida
Vacation Rentals in Pensacola Beach
Several companies offer condo rentals in Pensacola Beach, which can be a good way to accommodate large families or groups. These don't offer true resort experiences since they don't have restaurants on the property and generally do not have staff on-site to help with anything, but they will most often have pools and beach access.
The quality of units will differ because they are privately owned condos. Finding a good vacation rental company is key, because if you run into any problems, you need to have someone who will respond to your concerns as they occur.
Map of Resorts in Pensacola, FL
Pensacola, FL - Climate Chart
Average minimum and maximum temperatures for Pensacola, FL in °C
J
F
M
A
M
J
J
A
S
O
N
D

16

6

18

7

21

11

24

14

28

19

32

22

33

24

32

23

31

21

26

16

21

11

17

7

PlanetWare.com
Average monthly precipitation totals for Pensacola, FL in mm.

136

119

163

99

112

162

204

174

146

105

113

101