12 Top-Rated Resorts in Key West
Those wanting to experience a truly tropical vacation in the USA would do well to consider taking a look at the many quality accommodation options available in Key West, Florida. The "Conch Republic," as it's affectionately known, has something for everyone when it comes time to choose a place to stay.
Those able to spend a little more for a classy resort in Key West have plenty of great options, with many of the leading luxury brands well-represented, including Hyatt, Hilton, and even Waldorf Astoria. There are also a wide variety of affordable options, too, including options from well-known budget brands, as well as numerous lovely locations run by smaller hotel groups that are certainly worth considering.
As a general rule of thumb, though, the more expensive your accommodations in Key West, the closer you'll be to key attractions such as Mallory Square and Duval Street. That said, it's incredibly easy to get around, with ample parking at most resorts, and shuttle and trolley bus services to whisk you to where you need to go.
Whatever your preferences and budget, you'll find the best place to stay, relax, and unwind with this list of the top resorts in Key West, Florida.
1. The Marker Key West Harbor Resort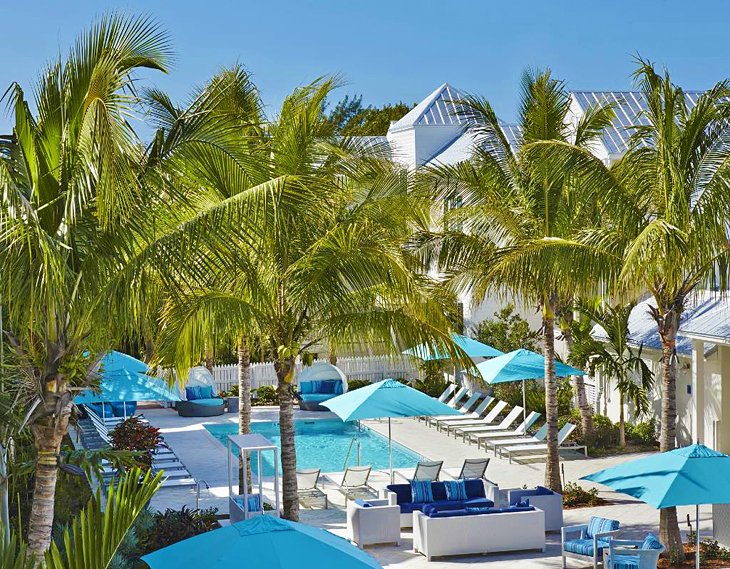 Accommodation: The Marker Key West Harbor Resort
Rated as one of the top luxury hotels in Key West, the 4-star Marker Key West Harbor Resort is also one of the newer vacation destinations in the Florida Keys.
Since it opened in 2014, The Marker's reputation as one of the hippest places to stay for couples in the Florida Keys has grown exponentially with the addition of a fun social activities program and first-rate dining experiences at its Starboard restaurant. Starboard is also a great place from which to enjoy those famous Key West sunsets. Families are of course also catered to, with kids activities and menus available.
Located in the northern part of Key West close to the city's top attractions and best places to visit, it's an easy 10-minute walk away from Mallory Square's popular sunset celebration. It's also only a few minutes' walk away from Duval Street, with its top dining, shopping, and entertainment experiences. And best of all, The Marker sits on a two-acre parcel of land overlooking the water and consists of 96 bright, spacious guest rooms, each with its own balcony or porch.
Accommodation options include king or double queen rooms featuring large bathrooms with separate soaker tubs and rain showers, and comfy bathrobes being a classy touch. The resort's amenities are equally luxurious and include three swimming pools, one of which is for adults only, as well as a gym.
Guests of this chic luxury resort also have access to valet parking, a definite plus in Key West, where parking spaces can be hard to find, at least in the popular Duval Street area. Staff will also assist with booking activities and adventures, including scuba diving, sailing, and fishing to name but a few.
Address: 200 William Street, Key West, Florida
2. Ocean Key Resort & Spa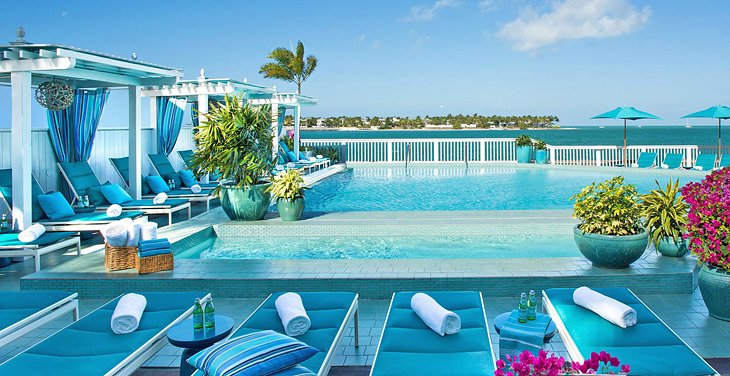 Accommodation: Ocean Key Resort & Spa
Its prime location at the top end of Duval Street has led to Ocean Key Resort & Spa having what is probably the most sought after address in Florida: 0 Duval Street, Key West. Little surprise, then, that this extremely elegant resort in Key West is as close to the city's best entertainment and dining action as it is to the Gulf of Mexico, each just steps away.
Not that you'd ever need to leave this classy 4-star luxury resort. Ocean Key offers everything from world-class, gourmet dining in its Hot Tin Roof restaurant to plenty of pampering at its full-service spa, SpaTerre. For a truly memorable and romantic experience, be sure to try the couple's massage.
Also on the premises are a gift shop, a fitness center, and a swimming pool with private cabanas. For those traveling as a family, a variety of kids' programs are also available. The resort also boasts direct access to the famous Sunset Pier, which also overlooks the famous Mallory square celebrations at the end of each day.
As you would expect from one of the top luxury Key West resorts, accommodations come with top-notch perks and services, too. These include complimentary pool and beach towels, free daily newspapers, comfy bathrobes, and concierge services.
The rooms themselves are elegantly decorated throughout and feature local artwork, a choice of king or queen beds, pull-out couches, large bathrooms with jet tubs, and good-sized balconies. Larger deluxe suites, some of them up to 600 square feet in size, come with marble bathrooms and separate showers.
Address: 0 Duval Street, Key West, Florida
3. Santa Maria Suites Resort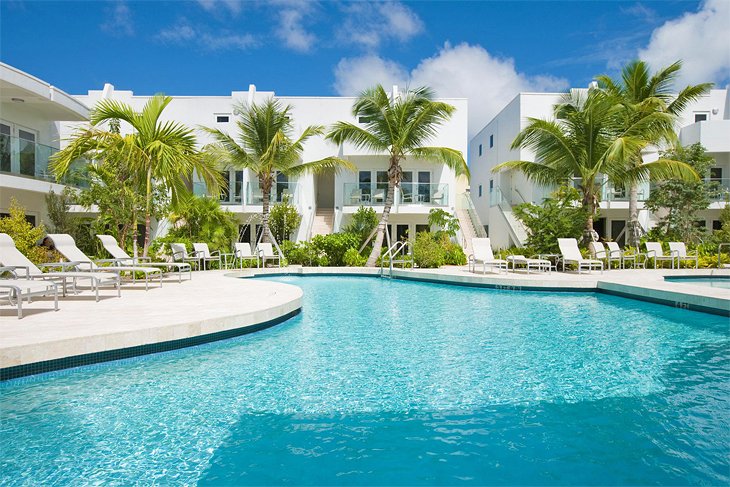 Accommodation: Santa Maria Suites Resort
When your check-in includes free ice-cream, you know you're staying somewhere special. And that's certainly the case at the opulent Santa Maria Suites Resort, where that much-welcomed ice-cream is just the tip of the proverbial pampering iceberg.
Other nice perks for guests staying at this quality 4-star Key West resort include chilled towels at the two heated swimming pools, along with complimentary bottled water, fresh fruit, and tasty smoothies when the urge strikes. Also provided are daily treats, including fresh-baked muffins every morning plus candies at the evening turndown service.
Meanwhile, down at the beach, friendly attendants are always available to provide chairs, umbrellas, and towels. Add to this great on-site dining, a concierge service, and a well-equipped fitness center, and you'd be forgiven for never wanting to leave.
The attention to detail is equally evident in the resort's beautifully decorated luxury suites. Consisting of two-bedrooms and complete with full designer kitchens, these homes-away-from-home also include HD TVs, separate living rooms, spacious balconies/patios, en-suite bathrooms with bathrobes, and large closets. If your budget allows, try one of the even larger split-level units.
Address: 1401 Simonton Street, Key West, Florida
4. The Perry Hotel & Marina Key West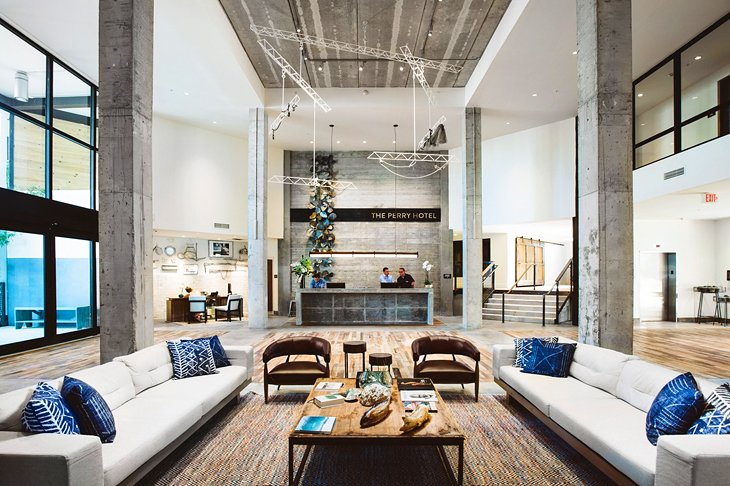 Accommodation: The Perry Hotel & Marina Key West
Another of the newer luxury resorts on the Florida Keys, the 100-room Perry Hotel & Marina Key West on Stock Island offers guests plenty of things to do. Highlights of this classy 4-star property include a lovely waterfront swimming pool with private cabanas, fire pits, two restaurants offering a choice of indoor or alfresco dining, water activities, a fitness center, a lush garden to relax in, as well as concierge services and a gift shop.
There are also a number of artist studios on the property, along with displays of local artworks. When the urge strikes to explore the rest of Key West, the resort provides a free shuttle service. Those wanting to take a boat tour or rent a vessel for themselves can do so at the neighboring full-service marina.
A variety of room types are available at the Perry Hotel, most boasting great views over the water or adjacent park. Popular options include the double queen or single king rooms, some of which come with outdoor showers. Larger options include studios with pull-out sofas and large, wraparound porches, or the nearly 700-square-foot Commodore Suite. Pet-friendly hotel rooms are available, and the hotel is located close to two dog parks.
Address: 7001 Shrimp Road, Stock Island Marina, Key West, Florida
5. Pier House Resort & Spa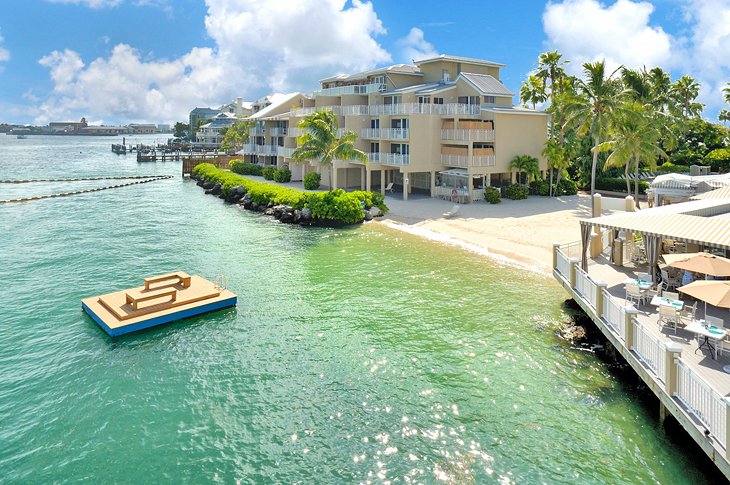 Accommodation: Pier House Resort & Spa
One of the few vacation properties in Key West to have its very own private beach, the historic Pier House Resort & Spa can trace its roots back to 1968, when it opened as a retreat for creative types. The same retreat-ethos remains today, with the focus at this charming 4-star resort very much on sun, sea, and serenity.
Everything that's needed for a restful stay can be found on-site, including a waterside heated outdoor pool, a hot tub, and full-service spa. There's also Caribbean-influenced dining in its top restaurant, regular entertainment, and a conference center. It's worth noting, too, that singer Jimmy Buffett played here early in his career.
The resort's location at the top end of famous Duval Street also means there's plenty to do nearby. Some of the best places to visit in Key West are close enough to walk to, including great shopping, superlative dining, and plenty of entertainment options. A friendly concierge can make reservations for you.
All told, this luxurious all-inclusive resort comprises 142 luxury rooms and suites. If you can swing it, go for one of the larger suites, many of which come with private balconies overlooking the Gulf of Mexico. Notable features of the largest units include over-sized bathrooms with separate tubs and rain showers, along with seating and living areas.
A 1,200-square-foot, two-story, two-bedroom unit is also available. This uber-luxurious suite comes complete with two bathrooms, a large living room with entertainment center, and a waterfront balcony.
Address: 1 Duval Street, Key West, Florida
6. Sunset Key Cottages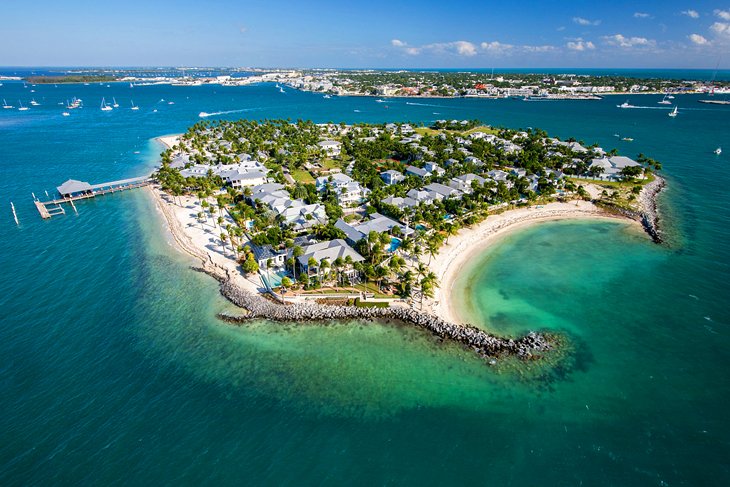 Accommodation: Sunset Key Cottages
Set on a 27-acre private island and easily accessible by boat from Key West just an eight-minute boat ride away, Sunset Key Cottages offers a truly unique and tranquil Florida Keys vacation. Guests can choose from a variety of one- to four-bedroom standalone cottages, each with its own spacious wraparound verandas complete with comfy seating and tables.
All the cottages are 4-star quality and come with living and dining areas, pull-out couches, and full kitchens pre-stocked with your choice of food. These huge four-bedroom, two-story units take opulence to a whole new level. Capable of sleeping up to nine guests, these impressive units include private ocean-view plunge pools, access to a private beach, laundry facilities, and a master bedroom with a Jacuzzi tub and its own balcony.
When it comes time for fun things to do, there's much to make you want to stay on the island. In addition to its own beach, the resort has a large gradual-entry swimming pool complete with a waterfall, a full-service spa, tennis courts, and a fitness center offering a variety of programs including yoga classes.
There are a lot of on-water activities to enjoy, too. Some of the most popular are kayaking, diving, snorkeling, fishing, parasailing, and sailing, all of which can be booked by resort staff. A variety of supervised kids' activities and programs are also available.
And when it comes to food, Sunset Key knows how to spoil its guests. In addition to its superb award-winning Latitudes restaurant, guests are provided with complimentary breakfast baskets delivered to their cottage, as well as free afternoon ice-creams. It doesn't get much better than that!
Address: 245 Front Street, Key West, Florida
7. Hyatt Centric Key West Resort & Spa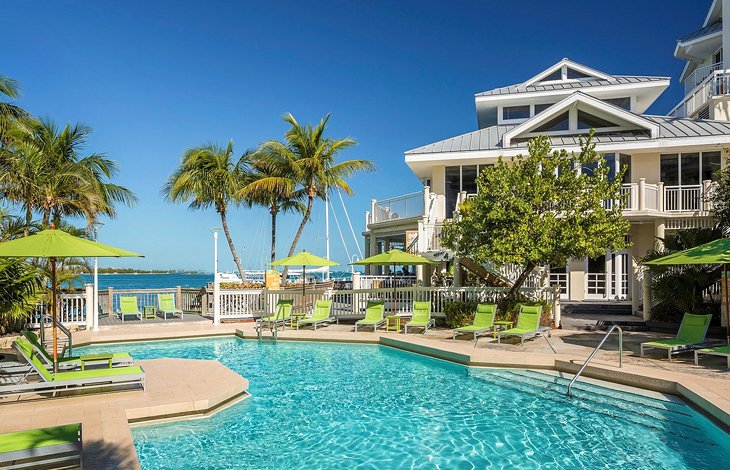 Accommodation: Hyatt Centric Key West Resort & Spa
Consisting of 120 guest rooms, the luxury Hyatt Centric Key West Resort & Spa is perfectly situated for those wanting to explore the best places to visit in Key West's old town area.
There's also much to do on-site at this highly rated 4-star property, including a great waterside restaurant, the full-service Jala Spa, a gym, a large swimming pool, and a spacious sundeck that's perfect for sunbathing. Resort staff can also facilitate a variety of water sports, from sailing and fishing excursions to kayak and sea-doo adventures.
Each of the resort's rooms encompass an area of 460 square feet and come with two queen beds or a single king, as well as a good-sized balcony. A number of units are available for those with mobility issues and include lower shelving and light switches, as well as wider bathroom doors, grab bars, and a raised toilet.
Traveling with pets? Be sure to ask in advance for a pet-friendly unit.
Address: 601 Front Street, Key West, Florida
8. Opal Key Resort & Marina Key West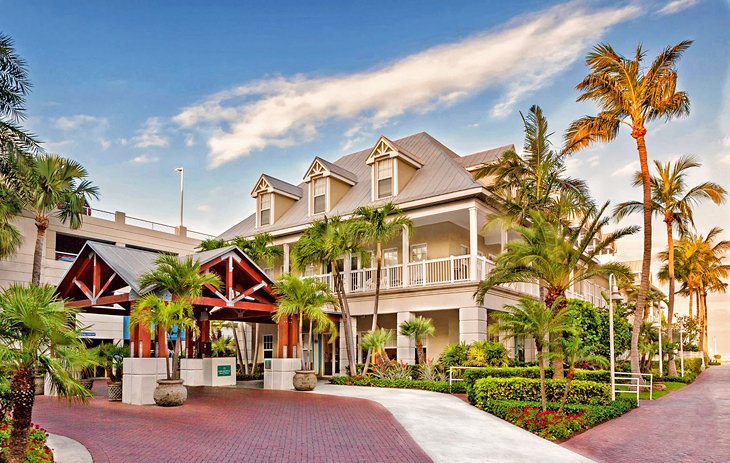 Accommodation: Opal Key Resort & Marina Key West
Situated at the top end of Key West close to Mallory Square and its daily sunset festival, as well as the city's cruise port, the newly refurbished Opal Key Resort & Marina Key West is a great choice of 4-star resort that consists of 178 roomy accommodations.
Couples will love the cozy and bright standard rooms, complete with ceiling fans and balconies, while groups should consider one of the luxurious two-bedroom suites. In addition to much larger balconies, these spacious 750-square-feet units can comfortably sleep up to five guests thanks to an additional sofa bed. They also come with a separate dining area.
On-site amenities include a waterside restaurant that features a great kids' menu, live entertainment, a large swimming pool with a hot tub, and a full-service spa. There's also a marina and a fitness center.
Guests also have access to Sunset Key Beach, where they can rent a private cabana and enjoy beachside snack services. Affordable daily parking is available, as is valet parking - a real treat as you won't want to touch the car while you're in key West.
Address: 245 Front Street, Key West, Florida
9. The Reach Key West, Curio Collection by Hilton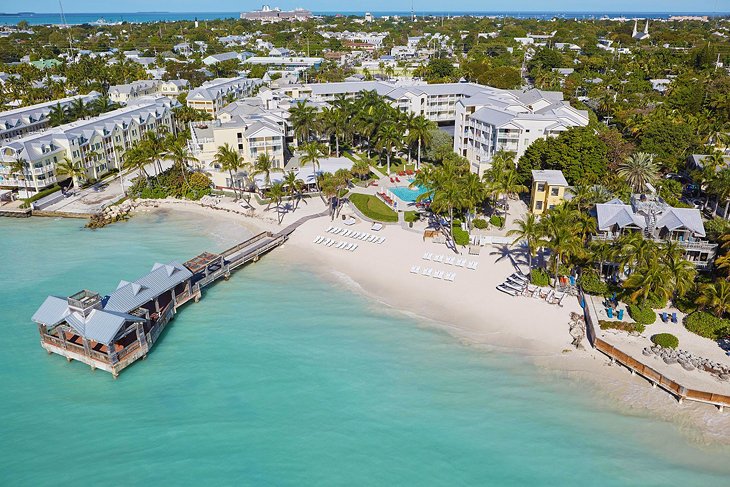 Accommodation: The Reach Key West, Curio Collection by Hilton
Located near the quiet southern end of famous Duval Street, The Reach Key West, Curio Collection by Hilton, provides guests with a classy place to call home while they enjoy everything this dynamic city has to offer. Here at this luxe 4-star resort, you'll find one of Key West's only private beaches, the perfect place to experience the thrill of swimming in the crystal-clear waters of the Caribbean Sea.
Other on-site amenities include an oceanfront swimming pool, hammocks, a restaurant that also offers in-room dining, a fitness center, and concierge services. Nearby fun includes guided snorkeling and diving adventures, deep-sea fishing, and jet skiing.
Standard hotel-style rooms start with units with a king-bed and furnished balcony, with a number of easy-access units suitable for those with mobility challenges. The larger king studio suites come with bigger balconies, pull-out couches, a dining area, and spacious bathrooms with glass showers. An even larger unit, the ocean view king suite, comes with nine-foot ceilings plus a living area with a sofa bed.
Address: 1435 Simonton Street, Key West, Florida
10. Casa Marina Key West, A Waldorf Astoria Resort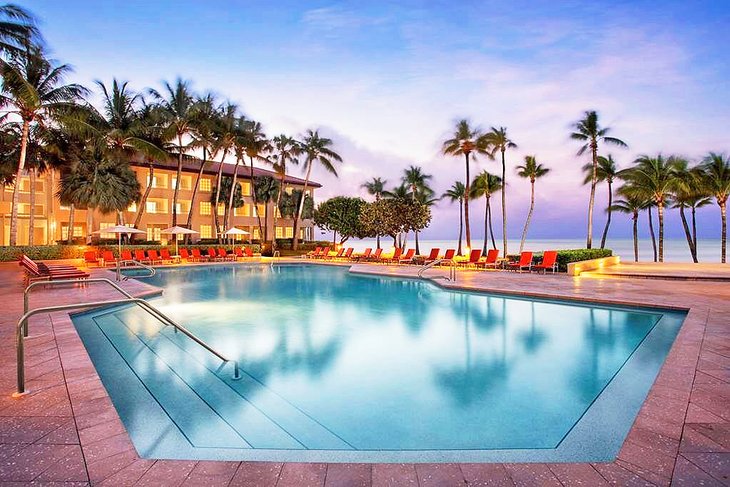 Accommodation: Casa Marina Key West, A Waldorf Astoria Resort
Although it's a little farther from Mallory Square than some of the other resorts on this list (it's about a mile away), the 4-star Casa Marina Key West, A Waldorf Astoria Resort, more than makes up for this fact with its large beach.
Around 1,100 feet from end to end, this private beach is the star attraction at this Mediterranean-style resort. In addition to offering a great place to relax, it's also the center of water-based activities like sea kayaking and jet skiing (rentals are available).
The fun doesn't stop at the beach, either. Other activities and amenities include lounging around (or in) the two outdoor swimming pools, getting pampered at the full-service spa, or enjoying a meal in the on-site steakhouse. Patio dining is also available.
A variety of room options are also available. Popular choices are the loft-rooms, which feature additional living space, pull-out sofas, and furnished balconies.
Address: 1500 Reynolds Street, Key West, Florida
11. Southernmost Beach Resort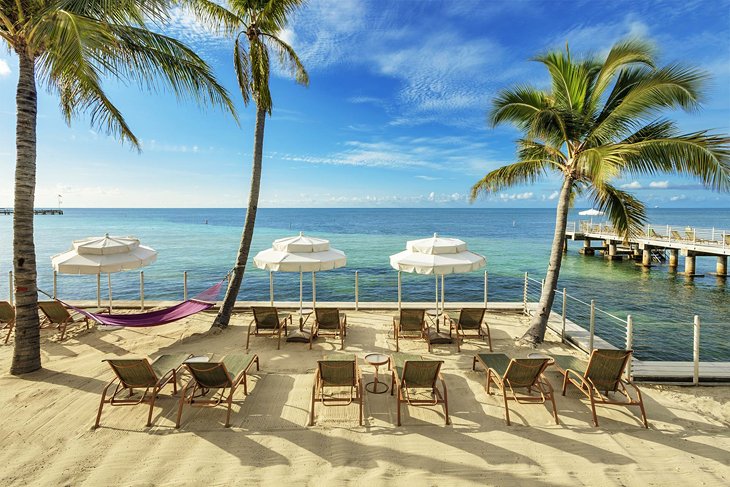 Accommodation: Southernmost Beach Resort
Spread across six acres and two city blocks of prime Key West real estate, the aptly named Southernmost Beach Resort offers guests great luxury accommodations in a tranquil setting. On-site amenities at this high-end 4-star property include access to sandy beaches and beach chairs, lush gardens dissected by pleasant pathways, fantastic water views, and hammocks to rest in while you enjoy them.
Also available for guest use are a choice of three swimming pools, an on-site restaurant, live entertainment, and a gym offering a variety of fitness programs. Bike rentals are also available, and are a real plus as pedal-power is one of the best ways to get around Key West.
Off-site things to do include easy access to great shopping, restaurants, and entertainment. The resort's Petite Spa is another plus and offers massages and other treatments overlooking the sea.
One of Key West's larger all-inclusive vacation properties, Southernmost Beach Resort consists of 261 luxury rooms, each featuring a private balcony and superb water or city views (binoculars included). A variety of accommodation options are available, including an adults-only building offering rooms with larger king beds and spacious bathrooms. Breakfast is included with your stay.
Address: 1319 Duval Street, Key West, Florida
12. Oceans Edge Resort & Marina Key West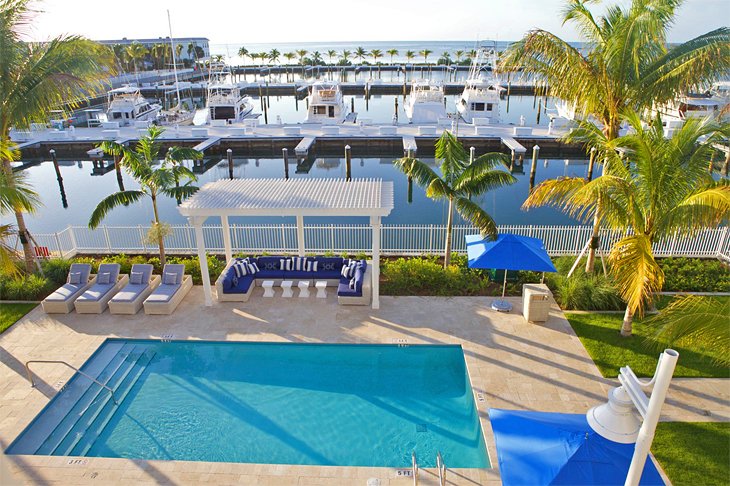 Accommodation: Oceans Edge Resort & Marina Key West
Billing itself as the city's newest and biggest luxury vacation destination, the 4-star Oceans Edge Resort & Marina Key West offers guests no end of fun things to do. The resort boasts six swimming pools and plenty of waterfront activities, including one free hour of paddleboard and kayak usage.
Numerous outdoor adventures and outings can also be organized by resort staff, including exciting fishing excursions, snorkeling, guided Jet Ski tours, bike rentals, dinner cruises, and even airplane rides over the Keys. The resort also has a marina. A must-do while staying here is enjoying an alfresco gourmet meal in the charming waterside restaurant.
Guests have a wide choice when it comes to accommodations. Perfect for couples, the romantic ocean-view king rooms come with their own private balconies, while a much bigger two-bedroom suite is ideal for larger groups of friends or family members. Highlights of these larger, nearly 1,000-square-foot, six-person units include en-suite bathrooms, a separate living area with a pullout couch, plus an expansive private balcony with table and chairs.
Address: 5950 Peninsular Ave, Key West, Florida
Best Time to Visit Resorts in Key West, FL - Historical Climate Averages
Average minimum and maximum temperatures for Key West, FL in °C
J
F
M
A
M
J
J
A
S
O
N
D

24

18

24

19

26

21

28

22

29

24

31

26

32

27

32

26

31

26

29

24

27

22

25

19

PlanetWare.com
Average monthly precipitation totals for Key West, FL in mm.

56

38

47

52

88

116

83

137

138

110

67

54