11 Top-Rated Resorts in Key Largo, FL
Widely considered to be the diving capital of Florida thanks to its endless unspoiled coral reefs and relatively shallow waters, Key Largo offers a great deal of choice when it comes time to book somewhere nice to stay in the "Sunshine State."
In addition to its superlative diving adventures, as well as snorkeling, swimming, and fishing experiences, Key Largo is filled with attractions and is just a short hop from Miami. Its position, as well as the fact it's easy to get to Key Largo from Miami and other points north, makes it a great short-break getaway destination. It also makes an ideal stopover for those heading from Miami to Key West, a fun place to visit that can easily be tackled as a day trip for those preferring to stay in Key Largo.
Those seeking a little luxury and indulgence should consider the upscale Playa Largo Resort & Spa, part of Marriott's Autograph Collection, or the recently rebranded Reefhouse Resort & Marina. Prefer something more spacious? Consider one of the stand-alone cottages at the popular Atlantic Bay Resort. Couples looking for something a little more romantic would do well to check into the delightful lodgings on offer at the beachfront Coconut Palm Inn.
Whatever your needs, you'll certainly not be disappointed with the many accommodation choices we've included in this list of the top resorts in Key Largo, Florida.
1. Playa Largo Resort & Spa, Autograph Collection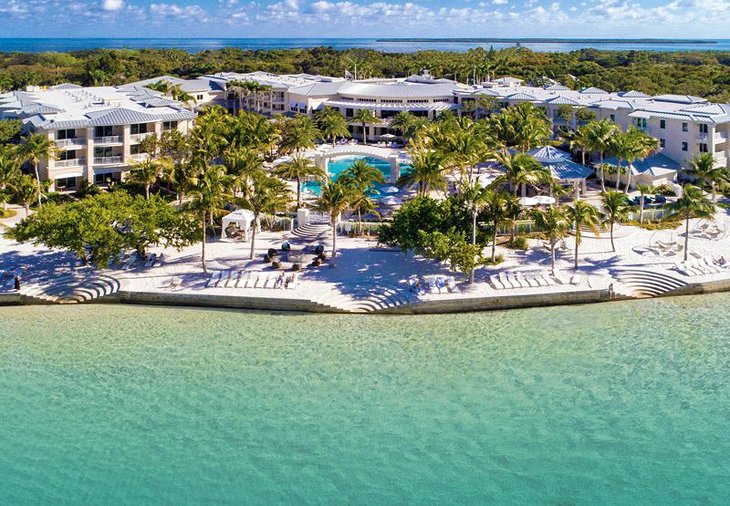 Accommodation: Playa Largo Resort & Spa, Autograph Collection
Highlights: Large private beach in a secluded area with superb Gulf of Mexico views
Set on a tranquil 14-acre tropical paradise in Key Largo, the luxury Playa Largo Resort & Spa, part of the prestigious Autograph Collection, gives guests many great excuses to stay on the property. For starters, there's the large waterfront, with its private beach overlooking the Gulf of Mexico and the chain of small uninhabited islands of Nest Keys. The resort's northwest-facing beach area also allows for great sunsets, too.
Other notable on-site amenities at this popular 4-star Florida Keys beach resort include a large swimming pool, around which private cabanas are positioned and are available for rent. There's also a spa, a hair salon, and a fitness center. Watercraft, including kayaks and paddleboards, are available to rent, and there's an on-site marina with a boat launch. The shallow waters offshore also offer great diving and snorkeling experiences.
On-court activities at this popular 4-star resort include basketball, tennis, and volleyball. Easy-to-get-to off-site adventures include boat tours of the Keys and fishing expeditions. A variety of dining options are available at the resort, a favorite being Sol by the Sea, a waterside restaurant serving fresh local seafood that's popular with other visitors to Key Largo, as well as seasonal residents.
The resort consists of 177 luxury accommodations, ranging from cozy king rooms for couples to a beautiful beach house with its own swimming pool that's perfect for larger groups wanting a home-away-from-home experience. A popular option for those wanting a little more room, the lovely king-corner suites boast great views over the resort and bay from their private balconies.
A number of quaint and fully self-contained oceanfront bungalows are also available. Need a little extra space? Check out the resort's spacious three-bedroom beach house. This standalone colonial-style villa features a large fully equipped kitchen, separate dining and living areas, and four bathrooms. And yes, you can still order in using the resort's room service.
Address: 97450 Overseas Hwy, Key Largo, Florida
2. Reefhouse Resort & Marina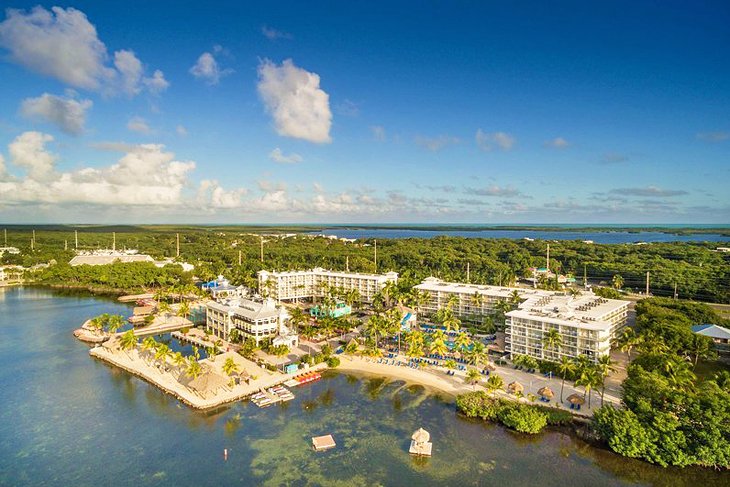 Accommodation: Reefhouse Resort & Marina
Highlights: 17 acres on the Gulf of Mexico with volleyball, games room, and spa
One of the larger vacation properties in the northern part of the Florida Keys, the luxury Reefhouse Resort & Marina (formerly the Key Largo Bay Marriott Beach Resort) sits on a 17-acre property overlooking the Gulf of Mexico and offers guests a variety of quality accommodations.
Now part of the Opal Collection of luxury hotels, this 4-star resort offers well-appointed, one-bedroom suites that come with a choice of king or twin-queen beds, kitchens, separate living and dining areas, and pull-out sofas. An upgraded penthouse version of these one-bedroom suites is also available and comes with a balcony and separate dining area. A number of mobility-accessible rooms are also available.
Amenities available to guests include a swimming pool, fitness center, and volleyball court, along with a beauty salon, games room, and a full-service spa offering a variety of massages and treatments. Concierge services are also provided for both on-site and off-site reservations. There's also a laundry facility.
Guests also have access to a variety of other activities including bike and Jet Ski rentals, kayaking, and scuba diving. The on-site Gus' Grille restaurant is popular with locals and guests alike and offers al fresco dining overlooking the water.
The resort welcomes pets for an additional charge, though a weight maximum of 30 pounds is in place. Though pricey at $100 per dog, your pooch will love the resort's "Opal Paws" program gift bag with treats along with the use of a plush bed throughout their stay.
Address: 103800 Overseas Highway, MM 103.8, Key Largo, Florida
3. Largo Resort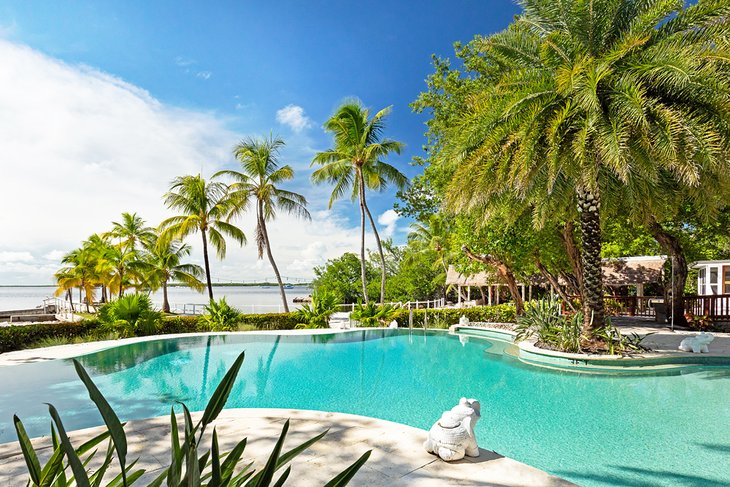 Accommodation: Largo Resort
Highlights: Newly renovated resort with private bay, watersports, and sunset views
The completely renovated and refreshed Largo Resort is certainly worth considering when a stay in Key Largo is on the cards. Offering a healthy dose of luxury, this polished 4-star waterfront resort faces a private bay on the Gulf Coast and boasts its very own pier, and is the perfect spot to watch those incredible Florida sunsets. It's also a great place from which to spot native wildlife, including dolphins and manatees, as well as abundant birdlife, including ibis.
Other on-site amenities of note include an outdoor infinity pool, a private resort beach, and free use of kayaks and paddleboards. Private docks are also available for guest use, along with bike rentals for those who want to explore the area.
The resort's idyllic three-acre setting is also popular for romantic getaways, honeymoons, and weddings, with ample function rooms available for such celebrations. The resort is also close to a number of great eateries, including the popular Hobo's Cafe seafood restaurant located literally across the street.
Popular accommodations include elegant stand-alone bungalows. These spacious, upgraded units feature full kitchens, separate showers, and good-sized, secluded patios. For a truly memorable experience, book the resort's classic Airstream caravan, which has been reimagined to serve as a romantic, retro waterfront cottage.
Address: 101740 Overseas Hwy, Key Largo, Florida
4. Atlantic Bay Resort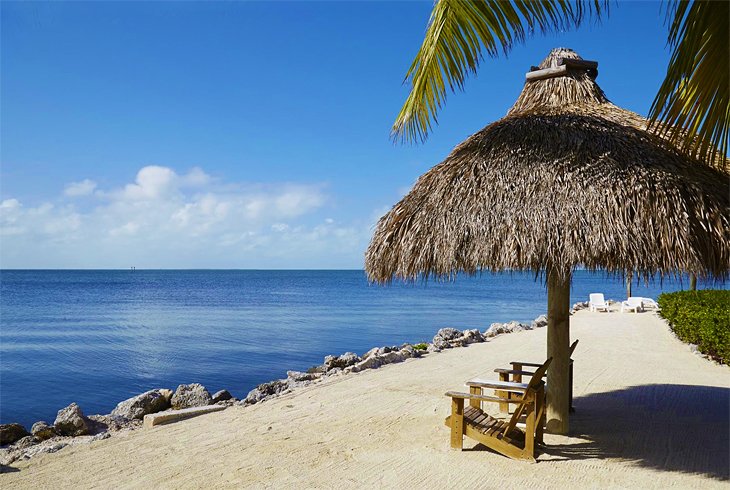 Accommodation: Atlantic Bay Resort
Highlights: Intimate resort with private cottages with kitchens, tiki hits, and living rooms
Located on three beautiful acres in Tavernier, mid-way between Key Largo and Islamorada, Atlantic Bay Resort is the perfect location for those looking for somewhere peaceful to lay their heads.
This quality 3-star resort consists of just 19 units, and guests can choose from cozy efficiency units, larger suites, or private standalone cottages. Each of the one-bedroom cottages includes a private tiki hut porch, full kitchen, and living area, plus a double futon bed. These relatively spacious units sleep up to four guests comfortably.
Another popular option for larger groups and wedding parties is the tastefully decorated one- and two-bedroom suites. These come with kitchenettes or kitchens and private decks and are just steps away from the beach.
In addition to the private beach, guests have access to a barbecue, a waterfront tiki hut, plus a dock and boat ramp. The hammocks located around the property are a nice touch, with some of them overlooking the water. There's also a heated swimming pool.
There's also much to do in the vicinity. Highlights include snorkeling and diving on the nearby coral reefs and in John Pennekamp Coral Reef State Park, possibly the most popular diving destination in the Keys. Other nearby experiences include fishing excursions, souvenir hunting, great dining, and attractions like Dolphins Plus Bayside with its interactive marine encounters, including unforgettable dolphin experiences.
Address: 160 Sterling Road, Tavernier, Florida
5. Coconut Palm Inn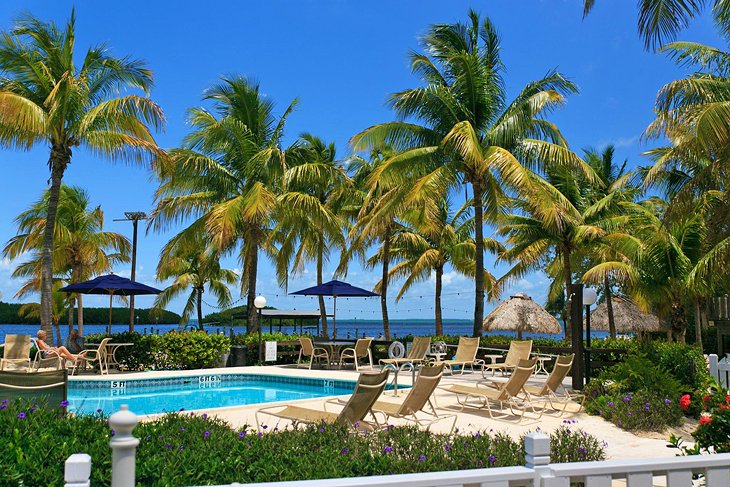 Accommodation: Coconut Palm Inn
Highlights: Small resort with a private beach, paddle sports, and a full-service marina
When you think of a typical Florida Keys inn, you'll likely conjure up an image that's pretty close to what you'll find at the delightful Coconut Palm Inn. Located on a private stretch of beach overlooking a small, secluded bay with crystal-clear waters, this charming 3-star inn offers the quintessential tropical vacation experience.
Everything that's needed to ensure a relaxing, fun-filled time is here, including a heated outdoor swimming pool, hammocks, and complimentary fresh breakfasts. When it's time to venture out onto the lagoon, your stay includes the use of kayaks and paddleboards. A fishing pier with a fish cleaning station is also available for you to use.
If you prefer something motorized, bring or rent a boat or Jet Ski of your own and keep it at the full-service marina, which has everything needed to ensure a memorable boating vacation. Also available for use are complimentary bikes, perfect for easy trips into nearby Tavernier and popular attractions like the Florida Keys Wild Bird Rehabilitation Center.
Adding to the cozy, intimate feel of this popular destination is the fact that the inn only has 19 suites, ensuring you never feel lost in a crowd. Standard features include screened porches or balconies, microwaves, and mini-fridges, while some larger units come with additional seating areas, spacious bathrooms, and kitchenettes.
For those traveling with friends or family, a lovely two-bedroom suite is also available that comes with a full kitchen plus a beachfront patio. These spacious units provide the perfect setting for a cozy honeymoon after your Florida wedding.
Address: 198 Harborview Drive, Tavernier, Florida
6. Dove Creek Resort & Marina, Trademark Collection by Wyndham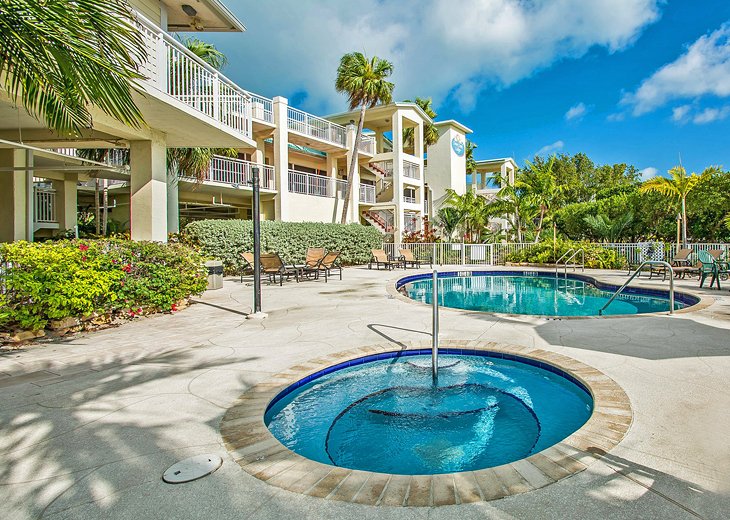 Accommodation: Dove Creek Resort & Marina
Highlights: Boutique hotel with kayaks to explore John Pennekamp State Park next door
Another excellent accommodation choice offering an intimate Keys vacation, the 3-star Dove Creek Resort & Marina is situated adjacent to John Pennekamp State Park, the country's first undersea park and one of the world's most popular diving spots.
Now part of the Trademark Collection by Wyndham, this quaint boutique hotel offers a choice of 23 distinctive guest rooms, many with superb ocean views. In addition to its deluxe studios, which are perfect for intimate getaways for couples, there are also larger one- and two-bedroom suites available, too. Brightly decorated and airy lodge rooms can also be booked.
There's plenty to do both on the property and nearby. Highlights include the use of sturdy sea kayaks, plus an on-site docking and boat launch, and boat rentals can be organized. Guided scuba diving experiences are also available. Fishing gear is available, and complimentary bike rentals are provided for those wanting to explore beyond the resort.
There's also a heated swimming pool plus a hot tub, both of which look over the water, as well as a pool table, barbecue, and a handy fish cleaning station. A nice touch is the continental breakfast included with your stay.
Address: 147 Seaside Ave, Key Largo, Florida
7. Ocean Pointe Suites at Key Largo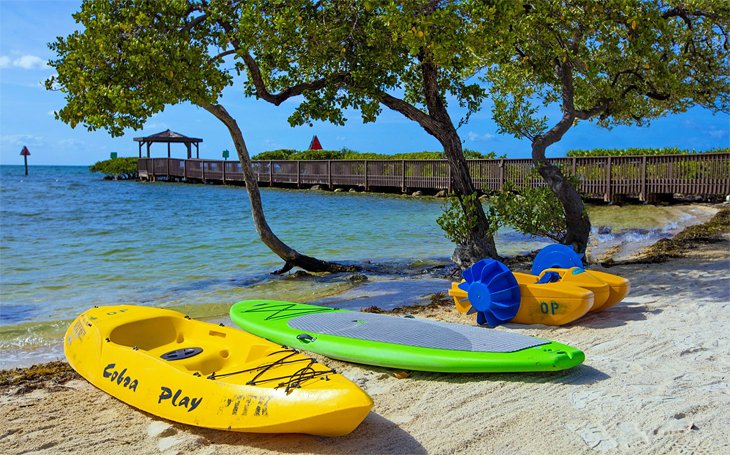 Accommodation: Ocean Pointe Suites at Key Largo
Highlights: Condo-style accommodations with kitchens, private beach, and dining
As its name suggests, the 3-star Ocean Pointe Suites at Key Largo consists of larger-than-usual accommodations, most with Atlantic Ocean views.
Comprising 170 spacious, condo-style suites capable of sleeping from four-to-six guests, each unit features separate bedrooms, full kitchens with modern appliances, dining areas, and living rooms, along with balconies with either mangrove or ocean views. Weekly housekeeping is included, as are towels, bedding, and bathroom supplies.
Set on 60 acres of the beautiful Florida Keys, guests have more than enough great reasons to spend time exploring the area. In addition to kayaking through the resort's protected mangrove forests, diving, sailing, and fishing adventures can be arranged with assistance from the resort's knowledgeable staff.
Other popular activities include on-site dining, floodlit tennis courts, a basketball court, beach volleyball, and a marina. Snorkeling gear can also be rented for those wanted to get out and explore the nearby reefs.
Swimming is available at the resort's large, heated outdoor pool, or at its private beach. It's also fun just strolling along the vast property's boardwalk or fishing from the dedicated fishing dock, complete with fish cleaning stations.
Address: 500 Burton Drive, Tavernier, Florida
8. Kona Kai Resort, Gallery & Botanic Garden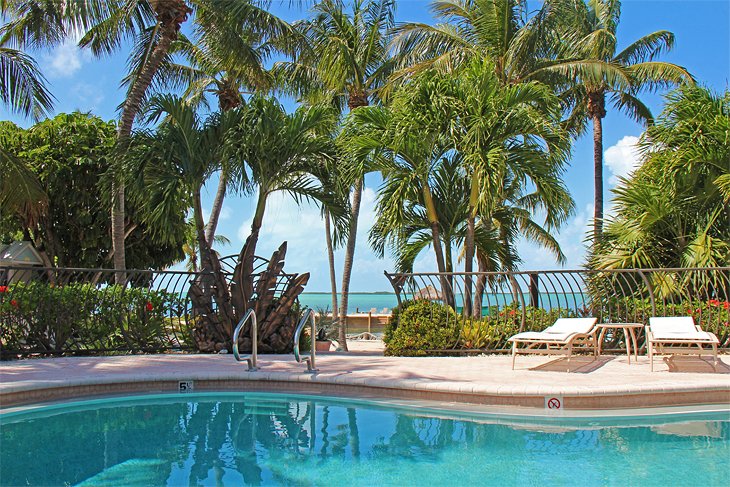 Accommodation: Kona Kai Resort, Gallery & Botanic Garden
Highlights: Unique property with lush botanic garden, shuffleboard, and beach
Comprising just 13 tastefully decorated rooms and suites, Kona Kai Resort, Gallery & Botanic Garden offers a relaxing getaway in a tranquil corner of Key Largo. Guests can sunbathe on this 3-star resort's lovely beach, lounge by the swimming pool and hot tub, or simply relax in their spacious accommodations.
All guest rooms feature elegant furnishings and décor and also come with plush bathroom supplies and towels, as well as tea and coffee supplies. Some of the larger one- and two-bedroom units come with a glass block shower, full kitchens, living and dining areas, as well as pullout couches. There is also a DVD library to use with your in-room HD TVs and sound systems.
Other things to do at Kona Kai include kayaking and paddleboarding, tennis, shuffleboard, and beachfront table tennis. There's also a selection of reading material available in a small library area.
A highlight of any stay, however, is taking the time to explore the resort's beautiful, lush tropical garden. While you're free to wander the gardens yourself, it's recommended you take the free 90-minute guided tour to help familiarize yourself with the many varieties of native plants that grow here.
Other perks include waterside hammocks, barbecues, spa services, and yoga classes, along with free fresh fruit and bottled water.
Address: 97802 Overseas Hwy, Key Largo, Florida
9. Mariner's Club Key Largo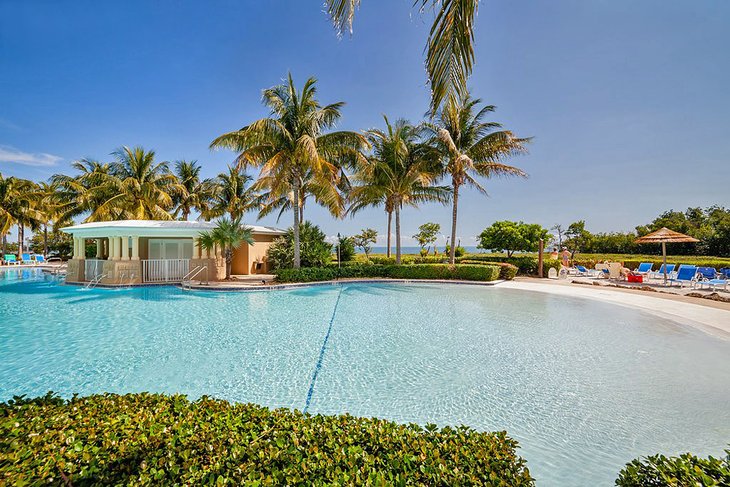 Accommodation: Mariner's Resort Villas & Marina
Highlights: Next to Pennekamp Coral Reef State Park diving area, fishing, and boating
Located next to Pennekamp Coral Reef State Park, one of Florida's top diving areas, Mariner's Club Key Largo offers guests an unforgettable Upper Keys vacation experience. In addition to having easy access to this divers' paradise, guests at this popular 3-star resort can enjoy other activities, such as boating and fishing, along with land-based activities including shopping and sightseeing.
The resort itself features a fine-dining restaurant, two swimming pools, hot tubs, and a large clubhouse with a fitness center. Other amenities include a full-service marina, sports rentals (including diving and fishing gear), a tennis court, and barbecues.
When it comes time to unwind at the end of the day, one-, two-, three-, and four-bedroom units are available. These spacious units include such features as well-equipped kitchens or kitchenettes, laundry facilities, large Jacuzzi tubs, plus walk-in showers in the bathrooms.
Address: 97501 Overseas Hwy, Key Largo, Florida
10. Bay Harbor Lodge & Coconut Bay Resort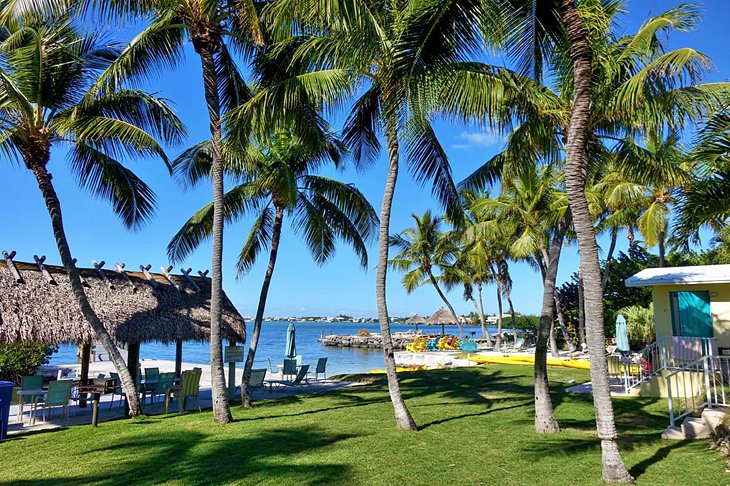 Accommodation: Bay Harbor Lodge & Coconut Bay Resort
Highlights: Intimate resort with separate cottages, private beach, and kayaks
One of the more intimate vacation destinations in Key Largo, Bay Harbor Lodge & Coconut Bay Resort actually consists of two resort properties, both of them worth looking into. As a result, guests can have their choice of 21 unique accommodations, including quaint cottages and lodge guest rooms set on a picture-perfect tropical shoreline.
The resort also offers guests exclusive use of a good-sized private beach, a heated swimming pool, kayaks, and water toys, plus nearly three acres of beautiful landscapes. A nice added touch: the owners provide delicious fresh-baked scones and coffee every morning.
One of the most popular accommodations is Manatee Cottage. Located just steps away from the resort's beach and dock, this lovely one-bedroom cottage includes an en-suite bathroom with a bathtub and separate shower, a full kitchen, a spacious living room with a pullout couch, and a separate dining area. Also fun is the private, cute tiki hut with a barbecue.
A number of larger units are also available, including the Honeymoon Suite. This roomy, elegant suite comes with its own fully equipped kitchen and en-suite bathroom.
Address: 97702 Overseas Hwy, Key Largo, Florida
11. Island Bay Resort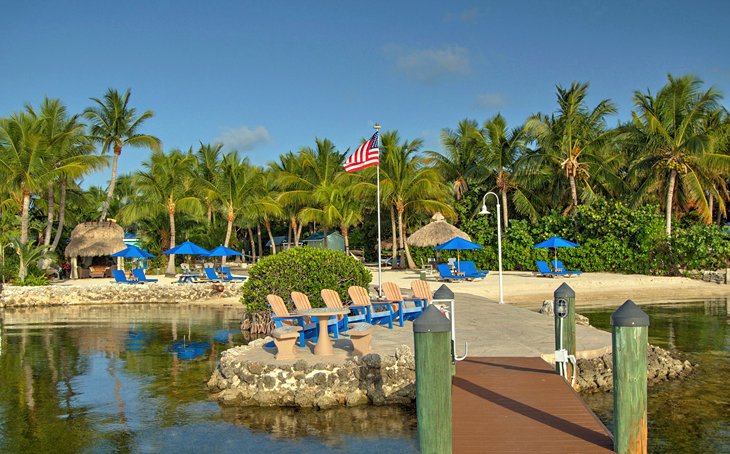 Accommodation: Island Bay Resort
Highlights: Dive-friendly resort with cottages, al fresco dining, and eco-adventures
Owned and operated by a family of diving enthusiasts and certified instructors, Island Bay Resort is the perfect base from which to enjoy the many underwater experiences available in and around this part of the Florida Keys. It's also an extremely snug, intimate environment thanks to the fact the resort can host no more than 20 guests at a time.
Accommodations include spacious one- and two-bedroom cottages with king beds, kitchenettes with fridges, and bathrooms with walk-in showers. They also come with magnificent waterfront views, large wraparound decks, and barbecues.
When not chatting with the owners about their vast knowledge of the Keys (they've explored the region extensively), guests can also enjoy relaxing or snorkeling at the beach.
Other things to do include enjoying a beachside massage, taking in an alfresco waterside meal, taking out a kayak or paddleboard, or simply kicking back and relaxing in one of the many hammocks scattered around the property. The resort's knowledgeable staff can also make arrangements for fishing and eco-adventures, as well as diving expeditions.
Address: 92530 Overseas Hwy, Tavernier, Florida
Map of Resorts in Key Largo, FL
Key Largo, FL - Climate Chart
Average minimum and maximum temperatures for Key Largo, FL in °C
J
F
M
A
M
J
J
A
S
O
N
D

24

17

24

17

26

18

28

21

29

23

31

25

32

26

32

26

31

25

29

23

27

21

24

18

PlanetWare.com
Average monthly precipitation totals for Key Largo, FL in mm.

63

49

54

51

95

175

82

132

171

137

78

52