8 Top-Rated Resorts in Destin, FL
We may earn a commission from affiliate links ()
The popular Florida destination of Destin has made a name for itself among those seeking a sun vacation in the US. Consisting of pristine beaches overlooking the Gulf of Mexico and numerous well-preserved and unspoiled conservation areas, Destin has also become something of a byword for luxury vacations for those traveling to the Florida Panhandle.
To satisfy this demand, numerous elegant and luxurious resorts and beach hotels have begun cropping up in the area, including such establishments as the majestic Sandestin Golf & Beach Resort. Equally attractive is the Henderson - A Salamander Beach & Spa Resort, another property that offers guests plenty of great reasons to stay and play.
There are also plenty of choices for those looking for something a little less opulent but offering great amenities and activities. Favorites in the mid-range price category for families and couples alike include Holiday Inn's Resort Fort Walton Beach and the Four Points by Sheraton Destin-Fort Walton Beach, both of which offer access to the region's best beaches.
Another great option for those wanting spacious accommodations, but without the frills, is the popular (and budget-friendly) Embassy Suites by Hilton Destin Miramar Beach.
Whatever your accommodation needs, to help you find the best place to stay for your next Florida beach vacation, be sure to use our list of the top resorts in Destin, Florida.
1. Sandestin Golf & Beach Resort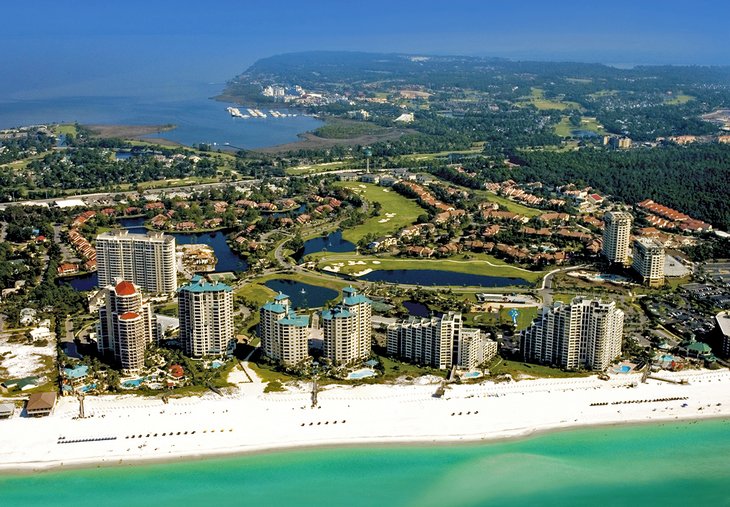 Accommodation: Sandestin Golf & Beach Resort
The Sandestin Golf & Beach Resort is the kind of place where, once checked in, you never want to leave. And, frankly, you shouldn't. Ranked as one of the top resorts on Florida's Panhandle, this large property is spread across an impressive 2,400 acres and has everything needed (and more) to ensure its guests have a great time.
A big draw is the opportunity to indulge in favorite sports and outdoor activities, whether it be a round of golf on the resort's 18-hole Raven Golf Club course, or a game of tennis. The resort in fact boasts 15 courts available for guests to use, and lessons and programs are also available for both sports.
The accommodations at Sandestin Golf & Beach Resort are no less impressive. Options include your choice of luxury suites, villas, and townhomes, some with as many as three-bedrooms, and a unit that comes with four bathrooms, a large private patio or balcony, and fireplace. Even larger stand-alone units can be booked. These extremely luxurious and spacious units overlook the golf course and boast home theaters and a bedroom just for kids that comes with two sets of bunk beds.
A nice perk is the inclusion of free bike rentals, along with watercraft such as kayaks and paddleboards. Other notable on-site amenities include a large and well-equipped fitness center, a full-service spa, free beach parking, and a choice of four swimming pools.
If you do decide to venture away from the resort, why not tap into the resort's concierge services? These friendly folks can arrange a wide variety of off-site activities, such as parasailing and Jet Ski rentals, as well as restaurant and Destin shopping experiences, to name but a few.
Address: 9300 Emerald Coast Pkwy, Miramar Beach, Florida
2. Hilton Sandestin Beach, Golf Resort & Spa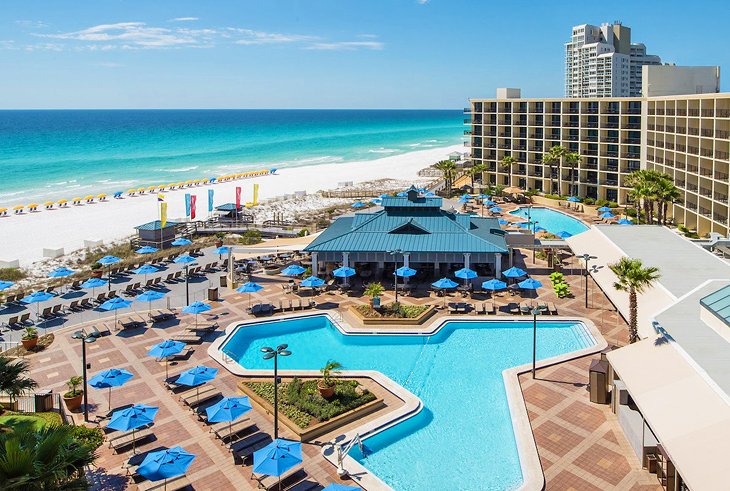 Accommodation: Hilton Sandestin Beach, Golf Resort & Spa
Famous for its beautiful, fine white sand, the beach at South Walton is a big draw for guests staying at the Hilton Sandestin Beach Golf Resort & Spa. It's billed as the biggest beachfront luxury resort on the Panhandle, and guests are never far from that beach – nor from the kind of luxury amenities and accommodations expected from the Hilton brand.
The rooms and suites themselves all come with spacious balconies with superb views (or partial views) over the waterfront, as well as other features including seating areas with pull-out couches, work desks, microwaves, and mini-fridges.
Guests can enjoy the use of their own private cabanas (for a fee), as well as complimentary use of beach chairs, beach volleyball equipment, bonfires, kayaks, and paddleboards. The resort also has a variety of on-site (and in-room) dining options.
Other notable features include three swimming pools (one of them indoors), a golf course (naturally), as well as a first-rate full-service spa. There are also a number of nature areas to explore nearby, including Topsail Hill Preserve State Park and Grayton Beach State Park, boasting endless sand dunes and pristine beaches.
Address: 4000 Sandestin Blvd S, Miramar Beach, Florida
3. Emerald Grande at HarborWalk Village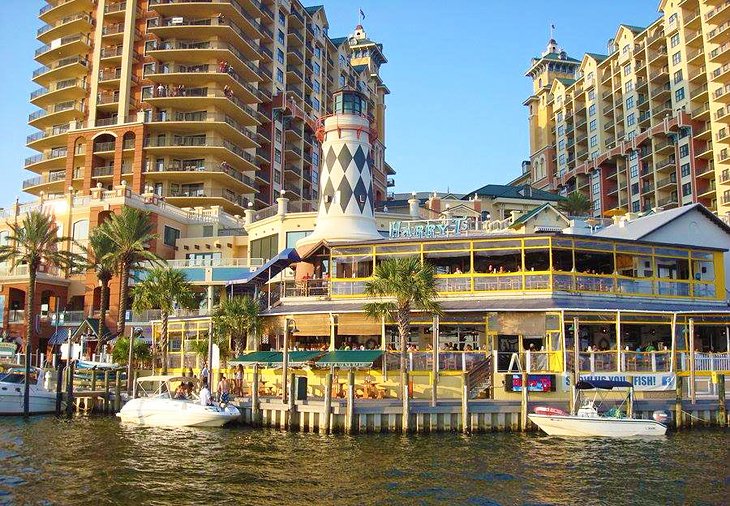 Accommodation: Emerald Grande at HarborWalk Village
The 4-star Emerald Grande at HarborWalk Village provides guests with everything needed for a memorable vacation. On-site fun includes beach access plus free beach chair usage, a full-service spa, outdoor and indoor heated swimming pools and hot tubs, a well-equipped and modern fitness center, plus a handy gift shop. Staff can also help with boat and Jet Ski rentals, as well as organizing fishing trips and snorkeling adventures.
The resort is also close to the impressive HarborWalk Village development. This popular destination is known for its great dining, shopping, and entertainment, including fun movie nights showing great family films for free.
The dining here is first-rate, with the main restaurant, the Grande Vista Bar & Grill, being popular with guests and locals alike. For an exceptional dining experience, be sure to look into the in-room options; better still, you can go whole hog and book your own personal chef for the night.
Available accommodations include a variety of options, ranging from one- to four-bedrooms, each with large balconies and great views. Some of the larger units come with their own kitchens, laundry facilities, and garden hot tubs, and can sleep groups of up to 10 comfortably.
Address: 10 Harbor Blvd, Destin, Florida
4. The Henderson - A Salamander Beach & Spa Resort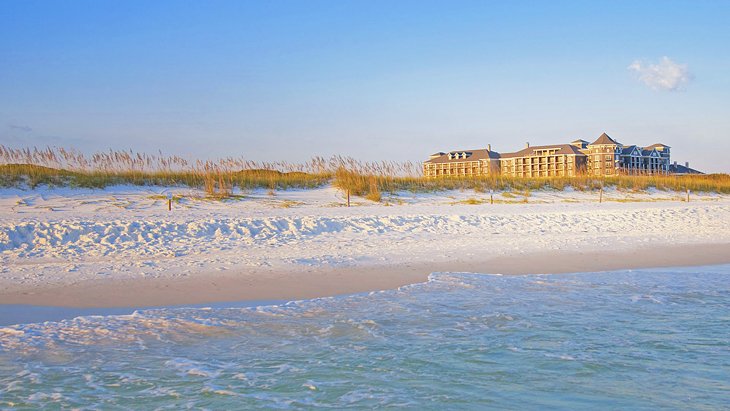 Accommodation: The Henderson - A Salamander Beach & Spa Resort
Part of the high-end Salamander Hotels and Resorts group, The Henderson adds a touch of class to any Destin vacation. Set overlooking the Gulf, The Henderson draws its influences from the classic seaside resorts of days gone by, not just in terms of its design, but the overall guest experience.
Named after the beautiful nature park that sits next door to the property – the Henderson Beach Preserve – this quality 3-star resort offers guests direct beach access, as well as a world-class spa and a fitness center. Fully trained staff offer a variety of health and wellness programs, too, ranging from yoga to paddle-fit classes. The resort also boasts a beautiful pool area complete with private cabanas, plus an adults-only swimming pool (there's also one for families traveling with younger children).
When it comes to on-site dining, the Henderson has you covered. Popular with locals and guests alike, the fine dining at the elegant Primrose restaurant is worth splurging on. Casual grub and light snacks can also be enjoyed at the seasonal beachside grill. In-room dining is also available (just call room-service).
The resort offers 170 luxurious rooms and suites, and guests can choose from a variety of accommodation options to best suit their needs, from practical to something romantic. While all rooms come with great views over the Gulf or the nature reserve from their balconies, the much larger spa suites come with extra living space and access to a private elevator.
Address: 200 Henderson Resort Way, Destin, Florida
5. Holiday Inn Resort Fort Walton Beach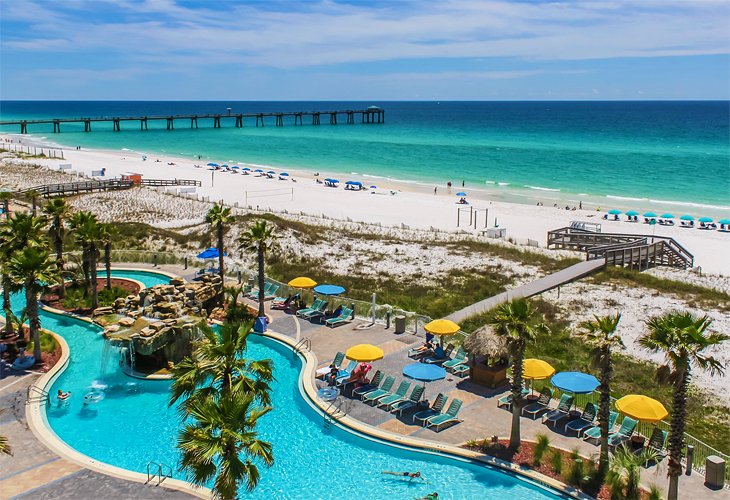 Accommodation: Holiday Inn Resort Fort Walton Beach
The Holiday Inn Resort Fort Walton Beach offers great vacations and accommodations for families and couples, and is popular for its handy location overlooking beautiful beaches and the Gulf of Mexico. The property is also close to all the best places to visit in Fort Walton Beach, including great attractions, dining, shopping, and entertainment.
The hotel itself offers a number of great amenities, including a good-sized fitness center, a gradual entry pool complete with a waterfall and lazy river, plus on-site dining. Kids will also enjoy hanging out in the games room with its arcade-style video games, as well as participating in fun programs, movies, and shows. There's also an on-site gift shop. A popular wedding destination, the resort also features plenty of convention space and meeting rooms.
All rooms at the Holiday Inn Resort Fort Walton Beach come with large balconies, along with useful features such as mini-fridges and microwaves: perfect for families when it comes to keeping the kids content with some in-room snacking. Room service is available, as are laundry and dry-cleaning services.
Address: 1299 Miracle Strip Pkwy SE, Fort Walton Beach, Florida
6. Four Points by Sheraton Destin - Fort Walton Beach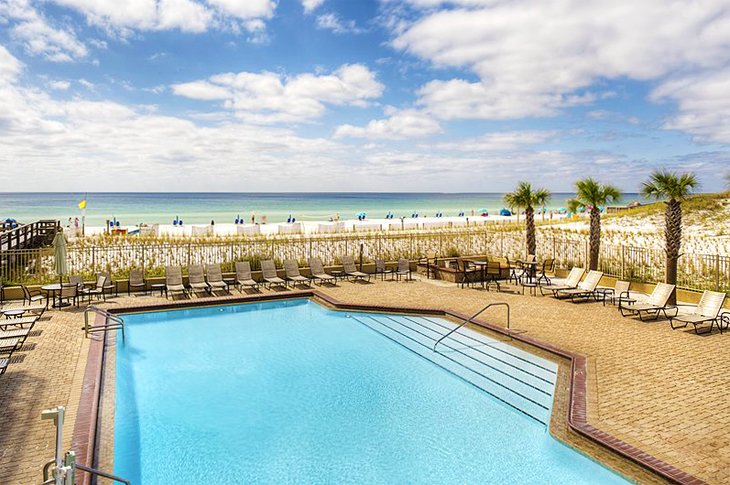 Accommodation: Four Points by Sheraton Destin-Fort Walton Beach
Another great 3-star option for vacationers wanting close proximity to the beach is the Four Points by Sheraton Destin - Fort Walton Beach. Accommodation options include comfortable standard rooms, with views over the beach or the hotel's courtyard and pool area, the hub of the property's many amenities and activities. Here, guests can enjoy swimming in the heated outdoor pool, sunbathing on the pool terrace's lounge chairs, or enjoying an alfresco dinner in the on-site restaurant.
This beach hotel also features a large fitness center, kids' programs and splash area, volleyball courts, and rentals of watercraft such as wave runners and kayaks. The resort's function rooms and catering options - not to mention its attractive oceanfront setting - also make it a popular choice for weddings. Nearby fun includes tennis courts, golf courses, great shopping and entertainment opportunities, along with a large selection of restaurants.
When it comes time to bed down for the night, guests can choose from double queen or single king bed options. Standard features included in all rooms include large-screen HD TVs and work desks, plus free Wi-Fi. Guests are also treated to complimentary bottled water and coffee. If you can afford it, consider booking the upgraded deluxe room option. These classy rooms come with guaranteed views over the stunning waterfront, sunsets also guaranteed.
Address: 1325 Miracle Strip Pkwy SE, Fort Walton Beach, Florida
7. Embassy Suites by Hilton Destin Miramar Beach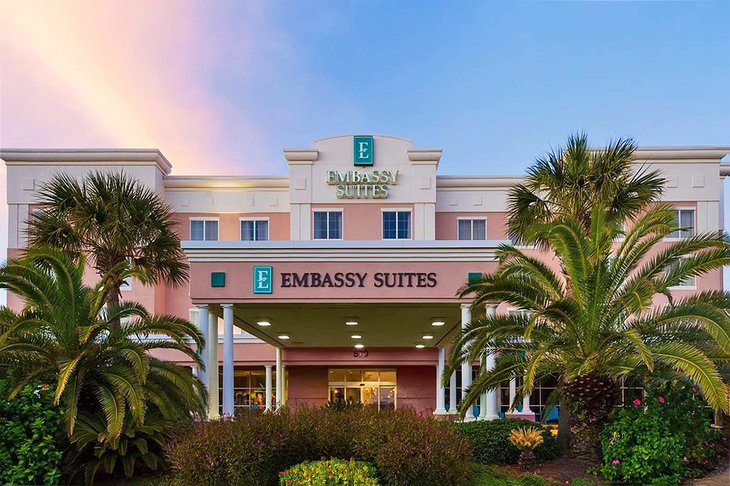 Accommodation: Embassy Suites by Hilton Destin Miramar Beach
For folks seeking an affordable accommodation option with plenty of space, Embassy Suites by Hilton Destin Miramar Beach is a great choice. This resort offers large suites just steps from Destin's beautiful beaches (the resort is connected by a pleasant, private boardwalk).
Guests are also able to have fun at nearby attractions and sports activities, including numerous golf courses, as well as fun water-based activities like fishing and jet skiing. And while there's plenty of great dining nearby, the resort's Calypso Café offers a variety of options, including alfresco and in-room dining experiences. The resort also has heated outdoor pools and a large fitness center.
As for the suites themselves, you won't be disappointed. Recently renovated and offering everything needed for that home-away-from-home vacation experience, each suite consists of two rooms, seating areas with pull-out couches, and large-screen TVs (some units even have two TVs). Mini-fridges and microwaves are also included and, as a nice additional perk, breakfasts are provided each morning.
Address: 570 Scenic Gulf Drive, Destin, Florida
8. Silver Shells Beach Resort & Spa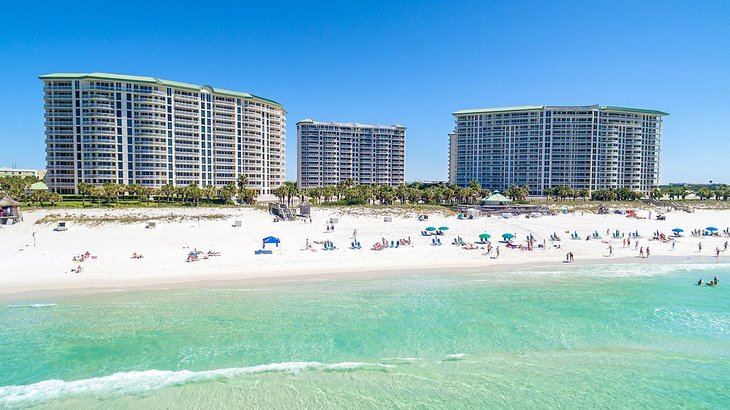 Accommodation: Silver Shells Beach Resort & Spa
Another quality 3-star resort that offers a modest level of luxury, Silver Shells Beach Resort & Spa is certainly worth considering for your Destin beach vacation. It's a big property, consisting of no less than five separate buildings containing condo-style accommodations and a variety of great amenities.
However, the resort's scale is certainly offset by its proximity to the popular Henderson Beach State Park, a beautiful, unspoiled waterfront oasis that's well-known for its 30-foot tall sand dunes and nature trails. Silver Shells is right next to the park.
On-site amenities include a huge lagoon-style swimming pool complete with whirlpools and a waterfall, plus a kids' pool. Fun outdoor activities include tennis, plus water sports equipment available on the resort's private beach. Also worth mentioning are the full spa and hair salon, fitness center, and on-site steakhouse.
Ready for a good night's sleep? The resort's condo-style units range in size from one- to four-bedrooms, and feature private balconies with water views, full kitchens, and separate living rooms.
Address: 15000 Emerald Coast Pkwy, Destin, Florida