12 Top-Rated Florida Keys Resorts for Families
We may earn a commission from affiliate links ()
The Florida Keys could, for many reasons, be called the "family Keys." Stretching for 180 miles all the way from Miami to Key West and separating the Gulf of Mexico from the Atlantic Ocean, this long, skinny string of over 800 tropical islands large and small is a superb destination for those seeking a memorable family vacation.
Why? Well, not only are the Keys chock-full of things to do, they also happen to have plenty of great family-friendly hotels and resorts to stay at, too.
The very best Florida Keys resorts for families typically offer a long list of activities on-site and in the vicinity. You'll have access to countless exciting adventures, including everything from diving and snorkeling, kayaking, Jet Ski rentals, and exciting dolphin encounters. Add to this the many great beaches – both public and privately owned resort beaches – and that endless sunshine, and you're pretty much guaranteed a great time for parents and kids alike.
To help you find the best places to stay during your family vacation be sure to review our list of the top Florida Keys resorts for families.
1. Isla Bella Beach Resort & Spa, Marathon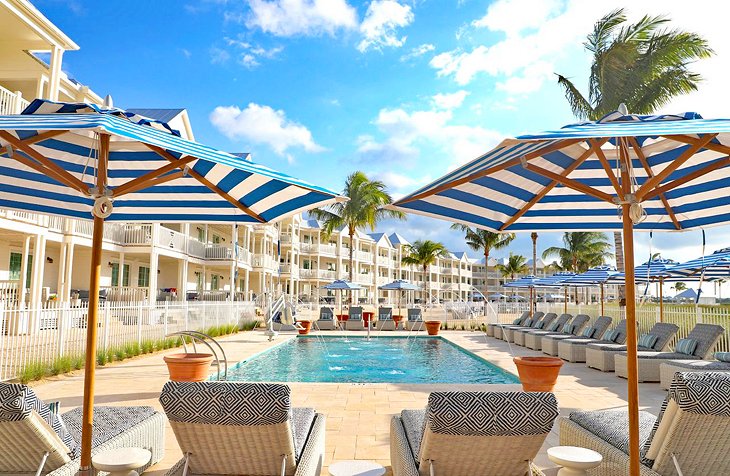 Accommodation: Isla Bella Beach Resort & Spa
Topping our list of the best family resorts in the Florida Keys is the 4-star Isla Bella Beach Resort & Spa in Marathon. It's also one of the newest luxury resorts in the Florida Keys, opening its doors to its first visitors in 2019.
The resort boasts a mile of waterfront and is set amid 24 acres of pristine tropical scenery on the Gulf side of the Keys, occupying much of Knights Key island. While easy to get to, it's also just far enough from the busy Overseas Highway to ensure plenty of tranquility.
The resort consists of 199 rooms and suites, each with bright, contemporary décor, quality furnishings, and sea views. And you're guaranteed a great night's sleep thanks to top-of-the-line mattresses and bedding, as well, of course, as the peace and quiet.
A great choice of accommodation for families are the spacious two- and three-bedroom suites. Sleeping up to six guests, the large two-bedroom units come with two full bathrooms, while the even bigger three-bedroom units come with a third full bathroom plus a kitchen. For those who need even more space to spread out, there's (an even larger five-bedroom affair that can be booked.
Excellent on-site amenities are also guaranteed to keep youngsters happy. Highlights include a choice of five outdoor swimming pools, one of which measures a whopping 4,500 square feet. There are plenty of great dining options, too. These include special kids' menus, build-your-own pizzas fresh from the pizza oven, and a handy marketplace selling fast food and snacks.
There's also plenty of fun to be had on the private sandy beach, including complimentary use of fun kayaks. A private pier is located on-site, and loaner bikes are also available for guests wanting to explore the surrounding are. Also worth mentioning are the resort's full-service spa, the large and well-equipped fitness center, and conference facilities.
Address: 1 Knights Key Boulevard MM 47, Marathon, Florida
2. Hawks Cay Resort, Duck Key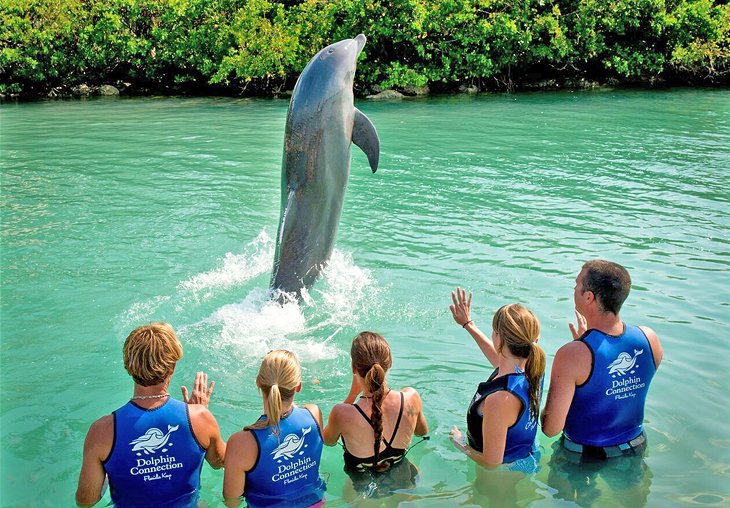 Accommodation: Hawks Cay Resort
Located on the island of Duck Key midway down the Keys between Marathon and Islamorada, the luxurious 4-star Hawks Cay Resort offers no-end of reasons for families to want to vacation here.
A big draw for the many larger families that stop in are the very roomy accommodations. Able to sleep up to eight guests, these larger multi-bedroom units come with kitchens featuring modern appliances, living and dining rooms, and upscale bathrooms. For those traveling with one or two kids, some of the equally attractive smaller units come with pullout couches.
There's certainly plenty of fun for kids outside, too. Highlights include water activities centered around a pirate-themed splash pad and a large family swimming pool (one of five on the property). There's also a fun childrens' playground, and a variety of supervised activities are also available for kids to enjoy (and give parents a break). Bookable in advance, these fun programs cater to specific age categories from toddlers up.
The real star attraction, though, is the resort's large saltwater lagoon. Here, guests can partake in a thrilling dolphin encounter experience. This fun activity even allows kids to get up close to these amazing creatures, a perfectly safe experience that's always under the watchful eye of staff. Also worth mentioning is the on-site marina, which offers a variety of watercraft rentals. There's also a teen lounge and games room, a basketball court, and fishing and snorkeling adventures.
A variety of eateries, shopping experiences, fishing charters, and boat rentals are all located nearby for those wanting to venture off the property.
Address: Hawks Cay Blvd. at MM 61, Duck Key, Florida
3. Southernmost Beach Resort, Key West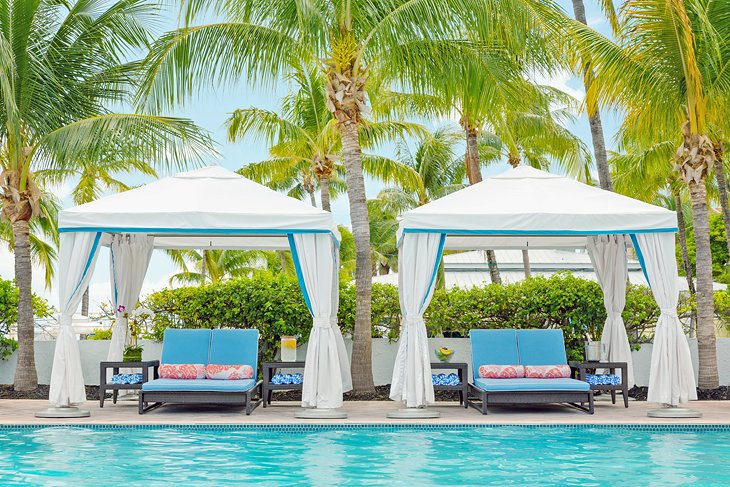 Accommodation: Southernmost Beach Resort
Located, as its name suggests, at the very south end of the Florida Keys in Key West, the charming 4-star Southernmost Beach Resort is another great choice for those traveling as a family. Thanks to its having one of the largest beaches in Key West (and there aren't many) there's no end of fun things to do for kids, from the simple fun of swimming and building sandcastles to joining in a variety of organized kids' programs.
Older kids and adults can also get out on the water and enjoy snorkeling and kayaking experiences, while the teens in the family may want to persuade mom and dad to rent a Jet Ski. There's also the opportunity to fish off the resort's private pier. For some serious fishing, charter a boat for some deep sea fishing (there are plenty of charter companies nearby, and the resort's staff can assist with making all the arrangements).
Other amenities include three good-sized swimming pools, on-site restaurants, live music, bike rentals, and a fitness center. Kids will also enjoy a selection of lawn games and board games.
The resort's 124 rooms are also well-suited to families. These spacious units come with HDTVs, mini-fridges, microwaves, and balconies, the best of which are larger wraparounds with superb ocean views. Pullout couches are included in most units, and cribs can be requested for babies and toddlers. Breakfast is included for the whole family. For those traveling without kids, an adults-only building is available.
Another plus is the fact the resort is close to some of the best attractions in the Keys. From here you're just steps from the famous Southernmost Point of the Continental U.S.A. marker, as well as the interesting Key West Butterfly and Nature Conservatory. At the end of the day, you can even make the 20-minute walk up Duval Street to Mallory Square, famous for its daily sunset ceremonies. Always bustling, Duval Street is also where you'll find Key West's many great shopping and dining experiences.
Address: 1319 Duval St, Key West, Florida
4. Tranquility Bay Beachfront Hotel & Resort, Marathon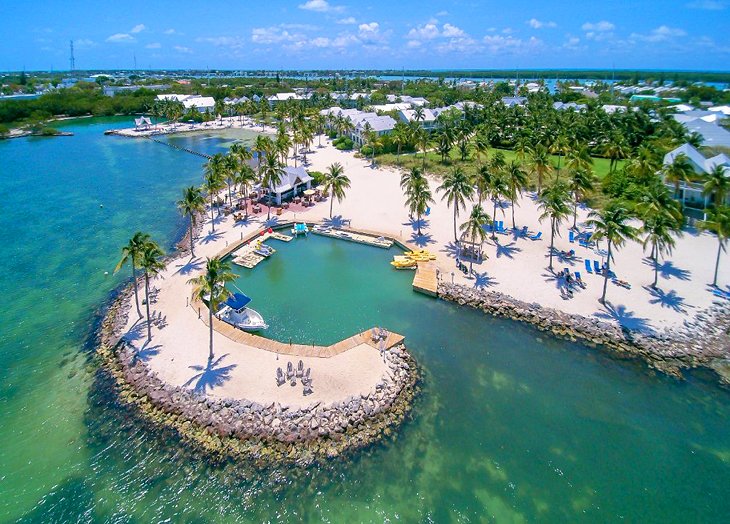 Accommodation: Tranquility Bay Beachfront Hotel & Resort
Located mid-way down the Keys in the town of Marathon, Tranquility Bay Beachfront Hotel & Resort has much to offer those seeking a great Florida family vacation. As its name suggests, this excellent 4-star resort - really a collection of charming townhome villas facing the water - has its very own beach, offering safe swimming for kids. There's plenty of room to spread out and play in the sand.
Although a big property, it never feels crowded or noisy, especially as those adults seeking an escape have their own swimming pool. Other amenities include a dive center, as well as Jet Ski and kayak rentals. Another benefit is the property's proximity to the excellent Turtle Hospital with its unique tours and wildlife experiences.
The units themselves range in size from two to three bedrooms, each with two bathrooms, fully-equipped kitchens, along with living and dining rooms. A real treat are the very large decks, one on each level of your unit offering great garden and water views.
Sunsets are great here, and while not all units can witness this daily spectacle directly, a large public patio area offers superlative views as the sun sets over the water.
Address: 2600 Overseas Hwy, Marathon, Florida
5. Hyatt Centric Key West Resort & Spa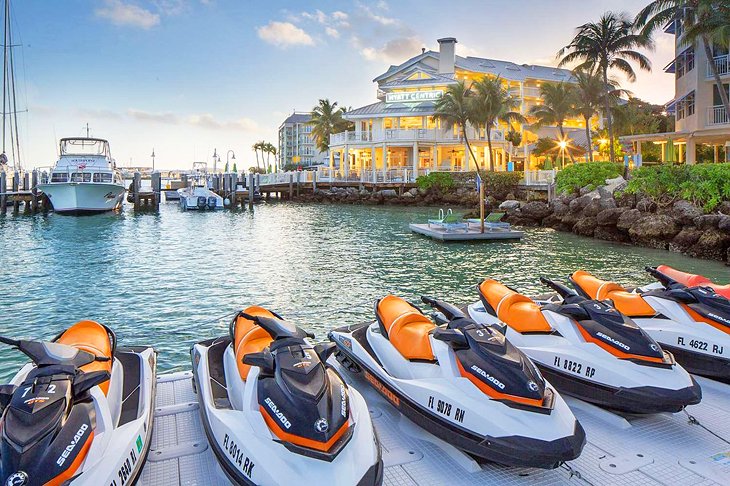 Accommodation: Hyatt Centric Key West Resort and Spa
Managed by a leading luxury brand that has nailed the concept of family vacations, the exceptional experiences available at the 4-star Hyatt Centric Key West Resort & Spa are a big draw for travelers seeking a memorable Florida Keys holiday.
The amenities located on-site at this Gulf-facing resort are, of course, world-class and kid-friendly. These include a large heated outdoor swimming pool, plus access to a wide variety of water-based fun such as snorkeling and Jet Ski and bike rentals. The two on-site restaurants get two-big thumbs up from guests, and feature a variety of kid-centric meal options.
As for the rooms, well, let's just say they're extremely luxurious and elegantly appointed. In addition to having your own large balcony (many with water views), you'll enjoy plenty of living space, with some pet-friendly units available.
Just steps away from the celebrations of Mallory Square, this Hyatt property is also close to the many fun entertainment, shopping, and dining opportunities to be enjoyed along Duval Street.
Address: 601 Front St, Key West, Florida
6. Cheeca Lodge & Spa, Islamorada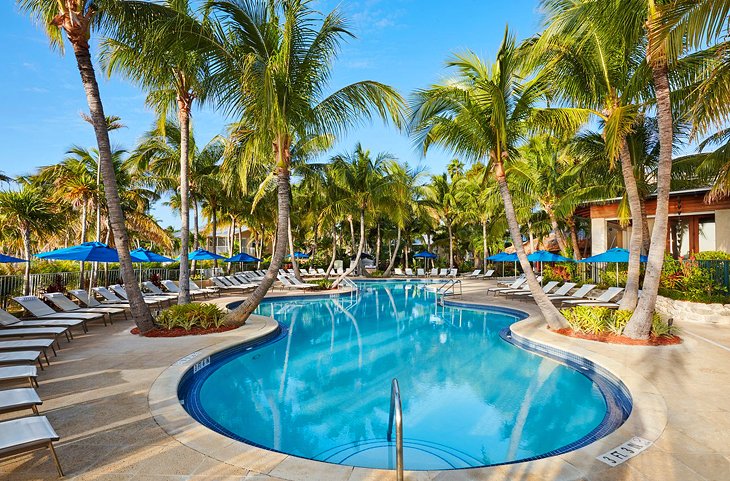 Accommodation: Cheeca Lodge & Spa
One of the larger family-friendly resorts in the Keys, Cheeca Lodge & Spa in Islamorada offers an idyllic getaway for young and old alike. The resort is set amid 27 acres of beachfront property, and it's a delight to simply wander and explore the expansive grounds with its networks of paths and quiet spots.
Highlights of a stay at this exceptional 4-star resort include spending time on the resort's private beach, shooting a round of golf on the nine-hole course, sunbathing while the kids enjoy a kayak adventure, or casting a line together off the private fishing pier (rods are provided). Want to get out on the water? Use of kayaks is complimentary for resort guests.
Also notable are the three on-site dining options, a choice of two swimming pools, one of which is designated for adults only. There's also a full-service spa that even offers a number of treatments for kids. And if you have a large family, shoot for a spacious suite with a full kitchen and plenty of living space.
Address: 81801 Overseas Hwy, Islamorada, Florida
7. Casa Marina Key West, A Waldorf Astoria Resort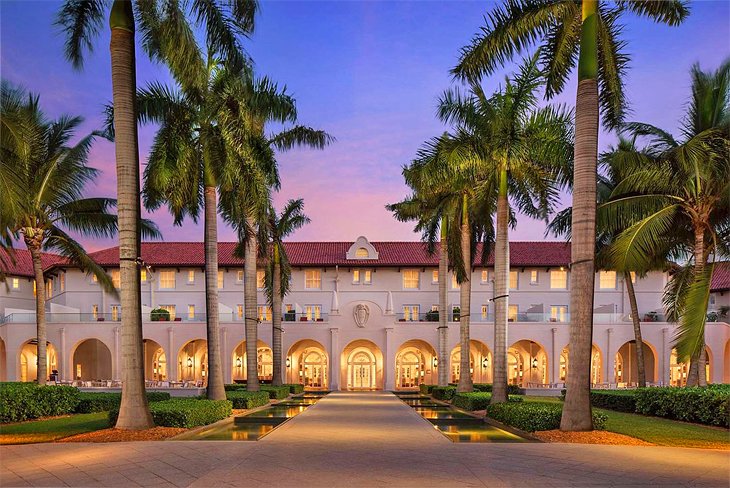 Accommodation: Casa Marina Key West, A Waldorf Astoria Resort
Those seeking a luxury family vacation in the Keys couldn't do much better than check into the elegant 4-star Casa Marina Key West, A Waldorf Astoria Resort. Yes, it's big, boasting some 311 rooms and suites, but there's plenty of space in which to relax-not least of all in your elegant accommodation.
Highlights of the spacious one- and two-bedroom units include plenty of living space and light in their large living areas, which also come with a pullout couch. Standard features include elegant hardwood floors, HDTVs, and walk-in showers are included in some of the larger rooms.
The big draw for those with kids, though, is the resort's very own 1,000-foot-long private beach and dock. Also fun are the two large heated outdoor swimming pools, plus a rental service that can arrange for bikes and watercraft such as canoes and Jet Skis.
Given its location at the southern Atlantic facing side of Key West, the resort offers as tranquil a family escape as you want it to be. When the urge to let your hair down surfaces, the excitement of Duval Street's bustling north end and Mallory Square's must-attend sunset ceremony are just a 20-minute walk away.
Address: 1500 Reynolds Street, Naval Air Station Key West, Florida
8. Key Largo Bay Marriott Beach Resort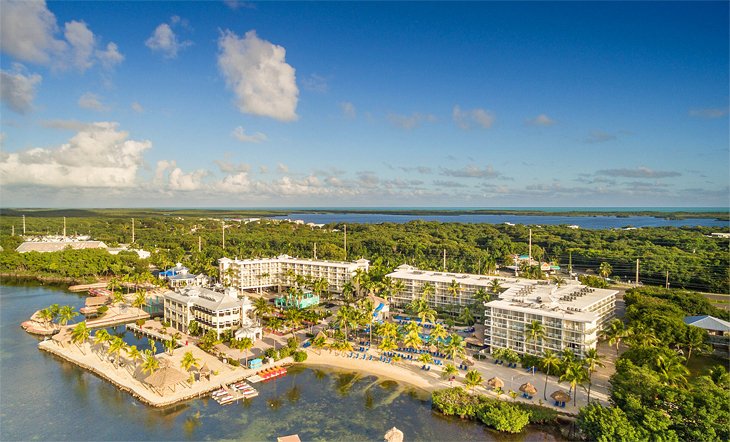 Accommodation: Key Largo Bay Marriott Beach Resort
The 4-star Key Largo Bay Marriott Beach Resort is a great choice of vacation destination for families seeking fun-in-the-sun experiences in the Florida Keys. In addition to its handy location close to top attractions such as the John Pennekamp Coral Reef State Park, there's plenty of fun to be had on-site.
Notable amenities young and old alike will enjoy include a private beach, a large outdoor swimming pool, and plenty of water sports. These water-based activities include diving and snorkeling adventures, which can be arranged through the on-site dive shop.
Other amenities worth mentioning include a restaurant offering an extensive kids' menu, plus a games room. When it's time to sleep, hopefully you've opted for one of the larger suites with their full kitchens and expanding living space.
Address: 103800 Overseas Highway, MM 103.8, Key Largo, Florida
9. Sunset Key Cottages, Key West
Accommodation: Sunset Key Cottages
The charming accommodations at Sunset Key Cottages, part of the luxurious Opal Collection Hotels group, were designed with families (and large groups) in mind. This 4-star resort consists of 40 luxury cottages on a private tropical island just minutes away from Mallory Square in Key West (you can actually see the island's cottages from the square!).
There's plenty of space for kids to roam and explore, along with fun activities-from swimming and kayaking to fishing, a library, and a games room, and much, much more. For adults, there's a full-service spa, as well as a fitness center. Tennis courts are also available, and lessons can be arranged individually or for groups and families.
The cottages are simply delightful. Brightly painted and decorated, these spacious one- to four-bedroom units come with fully-equipped kitchens, so the kids will never go hungry.
Address: 245 Front Street, Key West, Florida
10. Hampton Inn Key Largo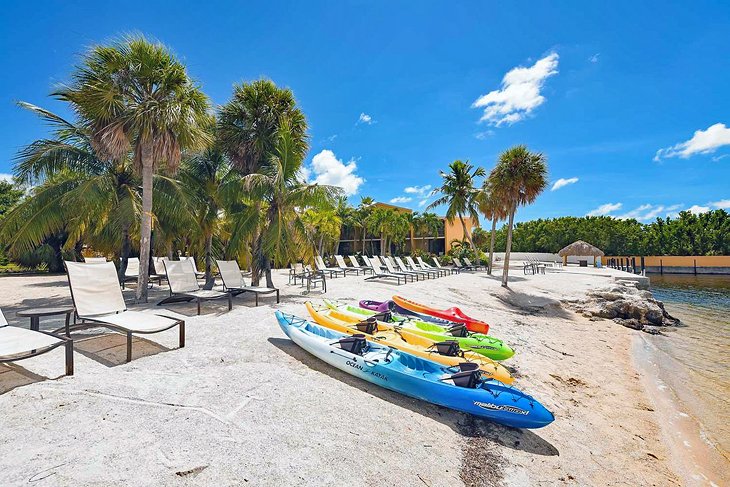 Accommodation: Hampton Inn Key Largo
Family adventures abound at the popular John Pennekamp Coral Reef State Park, located just a few minutes' walk away from the 3-star Hampton Inn Key Largo. This popular park offers plenty of fun activities for kids of all ages, from swimming to snorkeling explorations of its protected reefs.
The hotel's bright, tropical-themed accommodations are also an important factor for most families, and come with plenty of room to spread out. Notable features include HDTVs, large patios or balconies, free Wi-Fi, coffee makers, as well as mini-fridges and microwaves. A good breakfast is also included with your stay.
Amenities worth mentioning include a good-sized outdoor swimming pool, kayak rentals, a fitness center, business center, and a Starbucks. There's also a business center, and meeting rooms are available for rent.
Address: 102400 Overseas Hwy, Key Largo, Florida
11. Islander Resort, Islamorada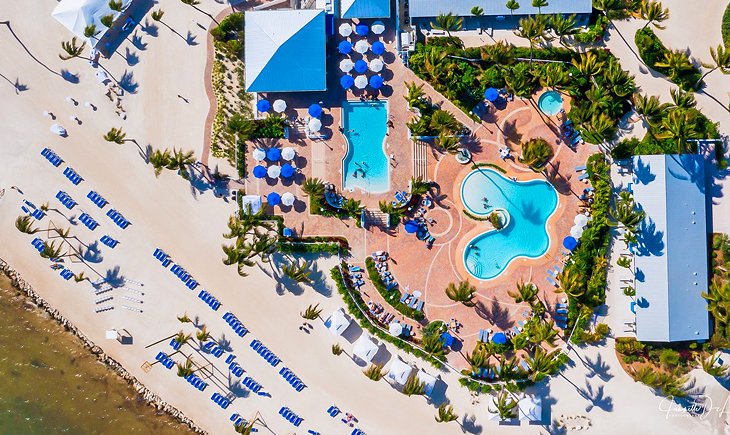 Accommodation: Islander Resort
A popular Islamorada destination for families seeking a memorable Florida Keys vacation, the Islander Resort is a large property that should feature highly on your list of must-check-out places to stay.
There's no end of fun for the kids at this 3-star resort, whether at the property's private beach, with activities such as kayaking and fishing, or hanging out at the heated outdoor swimming pool. The on-site restaurant and café offer plenty of kid-friendly options, too.
However, this may prove a moot point as the resort's very spacious units - a mix of suites, townhomes, and villas - each come with a kitchen or kitchenette. Other handy features available for guests include barbecues, along with the availability of boat slips to park your rental (or to dock your own).
Address: 82100 Overseas Hwy, Islamorada, Florida
12. Glunz Ocean Beach Hotel & Resort, Colony Key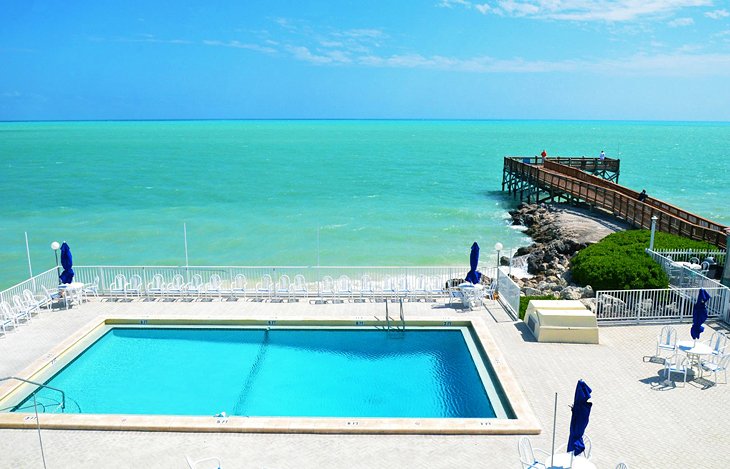 Accommodation: Glunz Ocean Beach Hotel & Resort
Another Marathon location to consider – and one that's also close to the excellent Turtle Hospital attraction – is the 3-star Glunz Ocean Beach Hotel & Resort.
Although this beachfront hotel only has 46 units, they're well suited to families. If available, look into the huge three-bedroom villas, which come with three bathrooms, large and fully-equipped kitchens, separate living and dining areas, plus plenty of room on their decks.
On-site amenities are also worth mentioning, and include an oceanfront heated swimming pool, a long private pier from which to fish (or enjoy the sunsets). There's also a number of excellent hammocks dotted around the property. The beach is a real treat for all ages, and guests are provided with umbrellas and sun loungers on which to relax.
Address: 351 E Ocean Drive, Key Colony Beach, Florida
More Related Articles on PlanetWare.com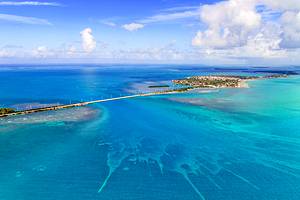 Exploring the Florida Keys: The most popular destination in the Florida Keys is Key West. If you have time to spend a day or more here seeing the sights, check out our list of the top attractions in Key West. If you have time to really explore the area, begin with a look at our guide to the top sites in the Florida Keys.