10 Best Resorts on Islamorada, FL
Beautiful Islamorada offers visitors an intimate and luxurious escape halfway along the Overseas Highway in the Florida Keys. Although small (it's only about seven square miles in size), this pretty paradise boasts an impressive mix of art, history, lovely beaches, and a good selection of intimate and luxurious resort escapes.
Islamorada's extensive selection of attractions keep visitors occupied, and the large variety of resorts make it easy to find the perfect place to stay. Islamorada is known as the Sportfishing Capital of the World, so you'll want to get in some angling while you're here. To help, numerous fish charters and boat rentals are found here, some even connected to the best resorts, with concierge staff available to make arrangements for you during your stay.
Whether you're hoping to build sandcastles and splash around in the emerald waters with your kids, or you want to enjoy a tranquil couple's beach vacation in a plush hotel with a spa, you'll find an ideal spot to rest your head with our list of the best resorts in Islamorada.
1. Cheeca Lodge & Spa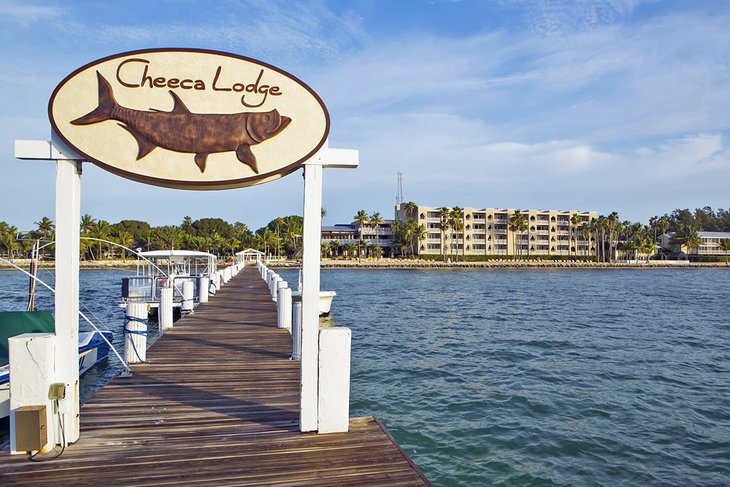 Accommodation: Cheeca Lodge & Spa
A long wooden pier juts into the azure Atlantic waters off the white, sandy beach at the charming 4-star Cheeca Lodge & Spa. It welcomes guests (which have included presidents and celebs) to bask in the peaceful bliss enveloping this lush island haven.
Pillow-top mattresses adorn the comfy beds of each spacious guest room and suite, which are adorned with tropical-themed décor and balconies. After wandering around the extensive 27-acre property, these rooms offer the ideal environment to unwind. Don't worry, there are bikes on hand to make it easier to get from one spot to the next.
Three restaurants will curb your cravings as you gorge yourselves on an ocean vista as phenomenal as the entrées. If you choose to dine off-site, make use of the free shuttle service, which drops guests anywhere within a two-mile radius of the resort. If you do venture off-site to dine, be sure to include the excellent Green Turtle Inn on your prospect list; it's famous for its delicious seafood chowder.
Traveling with kids? They'll love the resort's games room, Xbox Arcade, heated pools, and family-based activities, including beach cruiser bicycle rides and water sports. Camp Cheeca will keep them occupied while you spend time in the adults-only pool, or spoil yourself in the luxurious Spa at Cheeca Lodge.
While you're here, take advantage of the resort's many other first-rate amenities. These include fishing off the pier; playing a game of pickleball, tennis, basketball, or shuffleboard; or trying your hand at making par on the 9-hole golf course, one of only a handful of courses in the Keys.
Address: 81801 Overseas Highway, Islamorada, Florida
2. Islander Resort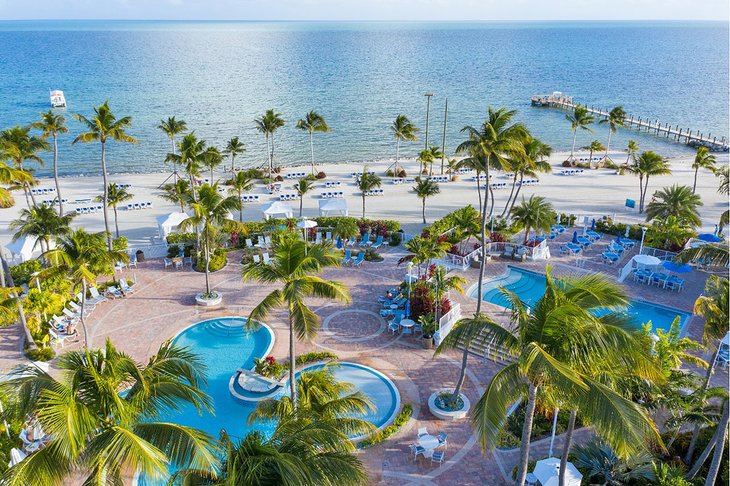 Accommodation: Islander Resort
It's easy to see why so many guests fall in love with the 3-star Islander Resort. One of the best Florida Keys resorts for families, this luscious Atlantic-facing spot oozes natural beauty in the form of tall, verdant palm trees and a pristine 24 acres including white, sandy beach.
Kids will love jumping about in the two heated saltwater pools and running around the on-site splash pad. Head to the beach for some snorkeling, kayaking, paddleboarding, fishing, or bodysurfing – the possibilities are endless. Complimentary bike rentals, basketball, volleyball, ping pong, and shuffleboard are also available for land-based fun.
When hunger strikes, you'll find plenty to tempt your palate at the property's two eateries: Tides Beachside and Elements Lounge & Restaurant. Insider's tip: Visit Tides on a weekend afternoon for live entertainment or on a Thursday at dusk for family movie night.
If you're looking for extra space, choose a specialty suite; they include a kitchen, which makes feeding little ones a cinch. And if you do decide to venture out for vittles, there are no end of first-rate restaurants nearby (some within walking distance) serving up fresh local seafood.
Address: 82100 Overseas Highway, Islamorada, Florida
3. Amara Cay Resort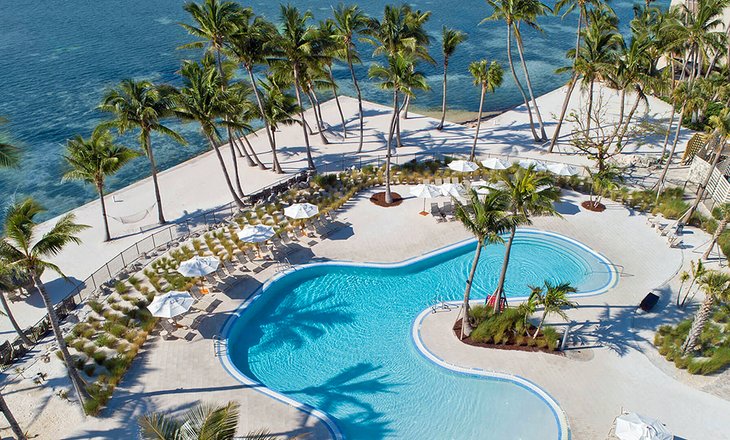 Accommodation: Amara Cay Resort
The gorgeous 3-star Amara Cay Resort is also home to a pristine private beach, and boy is it a beauty! Picturesque hammocks pepper the sandy shore, hanging from swaying palm trees that offer shade from the hot, Floridian sun. Lounge in a thatched hut or take a dip in the zero-entry pool, all the while enjoying superb views over the Atlantic.
Relax in a swinging chair or gather around an evening fire pit to soak up the ambience at this luxe resort. Forgot your swimsuit? No worries. The Island Trendz Boutique makes it easy to shop for everything from stylish beach wear to souvenirs.
The resort fee includes water sport rentals such as kayaks and SUPs, as well as beach chairs, towels, lawn games, bicycles, fitness center access, and a free shuttle to places that lie within four miles of the hotel (the nearby Theater of the Sea is a great choice for its aquatic displays and dolphin swims!).
Kick back in a large room featuring a relaxing mix of modern- and tropical-themed luxury, complete with a furnished balcony. Grab breakfast in the Dining Room or at Reelburger or munch on lunch or dinner at Tiki Bar for a poolside respite. Insider's tip: Dinner is served on Reelburger on Fridays and Saturdays.
Address: 80001 Overseas Highway, Islamorada, Florida
4. The Caribbean Resort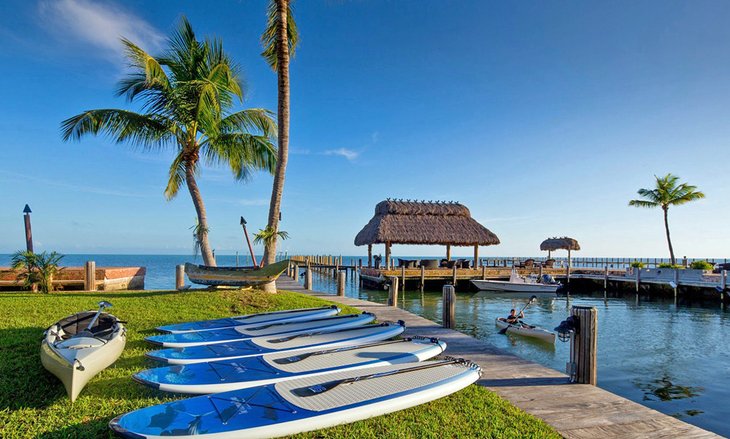 Accommodation: The Caribbean Resort
Guests of the aptly named The Caribbean Resort on Upper Matecumbe Key stay in one of a variety of adorable, upscale homes rich in Caribbean charm (we're talking teak and mahogany furniture and brightly colored fabrics). This popular 3-star resort also features furnished porches, which only add to the island feel, while the outdoor grill, in-unit kitchen, and washer-dryer make it easy to feel truly at home in this pretty paradise. The only thing you'll wish for is more vacation time!
Whether guests choose to rent by the day, week, or month, they will have full access to the resort's amenities. These include a gorgeous pool kept cool by the surrounding garden bursting with palm, pineapple, and banana trees. A hot tub helps take the edge off cool nights, while waterfalls lull visitors into a sense of overall calm.
Activities like stand up paddleboarding, kayaking, and bicycling are also complimentary. While you're at it, why not borrow a fishing rod and try your luck off the 45-foot pier? Insider's tip: dawn is the optimal time for reeling in a big one.
Address: 117 South Carroll Street, Islamorada, Florida
5. Postcard Inn Beach Resort & Marina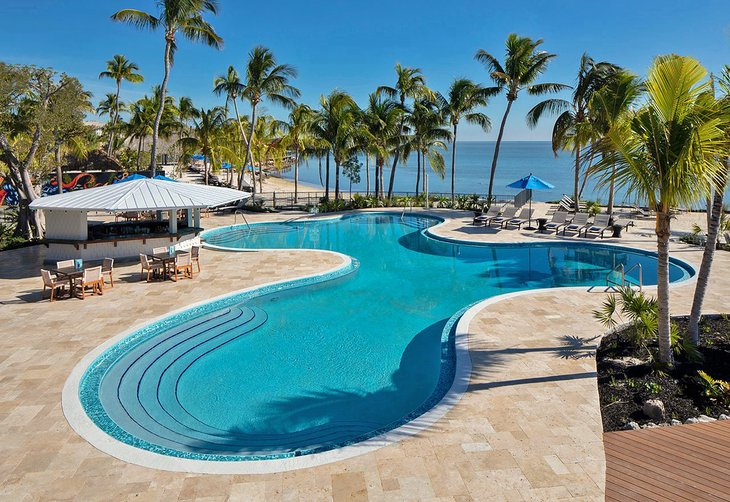 Accommodation: Postcard Inn Beach Resort & Marina
Looking for a relaxing Florida vacay in an Instagram-worthy setting? You'll find it at the 3-star Postcard Inn Beach Resort & Marina at Holiday Isle. The resort's picturesque beach is where guests spend most of their time, lying sprawled upon comfy loungers on the soft, golden sand, rising only to cool off in the emerald waves offshore or take a dip in one of the two crystalline pools.
The daily resort fee includes beach chairs and towels, bicycle rentals, use of kayaks and paddleboards, as well as snorkeling equipment and a shuttle that travels within four miles of the resort. As for food, visitors can enjoy a freshly brewed coffee at the Starbucks café or a meal at one of the four on-site eateries.
As for your nightly retreat, choose from the many crisp, island-themed guest rooms, or rent a cottage for a more exclusive and roomy escape.
Guests are also granted access to the restaurants and amenities at the resort's sister properties: La Siesta Resort & Marina, Amara Cay Resort, and the Pelican Cove Resort & Marina. Bring your favorite family members to join in the fun - four-legged pals included.
Address: 84001 Overseas Highway, Islamorada, Florida
6. La Siesta Resort & Marina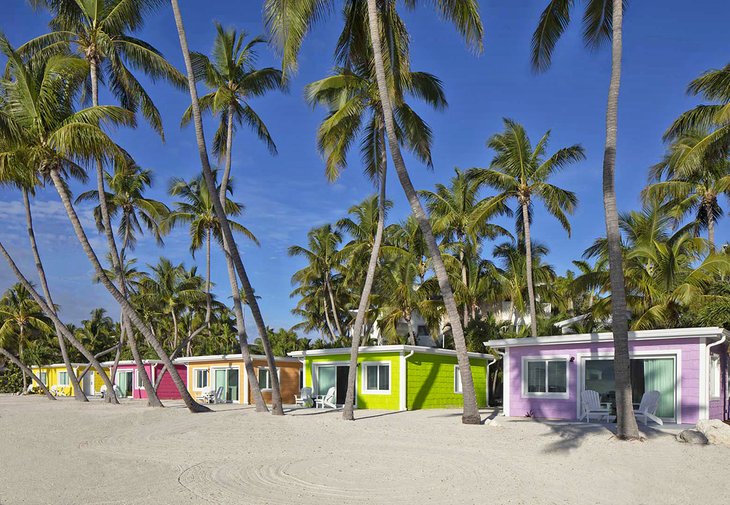 Accommodation: La Siesta Resort & Marina
La Siesta Resort & Marina is home to a pristine private beach and a gorgeous oceanfront pool (heated, of course). Accommodations here are vast and lush. They include spacious guest rooms, multi-bedroom suites, as well as brightly painted private cottages and vacation homes boasting direct beach access and breathtaking views over the Atlantic. Not too shabby!
The daily resort fee includes breakfast, a shuttle service, and fishing equipment. Bicycle, kayak, paddle boat, and paddleboard rentals are also complimentary. Another plus, guests can use the amenities at La Siesta's sister resorts (Postcard Inn, Pelican Cove, and Amara Cay).
Wild & Lime is the resort's poolside restaurant, offering light lunches and afternoon snacks mere steps from the beach. Breakfast is served at the Welcome Center, and dinner can be found at an eatery on one of the sister properties or cooked in your cottage kitchen.
An easy, four-minute walk takes guests to the nearby Indian Key Historic State Park and the History of Diving Museum is located just under three miles from the resort.
Address: 80241 Overseas Highway, Islamorada, Florida
7. Chesapeake Beach Resort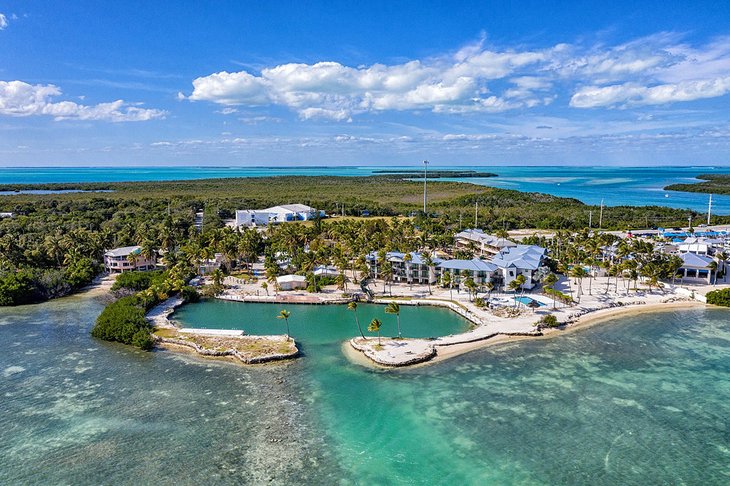 Accommodation: Chesapeake Beach Resort
The views over the Atlantic from the Chesapeake Beach Resort are the stuff of dreams. Sugar-white sand; tall, waving palm trees; and emerald waters dance below a sky so blue, it looks too good to be true. But it is!
Renovated in 2021, this newly revamped resort is bright, airy, and contemporary. Guest rooms at this high-quality 3-star resort feature fabrics that evoke the area's remarkable natural landscape and furnished balconies that allow guests to inhale deep breaths of salty air while being calmed by soft ocean breezes caressing their cheeks.
If you're traveling with kids, opt for a villa. You'll be thankful for the extra space, as well as the exclusivity.
The resort's private beach is set serenely beside the quiet, protected bay, making this an ideal vacation destination for families with young children. The calm, protected waters make it safer for little ones to enjoy. Two oceanfront pools are the prime place to cool off on a warm day.
Address: 83409 Overseas Highway, Islamorada, Florida
8. Pelican Cove Resort & Marina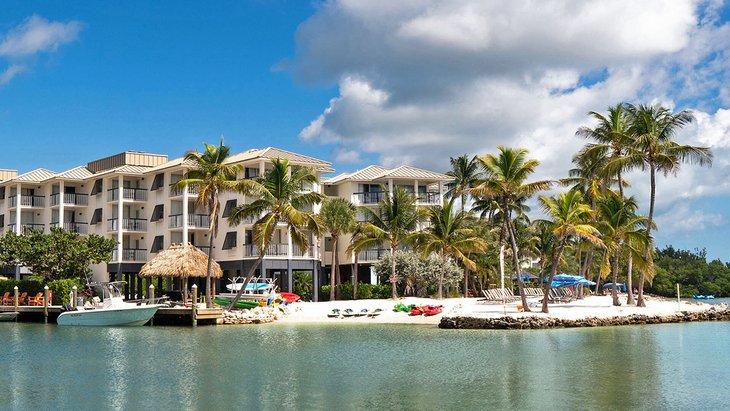 Accommodation: Pelican Cove Resort & Marina
Pelican Cove Resort & Marina has a lot to offer its guests. Surrounded by verdant gardens and featuring a private beach and saltwater lagoon (complete with a giant water trampoline), this lovely 3-star property is a haven for those looking to relax beachside. Grab a bite at the Cabana Bar & Café, dip your toes in the freshwater swimming pool, or ogle the boats at the on-site marina.
Smaller than its sister resorts (Siesta Resort & Marina, Amara Cay Resort, and Postcard Inn Resort & Marina), Pelican Cove has only 63 rooms and suites to choose from, which makes your stay feel a little more boutiquey with an emphasis on intimate and charming.
Breakfast and use of the shuttle service are included with the resort fee, as are rentals of snorkel equipment, kayaks, and paddleboards. Sign up for a Fish-Like-a-Local lesson offered each Thursday and Saturday.
Visitors are also granted access to the amenities on offer at its sister resorts. And Pelican Cove is about as close as you could possibly get to one of the top attractions in the Keys: Theatre of the Seas. This animal experience includes must-do dolphin swims, and it literally backs onto the resort.
Address: 84457 Overseas Highway, Islamorada, Florida
9. Pines & Palms Resort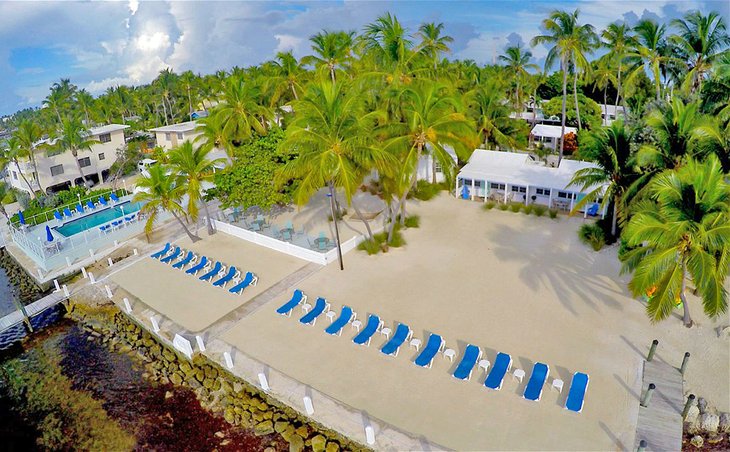 Accommodation: Pines & Palms Resort
Who wants to be stuffed into a tiny hotel room when they're on vacation? Not us. If you're someone who appreciates a little extra space with your holiday, you'll be happy to stay at Pines & Palms Resort, especially if you have kids in tow.
This five-acre resort boasts spacious one-, two-, and three-bedroom cottages and suites, all of which feature a full kitchen. The village-like resort is also home to a heated freshwater pool and Tiki Bar. Book a yoga class, enjoy fishing off the pier, or borrow a bicycle, kayak, or paddleboard. Visit the orchid nursery for a little serenity, and lounge beachside to soak up the rays.
Arriving by boat? You can dock it for free at the resort.
Address: 80401 Old Highway, Islamorada, Florida
10. The Moorings Village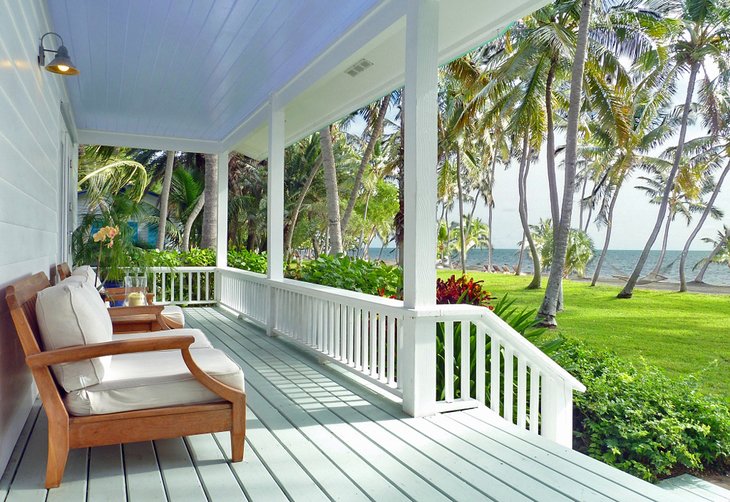 Accommodation: The Moorings Village
Shaded by giant palms set back from the silky sand and vibrant blue water, it's hard to feel stressed at the Atlantic facing Moorings Village, especially if you're swinging in an oceanfront hammock. Once a coconut plantation, this idyllic spot is a natural wonderland bursting with beauty in the form of more than 800 palm trees, pathways lined with orchids, and sparkling ocean waves.
Luxury cottages are spotted throughout the property, offering visitors a luscious retreat from reality. Open and bright, these gorgeous accommodations come with kitchens and a very welcome air of relaxation.
A stay here includes access to kayaks, paddleboards, bikes, a fitness room, tennis courts, and a swimming pool. While there are no restaurants on-site, many eateries are reachable within minutes, and the staff can easily book dinner reservations on your behalf. The excellent Chef Michael's seafood restaurant is an easy walk, and serves up fresh-caught fish daily.
Address: 123 Beach Road, Islamorada, Florida
More Related Articles on PlanetWare.com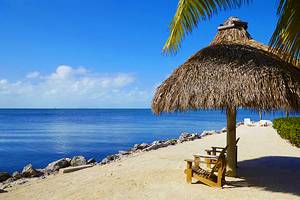 The Florida Keys 101: While Key West may be the most popular (and vibrant) destination in the Florida Keys, it's certainly not the only worthwhile spot to visit. Beautiful Key Largo, for instance, has long been considered the "diving capital of Florida." When you're not snorkeling, stay in one of these top resorts.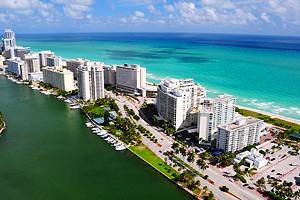 Explore Florida: The Sunshine State boasts plenty of fun tourist attractions to help while away a day. Whether you want to ride roller coasters in Orlando or practice retail therapy in Miami, you won't be bored with a holiday to Florida.