11 Best Resorts in Miramar Beach, FL
We may earn a commission from affiliate links ()
Picturesque Miramar Beach lies on Florida's Northwest coast, about nine miles east of Destin. A scenic spot to unwind, this laid-back locale overflows with geological wonders – like its lusciously soft beach – that make it a go-to vacation destination for nature lovers. With a slew of top resorts in Miramar, this is a great spot for a sunny getaway.
A relatively small region, this Walton County gem is bursting with resorts, which means visitors are spoiled for choice when it comes to stellar accommodations. While some of the most popular places to stay in Miramar Beach lie just outside its borders in neighboring Sandestin (two miles northwest), many can be found just steps from the sandy shore.
Whether you're looking for a family-friendly resort or a hotel that's luxurious enough to erase your worries, you'll find it with help from our list of the best resorts in Miramar Beach.
1. Hotel Effie Sandestin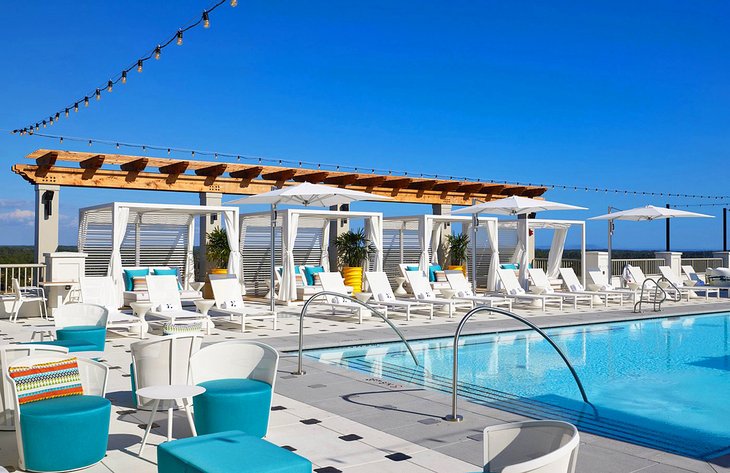 Accommodation: Hotel Effie Sandestin
Hotel Effie Sandestin is a new luxury resort that was added to the Sandestin Golf & Beach Resort family in February, 2021. As most travelers know, there's something extra special about staying at a new resort. The guest rooms are uber clean, the furniture is extra plush, they boast top-of-the-line amenities, and the contemporary design is refreshing.
At Hotel Effie Sandestin, you'll also find five-star service, drool-worthy menus in numerous on-site restaurants, and elegant décor in its 250 rooms and suites.
Speaking of accommodations, the rooms here are so comfy and glam, you may not want to leave, which is a good thing considering the variety of in-room services (like spa treatments and fine dining) on offer.
When it comes time to play, head to the Sandestin Golf & Beach Resort to enjoy its numerous amenities. In no time, you'll find yourself paddleboarding, swimming in the rooftop pool, digging in the sand at the beach, or playing a round of golf.
Address: 1 Grand Sandestin Boulevard, Miramar Beach, Florida
2. Sandestin Golf and Beach Resort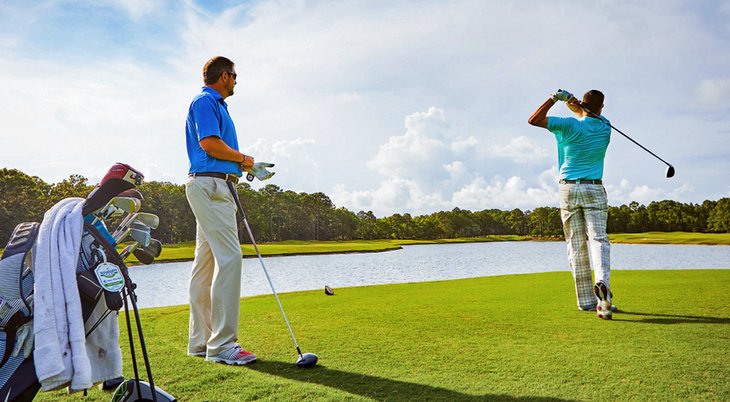 Accommodation: Sandestin Golf and Beach Resort
Although technically in the neighboring town, Sandestin Golf and Beach Resort is one of the most popular beach resorts for visitors to Miramar Beach. A whopping 2,400-acres in size, this vacation rental property is so massive, you're sure to find the perfect spot for your vacation needs. It spans from the emerald Gulf to the shimmering Choctawhatchee Bay, and now includes the luxurious Hotel Effie Sandestin.
Over 1,300 rentals are available at the resort, and they range in size from small studios to large villas. A stay includes bicycle, boogie board, and kayak rentals, as well as access to a fitness center, tram service, and golf course.
Choose the section that best suits your holiday needs. Hotel Effie boasts a full-service spa, rooftop pool, and plush rooms, while Osprey Pointe offers large two-, three-, and four-bedroom luxury units.
Village & The Grand Complex is centrally located for those who like being in the heart of the action, with easy access to the shopping and dining districts, while Lakeside offers a more serene locale, surrounded by verdant grounds and peppered with sweet cottages.
Hoping for a water view? Choose a unit at Beachfront, which comes with a private beachfront pool and balcony. Beachside, Bayside Villas, and Bayside at Sandestin also boast stay-worthy units with pretty vistas, heated pools, and a slew of activities.
Address: 9300 Emerald Coast Parkway South, Sandestin, Miramar Beach, Florida
3. Hilton Sandestin Beach Golf Resort & Spa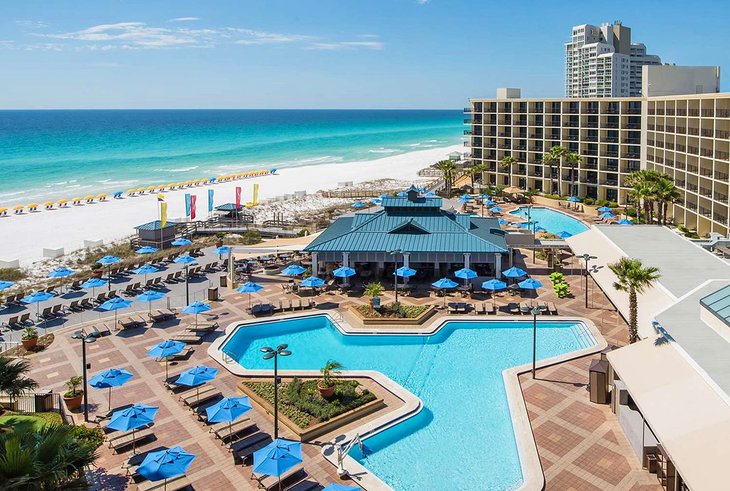 Accommodation: Hilton Sandestin Beach Golf Resort & Spa
A perfectly positioned beachfront hotel, the Hilton Sandestin Beach Golf Resort & Spa fronts the calm, crystalline waves of the Gulf of Mexico. Its large, contemporary rooms feature private balconies, and many boast a picturesque waterfront view.
Love to swim? You won't be disappointed. This lavish resort is home to three pools, one of which is indoors, so you can still splash about when the weather's less than ideal. Head to the spa for a high-end treatment or work off dessert at the fitness center.
Bring your children to join in the fun. The Hilton Sandestin caters to little ones with evening activities, babysitting services, kids' meals, and a slew of exciting activities. From water sports like kayaking, stand up paddle boarding, and snorkeling to a championship golf course, tennis courts, and bike rentals, there's no shortage of fun to be had. No wonder this is dubbed one of the best resorts in Miramar Beach.
Insider's tip for families: Book a deluxe suite for the optimal family-friendly experience. They include a separate sleeping area with bunkbeds, a separate TV for the kids, and a mini fridge and microwave to make snack time a breeze.
With six dining options featuring everything from a quick bite to a fancy meal, guests are spoiled for choice. For a special experience, the AAA Four-Diamond Seagar's Prime restaurant is a fine dining establishment you'll relish.
Address: 4000 Sandestin Boulevard, Miramar Beach, Florida
4. Hyatt Place Sandestin at Grand Boulevard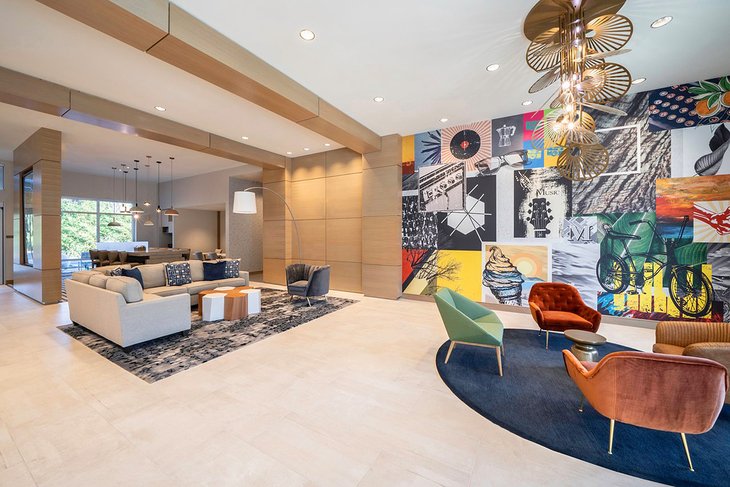 Accommodation: Hyatt Place Sandestin at Grand Boulevard
The Hyatt Place Sandestin at Grand Boulevard is one of the best resorts in Miramar Beach. While not located directly on the popular beach, the vacation vibe in this fun and funky hotel is unmistakable. And it's only a 10-minute drive to the sugar-white sand.
Works by local artists add an intimate appeal to each room and hallway, brightening the décor to match the vibrant surroundings. Hoping to shop in adorable boutiques? The hotel's prime location, in the Grand Boulevard Town Center, puts guests mere steps from the stores, restaurants, and entertainment beloved by visitors to this hub.
Those who'd rather stay put at mealtime can roll out of their comfy, plush bed and into the on-site restaurant.
The whole family (including your four-legged pals) are welcome to this Hyatt with smiles, free breakfast, and a ton of entertaining activities. The heated pool is the most popular spot, for good reason, but the fitness center is also well used.
Address: 325 Grand Boulevard, Miramar Beach, Florida
5. Embassy Suites by Hilton Destin Miramar Beach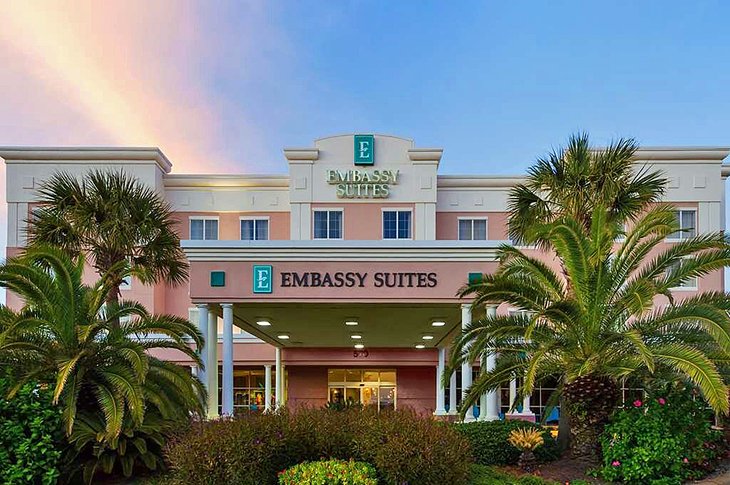 Accommodation: Embassy Suites by Hilton Destin Miramar Beach
A private stretch of beach welcomes guests to Embassy Suites by Hilton Destin Miramar Beach. Just cross the road from the resort, and you'll be greeted by soft, white sand; emerald water; and a sea breeze so refreshing, you can't help but relax.
Back at the hotel, you'll find a heated swimming pool, fitness center, and a business center for those who aren't able to leave work fully behind.
An ideal accommodation for families, each guest room consists of a spacious suite boasting a microwave and refrigerator to help visitors prepare snacks and small meals with ease. Speaking of meals, the on-site Calypso Café serves up seafood and Caribbean food so fresh, your tastebuds will go into overdrive.
Breakfast is included with your stay, and it's cooked to order. An evening reception is also complimentary.
Address: 570 Scenic Gulf Drive, Miramar Beach, Florida
6. Club Wyndham at Majestic Sun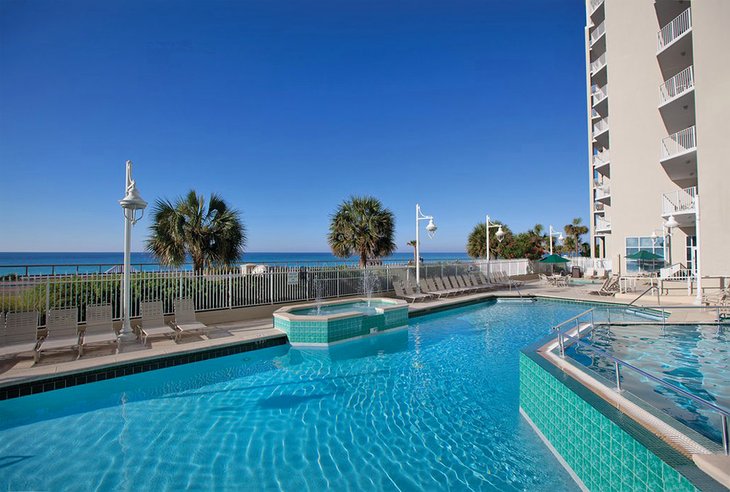 Accommodation: Club Wyndham at Majestic Sun
Owned by Wyndham Vacation Resorts, Club Wyndham at Majestic Sun offers guests a family-friendly locale that will transform a mere holiday into a relaxing beach vacation. Remarkable sunsets can be witnessed from the soft sand outside its doors, while a dip in the pool is a wonderful way to escape the heat.
Borrow a bike to tour the area, hit the fitness center to work up a sweat, or paddleboard offshore. As for accommodations, there are plenty of contemporary suites on offer.
Those with little ones in tow know the struggles of sharing a tiny hotel room. There's no place to stretch out; parents must go to bed when the kids do; and when they're hungry for a snack, you'll be left scrounging through your purse for rogue Goldfish crackers to quell their tears.
The large, modern units at this extensive resort mean there's space for everyone to sleep where (and when) they want, and they boast a kitchenette for easy food prep.
Address: 77 Seascape Drive, Destin, Florida
7. Courtyard by Marriott Sandestin at Grand Boulevard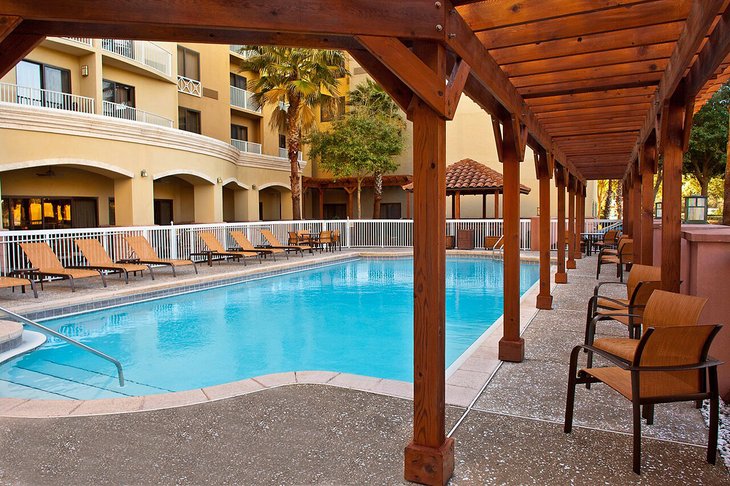 Accommodation: Courtyard by Marriott Sandestin at Grand Boulevard
With 163 rooms and 11 suites on offer, you're sure to find a comfy place to rest your head at the Courtyard by Marriott Sandestin at Grand Boulevard. For those who have to mix business with pleasure during their trip, ergonomic workstations make it easy to get work completed in your room.
BISTRO restaurant helps guests perk themselves up in the morning. Grab a Starbucks® coffee and a light, healthy breakfast to start your day on the right foot. Then head for a walk on the path around the golf course followed by a dip in the outdoor pool. At night, return to the on-site eatery for a tasty dinner.
If you're looking for a wider array of shops and restaurants, a variety are reachable by foot along the busy Grand Boulevard.
Address: 100 Grand Boulevard, Miramar Beach, Florida
8. Residence Inn by Marriott Sandestin at Grand Boulevard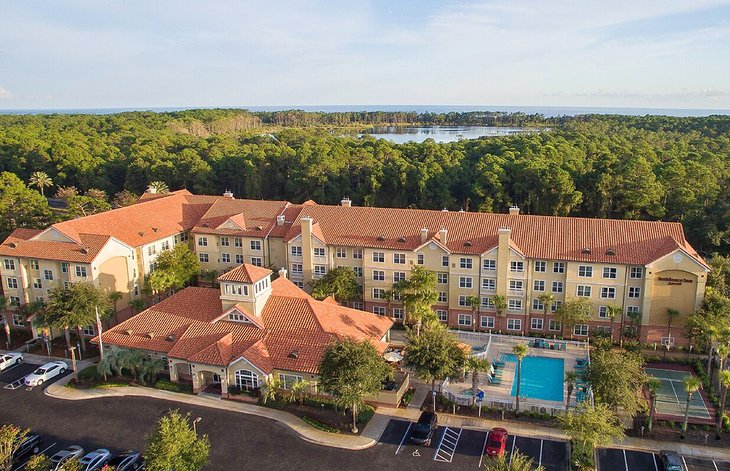 Accommodation: Residence Inn by Marriott Sandestin at Grand Boulevard
Another Grand Boulevard-based accommodation, the Residence Inn Sandestin is a conveniently placed resort perfect for those in search of a lengthier holiday rental. Since it's close to the attractions of both Miramar Beach and Sandestin, it's easy to ditch the car and explore this area by foot or bicycle.
The spacious suites offer enough room to stretch out and enjoy a few moments of privacy (or perhaps an afternoon nap) away from your travel companions. We're talking separate living, dining, and sleeping areas.
The in-room kitchen makes eating in a cinch, especially for guests who use the hotel's free grocery shopping service, which delivers food straight to your door. You won't need to make breakfast, though, since a hot morning meal is included with your stay.
The 24-hour fitness center and outdoor pool make it easy to stay in shape; not to mention work off those meals.
Address: 300 Grand Boulevard, Miramar Beach, Florida
9. Embarc Sandestin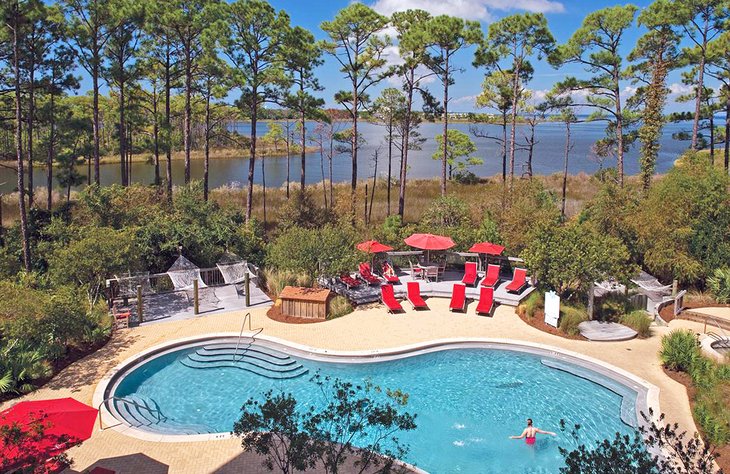 Accommodation: Embarc Sandestin
Another family-friendly resort in Miramar Beach, the Embarc Sandestin offers large vacation homes complete with sunrooms and balconies. Although technically in Sandestin, it takes a mere 10 minutes to drive to neighboring Miramar Beach.
Towering pine trees line the resort's lush property, which is set serenely beside the deep blue waters of sparkling Choctawatchee Bay. Swim laps in the pool, which overlooks the bay, or lounge on a hammock. Warm up with a soak in the hot tub, then join a game of pickup volleyball on the man-made beach court.
The resort also boasts a fitness center, movie theater, and games room, as well as tennis courts and access to kayaks and bicycles. Trust us, you won't get bored.
The rooms here are big and bright. They include a dishwasher, microwave, fridge, and kitchen, as well as a private balcony.
Address: 8626 Baytowne Avenue, Sandestin, Miramar Beach, Florida
10. TOPS'L Beach & Racquet Resort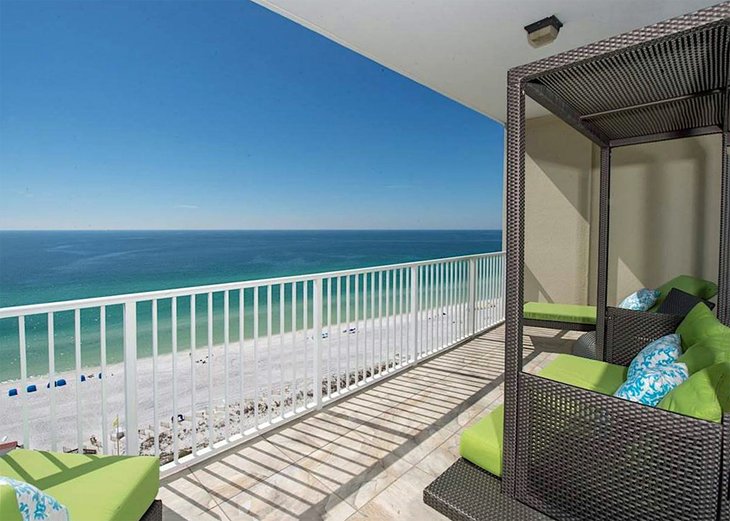 Accommodation: TOPS'L Beach & Racquet Resort
With 52 lush acres at their disposal, guests at the TOPS'L Beach & Racquet Resort won't find themselves at a loss for things to do. A children's pool, heated outdoor pool, hot tub, sauna, fitness center, tennis and basketball courts, and meeting rooms can be found on-site. There's even a wedding venue for those ready to upgrade their relationship status.
Guests of this expansive resort are also granted easy access to a long stretch of beach lining the green-hued water. Book a tennis lesson, challenge your friends to a game of racquetball, boogie board on the waves, or grab a cool drink at the beachside tiki bar. For a more substantial meal, head to one of the on-site restaurants.
When it comes time to relax, choose from a slew of gorgeous, bright, and airy units, many of which feature unbeatable views of the Gulf. Kitchenettes and washer/dryers are included in most rentals. Their spacious layouts and the resort's ideal location make this an easy place to spend a vacation, especially for those traveling with kids.
Address: 9011 US Highway 98 West, Miramar Beach, Florida
11. Candlewood Suites of Destin and Miramar Beach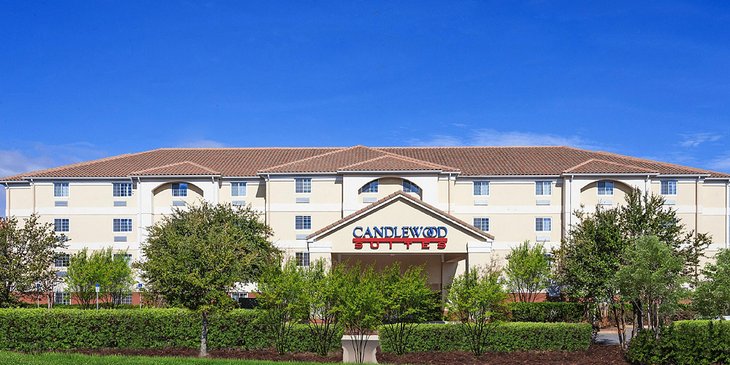 Accommodation: Candlewood Suites of Destin and Miramar Beach
Candlewood Suites of Destin and Miramar Beach works hard to make an extended stay at their resort feel like home. The 24-hour business center makes it easy to stay comfortably connected to work. You'll have access to a printer, copier, fax, and office supplies, as well as two free computer workstations during your visit.
Each well-appointed suite features a comfortable bed, large workspace, dining table and a functional kitchen complete with dishes. Housekeeping is offered weekly.
Free laundry is available on-site, and the Candlewood Cupboard sells everything you might have forgotten to bring. Borrow a film or music CD from the lending library at the front desk when you run out of things to watch.
There's also a 24-hour fitness center and outdoor pool to enjoy in your free time.
Address: 11396 US 98 West, Miramar Beach, Florida
More Related Articles on PlanetWare.com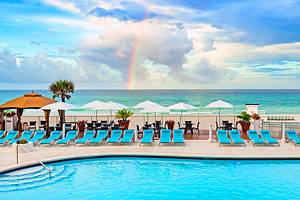 Other Nearby Resorts to Consider: Luxurious Destin sits only 20 minutes away from Miramar Beach, making it another optimal spot to settle. From family faves to elegant resorts, this pretty town offers a slew of top-rated resorts to choose from. Panama City Beach is another must-visit, chock full of fantastic resorts you'll be more than happy to visit.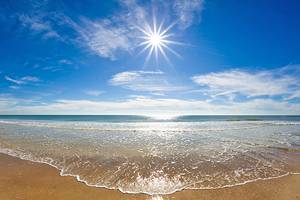 More Spots to Visit on Florida's Gulf Coast: The Gulf Coast offers calmer, warmer water than its Atlantic Ocean counterpart. Its vast, beautiful beaches are blanketed by sugar-white sand jutting into sparkling emerald waves. Tranquil isles like popular Sanibel Island pepper this section of the state, offering visitors a picturesque place to relax.