14 Best Hotels in Daytona Beach
We may earn a commission from affiliate links ()
In addition to the many attractions lining what is undoubtedly one of the longest stretches of beachfront fun in Florida – it was fortuitously dubbed "The World's Most Famous Beach" in the 1930s – visitors will also find an endless variety of oceanfront hotels from which to choose when visiting Daytona Beach.
Whether you're on the lookout for luxury hotels or cheap hotels in which to stay, the best Daytona Beach resorts are never very far away from the fun of the town's historic downtown district, as well as the excitement of the arcades and experiences along the Boardwalk.
Known the world over as the home of Daytona International Speedway, Daytona Beach has earned a reputation as one of the best places to vacation in the "Sunshine State" of Florida. In addition to its endless list of fun things to do, Daytona also boasts some 23 miles of gorgeous Atlantic beaches.
To help you make the most of your vacation, be sure to read through our list of the best resorts and oceanfront hotels near Daytona Beach, Florida.
On This Page:
Best Luxury Hotels in Daytona Beach
1. Hilton Daytona Beach Oceanfront Resort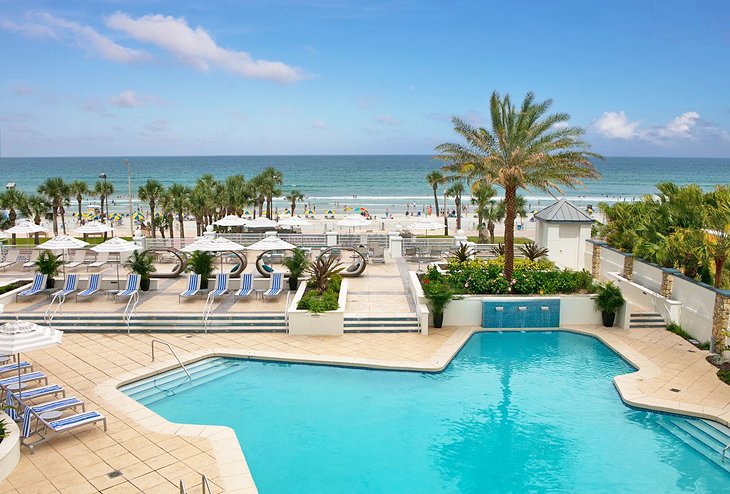 It's a big and busy property, and consists of more than 744 accommodation options. A great choice for those wanting a high-degree of luxury are the larger suites. These spacious units come with extras including elegant Florida-themed décor, separate parlors and living rooms, handy wet bars, and roomy balconies or terraces. If available when making your reservation, ask for one of the elegant ground-level cabana suites.
2. Hard Rock Hotel Daytona Beach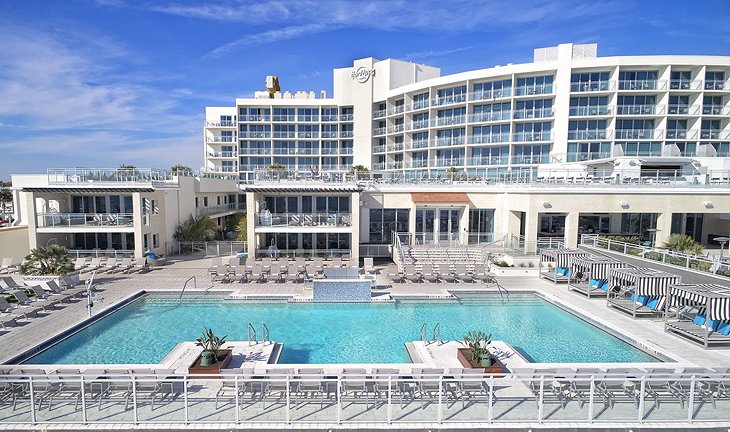 Better still, splash out on one of the fun "rock star" suites. In addition to enjoying superb beach views, you'll benefit from comfy beds and bedding, spacious balconies, as well as celebrity-themed décor and art. Nice added touches of these upgraded accommodations include concierge services and a nightly turndown service.
3. The Shores Resort & Spa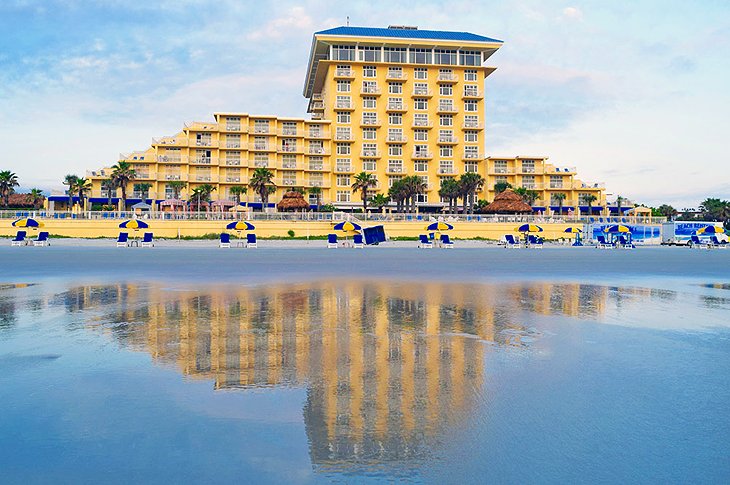 This 4-star resorts also boasts an impressive array of amenities. There's plenty of pool terrace space on which to spread out and relax, along with direct, easy access to the beach.
In addition to great poolside dining and an on-site seafood restaurant, guests will also enjoy being pampered in the resort's full-service spa (opt for a couples' massage). For evening fun, a number of fire pits overlooking the beach are also available.
4. The Black Dolphin Inn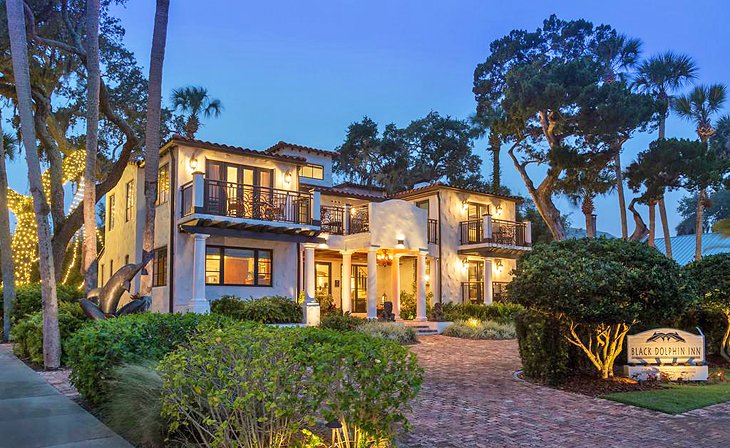 5. The Daytona, Autograph Collection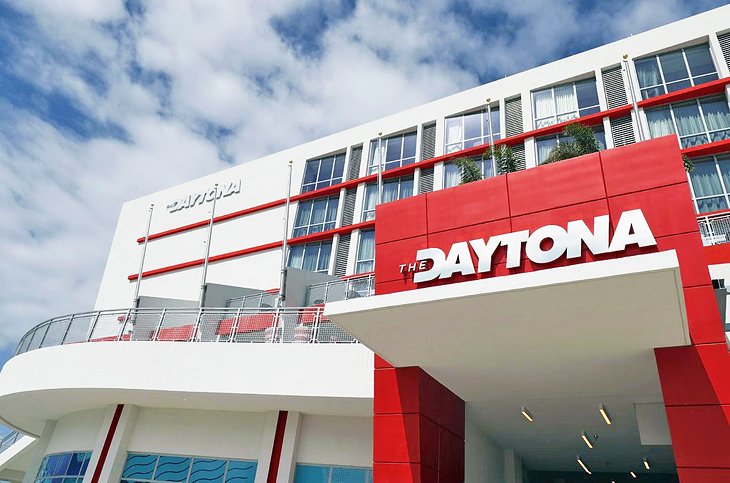 This race car-themed location offers plenty of references to the sport, from the authentic vehicles in its lobby to the décor of its public spaces and rooms. The amenities are also great and include a restaurant, gift shop, fitness center, and large outdoor swimming pool.
6. The Plaza Resort & Spa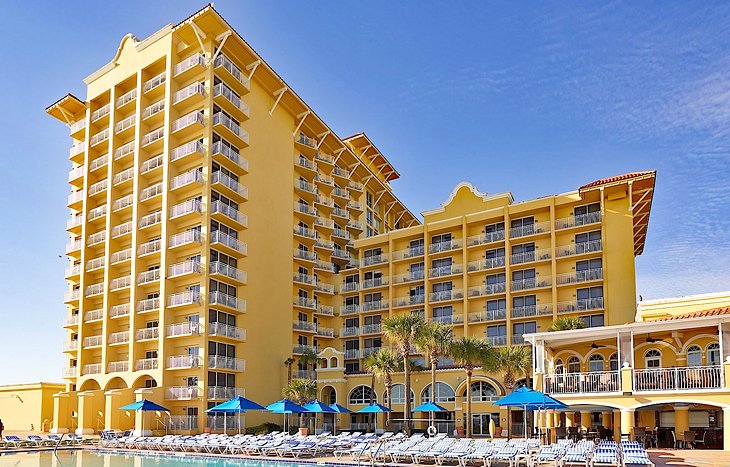 In addition to comfortable pillow-top beds and bedding, you can expect to be greeted with complimentary bottled water, a coffee machine, microwave, mini fridge, and large screen TV. The resort's larger suites are perfect for families needing a little more room, with some featuring spacious balconies overlooking the ocean.
7. Hyatt Place Daytona Beach - Oceanfront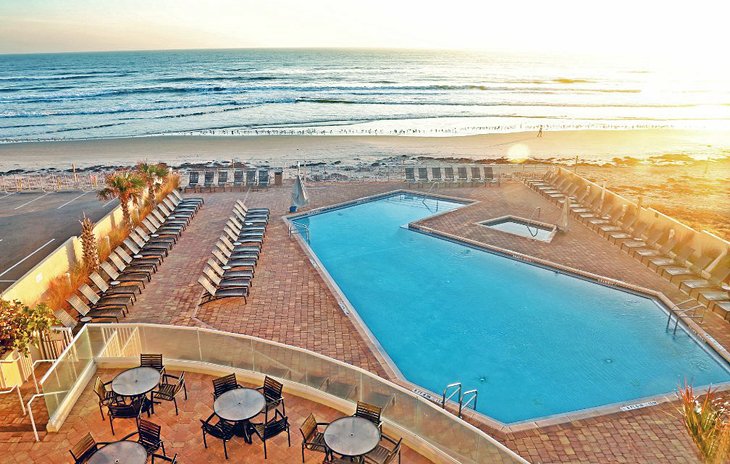 8. Bahama House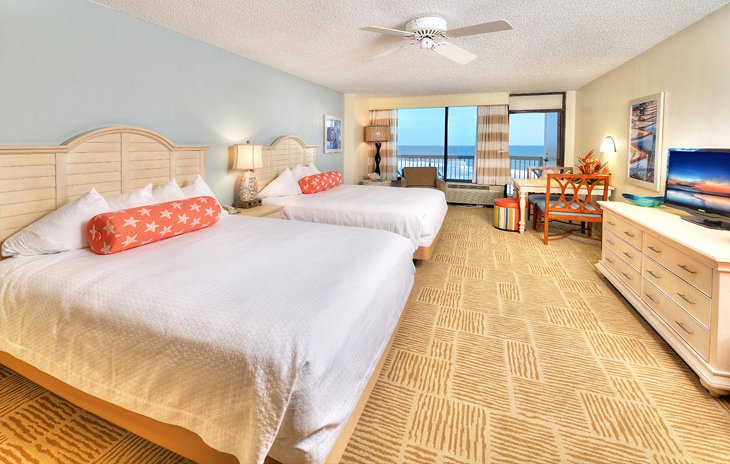 While the hotel's standard ocean-view guest rooms are well worth checking out. They come with a furnished balcony, mini-fridge, and a microwave. For those traveling with kids or simply wanting to cook for themselves, some studios come with complete kitchens.
9. Holiday Inn & Suites Daytona Beach on the Ocean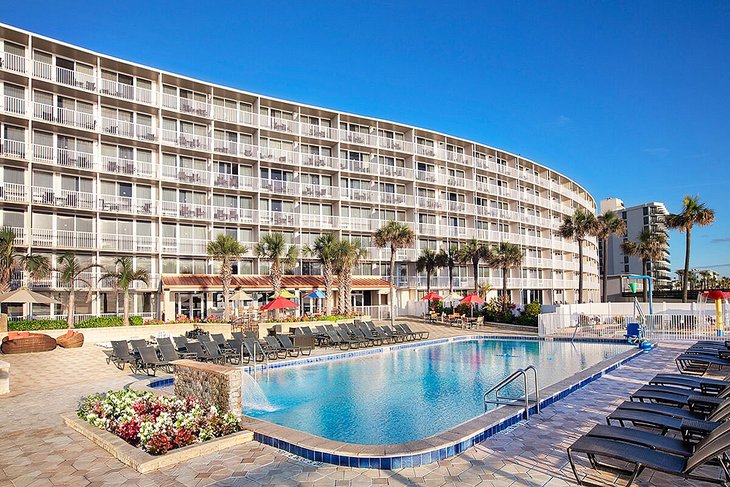 10. Bluegreen Vacations Casa del Mar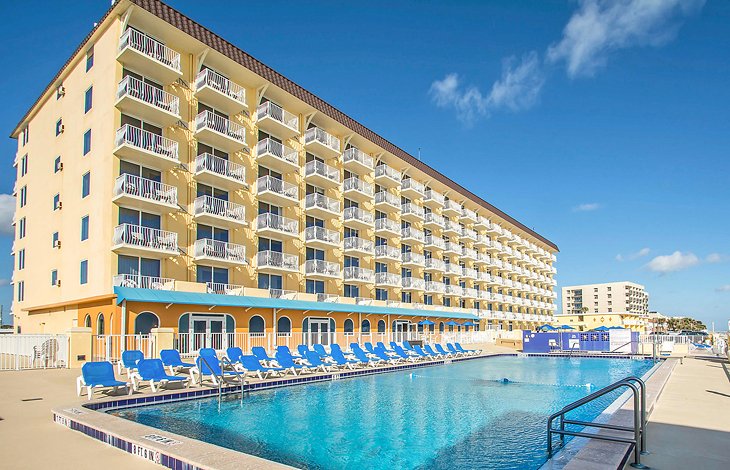 Best Hotels near Daytona Speedway
1. Holiday Inn Daytona Beach LPGA BLVD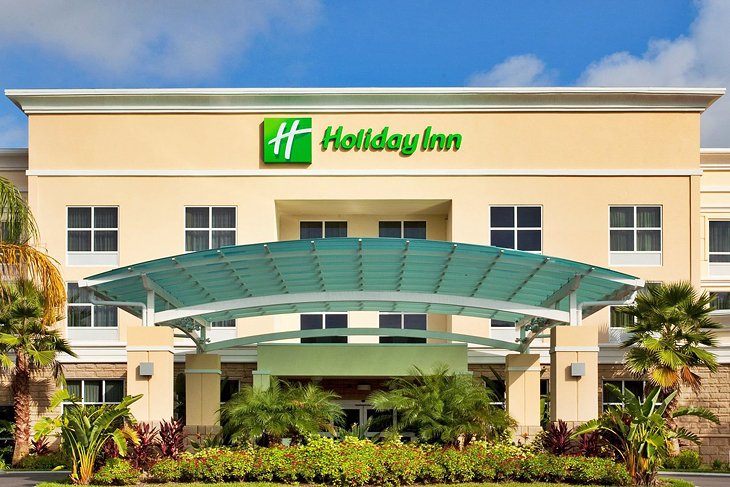 In addition to a large, heated, outdoor swimming pool and on-site restaurants, guests have access to 24-hour fitness and business centers, and ample meeting rooms. Room service is also available.
2. Residence Inn Daytona Beach Speedway/Airport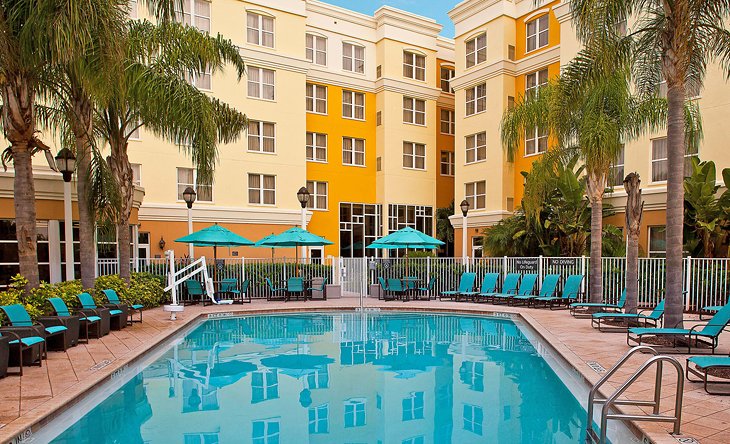 Not that you'll want to venture too far, as the hotel offers a large, heated outdoor swimming pool. There's also a fitness center (open 24-hours) plus event space located on-site.
Best Budget Hotels in Daytona Beach
1. Tropical Winds Oceanfront Hotel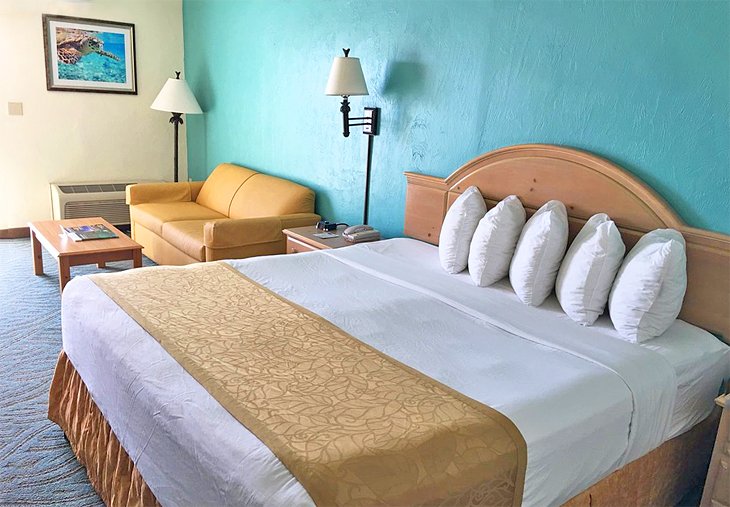 2. Atlantic Shores Motel