10 Best Beach Resorts in Vero Beach, FL
We may earn a commission from affiliate links ()
Vero Beach is a beautiful gem on Florida's sparkling Treasure Coast. A distinctive lack of high-rises rewards visitors with seamless views of the stunning Atlantic Ocean, while easy access to golf, water sports, and upscale shopping make this a wonderful place to unwind.
While this stylish haven attracts members of the upper echelon, Vero Beach boasts a wide selection of resorts that cater to every type of budget. Whether you favor beachfront hotels touting all the bells and whistles, or prefer a kid-centric resort packed with fun, you'll find what you're after in Vero Beach.
Before you travel, use our list of the best resorts in Vero Beach to help choose the perfect accommodations for your Floridian holiday.
Note: Some businesses may be temporarily closed due to recent global health and safety issues.
1. Costa d'Este Beach Resort & Spa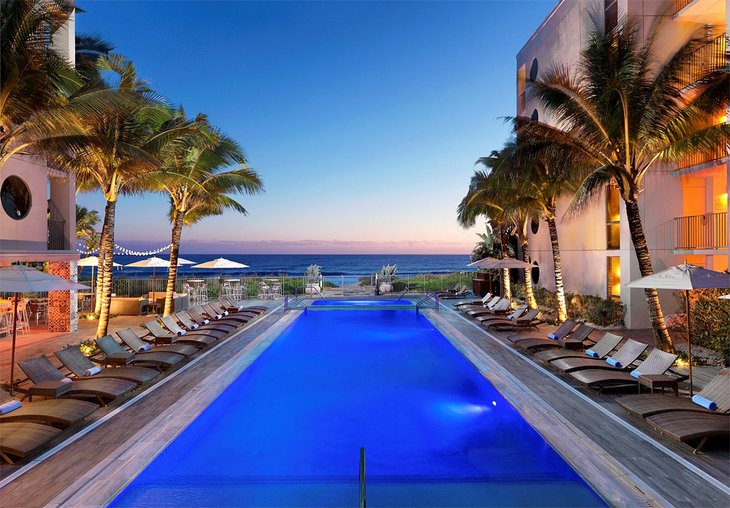 Gloria Estefan and her husband Emilio have impeccable taste; so, it's no surprise that their hotel, the Costa d'Este Beach Resort & Spa, is so stunning. From its idyllic position on the pristine, sugar-white shores of the Atlantic Ocean to its plush rooms to the lavish C/Spa, this relaxing resort adds a bit of "ahh" to every vacation.
Each luxe guest room is bright, airy, and filled with modern furnishings and amenities. The Beach Cabana King room offers a private, furnished ground floor patio with access to the beach. Or you could live like a royal in the luxurious Florida Penthouse Suite. It comes with three balconies, a massive bathroom, private dressing room, kitchenette, living room, and phenomenal views.
Destress with sunrise yoga, enjoy a facial and massage, or splash about in the crystalline oceanfront pool. To cool off, ask one of the "waterside attendants" to bring a few complimentary frozen grapes or chilled aromatherapy cloths to your chaise. Two beach lounge chairs and a beach cruiser bike are included in the resort fee.
Satisfy your cravings with a mouthwateringly good meal at The Wave Kitchen, or remain in your swimsuit while munching on treats from the poolside restaurant.
Address: 3244 Ocean Drive, Vero Beach, Florida
Accommodation: Costa d'Este Beach Resort & Spa
2. Kimpton Vero Beach Hotel & Spa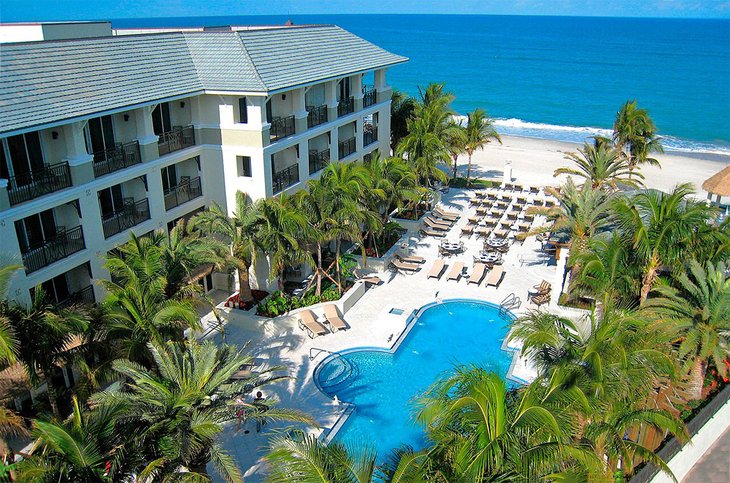 Life is so easy (not to mention pretty and glamorous) at the Kimpton Vero Beach Hotel & Spa that guests won't want to leave the property. This Four Diamond Award-winner hugs the pristine Atlantic shoreline and boasts uber friendly staff and luxurious accommodations that stun with contemporary designs.
Guest rooms vary in size from a studio to a three-bedroom suite. They feature plush bedding, furnished balconies, and bathrooms so luxe, you'll find yourself soaking in the tub for hours. Choose from a garden, oceanfront, or resort view. You won't be disappointed.
Staff at the Kimpton want their guests to enjoy a stress-free experience. That's why each room is supplied with a complimentary yoga mat. Valet parking, beach chairs, and morning coffee and tea are also included in the resort fee.
The luxe White Orchid Spa offers soothing treatments like the O2 Oxygen Lift Facial, deep tissue massages, and hydrotherapy soaks. And two oceanfront restaurants (Cobalt and Heaton's) serve the freshest coastal fare to hungry travelers.
Multiple shops and restaurants are located within walking distance of the property, but as we mentioned earlier, this resort is so divine guests don't often feel the need to leave.
Address: 3500 Ocean Drive, Vero Beach, Florida
Accommodation: Kimpton Vero Beach Hotel & Spa
3. Disney's Vero Beach Resort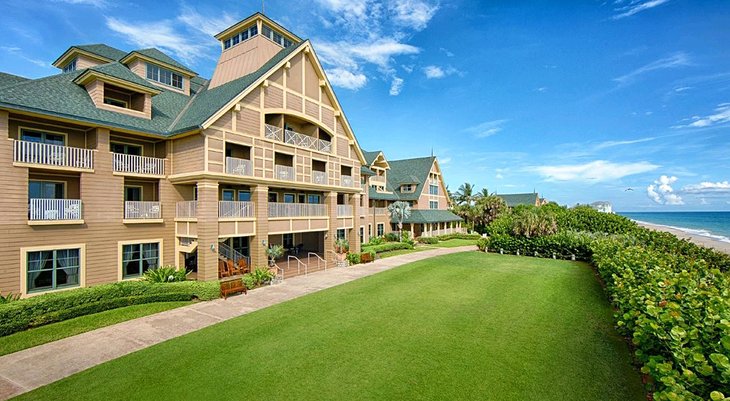 Staff at Disney's Vero Beach Resort know that a family trip to Florida isn't complete without some kind of Disney interaction. Even if you don't plan to spend your days riding the coasters at Walt Disney World (which is located two hours southeast), you can still treat your kids to a memorable Disney-style holiday experience at this fun resort.
Ever seen a pool shaped like Mickey Mouse? You will during your stay at this lively spot. Zip down the two-story-tall Pirate's Plunge waterslide into the crystal-clear water below and watch your smallest kids squeal with delight in the Tiger Lily Wet Play Area.
In true Disney style, you'll find a ton of themed activities to keep the whole family entertained. Try your luck at the pirate-based Port Holes Miniature Golf; play a game of tennis, basketball, or volleyball; or partake in a scavenger hunt.
Breakfast and dinner can be enjoyed at Wind & Waves Grill, an adorable beach bistro. Wind & Waves Market can quench your thirst as well as lunch-time hunger with to-go burgers, sandwiches, and soft-serve ice cream.
Don't worry, this resort isn't solely designed for kids. At the sumptuous spa, parents are rewarded with a relaxing spot to soothe their woes, or just provide a break from all that happy squealing.
Relax in your comfy room, complete with a kitchenette, or upgrade to a one- or two-bedroom villa for extra living space.
Address: 9250 Island Grove Terrace, Vero Beach, Florida
Accommodation: Disney's Vero Beach Resort
4. Hampton Inn & Suites Vero Beach Downtown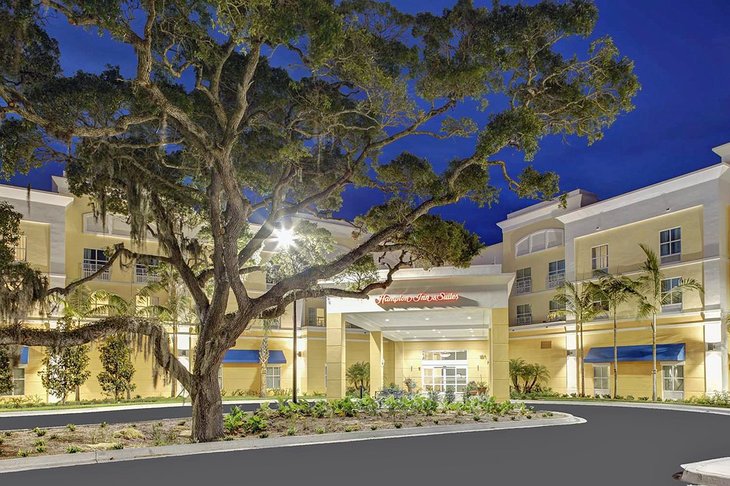 While not located directly on the beach, the Hampton Inn & Suites Vero Beach Downtown is situated less than three miles from the area's soft, sandy shore. When you're hankering for some good ol' Florida sunshine, head to the heated outdoor pool. Whether you splash in the water or laze about on a lounge chair, you'll be grateful for this pretty little respite.
Hot breakfast is available daily and is included with your room fee. Guest rooms also include a mini fridge and microwave. There is an on-site fitness center, conference facilities, and a business center for those who don't have the luxury to leave their office behind.
The hotel is conveniently located within walking distance to the shops and restaurants of Miracle Mile Plaza. Another plus: the staff are friendly and uber helpful.
Address: 611 20th Place, Vero Beach, Florida
Accommodation: Hampton Inn & Suites Vero Beach Downtown
5. The Caribbean Court Boutique Hotel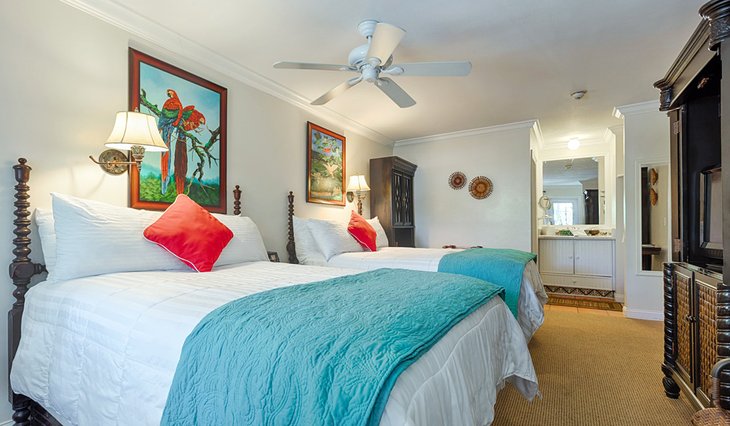 Another beachfront wonder, the Caribbean Court Boutique Hotel boasts some of the most cheerful accommodations in Vero Beach. Guests are treated like family as soon as they enter this small, colorful resort (it has only 18 rooms).
At this tropical paradise decorated in vibrant hues and peppered with antique furniture, it's easy to fool yourself into believing you're in the Caribbean. The pristine beachfront, waving palm trees, and sparkling pool only add to the distinct island vibe.
Bicycles, parking, beach chairs, and umbrellas are provided free of charge. And no, there's no resort fee!
Maison Martinique offers upscale dining, featuring the freshest of seafood delivered in a relaxing oceanfront setting. A more laid-back dining experience bursting with live music can be had from 4:30pm at the piano lounge.
Bring the kids, your four-legged pals, and any friends you'd like. Everyone will love their vacation at this eclectic spot.
Address: 1601 Ocean Drive, Vero Beach, Florida
Accommodation: The Caribbean Court Boutique Hotel
6. SpringHill Suites by Marriott Vero Beach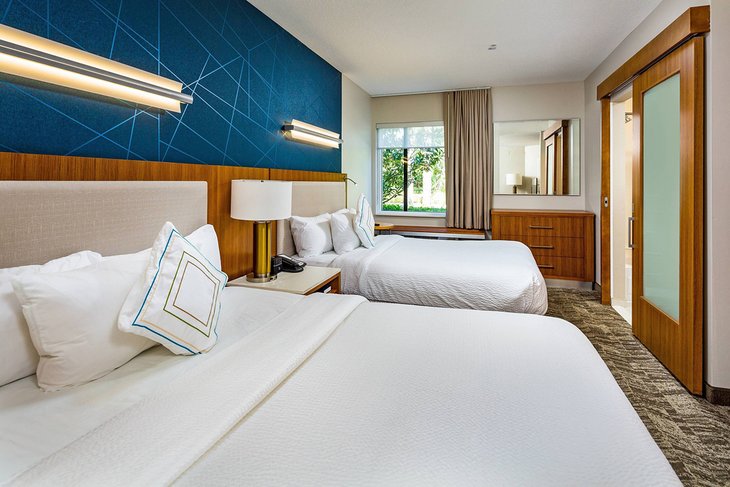 Planning to stay in Vero Beach for longer than a weekend? SpringHill Suites by Marriott is your best bet for an enjoyable, extended vacation. At this all-suite hotel, each of the 83 rooms is large enough to take the "eek" out of sharing space with your family. Instead of bumping into each other, you'll be able to relax as you fully stretch out.
Separate living areas, a kitchenette, and dedicated workstations make it easy to feel at home while allowing each guest some extra privacy within the suite. Laundry is available, and the fitness center will help keep you fit. Forgot something at home? Head to the on-site convenience store.
Enjoy the complimentary hot breakfast buffet before heading out on your day's adventure. Whether you plan to drive the short distance to the beach, shop in the downtown restaurants, or lounge by the heated outdoor pool, the tasty food will fuel you for hours.
Address: 5115 Indian River Boulevard, Vero Beach, Florida
Accommodation: SpringHill Suites by Marriott Vero Beach
7. Holiday Inn & Suites Vero Beach-Oceanside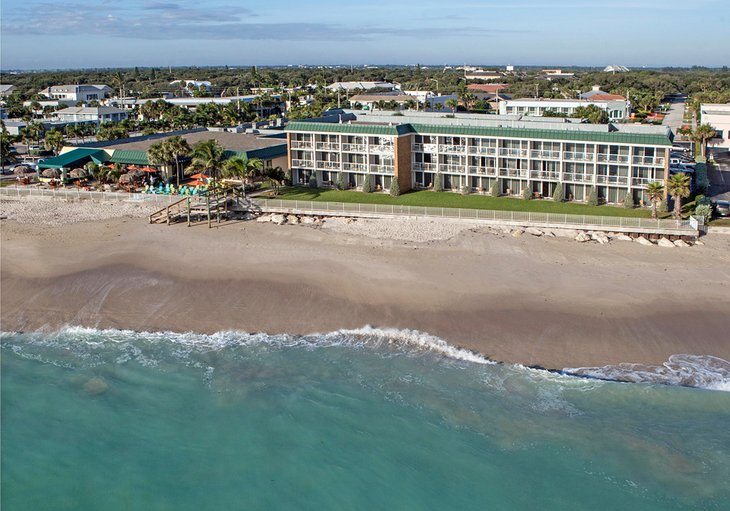 What a pretty place to watch the sunrise! The Holiday Inn & Suites Vero Beach-Oceanside sits serenely on the Atlantic coast's lusciously soft sand, offering visitors a front row seat to nature's daily light show.
A kid-friendly resort, this cheerful spot offers everything you need for a fun family beach vacation. Spacious and comfy room? Check. Heated pool? Yep! Private beach? Right again.
You'll also find children's activities, a fitness center, restaurant, and a salon for a last-minute manicure or trim. Need to mix business with pleasure? It's easy to get things done efficiently in the on-site business center.
Whether you choose a more basic guest room or upgrade to an oceanfront suite, this affordable resort is a well-placed treat for weary travelers.
Address: 3384 Ocean Drive, Vero Beach, Florida
Accommodation: Holiday Inn & Suites Vero Beach-Oceanside
8. Driftwood Resort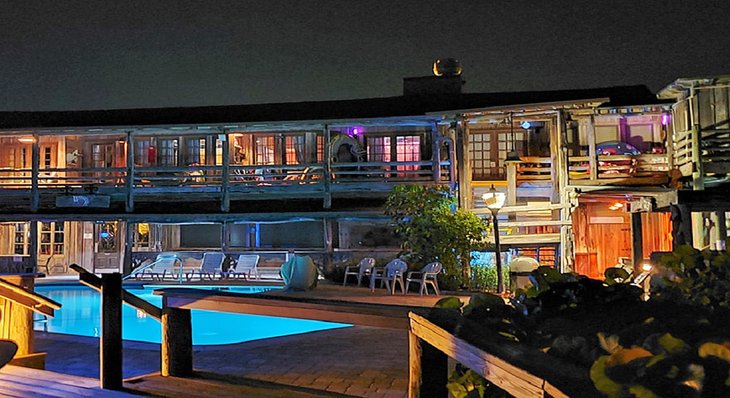 The Driftwood Resort boasts the most eclectic accommodations in Florida. A funky, unique, and historic collection of buildings, this quirky property provides guests with comfortable places to relax.
Two of the resort's main buildings – the Driftwood Inn and Waldo's Restaurant – have been listed on the National Registry of Historic Places since 1994. Designed and built by Waldo E. Sexton in 1935, they stand as a testament to his eccentric architectural talents.
While far from a luxury resort, the Driftwood offers visitors a quiet vacation in a quaint setting bursting with personality. The resort is historic in nature, and some of the carpeting and furnishings may seem tired, but the overall personality is vibrant and fun.
The resort is set beside the soft sandy shore, so guests staying in rooms without an ocean view can soak up the incredible vista within a few steps from their front doors. Two pools make it easy to cool off without getting sand stuck in your bathing suit.
Waldo's is kitschy, casual, and charming. More importantly, this on-site restaurant is well-priced and features tasty classics.
Address: 3150 Ocean Drive, Vero Beach, Florida
Accommodation: Driftwood Resort
9. Prestige Hotel Vero Beach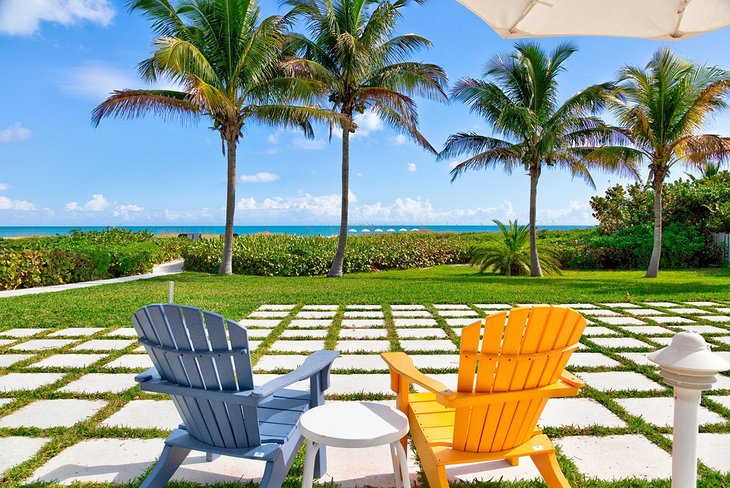 It's hard to feel stressed while sitting on a balcony overlooking the azure Atlantic Ocean. A small resort, Prestige Hotel Vero Beach offers guests the most fantastic beach vistas far away from the crowds. Set within a residential neighborhood, this intimate spot is tranquil, friendly, and utterly relaxing.
Take a complimentary breakfast to go and enjoy it on the oceanfront patio. Lounge by the heated pool, or enjoy the use of a free beach chair and umbrella on the private stretch of white sand behind the hotel.
Traveling with kids? Opt for a two-bedroom apartment unit for extra living space and a fully equipped kitchen. Want to up the romance? Choose an oceanfront studio, which features a private balcony, as well as a kitchen and comfy bed.
Insider's tip: Unless you're looking for a great deal, avoid booking the "1 Queen Bed Room." It is tiny, noisy, lacks a kitchen, and has no view.
Address: 1526 Ocean Drive, Vero Beach, Florida
Accommodation: Prestige Hotel Vero Beach
10. Sea Turtle Inn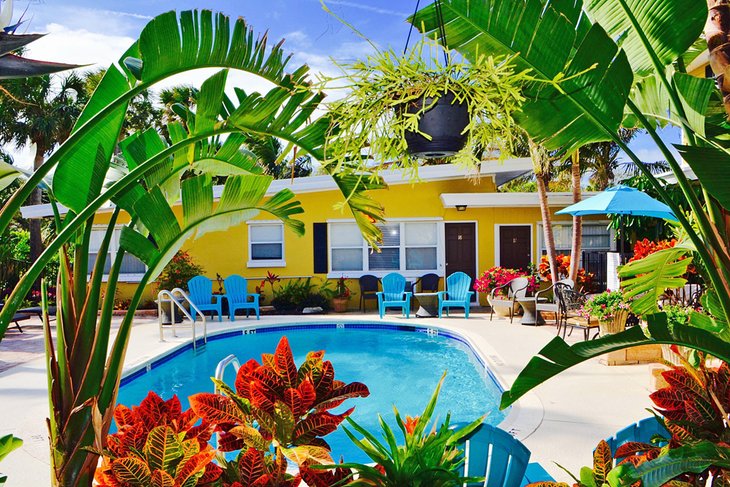 You won't need your car while staying at the adorable Sea Turtle Inn. A mere two-minute walk gets you to the beach, where you can rent chairs and an umbrella. Also within walking distance are some of the best shops and restaurants in Vero Beach, as well as the verdant Riverside Park.
While the guest rooms are quaint and clean, the apartments are your best bet for a truly enjoyable stay. Not only are they larger, but you'll be able to enjoy the perks of home while staying in a hotel. A full kitchen is a definite plus if you're traveling with family. And the on-site laundry facilities will come in handy if you have kids in tow.
Once you return from the beach, enjoy a dip in the hotel's pool and a walk around the pretty tropical garden. Insider's tip: Phones aren't provided in the rooms, so be sure to bring your own.
Address: 835 Azalea Lane, Vero Beach, Florida
Accommodation: Sea Turtle Inn
More Related Articles on PlanetWare.com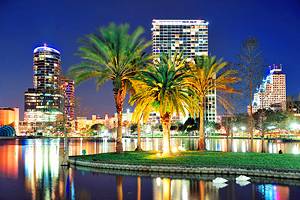 Explore Florida: The Sunshine State has a lot to offer its visitors. From the giant amusement parks blanketing Orlando to the resplendent lakes found throughout its sunny expanse, there's something to entice every type of traveler.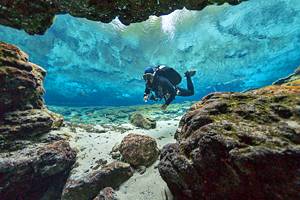 Become One with Nature in Florida: It's no surprise that Florida is beautiful. Home to some of the best (and softest) beaches in the US, you'll find plenty of comfortable spots to lounge by the ocean. Sparkling springs are also peppered throughout the state, offering visitors a lovely place to swim, kayak, snorkel, or dive.