11 Best All-Inclusive Resorts in Europe
We may earn a commission from affiliate links ()
When it comes to all-inclusive luxury, Europe won't disappoint, with golden beaches; azure waters; and all the beauty, comfort, and sun you could ever want.
Some areas, like the Turkish coast, are known for their massive resorts, while others focus on cozy luxury for a more private holiday. Still, all these resorts have something in common: they all offer personal service, plenty of activities and amenities, and all the pampering needed to leave your worries behind.
Get your sunscreen ready and plan the perfect summer getaway of sun and sand with our list of the best all-inclusive resorts in Europe.
Note: Some businesses may be temporarily closed due to recent global health and safety issues.
1. Royal Hideaway Corales Suites, Spain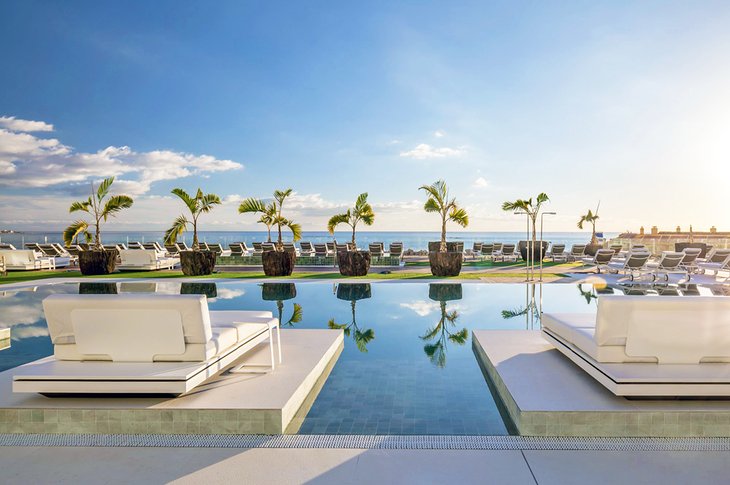 Located in the always sunny Tenerife, the Royal Hideaway Corales Suites welcomes families, but it's also an adults' paradise. The resort is a favorite with couples but also welcomes single travelers and groups of friends looking for a quiet escape under the tropical sun.
All suites here offer ocean views and terraces with outdoor seating. The deluxe suites also come equipped with their own private, heated saltwater pools, and the presidential penthouse offers two terraces, a heated pool, butler service, and some of the best sea views in Tenerife. All rooms also offer a home automation system that controls the air-conditioning and sound system, a kitchenette, Wi-Fi, and plenty of exclusive amenities.
Guests will find two restaurants on the premises, offering a la carte Mediterranean dishes, seafood specialties, and international dishes. There's also an on-site coffeehouse; a 24-hour gym; and a spa offering a number of treatments, as well as a sauna and steam room.
The resort offers three outdoor heated pools, two of which are reserved exclusively for adults. Grownups can also enjoy a series of wellness and sports programs, including Pilates classes and art and culture workshops.
Kids four to 12 years of age can take advantage of the Corales Kids Club, offering theater, music, art, and science activities.
Address: Avenida Virgen de Guadalupe 21, 38679 La Caleta, Adeje, Tenerife, Spain
Accommodation: Royal Hideaway Corales Suites
2. Bellis Deluxe Hotel, Turkey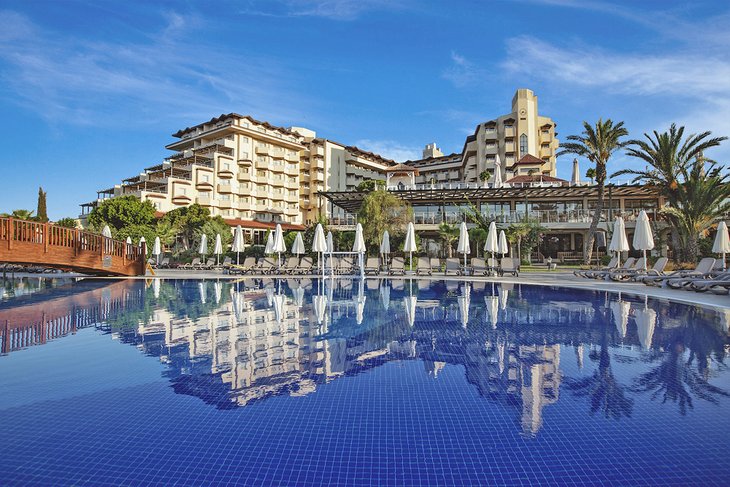 Sitting right over the deep blue waters of the Mediterranean and surrounded by pine trees, the Bellis Deluxe Hotel offers something for everybody.
With over 550 comfortable and luxurious rooms to choose from, guests will be spoiled by choice here. Bungalow rooms have balconies with views of the sea or garden, while the Lagoon rooms open directly over the lagoon pool. For those looking for an extra touch of luxury, the resort also offers private villas with their own pools, access to the VIP lounge restaurant, and snack catering.
The resort has its own 3,000-square-meter water park, and guests can also enjoy five pools, beach volleyball, and tennis courts, and plenty of live entertainment and activities. For the little ones, the resort offers the Pony Kids Club, with plenty of activities and workshops, access to a horse farm and horse riding course, and even a special children's restaurant.
Guests can choose from an impressive five snack restaurants, a patisserie, and five a la carte restaurants, as well as a fully-equipped fitness center and a wellness spa.
Address: Tasliburun mevkii, Belek 07500, Turkey
Accommodation: Bellis Deluxe Hotel
3. The Westin Dragonara Resort, Malta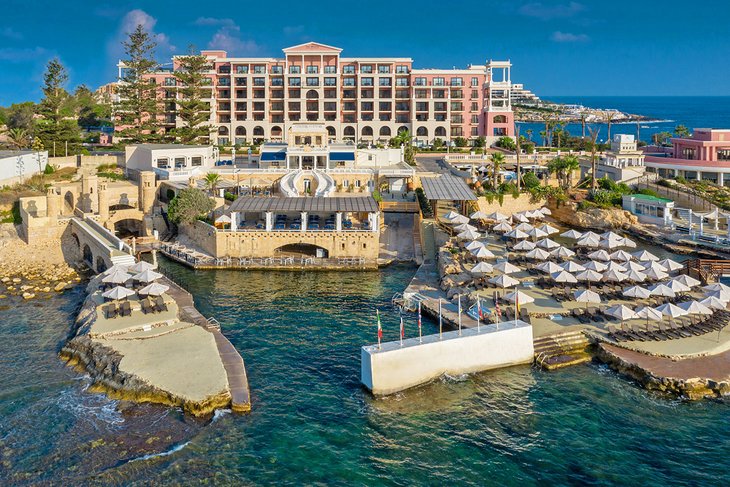 It's hard to believe the massive size of the Westin Dragonara Resort at first sight. Overlooking the azure waters of the Mediterranean Sea in a corner of St. Julian's and home to two private beaches, it almost feels like you have your own corner of paradise on the island when you arrive here.
All modern air-conditioned rooms here offer balconies that open up either over the garden or directly over the sea. Guests staying at the Sea View Tower rooms will enjoy large terraces with sunbeds and 180-degree views over the ocean, while those choosing the Luxury Infinity Bay suites get their own plunge pool. All rooms come equipped with international cable and satellite channels, air-conditioning, Wi-Fi access, and evening turndown service.
Guests can relax at the resort's spa, get a workout at the on-site gym, or arrange diving or watersports through the hotel's concierge. There are also two outdoor pools and one indoor heated pool, as well as an indoor Jacuzzi, steam room and sauna. The on-premise restaurants offer everything from Italian specialties to Mediterranean dishes and fresh breakfasts.
Address: Dragonara Road, Saint Julian's, Island of Malta STJ 3134, Malta
Accommodation: The Westin Dragonara Resort, Malta
4. Mitsis Laguna Resort & Spa, Crete, Greece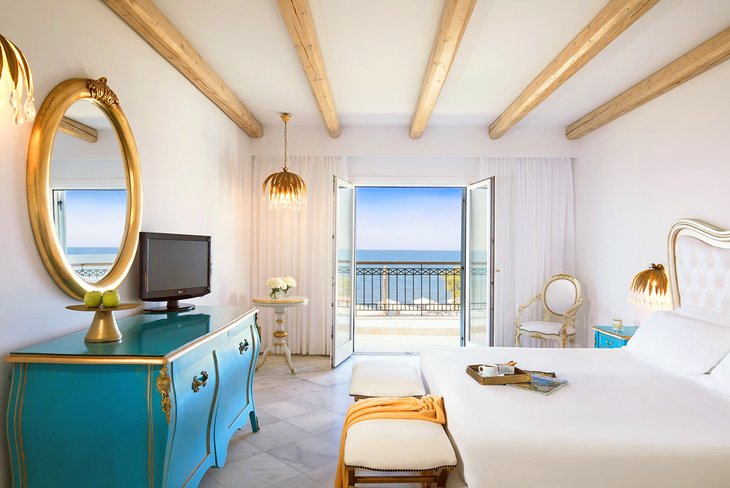 This 5-star resort sits right on the golden sands of Crete's capital in Heraklion. Here, guests can choose to stay in luxurious bungalows, beautiful sea- or garden-view rooms, or two presidential suites with private pools. All rooms have marble floors and are decorated in whites and blues that extend the beauty of the ocean inside.
Mitsis Laguna Resort & Spa offers fine dining at its best in the form of seven restaurants. Taste Mediterranean and international cuisine, experience Cretan gastronomy, try Asian-inspired dishes, or sit for a special brunch created using only products from local farmers. There's even a creperie and gelaterie available for all-day sweet indulgence.
Amenities at the resort include an astounding selection of five pools (three with seawater) with waterslides and waterfalls, as well as a children's pool. The hotel's wellness spa provides an indoor swimming pool, a whirlpool spa, and a long list of indulgent treatments to help you relax or invigorate.
There's also a water sports center on the premises, where guests can borrow or rent canoes and pedal boats, or try windsurfing. The hotel's recreation program also offers a mix of aerobic classes, beach volleyball, swimming lessons, and even art lessons.
For parents who need a little "me" time, the resort offers a Mini Club for kids between 4 and 11 years old. Children will get supervision, participate in games, and even attend a disco. For family entertainment, the hotel's mini soccer court, tennis court, and air hockey table welcome guests of all ages.
Address: Anissaras, Hersonissos, Crete 70014, Greece
Accommodation: Mitsis Laguna Resort & Spa
5. Acanthus & Cennet Barut Collection, Turkey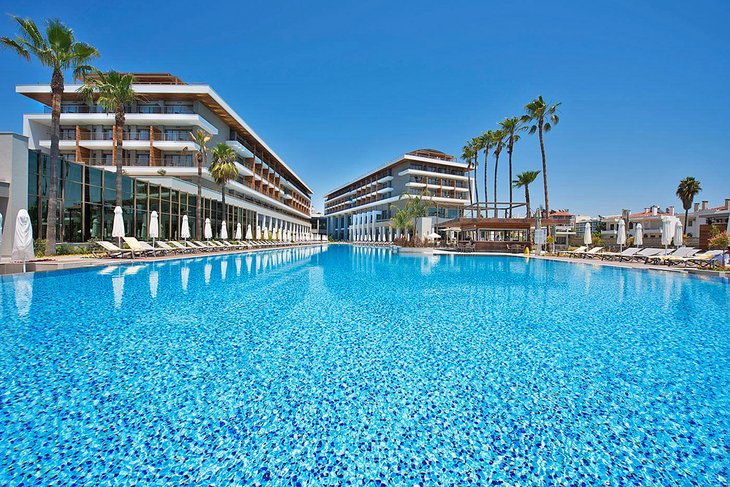 Sitting on a private stretch of beach against the Mediterranean, the Acanthus & Cennet Barut Collection resort offers a serene escape filled with luxuries.
Guests have a choice of modern, Mediterranean-chic rooms here, some offering a full poolside experience with a private pool and others providing sea-themed décor with balconies that open over the blue sea. The resort's suites offer panoramic views over the water and spacious outdoor spaces. All rooms come equipped with wireless internet, air-conditioning, and private balconies.
The resort offers fitness and spa facilities, five swimming pools, and the use of private cabanas right on the seafront. There are also five a la carte restaurants here offering a variety of Turkish, Mediterranean, and international dishes, as well as a buffet option right by the pool.
The Kids' Club, for children four to 12 years old, offers a game room and a kid-size movie theater, plus many organized activities.
Adults can take advantage of the resort's live shows and beach volleyball courts, yoga classes, and private fitness trainers.
Address: Ozal Caddesi No: 35, Side, Manavgat 07330, Turkey
Accommodation: Acanthus & Cennet Barut Collection
6. Iberostar Grand Salomé, Canary Islands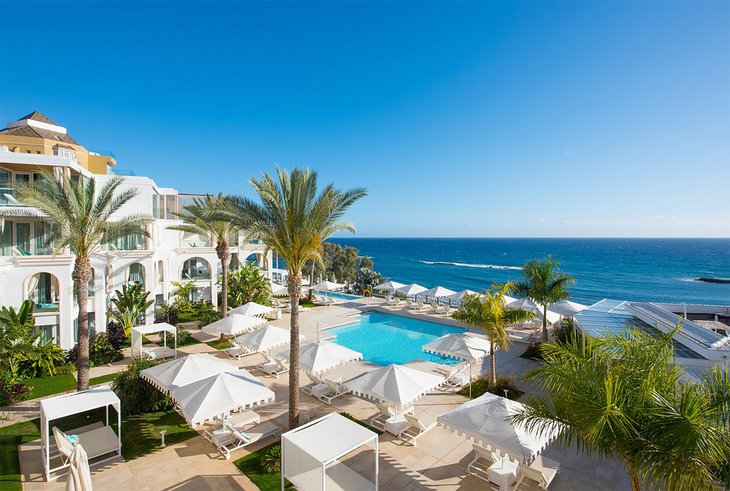 The adults-only Iberostar Grand Salomé is the perfect escape for couples, but adults looking for a quiet, kid-free environment will also love this boutique hotel right on the seafront. Guests can jump into the two massive outdoor swimming pools, try the heated indoor pool, or relax on the sun loungers facing the sea.
All modern suites here offer stunning, panoramic sea views and either direct access to the pool or a private sun terrace. The suites come with their own butler and offer 24-hour room service, a pillow menu, a Bluetooth sound system, and a whirlpool bath. For the eco-conscious, all rooms are free of single-use plastics.
Guests can enjoy amenities such as a fitness center, wellness spa, and a tennis court. The six restaurants on the premises offer a variety of indoor and outdoor dining, mouth-watering seafood specialties, Italian dishes, and typical Canary Island offers.
Address: Londres, 15, 38660, Adeje, Tenerife, Spain
Accommodation: Iberostar Grand Salomé
7. Azia Resort & Spa, Cyprus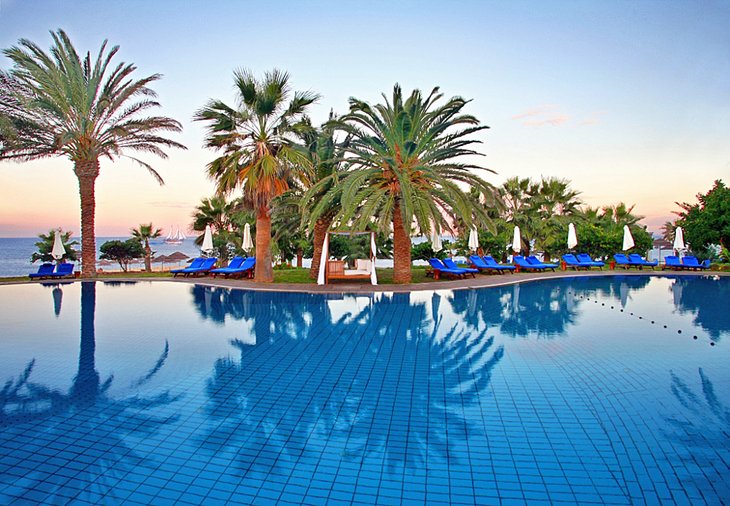 The Azia Resort & Spa offers plenty of activities for kids and families – but also plenty of adults-only corners for couples who want a quiet time on their own.
Of the three swimming pools at the resort, one is adults-only. Adults can also enjoy live music in the special adults-only lounge, dine at the adults-only areas within the main restaurant, and relax at a sunbathing area away from the noise of the main pools.
This award-winning resort sits on one of Cyprus' best locations, facing over the Mediterranean for breathtaking sunsets over the azure waters. Here, 305 rooms offer beautifully designed interiors featuring sophisticated details, natural materials, and luxurious views over the garden or sea. Junior suites have their own garden or balcony and offer additional amenities, such as a private Jacuzzi and sun loungers. For adults traveling without kids, the resort also offers rooms in a dedicated adults-only area of the resort.
The resort's award-winning spa offers a variety of superb treatments influenced by ancient Cyprus culture. Guests can enjoy a private aromatherapy steam room or a phototherapy wellness room; try reflexology or a massage; or experience skin, scalp, and body treatments using exclusive luxury products.
There are also five restaurants, two lounges, and a snack bar at the hotel.
Address: 131 Chlorakas Avenue Chloraka, Paphos 8220, Cyprus
Accommodation: Azia Resort & Spa
8. Mitsis Alila Resort & Spa, Rhodes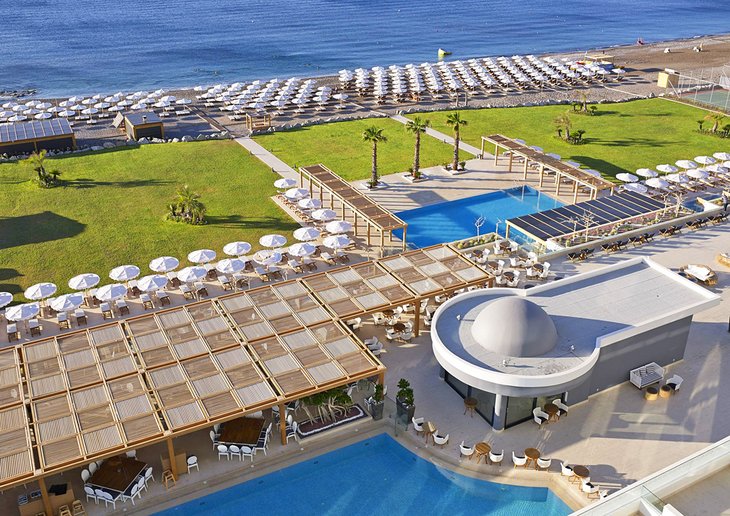 It's hard to beat the island of Rhodes as a summer getaway. One of the sunniest places in Greece, it offers breathtaking sunsets, great swimming, and some of the most fabulous golden beaches in Greece.
Mitsis Alila Resort & Spa sits right on a private beach in Faliraki, where it can take advantage of all these things. Here, guests can pick from a selection of elegantly decorated rooms with marble floors and a choice of mountain or sea views. Some rooms come with their own private pool, while others offer whirlpool spas or furnished terraces with sun loungers. All rooms come equipped with air-conditioning, flat-screen TVs with satellite channels, and well-stocked bathrooms with luxury toiletries and bathrobes.
Among the many amenities at the resort are a seawater swimming pool, a number of water slides, a beach volleyball court, and a luxurious spa.
Guests can eat at the main restaurant, which serves international award-winning dishes in buffet form, or they can try Ellinadiko à la carte for an authentic taste of Greek cuisine.
Address: Faliraki 851 05, Greece
Accommodation: Mitsis Alila Resort & Spa
9. Grand Palladium White Island Resort & Spa, Spain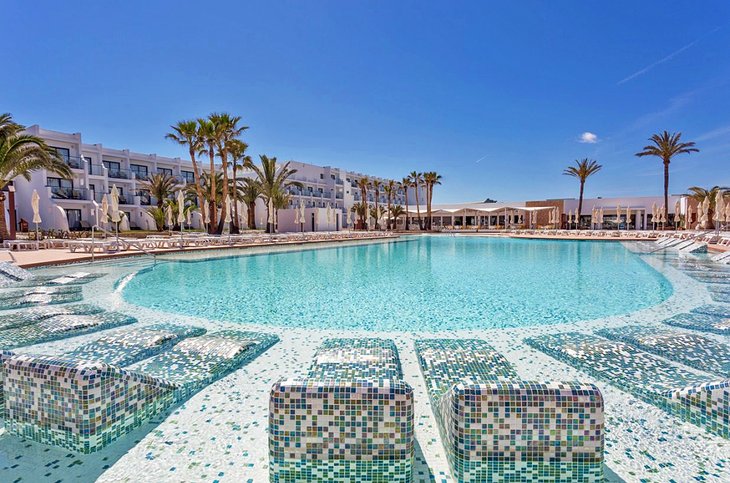 Right next to the Ses Salines Nature Reserve and on the golden soft sands of Inbiza's Playa d'en Bossa beach, the Grand Palladium White Island Resort & Spa is an all-inclusive paradise.
Guests have a choice of spacious and elegant double rooms with either a garden or a sea view. Most rooms have a balcony or terrace, with the Superior rooms facing west for breathtaking sunsets and the suites offering an outdoor hydromassage bathtub. All rooms come equipped with air-conditioning, broadband Wi-Fi connection, and satellite TV with international channels.
The resort offers an impressive selection of seven restaurants – three offering à la carte menus and three with cooking displays. Dine indoors or out by the sea while trying local specialties and international dishes.
After lunch, head to the Zentropia Spa & Wellness center for some pampering, or jump into one of three pools. The resort also offers a large variety of activities for adults, including paddle surfing, tennis, archery, and soccer.
For kids, there's also an outdoor playground, children's pools, and a Club offering different workshops and activities.
Address: C/ Playa d'en Bossa s/n, 07817 Playa d'en Bossa, Ibiza, Spain
Accommodation: Grand Palladium White Island Resort & Spa
10. Aydinbey King's Palace & Spa, Turkey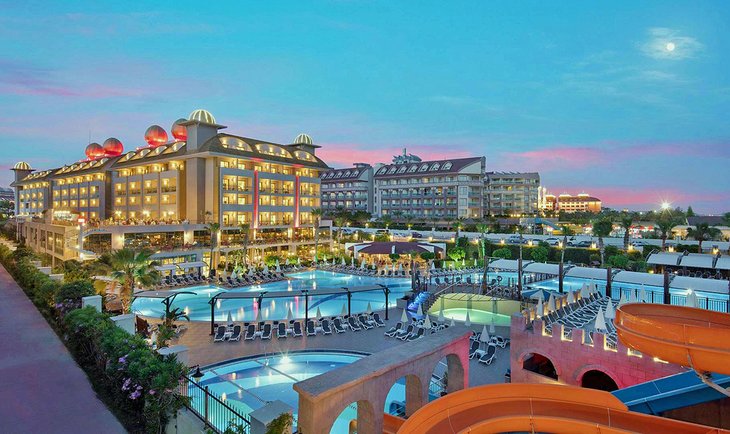 Located right on the blue waters of the Mediterranean, this exclusive resort offers a private beach, three outdoor pools (including a children's one), a fun giant water slide for the entire family, and plenty of sun loungers and beach chairs for when you need a break in the sun.
All rooms are well-equipped and elegantly decorated and offer air-conditioning, a minibar, and stunning views over the garden or sea.
The hotel restaurants offer indoor and on-the-beach dining options, with a selection of high-end dishes, from Turkish and Far East to international cuisine. Guests can also have their meals delivered to their rooms or to the rooftop terrace.
In addition to a fitness center and spa, the resort also offers access to a Turkish bath and sauna, as well as a hot tub. Families staying here can take advantage of the many kid-friendly activities, including outdoor play equipment; an indoor play area; and plenty of books, DVDs, and board games available to borrow from the front desk.
Address: Evrenseki Mevkii, Side, Manavgat 07600, Turkey
Accommodation: Aydinbey King's Palace & Spa
11. Sani Beach, Greece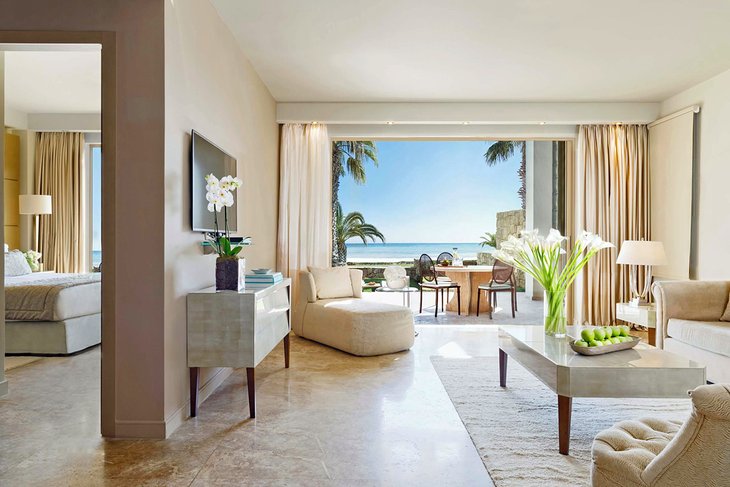 Lavish and luxurious from corner to corner, the Sani Beach resort sits in a prime location – right on the edge of Cape Sani and against the azure waters of the Aegean.
One of the main attractions here is the pine-fringed seven kilometers of golden sands on Bousoulas beach. Guests looking for some privacy also have access to two smaller but private beaches: Ammos and Sani Hill Beach. For a different water experience, the resort's infinity pool offers some of the most stunning sunset views on the charming seaside village of Sani.
Rooms at Sani Beach are light and airy, decorated in a contemporary style and with stunning floor-to-ceiling windows. Guests have a choice of double rooms; junior suites; family suites; and junior suite panoramas, which offer large balconies with direct views over the ocean.
The resort's spa offers a range of services, plus a fitness room, a sauna and a steam room. It's even possible to get a massage right on Bousoulas Beach against the sound of crashing waves. The hotel also offers live music, organized activities for kids of all ages, and even a children's soccer school.
The concierge can also help you book a number of nearby activities, including scuba diving, tennis lessons, and a unique survival skill class organized by the Bear Grylls Survival Academy.
Address: Halkidiki, Sani 630 77, Greece
Accommodation: Sani Beach