Where to Stay in London: Best Areas & Hotels
Every neighborhood in London offers historic attractions and things to do, so tourists can find the best hotels to meet their needs nearly anywhere in the city. Westminster, home of Buckingham Palace, is best known for its luxury hotels but does have more affordable options tucked away. This area and the adjacent St. James neighborhood are the best places to stay for tourists who want to be close to some of the most iconic sights, including the palace and grounds, Westminster Abbey, and Big Ben.
Just on the other side of Trafalgar Square, Covent Garden is another popular tourist attraction and neighborhood that offers good mid-range options in a central location. To the north of here, Bloomsbury is home to the major transportation hub at St. Pancras and Kings Cross stations and has several mid-range and budget lodgings that are convenient to attractions like the British Museum.
North of Hyde Park, the Marylebone neighborhood is a popular spot for high-end hotels, while on the park's south side, Knightsbridge and Kensington offer somewhat quieter alternatives that are still convenient to attractions like the palace and museums. Whitechapel, although on the opposite side of the city from the other neighborhoods, sits next to the City of London proper, where you will find sights like the Tower of London and St. Paul's Cathedral.
Tourists with mobility issues should be aware that smaller establishments, especially those in registered historic buildings, may not have elevators.
Where to Stay in London for Luxury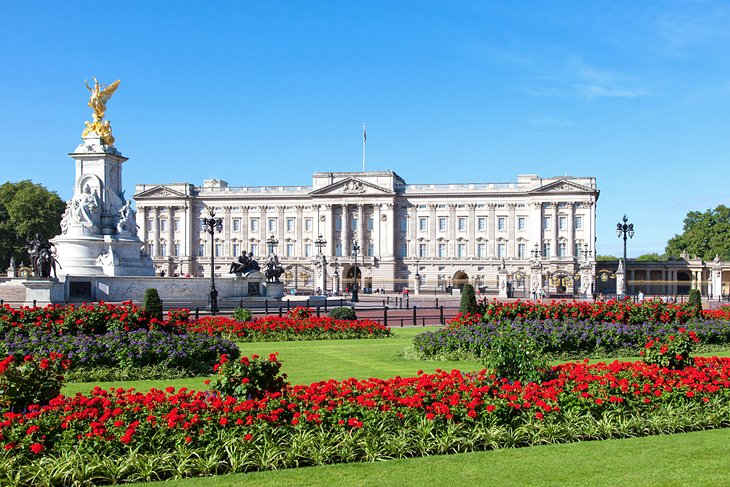 The Ritz London was opened by Cesar Ritz in 1906, and has since been the definition of luxury in the St. James neighborhood, convenient to the upscale shops and galleries of Mayfair and just across Green Park from Buckingham Palace. The hotel has retained its original Louis XVI décor, including elaborately frescoed ceilings, sumptuous furnishings, and gilded trim, while keeping up with the latest technology and amenities, including a full-service spa.
The Michelin-starred restaurant hosts special events, such as afternoon tea and dinner dances each Friday and Saturday night. The Ritz also offers butler service, as well as on-site babysitting, so that couples can spend some time enjoying the romantic side of London.
On stylish Regent Street in the Marylebone neighborhood, The Langham, London is close to Portobello Road Market and less than a 10-minute walk to Soho and Picadilly Square, making this an ideal place to stay for sightseeing. This stately hotel has been a favorite spot for celebrities and royalty since it opened in 1865, known for its five-star service and terraced garden with live music.
After a long day of visiting London's many tourist attractions, guests can relax in the hot tub, go for a swim, or enjoy a massage at the hotel spa. Just one block away, Cavendish Gardens is the perfect place for an evening stroll, and within just a few blocks, you will find several theaters and music venues, including the London Palladium.
Staff members at The Goring know how to treat guests like royalty thanks to plenty of experience, with a long list of titles gracing its guest book. Adjacent to Buckingham Palace and just a few blocks from Westminster Cathedral, this elegant hotel is centrally located for sightseeing. The grounds include a large courtyard garden and terrace, which provides a lovely alternative view for the interior-facing rooms, as well as a picture-perfect backdrop for afternoon tea.
The Rosewood London is a modern and sophisticated hotel that occupies a historic building in the Holborn business district, less than 10 minutes by foot to Covent Garden. The on-site spa features the hotel's signature brand, and guests are provided with every luxury while enjoying spacious, bright rooms–including a private butler for those who choose a suite. There are two restaurants on-site, and amenities include room service, a fitness center, and spa, as well as babysitting services.
Where to Stay in London: Mid-Range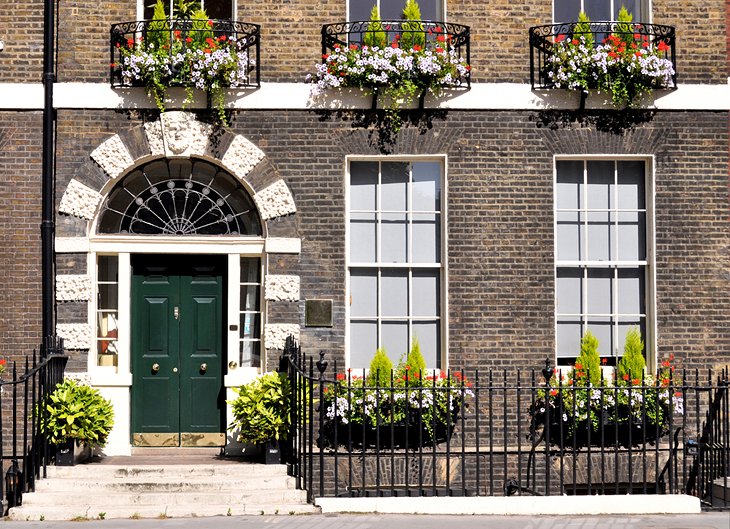 The Grosvenor Hotel is one of London's old classic hotels, perfect for first-timers, conveniently located in Westminster at Victoria Station and within a short walk to Buckingham Palace. This four-star property sits in a stately building with a grand lobby and ornate architectural details, providing spacious and elegant rooms. Amenities include an on-site restaurant, a fitness center, and business center, as well as conveniences like international electric outlets and Wi-Fi.
Housed in a Georgian townhouse, The Montague on the Gardens serves afternoon tea in the conservatory each day and greets each guest with treats like fresh-baked cookies. This family friendly hotel features individually designed rooms and suites with complimentary Wi-Fi, amenities including a fitness center and business center, and services such as babysitting and airport transportation. It is located in the historic Bloomsbury neighborhood, close to the British Museum and just a block from the Charles Dickens Museum.
Nearby, The Bloomsbury sits closer to Covent Garden and the theaters and nightlife of SoHo, just across the street from the British Museum, and within walking distance of several other tourist attractions. Guest rooms are bright and spacious, featuring marble bathrooms with heated floors and luxury aromatherapy toiletries, safes, and tea and coffee service. The hotel's style is inspired by architect Sir Edwin Lutyens' preference for black-and-white décor, and there is a quiet central courtyard.
In the heart of historic central London, just a couple of blocks from the tourist-favorite Covent Garden and two minutes' walk from the Royal Opera House, The Fielding Hotel is the former home of novelist Henry Fielding. This boutique hotel has complimentary luggage storage and in-room amenities including tea and coffee supplies. The hotel's friendly service and convenient location cannot be beat.
Where to Stay in London on a Budget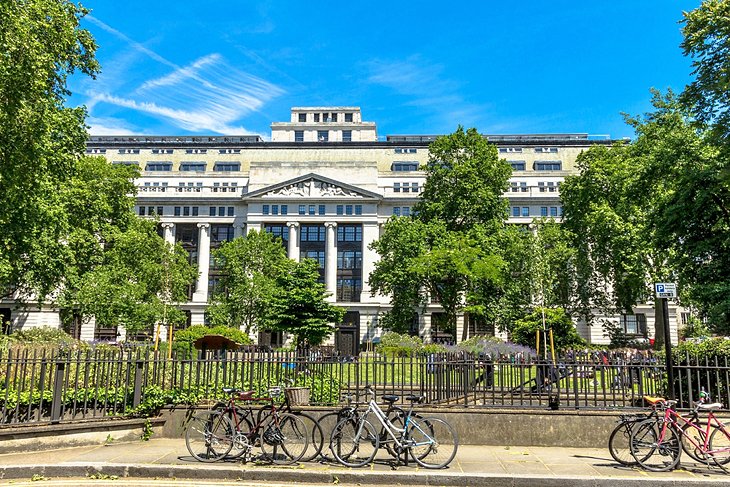 The Alhambra Hotel is conveniently located within a minute of both Kings Cross underground station and St. Pancras International rail station at the northern tip of the Bloomsbury neighborhood, making it an excellent home base for exploring the city on a budget. This bed-and-breakfast style lodging provides personal service and spotless accommodations that include free Wi-Fi and your choice of continental, English, or vegetarian breakfast.
Just a block away, the Jesmond Dene Hotel is a small boutique lodging that has the same basic amenities and also offers private, secure parking for a fee. Rooms are plain but well-appointed and have a variety of amenities depending on your needs.
The hotel also rents serviced apartments in the area for those with larger groups or for longer stays. Both hotels also offer long and short-term luggage storage, convenient for those making overnight excursions by rail from the city.
The Ridgemount Hotel is located in the Fitzrovia neighborhood, close to several museums, including the British Museum, Grant Museum of Zoology, and the Petrie Museum of Egyptian Archaeology. This family-run hotel offers a hearty English breakfast and exceptional service, with many of the impeccable rooms overlooking the peaceful garden. Non-smoking and family rooms are available.
Located in Whitechapel, near the Whitechapel Gallery, Hotel ibis budget London Whitechapel-Brick Lane is a five-minute walk to rail and underground stations and just steps from the London Muslim Centre. Other nearby attractions include the Royal London Hospital Museum and Altab Ali Park, and the hotel is just a 20-minute walk to of the Tower of London. Here, you will find dependably clean, no-frills rooms for cheap that include free Wi-Fi and a continental breakfast.
Where to Stay in London for Families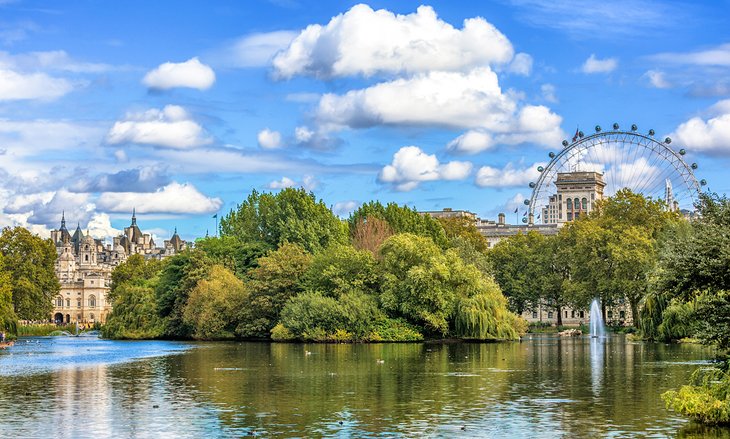 For a top-notch family vacation in London, the Taj 51 Buckingham Gate Suites and Residences provide all the benefits of a luxury hotel with the space and conveniences of home, including a full kitchen, living room, en-suite washer/dryer, and even a butler service.
The Taj's three Victorian townhouses sit in the heart of Westminster, between Buckingham Palace and Big Ben, close to St. James Park and many historic tourist attractions. The hotel is home to six restaurants varying from a French bistro to authentic Indian cuisine, and there is a full-service spa on-site, as well as a fitness center and babysitting services, making traveling with kids even easier.
In the Marylebone neighborhood, just a few blocks from the must-see Sherlock Holmes Museum, The Montcalm London Marble Arch is convenient to the underground station, as well as scenic Hyde Park. Spacious rooms include Wi-Fi; international television channels; an iPad for guests' use; a refreshment center with tea, coffee, and snacks; and luxury Hermes toiletries.
Hotel amenities include an Asian restaurant and English tea room; a chic spa; and a large wellness center with fitness equipment, a steam room, jacuzzi, and pool.
The Premier Inn London Kensington is a great no-frills choice for families on a budget, offering family rooms for reasonable rates and dependable quality. Here, you will find friendly staff, a breakfast buffet that offers favorites like Nutella pancakes, and conveniences like adjustable room temperatures and luggage storage. Located in Kensington, the hotel is within a five-minute walk to Earl's Court underground station for easy access to sightseeing and just one block from the T.A.R.D.I.S. Police Box, a popular landmark with young adults.
Where to Stay in London for Romance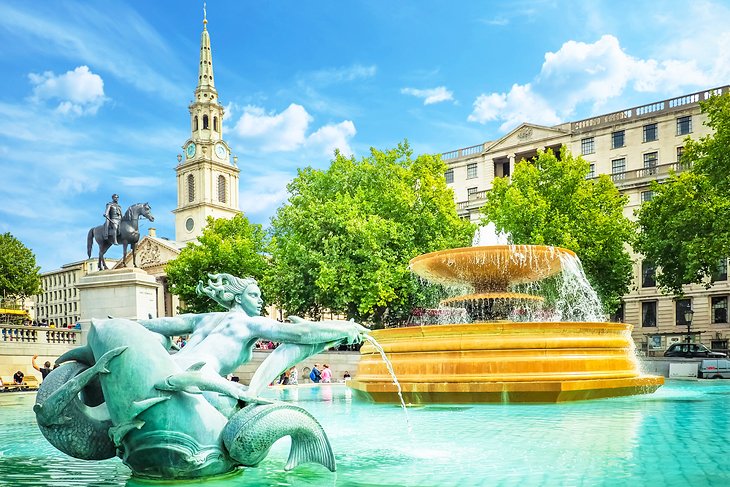 Couples staying at Hotel 41 are in for a treat–literally–with the endless supply of complimentary food available, from a welcome tray in the room to an array of snacks like fresh fruit, nuts, and sweets that guests are welcome to pack up and bring along for a day of sightseeing. Guests are also welcome to complimentary mineral water, ice-cream, canapés, afternoon scones with clotted cream, fresh baked breads, cheeses, and English pies, among many other options.
The hotel is truly stunning, with ornately carved, dark-wood paneling and marble floors in the lobby and individually decorated rooms that include the best amenities. To put the icing on the cake, Hotel 41 is positioned next to the Royal Mews at Buckingham Palace in the Westminster neighborhood, close to plenty of sightseeing, as well as the theaters of the West End.
On the eastern side of Westminster, near the River Thames, Corinthia Hotel London has amazing views of the iconic London Eye and historic landmark Trafalgar Square. This five-star, luxury hotel has incredibly welcoming and spacious rooms with thoughtful extras like mood lighting, US electric outlets, a Bluetooth sound system, and marble bathrooms with radiant floor heating.
Like an oasis within the heart of the city, guests are pampered by attentive staff in an intimate atmosphere that includes one of the city's most popular spas; two restaurants; and amenities such as a large pool, sauna, and state-of-the-art fitness center.
In the quieter Knightsbridge neighborhood, the Egerton House Hotel offers a range of romantic rooms that may make couples never want to leave, with standard amenities like Penhaligon's toiletries, Bose Bluetooth speakers, complimentary beverages, and luxury bathrobes. Deluxe suites are even more inviting with a separate living room, fresh fruit and flowers, Tudor artwork, and a private terrace that overlooks the hotel's private gardens.
The in-house restaurant is happy to deliver room service, and tea is served each afternoon in the garden. The townhouse sits on a quiet street that is within walking distance of the Victoria and Albert Museum, as well as Hyde Park, home to the magnificent Winter Wonderland Christmas market.
Where to Stay in London near the Airport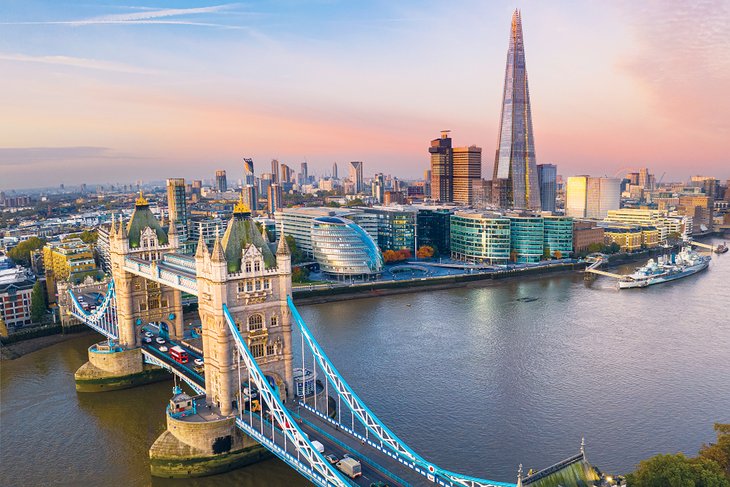 London has six airports, although most travelers will use the two international airports: Gatwick Airport an Heathrow Airport. There are express train services from both airports into the city, and you can also take the Tube to and from Heathrow. But if you are just in London for a short (or unexpected layover) or have an early or late plane to catch, then consider an airport hotel.
At Gatwick Airport, you'll find hotels at the North and South Terminals. Note that a monorail connects the terminals 24/7, so it is easy to stay in one and fly out of another. The Hilton London Gatwick Airport is one top choice in the South Terminal. The hotel is very family friendly, and kids 10 and under eat free at its buffet restaurant. There is also a fitness center on-site if you need to get a workout in.
Connected to the North Terminal by a covered walkway, the Sofitel London Gatwick Hotel is an excellent 4-star property. The hotel features spacious soundproofed rooms and suites with modern decor. The hotel has three on-site restaurants; a fitness center; and spa services, from massages to facials, are offered.
At Heathrow, the Hilton London Heathrow Airport is a good choice. The hotel is connected to Terminal 4 via a covered walkway. If you are flying out of Terminal 5, it can be accessed via the Hotel Hoppa service for a small fee.
The property has a mix of rooms and suites. All are contemporary luxe, and if you are traveling with kids, this property has interconnected rooms available. There is a swimming pool, fitness center, and three restaurants on-site.
The ibis London Heathrow Airport Hotel is another more affordable option, although it is not connected directly to the airport. Guests pay a small fee to ride the Hoppa bus from the hotel to Heathrow's 5 terminals. Buses run every 20 minutes. The mid-range hotel features clean and comfy rooms with blackout curtains.
More Related Articles on PlanetWare.com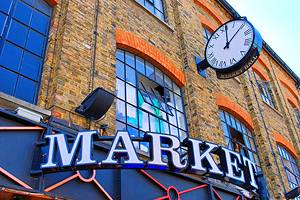 Things to Do in London: One of the main considerations when booking a hotel in London is the location. Most visitors want to be close to sightseeing and other highlights. To help figure out what you want to see during your time here, see our guide to the Top Tourist Attractions in London. If you have time, you may want to consider taking some day trip from London to see places like Stonehenge or Windsor Castle.