11 Best Holiday Resorts in the UK
From rugged coastal cliffs to undulating hills to sprawling meadows, the UK is packed with beautiful places to visit on your vacation. Fortunately, the area has a vast array of holiday resorts, which offer guests a comfy place to rest their heads while spoiling them with fab service.
Some even boast specialized programs like a cooking school, gardening school, and boxing classes. Whether you're hoping to holiday in London, or have your eyes set on a more secluded seaside locale, you're sure to find a remarkable, and luxurious, holiday resort in the UK.
Have kids in tow? No problem! The majority of the UK's best resorts cater to families, boasting kid-friendly pool hours, family-sized rooms, and treats upon arrival.
Choose the perfect spot for your next vacay with our list of the best holiday resorts in the UK.
1. Le Manoir aux Quat'Saisons, A Belmond Hotel, Oxfordshire, England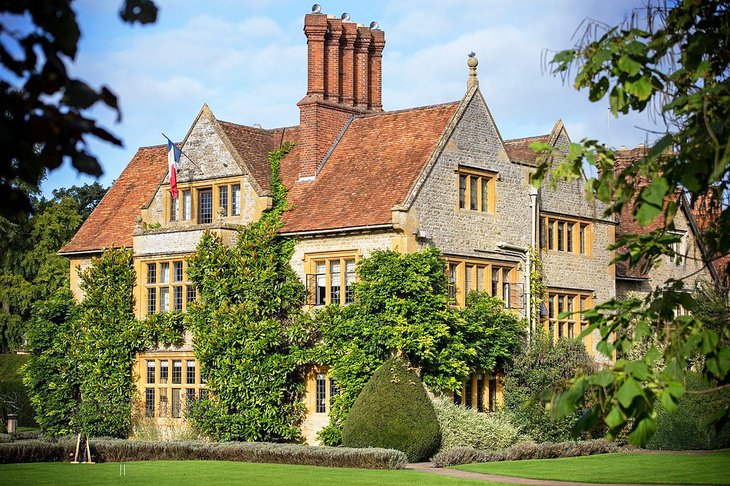 Accommodation: Le Manoir Aust Quat'Saisons, A Belmond Hotel
Bet you've never stayed at a luxury holiday resort that boasts its own gardening school. If this is something you'd like to add to your must-do list, book a stay at the unique and ultra-posh, Le Manoir aux Quat'Saisons in Oxfordshire, located a mere eight miles from Oxford.
Created by Raymond Blanc OBE, a highly celebrated chef, this exclusive holiday resort in England is a hit with gastronomes from across the globe. In addition to its gardening school, this intimate resort runs the Raymond Blanc Cookery School and boasts an organic kitchen garden, orchard, mushroom valley, and Japanese garden.
As you can see, the resort's main elements revolve around a serious love of all things food. Other, non-food-related activities include wandering through the perfectly manicured grounds, taking a photography lesson, trying your hand at falconry with birds of prey handlers, and enjoying a relaxing in-room spa treatment.
With only 32 rooms on the property, it's easy to feel at ease. Each features décor inspired by Raymond Blanc's travels, and they all include marble bathrooms, stunning views, luxe furniture, and some boast private balconies.
Kids are more than welcome and will receive a chef teddy bear upon arrival, as well as a child-sized bathrobe, making this a top holiday resort for families.
Address: Church Road, Great Milton, Oxfordshire, England
2. Grove of Narberth, Pembrokeshire, Wales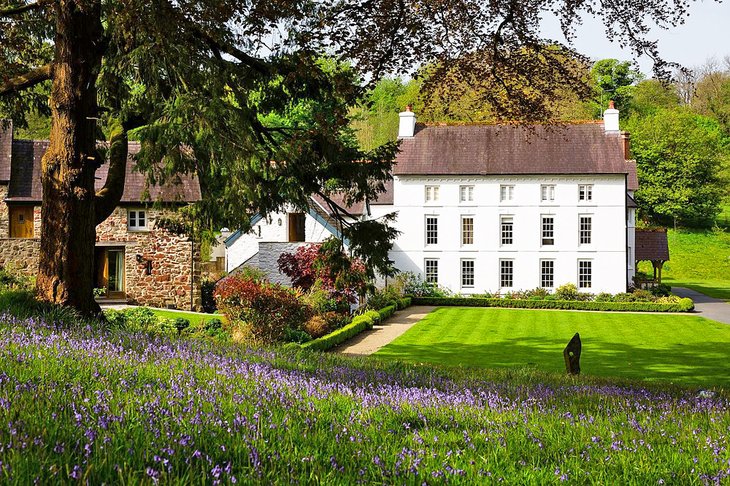 Accommodation: Grove of Narberth
If the idyllic exterior of the Grove of Narberth doesn't impress you, the lavish gardens certainly will. A pristine place to unwind, this Welsh beauty is set upon 26 acres of green space, bordered by blooming flowers. It contains a dedicated cutting garden and offers lovely stream and hill views.
A small luxury resort, this pastoral country house escape also boasts charming cottages for those who need a bit more space. Families love it here. Between the extensive grounds, outdoor games (including croquet) and the magical fairy trail through the area, there are plenty of fun ways to occupy the kids during your stay.
We suggest booking the Daniel & Elizabeth master suite plus an adjoining twin room, so your family can enjoy their own private floor within the main house. Kids are welcome to eat at the on-site restaurants but must leave dinner by 8 if they're under 12. The hotel can link you to a registered babysitter if you're in need.
When it comes to food, the fare here is fresh and local (much of the produce is grown in the kitchen garden) and there are two equally delectable restaurants to choose from. Fernery is a more upscale fine dining establishment, and the Artisan Rooms are more laid-back. Don't worry, you'll receive stellar food and service in both. Afternoon tea can be enjoyed in the hotel lounges.
The resort is well located near area beaches and the town of Narberth, where you'll find chic boutiques and adorable cafés.
Address: Grove, Molleston, Narberth, Pembrokeshire, Wales
3. The Connaught, London, England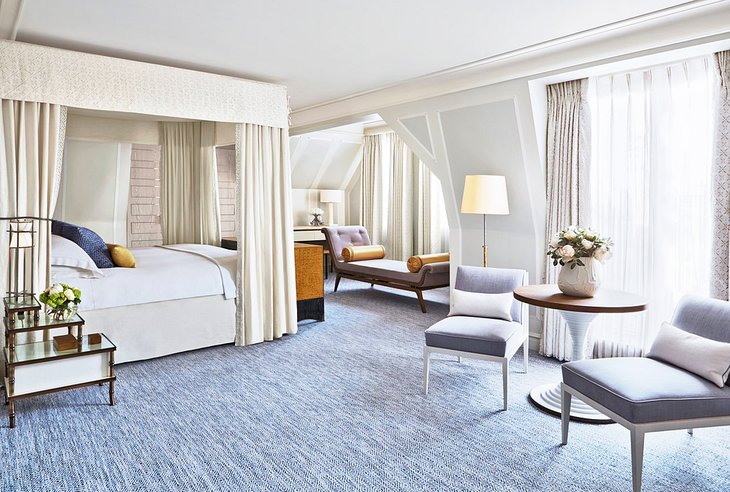 Accommodation: The Connaught
When it comes to creating a luxurious environment for a city-based holiday, few resorts do it better than London's The Connaught. One of the best resorts in London, this swanky Mayfair locale is one of the best places to stay for those who enjoy first-class service in a five-star environment.
The building itself is steeped in history. Grand wooden staircases, domed glass ceilings, and art-lined walls entice guests to gape at the impressive surroundings. The Aman Spa is a haven for those who love to be pampered. It also boasts a swimming pool, which has separate family-friendly swimming hours for those traveling with kids.
As for the rooms, there's no skimping on luxury. A perfect mix of modern amenities and historic highlights, the charming rooms come with uber comfy beds, 24-hour butler service, Cowshed bath products, and plush robes.
Opt for a stay in the Terrace Suite if you're really hoping to live it up. In addition to having private elevator access, two king beds, and impeccable furnishings, this lavish suite boasts the largest outdoor terrace in Mayfair.
The food at this fab holiday resort in the UK is divine. Hélène Darroze, the resort's three Michelin-starred restaurant, serves upscale dishes that leave you smiling, while the fare at Jean-Georges at The Connaught is just as impressive.
It's also located close to London's top tourist attractions, so you won't be at a loss for exciting things to do if you opt to leave the resort for a few hours.
Address: 16 Carlos Place, London, England
4. The Headland Hotel & Spa, Newquay, England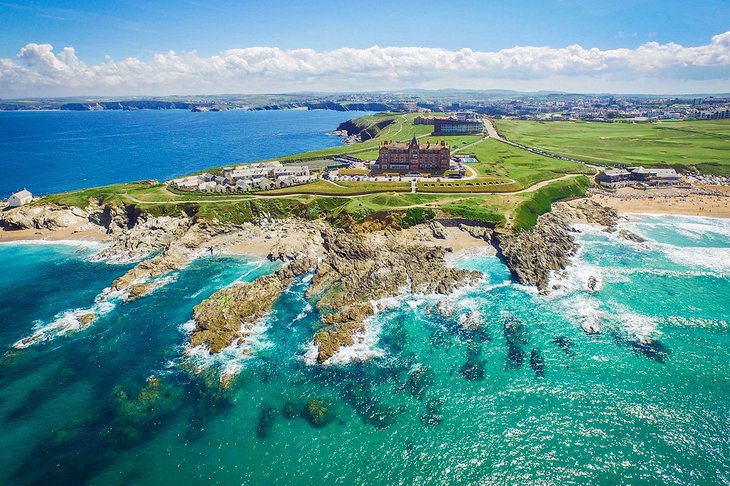 Accommodation: The Headland Hotel & Spa
Cornwall is to England as the Riviera is to Italy: a stunningly romantic spot to enjoy a seaside getaway. Home to some of the best holiday resorts in the UK, this glam seaside locale is a perfect place to unwind, and The Headland tops the list for the most impressive places to stay in Cornwall.
If you're looking to mix a little swank with a lot of luxury, this plush resort will fit the proverbial bill. It is perched dramatically atop a cliff, offering unsurpassable views of the Atlantic Ocean and Fistral Beach below. For years, The Headland has been a favorite for visiting royals and celebrities. Dating to the late 19th century, it's been a favorite haunt for the likes of King Edward VII and Queen Alexandra, and even King Charles has stayed here.
Don't worry, although the façade is a well-preserved Victorian masterpiece, the inside of the hotel has been upgraded to cater to modern guests who prefer to stay in a high-class establishment. There are 95 chic rooms, a gym, luxe holiday cottages, a spa, and two phenomenal restaurants: the Samphire and Terrace.
The Headland is also home to a massive wellness center. Named the Aqua Club, it boasts six pools. This is also where you'll find a restaurant featuring gastronomic delights crafted with Mediterranean flare, and a large oceanfront terrace.
Address: Fistral Beach, Headland Road, Newquay, Cornwall, England
5. Old Course Hotel Golf Resort & Spa, St. Andrews, Scotland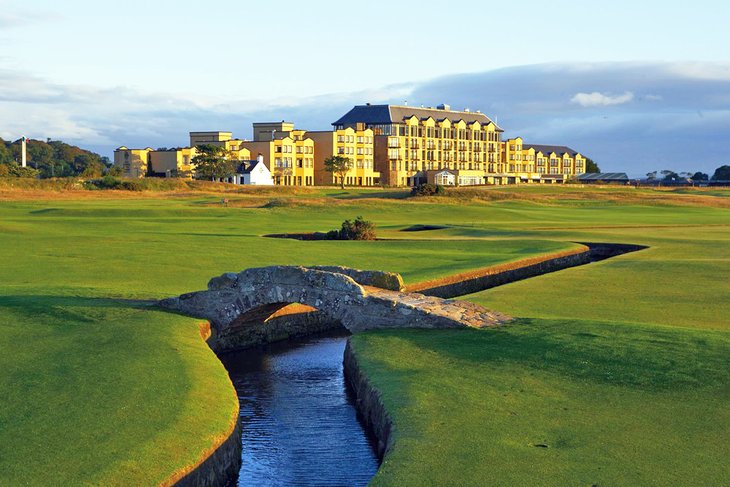 Accommodation: Old Course Hotel Golf Resort & Spa
The Old Course Hotel Golf Resort & Spa is fittingly located in St. Andrews, Scotland (a.k.a. the "home of golf"). Sandwiched between the iconic Old Course and West Sands Beach, guests can choose from a bevy of activities to keep them busy while on vacay at this top holiday resort in the UK.
Take a load off with a treatment (or three) in the Kohler Waters Spa, work up a sweat in the fitness center, take a dip in the pool, or grab a bite at one of the six eateries on-site.
Scotland is known for its phenomenal golf courses, and guests at the Old Course Hotel, Golf Resort & Spa can play at a few of the country's best, including the hotel's championship course, The Duke's. Simply speak with the concierge to learn how to book a tee time.
The resort's 175 rooms lie within a spectacular building set beside the world's toughest par 4-the Old Course's 17th hole. The guest rooms are spacious and delicately decorated with textiles that remind you that you're in Scotland.
The Penthouse is the epitome of five-star luxury. A swanky fourth-floor suite with its own elevator and staircase, it features a fireplace, furnished balcony, dining area, and freestanding bath in the bedroom, not to mention breathtaking views.
Address: Old Station Road, St. Andrews, Scotland
6. Chewton Glen Hotel & Spa, New Forest, Hampshire, England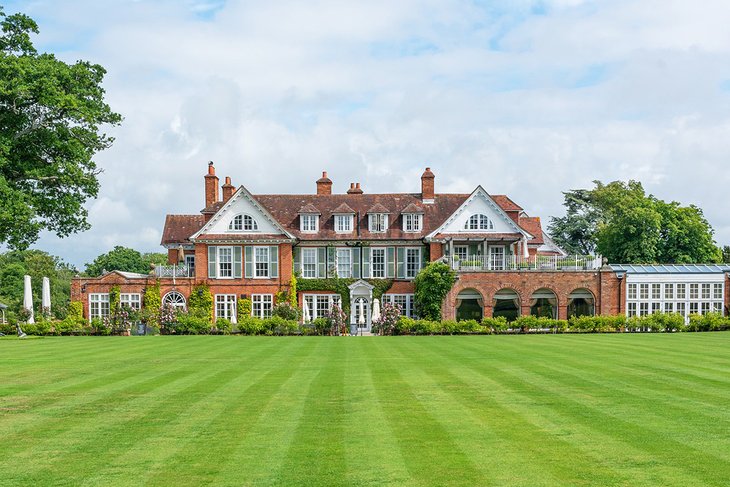 Accommodation: Chewton Glen Hotel & Spa
Chewton Glen Hotel & Spa is located on 130 acres in the magical New Forest National Park in Hampshire, England. A spectacular area of natural beauty peppered with wild sheep, horses, and cows, this is a perfect spot for a holiday, especially for families.
While the guest rooms are luxuriant, highlighted by rich creams and chic country décor, if you're going to stay here, do yourself a favor and book a treehouse suite. While they come with a hefty price tag, these lusciously unique suites offer remarkable forest views from your perch atop the tree canopy.
Outdoor hot tubs grace the terrace, wood burners help keep you cozy, a breakfast hamper is delivered each day of your stay, and the large soaking tub offers stunning vistas.
The Chewton Glen Spa boasts relaxing treatments, as well as access to fitness classes that include HIIT training, boxing, and Pilates. The 17-meter hydrotherapy pool was revamped in 2020. It boasts jets, heated beds, and floor-to-ceiling windows. A 10-meter heated outdoor pool is another popular place to unwind. Golf and tennis are also available.
Afternoon tea is served daily from 12pm to 4pm at the upscale Dining Room restaurant or on the terrace. The Kitchen offers a more laid-back environment to enjoy a tasty meal, take a cooking lesson, or book a private event.
Address: New Forest, Hampshire, England
7. Culloden Estate and Spa, Belfast, Northern Ireland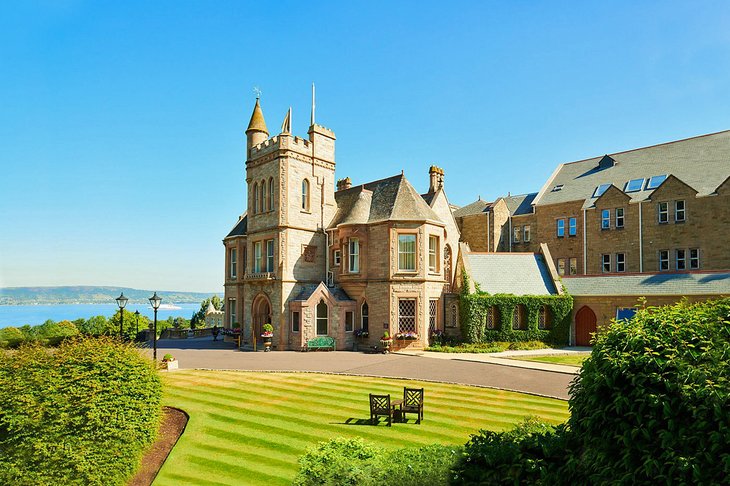 Accommodation: Culloden Estate and Spa
High on a hill above the glistening shores of Belfast Lough lies the majestic Culloden Estate and Spa, a Hyatt property. Guests are guaranteed a comfortable stay in this regal estate's plush rooms, with uber cozy King Koil Cloud Beds and plenty of space to explore, with 12 acres of gardens at your disposal.
Choose between 98 rooms with either a view of the lake or the sprawling lush grounds. The Garden Family Room is perfect for small families, as it boasts both a king and a single bed, so you won't have to share.
If you're really hoping to lap up the luxury, book into a Palace Suite. This grandiose, 100-square-meter masterpiece comes complete with a rooftop terrace and features a large dining table, separate bedroom with a king bed, and a living room.
Grab a bite at the on-site Vespers restaurant, take a dip in the pool, or luxuriate in The Spa at Culloden. If you absolutely must work, this holiday resort offers business services, as well as meeting facilities. A tip: book breakfast in advance, as the restaurant can get quite busy.
Address: 142 Bangor Road, Belfast
8. Potters Resorts Hopton-on-Sea, Norfolk, England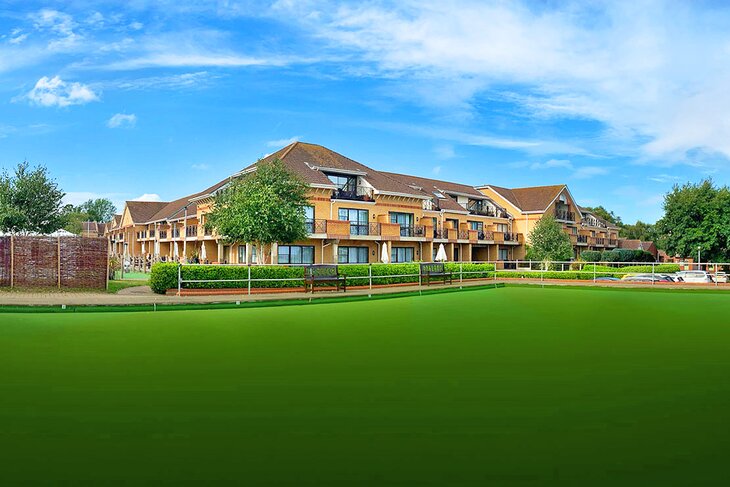 Accommodation: Potters Resorts Hopton-on-Sea
Book a stay at the action-oriented Potters Resorts Hopton-on-Sea, and your kids will love you forever. In fact, they'll proclaim you the best parent of all time—at least until you return home. One of the best all-inclusive resorts for families in the UK, the Potters Resort in Hopton-on-Sea is packed with so many fun activities, you won't know which to try first.
Most of the attractions and events are included in your rate, but some will incur a small charge. You can look forward to enjoying an inflatable course, archery, adventure golf, fitness and dance classes, science experiments, a giant swing, access to multiple pools, family sports day activities, KMX bikes, Segways, squash, a bungee trampoline, and GameZone, just to mention a few of the excellent offerings.
Prefer to take things a bit easier? See a show, attend a quiz session, or groove to the beat at a live concert. Then head back to your room, which can vary from a regular-sized room to a large bungalow to a luxurious penthouse. The deluxe rooms are larger, if you're looking for more space. They also feature more contemporary décor.
Breakfast, lunch, dinner, and a late-night snack are included in your stay at the resort's large main restaurant.
Address: Coast Road, Hopton-on-Sea, Norfolk
9. Gleneagles, Auchterarder, Perthshire, Scotland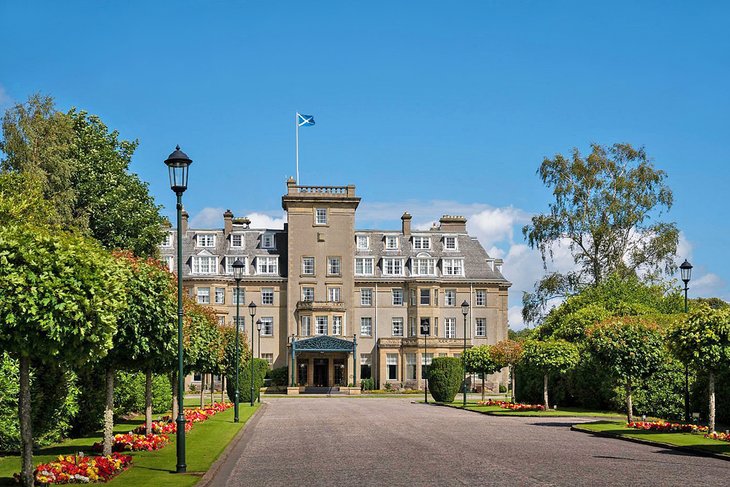 Accommodation: Gleneagles
Gleneagles knows how to help guests make the most of their vacation. This five-star resort caters to outdoor enthusiasts who like to mix adventure with all the fancy trimmings included in a lavish stay (like exceptional service, fab bathrooms, and plush bedding). This is by far one of the best holiday resorts in the UK.
Old-world charm meshes with contemporary additions and stellar views in each spacious room. At this true home away from home, guests sink into the comfy couches; marvel in the perfectly soft beds; and gasp in delight at the phenomenal suites, one of which is spread over two floors of what used to be a library.
While you're here, take advantage of the endless activities for which this holiday resort is best known. Whether you want to try your hand at archery, head off on a cycling adventure, learn more about falconry, take a wildlife photography class, ride horses, fish for salmon, play tennis, drive off-road, set out on a guided hill walking adventure, or zoom along a zip wire, the options for fun are seemingly endless.
Also on-site are the stunning Spa at Gleneagles, a fitness center, two indoor pools, an outdoor thermal pool, and an 850-acre playground.
Address: Auchterarder, Perthshire, Scotland
10. Slieve Donard, Newcastle, Northern Ireland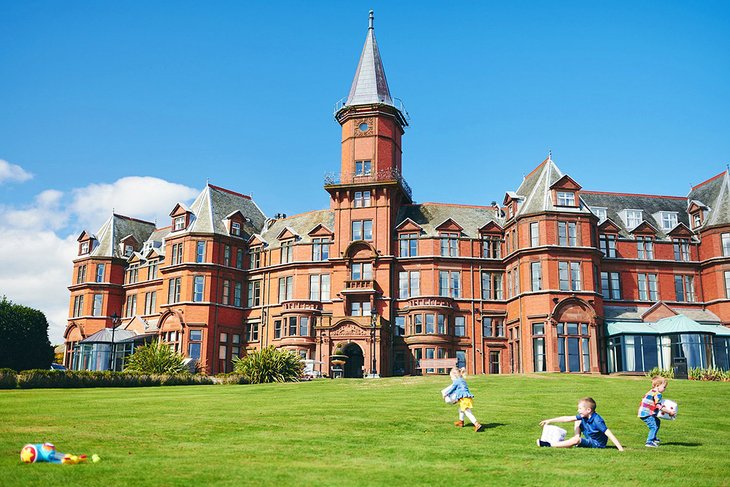 Accommodation: Slieve Donard
The impressive Slieve Donard lies in a picturesque Irish locale, so serene, you'll relax the moment you step through the front door. Set behind a sliver of golden, sandy beach and nestled at the base of the Mourne Mountains, this grand Victorian holiday resort is a utopia so rejuvenating, you'll beg to stay longer.
Upon arrival, guests are greeted by smiling staff who are genuinely pleased to see them. This first-rate service extends throughout each stay. When it comes to accommodations, there's no skimping here, either. The 181 rooms are clean, bright, comfortable, and cheerful. The six luxury suites are just as glam but offer guests more space, and the larger family rooms are a great option for those traveling with kids.
The newly updated spa is quite something. You'll find a swimming pool, sauna, steam room, double treatment room, and private relaxation room.
When it comes time to eat, head to one of the two on-site restaurants. The Oak and Percy French serve sumptuous dishes in impressive surroundings, while the Lighthouse Lounge offers light bites, and a truly enjoyable Afternoon Tea will quell those late-in-the-day hunger pangs.
Address: Downs Road, Newcastle, Northern Ireland
11. Matfen Hall, Matfen, Northumberland, England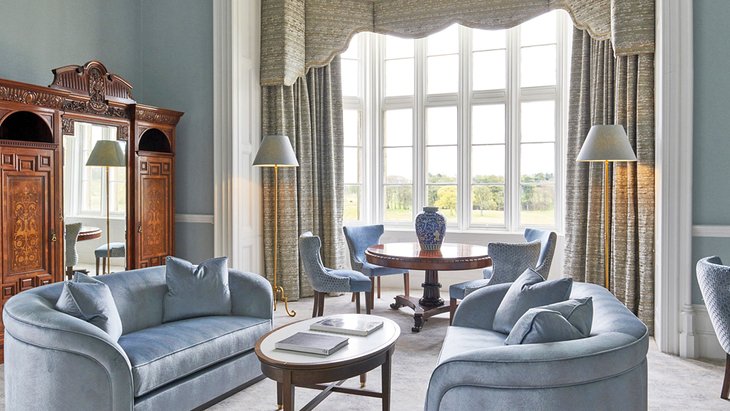 Accommodation: Matfen Hall
Ever wanted to sleep in an old English mansion that evokes Downton Abbey vibes? You can do that, and so much more, during a stay at the exquisite Matfen Hall. Set on a sprawling, 300-acre estate in Northumberland, this top holiday resort boasts 53 rooms set within an updated Jacobean house rebuilt in the mid 1830s.
The rooms range in size from intimate quarters to balcony-clad rooms to luxurious stately suites with Emperor Beds and marble bathrooms. No matter which you choose, you'll be guaranteed an exceptional view, plush furnishings, and a restful night's sleep.
At this country hotel, spa, and golf estate, you won't need to leave the grounds to enjoy every second of your holiday. Book a tee time at the resort's 27-hole championship golf course in Matfen Park. They also boast a golf academy, par-3 course, driving range, and a clubhouse.
Then, grab a bite at one of the premium eateries that range from upscale options like Emerald Restaurant to more casual spots like The Keepers. The Orangery boasts beautiful countryside views, as well as bistro-inspired dishes. If you're hoping to feel extra English, don't miss Afternoon tea.
More than just a spa, The holiday resort's goal is to enhance each guest's wellbeing in a multitude of ways. Whether you're hoping to relax sore muscles, calm your mind, or rejuvenate your skin, you can find a treatment designed just for you. Take a dip in the 16-meter indoor pool, luxuriate in the thermal suite, or work out in the fitness area.
Address: Matfen, Northumberland, England
Map of Holiday Resorts in the UK