11 Top-Rated Family Resorts in Punta Cana
We may earn a commission from affiliate links ()
Punta Cana is a picture-postcard resort destination on the eastern tip of the Dominican Republic. The main resort areas are Punta Cana and adjacent Bavaro. Together, they make up La Costa del Coco, the Coconut Coast. It's about 32 kilometers of continuous white-sand beaches, dotted with over 50 all-inclusive mega resorts. That beach is the big draw here; it's wide with powdery white sand and warm aqua-blue water.
The area is filled with a wide range of family-friendly resorts. Some large resorts cater to different types of travelers, with entire sections designated as adults-only and other parts as family-friendly.
Most of the family resorts in Punta Cana are all-inclusive or at least offer an all-inclusive option. All-inclusive means three meals a day (usually buffet-style), plus snacks, all beverages, and even complimentary room service. Many resorts offer table-service restaurants, too (which usually require reservations) and even premium dining options that may come with a fee.
The Dominican Republic is only a four-hour or shorter flight from many U.S. cities, with non-stop flights available from major gateways like Boston, Chicago, NYC, and Miami. Punta Cana has its own international airport (PUJ), or you can fly into the country's capital, Santo Domingo (SDQ), which is about two and a half hours away by car.
Start planning your tropical adventure today with our list of the best family resorts in Punta Cana.
1. Nickelodeon Hotels & Resorts Punta Cana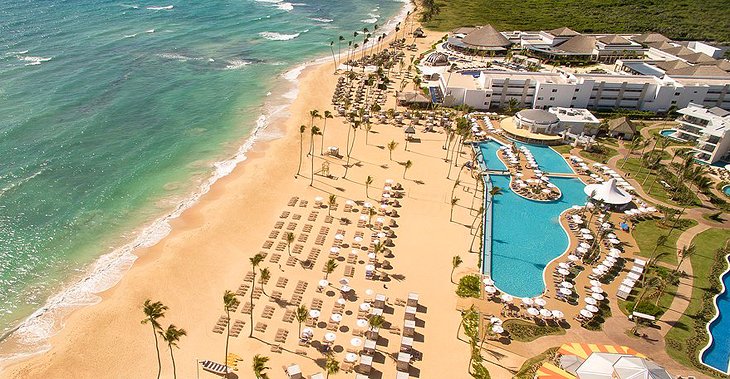 Accommodation: Nickelodeon Hotels & Resorts Punta Cana
Perhaps the ultimate family luxury resort in the Dominican Republic, this large, all-inclusive, all-suite, almost-amusement park is in the Uvero Alto beach section of Punta Cana. The resort has a full water park, called Aqua Nick, and its own wide stretch of beautiful, white beach.
The Nickelodeon resort has a wide range of accommodations, from standard suites to large villas. You can even stay in a pineapple-the resort's best accommodation is a SpongeBob SquarePants signature suite shaped like a giant pineapple. Go for one of the Nickelodeon Resort's swim-up pool suites, which have a terrace that fronts a section of the resort's large, lagoon-style pool.
There are tons of kids' activities, from supervised camp-like day care to nightly movie screenings, talent shows, and scavenger hunts.
The other draw here of course is that all the design and décor comes from Nickelodeon characters, shows, and brands. There are costumed characters walking around (like SpongeBob) and random Slimings have been known to occur.
Address: Carretera Uvero Alto, Parcela No. 214, Uvero Alto, Punta Cana 23000 Dominican Republic
2. Hyatt Ziva Cap Cana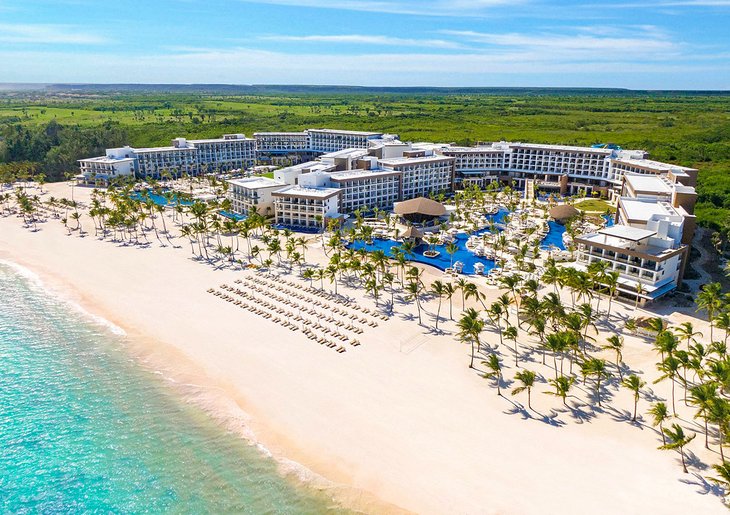 Accommodation: Hyatt Ziva Cap Cana
A newcomer (2019) to the Punta Cana resort scene, the Hyatt Ziva Cap Cana is a sprawling, all-suite, all-inclusive luxury resort in the new gated community of Cap Cana (there is another new Hyatt resort nearby, the Hyatt Zilara Cap Cana, but that is an adults-only property).
Having the Ziva property dedicated to families means you have an endless array of activities, shows, entertainment, games, and fun for everyone in the family. The entire resort, the layout, the accommodations, the food, the activities, everything is set up for great family vacations. The Hyatt Ziva Cap Cana even has its own water park, which is part of the all-inclusive experience.
The Ziva spa or the nearby Punta Espada Golf Course (within the Cap Cana gated community) can be a great parental getaway while the kids are enjoying a day of Camp Hyatt (kids' club and teen club) supervised activities.
The resort is right on a beautiful stretch of beach, and all the beach fun and non-motorized water sports are included in your stay.
Accommodations are all modern and new, with a bright, casual design. There are a wide range of suites spread out over the 40-acre property. Swim-up suites are very popular here (available for guests 13 and older), as they give you a semi-private pool, which connects to the main resort pool.
You can take a dip in your own little pool area, then swim over to the swim-up pool bar for a snack, then swim back to your suite. Families will like the spacious suites, and even the junior suites can accommodate up to six people, with two queen beds and a queen sleeper-sofa. All the suites have furnished balconies and 55-inch flat-screen TVs.
No less than 12 different dining environments (from coffee shops to gourmet restaurants) will satisfy even the most picky eaters. There is a main buffet, as well as themed restaurants serving Italian and Asian cuisine. Everything is included with your all-inclusive package, but reservations are required for the restaurants.
Address: Boulevard Zona Hotelera Playa Juanillo, Cap Cana, Punta Cana 23302
3. Paradisus Grand Cana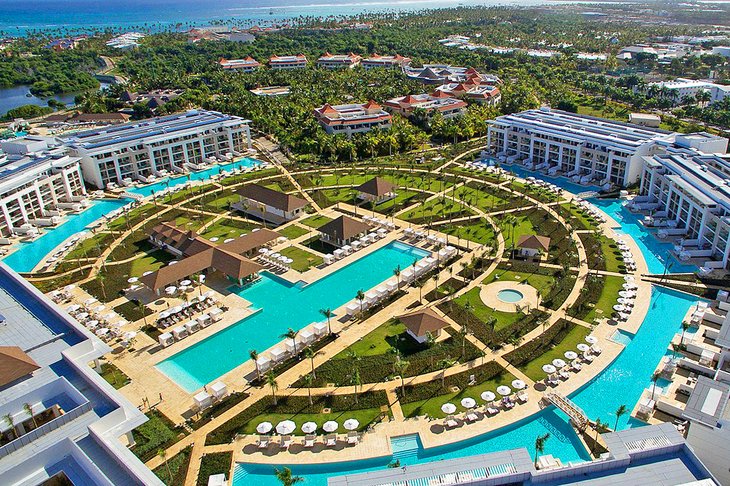 Accommodation: Paradisus Grand Cana
Paradisus Grand Cana is a luxury all-inclusive property and a great pick for families.
Choose from one- and two-bedroom suites that offer plenty of space for little ones (the entire property is all suites). The swim-up suites here are one of the most popular options for families. These feature direct access to their own shared pool and offer plenty of outdoor space for kids to run around. Regardless of what style room you choose, expect a contemporary vibe with neutral hues, sleeper sofas, and comfy beds.
Other family-friendly amenities include a kids' club with supervised activities and an on-site Aqua Park with water slides and other features.
There are eight restaurants to choose from, serving a variety of global cuisine with a la carte and buffet choices. More perks include private access to a pretty strip of Bavaro Beach with sun loungers and umbrellas, a spa, and a fitness center with a number of classes. There is even a golf course on-site.
Address: Playa de Bavaro Paraje de Bavaro, Bavaro, Punta Cana 23000 Dominican Republic
4. Majestic Colonial Punta Cana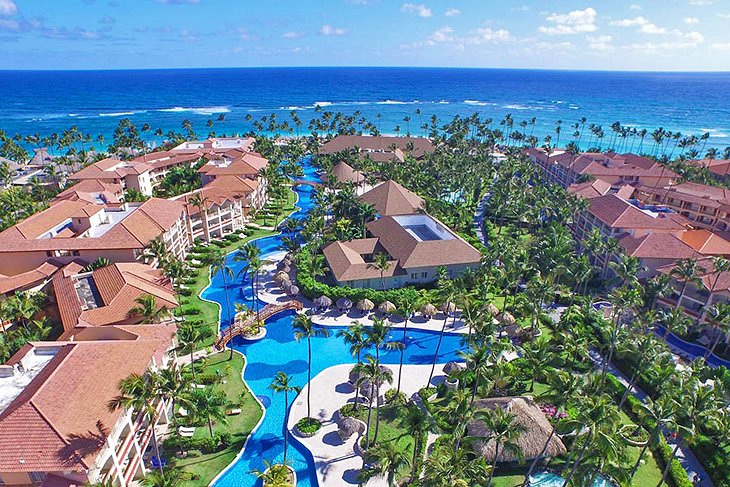 Accommodation: Majestic Colonial Punta Cana
This all-suite beachfront resort is in the Arena Gorda area. It's one of four Majestic resorts in Punta Cana. The spacious suites, perfect for families, have balconies or terraces and especially large bathrooms with whirlpool tubs. They all have sofa beds in the living room area, allowing them to accommodate up to four people.
There's a large section of private beach with a full dive center. Guests even get a free introductory SCUBA lesson in the pool (PADI certification class and dive trips are available for a fee). You have the full range of water sports (non-motorized things are free), and the resort can arrange for all kinds of excursions for the family.
Dining options include seven different restaurants, including a Caribbean grill, steakhouse, Mexican place, and two international buffets. Reservations are required for Le Gourmet, their upscale, adults-only fine-dining restaurant and also for the Japanese teppanyaki spot. There's even a little bodega with to-go food and snacks open all night. Nightly entertainment is presented in the resort's theater.
Address: Playa Arena Gorda Bavaro, Punta Cana, Dominican Republic
5. Family Club at Barcelo Bavaro Palace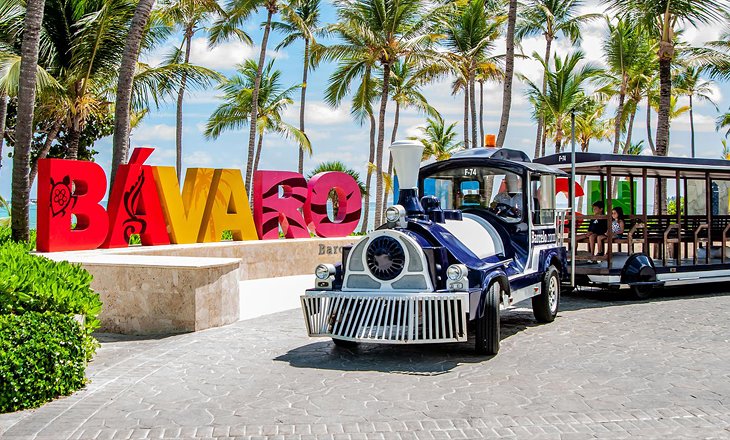 Accommodation: Family Club at Barcelo Bavaro Palace
The Barcelo Bavaro Palace is a vast mega-resort. They offer a family "resort within a resort" experience with their Family Club. It's its own little world within the resort, with a separate check-in area and lobby, separate accommodation buildings, and its own swimming pool area and beach. The resort has a different, also restricted area, just for adults.
The Family Club area includes the resort's large water park, which is part of a lagoon-style pool, exclusively for the use of Family Club guests (there's also a quiet pool and a couple of adult pools). There are also several restaurants and snack stands within the Family Club area, or guests can utilize facilities in the general area of the hotel.
Rooms and suites are modern, with nice touches like slippers, robes, and premium bath amenities. There are many duplexes (with two bedrooms and two bathrooms) and other larger, family-friendly units that can accommodate even large families.
Address: Carretera Bávaro, KM 1, Bavaro, Punta Cana 23301 Dominican Republic
6. Royalton Bavaro, An Autograph Collection All-Inclusive Resort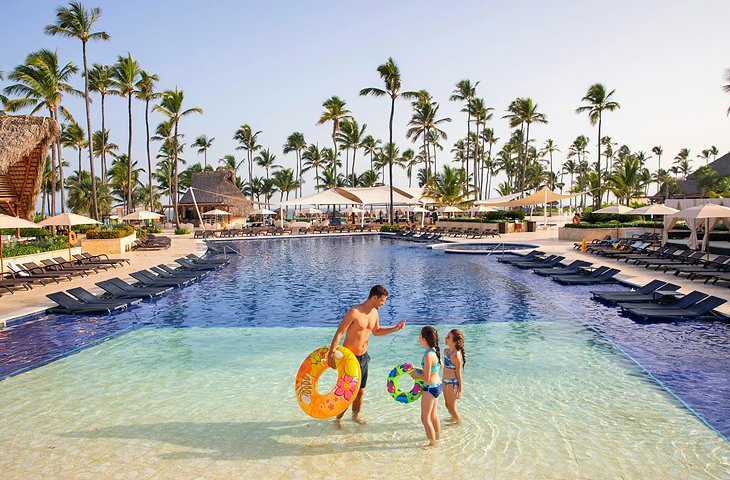 Accommodation: Royalton Bavaro, An Autograph Collection All-Inclusive Resort
The Royalton offers a 5-star, beachfront luxury experience. You get more luxurious accommodations, better dining options, and, of course, your own private beach area. Now part of Marriott's Autograph Collection, you can spend or earn Bonvoy points with your stay.
It's a very family-friendly vacation destination with a Clubhouse Kids Club and Hangout Teens Club. Both have dedicated indoor and outdoor play areas and a full schedule of supervised activities. The teen club (13-17 year-olds) has its own hangout area (with PlayStations) and a schedule of activities.
Guests get access to the big water park at the Grand Memories Splash resort, a short walk or trolley ride away. Parents who want to stay in shape will love the focus on wellness and huge range of fitness activities and classes, from poolside morning yoga to hardcore beach bootcamps.
It's really all-inclusive, even things like resort-wide Wi-Fi and international phone calls (to North America and most of Europe) are free and included in the room rate. Download the Royalton app to also get free app-to-app texting. All non-motorized water sports are also included-things like kayaks, rafts, little sailboats, snorkel sets, boogie boards, and canoes.
Address: Playa Arena Gorda, Punta Cana 23000, Dominican Republic
7. Royalton Splash Punta Cana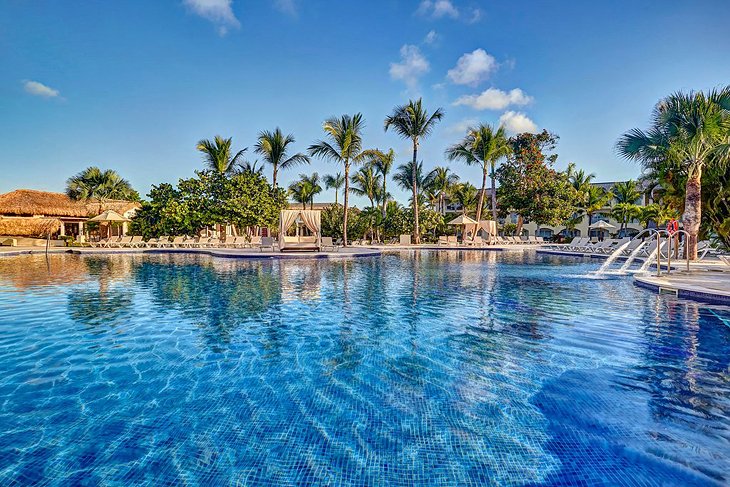 Accommodation: Royalton Splash Punta Cana
This all-inclusive family resort, as its name implies, is focused around a water park and enormous pool area. It's not a beachfront property but is a short walk away and has its own private beach area (part of the Royalton Punta Cana resort at the beach). There is a frequent trolley that takes you right to the beach.
You get three pools to enjoy: the main lagoon-style pool with activities, a quiet pool, and a third pool reserved for Diamond Club VIP guests. Diamond Club status is about $65 more a day and grants you access to a separate check-in area, priority at restaurants, upgraded accommodations, and a dedicated Diamond Club pool and beach area. The water park area includes a wave pool, a few big waterslides (for big kids and adults), and a dedicated kid zone play area. The resort hosts a range of activities (indoor and outdoor) for kids and families along with family-friendly musical and entertainment programming each day and night.
Food is plentiful at the Royalton Splash and, as at other resorts, served buffet-style with a few specialty table-service options.
Address: Highway Macao Playa Arena Gorda, Punta Cana 23000, Dominican Republic
8. Dreams Palm Beach Punta Cana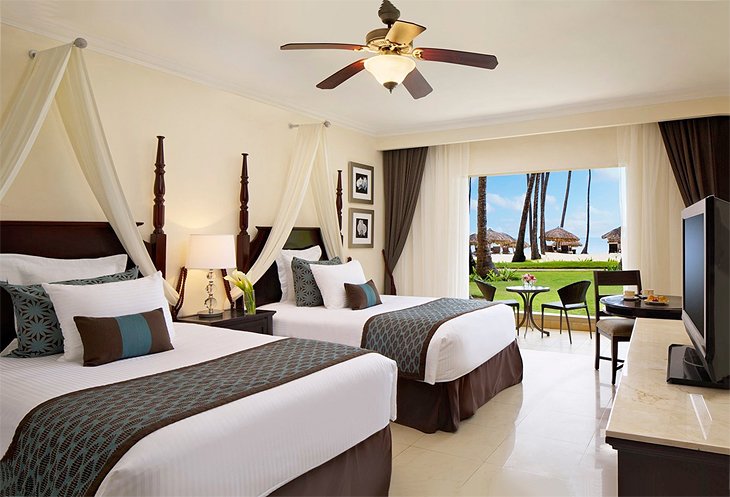 Accommodation: Dreams Palm Beach Punta Cana
The Dreams Palm Beach Punta Cana is one of four Dreams resorts in the Dominican Republic. Dreams Palm Beach is a 500-room resort, located right on the beach. In Punta Cana, this makes it a medium-sized resort, and activities and accommodations are not too spread out as they sometimes are at the larger properties.
Families love all the entertainment options, day and night, inside and outside. There's a big, private beach area filled with all kinds of water sports. Movies are screened on the beach each night, and the resort has a full, indoor theater with nightly entertainment, featuring things like music performances and magic shows.
The resort's tour desk can set up any and all of the popular Punta Cana excursions, things like paragliding, trips to Soana Island, horseback riding, and more. The resort has a supervised kids' club area with activities all day and a teen club program and lounge. Teens have their own supervised activities, including nightly dances and social events.
Dining options include several buffets (with changing menus and featured cuisines) and also themed restaurants with uniquely Mexican, Japanese, French, and Italian menus. A note: there is a dress code at the theme restaurants (no shorts, t-shirts, or flip-flops). There's also a popular seaside grill.
Address: Cabeza de Toro, Punta Cana 23000, Dominican Republic
9. Ocean Blue & Sand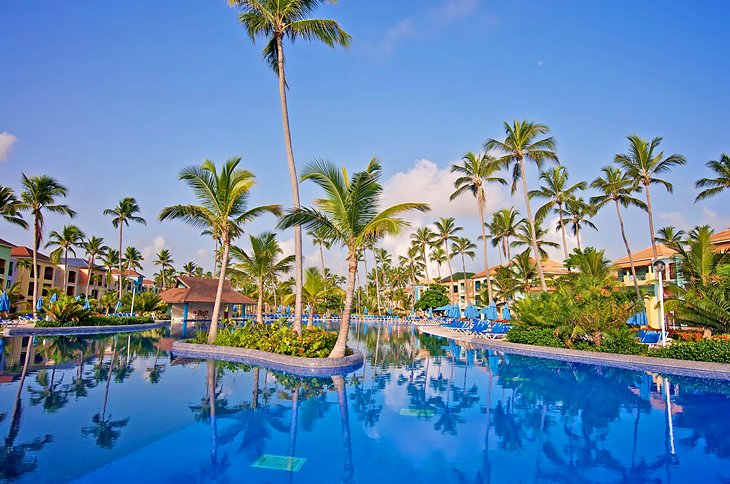 Accommodation: Ocean Blue & Sand
Located steps from the beach in the Bavaro area, this beach-adjacent resort has excellent beach facilities, but you can't quite see the ocean from some of the accommodations. This minor detail usually makes it one of the best deals in Punta Cana for an all-inclusive family resort. Suites are big; even the basic suites can accommodate five people (up to four adults and a child).
There are lot of things to do at Ocean Blue & Sand, including swimming in one of four pools. Young kids (4-12) have a kids' club with activities and dedicated play areas. There's also a teen club for young adults (13-17) with a lounge and activities. The resort also has babysitting services (at an extra cost). Families will enjoy trying the climbing wall or competing against each other in the bowling alley.
Hungry guests have a choice of eight different restaurants, including several buffets (one is adults-only) and four snack bars open 24 hours a day. Kids love Route 66, the resort's American 1950s-style diner.
Address: Arena Gorda, Bavaro, Punta Cana, Dominican Republic
10. Hard Rock Hotel Punta Cana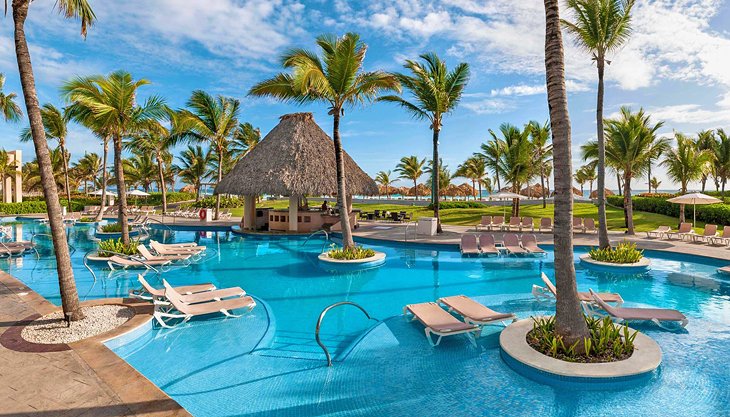 Accommodation: Hard Rock Hotel Punta Cana
The Hard Rock Hotel is an excellent vacation option, especially for families with older kids. If your kids are younger, they do have a dedicated children's play area and kids' club activities. There are 13 swimming pools at the luxury beachfront resort and a wide section of private beach. You also get family-oriented amenities like mini golf and a big arcade. The suites are all modern and stylish, and two- and three-bedroom units are available.
Children can participate in the KIDZ BOP program, a kids' activity schedule all about music. KIDZ BOP is a popular music brand that features current pop songs sung by kids. Activities include karaoke, recording music, and there are even KIDZ BOP pool parties with young DJs spinning kid-friendly music at the kids' pool. The kids' club offers supervised activities (indoor and outdoor) from 9am until 10:45pm.
Kids 12 and older (and adults) will love the Jam Band program. You're able to play musical instruments (provided by the resort), with a music teacher/coach, and form a band. You jam with the band then perform in the resort theater. There are recording and video options as well.
Nine on-property restaurants means there's always something for everyone, even the most picky eaters. Highlights include a sushi spot; a steakhouse; and a brick-oven pizza restaurant, Pizzeto. Whichever one you choose, save room for a dessert-there's a sundae bar in the kids' lounge.
Address: Boulevard Turistico del Este Km 28 No 74, Bavaro, Punta Cana 23000 Dominican Republic
11. Caribe Deluxe Princess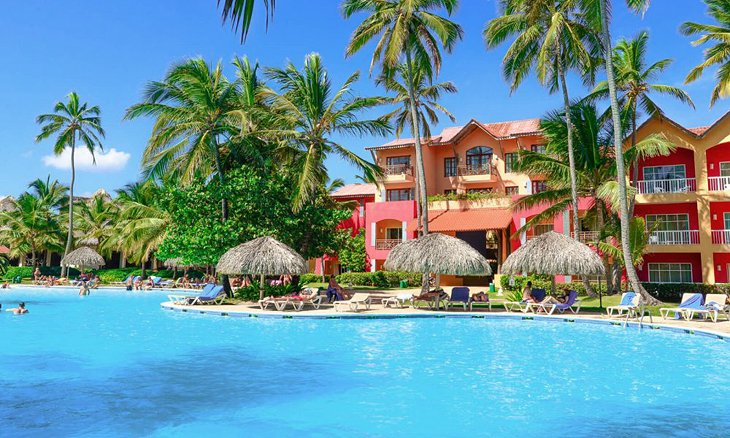 Accommodation: Caribe Deluxe Princess
Another resort in the Bavaro area, the Caribe Deluxe Princess is on Higuey Beach, one of the area's most picturesque. It's a large resort, so golf cart shuttles are sometimes necessary to get from one part to the other. Like at many Punta Cana resorts, the accommodations are in three-level buildings with no elevators. Free Wi-Fi is only available in the lobby area.
You get seven different dining options and snack bars, including a crêperie, buffet, an Italian restaurant, a Mexican restaurant, and an Asian spot. Room service is available 24 hours and is also included in your all-inclusive experience.
When it's time to have fun there are tennis and basketball courts and a large beach area with security and lifeguards. There's a mini club for kids and a teen club for young adults. There's also a dedicated kids' pool and outdoor play zone. There are a lot of organized activities, team games, and sports and crafts workshops.
Address: Playa Bavaro, Punta Cana 23301, Dominican Republic
More Related Articles on PlanetWare.com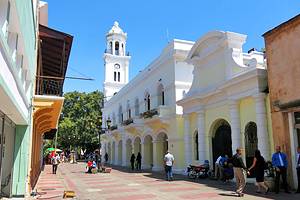 Exploring the Dominican Republic: The Dominican Republic is not your typical small tropical island. The country is home to mountains, forests, semi-desert areas, small towns, beautiful beaches, historic cities, and over 10 million people. If you have time, it's worth getting out to see the highlights of the Dominican Republic. From Punta Cana you can day trip to Santo Domingo to explore the Zona Colonial (colonial district).