Where to Stay in Copenhagen: Best Areas & Hotels
We may earn a commission from affiliate links ()
Copenhagen's Inner City, which includes the Old Town, has the greatest concentration of major attractions, including the picturesque Nyhavn Harbor, Town Hall Square, and Tivoli Gardens, and this is one of the best areas to stay.
The Inner Vesterbro neighborhood is a more affordable alternative, with many hotel options that are close enough to the city center that you can easily walk to some of the top sites, and a rental bicycle can easily bring you to any of the city's attractions.
Adjacent to downtown on the opposite side, Inner Oesterbro has some affordable lodgings and is home to some remarkable sites, like Churchill Park's Kastellet and the National Gallery of Denmark.
On This Page:
Where to Stay in Copenhagen for Luxury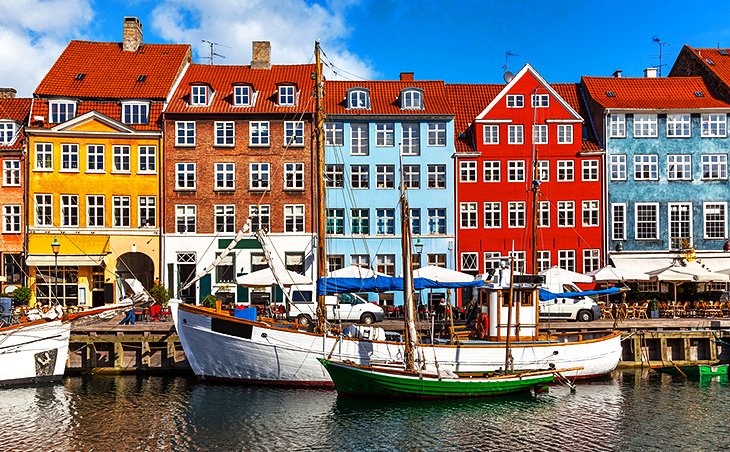 Copenhagen's premiere lodging is the Hotel D'Angleterre, housed in a 250-year-old landmark historic building, which overlooks King's Square and Kongens Have in the Inner City. This hotel's world-class reputation makes it the top choice for the city's most prominent visitors, from celebrities to dignitaries. The hotel's truly amazing five-star service, incredibly spacious rooms, and unique elements including a large stained-glass skylight are just a few of the things that set it apart from the rest.
The Nimb Hotel in Inner Vesterbro comes in a close second, overlooking the Tivoli Gardens. The building itself is magnificent to behold, and inside, the suites and rooms are spacious and individually decorated for a comfortable, unique experience. This five-star hotel is very family-friendly, offering children's activities and babysitting, and the central location, close to the city's top attractions, makes it a perfect home base for sightseeing.
Overlooking the water and the truly unique Kalvebod Bolge recreation area, the Copenhagen Marriott Hotel is very close to the Ny Carlsberg Glyptotek museum, which houses millennia of art including works by Van Gogh. The modern building has well-appointed rooms and includes all the best in luxury amenities, including a large fitness center and generous breakfast buffet.
Near Nyhavn Harbor and next to Amalienborg Castle, the Copenhagen Admiral Hotel is an imposing waterfront building over 200 years old. This former granary has been tastefully adapted to its new life as a four-star hotel, highlighting the best parts of its architecture to celebrate the beauty of the original building, such as exposed wooden beams and hallways filled with original stone archways.
Where to Stay in Copenhagen: Mid-Range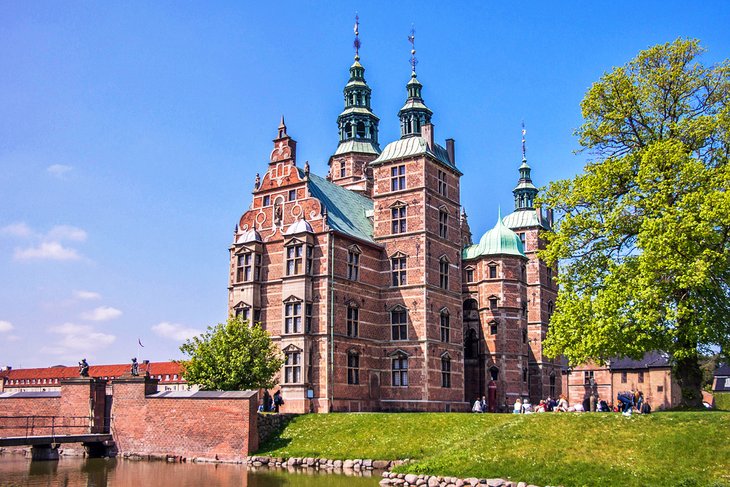 Inner Vesterbro is arguably the best area to stay for value, where you can find the optimal balance between cost, convenience, and service.
Close to Central Station and just a few blocks from the Tivoli Gardens, the Andersen Boutique Hotel offers room amenities including a mini-fridge, Nespresso machine, and fresh fruit. Guest rooms are decorated playfully, with contrasts of bright colors against stark white and hardwood floors, giving it a fun, modern feel.
Nearby, the newly established Absalon Hotel includes a breakfast buffet that offers both European and American-style choices. Guests can rent a bicycle to tour the city and take advantage of the convenient Airluggage service that allows visitors to make the most of their last day in the city.
Slightly closer to the train station, the Axel Guldsmeden is warm and relaxed, with an upscale, rustic atmosphere inspired by Balinese influences. This hotel's proudest feature, however, is its commitment to sustainable hospitality, not only using traditional methods of conservation but also taking care to use organic and Fair Trade certified products, from the food to the furniture.
Another lodging committed to sustainable practices and green living is the Crowne Plaza Copenhagen Towers in the Orestad district. Solar panels flank three of the hotel's facades, and the building's climate control is geothermal, using just one third the energy of electric. The hotel's atrium is a beautiful green space, with thousands of plants, and rooms make use of natural light and sustainable recycled furniture. Visitors will have to travel into the city center, but the hotel is close to some notable attractions like the Royal Arena, Field's Shopping Center, and Jens Olsen's World Clock.
Where to Stay in Copenhagen on a Budget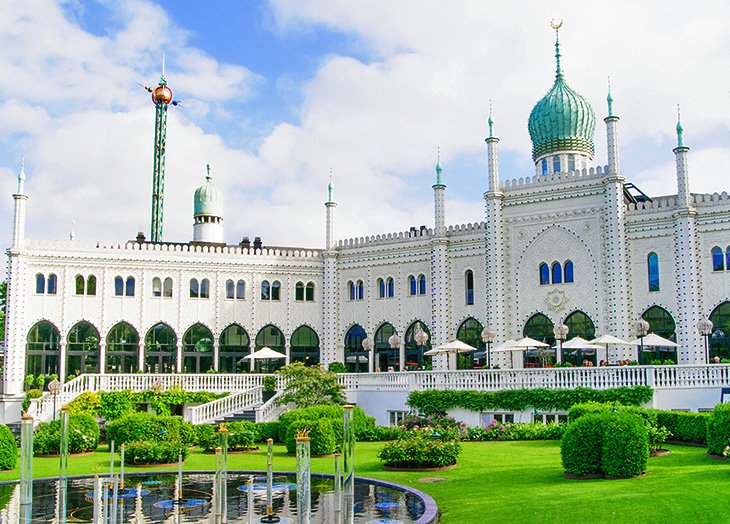 Although Copenhagen is an expensive city, it is possible to find cheap hotels and budget options that will work well for those who want to focus on spending their time exploring. Inner Vesterbro has several of these options, including the Wakeup Copenhagen Carsten Niebuhrs Gade. Just one block from the waterfront and ten minutes by foot to Tivoli Gardens, this ultra-modern hotel has efficiently situated rooms. There are several restaurants close by, as well as a large shopping mall.
Less than a block from the train station, the Hotel Nebo has compact but very clean rooms. The Cabinn City Hotel has very modern, tidy guest rooms that make efficient use of space. This hotel is only two blocks from the water and within walking distance to most city attractions including Tivoli, Ny Carlsberg Glyptotek, and the National Museum of Denmark.
The Hotel Rye, in Inner Oesterbro, is near the canal and the Little Mermaid Statue as well as shopping, restaurants, museums, and a large park. This no-frills hotel has simple, functional rooms with a retro vibe, and a full wall city map in the common area where complimentary breakfast is served.
Where to Stay in Copenhagen for Couples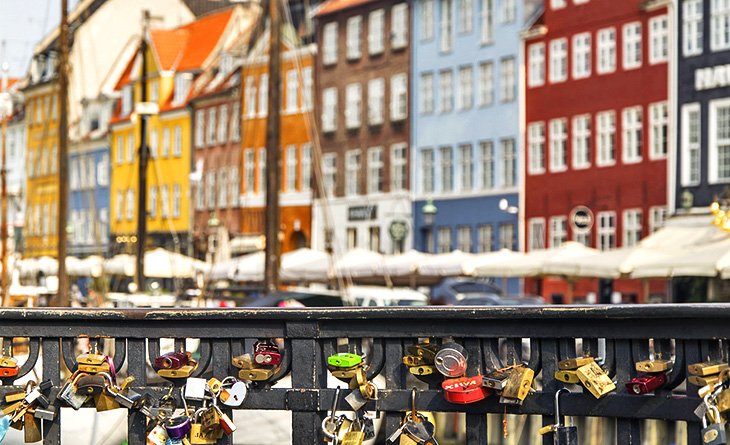 In the city's most picturesque part of town along Nyhavn Canal, next to the Royal Danish Theater, the 71 Nyhavn Hotel has beautiful and spacious rooms with rustic exposed beams. This romantic hotel is in a converted warehouse that faces the waterfront on two sides, providing views across the harbor.
The Bertrams Guldsmeden - Copenhagen is a no-kids zone, perfect for parents who want to get away. It is in a quieter area of Inner Vesterbro but an easy stroll to restaurants, shopping, and the Museum of Copenhagen, and there is a bus stop right out front that makes the city center easily accessible.
The Hotel Alexandra features bright and whimsical vintage-themed rooms and is centrally located in the Inner City, just a short walk from the beautiful lake-park Ørstedsparken. It is also within a few blocks of major attractions, including City Hall, Radhuspladsen, and Pusher Street.
The Hotel Kong Arthur sits nearby, overlooking the water and close to the Botanical Garden. It features a large interior courtyard and a sun-drenched dining atrium, along with cozy indoor spots, like a sofa by the fireplace or a pillow-filled reading nook.
Where to Stay in Copenhagen for Families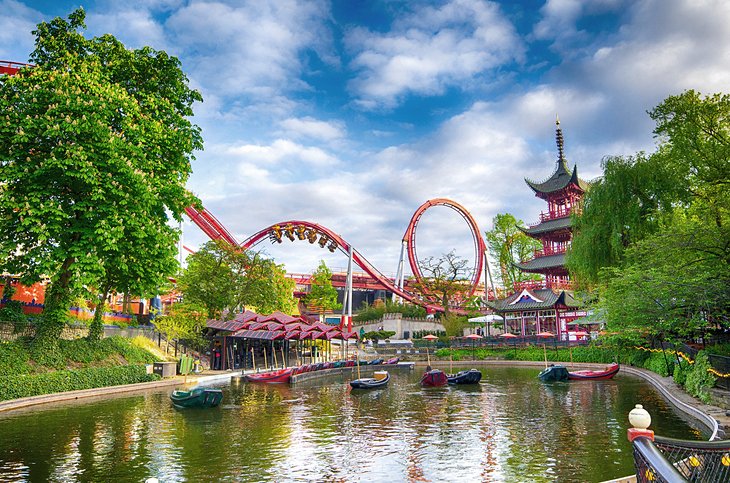 Copenhagen Marriott Hotel is not your average mid-range Marriott property. This is a five-star hotel in a lovely waterfront location with some of the most spacious rooms and suites in Copenhagen, which is a serious perk for families. The rooms all feature large windows with either city or harbor views, and there are many options to book interconnecting rooms. The on-site restaurants also offers kids' menu choices. Bike rentals are also available on-site.
While it isn't a definitively family-focused property, parents with older kids who want an affordable luxe design hotel will like the Copenhagen Island. It offers interconnecting room options, as well as some rooms with pullout sofas. The hotel is located at the edge of the harbor, just south of the city center, and is inside a distinct seven-story glass atrium. It is filled with light and has a glossy modern vibe to its public areas and sleeping spaces. Amenities include a restaurant, fitness room with a sauna, and bike rentals for exploring the city.
Hotel Christian IV is a good-value, family-friendly hotel in central Copenhagen, right by the Rosenberg Castle. This budget hotel doesn't offer a lot of frills, but the rooms are clean and comfortable and work well if you're more interested in exploring than hanging out in your room. Families will appreciate the free buffet breakfast in the morning. There is also complimentary coffee, tea, and light snacks on offer throughout the day, another perk for parents with hungry kids.
Hotel Tiffany is another top hotel choice for families that is also good value. Right by the central train station and about 10 minutes on foot from the amusement park at Tivoli Gardens, this small hotel has 30 rooms and suites. All have lots of charm and come with great amenities, like Nespresso machines and kitchenettes featuring microwaves, toaster ovens, and fridges, so snacks for little ones can be quickly prepared. Suites also come with Jacuzzi tubs for relaxing after kids go to bed. A complimentary continental breakfast is offered and served in room.
Where to Stay in Copenhagen near the Airport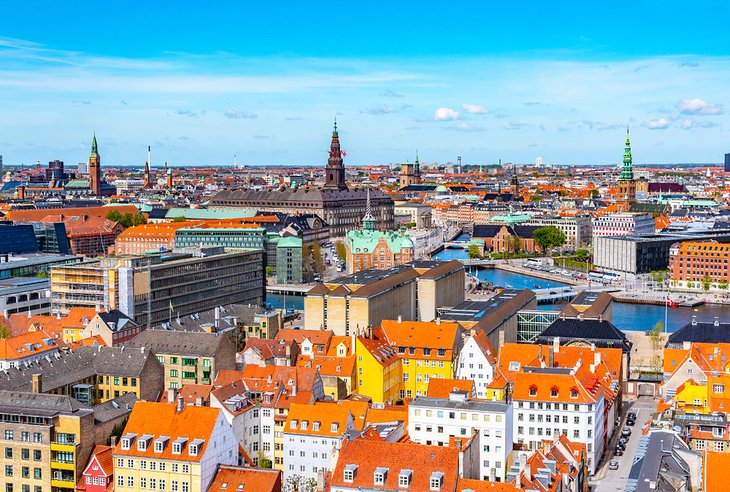 If you have an early morning flight to catch or are arriving late at night, it can be convenient to just book a hotel near the airport. Luckily, Copenhagen has a number of lodging options near its international airport.
One luxury choice is Clarion Hotel Copenhagen Airport. Located just a few minutes' walk from the Terminal 3 arrival hall using a covered walkway, the contemporary property offers a mix of rooms and suites. Some have ocean views. All are clean and comfy, with artsy headboards on crisp white linen-covered beds. The hotel is also pet friendly. Amenities include a heated saltwater swimming pool, hot tub, beach access, a spa, and restaurant.
For a more affordable sleep near the airport check out Zleep Hotel Copenhagen Airport. The travel-themed hotel rooms have comfy beds and an overall cozy vibe. Wi-Fi is free, and the beds are extra long. Breakfast is served from 3am on, so if you have an early morning flight you can still get your fuel on.