16 Best Hotels in Copenhagen, Denmark
We may earn a commission from affiliate links ()
Denmark's capital, Copenhagen, has seen an increase in the number of visitors in recent years, and its hotels are rising to the challenge. Luxury boutique hotels offer top-notch service in beautiful spaces, reflecting Scandinavian minimalism and sustainable practices that the city is known for.
One of the best places to stay is Copenhagen's Indre By (Inner City), which includes the Old Town and its Kongens Nytorv public square, known for its historical buildings, cobblestone streets, and statues. Many of the hotels are within walking distance of top Copenhagen attractions, like the colorful Nyhavn Harbor, family-friendly Tivoli Gardens, Stroget Shopping Mile, the royal residence of Amalienborg Slot, and the famous Little Mermaid statue.
Although considered an expensive city, visitors can find plenty of moderately priced and budget accommodations. In the newly revitalized Vesterbro, home of the hip Meatpacking District, you can find a reasonably priced hotel close to all the action. The area brims with chic restaurants, vintage shops, cafes, galleries, and music venues. It comes alive in the summer months with street markets, and it is within biking or walking distance to the city center.
Another neighborhood, the Inner Oesterbro, offers affordable family-friendly hotels close to Churchill Park's Kastellet (a 17th-century fortress) and the National Gallery of Denmark. The main street, Osterbrogade, is packed with boutiques, cafes, and restaurants.
Whether you are looking for a boutique hotel in an amusement park, an ultra-modern luxury hotel, a historic property close to the port, or a cheap hotel in the city center, we've got the best hotels for your next vacation to Scandinavia's happiest city.
On This Page:
Best Luxury Hotels in Copenhagen
1. Nimb Hotel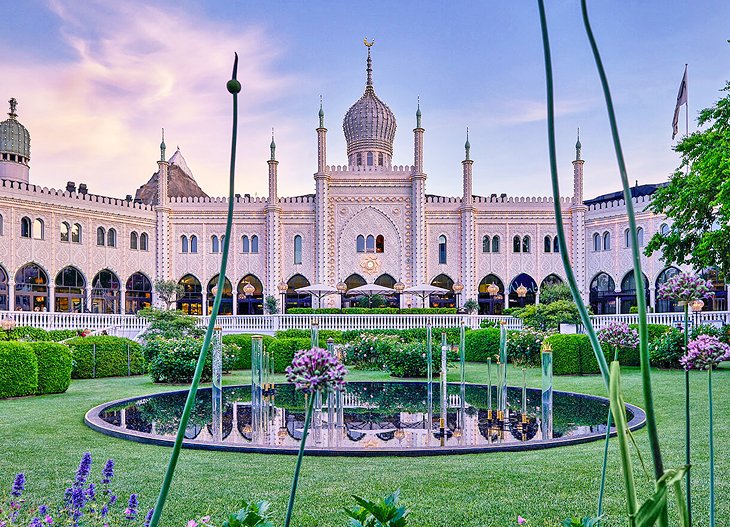 2. Hotel D'Angleterre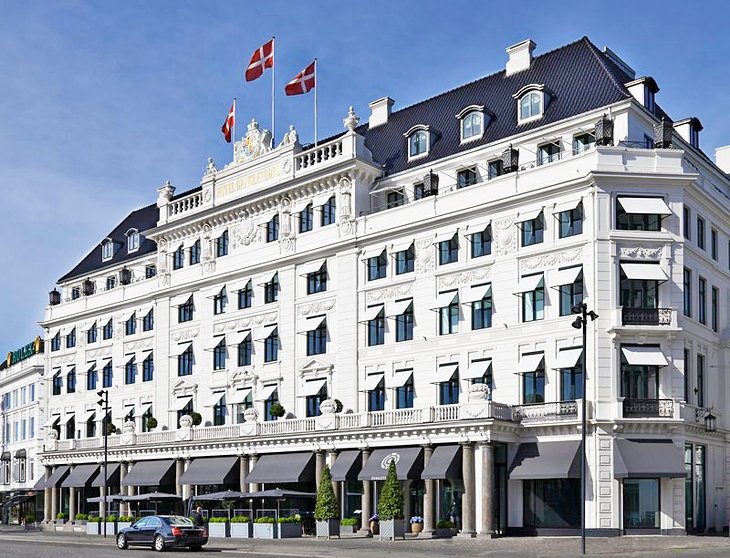 3. Andersen Boutique Hotel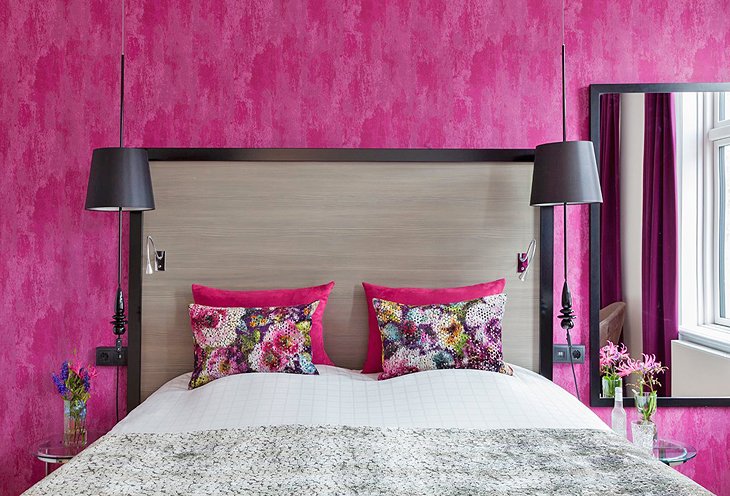 4. 71 Nyhavn Hotel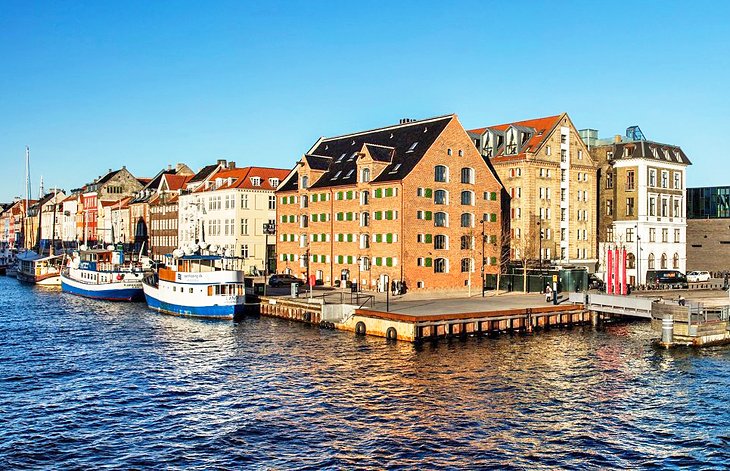 5. SKT. PETRI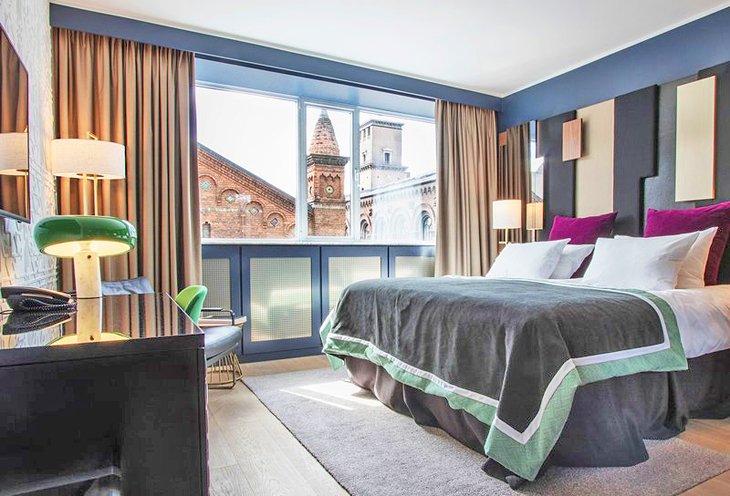 6. Radisson Collection Royal Hotel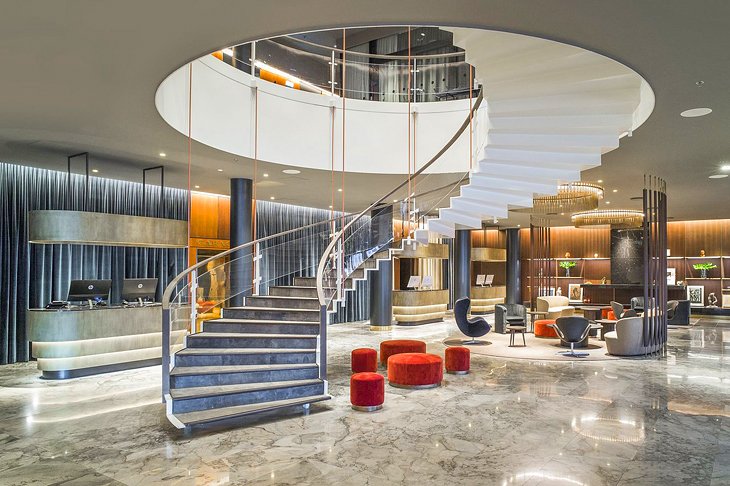 7. Copenhagen Marriott Hotel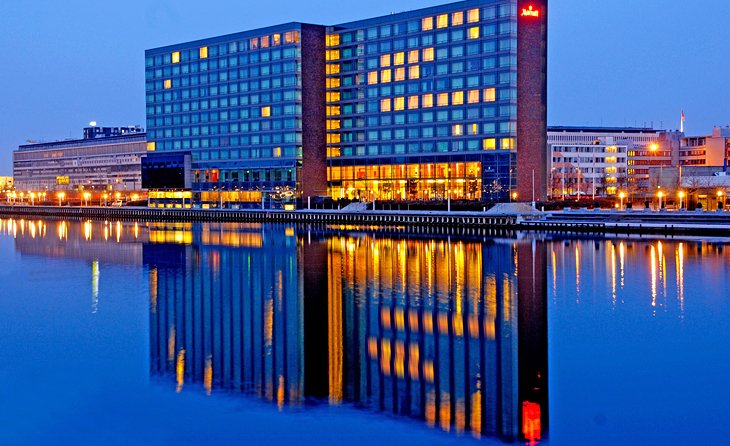 8. Manon Les Suites - Guldsmeden Hotels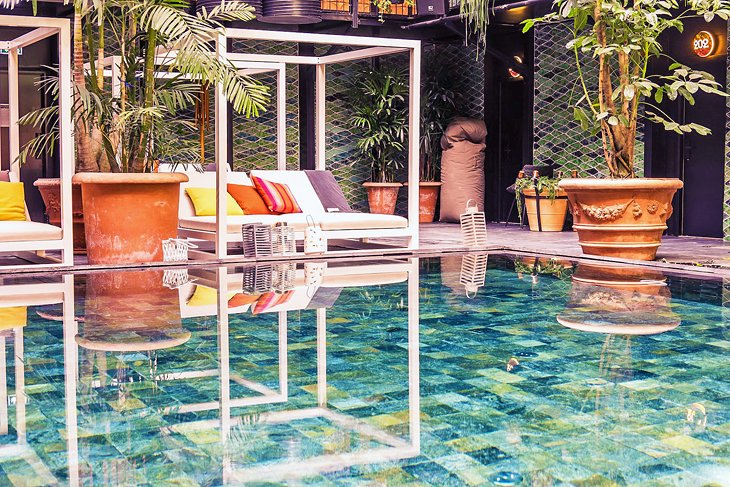 9. Nobis Hotel Copenhagen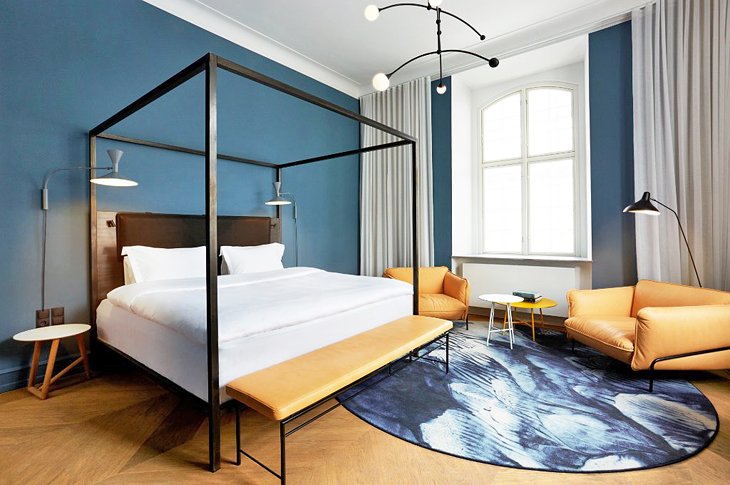 10. Hotel Sanders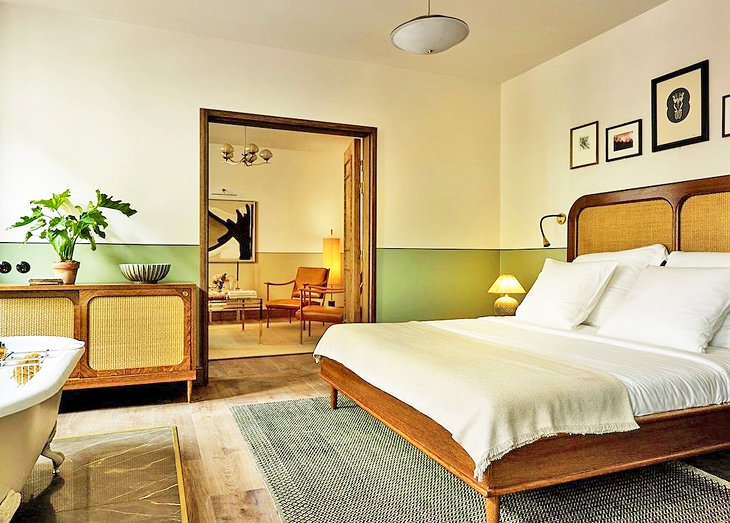 11. Villa Copenhagen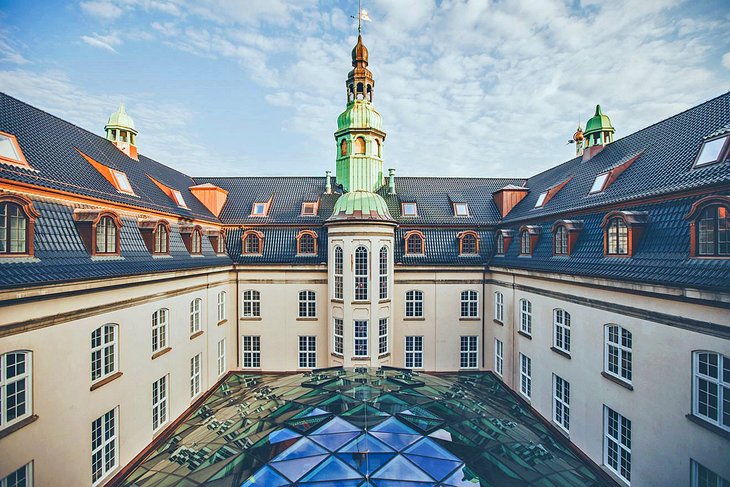 There are 390 rooms and suites, and these, like the rest of the interior design, do a lovely job of mixing historic touches with modern Scandinavian style. If you are traveling with kids, there are family rooms. The hotel is also dog friendly.
Best Hotel near Copenhagen Airport
1. Crowne Plaza Copenhagen Towers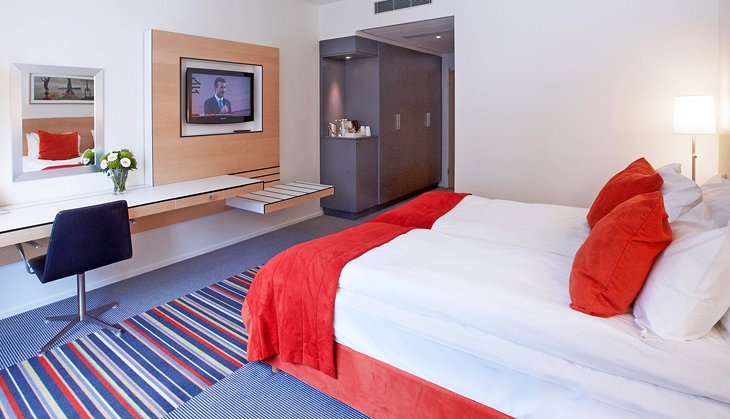 Best Hotels in Vesterbro
1. Bertrams Guldsmeden - Copenhagen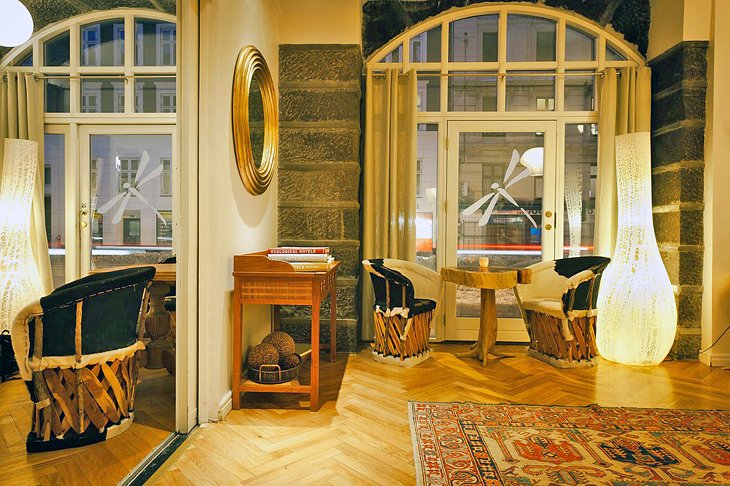 2. Hotel Copenhagen Island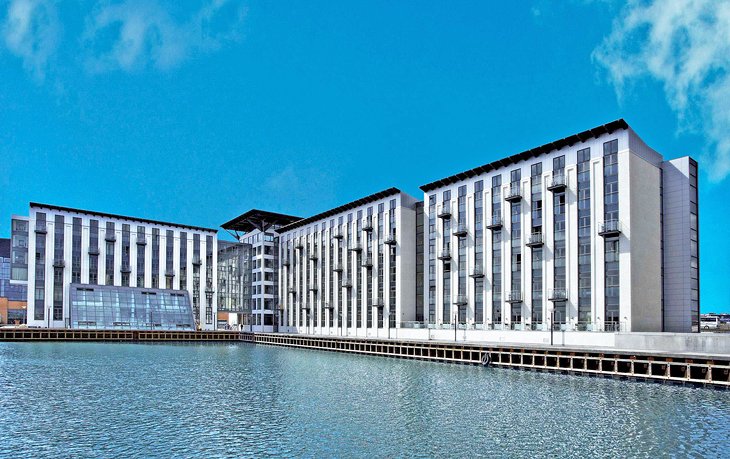 Best Budget Hotels in Copenhagen
1. Rye115 Hotel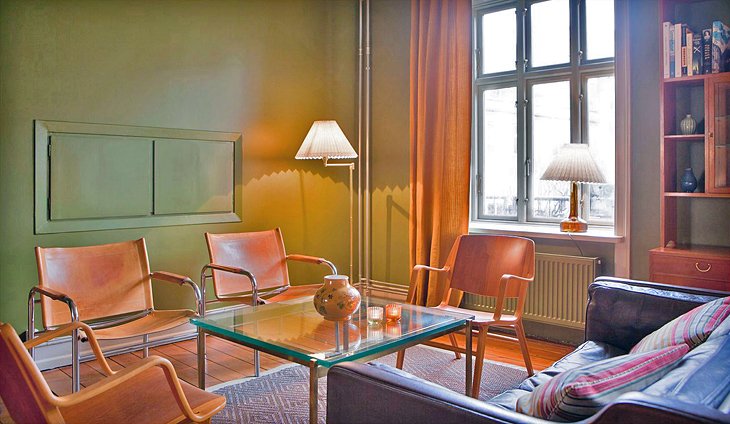 2. Wakeup Copenhagen Carsten Niebuhrs Gade