9 Top-Rated Resorts in Delaware
Delaware is famous for its Atlantic coastline beaches, like Rehoboth and Dewey, which attract tens of thousands of visitors each year who come in search of a holiday weekend away with their family, significant other, or group of friends.
As such, many of the top resorts are located on or near this stretch of sand and surf in Delaware, and these beachfront properties come in several budgets and styles to fit different types of travelers, including those in search of a romantic getaway.
But beyond the shoreline, Delaware is also home to some opulent historic hotels and inns located in cities like Wilmington, where you'll find the landmark Hotel du Pont, which has hosted royalty and presidents and more than one celebrity since opening in 1913.
In the state's south, Georgetown is home to the historic Brick Hotel On The Circle, which is located just 15 miles from the surf and sand at Rehoboth yet far enough away to allow for a more relaxed and romantic small-town getaway.
Whether you want to stay by the city or beach, find the ideal base for your next vacation with our list of the best resorts in Delaware.
1. Hotel du Pont, Wilmington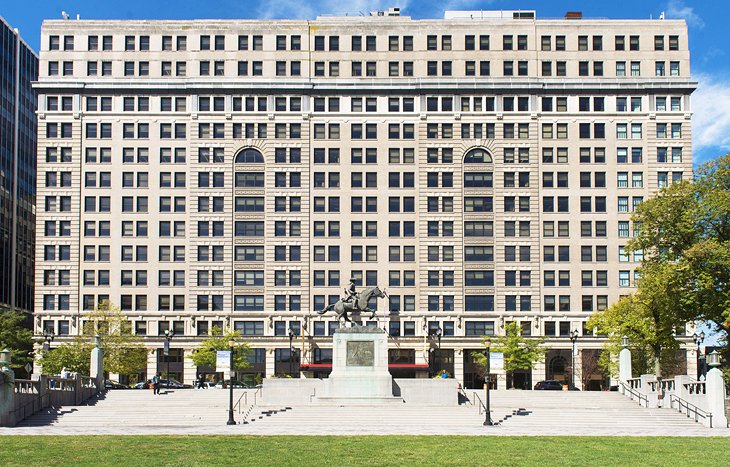 Accommodation: Hotel du Pont
Right in downtown Wilmington, across from Rodney Square, the stately Hotel du Pont is inside a 1913 landmark building and has hosted numerous celebrities and world leaders over the last century.
From the public spaces to the rooms and suites, opulence reigns at this resort, where you'll find old-world European décor like intricate woodwork, terrazzo and mosaic floors, gilded hallways, and decadent chandeliers.
The rooms and suites are known for their comfortable beds and deep soaking tubs; the suites are extra spacious and feature full living and dining rooms.
On-site amenities include a decadent French restaurant among other eating options, a historic performing arts center, a gym, and a gift shop. Also, note the original paintings by nationally known artists showcased on walls throughout this property.
2. Boardwalk Plaza Hotel, Rehoboth Beach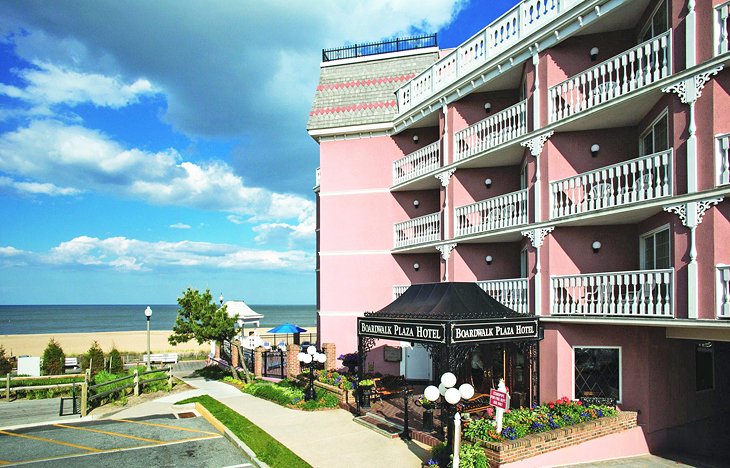 Accommodation: Boardwalk Plaza Hotel
Right on the sea in Rehoboth Beach, the Boardwalk Plaza Hotel is a longtime luxe favorite, especially if you're looking for a boutique hotel without cookie-cutter rooms.
This hotel features Victorian-era-styled rooms with an elegant vibe, as well as comfortable beds and large bathrooms that in some cases feature whirlpool tubs. Some rooms also offer private balconies.
On-site amenities include the upscale Victoria's Restaurant serving New American cuisine three meals a day. The restaurant covers three floors, and every table features Atlantic Ocean views. They also do a traditional Victorian-era afternoon tea that is quite popular. There is also a more casual lounge restaurant on-site for lighter meals.
Additionally, you'll find a spa, rooftop sundeck, swimming pool, workout room with seasonal yoga, and in summertime organized activities for kids.
3. Hilton Wilmington/Christiana, Newark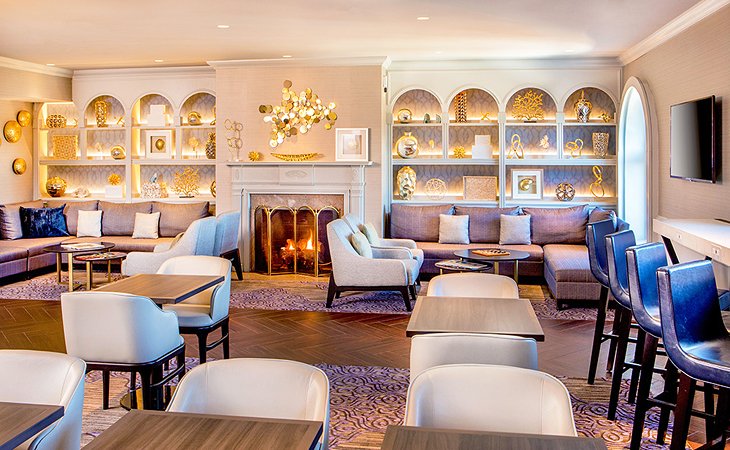 Accommodation: Hilton Wilmington/Christiana
Just off I-95, a few miles from Delaware Park and the Christiana Mall in Newark, the Hilton Wilmington/Christiana is a modern, upscale property with large, clean, and comfortable rooms and suites featuring custom beds, work desks, and mini-fridges. Book the Executive level for free breakfast and evening appetizers in a special lounge.
If you are traveling with the kids, book one of the suites. These are larger, with separate living spaces and pullout couches. They also have kitchenettes, which is especially convenient if you have young children.
The Hilton also has a number of resort-style amenities including the Market Kitchen, which serves American fare three meals a day, including a buffet breakfast. There is also a breezy patio if the weather is nice.
You'll also find an outdoor swimming pool, hot tub, fitness room, and a business center on the grounds.
4. Inn at Montchanin Village, Montchanin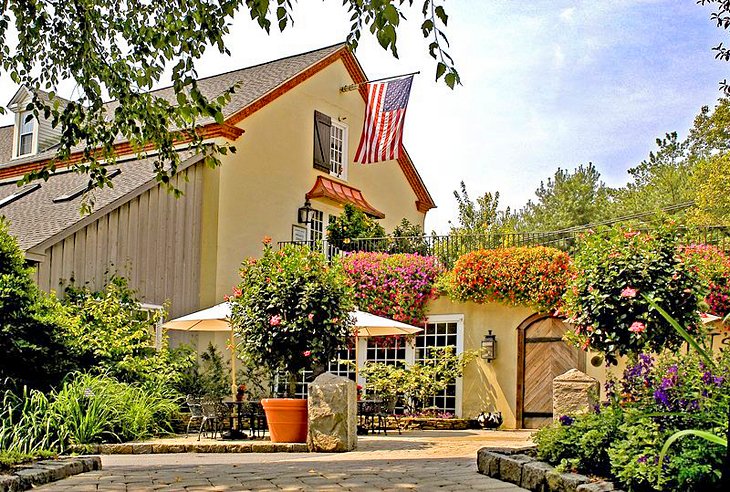 Accommodation: Inn at Montchanin Village
Just a 15-minute drive from Wilmington, the Inn at Montchanin Village is a boutique luxury property in a historic 19th-century hamlet.
It features 11 restored buildings built between 1799 and 1910 that offer guests an opportunity to stay in completely period and decadently outfitted rooms and suites with antique furnishings, fine Italian linens on comfy four-poster beds, and marble bathrooms.
The most luxurious digs come with their own private manicured gardens off porches, as well as kitchenettes and separate living rooms with gas fireplaces for chilly nights.
A popular romantic getaway, the hotel also hosts an elegant French-Asian fusion restaurant that does a five-course tasting menu with wine pairings each weekend. Other on-site amenities include a luxury spa offering a range of relaxing treatments, as well as a workout room and library.
5. Bally's Dover Casino Resort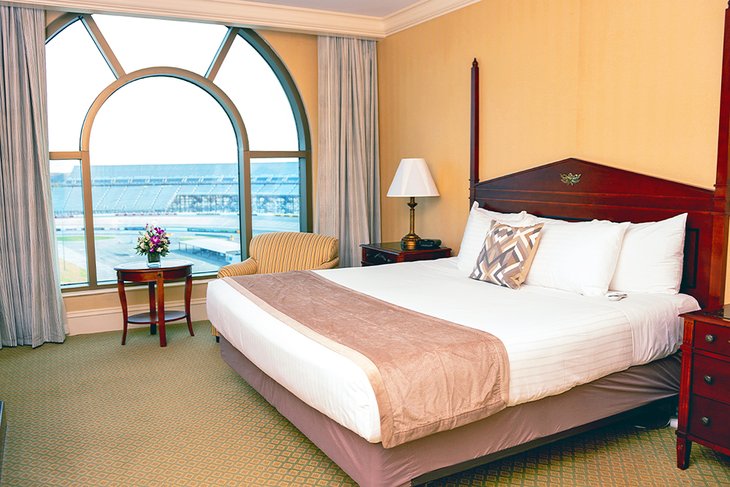 Accommodation: Bally's Dover Casino Resort
Bally's Dover Casino Resort is located at the Dover Downs racetrack complex and right by the Dover International Speedway. Music festivals also often take place here. It offers a 4-star hotel stay with contemporary and comfortable rooms and suites. These come in a number of different configurations and sizes.
There are a number of dining options on-site. Gr8 Burgers & More serves flame-broiled smash burgers that come with two patties and are served on a kaiser roll. If you have a sweet tooth, hit up the Sugar Factory, which features all sorts of desserts and also does a full food menu with dishes created in bright colors specifically to be photographed on Instagram.
Other amenities include a South Pacific-inspired spa, Toppers, which offers a full range of treatments, as well as salon services. There is also an indoor swimming pool, hot tub, sauna, and workout room on-site.
6. The Westin Wilmington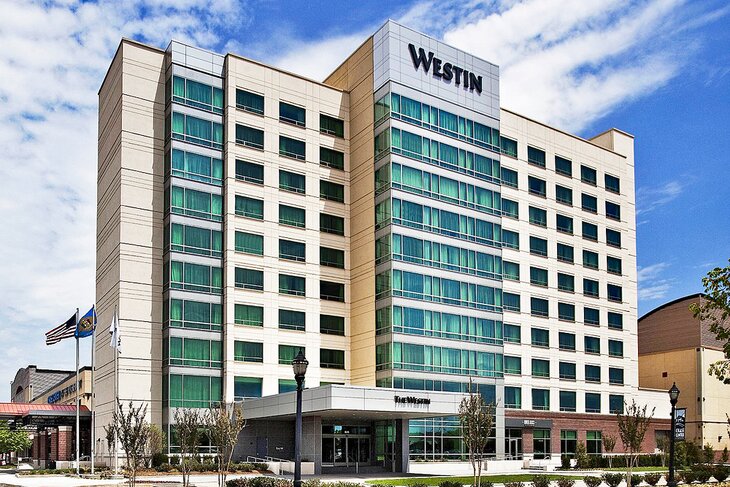 Accommodation: The Westin Wilmington
Located in Wilmington's riverfront district, The Westin is an upscale resort with attentive staff. The rooms and suites are clean and spacious, and the beds are comfortable thanks to the brand's signature Heavenly beds and fluffy duvets.
The property is family-friendly, and rooms come in a variety of shapes and sizes. If you do have kids, the larger rooms with two queen beds are a good choice. The suites have separate living and sleeping spaces.
This resort is within walking distance from the Delaware Children's Museum, which has a climbing structure as well as an IMAX movie theater.
If your child has fur and paws, the hotel is pet-friendly. Two medium-sized dogs per room are welcomed for an extra fee.
Westin is Marriott's wellness brand, and the fitness center here is a focus. There is also a riverfront walking trail to check out. Other amenities include a small indoor swimming pool and hot tub.
You can grab a bite to eat at the River Rock Kitchen on-site. It serves American fare in modern environs with river views. The hotel is also within walking distance from a handful of other restaurants.
7. The Bay Resort, Dewey Beach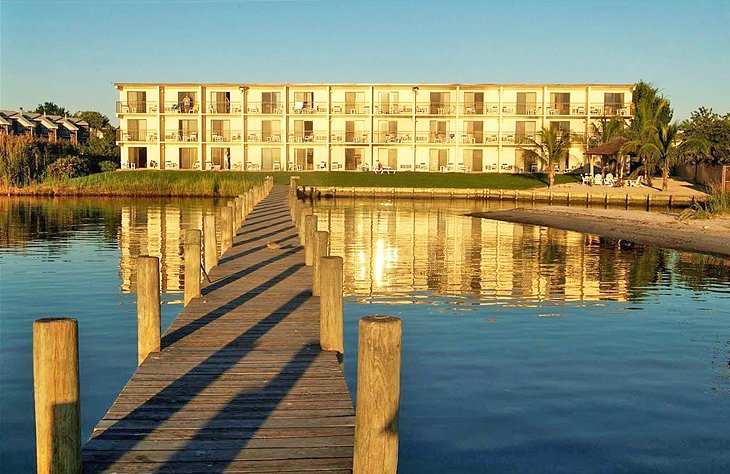 Accommodation: The Bay Resort
Just two blocks from Dewey Beach, The Bay Resort looks out over a private cove on Rehoboth Bay and is also just a few minutes' drive from the boardwalk at Rehoboth Beach. This seasonal property is an excellent value choice for those who care more about spending time on the beach than in their hotel room.
It has basic but clean rooms with comfortable beds, and the rooms also feature patios or balconies with either bay or swimming pool views, as well as kitchenettes and often pull-out sofas, which make it a popular family choice. There is no restaurant on-site but plenty nearby, and a 250-foot pier extends out into the bay. The staff here is friendly and attentive.
8. Atlantic View Hotel, Dewey Beach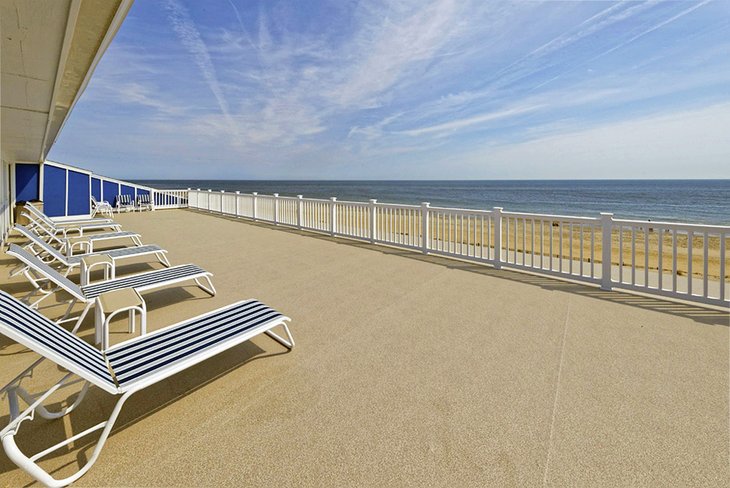 Accommodation: Atlantic View Hotel
The Atlantic View Hotel sits directly on the sand in Dewey Beach and has been serving up simple but friendly accommodations here for more than 35 years.
Rooms are good value and very clean and comfortable, and many offer ocean views from large windows — make sure to see the sun rise over the Atlantic Ocean one morning; it is a beautiful sight. They also feature free Wi-Fi, mini-fridges, microwaves, and flat-screen TVs.
The hotel boasts a complimentary breakfast, an outdoor swimming pool, and beach chairs to take to the sand. It is a child-friendly property as well, offering free accommodation to kids less than six years old.
9. Beach House Dewey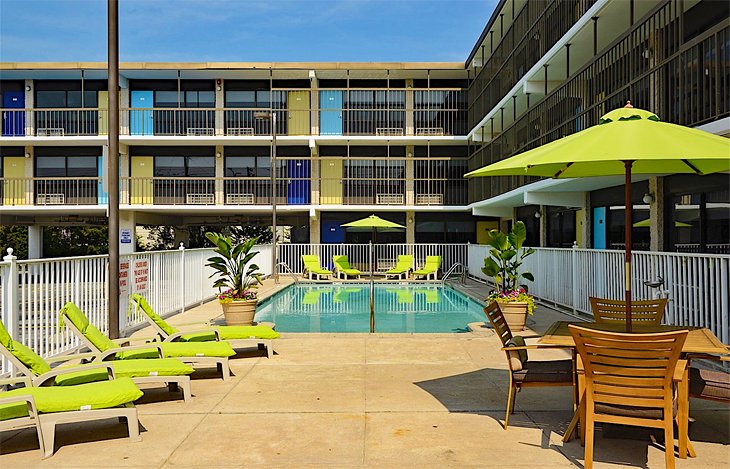 Accommodation: Beach House Dewey
In a great location, just a block from Dewey Beach and about a five-minute drive from the boardwalk at Rehoboth Beach, Beach House Dewey is another popular option for families, friends, or couples looking for accommodation near the surf and sand.
This boutique property has just 47 recently renovated rooms and suites that are modern chic, with splashes of bold colors on the comfy beds and walls, and extra in-room perks like mini-fridges, microwaves, and free Wi-Fi, along with flat-screen HDTVs featuring full cable line-up. The suites also have separate living spaces and additional bathrooms, making them a favorite choice with families.
On-site amenities include a free shuttle service around the area and a seasonal outdoor pool and sundeck.
Map of Resorts in Delaware