Where to Stay in Prague: Best Areas & Hotels
Prague's top tourist attractions and hotels reside within the city's four central historic neighborhoods, commonly grouped and referred to as "Prague 1. Stare Mesto, or Old Town, sits inside a gentle curve of the Vltava River, surrounding the much smaller historic Jewish district called Josefov, an attraction in itself. The Old Town is also home to significant historic sites, including the Old Town Square, the Astronomical Clock at the Old Town Hall, and several museums and landmarks.
Surrounding this neighborhood to the east is Nove Mesto, or the New Town, which is within a reasonable walking distance from the Old Town sites and has several attractions of its own, including Wenceslas Square, the National Museum, and a small theater district.
On the west side of the river, Mala Strana (the Little Quarter) is popular for its convenient central location between the river and Prague Castle. The neighborhood has shopping; scenic green spaces like the Vrtba Garden; and several historic sites, including Charles Bridge and what is popularly known as the Castle District. The castle itself resides in the Hradcany neighborhood, which is quite hilly, providing some excellent views of the city's iconic spires. Not far from here, sitting on the banks of the Vltava River, is also a museum dedicated to Prague native Franz Kafka.
Where to Stay in Prague for Luxury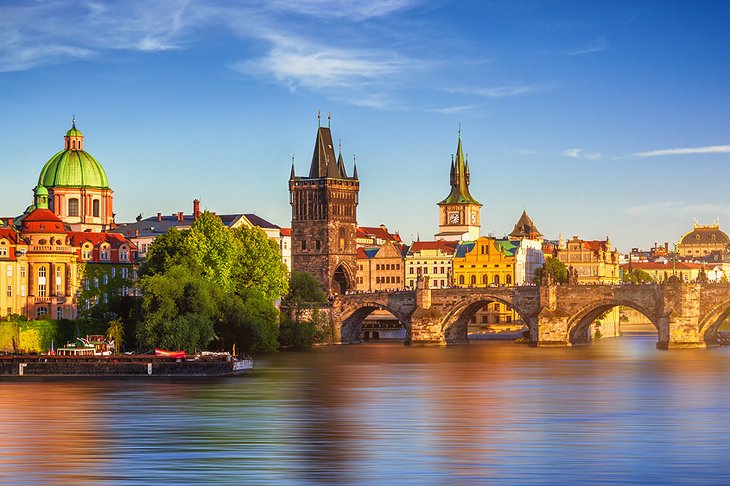 The Art Deco Alcron Hotel Prague sits just steps from Wenceslas Square in Nove Mesto (New Town), offering five-star accommodations and services including a spa, sauna, fitness center, and personal butler service. Suites and allergy-free rooms are available, and there are two restaurants on-site. The hotel is convenient to the Prague Main train station, and nearby tourist attractions include the Cold War Museum, the National Museum, and Jungmann Square, as well as numerous antique shops.
Across the river in Little Quarter, the Aria Hotel Prague offers several common areas to make your stay as comfortable as possible, including a large sitting room with a fireplace and extensive music library, a rooftop terrace, a screening room, and a game room; on-site entertainment is provided in the evenings.
Suites and family rooms are available, and all guest rooms include private balconies, as well as conveniences like safes, fridges, and plush bathrobes. The hotel grounds are perfectly matched to the adjacent Vrtba Garden, and this Mala Strana hotel is just a block from the boutiques on Nerudova Street, which leads to the castle district.
Even closer to Prague Castle is the Golden Well Hotel, a 16th-century royal villa that was once home to Emperor Rudolf II. The small complex of 19 guest rooms and suites is in the Hradcany neighborhood, close to the Lobkowicz Palace. Rooms are updated yet incredibly elegant, retaining the old-world ambiance of the historic building.
The Golden Well Hotel offers spa services on-site, as well as bicycle rental services. Other amenities include a restaurant that provides room service for breakfast, lunch, and dinner, as well as a lovely rooftop terrace.
Where to Stay in Prague: Mid-Range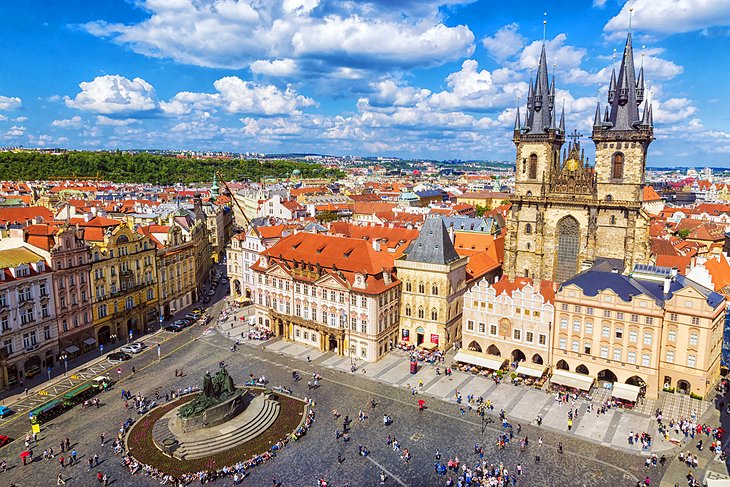 Located in Mala Strana (Little Quarter), Bishop's House is close to landmarks, including the Lesser Town Bridge Tower, the Old Town Bridge, and the John Lennon Wall. Nearby museums include the KGB Museum, the Karel Zeman Museum, and the Museum of Alchemists. Guest rooms at this non-smoking hotel are bright and modern, equipped with safes, fridges, and blackout curtains. There is on-site parking, and rooms include free breakfast and Wi-Fi.
Breakfast is complimentary at the nearby Unitas Hotel, freshly updated and family-friendly. Rooms are exceptionally quiet thanks to the hotel's original construction as a convent, and each floor has its own complimentary coffee station complete with cookies and snacks. The Unitas sits in Prague's Old Town in the theater district, within walking distance of the National Theater, Charles Bridge, and many museums.
Tucked at the very edge of the Little Quarter, near the KGB Museum and at the feet of Prague Castle, Appia Hotel Residences offers amenities such as free breakfast at their small but lovely restaurant, a sauna, a romantic terraced garden, and underground parking. Suites with kitchenettes are available, as well as family rooms and allergy-free rooms; all accommodations are soundproofed with blackout curtains and include a safe, mini-fridge, and coffee & tea service.
Where to Stay in Prague on a Budget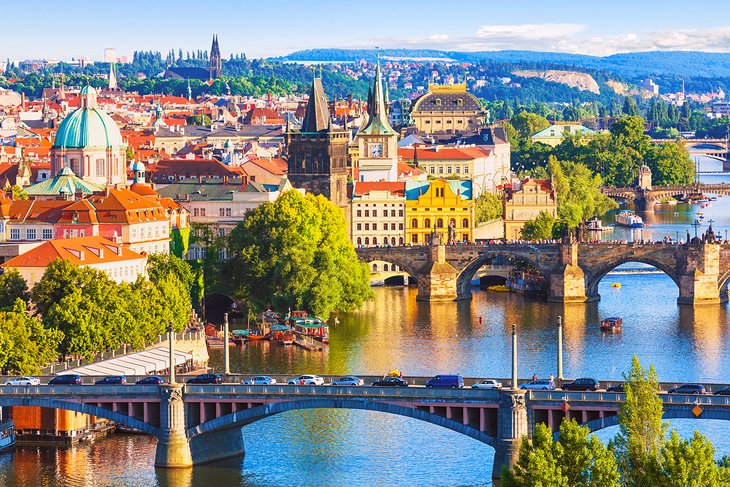 Guests do not have to sacrifice quality for affordability at the Questenberk, a hilltop boutique hotel located in the historic Hradcany neighborhood, near Cernin Palace and several good museums. The building's 17th-century architecture is similar to that of the nearby Strahov Monastery, and many rooms have excellent views overlooking the city toward Prague Castle. Hotel amenities include free Wi-Fi, airport transportation, and an on-site restaurant; allergy-free rooms and family suites are available.
East of the river, Miss Sophie's Hotel is in New Town near the train station and within easy walking distance of the Old Town historic attractions like the Emmaus Monastery and the Vysehrad Medieval Well. Sophie's balances rustic with contemporary for a fun shabby-chic vibe and offers amenities like complimentary airport shuttle service and breakfast, as well as an on-site coffee shop and free Wi-Fi.
Just at the edge of the New Town but convenient to the metro stop and in a safe neighborhood, the B&B Hotel Prague City offers incredible value with inexpensive rates that include breakfast. Rooms are efficient and spotless, and the staff members are incredibly friendly and helpful. There are a good selection of restaurants within less than a block, and the Prague City Museum is within a 10-minute walk.
Where to Stay in Prague for Families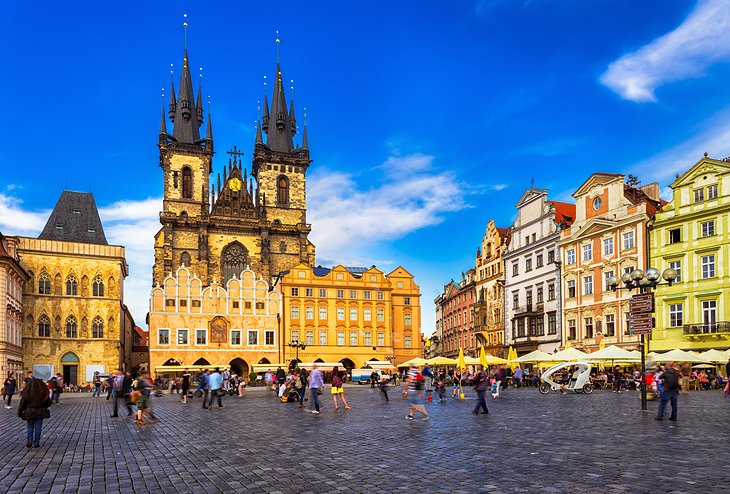 For a family vacation to remember, the Residence Agnes is the place to stay. This four-star boutique hotel has spacious suites and family rooms that are both understated and elegant, making them as welcoming as the great staff. Guests are served a generous complimentary breakfast with special choices for the kids, and the hotel offers free transportation services to the airport and top tourist areas. The hotel is within a 10-minute walk to the Old Town tourist attractions, including St. Castulus Square and the Jewish Museum, and is close to dozens of restaurants.
Although the Aparthotel City 5 is a bit removed in the Smichov neighborhood, the friendly and helpful staff members are more than happy to help plan your family's route to the city's most popular sites, either by nearby public transportation or by foot. This is a small family-owned hotel that specializes in apartment-type rooms, each equipped with a kitchenette. Common areas are incredibly comfortable, including a children's play area equipped with toys and an ivy-trellised patio area for relaxation.
Where to Stay in Prague for Romance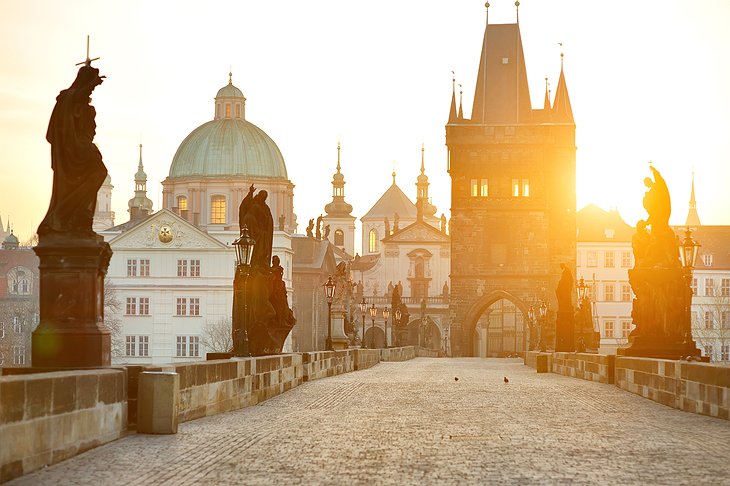 Prague has no shortage of romantic boutique hotels, but there are some that stand out above the rest, like the Alchymist Prague Castle Suites, which has everything a couple could wish for in a luxury getaway. Housed in a 15th-century mansion that sits next to Palacove Zahrady garden, at the feet of Prague Castle in the royal Hradcany neighborhood, the individually decorated suites look like they came straight out of a fairy tale, with antique furniture, chandeliers, and rich Baroque décor.
If you ever want to leave the room, the property also offers a world-class spa and fitness center, as well as relaxing common areas, including a library, fireplace room, and music room. Other amenities include breakfast, airport transportation, and even the services of your own private butler.
For a less formal but incredibly romantic setting, you will find the Hotel Pod Vezi sitting beside the Gothic stone arches of the Charles Bridge Tower. Guests are provided with thoughtful extras, including a free pass to climb to the top of the tower plus complimentary souvenirs and coupons for local restaurants. Room rates also include a generous hot breakfast at the hotel's restaurant, which becomes an excellent creperie later in the day.
The hotel's central location in the Little Quarter, near the river, also makes it ideal for those who want to explore the entire city by foot and visit all of the attractions with ease.
Where to Stay in Prague near the Airport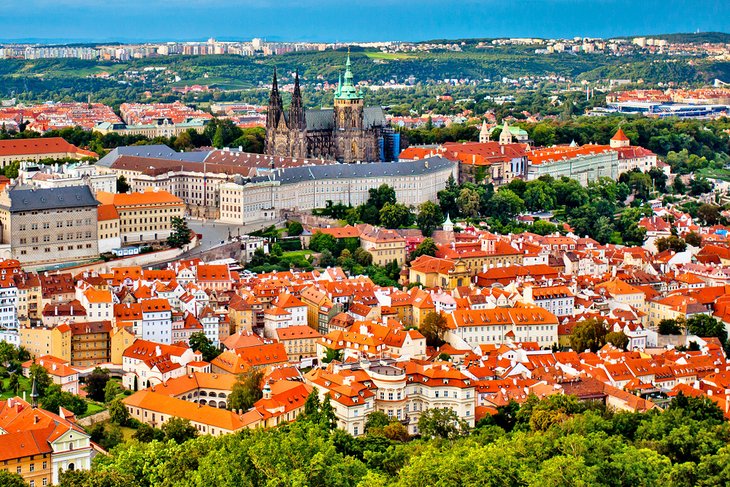 Prague's international airport is located 12 kilometers west of the center of Prague. During rush hour, this could mean a 45-minute trip between the city and the airport.
To avoid the hassle, especially if you have a very early flight, booking a room at the Courtyard by Marriott Prague Airport would offer a stylish and more comfortable solution. The hotel is located right at the airport, with high-quality rooms that include a well-equipped desk and work area, high-speed internet, and individually controlled air-conditioning. The fitness room, business center, and a small convenience market inside the hotel are open 24 hours a day.
The modern and well-designed Holiday Inn Prague Airport is located within walking distance of Terminals North 1 and 2, and offers a combination of comfortable standard rooms and luxurious suites, a restaurant, and a business center. They also offer baggage storage and free transportation within the airport area 24 hours a day.
Located about two kilometers from the airport, the three-star Penzion U Pilota is an affordable option that comes complete with simple but comfortable rooms, an aviation-themed restaurant, a garden with a BBQ that guests can use, and free parking.
More Related Articles on PlanetWare.com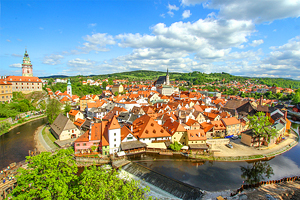 Exploring Prague: Prague is a fascinating city with countless things to see and do. If you have time to see some of the sights, begin with our Prague Itinerary to find out about attractions, activities, and where to eat.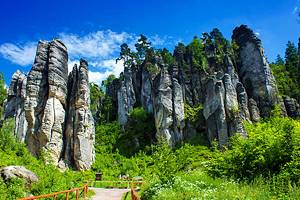 Day Trips from Prague: One of the best places to visit near Prague is the medieval town of Cesky Krumlov, a UNESCO World Heritage Site. Find the easiest ways to get there, what to see, and more with our article: Day Trip to Cesky Krumlov from Prague. For more ideas, see our list of the best day trips from Prague.