Where to Stay in Zagreb: Best Areas & Hotels
Whether you are traveling around Croatia with your family or on a romantic vacation to The Balkans with your significant other, the vibrant city of Zagreb is filled with hotel options to suit all styles and budgets. Best of all, Zagreb is a very affordable city, especially by European standards, and you'll find even the budget hotels feel a few classes above what you would pay in cities of a similar size, and the luxury properties offer excellent value for five-star amenities.
The best area to stay is around the historic city center, which will have you within walking distance of major attractions like Upper Town, where St. Mark's Church and the twin-spired Zagreb Cathedral are located; the lively, pedestrian-friendly Tkalciceva Street, which is filled with sidewalk cafés that are perfect for people watching; and Lower Town, where the main square is located, as well as many shops, restaurants, and museums. Around here, you'll find a range of hotels, including the most luxe property in town, the Esplanade Zagreb Hotel, set on the city's greenbelt, which connects a number of parks and gardens.
Zagreb's oldest hotel, the Hotel Jagerhorn, dating back to 1827, is also in the historic city center in Upper Town and is an excellent mid-range selection. The Hotel Dubrovnik is a swanky family pick, right next to the main square in Lower Town.
Where to Stay in Zagreb for Luxury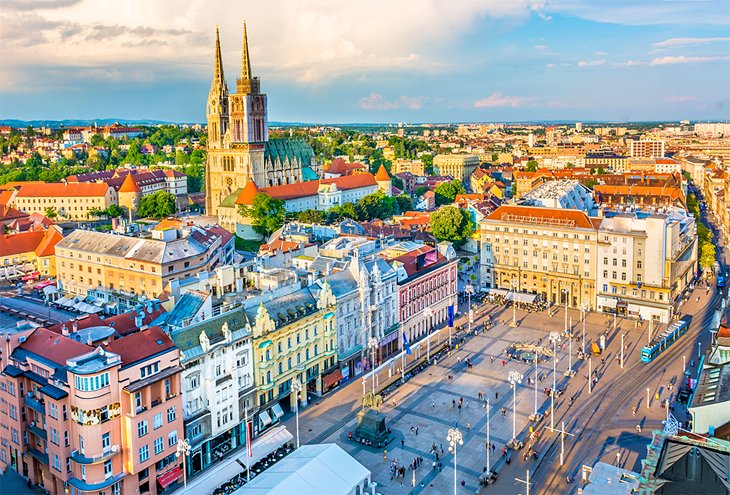 Esplanade Zagreb Hotel is Zagreb's most luxurious hotel, in a 1925 Art Deco building on the "Green Horseshoe," an interconnected set of lush parks and gardens running through the city center. Just a 10-minute stroll from the Main Square, the interior is beyond opulent with period furnishings and multiple types of marble.
The rooms and suites are spacious and done up with dark wood furniture, rich fabrics, and lots of gold overtones. Expect very comfortable beds and more marble in the baths, which feature separate tubs and walk-in showers. Away from the rooms, there are four on-site restaurants and a health club with a posh spa and fitness center.
Another excellent luxury option is the elegant Sheraton Zagreb Hotel in Zagreb's city center and within walking distance of major sightseeing attractions like the Main Square, as well as sidewalk cafes, restaurants, and shops.
The rooms and suites are contemporary, spacious, and comfortable with work desks and sitting areas. Many also come with marble baths, and there is free Wi-Fi throughout. The on-site restaurant serves a mix of Croatian and international fare and there is free access to a gym and heated indoor swimming pool at the adjacent Health Club.
Hotel Le Premier is located on a leafy street in the city center and offers a unique luxury boutique experience inside a circa 1923 palace. The 62 rooms are elegant, modern affairs, which exude a regal vibe and are done up in soothing neutral colors with high ceilings, as well as large windows.
Public spaces feature lots of marble, and amenities include a restaurant, gym, hot tub, and spa. Parking is also available as is an airport shuttle.
Where to Stay in Zagreb: Mid-Range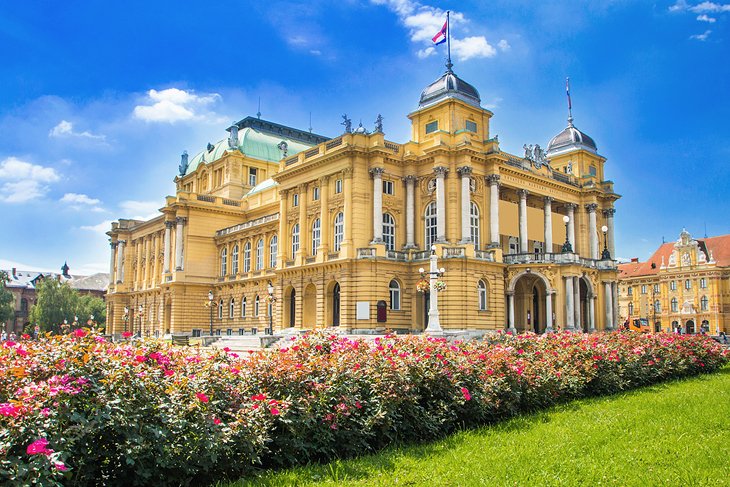 Hotel Jagerhorn is an excellent mid-range choice, which is located in the city center. It is Zagreb's oldest hotel, dating back to 1827, and is less than a 10-minute walk from the Zagreb Cathedral. This boutique property is filled with character and has just 18 rooms, which are each slightly different in decor, but all are elegant affairs with king-sized beds and swanky bathrooms. The best rooms are on the top floor and offer fantastic views.
Breakfast is included and so is parking. Other on-site amenities include a trendy cafe and a chilled-out terrace complete with a fountain. Dogs are also welcome.
Slightly farther out of town but just a few minutes' walk from a tram station that will take you to the center, the Hotel Jarun is an excellent value choice offering spacious and modern rooms with wood floors, mini-fridges, and work desks.
If you're traveling with kids, some also have sleeper sofas. A breakfast buffet is included in the rate, and there is an on-site restaurant. Free parking is also available.
Hotel 9 offers guests a luxe and contemporary stay, which is very good value, in the center of Zagreb just across the street from the Main Bus Station. This boutique hotel features an ultra-modern look with lots of polished steel and glass in public spaces, and rooms and suites with modern minimal decor; some have a white-on-white color scheme.
They also boast large windows, and some have sitting areas with white leather furnishings. A free breakfast is included, and massage treatments are also available for a fee. Watch the sunset from the rooftop terrace.
Where to Stay in Zagreb on a Budget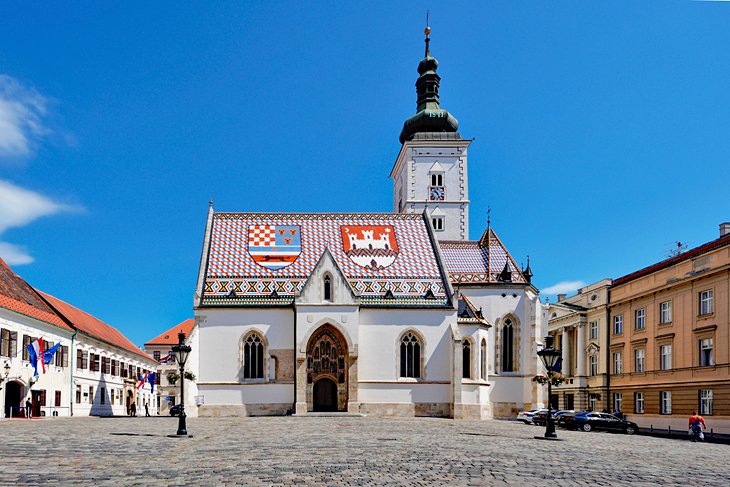 Hotel Rebro is a top budget pick, which offers excellent value for the price while still offering guests a hip sleep in a modern glass and concrete building in a residential part of downtown. The rooms are colorful and comfortable, with modular furniture, flat-screen TVs, and free Wi-Fi.
There is a free breakfast buffet, which is another value-added perk, a restaurant, and parking available for guests.
Hotel Slisko is another budget choice, within walking distance of Zagreb's main bus station. It offers spacious, clean, and comfortable rooms with modern minimalist decor, flat-screen TVs, and built-in work desks. Some also have balconies with city views or living rooms. A complimentary breakfast is included, and there is also a restaurant, cafe, lounge, and spa on-site.
Where to Stay in Zagreb for Families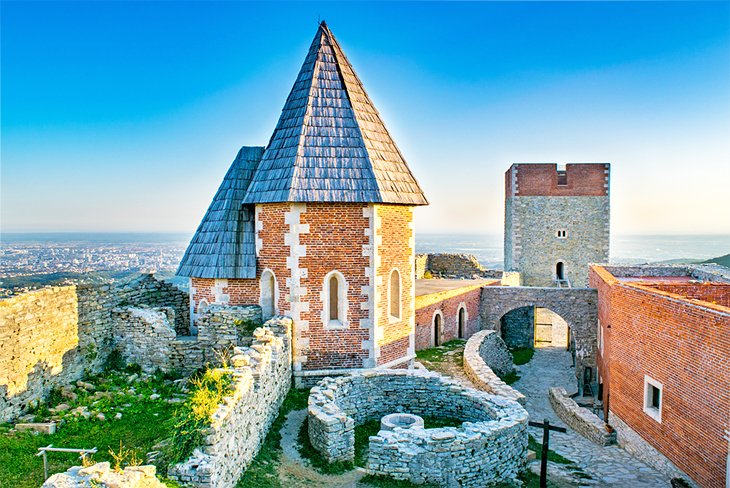 Double Tree by Hilton Hotel Zagreb is a popular choice if you're traveling with the kids. It's also very good value for money. Located just a 10-minute stroll from the main bus station, it features a striking modern lobby space and stylish rooms and suites, with wrought iron, wood paneling, and floor-to-ceiling windows.
The suites also feature extra living space and sleeper sofas. Amenities for families are plentiful, from family packages to a restaurant children's menu, babysitting services, and cots. There is also an indoor swimming pool with city views, as well as a hot tub and sauna.
Right on the main city square in Zagreb, the Hotel Dubrovnik is another top family option. This historic property dates back to 1929 and offers a variety of rooms and suites.
The junior suites are a good-value option as they offer separate living spaces and also come with appealing contemporary decor. A complimentary breakfast is included, and there is also an American restaurant, cafe, and gym on-site.
Where to Stay in Zagreb for Couples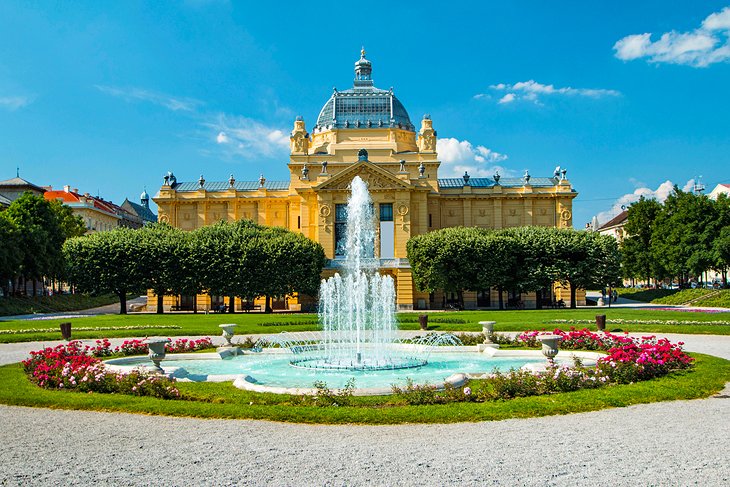 With a woodland park locale in the city center's greenbelt, Hotel AS is a wonderful pick for couples. Just a 15-minute walk from major sightseeing attractions like Britanski Square, as well as numerous shops and restaurants, the hotel offers spacious and well-appointed rooms and suites with stylish furnishings and romantic marble baths.
On-site amenities include a restaurant, large summer garden area, free Wi-Fi, and complimentary parking. Breakfast is included in the rate.
Hotel President Pantovcak is another romantic choice, which is near the historic city center and within walking distance of a tram stop. It offers rooms and suites, which are done up in stylish, modern decor, with polished wood floors and contemporary art on the walls. Many feature floor-to-ceiling windows and terraces with direct access to the beautifully manicured garden area.
Breakfast is included in the rate and served in a glass-walled restaurant, which is also open for other meals. There is also a fitness center on-site, and an airport shuttle service is available.
Where to Stay in Zagreb near the Airport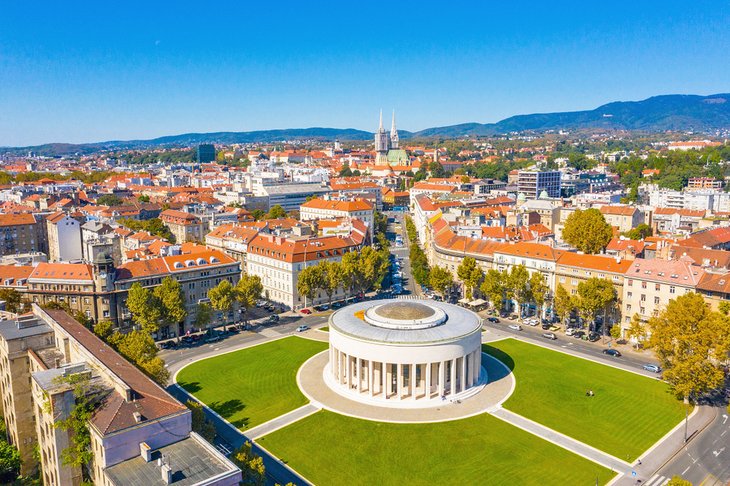 If you are arriving in Zagreb late at night or leaving in the early morning, then you might want to book a hotel near Pleso Airport (ZAG). The Hotel Pleso is one of the closest options. It runs a free airport shuttle. The rooms and suites here are quite charming, and each has a different look, but all feature lots of bright colors.
Amenities include a restaurant that also does room service if you just want to nosh in bed. There is also a swimming pool, workout room, and free Wi-Fi and parking. The front desk is open 24 hours, and they will store baggage for you as well.
Also just a few miles from Zagreb's airport, Dream Hotel runs a free airport shuttle for guests. The rooms have either twin or double bed configurations, and they also have suites. All feature vibrant modern decor, like bold red leather couches and Scandinavian-style bed-frames and work desks. If you're traveling with a dog, Hotel Dream is even pet friendly.
Other amenities include a hot tub, free breakfast, free parking, and complimentary Wi-Fi in your room. The front desk is open 24 hours.