13 Top-Rated Beach Resorts in Costa Rica
We may earn a commission from affiliate links ()
Beach resorts abound in Costa Rica thanks to its long stretches of coastline on both the Pacific Ocean and the Caribbean Sea. This country is known for its eco-friendly resorts; "Pura Vida" lifestyle; and adventure activities, from surfing to ziplining through cloud forests, and it also hosts a plethora of accommodation options, from barefoot luxe boutique hotels to five-star resorts set between the sea and the rainforest.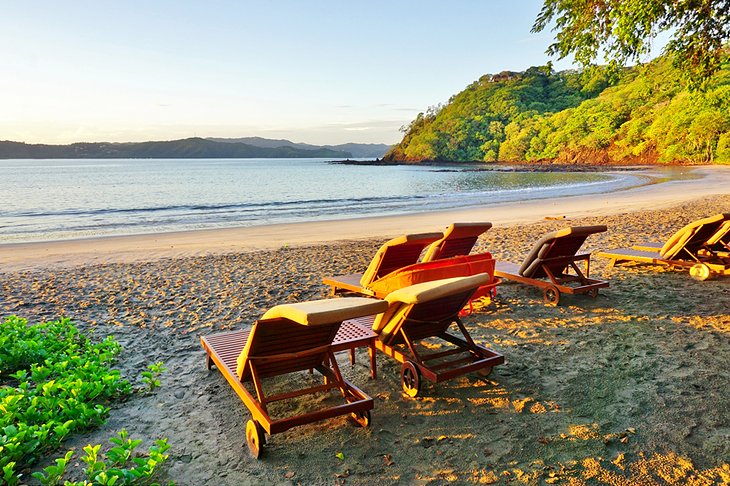 When it comes to Costa Rican beaches, most tourists head to the Guanacaste province in northern Costa Rica on the Pacific Ocean side. It is home to beautiful beaches, including many like Santa Theresa, which are known for their surf culture. Also in this region is the wild Peninsula Papagayo, where a few five-star properties are located amid jungle-meets-ocean scenery. Pretty Flamingo Beach is another good area to look for lodging.
Costa Rica is also famous for its volcanoes, national parks, and wildlife, and Manual Antonio National Park sits on a gorgeous stretch of Pacific coastline in the center of the country. The small town of Manual Antonio also has a beach and lodging options.
Costa Rica has two major international airports, one in its capital city of San Jose and another in Liberia in the north. The airport in Liberia is most convenient for exploring Guanacaste, while San Jose works better for Manual Antonio.
Whether you are a family traveling with the kids or a couple on a romantic honeymoon, Costa Rica offers lodging options for all styles and budgets of traveler. Plan your trip with our list of the best beach resorts in Costa Rica.
1. Four Seasons Resort Costa Rica at Peninsula Papagayo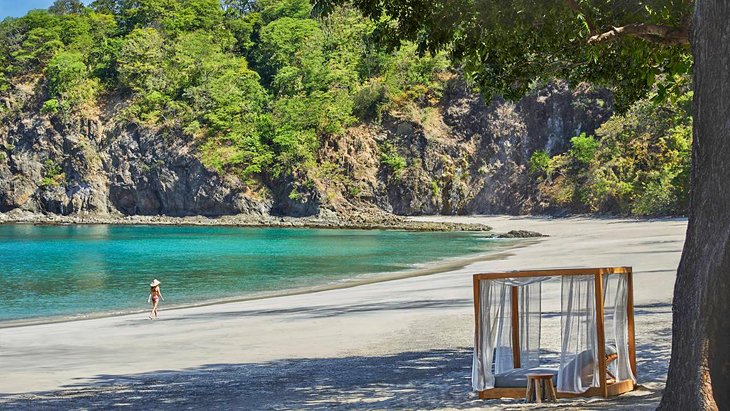 Accommodation: Four Seasons Resort Costa Rica at Peninsula Papagayo
In a gorgeous isthmus location with two beaches, on the Peninsula Papagayo in Guanacaste, the Four Seasons Resort is Costa Rica's most luxe five-star resort. It caters to couples and families alike. If you're traveling with kids, there is a kids' club with its own pool here offering organized activities.
Choose from rooms, suites, and villas when it comes to lodging. All are beautifully designed and decorated with stone, bamboo, and wood accents. And even the standard rooms have some kind of ocean views. The one-bedroom suites here come with private plunge pools, and for larger families there is a three-bedroom villa.
On-site amenities include an 18-hole golf course, three swimming pools, and four restaurants. There is also a lovely spa, and guests can use the sauna and plunge pools at it without booking a service.
Address: Peninsula Papagayo, Costa Rica
2. W Costa Rica - Reserva Conchal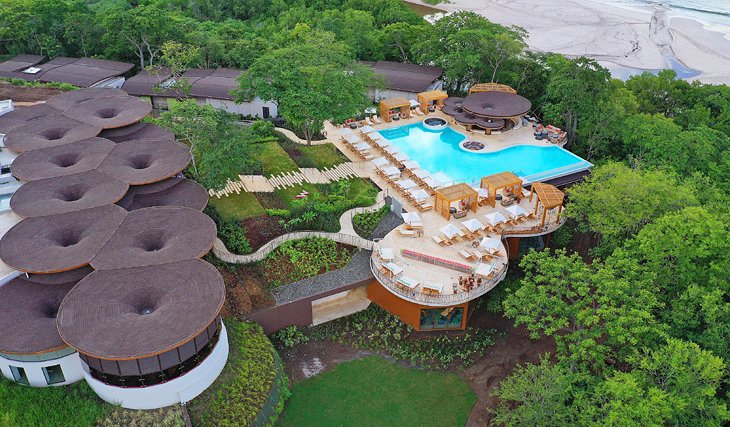 Accommodation: W Costa Rica - Reserva Conchal
Located across from Conchal Beach, which is one of the most beautiful in the Guanacaste region, W Costa Rica is easy to access from the international airport in Liberia. The relatively new five-star property sits between mangrove trees and the Pacific Ocean and is a swanky sleep.
From entry level rooms with garden views to a tree house room to our favorite, a corner suite with ocean views and a private plunge pool, the W offers plenty of different accommodation choices. All rooms are modern, with plush bedding and bright artwork.
Amenities include an outdoor swimming pool, a beach club, 18-hole golf course, polished spa, and three different restaurant choices.
Address: Reserva Conchal Cabo Velas, Cabo Velas, Playa Conchal 50308, Costa Rica
3. Andaz Costa Rica Resort at Peninsula Papagayo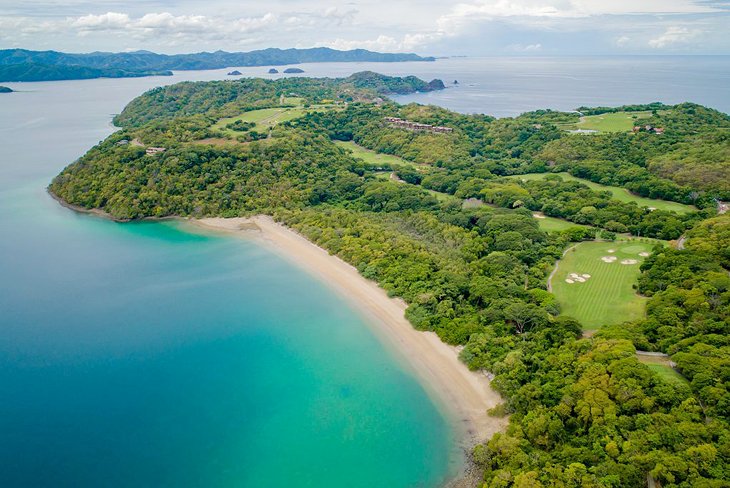 The rooms here feel like staying in a tree house in the clouds, with a truly unique, minimalist wood and glass design that blurs the line between indoor and outdoor spaces. They also feature fabulous showers and comfy beds with high-end linens.
Amenities include three restaurants, two swimming pools, two small beaches, and a huge spa. There is also a fitness center. Because the property is so large, golf carts shuttle guests between the main area and the rooms, which are set in clusters of buildings sprawled across the grounds.
Address: Peninsula Papagayo, Final de la Ruta 253, Costa Rica
4. Rancho Pacifico - Costa Rica Luxury Resort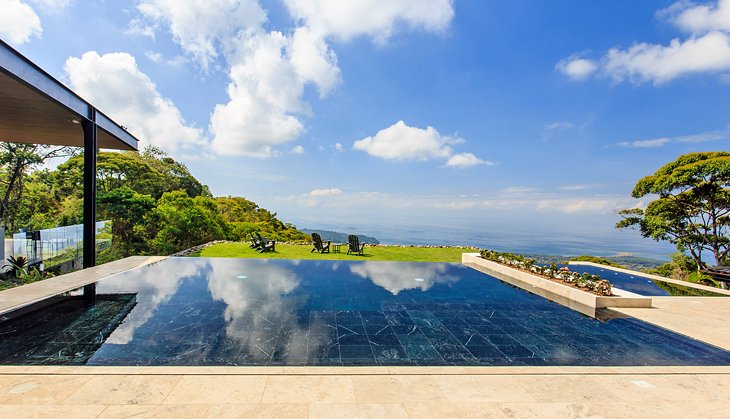 Accommodation: Rancho Pacifico - Costa Rica Luxury Resort
For an adults-only experience, check out Rancho Pacifico on a private 250-acre reserve surrounded by tropical rainforest and perched some 2,000 feet above the Pacific Ocean in Uvita.
The luxury boutique property is designed with romance in mind and features accommodation in spacious suites and villas that are decorated in stone and wood with extra comfy beds. Some have outdoor showers, plunge pools, and spiral staircases.
The restaurant here serves excellent and wholesome organic meals. There is also a fantastic spa with views from the treatment rooms. And all sorts of activities can be arranged, including sunset horseback rides on the beach and hikes leading to waterfalls.
Address: 1 Rancho Pacifico Road, Uvita, Costa Rica
5. Arenas del Mar Beachfront & Rainforest Resort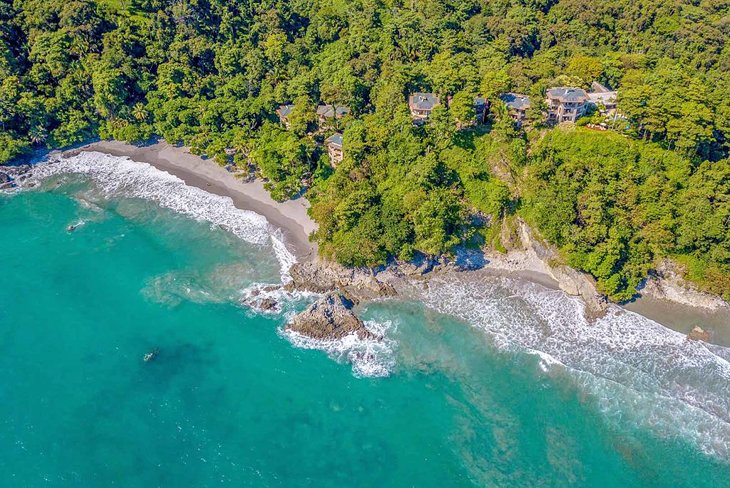 Accommodation: Arenas del Mar Beachfront & Rainforest Resort
On the edge of the famous Manuel Antonio National Park and right on the beach, Arenas del Mar Beachfront & Rainforest Resort is a luxe eco-friendly property. The lush grounds host all sorts of local wildlife - keep an eye out for monkeys and iguanas. Guests have access to two pretty beaches, and activities like cooking classes are included in the rate.
The 38 rooms come in a few different shapes and sizes, and the best ones have outdoor hot tubs. All come with stylish decor and are well-stocked with complimentary snacks.
Amenities include a spa with treatment rooms facing the Pacific Ocean and two restaurants serving organic, locally sourced fare, including lots of Costa Rican staples. There are also two swimming pools on-site.
Address: Punta Quepos, Manuel Antonio 60601, Costa Rica
6. Los Altos Resort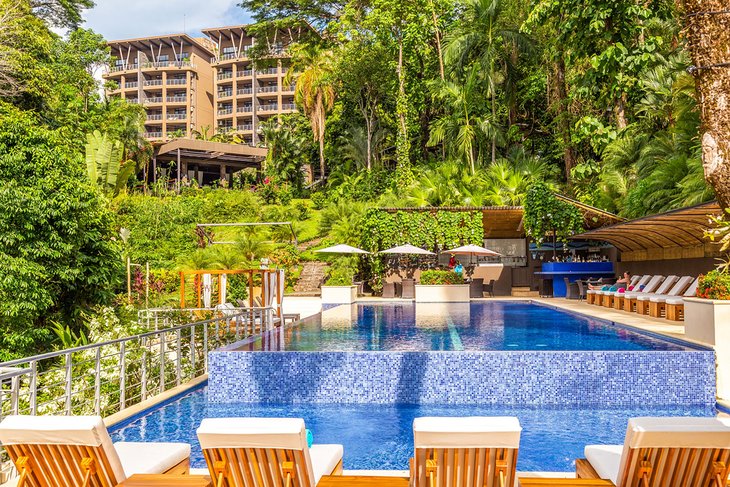 Accommodation: Los Altos Resort
For a boutique resort experience, check into Los Altos. Located just outside Manual Antonio National Park, this 4-star property features villa accommodations right on the beach. Each of the 28 residences have ocean views from floor-to-ceiling windows and feature multiple bedrooms, making this a popular choice with families or groups of friends. All come with full kitchens, plenty of space to move around, and elegant decor.
The location near the park means you also get lots of wild visitors here: monkeys are often chilling by the swimming pool, and kids will love looking for sloths and colorful birds, from toucans to parrots and macaws.
Breakfast is free and there is a restaurant for other meals should you not feel like cooking. Other amenities include an infinity swimming pool, hot tub, fitness center, and a full-service spa. There is also good rainforest hiking in the national park. If you are traveling with a dog, Los Altos Resort is also pet friendly.
Address: Kilometer 4 on Road to Manuel Antonio National Park, Manuel Antonio 6350 Costa Rica
7. Hotel Esperanza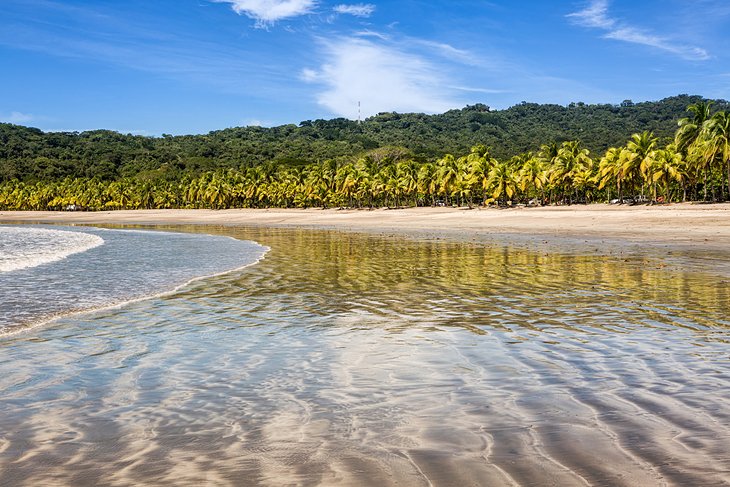 Accommodation: Hotel Esperanza
Just a five-minute walk downhill to Carrillo Beach in Guanacaste, Hotel Esperanza is a friendly boutique property that caters to families and couples alike. The beach here is quite pretty, with gentle surf. The cheery rooms feature European tile floors and wood furnishings, as well as super comfy beds with Posturepedic, double pillow-top mattresses and framed photography on the walls.
This hotel also offers adaptations for people with disabilities, which is not something always found in Costa Rica.
Amenities include a restaurant, spa, and a swimming pool with a kids' area. There are also options to arrange all sorts of area activities, from snorkeling to volcano excursions and sport fishing.
Address: APDO 65-5235, Playa Carrillo 5235, Costa Rica
8. Planet Hollywood Costa Rica, An Autograph Collection All-Inclusive Resort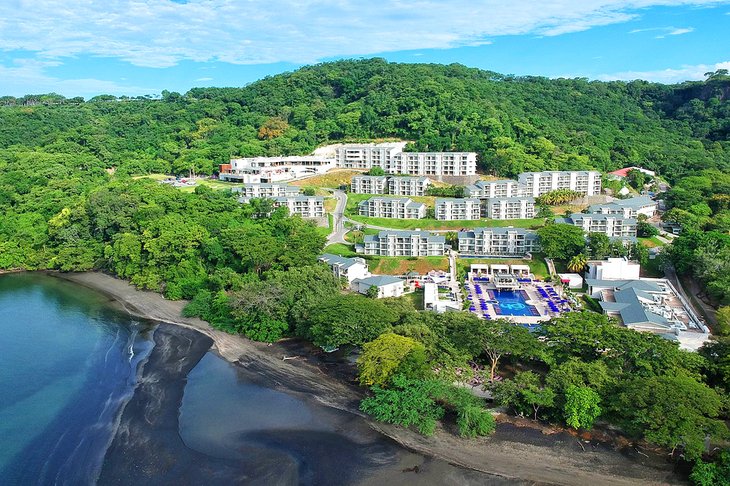 Appealing to couples and families, Planet Hollywood is located at the base of Guanacaste's Papagayo Gulf.
The stylish property has 292 suites with enough pizzaz to be fun but not so much as to detract from the natural environs. Inspired by the movies, all are sleek and luxe and come with super comfy beds, garden or ocean views, and rain showers in the baths. Expect large floor-to-ceiling windows opening onto furnished patios and true VIP treatment if you upgrade to their STARClass section.
Planet Hollywood offers a number of dining choices included in your rate. You'll be able to start the day with healthy smoothies and specialty coffees and choose from global cuisines with lots of vegan, vegetarian, and gluten-free choices to make everyone feel welcome.
If you are traveling with children, there is a kids' club with organized activities. There are also multiple swimming pools and hot tubs on the grounds plus a rooftop fire pit. Water sports of all sorts can be arranged.
A full-service spa and a fitness center round out the amenities here.
Address: Playa Manzanillo, Culebra, Costa Rica
9. Villa Buena Onda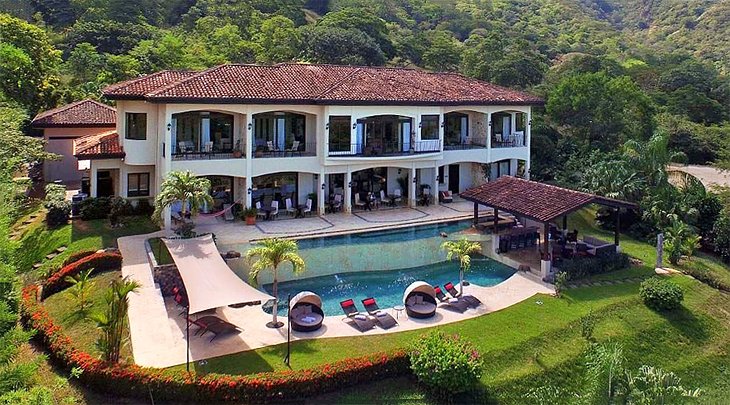 Accommodation: Villa Buena Onda
The adults-only Villa Buena Onda is a fantastic all-inclusive boutique property perched on a hill overlooking the beautiful Peninsula Papagayo and its many lush islands. A very popular honeymoon destination known especially for its excellent cuisine, it is within walking distance or a short taxi ride of Coco Beach, which is also filled with sidewalk restaurants and shops.
Guests also have access to The Club at Coco Bay and the Beach Club at another nearby beach, Playa Ocotal. At both of these, you can take yoga classes or borrow snorkeling gear, as well as access their gym and pool areas.
There are less than a dozen rooms and suites, and each is spacious and comfortable with either full or partial ocean views from giant windows. There is a two-tier swimming pool on-site, as well as a spa with a range of excellent massage options.
All sorts of activities can be arranged, from sport fishing to sailing and surfing to scuba diving. Day trips to the popular Arenal Volcano can also be arranged from this property. Access to Villa Buena Onda is easy via the international airport in Liberia.
Address: From the Anchor Sculpture 200 Meters West and 700 Meters South, Playas del Coco 50503, Costa Rica
10. Hotel Nantipa - A Tico Beach Experience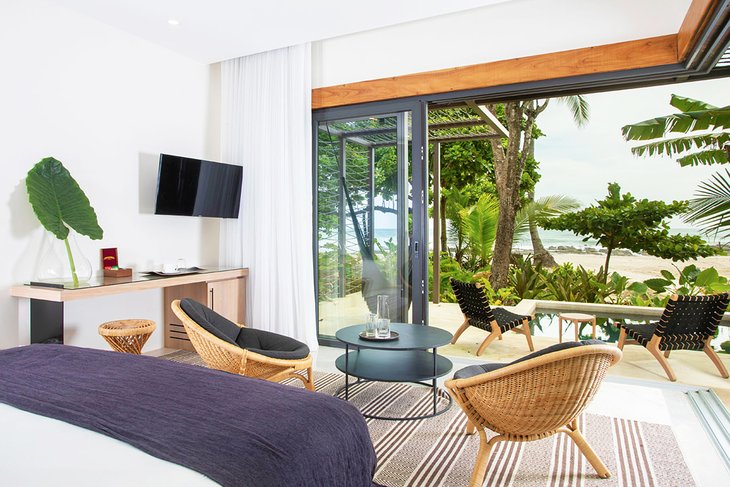 Accommodation: Hotel Nantipa - A Tico Beach Experience
The luxury Hotel Nantipa in Santa Teresa is a surfer's paradise. This boutique property has a barefoot luxe vibe and just 15 bungalows and suites set between the jungle and the beach. There is definitely an emphasis on surfing here, and many guests come specifically to ride the point break.
But if you're not into riding waves, there is still much more to do. Chill in the hammock outside your bungalow or take a dip in the swimming pool. You can also explore the surrounding Nicoya Peninsula on foot or horseback, just ask the friendly concierge here about arranging excursions. For meals, there is a restaurant right on the beach serving up delicious Costa Rican fare.
Address: 150 Mts Northwest Of Super Costa, Playa Santa Teresa, Santa Teresa 60111, Costa Rica
11. Tulemar Resort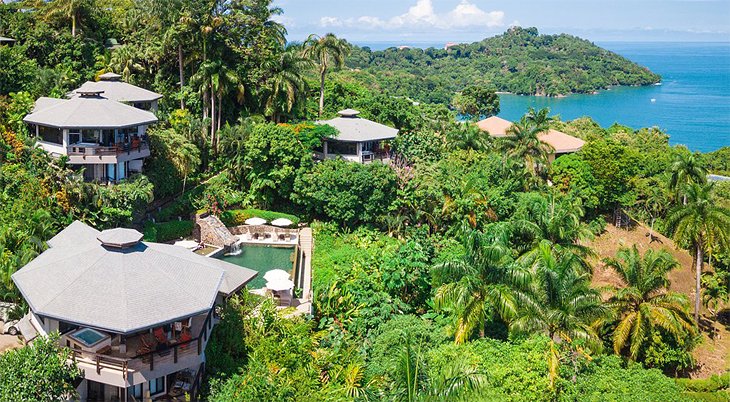 Accommodation: Tulemar Resort
Tulemar Resort on the Manuel Antonio coastline sits on 33 acres of beautiful gardens surrounded by rainforest. Accommodation comes in a few styles. The octagonal bungalows feel like sleeping in the trees, thanks to large windows and balconies from which you can listen to the voice of the jungle. The luxury one-bedroom villas are another option. They have a more upscale romantic vibe and are popular with couples. Views stretch from the jungle to the ocean.
Resort amenities include four swimming pools, four restaurants, a private, sandy beach, and concierge service that can arrange all sorts of area activities. There are also walking paths through the grounds that are well worth a stroll.
Address: Tulemar Gardens, Manuel Antonio 6350, Costa Rica
12. Margaritaville Beach Resort Playa Flamingo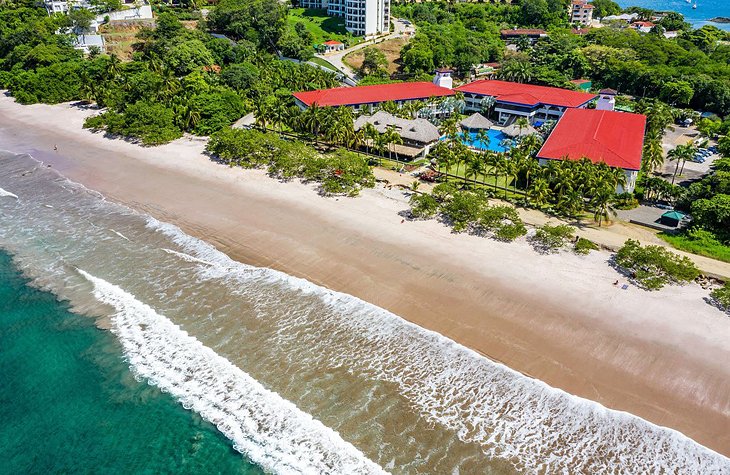 Accommodation: Margaritaville Beach Resort Playa Flamingo
Fronting the pretty white sands of Flamingo Beach in Guanacaste, Margaritaville Beach Resort is a solid mid-range choice. Catering mainly to families, rooms come in a few different layouts, but most feature balconies and at least partial ocean views. All are clean and comfortable with contemporary decor.
The resort offers all-inclusive packages, which are recommended, as there are not many dining options nearby. Amenities include a swimming pool with a kids' area and a water sports center on-site that offers scuba certification. There is also a spa, tennis court, and a workout room.
Address: Playa Flamingo Santa Cruz, Guanacaste, Playa Flamingo 2050, Costa Rica
13. Bahia del Sol Beach Front Boutique Hotel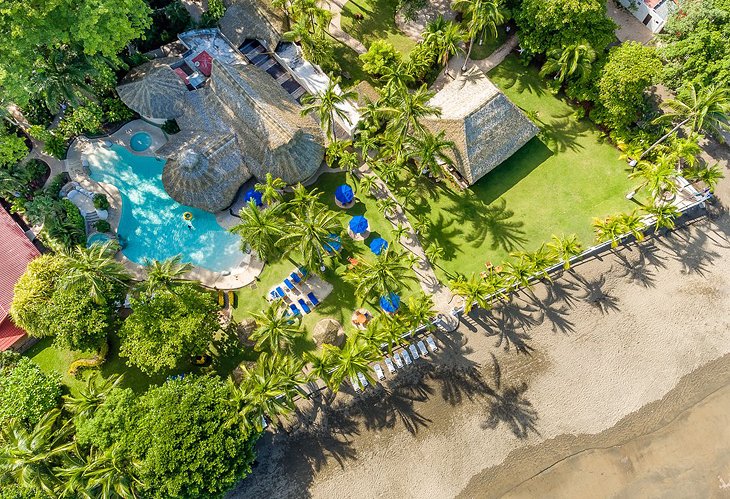 Accommodation: Bahia del Sol Beach Front Boutique Hotel
Bahia del Sol Beach Front Boutique Hotel is a well-kept property with gorgeous gardens and colorful bushes on an uncrowded stretch of Portero Beach. The beach is black sand, and the ocean here is calm and perfect for swimming-surfers will have to look elsewhere to catch waves. There are lounge chairs and umbrellas set up for guests.
The resort has just 28 rooms and suites. All are done up with Costa Rican style and lots of brightly hued fabrics. Families are well accommodated here, as even the standard rooms can sleep up to four people. The suites come with kitchens.
Bahia del Sol caters to active travelers, and there are free daily fitness and yoga classes. There is also a spa, large swimming pool, and a restaurant on-site. The resort is also within walking distance of other restaurants in this part of Guanacaste.
Address: North of the Flamingo Junction 2km, Playa Potero, Province of Guanacaste, Costa Rica
More Related Articles on PlanetWare.com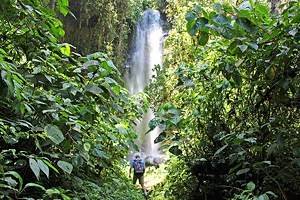 Central America Highlights: While you are in Costa Rica, be sure to read through our list of Top Attractions in Costa Rica. If you are looking to explore Central America and wondering where to start, have a look at our article on Things to Do in Panama, as well as our guides to the Top Attractions in Guatemala, and Honduras.