10 Best Beach Hotels in Connecticut
While Connecticut may not be the first state that comes to mind when planning a beach vacation, it should definitely be on your list. Connecticut boasts a slew of pristine, sandy beaches that make a summer's day in New England even more enchanting. Plus, it's home to a bevy of fabulous beach hotels that are more than worthy of a stay.
Whether you're hoping to spend the day eating ice cream by the shore, fishing from a boat, floating in the Long Island Sound, or building sandcastles with your kids, there's no shortage of fun to be had on Connecticut's best beaches.
When you aren't picking sand from your bathing suit, stroll through the adorable streets of Connecticut's best beach towns, stopping to enjoy a meal in one of the charming restaurants or shop in the chic boutiques.
The Nutmeg State is as close as you can get to New England charm without having to fight loads of tourists to experience it. That's part of the charm of staying in one of its sweet beach hotels. While weekenders from New York tend to flock here as soon as Memorial Day hits, you'll find plenty of space at the local beach hotels (either in or on the beach), especially if you book early.
Note: If you book a stay for the weekend after Labor Day, you'll find great deals and empty rooms galore while still being privy to bright sunshine and warm water.
Find the perfect place to rest your sun-drenched head either on or very near the coast with our list of Connecticut's best beach hotels.
Best Hotels on the Beach in Connecticut
While there aren't many beachfront options to choose from in Connecticut, these hotels are worthy of a stay.
1. Madison Beach Hotel, Curio Collection By Hilton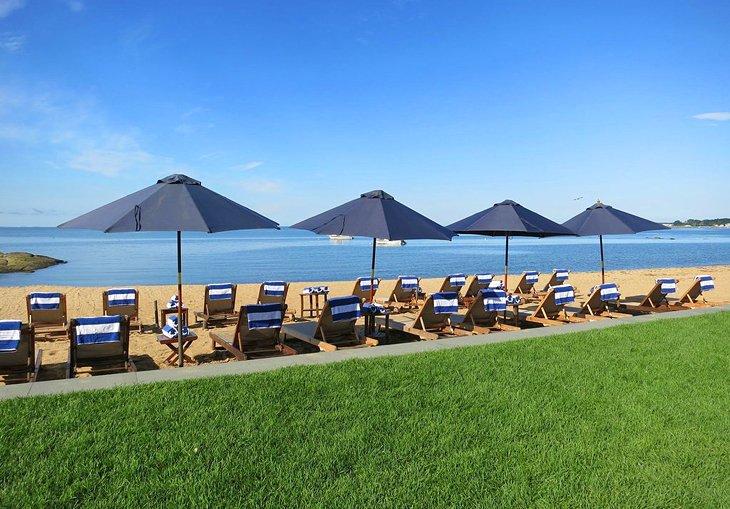 Accommodation: Madison Beach Hotel Curio Collection By Hilton
The Madison Beach Hotel can't get much closer to the sand. It's literally on the shores of the Long Island Sound. Part of the Hilton's Curio Collection, this luxurious boutique resort lies in the quaint town of Madison, in the southeastern corner of New Haven county.
Awarded the AAA Four Diamond Award, the Madison Beach Hotel is determined to help you relax in style. Each of the beautifully decorated and spacious rooms offers a furnished balcony from which guests enjoy a stellar view across the sparkling Sound. No wonder it's been dubbed one of the best beach hotels in Connecticut.
The beach itself is clean and fabulous, with complimentary towels and umbrellas on offer. During the summer months, the hotel offers open-air concerts, outdoor movies, and fire pits that come with everything you need for making s'mores. The hotel's also pet-friendly, as is the beach, so no need for little Fido to miss out on all the fun.
Those looking to truly relax will enjoy the pampering offered in the Sounds of the Sea Spa. Here, you'll find several enjoyable services, including those featured in a treatment menu geared towards men.
Address: 94 West Wharf Road, Madison, Connecticut
2. Water's Edge Resort & Spa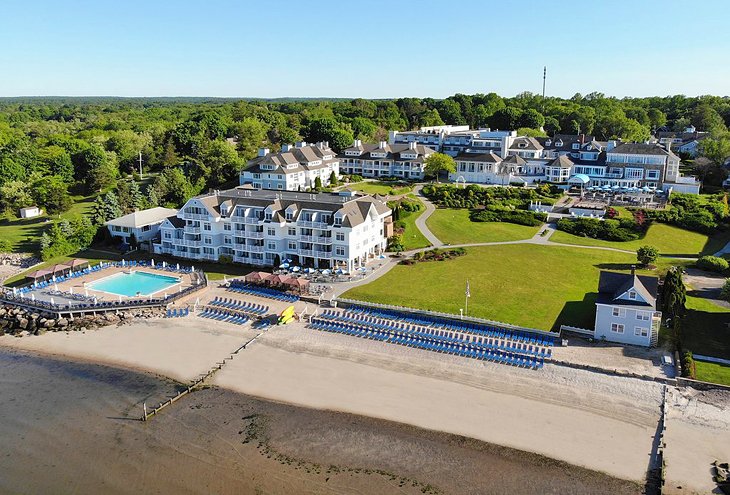 Accommodation: Water's Edge Resort & Spa
A beautiful place to get away from it all, the Water's Edge Resort & Spa in Westbrook is located on the southeastern Connecticut shore. Stepping onto its perfectly manicured grounds lined by vibrant blooms brings an immediate sense of release.
A sense of old-world charm is overarching at this large, familiar-feeling resort. Wandering around the buildings, private beach, and outdoor pool evoke memories of summertime escapes popular with families in the 50s and 60s.
Today, guests can enjoy elegant décor, seaside views, a relaxing spa, and top-rated dining at one of the multiple on-site restaurants, including one set at the beach. With a resort this large, it's a good thing they boast so many great places to eat; otherwise, you'd wait forever for an appetizer.
The Seaview Bistro and Dattilo Fine Italian are unmissable, both for their varied (and delicious) menu options and their beautiful vistas. In the morning, grab a cuppa at the Cappuccio caffe to start your day.
Insider's tip: The Water's Edge hosts an incredible Sunday Brunch each week that includes an unbeatable crepe station and dessert bar.
Address: 1525 Boston Post Road, Westbrook, Connecticut
3. Owenego Inn & Beach Club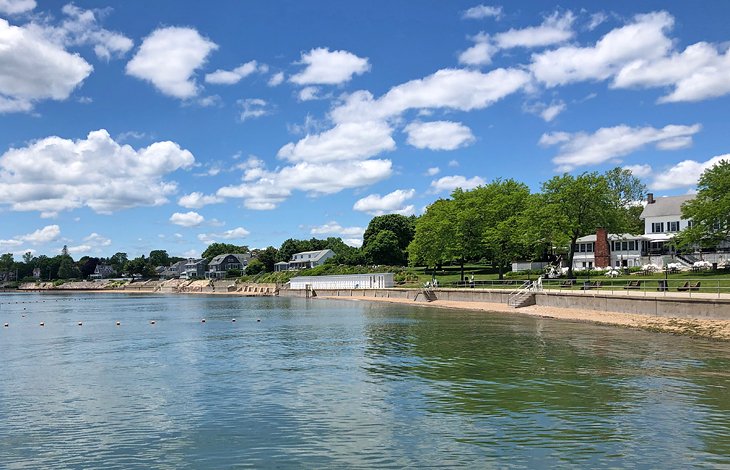 Accommodation: Owenego Inn & Beach Club
Built in 1847, the quaint Owenego House provides impeccable views of the Long Island Sound from its Branford location. Known locally as the "O," Owenego provides guests with a lovely place to enjoy nature's gifts.
The grounds are beautiful and, like the Water's Edge Resort & Spa, they, too, evoke a feeling of the bygone era of summer resort vacations. Think charming guest cottage, a great green lawn, and azure ocean backdrop. It's no wonder so many couples opt to hold their weddings at this oasis.
Weddings aren't the only fun happening at this establishment. In addition to its beach and tennis club, travelers can borrow kayaks to better explore the Sound and nearby Thimble Islands. The Inn also offers easy on-site access to its wonderful private beach, perfect for swimming. Fishing fans can head out to the jetty. At mealtime, The Hungry Dog restaurant serves up fantastic "light" food with a picturesque view.
Inside, the rooms are quaint and cozy, with no television. Access to Wi-Fi is granted only if you truly need it. Don't despair, the owners want to encourage visitors to unplug and enjoy the scenery instead of their screens. You'll thank them for the much-needed technology break.
Address: 40 Linden Avenue, Branford, Connecticut
Best Hotels near the Beach in Connecticut
Unfortunately, Connecticut doesn't offer a ton of beachfront hotels. These options may not greet you with an immediate sandy scape, but they're all within a block or two of a beach.
1. Captain Stannard Country Inn Bed & Breakfast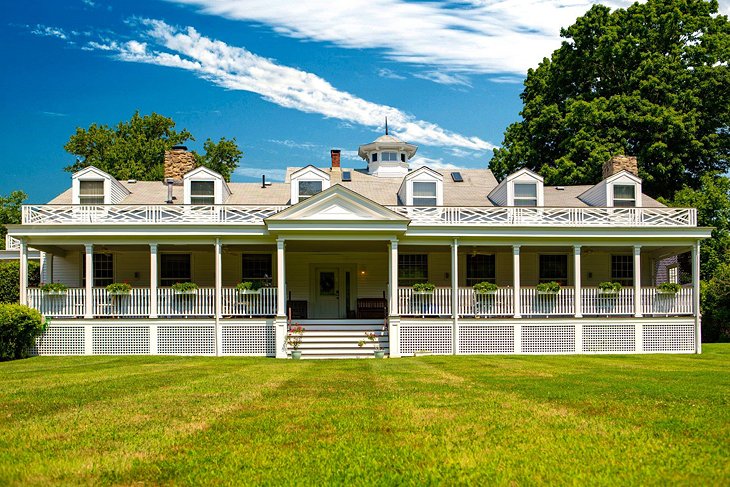 Accommodation: Captain Stannard Country Inn Bed & Breakfast
An adorable bed and breakfast set in southeastern Connecticut's Westbrook, the Captain Stannard House exudes quintessential New England charm. If you're looking to stay in an Inn with history, personality, and phenomenal service, you'll find it here.
Complete with an incredibly inviting wraparound porch, the original house was built in 1872 and remodeled during 2004 and 2005. Today, the house features a dining room, music room, great room complete with games and a pool table, and beds covered in crisp, ironed (yes, we said ironed) sheets.
The rooms are comfortable and decorated in an older style, providing guests with a historic feel but modern comfort. Once cleaned, each room receives a homemade sweet and note. Breakfast is made on-site with ingredients purchased the night before. Don't miss out on the maple French toast or the cheese bake.
The beach is one block away, and the Inn offers beach towels and chairs to help guests enjoy a sandy escape within a few strides from its doors.
Looking for something more to do? Check out the inn's personalized "Mary's Itineraries" for a ton of fun options, including hot air ballooning and bi-plane rides.
Address: 138 South Main Street, Westbrook, Connecticut
2. The Inn at Longshore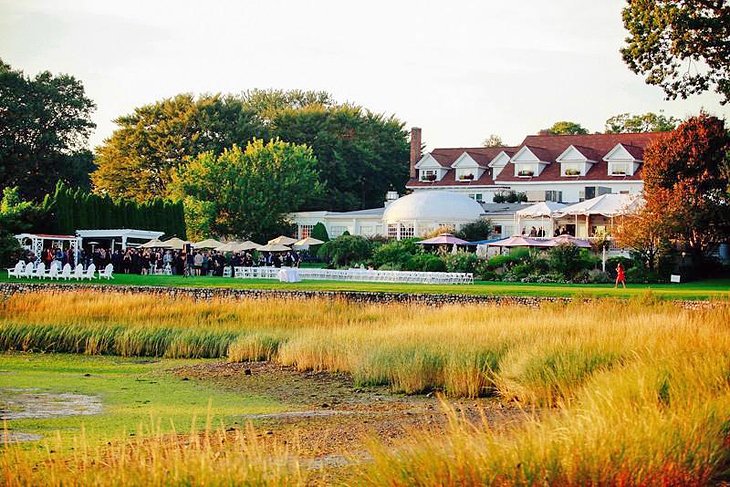 Accommodation: The Inn at Longshore
What a charming place to spend a weekend! The Inn at Longshore, once a private estate, is a charmingly beautiful spot. Situated on the shores of the Long Island Sound, the inn offers beautiful coastal views and a quiet place to enjoy a getaway.
Located in Westport, about an hour's drive from New York, The Inn at Longshore boasts an impressive array of amenities, including its close access to Westport's well-loved Compo Beach-a short, four-minute walk will get you here.
Longshore Golf Club, pool, and tennis courts are all within steps of this quaint hotel. Whether you're hoping to spend time sailing in the summer or ice-skating during the winter months, there's plenty to keep guests occupied. Keep your eyes open-seals and even whales have been spotted within these waters.
When you've had your fill of activities, relax in your comfortable room or head downstairs to La Plage, a restaurant offering delicious fare with a picturesque view of the Sound.
Address: 260 Compo Road South, Westport, Connecticut
3. Westbrook Inn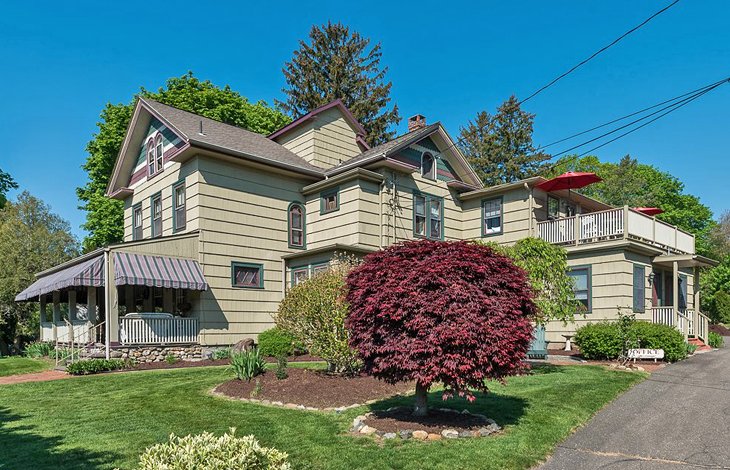 Accommodation: Westbrook Inn
If you're looking for stellar hospitality and a place where you can truly feel at home, you'll find it at The Westbrook Inn in Westbrook. This small Victorian Inn is bursting with charm and staff members who legitimately want you to enjoy your stay.
Located within a short walk of the town beach, the inn keepers know the value of their beautiful property. An outdoor patio serves as a perfect place to enjoy the river views and a cup of tea while the library and wraparound porch beg to be enjoyed with a good book. They also have their own dock and kayaks for use to explore the surrounding river.
Each room features comfortable robes and slippers you'd expect to find in a more expensive and lavish hotel. Perhaps its best attribute, though, will appeal to gastronomes. The breakfast portion of this B&B is phenomenal. Ever tried peach pancakes or praline maple syrup? You can sample them both here. And trust us, you'll be begging for seconds. The hosts cook a different breakfast daily, so be sure to spend more than one night if only to sample more of their delicious fare.
Address: 976 Boston Post Road, Westbrook, Connecticut
4. The Inn at Fairfield Beach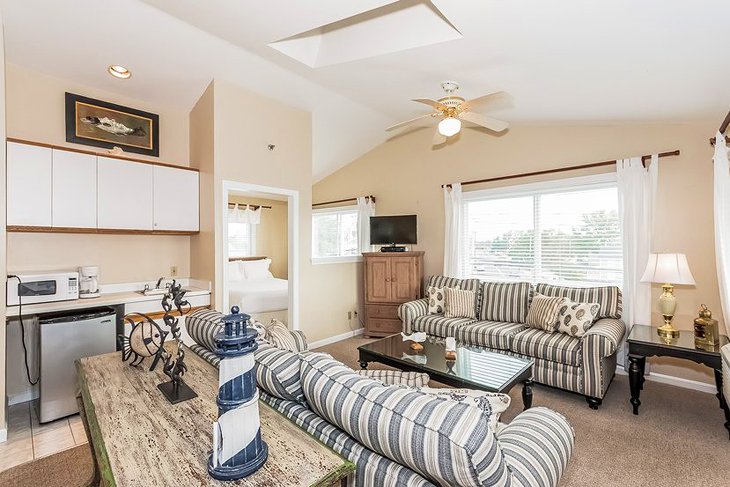 Accommodation: The Inn at Fairfield Beach
This no-frills bed and breakfast sits by the ocean, a half block from nearby Jennings Beach in Fairfield. Each of its 14 guest rooms are beach themed, featuring calming, soft colors and plush carpet. They're all close enough to the Long Island Sound that guests can smell the ocean from inside.
Each room includes a kitchenette with a fridge and microwave, making them ideal for those who plan to stay a few days or are traveling with kids. Another added perk: fresh muffins, coffee, cream, and orange juice are on offer every morning.
Many guests use this as a base for daily beach excursions and to visit their kids at Fairfield University, which is less than three miles away. The center of town is close by, offering a slew of good restaurants and shops, including Saugatuck Sweets, which serves huge, delicious ice-creams and a ton of candies to satisfy your inner sweet tooth. You'll be perfectly positioned to enjoy all the lovely attractions in Fairfield.
Expect a relaxed and charming visit in a comfortable accommodation that won't break the bank. Insider's tip: Rooms facing the street can get a bit noisy at night, so book one that's on the opposite side of the hotel.
Address: 1160 Reef Road, Fairfield, Connecticut
5. Inn at Stonington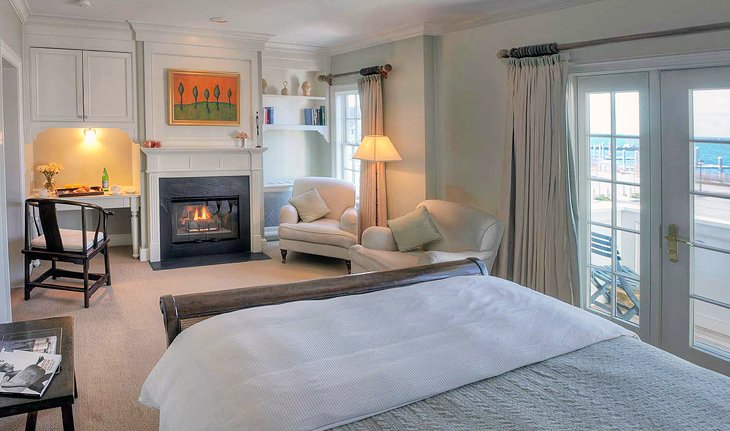 Accommodation: Inn at Stonington
This gorgeous inn offers boatloads of seaside charm. On the border of beautiful Mystic, Stonington is an untouched sliver of paradise nestled along Connecticut's southeastern shore. Peppered by historic buildings from the 17th and 18th century, the town is as adorable as this hotel is charming.
The Inn at Stonington features 18 guest rooms with gas fireplaces, a soaking tub, and in many, a captivating seaside view of Stonington Harbor and Fishers Island Sound. The décor is both cozy and plush, and bursts with old-world elegance.
Within walking distance lies the small but lovely duBois Beach, which sits at the tip of Stonington Point near the Stonington Lighthouse. During the high season, visitors are expected to pay a small fee to enter. The beach is clean and the water calm, making it a worthwhile place to spend a day.
Address: 60 Water Street, Stonington, Connecticut
6. Saybrook Point Resort & Marina, Old Saybrook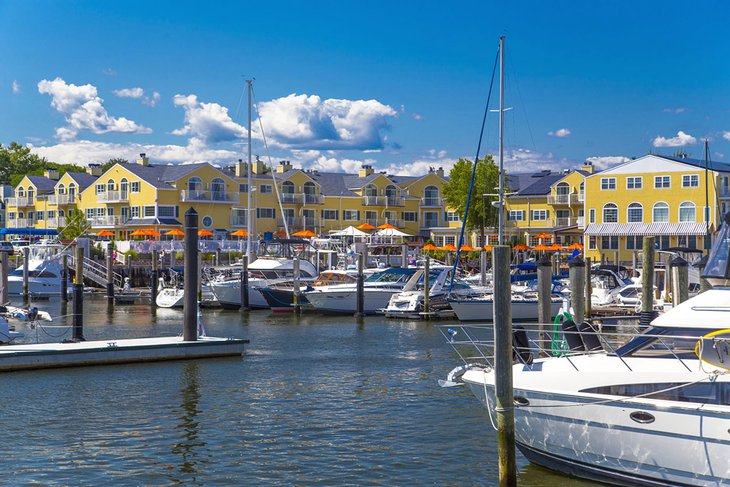 Accommodation: Saybrook Point Resort & Marina
It's impossible to miss the bright yellow walls of Saybrook Point Resort & Marina. While not on a beach, this waterfront, AAA Four Diamond Hotel is located on the Saybrook Point Marina. At night, you'll be lulled to sleep by the calming sounds and refreshing, salty smell of the Long Island Sound.
There are 82 well-appointed guest rooms to choose from in the Main Inn, as well as a unique Lighthouse Suite perfect for a romantic getaway you won't soon forget. Your room is exactly as it sounds, situated in a lighthouse set on the main dock with a private balcony.
The resort's on-site amenities include a luxurious spa, health club, indoor and outdoor pools, and a hot tub. The Fresh Salt restaurant serves tasty dishes in a picturesque environment, and if you're lucky enough to visit on a warm evening, you'll enjoy their outdoor patio with unbeatable views of the spot where the Connecticut River joins the Long Island Sound.
The resort is across the street from Fort Saybrook Monument Park, one of the best attractions in Old Saybrook, which offers plenty of green space and relaxing water views, not to mention the popular Putt A Round By The Sound mini golf at Saybrook Point.
Address: 2 Bridge Street, Old Saybrook, Connecticut
7. Inn at Harbor Hill Marina, Niantic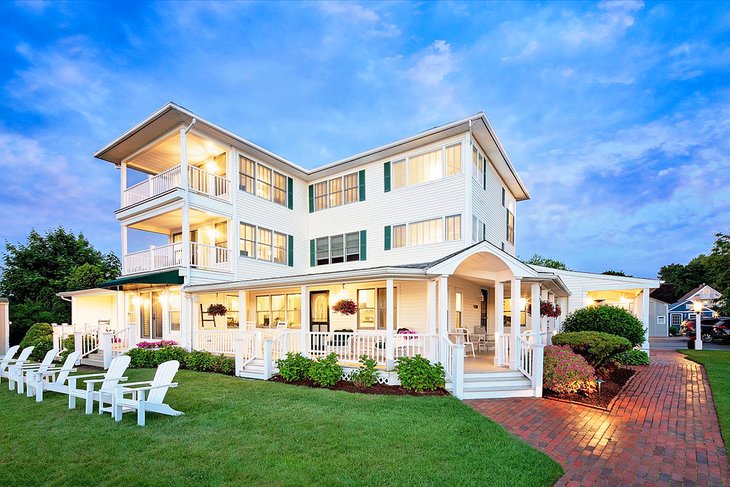 Accommodation: Inn at Harbor Hill Marina
While not technically on the beach, the Inn at Harbor Hill Marina is about as close to the water as you can get. It's set on a busy marina in Niantic, and you can spy the water from your private balcony, the outdoor Adirondack chairs on the grassy lawn, or from the romantic gazebo.
The 16 rooms are luxuriously modern and comfortable with large windows, soaking tubs, and fireplaces. Guests can stay in either the main house or the more historic, Captain Clark House. This quaint yet luxe resort has won the Connecticut Golden Pineapple Award three times for its excellent service and hospitality, so you're guaranteed an enjoyable stay.
When you'd like to hit the nearby beach, take advantage of the resort's complimentary beach passes, umbrellas, and beach chairs. Other hotel perks include, free (and delicious) homemade breakfasts, complimentary drinks and cheese at the evening reception, and a daily sunset cruise around Niantic Bay aboard a pontoon boat.
Speaking of boats, if you brought one along, you can rent a slip in the marina for a weekend or longer, depending on your needs.
Address: 60 Grand Street, Niantic, Connecticut
More Related Articles on PlanetWare.com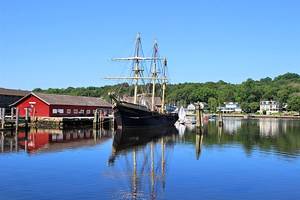 More Things to Do in Connecticut: Since you obviously like beaches, you'll want to check out these top-rated beaches in Connecticut. Those who'd like to add a bit more adventure to their CT experience should check out these top-rated tourist attractions. Hoping for a more laid-back, possibly romantic escape? Try one of these top-rated weekend getaways.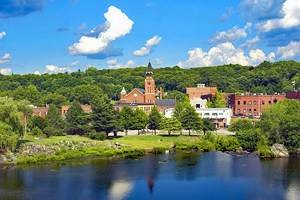 Small-Town Connecticut Beauty: A fantastic place to experience New England charm up close, Connecticut's small towns are not to be missed, especially when the fall foliage is in full bloom, or the sun shines brightly during summer. When planning your visit, these top-rated small towns are a good place to start. The seaside town of Mystic is one of our faves. While you're here, don't miss these top-rated things to do.