Where to Stay in Boulder: Best Areas & Hotels
In a stunning natural locale at the base of the Rocky Mountains and framed by the jagged rocks of the Flatirons, Boulder is a laid-back, quirky college town just 45 minutes drive northwest of Denver. The city has two main streets that run north-south along its length. One is Broadway and the other is 28th Street, and along both, you'll find hotel options for different budgets and styles of travelers, from luxury to good value.
The city is also home to two major tourist areas, around which you'll find more sleeping options, as well as places to eat and sights and activities. The first is the Pearl Street Mall, a pedestrian-only walking space filled with shops, galleries, and restaurants, which runs for four blocks of Pearl Street, between 11th and 15th Street and makes up the heart of downtown.
Heading south on Broadway, you'll come to The Hill, where the University of Colorado is located; it also hosts a number of places to stay and many affordable dining options. More sleeping options abound just outside the Boulder city limits, and these hotels are often ideal for those looking to enjoy some of the city's natural attractions, as they are located near the many parks surrounding this outdoorsy mountain town.
Where to Stay in Boulder for Luxury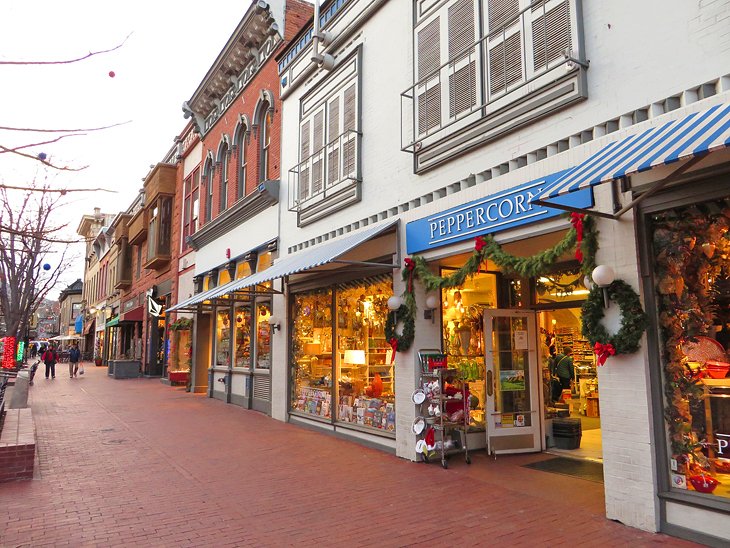 In downtown Boulder, the number one luxury sleep is the St. Julian Hotel & Spa, a swanky property within walking distance of the Pearl Street Mall. The rooms and suites are modern and elegant and come with four-poster beds draped in Italian linens and polished bathrooms with designer toiletries.
Rooms feature views of the city or mountains, and on-site amenities include a lap pool, Jacuzzi, full-service spa, and an excellent restaurant especially known for its Sunday brunch.
Located about 10 minutes' drive from downtown Boulder in the quaint bedroom community of Niwot, the Niwot Inn & Spa is another luxury option for those looking for a country bed-and-breakfast vibe. There are just 14 rooms here, and each is uniquely decorated with Native American and Western-style features, including furnishings made by local artists, and all come with fireplaces and deluxe bedding.
Breakfast is served in a room with hand-plastered clay walls, and there are afternoon receptions with cheese and cookies. Spa treatments are also available, and kids are welcome.
A business-friendly luxury property located just outside of Boulder proper in the suburb of Broomfield, the Renaissance Boulder is a great fit for travelers who want to experience both Boulder and Denver. With great views of Boulder's famous Flatirons, the all-suites hotel has a sleek look with an impressive stone-and-glass lobby and lounge area. The suites are spacious and comfortable, and amenities include an upscale grill restaurant, swimming pool, hot tub, and fitness center.
Where to Stay in Boulder: Mid-Range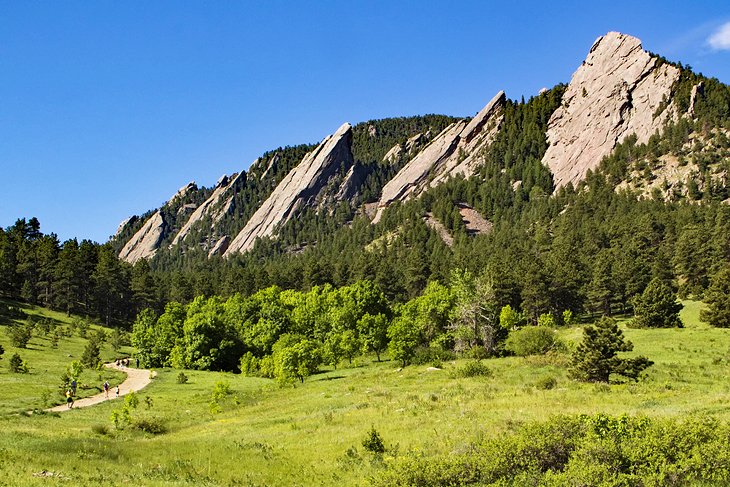 In a convenient downtown location, the Embassy Suites by Hilton Boulder is a great mid-range choice. This all-suites property offers spacious abodes, with living rooms featuring pull-out sofa beds and a separated bedroom with either a king or two queen beds.
As such it is a favorite pick for families as there is plenty of room to move around. Another good-value perk to staying here is a free breakfast and an evening reception for guests.
If you want to stay in the mountains but still be close to town, the Boulder Adventure Lodge is another good-value pick. Located about 3.5 miles west of downtown Boulder, it features colorful rooms with country flair in its main lodge, as well as accommodation in cabins that are great for families - they come with kitchens and private patios.
Breakfast is included and guests can borrow bikes to get into town or explore the hills around the lodge. There is also a creekside hot tub and seasonal outdoor pool, as well as a fishing pond and area for outdoor games.
Just south of The Hill on 28th Street the Best Western Plus Boulder Inn is popular with parents of college students and anyone wanting a good value stay not far from the university and still convenient to downtown. It is also close to Boulder's other major attraction, Chautauqua. The rooms and suites are clean and comfortable, and all come with private balconies.
Amenities include a free hot buffet breakfast and loaner bikes, which make zipping around Boulder a breeze. There is also a seasonal swimming pool outside and an indoor Jacuzzi and fitness center.
Where to Stay in Boulder on a Budget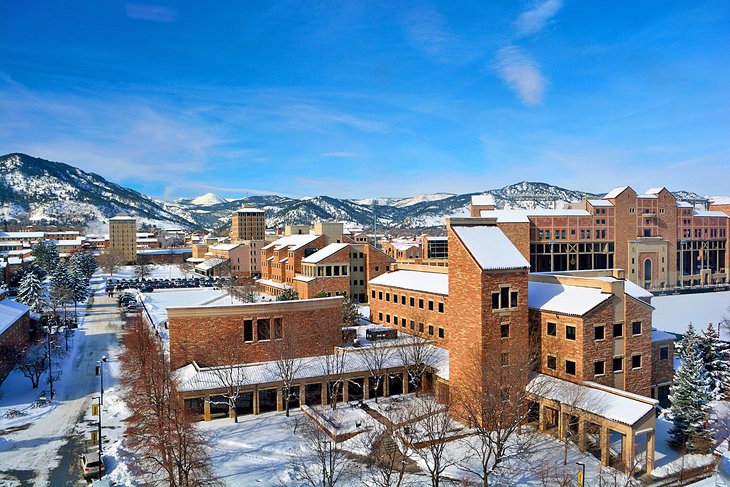 There are few true budget options in Boulder itself, but if you head to the outlying suburbs, like Westminster, you'll find more options. Still, this is about a 20-minute drive from Boulder. In town itself there are a few options in the upper levels of the budget price bracket.
The Foot of the Mountain Motel is one such option. It is located right at the base of the mountains by one of the put-in locations for tubing on Boulder Creek and also convenient to downtown.
This budget pick offers wood-paneled rooms, which are nothing fancy but clean and cozy. For families, there are two suites available, which come with kitchens and pull-out sofas in separate living rooms. A free continental breakfast is included.
Don't let the rather dated exterior fool you, inside the Boulder University Inn hosts sleek and contemporary rooms, which are walking distance from downtown and the Pearl Street Mall. The beds are comfy, and staff members are friendly, and there is also a heated, seasonal outdoor pool.
Finally, in the true budget bracket in Boulder is the Rodeway Inn & Suites Boulder Broker. Most are large, and some have family-friendly amenities like microwaves, mini-fridges, and pull-out sofas in the suites.
The location is just south of downtown in the foothills with easy access to hiking and open space like Boulder Mountain Park, but still close enough to the city to be convenient for dining choices. A free continental breakfast is included.
Where to Stay in Boulder for Romance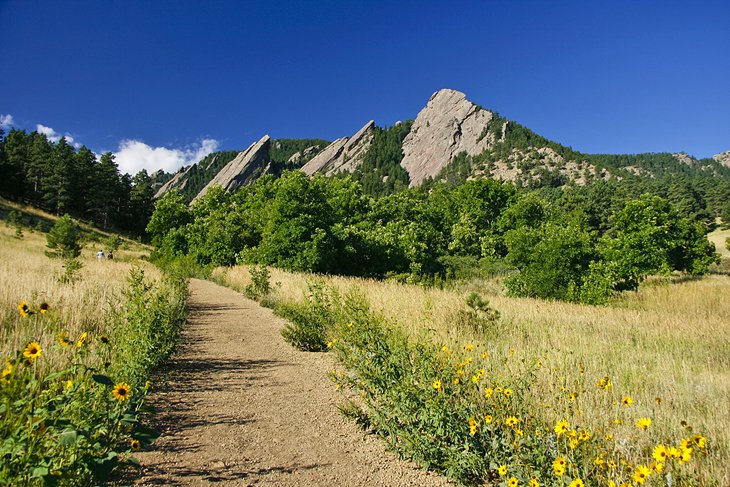 If you are looking for a luxury romantic hotel, check out the historic Hotel Boulderado, which dates back to 1909 and is famous for its stained-glass ceiling in the lobby. Victorian-era decor sets the style in the rooms and suites, which feature either foothill or city views, and the hotel is located right in the heart of downtown. Celebrate a special anniversary at the on-site steak and seafood restaurant and there is also room service.
The Bradley Boulder Inn is another romantic option located right downtown by the Pearl Street Mall. It is perfect for couples looking for an intimate bed-and-breakfast, and it has just 12 individually decorated rooms - for romance book one with a four-poster bed, fireplace, and Jacuzzi tub. The included home-made breakfast is delicious, and there is also a hot tub on the property.
The Alps Boulder Canyon Inn also offers couples a romantic getaway. This time on a windy road leading into the mountains but still only two miles from the Pearl Street Mall. It has 12 uniquely decorated rooms, which feature antiques and bathrooms with rainfall showers. Couples will want to book one of the rooms with Jacuzzi tubs for two. A hot breakfast is included as is afternoon tea and snacks and an evening dessert hour.
Where to Stay in Boulder for Families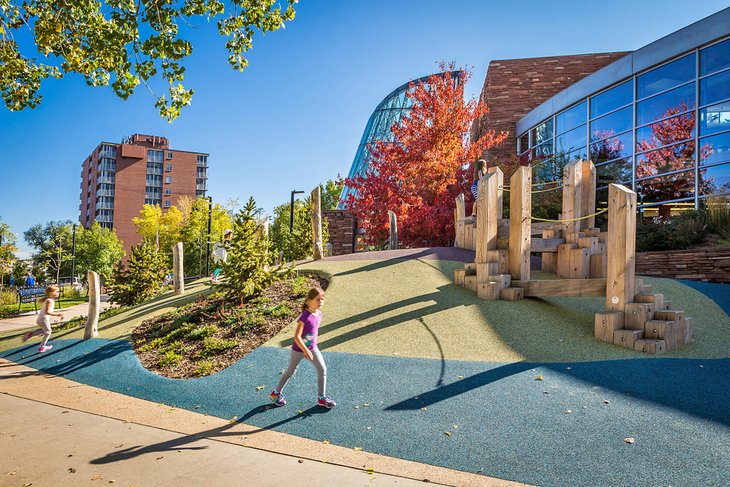 If you are traveling with the kids, check out the Hilton Garden Inn Boulder. This mid-range property is in a central location on Canyon Boulevard that puts you within a few minutes of the city's many outdoor adventure opportunities, including the Boulder Creek Path, which families can explore by foot or bike.
The Hilton offers spacious rooms with original artwork by local creatives. Rooms also have large high-definition TVs, microwaves, mini-fridges, and Keurig coffee makers. On-site amenities include a rooftop swimming pool, family-friendly restaurant, and spa services. The property is also dog friendly.
On Boulder's northern end in the Gunbarrel business district, the Hampton Inn and Suites Boulder - North is another good pick for families, especially if you are on a budget. The Gold LEED certified hotel is not only eco-friendly but it also allows kids to stay free in its range of rooms and suites.
Suites come with pullout sofas, as well as microwaves and fridges and are the perfect pick for families. A free grab-and-go breakfast bag is offered. There is also an on-site convenience store open 24 hours, a swimming pool, and fitness center.