13 Top-Rated Resorts in Denver, CO
We may earn a commission from affiliate links ()
From decadent restaurants to in-room spa treatments and beautiful swimming pools, the Denver metro area is home to a number of excellent resorts that make you feel right at home. And whether you are on vacation with the entire family or looking for a romantic getaway, Denver hotels and resorts cater to all types of travelers.
Resorts in and around the Mile High City are also accessible to most visitors from a price perspective. Although they tend to skew more towards upper mid-range and top-tier luxury, there are some more budget-friendly options, especially if you're willing to sleep a little farther away from downtown Denver proper.
In the city itself, resorts tend to be more expensive, but also offer a host of luxe amenities, from cool pools to classy restaurants. And their locations in the heart of the city, including LoDo, the Theater District, and hip shopping and dining neighborhoods like Cherry Creek North, are hard to top.
Find a great base for your next vacation with our list of the top Denver resorts.
1. Four Seasons Resort Denver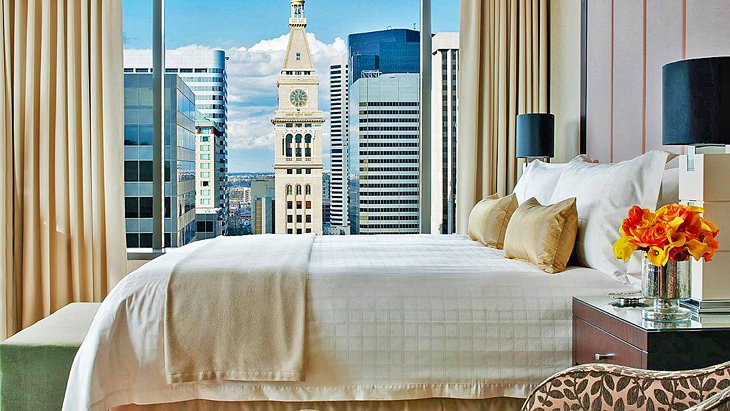 Accommodation: Four Seasons Resort Denver
One of Denver's top luxury hotels, The Four Seasons Resort is in a fantastic downtown locale in the heart of the Theater District. It boasts sophisticated, high-end rooms done up in neutral hues with hardwood floors and super comfy beds. Modern touches include plasma-screen TVs and, upon request, Wii gaming systems.
Staff members attend to your every whim and have a positive attitude. There is also a full-service spa and a happening outdoor swimming pool in summer. The on-site EDGE Restaurant is popular with locals and guests alike. The Four Seasons is also very child and dog friendly.
2. The Ritz-Carlton, Denver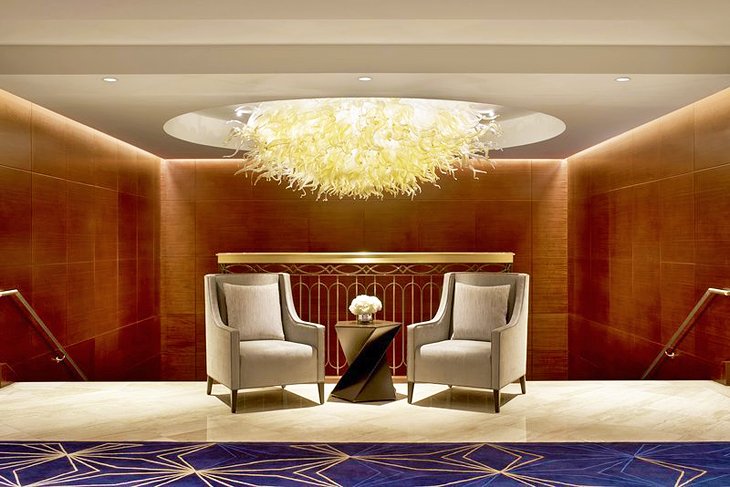 Accommodation: The Ritz-Carlton, Denver
In Denver's hip and very central LoDo neighborhood, The Ritz-Carlton Denver is walking distance from many of the city's major attractions, including Coors Field, where the Colorado Rockies play major league baseball in summer.
The luxe property features rooms and suites in soothing hues, with 400-thread-count Italian linens, flat-screen TVs, espresso makers, and extra spacious bathrooms with soaking tubs and separate walk-in rainforest showers. Also on-site is an elegant Elway's Steakhouse and swanky spa, and you'll have access to a fitness center with an indoor pool located next door.
3. Clayton Members Club & Hotel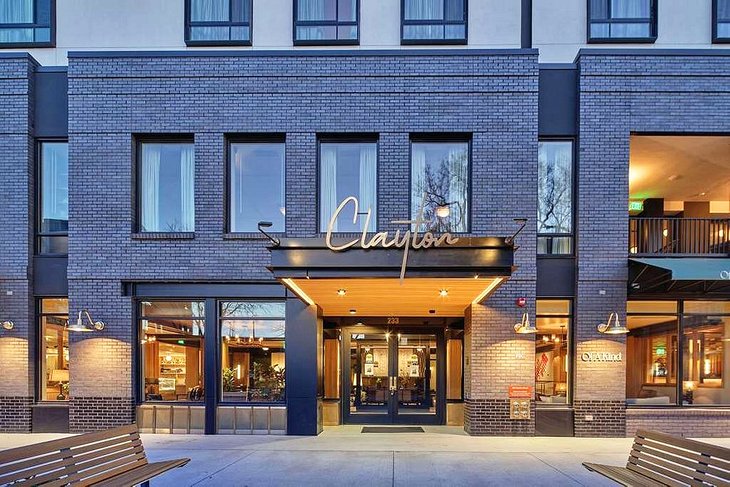 Accommodation: Clayton Members Club & Hotel
Opened in 2021, the 4-plus-star Clayton Members Club & Hotel is Denver's hottest new property. It doubles as a members' only club for locals, many of whom are artists, creators, and entrepreneurs (hotel guests have full access to the property).
The boutique hotel is in the Cherry Creek North neighborhood, which is walking distance from numerous restaurants, boutiques, and the only designer shops in Denver. The 63 beautifully appointed rooms and suites are done up in mid-century modern style with a Denver twist. They feature comfy beds with high quality linens and large windows.
There are three dining options on-site including a hidden lounge space with live entertainment. The Of A Kind restaurant serves Mediterranean and California coastal cooking in trendy environs, while all day eatery O.A.K. Marketplace serves top-notch espresso and has an ice-cream bar. There is a rooftop swimming pool with sun loungers, fitness amenities, and co-working space.
4. Grand Hyatt Denver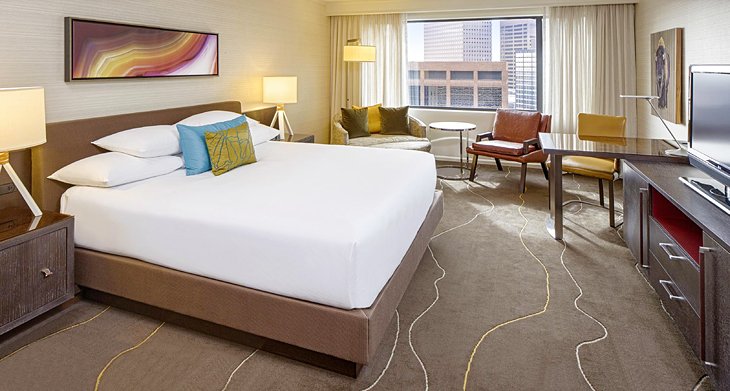 Accommodation: Grand Hyatt Denver
In a central business district location, walking distance from the Colorado Convention Center and just off the 16th Street Mall, the Grand Hyatt is a favorite pick for business travelers or anyone looking for a solid mid-range property.
Rooms and suites are spacious and modern, done up in hues of white and beige with hints of blues and greens, and come with comfy beds and 42-inch flat-screen TVs. The staff is friendly and attentive. Beyond the rooms there is an on-site restaurant, a fitness center, and a pool.
5. Ameristar Resort Spa Black Hawk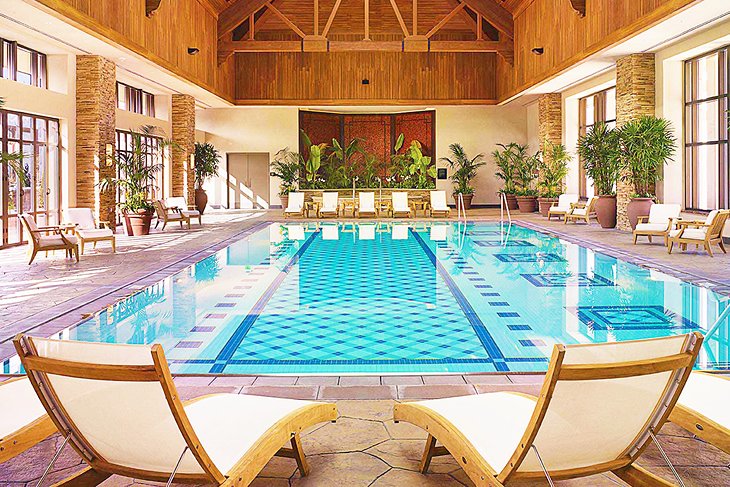 Accommodation: Ameristar Resort Spa Black Hawk
Escape from Denver's city limits and head west into the mountains on I-70 to Black Hawk and Central City to experience opera at a historic performing arts center and a spa getaway at the Ameristar Resort nearby.
Here, the modern rooms and suites all feature flat-screen TVs and Wi-Fi along with coffeemakers and mini-fridges, and suites add whirlpool tubs and often panoramic mountain views. There are two on-site restaurants, including a buffet-style grill, plus an outdoor rooftop pool and two hot tubs, along with the full-service spa.
6. Halcyon, a hotel in Cherry Creek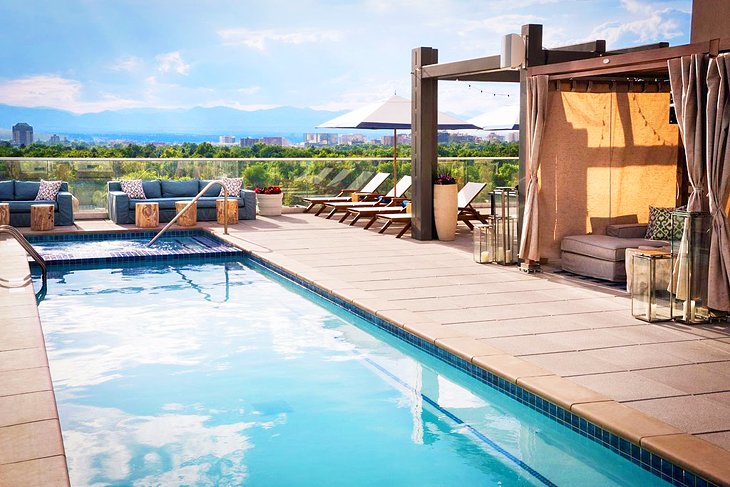 Accommodation: Halcyon, a hotel in Cherry Creek
This design-forward boutique property is located in Denver's hot shopping and eating neighborhood, Cherry Creek North, a short drive southeast from downtown. The Halcyon has a resort feel with a design that caters to couples, especially those looking for a romantic staycation - with artsy modern decor and original art and retro touches, like vintage record players.
The hotel has plenty of perks, including a fun rooftop deck and pool area that is quite the scene in summer. The on-site restaurant, Quality Italian, is on the ground floor with a sidewalk seating area when the weather is nice. It serves up modern Italian-American cuisine and has the ambience of a steakhouse.
7. The Brown Palace Hotel and Spa, Autograph Collection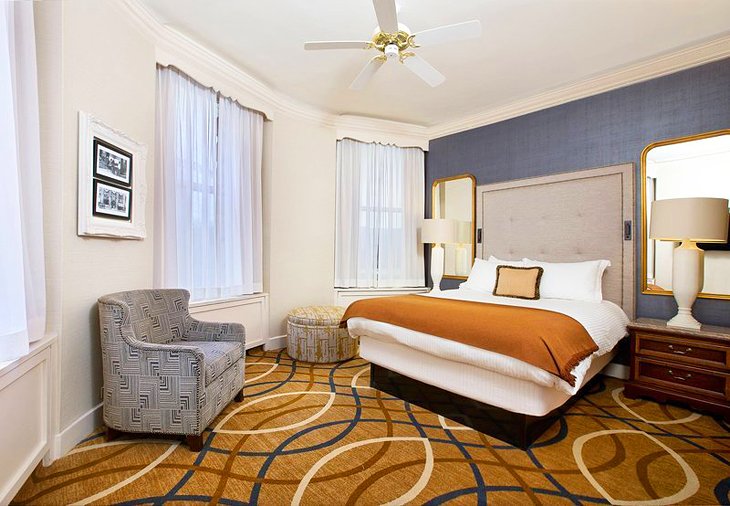 Accommodation: The Brown Palace Hotel and Spa, Autograph Collection
Dating back to 1892, the historic Brown Palace is Denver's grand dame property, located in the heart of the city center and within walking distance of many top sights. The hotel reflects its late 19th-century roots with rooms decorated in period furnishings but offering modern extras, like flat-screen TVs and pod coffee makers, along with iPod docking stations and Wi-Fi.
The Brown Palace has no shortage of dining options on-site. There are three restaurants, including the very posh Palace Arms, which is its signature fine-dining establishment and features beautiful red leather banquettes. The Brown Palace also does a traditional British afternoon high tea service in its lobby, which is a real treat to experience. There is also a full-service spa with hair and beauty services in the hotel.
8. The Westin Denver Downtown
Accommodation: The Westin Denver Downtown
The Westin Denver Downtown, located in the Tabor Center business complex, features some of the city's best views from its upgraded rooms and suites with patios. Book a room here on one of the higher floors overlooking the city and Rocky Mountains beyond. Whatever floor you stay on, however, expect clean and spacious rooms with comfortable beds, flat-screen TVs, and other amenities. Breakfast is also included in the rate.
The Westin hosts a few different dining options. On the ground floor is a branch of the well-known steakhouse The Palm Restaurant. It serves a decadent menu to Denver's movers and shakers for lunch and dinner.
Other amenities include indoor and outdoor heated swimming pools and a well-equipped gym.
9. St. Julien Hotel and Spa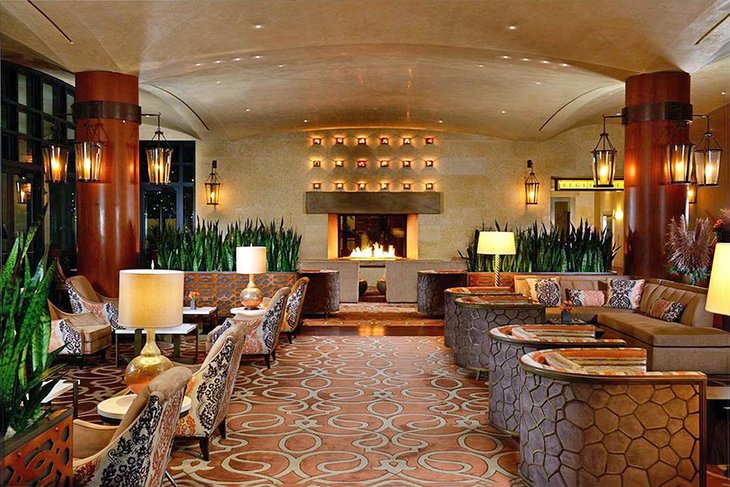 Accommodation: St. Julien Hotel and Spa
Head up to the college town of Boulder, just 30 minutes northwest of downtown Denver, to sleep at the base of the flatirons. The St. Julien Hotel is a posh spa resort and conference center that works for all types of travelers, from business travelers and couples to families.
Rooms are stylish and modern and feature top-end Italian linens on comfortable four-poster beds, mountain or downtown views from large windows, and bathrooms with walk-in showers and high-end toiletries. Book a suite for a separate sitting area and private balcony.
Beyond the sleeping spaces, there are a number of on-site amenities here. First check out the sophisticated Jill's Restaurant. It does modern American fare and also has live music some nights. The St. Julien also has a full-service spa with 12 treatment rooms, a lap pool, whirlpool, and gym.
10. Hilton Denver Inverness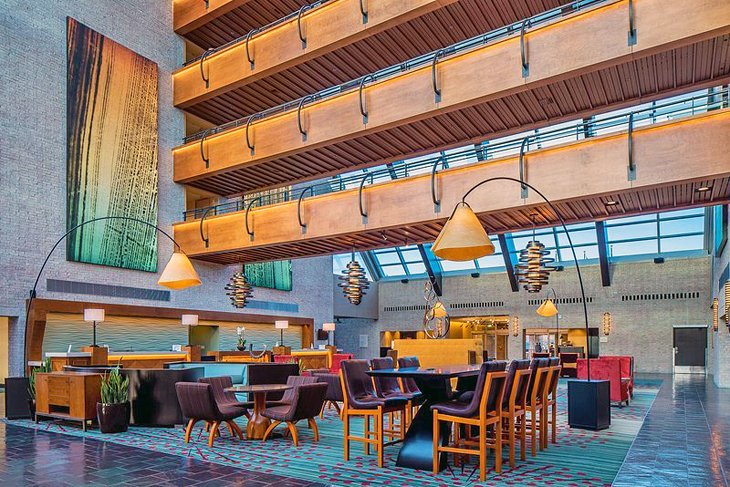 Accommodation: Hilton Denver Inverness
Escape the confines of the city center and head south to the Hilton Denver Inverness, which is conveniently located just off I-25, about a 20-minute drive south of downtown. The property features spacious and classy rooms with views of either the mountains or the adjacent golf course, while suites add perks like living rooms and balconies, along with access to the club floor lounge.
Away from the rooms there is an 18-hole golf course, indoor and outdoor pools plus a hot tub, tennis courts, and an excellent fitness center. Additionally, you can relax at the full-service spa or choose from one of the five on-site restaurants.
11. Omni Interlocken Hotel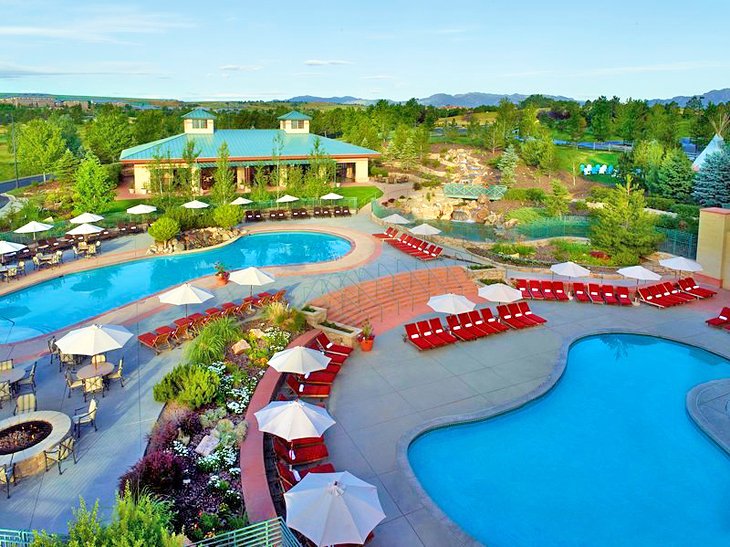 Accommodation: Omni Interlocken Hotel
North of downtown Denver, in the bedroom community of Broomfield, the Omni Interlocken makes a good mid-range choice if you're looking for a destination retreat with impressive scenery and easy access beyond Denver to Boulder and Rocky Mountain National Park.
The hotel has 390 rooms and suites most of which offer panoramic views of the mountains in the background, along with comfy beds and space to sprawl. There is also a championship golf course on-site, a full-service spa to relax at, and two outdoor pools with a whirlpool.
For meals there are two restaurants on-site. It's a perfect pick for families, as Broomfield is home to kid-friendly attractions like the famed Butterfly Pavilion.
12. Hyatt Regency Denver at Colorado Convention Center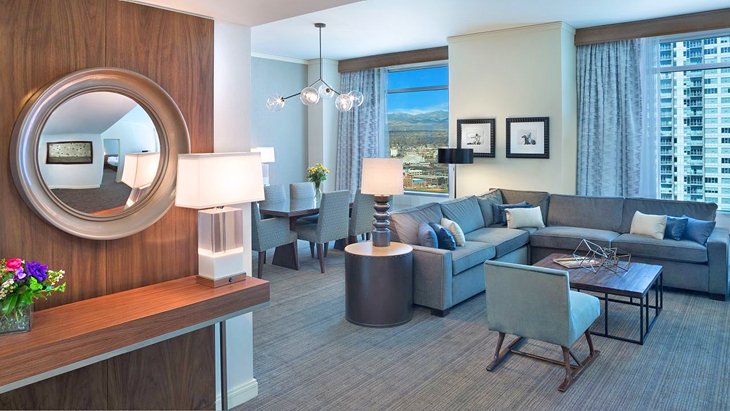 Accommodation: Hyatt Regency Denver at Colorado Convention Center
Adjacent to the state of the art Colorado Convention Center, and walking distance to the buzzy LoDo district, which is home to many restaurants and shops, the Hyatt Regency is another popular downtown hotel choice.
Rooms are modern and stylish and feature all the necessary amenities, like flat-screen TVs and free Wi-Fi. Book on a higher floor and ask for a view of the Rocky Mountains if possible. For families, there are suites with living rooms, dining tables, and kitchenettes that make traveling with young children less difficult.
There is also an indoor pool, a restaurant, and a coffee shop and fitness center (not adjoined) that both stay open 24 hours.
13. The Westin Westminster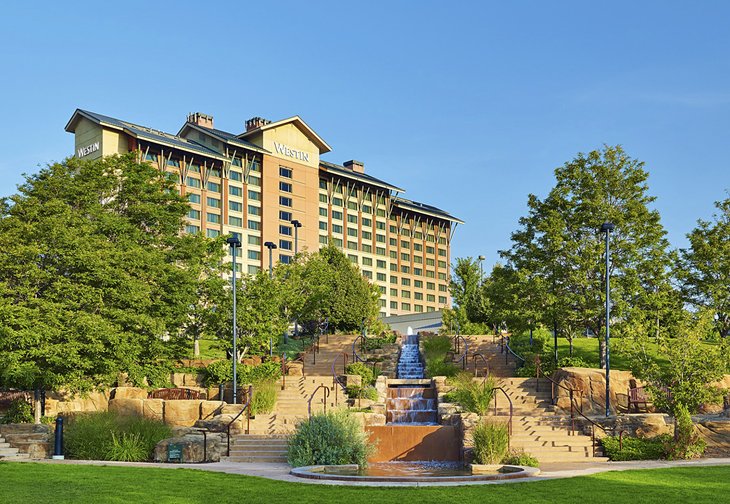 Accommodation: The Westin Westminster
Just north of Denver, in the bedroom community of Westminster, the Westin Westminster is another resort option that is a good choice if you are looking to access not only Denver, but also Boulder and surrounding natural attractions, like Golden or Rocky Mountain National Park.
The Westin has awesome mountain views from the warmly decorated rooms and suites that feature Western decor, the Westin's signature Heavenly beds with pillow-top mattresses, large flat-screen TVs, and rainfall showers. There is also a Southwestern restaurant, a heated indoor lap pool, outdoor hot tub, and a gym on-site.