11 Best Resorts in Aspen, CO
Timeless, elegant, and famous, Aspen is Colorado's trendiest mountain town and a year-round resort destination, boasting some of the best hotels in the state. Whether you are traveling for the winter and early spring ski season or for the excellent hiking, mountain biking, horseback riding, or fly fishing in summer and fall, there is always something to keep you busy in Aspen.
Unlike many Colorado ski towns where the villages were developed around a ski resort, Aspen was a city of its own first. Built in the late 1800s, Aspen was once a wild silver mining town. After the mining industry collapsed, Aspen reinvented itself as an outdoor destination with top resorts.
Today it is home to a walkable downtown filled with swanky boutiques, art galleries, hotels, and lots of excellent restaurants. It is also home to four ski resorts within a 30-minute drive of downtown. Aspen Mountain, which is located right in town, is famous for its steep slopes and après-ski scene in the resort at its base.
Nearby Snowmass has its own resorts and restaurants and is especially popular with families. Buttermilk Mountain and Aspen Highlands are the other two ski mountains, but unlike Aspen Mountain and Snowmass, they don't have a year-round scene or hotels (you would just take the bus or drive from either Aspen or Snowmass).
Whether you are on a family vacation, with a group of friends, or enjoying a romantic getaway, find a great place to stay with our list of the best resorts in Aspen and Snowmass.
1. The Little Nell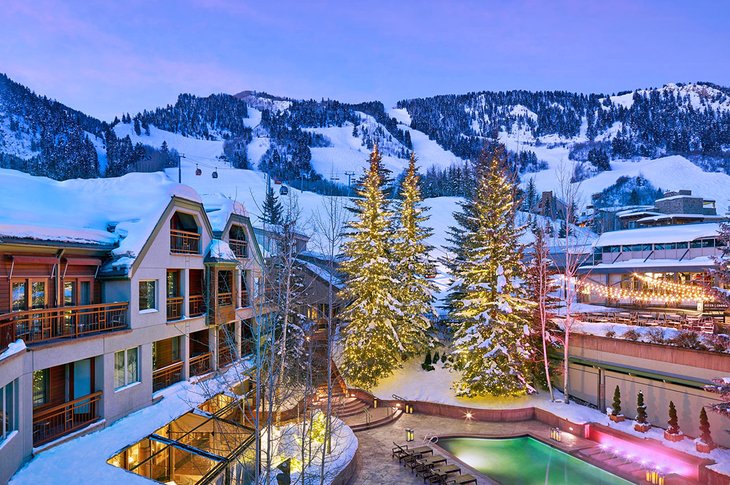 Accommodation: The Little Nell
Aspen's only five-star, five-diamond property, The Little Nell is a favorite resort with visiting celebrities, as well as couples and families. In a prime location just steps from the gondola at Aspen Mountain's base, it is a swanky, chic property that recently underwent extensive renovations.
The rooms and suites have a romantic ambience with fireplaces, furnished balconies, and high-end linens on very comfortable beds. They also boast large marble bathrooms. Book one of the suites if you want the added luxury of a steam shower and Jacuzzi tub.
If you are traveling with a pup, The Nell is considered one of Colorado's top dog-friendly resorts and there are usually biscuits at the front desk and staff will even walk your doggo upon request when you are out for the day.
Other amenities here include a ski concierge, butler service, two restaurants, a heated outdoor pool, and a hot tub. There is also an excellent spa with a full-range of treatments, including massages designed especially for relieving sore muscles after a day of skiing or hiking.
2. Hotel Jerome, Auberge Resorts Collection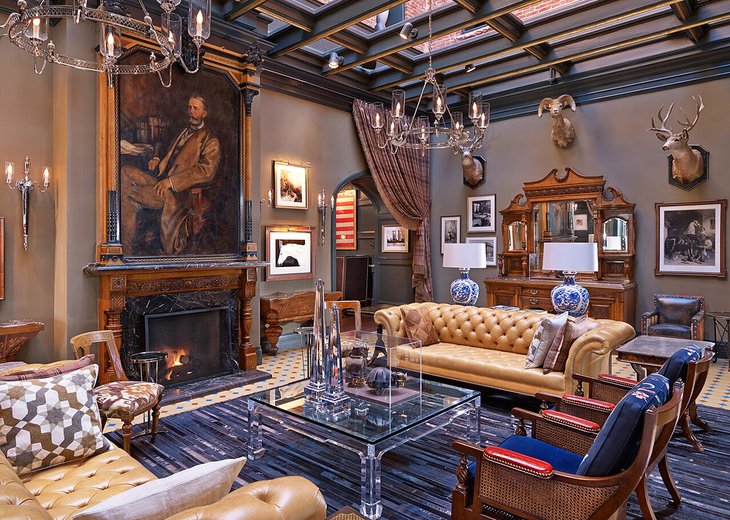 Accommodation: Hotel Jerome, Auberge Resorts Collection
Aspen's oldest resort, the Hotel Jerome is also part of the luxury Auberge Resorts Collection and a landmark luxury property. It first opened in the middle of the silver rush in 1889 and was designed to look like one of Europe's grand hotels from the same time frame. The public areas here reflect the hotel's long history with memorabilia, artwork, and decor from the 19th-century to the present day.
The hotel has a mix of rooms and suites, but even the least expensive digs are still comfortable, with modern mountain decor. You'll love the cashmere curtains surrounding floor-to-ceiling windows featuring picturesque mountain and downtown views, as well as cowhide upholstered chairs and local art. The suites come in multiple sizes, and if you need even more space, book one of the residential suites with full kitchens.
Dine on American bistro fare at the house restaurant Prospect, which serves three meals a day. There is also a spa with a range of massages and other treatments on the menu, a swimming pool, and a fitness center on-site.
3. St. Regis Aspen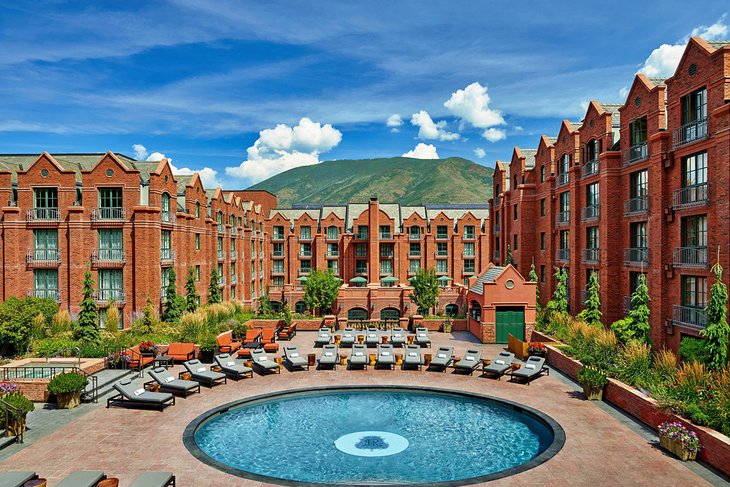 Accommodation: The St. Regis Aspen Resort
A good choice for a family-friendly vacation, the St. Regis Aspen offers kid-focused activities among other amenities. The resort is just a few minutes' walk from the gondola at Aspen Mountain, making it easy to get on the slopes quickly, and Aspen has a great ski school if the kids needs instruction.
The rooms and suites come in around 18 different configurations, but all feature mountain-elegant bespoke design by Ralph Lauren. The beds are comfy and draped in 400-thread-count Frette linen. Other luxe amenities include butler service, Nespresso coffee machines, and deep soaking tubs in marble baths.
Grab a bite to eat at the good Italian restaurant on the grounds. There is also a cozy lobby area with live music, and an outdoor heated pool surrounded by sun loungers and with a hot tub facing the mountains.
4. Aspen Meadows Resort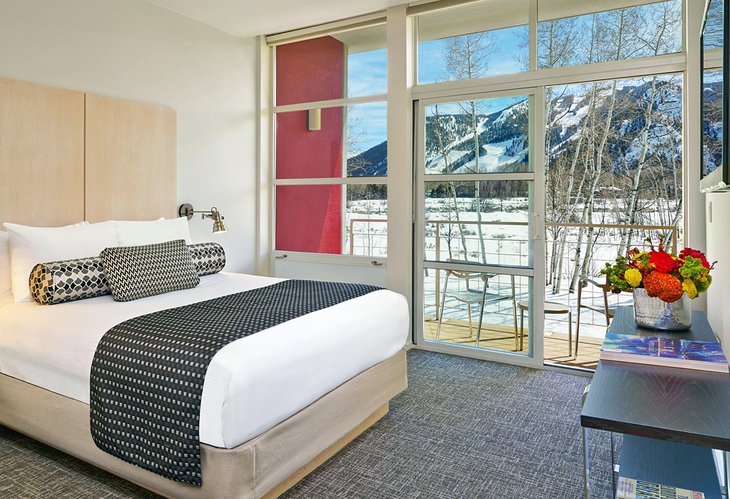 Accommodation: Aspen Meadows Resort
Tucked away on 40 acres along the Roaring Fork River in Aspen's secluded West End neighborhood, Aspen Meadows is an artsy resort known for its landscape architecture and art designed to blend into the natural environs. The resort is home to the Aspen campus of the prestigious Aspen Institute, where events attract world leaders, Nobel laureates, and top movers and shakers.
Accommodation is in Bauhaus-style suites that feature decor like Bertoia chairs, Laccio tables, and floor-to-ceiling windows with fabulous mountain views. They also have sitting areas and private patios. Away from the rooms, amenities include Plato's Restaurant, which serves farm-to-table fare, a heated outdoor saltwater lap pool, a hot tub, and fitness center.
There are also tennis courts, bike and snowshoe rentals, and a 24-hour shuttle service into Aspen town and to the airport. In summer, the Aspen Music Festival has a tent here. Make sure to explore the grounds, which are home to countless works of art and the Resnick Art Gallery.
5. Limelight Hotel Aspen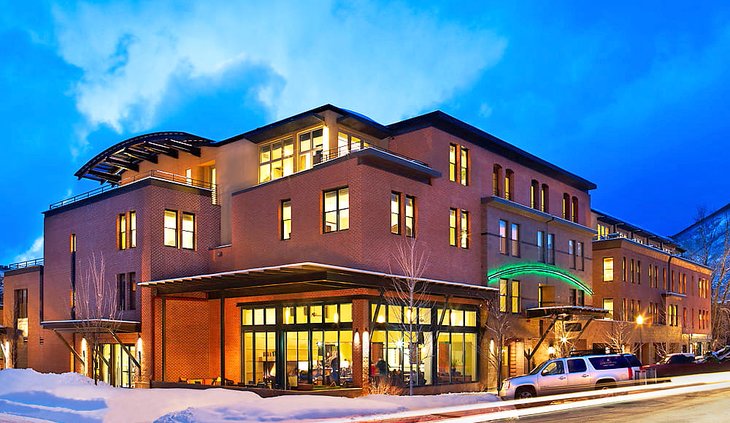 Accommodation: Limelight Hotel Aspen
If you want luxury accommodation that is still laid-back and fun then look no further than the trendy Limelight Hotel Aspen (there is a second location at the new Snowmass base village as well: Limelight Hotel Snowmass). The 4-star property is within walking distance of the ski slopes at Aspen Mountain and has vibrant rooms and suites with lots of bright colors. The suites have kitchens, living spaces, and balconies and are perfect for families or for longer stays.
One of the best amenities here is the free morning breakfast spread served in the lobby lounge, with both hot and cold selections. In the evening, the lounge turns into a proper restaurant serving Italian comfort fare and excellent wood-fired pizzas. Other amenities include a heated outdoor swimming pool and two hot tubs, roof top terraces for lounging, a fitness center, and coin-operated laundry. If you are traveling with a dog, the Limelight is pet friendly.
6. Viceroy Snowmass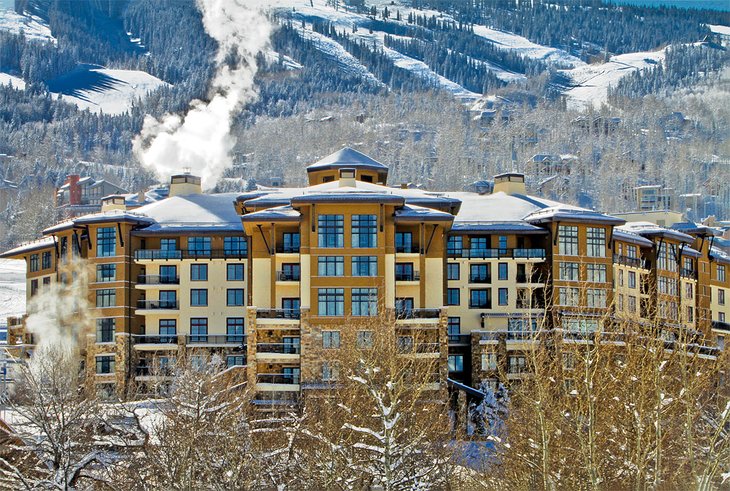 Accommodation: Viceroy Snowmass
Located at the new base village of Aspen's sister resort Snowmass, the Viceroy Snowmass is a great eco-friendly choice with lots of sustainable travel practices in place. It's also a luxury resort that works well for couples and families alike. If you're traveling with your dog, the Viceroy welcomes pups with biscuits and loaner food and water bowls.
Rooms and suites here are well-appointed with modern mountain decor and great views from large windows. The two-bedroom corner suites are perfect for families or friends traveling together. They have tons of floor space, large bedrooms, and fabulous balconies with direct mountain views.
If you are visiting in winter, there is a ski valet and ski-in, ski-out access. Equipment rentals are also available. In summer, you can bring your mountain bike and ride down the ski trails. Other amenities include a restaurant cooking up an international menu, a spa with a full range of treatments, a heated saltwater swimming pool, and more than one hot tub.
7. The Gant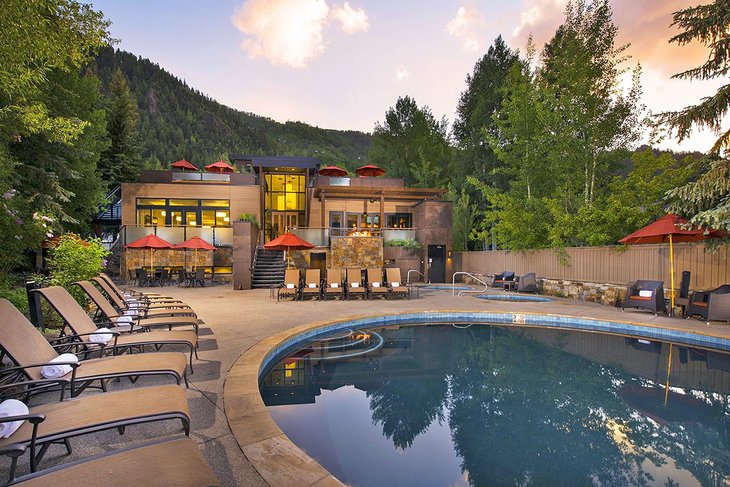 Accommodation: The Gant
On Aspen's quiet west end, The Gant is another condo-style property with resort amenities set on five-acres of manicured grounds. The units are privately owned, so each one has slightly different decor, but all are well-maintained and regularly updated.
The look is modern, with lots of cream and ivory hues with wood trim and bed-frames. The condos range in size from one to four bedrooms, and each one has a full kitchen, which is great for families or anyone who wants to save some money by cooking for themselves. They also have furnished balconies.
Amenities include two heated outdoor swimming pools, three hot tubs, a workout room, and seasonal tennis courts. Unlike many condo-style properties, The Gant has a restaurant. It also has a spa should you wish to get the knots massaged out of those sore muscles after a hard day of skiing.
Other perks of staying at The Gant include a free Aspen Airport and local shuttle that will get you into downtown and onto the ski slopes quickly.
8. The Innsbruck Aspen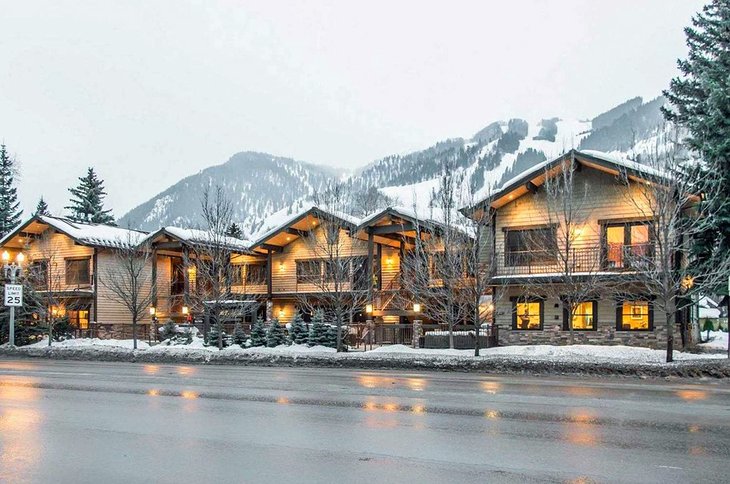 Accommodation: The Innsbruck Aspen
If you're looking for condo-style accommodation with resort amenities then you will want to check out the Innsbruck Aspen. The property offers spacious and modern condos with rustic mountain style including working fireplaces, upholstered and leather furnishings, area rugs, and wood-framed windows and doors. They also feature bathrooms with Jacuzzi tubs and kitchenettes.
Amenities include a heated outdoor resistance swimming pool, a hot tub, free parking, self-service laundry, and BBQ facilities. There is no restaurant on-site, but the hotel is on Main Street and within walking distance of many dining options. If you are here to ski, this hotel is a bit far of a walk from the mountain, however, you can catch the free city shuttle bus right to it.
9. Hyatt Residence Club Grand Aspen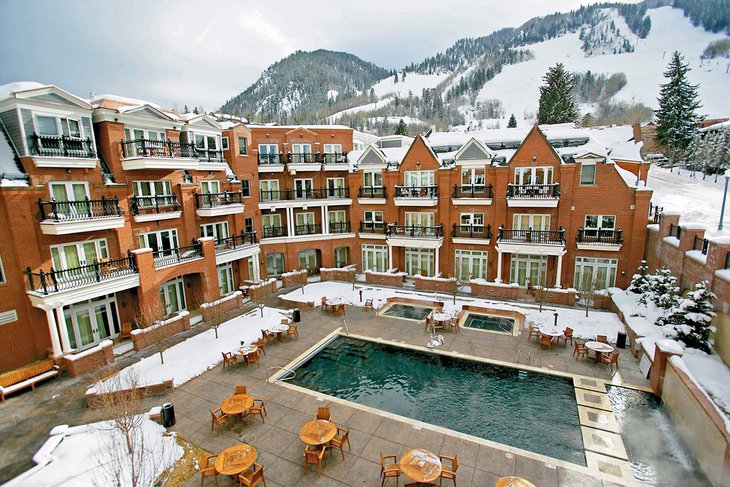 Accommodation: Hyatt Residence Club Grand Aspen
Within walking distance of Aspen Mountain, the Hyatt Residence Club Grand Aspen has a fantastic central location to all of downtown's restaurants, galleries, and shops.
It offers condo-style accommodation in one- to four-bedroom units. These are nicely decorated and feel like staying in someone's home. The kitchens are great if you want to do your own cooking. Some of the units also have Jacuzzi bath tubs, steam showers, and washer and dryers.
The resort is very family friendly, and kids stay free here. There is children's programming on the TV, and babysitting can be arranged. Other amenities include a heated swimming pool, two hot tubs, and a workout room. There is no restaurant or spa on-site, but there are plenty of options within walking distance. Bike rentals are also available.
10. Viewline Resort Snowmass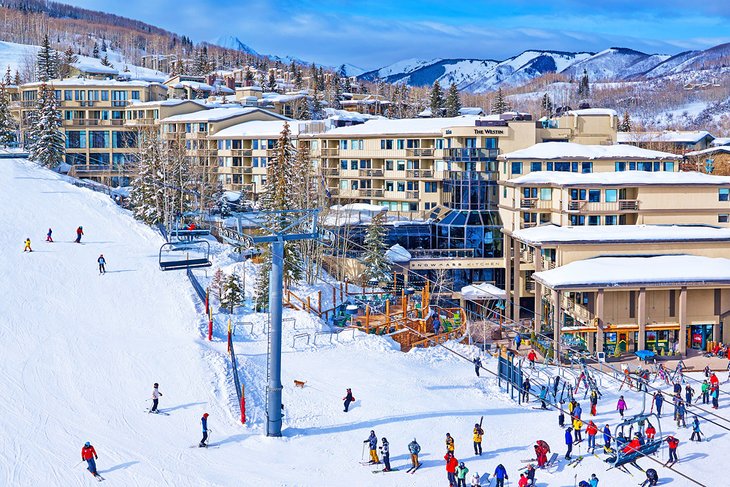 Accommodation: Viewline Resort Snowmass
Right in the heart of Snowmass by the Village Mall, the Viewline Resort Snowmass opened in early 2022 and offers ski-in, ski-out access in a luxury resort setting. The family friendly resort has six categories of well-appointed rooms and suites, which boast fantastic mountain views from large windows. The design is modern mountain lodge with a 1960s retro flair.
Grab a bite to eat at one of the hotel's restaurants. Its signature dining attraction is Stark's Alpine Grill, which features a modern and eclectic take on classic steakhouse fare. There is also a heated outdoor swimming pool, hot tubs, and a state-of-the-art fitness center. If you are in need of some pampering, book a treatment at the Lupine Spa on-site.
11. Limelight Hotel Snowmass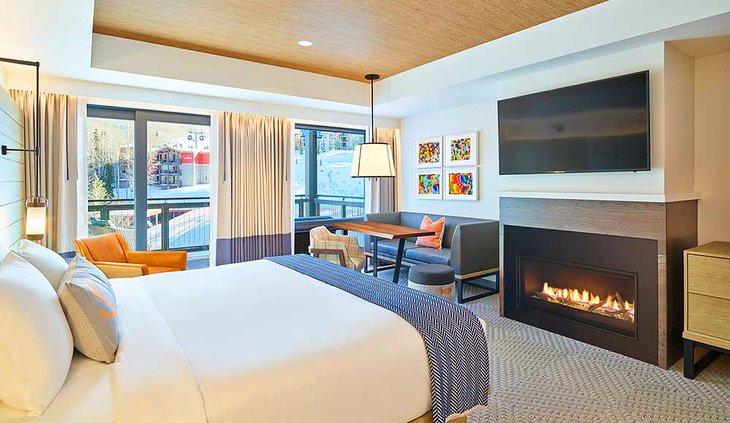 Accommodation: Limelight Hotel Snowmass
Anchoring the Base Village just a few seconds' walk from the Elk Camp Gondola and Village Express ski lift, Limelight Hotel Snowmass is a 4-star property with a relaxed vibe. Opened less than five years ago, the family-friendly hotel caters to human and canine children alike with amenities for both.
Like its sister property in Aspen, the Limelight has a fun ambience and colorful color scheme to its decor. The 99 rooms and suites are comfy and cozy, with colorful artwork and large windows. Many have gas fireplaces and furnished balconies with slope views.
If you are traveling with kids, ask about having a teepee set up in the room (for a fee). These can accommodate children up to four feet tall and come with sleeping pads, camping pillows, and even a lantern.
If you need more space, the Limelight also has a number of residences that can be booked. These feature one to three bedrooms, full kitchens, and separate dining rooms.
Amenities are plentiful at this property. The open floor plan lounge area is the central hangout spot. Here, you can grab a bite to eat at the house restaurant, which does excellent wood-fired pizza among other entrees. The morning breakfast is very generous and complimentary. There is also a children's play area with floor pillows and even vintage video game machines.
And then there is the five-story indoor climbing wall. It has three self-belay routes and is designed especially for kids. Climbing is free for Limelight guests. Adults will love the two giant hot tubs, heated to different temps that are perfect for soaking sore muscles