12 Best Cheap All-Inclusive Caribbean Resorts
The Caribbean is a hot spot for lovers of soft sandy beaches, turquoise seas, and warm breezes. Dotted upon its lush isles are a slew of luxury resorts so plush and expensive, their bills can cause you to spill your coconut water. Luckily, this gorgeous spot offers plenty of cheap all-inclusive Caribbean resorts to protect your savings while allowing you to have a fab and relaxing Caribbean beach vacay.
From tasty meals that can be ordered à la carte to non-stop activities to pools so large you can scuba dive in them, these retreats are the perfect place to relax while keeping your bank balance in check. Their rooms are clean, the views are spectacular, and the staff go out of their way to ensure everyone has a holiday to remember.
Whether you're searching for an affordable adults-only resort or a fun, family-friendly retreat, you'll find the perfect spot on our list of the best cheap all-inclusive Caribbean resorts.
1. Viva Wyndham Tangerine, Dominican Republic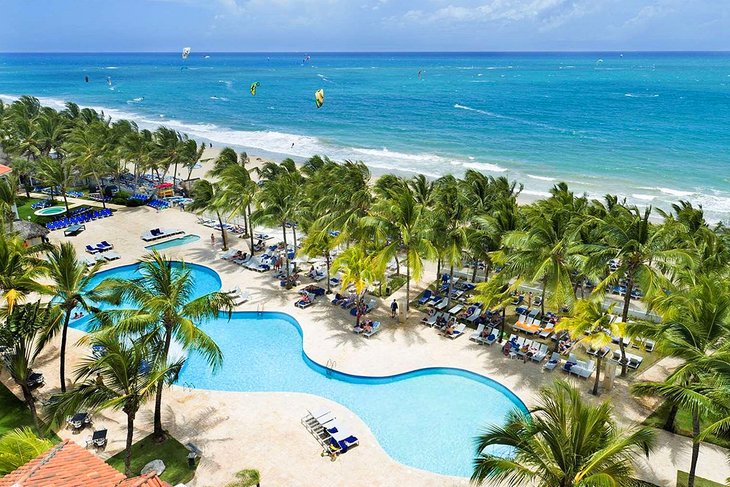 Accommodation: Viva Wyndham Tangerine
It's easy to have fun at the Viva Wyndham Tangerine, one of the best cheap all-inclusive resorts in the Dominican Republic. Located in Cabarete, on the north coast of the island, this cheap and cheerful spot offers four-star accommodations and a slew of entertaining amenities to its guests.
Hoping to get active? Play a game of tennis or volleyball, hit the water to swim, windsurf, scuba dive, kitesurf, or splash about in one of the two outdoor pools. Enjoy a yoga class or meditation lessons, or sign up for Caribbean dance or cooking classes.
More of a low-key sun worshipper? You'll love the serene Kelivespa, private beach, and comfy poolside lounge chairs. Head back to your room to unwind after a fun-filled day. A private balcony complements each of the 276 guest rooms, which feature comfy beds and a relaxing ocean or garden view.
Don't worry about the bill when you dine at one of the four on-site restaurants - all meals are included in the all-inclusive package. So, too, are snacks, drinks, and a bevy of activities, as well as evening entertainment. Another bonus: kids 12 and under eat and stay for free, and the Viva Kids' Club is complimentary.
Address: Carretera Sousa-Cabarete, Cabarete, Dominican Republic
2. Bahia Principe Grand Jamaica, Jamaica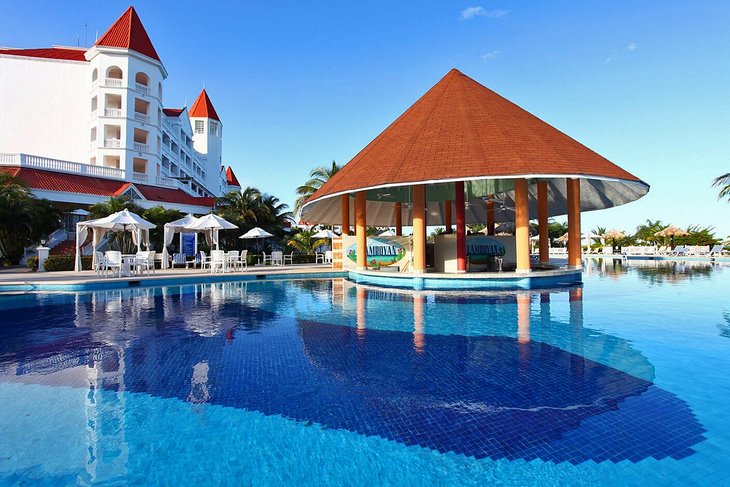 Accommodation: Bahia Principe Grand Jamaica
If you like to swim, you'll love the Bahia Principe Grand Jamaica in Runaway Bay. Three main pools are connected in a lagoon-like setting, complete with romantic bridges overhanging the crystalline water.
A lush beach straddles the property, just before the pool, welcoming sun worshippers and sandcastle builders of all ages. The protected water makes this a perfect place for little ones to dip a toe in the ocean without fear of getting carried away.
At this resort, the cheap, all-inclusive rate includes entertainment programs for kids and adults; dance and fitness classes; sports like volleyball, water polo, and soccer; and one scuba diving lesson in the pool. Also included is a kids' club and one hour daily of free access to surfboards, kayaks, paddleboards, tennis courts, and snorkeling equipment. It's impossible to get bored while staying here.
As for food, unlimited meals and complimentary drinks are provided at the two buffet restaurants, and guests can enjoy beverages and three dinners per week in the four à la carte restaurants. Drinks and fast food are also included at the Beach Restaurant between 11pm and 7am. Note: You'll have to wear "formal" attire during your three à la carte dinners, which basically means a nice dress for ladies and pants and a shirt for men. You'll also need a reservation for the à la carte dinners.
Eight hundred and fifty rooms await tired guests, inviting them to relax on pillow-top mattresses and in hydromassage bathtubs.
Address: Salt Coopers, Runaway Bay, Jamaica
3. Bahia Principe Grand Cayacoa, Dominican Republic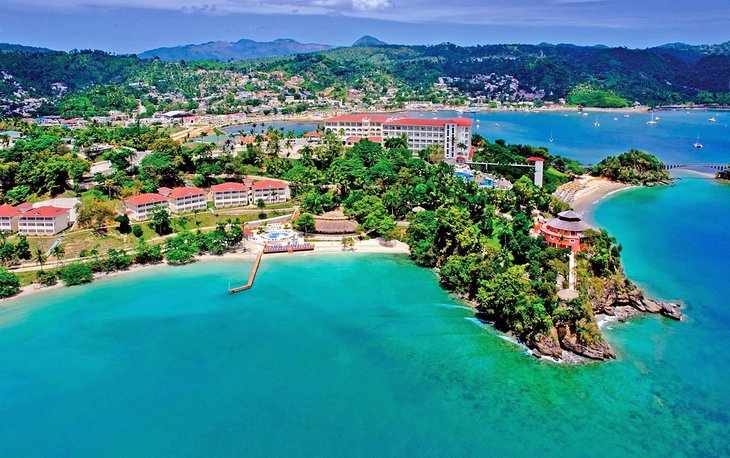 Accommodation: Grand Bahia Principe Cayacoa
You'll love hearing the sound of waves crashing against the soft sandy shore at the pretty Bahia Principe Grand Cayacoa. This cheap all-inclusive resort in the Dominican Republic is a perfect place to unwind while leaving worries about your bank account at home, where they belong. While families enjoy their stays, the majority of guests are here for some serious romance and R&R.
Set upon the spectacular Samaná peninsula, this northern DR gem is located right on the beach and boasts a stunning lake-shaped pool surrounded by tall, waving Royal Palms and comfy sun loungers. There are two other pools to enjoy: a beachfront pool and another outdoor pool featuring a Jacuzzi.
In this case, all-inclusive includes an hour's use of paddleboards, kayaks, boogie boards, snorkeling equipment, or a catamaran daily. You'll also gain access to the gym; aerobics classes; and three dinners (long pants and formal dress required) each week in the à la carte restaurants, which require reservations for dinner.
All other meals can be enjoyed at the buffet restaurants. Drinks are included at the pool and on the beachfront. Up your stay with a Club Golden Client membership, and you'll receive four dinners each week, as well as VIP amenities, junior suites featuring the best views, and use of a private club house.
Address: Loma Puerto Escondido, Samana, Dominican Republic
4. Holiday Inn Resort Aruba-Beach Resort & Casino, Aruba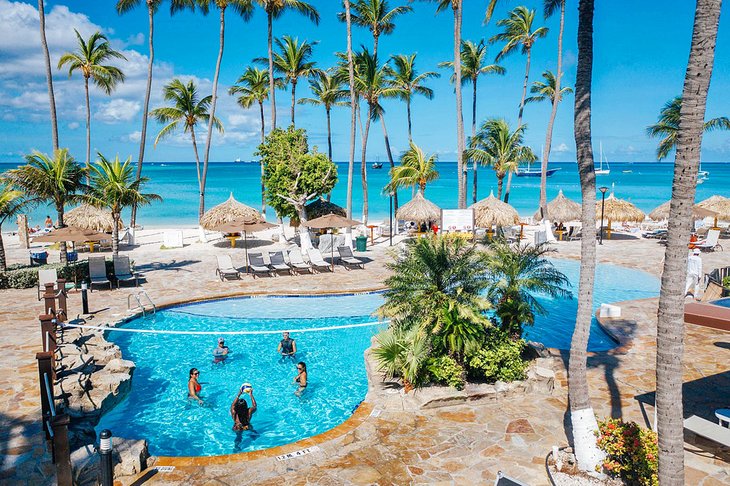 Accommodation: Holiday Inn Resort Aruba-Beach Resort & Casino
An oceanfront pool, soft sandy beach, and spectacular ocean views greet visitors to the Holiday Inn Resort Aruba-Beach Resort & Casino. This high-rise resort is set right in the heart of Aruba's Palm Beach, close to the shops and restaurants frequented by locals and visitors.
Don't want to leave the grounds? No worries. Guests have access to everything they need right in the resort. From an on-site shopping mall to five restaurants to a spa, there's plenty to keep you occupied.
Relax in the spa, lounge by one of the three pools, or pedal around the grounds on a complimentary bike. Kids can hang out in the Kids Club/Activity Center, and you're welcome to rent a palapa or pool cabana for the day (for an extra fee). Active visitors can also enjoy pool volleyball, tennis, basketball, or a workout in the fitness center.
The Holiday All Inclusive package is the best deal. It grants guests drinks and meals at three on-site restaurants, as well as a 25-percent-off coupon for Pelican Tours, and a $75 spa credit. The only catch, you have to stay at least four nights. The Corals Breakfast Buffet and two theme nights are also included in the package.
Each room or suite comes with a private balcony or patio, many of which provide breathtaking ocean views. Pillowtop mattresses make it easy to drift off to sleep at night.
Address: 230 J.E. Irausquin Blvd, Palm Beach, Aruba
5. Allegro Playacar, Playa del Carmen, Mexico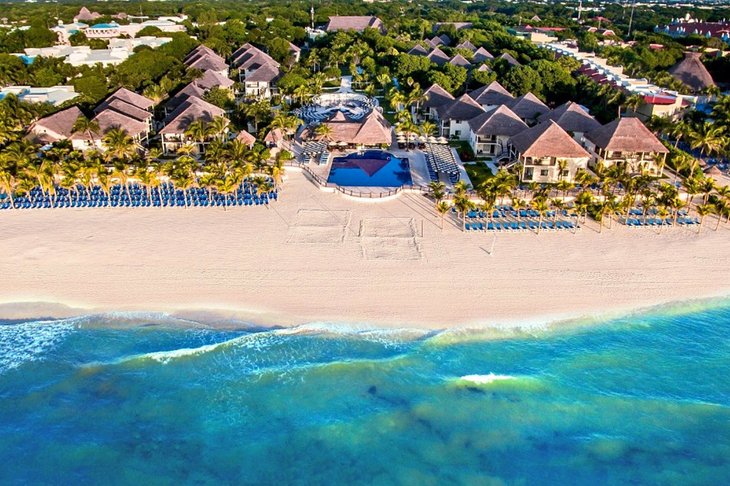 Accommodation: Allegro Playacar
Those with a healthy appetite will be well satiated on the lush grounds of Allegro Playacar, a delectably cheap all-inclusive resort in Playa del Carmen, Mexico. Four restaurants, a pizzeria, and four bars offer tasty meals, snacks, and drinks that are included in your stay. The best part? Unlike some other all-inclusives that serve sub-par, bland offerings, the food at Allegro Playacar is tasty.
Work off your meals with a game of tennis or basketball, challenge your vacation mates to a game of giant chess or ping pong, or splash about in one of the three pools. Need a break? Send the children to the kids' club, so you can lounge beachside without worries.
It's easy to stay active (with and without kids) with the resort's numerous activities. Head to the beach to kayak, sail, fish, spike a volleyball, or snorkel, or embark on a deep-sea fishing or scuba diving adventure for an additional fee.
The 286 rooms boast minibars filled with free goodies, private balconies or patios, and free Wi-Fi. The family rooms are best for those traveling with little ones. They feature two bedrooms to make it easier to spread out.
Address: Lote Hotelero No. 7 Playacar, Playa del Carmen, Mexico
6. Bolongo Bay Beach Resort, St. Thomas, US Virgin Islands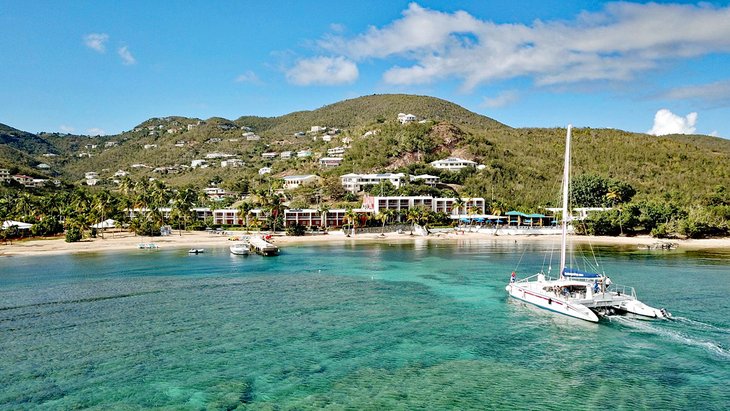 Accommodation: Bolongo Bay Beach Resort
Bolongo Bay Beach Resort isn't your typical cheap all-inclusive resort, and that's a good thing. You won't have to worry about elbowing through crowds of nighttime revelers or getting up uber early to score a prime spot by the pool. Instead, this intimate resort feels homey and relaxing without ever being overcrowded.
The rooms here are simply decorated for a reason: their remarkable views are the main feature. Waving palm trees and sparkling waves are enjoyed from private balconies. Choose between one of 25 rooms with direct beach access, 39 with ocean views, or 10 "value rooms" that overlook the gardens by the pool.
Known as the first (and only) resort to offer an all-inclusive package in the US Virgin Islands, you won't have to suffer through boring buffets as part of your plan. Guests of Bolongo Bay Beach Resort instead enjoy á la carte meals with a Caribbean and continental flare.
Also included are water sports like snorkeling, paddleboarding, kayaking, and sailing. Stay for five nights and receive a free Sunset Harbor Cocktail Cruise.
Address: 7150 Bolongo, St. Thomas, US Virgin Islands
7. Kunuku Resort All Inclusive Curacao, Trademark Collection by Wyndham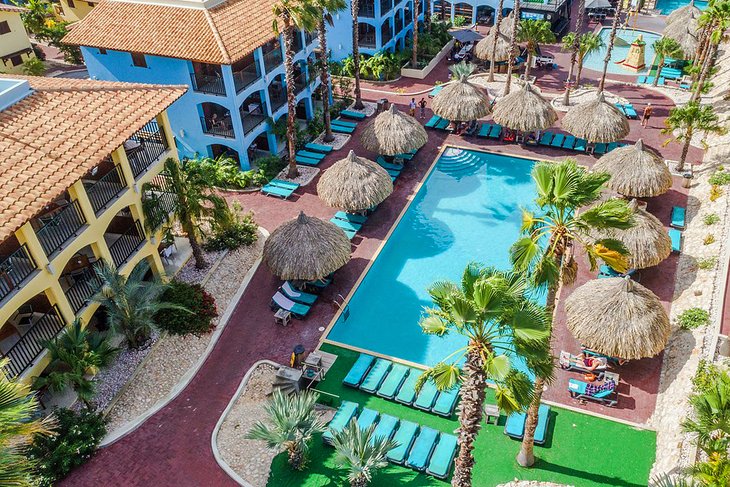 Accommodation: Kunuku Resort All Inclusive Curacao, Trademark Collection by Wyndham
Talk about a fun spot for an affordable family vacay! The Kunuku Resort All Inclusive Curacao has five swimming pools that boast a total of five slides. Two of the pools are geared towards younger children, which means getting your kids to leave the property will definitely be a challenge, although a beautiful beach lies a short drive away.
The 189 rooms are spacious, clean, and modern, ranging in size from a studio to a two-room family suite. There are also 24 apartments on the grounds. Three-bedroom, two-bathroom apartments come complete with a fully equipped kitchen, living room, and furnished outdoor terrace.
Buffet and à la carte meals are served in the one on-site restaurant, while tasty pies can be had at Pizzahut. Craving a BBQ? You're in luck. There are plenty of grills set up beside Pizzahut that are for guests to use (for a fee) to cook meat provided by the restaurant. Be sure to book ahead, as these fill up.
Small bars are spotted throughout the property, offering snacks and drinks. The unique Robot bar serves drinks via a robotic arm.
The all-inclusive package includes three meals, snacks, soft drinks, and a variety of other drinks (including yummy smoothies). If you're looking to enjoy à la carte options or enjoy a turn at the self-BBQ, you'll have to buy an ultra all-inclusive package.
Book a dive at the resort's diving school, and you'll receive 25 percent off. A free shuttle takes guests to various beaches on the island as well as the capital, Willemstad.
Address: Weg Naar Street, Williborordus, Tera Kora, Caraçao
8. Sunscape Sabor Cozumel, Mexico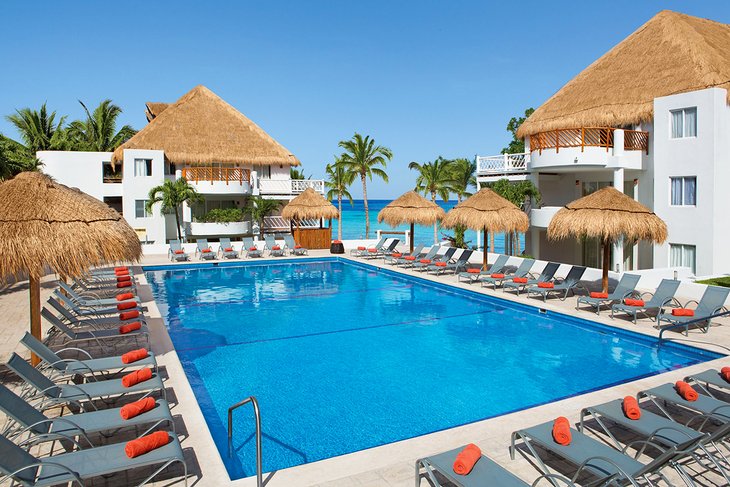 Accommodation: Sunscape Sabor Cozumel
A Mexican haven for beach lovers, Cozumel offers the sun, sand, and surf you're after at a price tag that won't make your eyes pop. While there, stay at the Sunscape Sabor, by far one of the best cheap all-inclusive Caribbean Resorts in Mexico.
Located a mere 15-minute drive from downtown, this vast resort has everything you'd need for a fun family vacation: five restaurants, a spa, kids' club, kayaks, paddleboards, volleyball, ping-pong, a fitness center, yoga classes, and nightly entertainment. Two outdoor pools are primed for every type of traveler: one is centered around being active, and the other is geared towards those looking to relax.
Traveling with kids? Book an Unlimited-Fun® package for the most affordable all-inclusive experience. You'll receive unlimited complimentary meals, snacks and drinks, mini-bar drinks, all water- and land-based activities, use of the Explorer's Club for Kids, live music, and other on-site entertainment. Kids are welcomed with treats and resort passports to make them feel even more special.
The Core Zone for teens is another highlight for families. It offers sports competitions, a hangout space, and guided bike tours to keep adolescents happily entertained.
Choose a room or suite with a pool, garden, or ocean view. They are all spacious, and no matter which way you face, the vista is serene. The suites come with a kitchenette.
Address: Carretera Costera Sur Km, Cozumel
9. Emotions Juan Dolio by Hodelpa, Dominican Republic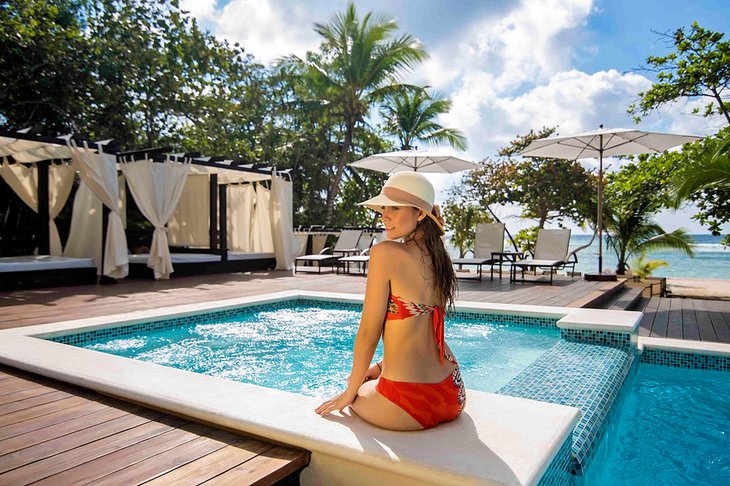 Accommodation: Emotions Juan Dolio by Hodelpa
Bright, clean, and contemporary rooms greet visitors to Emotions Juan Dolio by Hodelpa in the Dominican Republic. Free Wi-Fi makes getting online a breeze, but you won't really need it once you catch sight of the beautiful surroundings.
Looking to up the romance or perhaps just enjoy a little R & R? Head to the adults-only area for a quiet retreat free from shrieking kids. Rooms in this section include access to a private pool and Jacuzzi and are available only to those 18 and up.
Amenities include a fitness center, spa, water sports center, theater, disco, climbing wall, six pools (including the adults-only pool), a kids' club, and a pristine white-sand beach. When it comes to curbing your appetite, you'll have six restaurants to choose from.
Address: Calle Principal, Juan Dolio, Dominican Republic
10. Bahia Principe Grand Bavaro, Dominican Republic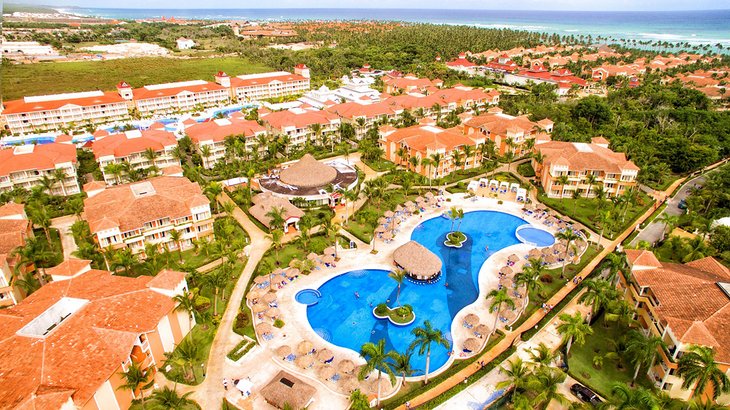 Accommodation: Bahia Principe Grand Bavaro
This cheap all-inclusive resort in Punta Cana is a wonderful spot to soak up the sun, sand, and surf, while protecting your pocketbook. A family-friendly retreat, the Bahia Principe Grand Bavaro is located on the soft golden sand of Bávaro Beach, and features two lake-style pools, a gym, and tennis courts.
As is the case with the other Bahia Principe resorts mentioned above, guests receive buffet meals; a variety of drinks; and three á la carte dinners each week, which must be pre-reserved (to be enjoyed while wearing "formal" attire). Also included is one hour's use each day of kayaks, tennis equipment, snorkel gear, and paddleboards.
Guests are also granted access to entertainment, relaxation services, and á la carte restaurants at sister resorts, Bahia Principe Grand Punta Cana and Bahia Principe Grand Turquesa.
Kids will love the Mini-Club and a variety of family-geared activities. Good luck getting them out of the on-site water park at the end of the day! When you get a break from parenting, head to the Bahia Spa for a relaxing massage (for an extra fee).
Once evening hits, put your feet up in one of the resort's 744 lush rooms, which feature a private balcony or a terrace.
Address: Arena Gorda-Macao, Punta Cana, Dominican Republic
11. Bougainvillea Barbados, Christ Church, Barbados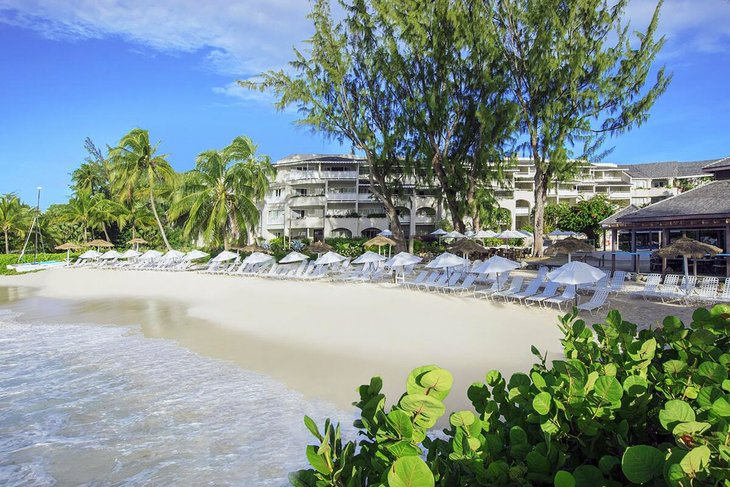 Accommodation: Bougainvillea Barbados
Bougainvillea Barbados is the place to be if you're looking for a high-class beach vacation at a reasonable price. Soak up the luxury in this gorgeous sanctuary set on the soft, white sandy shores of Barbados.
Not a fan of swimming in the ocean? No worries. There are three outdoor pools to enjoy, as well as a fitness center, spa, and two oceanfront restaurants.
Large balconies provide sweeping ocean views from spacious suites sporting chic furnishings and plenty of space to spread out. Or if you prefer to be active, head to the games room, play a game of table tennis, head out on a stand up paddleboard, or kayak.
The All-Inclusive Package grants guests a buffet breakfast, two-course lunch, afternoon tea, three course dinner, and beverages. Also included is access to the kids' club (for little ones aged 3 to 12).
Address: Maxwell Coast Road, Christ Church, Barbados
12. Dreams Punta Cana Resort & Spa, Dominican Republic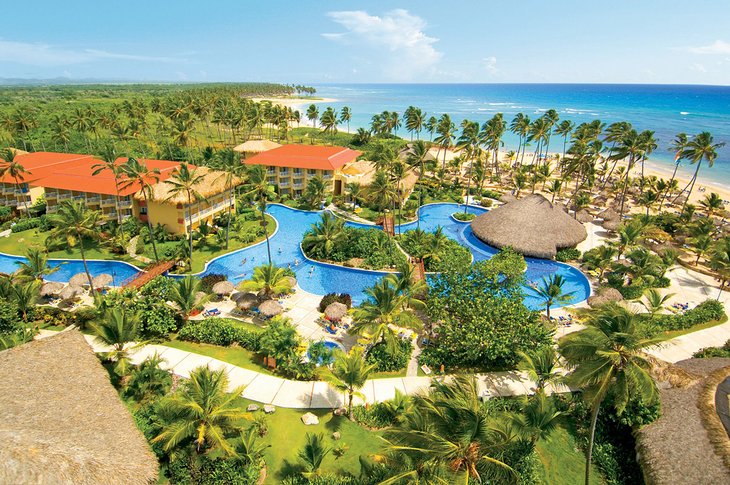 Accommodation: Dreams Punta Cana Resort & Spa
A stay at the Dreams Punta Cana Resort & Spa includes pretty much everything you'd dream of (sorry, we had to) for a perfect holiday in the Caribbean. The Unlimited-Luxury® Package means "nearly everything is included" for everyone, so there's no need to wander around sporting a tacky neon bracelet depicting your status.
In addition to a seemingly endless array of day and nighttime activities, this fun and relaxing spot includes à la carte gourmet dining options. There are nine "dining experiences" to choose from, so you'll be spoiled for choice. Guests also receive beverages, service by the pool and beach, mini bar items, and themed parties. Talk about a fab all-inclusive experience!
Kids will be happily entertained in the Explorer's Club for Kids or Core Teens Club while their adults spend time luxuriating on the beach, in the pool, or at the spa.
The 620 guest rooms are spacious and bright, which means you won't need to upgrade to a suite unless you're traveling with kids or hoping for some extra elbow room. They each include a private balcony and mesmerizing views.
Address: Playas Uvero Alto, Punta Cana, Dominican Republic