Where to Stay in Toronto: Best Areas & Hotels
For visitors interested in sightseeing, dining, nightlife, and visiting cultural attractions, the best place to stay in Toronto is downtown, in the vibrant city center. This is where you'll find the major attractions like the CN Tower, Scotiabank Arena, museums, great shopping, restaurants, theaters, and concert venues.
Many of the hotels, especially in the area right downtown, are connected to the underground PATH system. This is an extensive network of underground walkways full of great retail shops with the added bonus of sheltering you from Toronto's winter weather.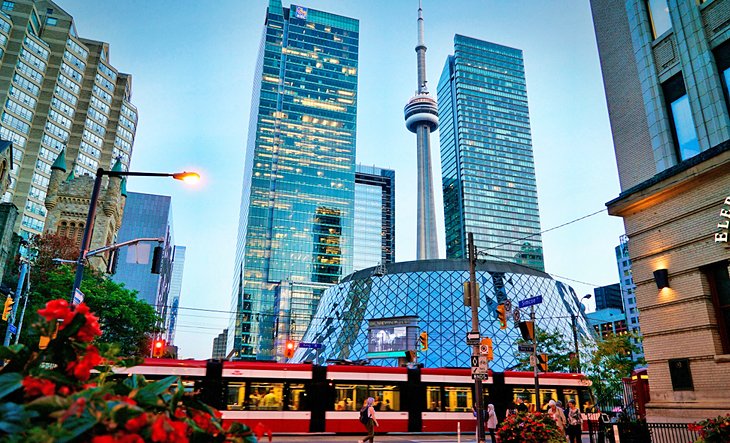 The Entertainment District: The most popular area to stay in downtown Toronto is in the Entertainment District. This is where people come to catch a Broadway show, go for dinner, see a concert, or enjoy sightseeing in Toronto. King Street runs through the heart of the district, which includes several streets and avenues between Spadina Avenue and University Avenue. This is also where you'll find the CN Tower and Rogers Center.
Hotels in the Entertainment District tend to be upscale. You can find mid-range options here, but the area just north of here has a better selection of these types of properties and offers the best value. Areas to the north are still nice neighborhoods, they are just slightly removed from the action.
King West Village: If you head west on King Street and cross Spadina Avenue, you will come to King West Village. This is a trendy neighborhood with good restaurants, several of which offer outdoor dining in summer, either along the street or on rooftop patios. You can walk to this area from many of the hotels on the west side of the Entertainment District.
Yonge-Dundas Square: If the main purpose for coming to Toronto is shopping, particularly if you are visiting in winter, you may want to consider finding a hotel close to Yonge and Dundas, near Dundas Square, also called Yonge-Dundas Square. This area is northeast of the Entertainment District and allows easy access to Eaton Center, downtown Toronto's huge indoor shopping complex. Dundas Square is Toronto's version of New York's Times Square, plastered with huge and brightly lit billboards, and always a lively spot.
The Harbourfront: In summer, the Harbourfront, which runs along the lakeshore in front of the Entertainment District, can also be a fun place to base yourself. Hotels set along the waterfront overlook Lake Ontario and the Toronto Islands. You can catch a ferry from here to the islands, take a harbor cruise, enjoy live entertainment in Harbour Square Park, take a walk along the waterfront, or dine on an outdoor patio.
Toronto has recently completed an extensive multi-year revitalization project along the Queen's Quay running right along the waterfront. Today the area provides excellent access to Lake Ontario and is alive with wide pedestrian walkways, new greenery, and streetcars.
Determining where to stay in Toronto may depend on your plans and budget, but there are plenty of options for couples, families, singles, and business travelers.
Where to Stay in Toronto for Sightseeing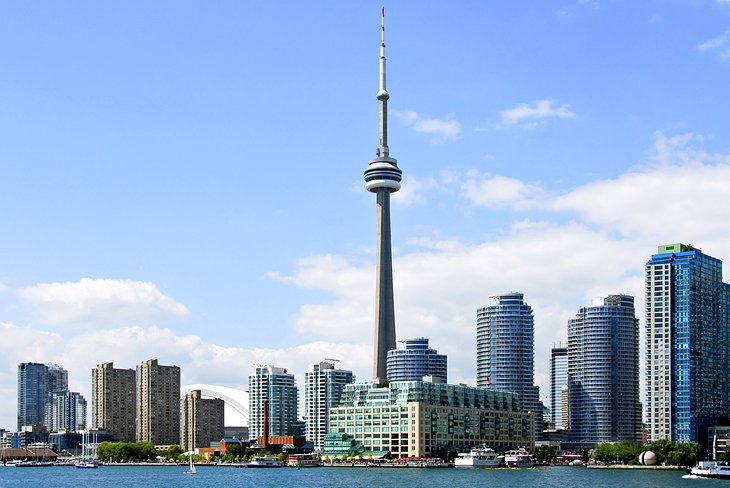 Most of the main tourist attractions are located in downtown Toronto, and many are within walking distance of each other. If you are in town for some general sightseeing, the best place to stay is in the heart of the city center, specifically in the Entertainment District or along Toronto's beautiful waterfront.
One of the most centrally located hotels for sightseeing is the Delta Toronto by Marriott. This new property, with large suites and tasteful décor, is just a half a block east of the CN Tower and Ripley's Aquarium and connected to the Toronto Convention Center and Union Station via the PATH system.
In the same vicinity, located along Front Street West, is the luxury InterContinental Toronto Centre. This hotel frequently offers special packages around holidays, like Valentine's Day, or the opening of new musicals and other events taking place in the city.
Particularly lovely in the summer is the Radisson Blu Toronto Downtown, set along a scenic section of the waterfront and still within easy walking distance of the CN Tower, Ripley's Aquarium, and Rogers Center. The hotel has one of the best outdoor waterfront pools in the city.
Farther east along the water, next to Harbour Square Park, the waterfront walking trail, and the Centre Island Ferry Dock, is The Westin Harbour Castle. Both of these are luxury properties with views out over Lake Ontario or to the CN Tower. The Westin has an indoor pool.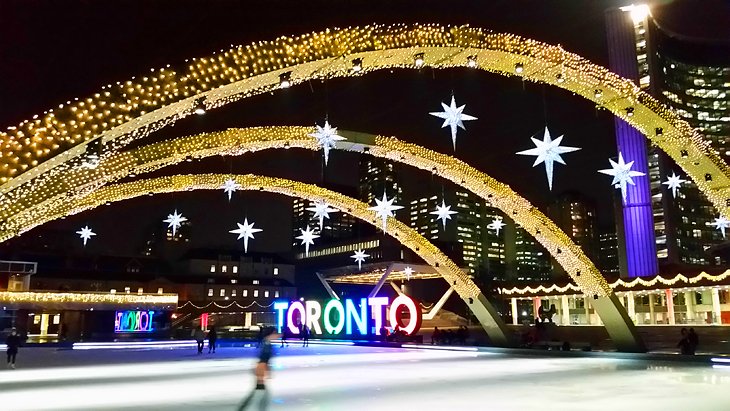 In winter, the Sheraton Centre Toronto Hotel is a good choice, directly across from City Hall and Nathan Phillips Square, a popular tourist area with an outdoor skating rink and the famous Toronto sign. Just down the street and within easy walking distance is Eaton Center, Toronto's best downtown shopping center.
Around the corner from the Sheraton is the Hilton Toronto, another top-end hotel. Both hotels are located in high-rise buildings, offer modern and comfortable rooms with fine views over the city, and have year-round heated indoor/outdoor pools.
Where to Stay in Toronto for Luxury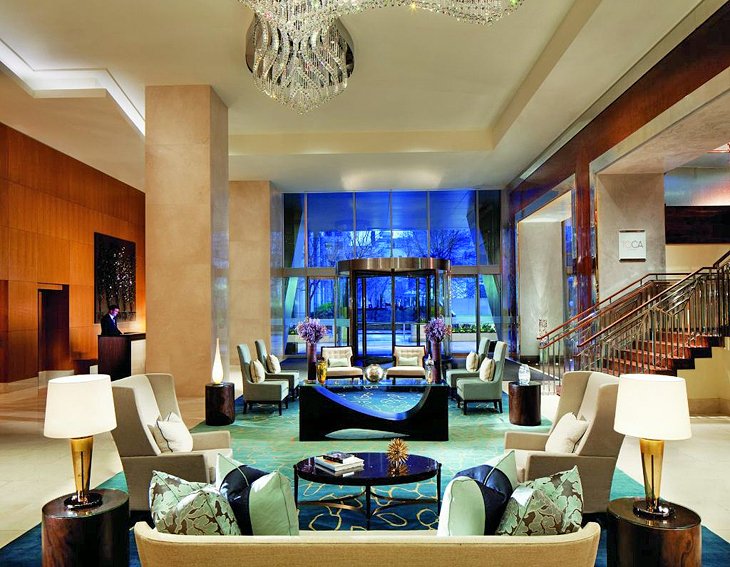 Toronto has no shortage of luxury hotels. Topping the list is the five-star The Ritz-Carlton, with a fantastic location just one block off King Street in the heart of the Entertainment District, and within easy walking distance of the CN Tower, Rogers Center, and Ripley's Aquarium. In typical Ritz fashion, the hotel offers elegant rooms and suites, outstanding customer service, a spa, and a choice of restaurants.
The Omni King Edward Hotel, more affectionately known as "The King Eddie," is a historic property, with grand rooms, high ceilings, and traditional décor. This luxury hotel, first opened in 1903 and underwent extensive renovations in 2014-15, returning it to its former grandeur while maintaining all the modern comforts.
Le Germain Hotel, Toronto Maple Leaf Square is a trendy luxury hotel near the Scotiabank Arena, the sports venue for the Toronto Maple Leafs and Raptors. If you are in Toronto to see a game, this is the best place to stay. Well-appointed rooms come in a variety of styles, from rooms with round beds to suites with balconies.
Where to Stay in Toronto for the Best Value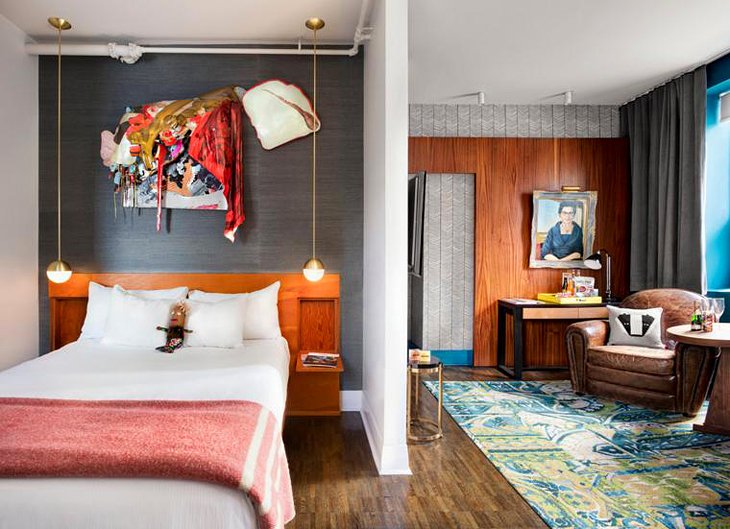 Mid-range and value hotels can be found in the city center and on the periphery. Prices vary considerably depending on the season and on events that may be happening during your visit.
The Drake Hotel is a funky hotel featuring contemporary art exhibitions. Uniquely laid out and decorated rooms come in a variety of themes and different price points. The Drake is west of downtown, on Queen Street West, in Toronto's Little Portugal neighborhood.
To the north of the city center but still within walking distance of City Hall is The Saint James Hotel, Ascend Hotel Collection, just a few blocks north of trendy Yonge Street and Dundas Square. This boutique hotel offers contemporary rooms, an on-site restaurant, and a business center. This is also a pet-friendly property.
The DoubleTree by Hilton Hotel Toronto Downtown is another good-value choice, with a prime location just north of City Hall. The hotel features modern and spacious rooms, as well as one-bedroom suites well suited for families. Family packages, which come with breakfast, are available.
Where to Stay in Toronto on a Budget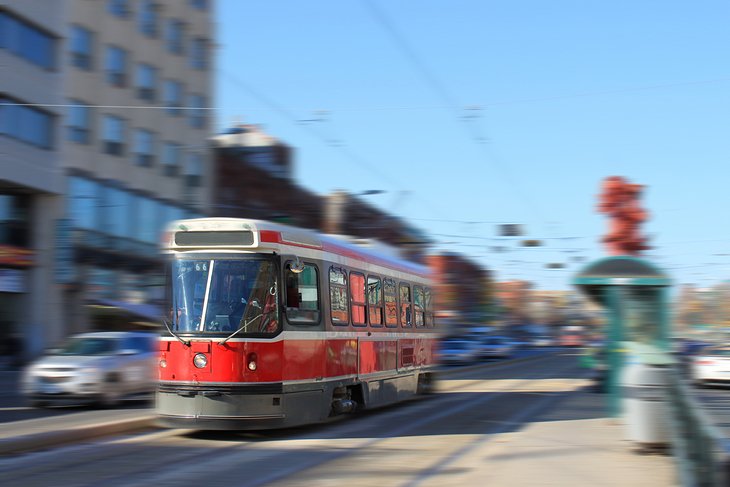 Budget-minded travelers can find reasonably priced accommodation around the edge of the city center or in the suburbs just outside of Toronto proper.
One of the best situated budget hotels in Toronto is the Super 8 Downtown Toronto. In Toronto's popular Chinatown, along Spadina Avenue, the Super 8 is within easy walking distance to good restaurants, and a long walk or a quick taxi or streetcar ride from the major attractions and the Entertainment District. Rooms are clean and comfortable and come with free breakfast.
With a good location on the northeast edge of the city center, near Ryerson University, the City Centre Hotel offers basic rooms at a reasonable price. If you have a vehicle, you might want to consider the Stay Inn, about 15 minutes from downtown. The hotel is close to the Queen Elizabeth Way (QEW), the main highway into Toronto's city center.
Where to Stay in Toronto for Dining & Nightlife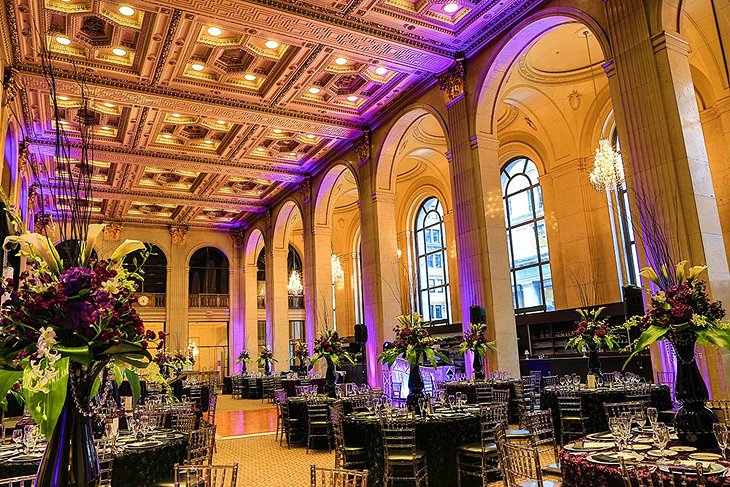 Many visitors come to Toronto to enjoy the theater and Broadway shows. Most of this action is found in Toronto's Entertainment District, which centers around King Street. This is where many of the big theaters are located, as well as all kinds of restaurants. You can also find several quality hotels in this area.
At the top of the list is the trendy One King West Hotel & Residence, named for its address and located at the corner of King Street and Yonge Street. This is a luxury hotel in an elegant, historic property, within walking distance of the Princess of Wales Theatre, the Royal Alexandra Theatre, and the Roy Thomson Hall symphony venue. This hotel and residence is designed for extended stays and features large suites with kitchenettes or full kitchens.
In a modern high-rise, just down the street a few blocks at 370 King Street West, is the Hyatt Regency, also within walking distance of these same venues. Contemporary rooms and suites offer views of the CN Tower and the city. The hotel also features an outdoor seasonal pool.
In the same vicinity, one block south of King Street, Le Germain Hotel Toronto Mercer is another luxury hotel, with a variety of uniquely designed rooms and suites, an on-site restaurant, fitness room, rooftop terrace, and even a putting green.
Where to Stay in Toronto for Families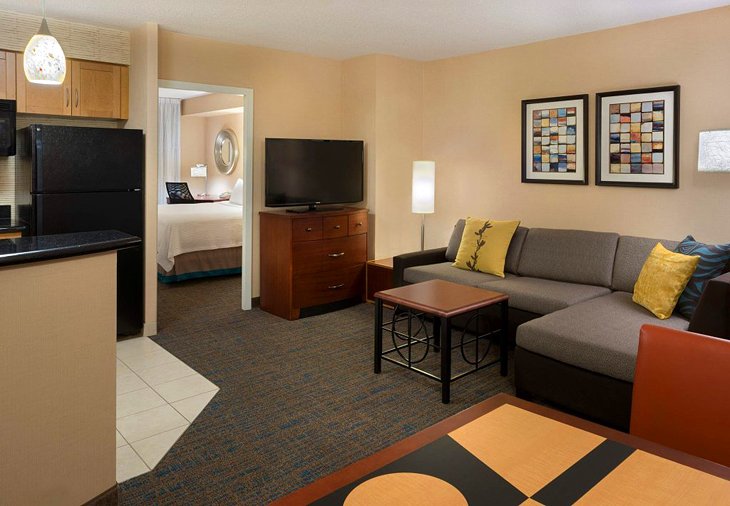 Families looking for more space, or suites with kitchens, can find a number of options in downtown Toronto. The Residence Inn Toronto Downtown/Entertainment District, in the Entertainment District and just a couple of blocks from the CN Tower, Ripley's Aquarium, and Rogers Center, is one of the top choices for families. In addition to its great location, this property features a pool and hot tub and offers large studios and one- and two-bedroom suites, all of which come with kitchens. Prices here are usually very reasonable.
Also well positioned is the Cambridge Suites, near City Hall and Nathan Phillips Square with its seasonal outdoor skating rink. While this is more of a business traveler's hotel, the spacious suites allow extra room that families can appreciate. This hotel does not have a pool but it does have on-site laundry facilities and a fitness studio.
In the Entertainment District, the Hilton Garden Inn Toronto Downtown has a variety of rooms and suites, complete with microwaves, fridges, and coffee makers. This hotel also has an indoor pool, fitness center, and restaurant.
Where to Stay in Toronto for Couples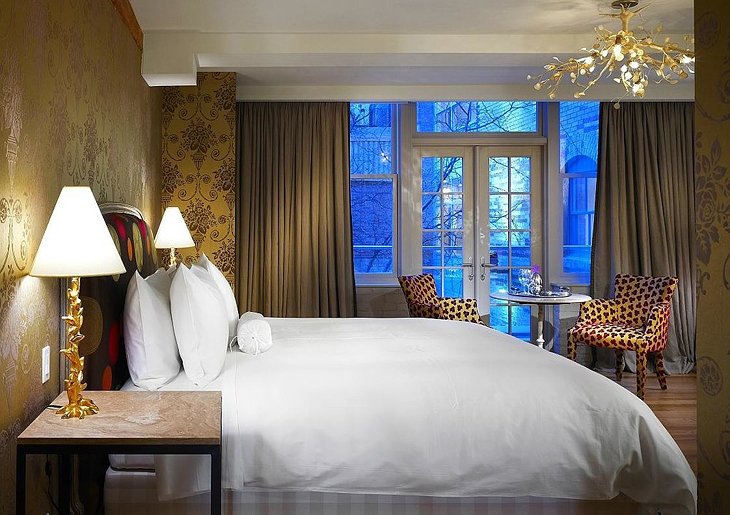 The two most romantic hotels in Toronto are without a doubt the Fairmont Royal York and The Omni King Edward Hotel. Both of these historic properties offer elegant, old-world charm and a romantic feel you just can't get at modern hotels. Located in the heart of downtown, both of these are luxury hotels, where you can pamper yourself with a massage or spa treatments and walk to many of the city's most popular attractions and fine restaurants.
Female travelers will appreciate a stay at the Ivy at Verity, a European-style boutique hotel set in a fully restored 1850s chocolate factory. The individually designed rooms feature heated floors, soaker tubs, outdoor terraces, and comfortable beds with hand-crafted Italian linens. Breakfast is included with the room.
The hotel is located in Verity, an exclusive women's business club, and many of the hotel's amenities including the pool, spa, and fitness facilities are female only. Men are welcome in the hotel rooms, common areas, the restaurant, and the lounge. Ivy at Verity is located on the east side of downtown, within walking distance of Eaton Center.
Where to Stay in Toronto near the Airport (YYZ)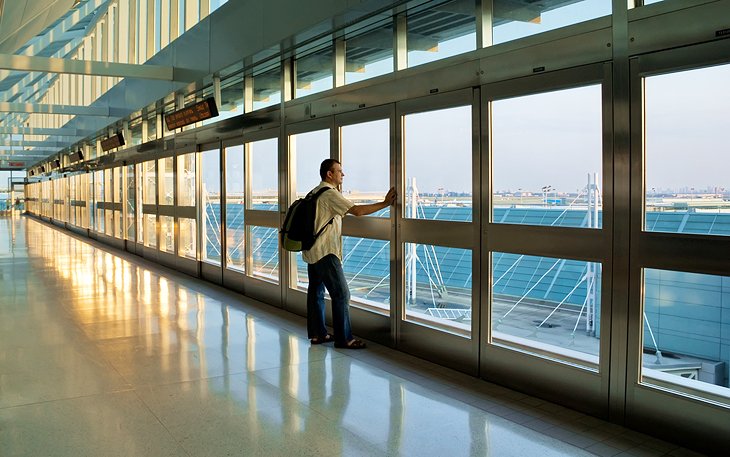 Toronto's Pearson International Airport (YYZ) is about a 25- to 35-minute drive from downtown Toronto, although much longer during the morning or afternoon rush hour. If you are only in town for a night and catching an early flight, you may want to base yourself near the airport. The area around the airport has a surprising number of excellent restaurants, and most of the hotels offer free airport shuttles. If you need or want to go to downtown while staying at the airport, the recently installed UP Express train service will whisk you to the heart of downtown in 25 minutes.
The most convenient choice is the Sheraton Gateway Hotel in Toronto International Airport. As the name indicates, the hotel is located right at the airport, offering a world of convenience for travelers. This luxury hotel offers spacious rooms and suites and features a restaurant and fitness center with a pool.
The Alt Hotel - Toronto Airport is a popular mid-range hotel located next to the Viscount Station, which is a car park and the end of the LINK train line with direct service to the airport terminals. Nearby is the Hampton Inn & Suites by Hilton Toronto Airport, another good-value hotel with a free airport shuttle and complimentary breakfast. Right next door are the Fairfield Inn & Suites and the Hilton Garden Inn, both with similar rooms and amenities.
Billy Bishop Toronto City Airport is a smaller airport located on Toronto Island, in Toronto's city center. If you are flying in or out of this airport, you can stay right in downtown Toronto.
More Related Articles on PlanetWare.com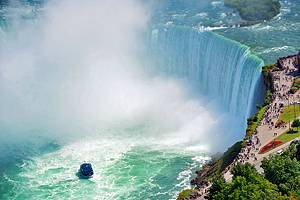 How to Spend Your Time in Toronto: See our guide to attractions and things to do in Toronto to plan out your days of sightseeing and fun in Toronto. There is much more to see here than just the CN Tower. If you can squeeze in time, consider taking a day trip from Toronto. At the very least, a trip to Niagara Falls should be part of your Toronto itinerary.