Where to Stay in Niagara Falls, Canada: Best Areas & Hotels
The most visited waterfalls in the world attract more than 12 million visitors each year, so travelers should stay as close as possible to the falls for fabulous views day and night. This means Fallsview Boulevard or nearby is the best place to stay. You will find spectacular high-rise luxury lodgings and comforts, mid-priced hotel packages, and more than 5,000 hotel rooms within walking distance of one of the world's greatest natural spectacles.
For last-minute trips or when high season fills the Fallsview hotels, the Lundy's Lane district is a good option and a great alternative for family or group sightseers. A quick bus ride to the falls on the WEGO transit system, this appealing area is alive with shops, eateries, museums, and stalwart chain hotels.
"Street of Fun by the Falls" as locals call Clifton Hill, is the area for themed dining options; exciting, carnival-like attractions, such as the Niagara SkyWheel and Movieland Wax Museum; and close to Hornblower Boat Tours, taking wide-eyed visitors on tours directly to the falls. Niagara Falls is a very walkable Canadian resort destination, so travelers are never far from the excitement of these astounding waterfalls and a legion of other fun distractions.
Where to Stay in Niagara Falls for Luxury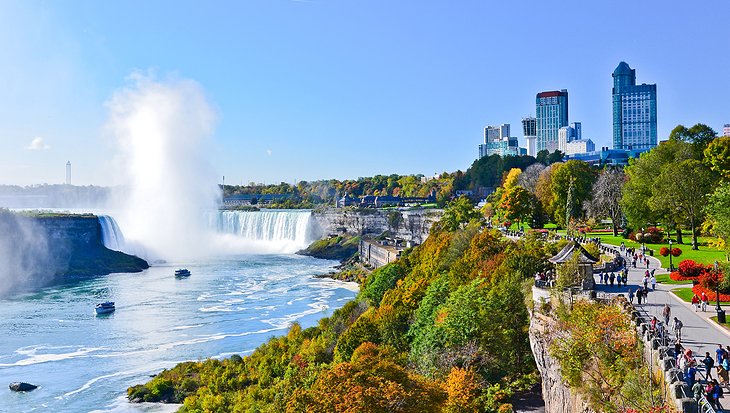 Niagara Falls Marriott on the Falls has the ideal location in the Fallsview Boulevard district and boasts a 15-million-dollar upgrade. The WEGO tram to the Niagara Falls Visitors Centre at Queen Victoria Park stops immediately outside this palatial 345-room structure.
Jaw-dropping views of the frothing falls dominate the suites here, supplemented by exquisite cuisine, five-star service, and a full menu of comforts easily satisfying clients who demand superior quality.
Sheraton Fallsview Hotel recently underwent a $50 million renovation that also included a name change from Sheraton on the Falls. The property boasts stunning views of both waterfall cataracts: Horseshoe Falls and the American Falls. On nights when fireworks light up the sky or in winter when the waters freeze into frozen sculptures ricocheting lights, it is particularly magical.
The rooms and suites are modern and comfy and come with either falls or city views. The top rooms have balconies facing the falls. If you are traveling with kids, there are family rooms available as well.
Amenities here are also plentiful. The on-site restaurant, Massimo's serves Italian fare and is popular with locals and guests alike. There is also a full spa and a seasonal rooftop swimming pool. Guests also have direct indoor connection access to the Fallsview Indoor Waterpark and multiple other dining options.
Radisson Hotels & Suites Fallsview is located in the southern falls area, slightly away from the crush of crowds. The efficient WEGO transit system has a stop outside this hotel, so leave the car and let someone else do the local driving.
The beautiful pool and fitness complex features a whirlpool, hot tub, and workout room, while five-star staff rise to the occasion with professional suggestions, directions, and authentic efforts to make your stay special.
Where to Stay in Niagara Falls for the Best Value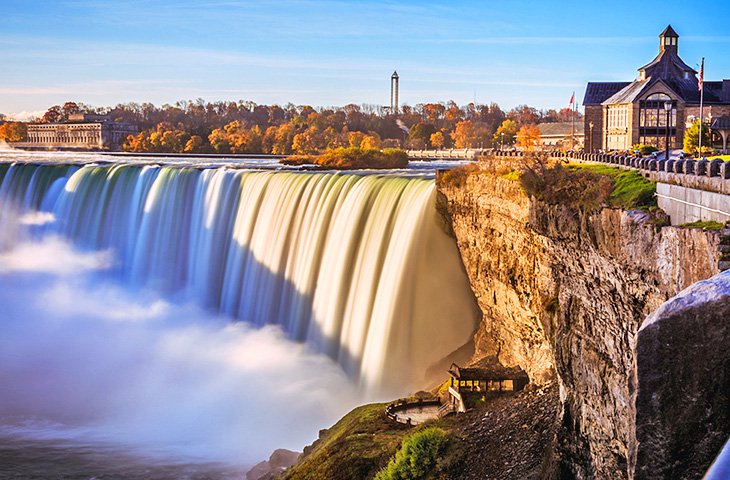 Embassy Suites by Hilton Niagara Falls Fallsview Hotel is literally 100 yards from the falls, allowing guests to walk to the precipice of Horseshoe Falls at Table Rock, into an elevator, and descend through a tunnel to witness the gigantic subterranean tempest of falling waters. As the name suggests, some rooms have incredible views over the falls, or you can see the falls from The Keg restaurant in the hotel. Two-room suites allow families to bunk down together, stocking their fridge with goodies while enjoying two televisions with in-room movies.
Americana Resort, located directly on Lundy's Lane, is a short WEGO bus ride to the falls. An enticing place for families with tiny children, or anyone who enjoys a waterpark and wave pool, this resort presents clean rooms, excellent spa services, and plenty of local dining options topped by a service team to remember.
Courtyard by Marriott Niagara Falls is a neighbor of the popular Ripley's Believe It or Not! attraction and the Niagara SkyWheel, where this family-oriented hotel fills 163 non-smoking rooms and 95 suites on 10 floors.
It features a popular steakhouse and prepares patrons for busy days of sightseeing with a delicious breakfast buffet. The pool, spa, and fitness gym are an additional bonus at this site overlooking Clifton Hill's amusement district.
Where to Stay in Niagara Falls on a Budget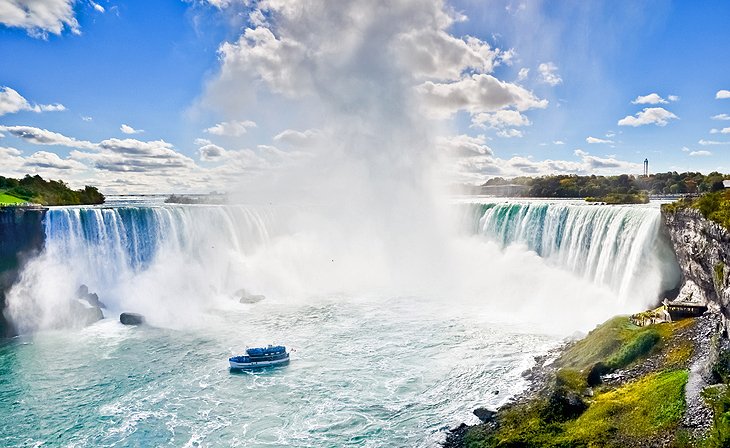 Days Inn & Suites - Niagara Falls Centre St. By the Falls overlooks the entire line-up of amusements on Clifton Hill, with Horseshoe Falls as a visual backdrop. The price point attracts returning visitors hungry to save, but it's the location and amenities that make guests lifelong patrons here. The hotel features a pool and complete fitness center, and the rooms come with fridges, microwaves, king or queen beds, and free Wi-Fi.
Country Inn & Suites by Radisson has a heavenly spread of accommodations, ranging from inexpensive family units to plush king bed suites for romantic couples. It is located near Clifton Hill, immediately off the Rainbow Bridge from the US side of the falls.
A large indoor pool and hot tub heads a full list of comfort features, extending to in-room fridges and microwaves and a full breakfast buffet included in their good-value pricing.
Where to Stay in Niagara Falls for Families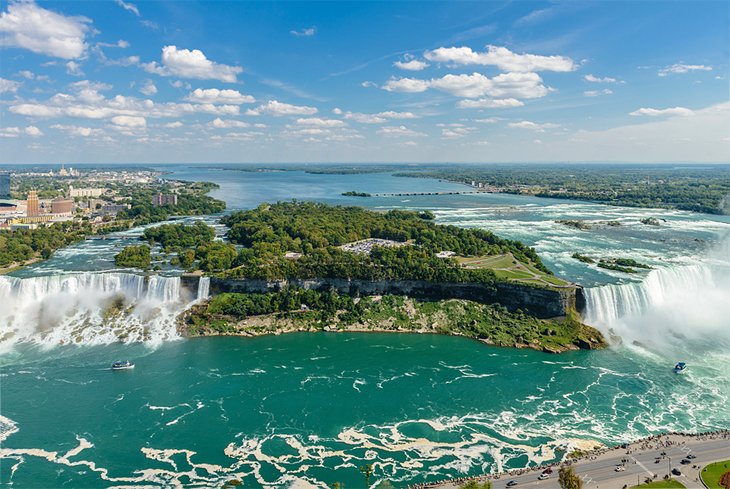 The most entertaining hotel for kids who like to swim or splash is the Great Wolf Lodge, featuring its own giant indoor water park, which is free for guests, with plenty of slides, splash pools, and even organized kids activities. The resort is just over three miles from Niagara Falls, across the parkway from the Niagara River.
Parents will love the all-suite lodging. These come in various themes and can sleep up to six people in the most basic of the configurations. Try the KidKamp Suite, which features a tent-themed sleeping space complete with bunk beds for the kids and a queen bed for the adults. There are also multiple restaurants on-site that are affordable and keep the entire family satisfied.
If the kids are begging to stay as close to the falls as possible then book the Niagara Falls Marriott Fallsview Hotel & Spa, which is as close to Niagara Falls as hotels get. This four-star property offers clean and comfortable rooms (although still relatively chain-like in their looks) but you are paying for the stunning views of the waterfalls from the oversized windows. For families there are family rooms, as well as suites to choose from. There is also a restaurant on-site and a swimming pool, fitness center, and spa.
The Rex Motel is a great-value family hotel, just a few minutes' drive from the falls and the Skylon Tower Observation Deck. This old school motel is still family run, and each room is slightly different in its decor. All are accessed via exterior corridors and come with kid-friendly amenities like mini-fridges and microwaves.
There is also a suite that can sleep up to five. Parking is free, but the hotel offers few other amenities. That said, if you just want a wallet-friendly and comfortable sleep, it's worth booking.
Where to Stay in Niagara Falls for Romance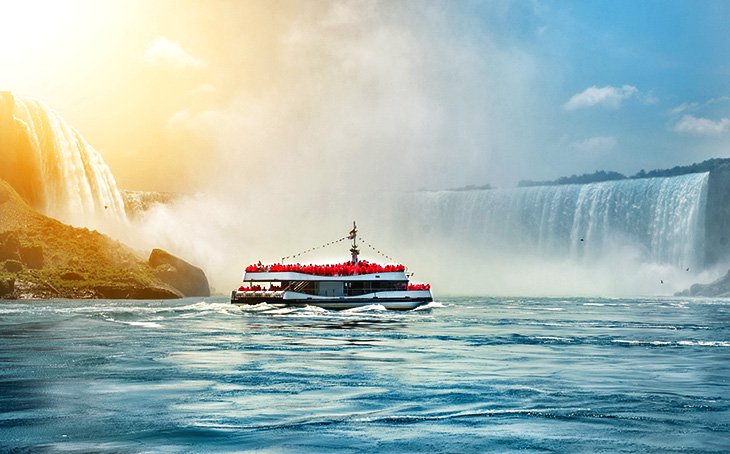 Sterling Inn & Spa attracts faithful repeat clients as a crossover between a boutique property and a more traditional inn. Hide away from the crowds inside this former dairy, just minutes from the sightseer crush, while enjoying the deluxe surrounds, fine cuisine, and hip urban setting.
Breakfast (included) will be discreetly delivered to your room, replete with French-press coffee, eggs, and homemade yogurt, while you and your amour plan a day of slothful comforts at their legendary spa, or sightseeing while strolling to one of numerous nearby restaurants for a delicious nosh.
DoubleTree Fallsview Resort & Spa by Hilton is at the very heart of what makes Niagara Falls such a magnetic global destination. Overlooking Horseshoe Falls in 52-stories of luxurious and well-appointed suites, this captivating address is also one block from the mammoth Skylon Tower, with a stunning revolving restaurant high above the Niagara Gorge. The on-site restaurant, Buchanans Steak & Seafood, is also well respected and serves aged, hand-cut steaks.
After dinner, meander along River Road to Hornblower Boat Tours to launch yourselves on Canada's most iconic tour. Then, retreat to the posh privileges of a hotel steeped in the tradition of pampering guests' every desire.
The Oakes Hotel Overlooking the Falls beckons with their couples packages to a dreamy locale literally in front of the Niagara Falls Incline Railway, giving visitors awesome views of Horseshoe Falls on their way to the "Bridge of Flowers" pedestrian walkway. Occupying the most central address on Fallsview Boulevard, this newly renovated hotel boasts amenities to soothe, nourish, and entertain beyond expectations.