Where to Stay in Montréal: Best Areas & Hotels
Three major sightseeing districts of this beautiful island city beckon travelers: Old Montréal (Vieux-Montréal), Downtown (Centre-Ville), and Plateau Mont-Royal. Each is easily accessible via bus, Métro (subway), or walking, and lighthearted locals often refer to their "BMW" city.
For first-time travelers, whether you are on a family or romantic vacay, the best place to stay in Montreal is Old Montréal (Vieux-Montréal) to soak up the historic character. This area is home to great shopping, dining, and major attractions, and it is easily explored on foot. City tours often meet here to begin sightseeing excursion, for this was the starting point for Europeans - the "New World," where 16th- and 17th-century explorers first settled. Stunning period architecture remains integral to the experience here. Chinatown is nearby, where you can find a selection of cheap hotels and other budget accommodations, including hostels.
The original "Habitant" settlement stone walls (fortifications circa 1738) may be viewed behind Old City Hall and the waterfront in Old Montreal. Even world-famous Cirque du Soleil loves this area, introducing new shows in their distinctive yellow and blue tents at the Old Port.
Where to Stay in Montréal for Luxury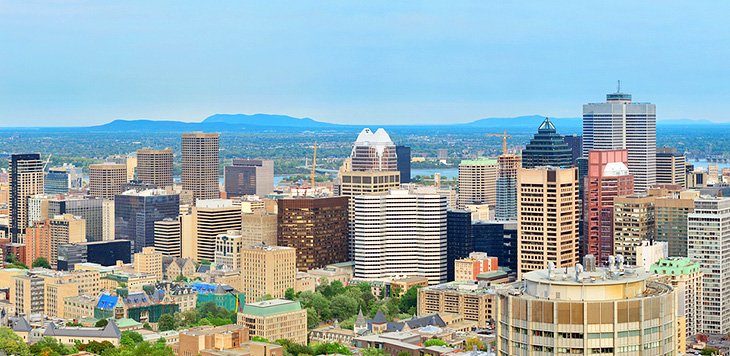 Without a doubt the most spectacular of Old Montreal's lodgings is Hotel Le Saint-James, often requested by visiting stars such as The Rolling Stones, Bono, Hugh Grant, etc. Each sumptuous suite is different in this former bank building, and the furnishings and wall decorations are equally stunning, while the culinary offerings, spa options, and general opulence make it feel like you've stepped into a novel.
Capture downtown five-star service by booking your hotel stay at the newly renovated The Ritz-Carlton, Montreal, ideally located in the Golden Mile, near Le Musée des Beaux-Arts. Bragging rights abound if you overnight here, where comfort reigns and the cuisine is dreamy. A 24-hour rooftop saltwater pool beckons, and the terrace overlooks the city and mountains. César Ritz would be duly impressed with this newest version of his first North American hotel.
Le Mount Stephen, the newly launched luxury hotel sensation built inside a stately English manor house, carries on a lengthy tradition of attracting a who's who of visitors. Once a private club for power brokers forging a new nation, this same downtown address now acts as a comfort zone for the millenials' elite investors, sports champions, and entertainment kings and queens.
Automation meets traditional luxury here, with the latest technology highlighting 90 rooms and suites with floor-to-ceiling windows throughout plus Cura chromatherapy rainfall showerheads, an on-site spa, 24-hour gym, British-inspired dining room, limo availability, and pet-friendly philosophy.
Where to Stay in Montréal: Mid-Range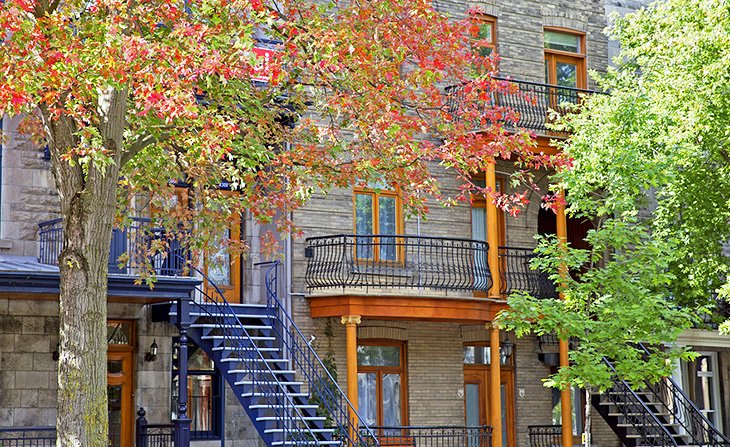 Dollar-for-dollar, Hotel Nelligan in Old Montreal hands travelers remarkable value in a city of intense hotel competition. Named after Poet Laureate of Québec, Émile Nelligan, this 44-room boutique luxury hotel captures the essence of Old Montréal, while suites and hallways display his original poetry.
A rooftop terrace overlooks an active port life, and two great eateries vie to thrill your palate. Ask about their breakfast and parking package (very important in parking-starved Old Town) and watch horse-drawn calèche (carriages) slowly pass along cobblestoned Rue Saint-Paul.
Hotel Le Germain Montreal stands out as one of the few downtown chain hotels sympathetic to female travelers, providing extras appreciated by all guests: abundant fresh cut flowers, top tier bathroom lighting, fresh fruit bowls, sensitized staff training, and famous gourmet dining. At the core of Rue Saint-Denis and surrounded by both the Quartier Latin (Latin Quarter) and the Quartier Plateau du Mont-Royal (aka Le Plateau), the hotel offers unique and intriguing accommodations.
Hotel de l'ITHQ is the hotel school where the UK's Prince William and his future Queen, Kate Middleton, stayed in Montreal. Located across from historic Carré Saint-Louis, this designer building offers travelers a menu of delights, starting with comfortable, artsy rooms and gourmet dining overlooking the park. If you book a south-facing room, the July International Fireworks Competition is visible from your balcony. Standards here are high, and the clientele benefits from supporting students entering their chosen vocation.
Where to Stay in Montréal on a Budget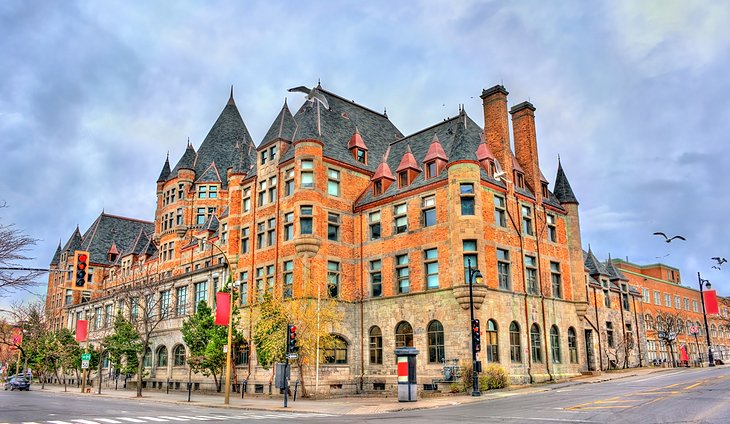 For something completely different, go to the corner of René-Levesque and Saint-Lawrence (The Main), where you should book into the Hotel Zero1, literally at Ground Zero of the interactive playground Montréal is known for with hip-hop, virtual reality, and live music aficionados. This contemporary high-rise is near the world's largest jazz festival (Guinness ranked), new Montréal Symphony House (at Place des Arts), and legendary live music venues Club Soda, Metropolis, and Monument Nationale.
Chinatown is modest here, and so is the Hotel Travelodge Montreal Centre price tag, but what it lacks in frills, it makes up for in location at the edge of Old Montréal, the Entertainment Quarter (Quartier de Spectacles), and bustling Saint Lawrence Street (aka The Main).
Another budget option is Hotel l'Abri du Voyageur in Montreal's Entertainment Quarter (Quartier de Spectacles), which offers a range of room styles. The cheapest rooms share baths but come with free Wi-Fi. They are also tidy and quaint with exposed brick walls and hardwood floors. There are also studio apartments with kitchenettes that work well for families. A continental breakfast is included in the rate.
Where to Stay in Montréal for Couples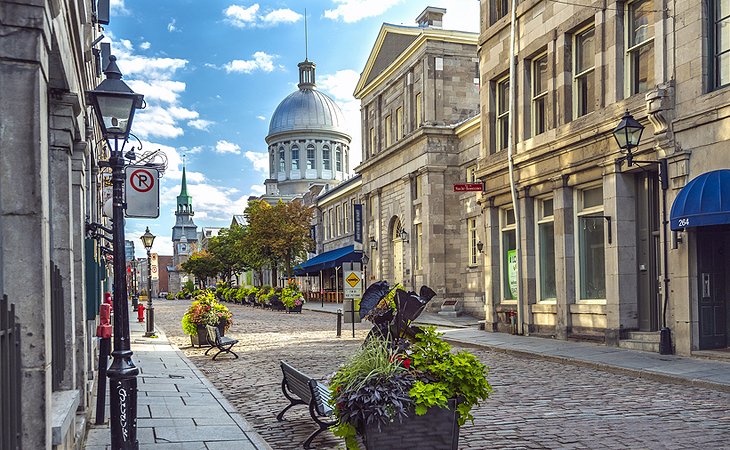 There is no more amorous locale in Montréal to snuggle up with your significant other than Old Montreal (Vieux-Montréal). Competition is therefore stiff for visitor's patronage, but travelers are the beneficiaries, as hoteliers extend every courtesy and service in hopes to be remembered.
Take for example Hotel Place D'Armes, located at the heart of Old Montréal, overlooking both Square Place D'Armes and Basilica Notre-Dame, two of the most history-filled addresses in Canada. Wake to the mythical bells of the cathedral, savor the clip-clop sounds of horse-drawn calèche (carriages) atop cobblestone streets, and luxuriate in the trappings of a hotel crafted for romance.
Sensations abound, too, in newer surrounds at Le Saint-Sulpice, a regular haunt of film stars, the F1 Grand-Prix set, rock stars, and fashion queens. Long-stay offerings, five-star service acumen, and the best-kept secret dining gardens in the city add up to a menu of pleasures for romantics of any stripe.
Elizabeth Taylor and Richard Burton made The Ritz-Carlton, Montreal the standout lovers' destination it remains in Montréal's Golden Mile District of downtown, along trendy Sherbrooke Street West. The Ritz is completely rejuvenated, from furnishings and spa treatments to original art and digital tools, to attract yet another generation of discerning patrons.
The mammoth breakfast buffet should not to be missed, afternoon tea in the Ritz Garden is the stuff of legend, evening dining at Maison Boulud is incomparable, and the Dom Perignon Bar in the Palm Court speaks to a singular level of romance Taylor and Burton would have appreciated.
Where to Stay in Montréal for Families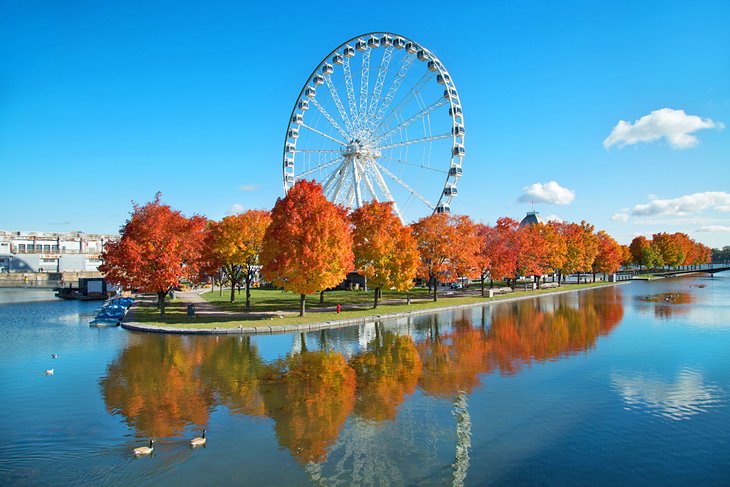 Loews Hotel Vogue might not sound family friendly - it pays homage to Vogue magazine with vintage posters on the walls and a retro chic design - but this is one of the top hotels for kids in Montreal. Upon check-in small children are given an activity book, and parents can also arrange to borrow Fisher-Price toys, games, night-lights and even car seats and child-proofing kits. Cribs are also available. Away from the rooms, you'll find a chic French bistro with indoor and outdoor seating, a spa, and a workout room.
Hotel William Gray is a wonderful family-friendly boutique hotel choice right on the Place Jacques-Cartier in Old Montreal's heart. The hotel features comfy rooms and suites, with custom art hanging from walls and luxe amenities like Nespresso machines, Bang & Olufsen speakers, and rainfall showers.
Families will like the suites with separate living space best. There is an outdoor swimming pool, spa, and gym on-site. You can also choose to dine at the house restaurant or cafe, and room service is available 24 hours a day.
In a central downtown location, Le Square Phillips Hotel & Suites is very family friendly. Choose from studio or suite accommodation, both of which come with kitchens. The suites are larger, however, and their sleeper sofas make them a better bet for families with children older than infants. Amenities include an indoor rooftop swimming pool and sundeck. Breakfast is also free.
Hotel Le Crystal is another family favorite in a great location just one block from the Bell Centre on the Golden Mile. It offers polished suites that are clean and spacious with separate work areas, living rooms, and kitchenettes with upgraded appliances like Nespresso coffee makers. The best suites also feature fireplaces for chilly winter nights, and city views from furnished balconies.
Make sure to ride the elevator to the 12th floor rooftop to experience the indoor saltwater swimming pool, Swedish sauna, and an outdoor hot tub with city views. There is also a Thai restaurant on-site.
Where to Stay in Montréal near the Airport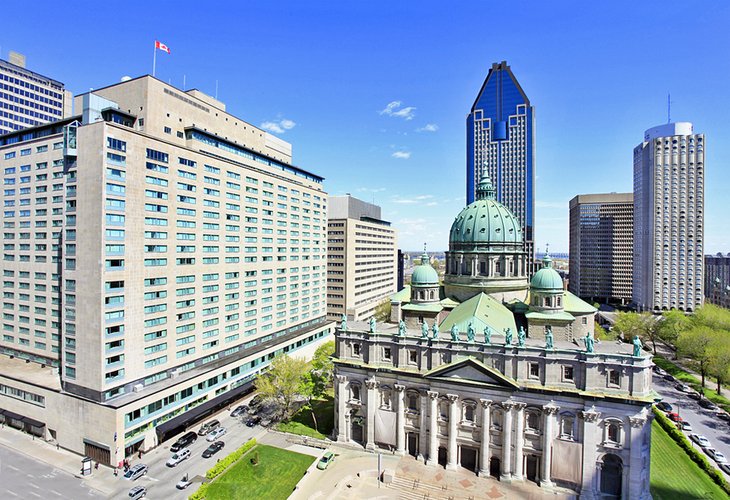 If you have an early morning flight to catch or are arriving late at night, staying near Montreal's Pierre Elliott Trudeau International Airport (YUL) makes sense.
The Montreal Airport Marriott In-Terminal Hotel is as close as it gets. The hotel is actually located inside the U.S. departures terminal, so you can clear customs the night before and just hop right onto your flight the next morning.
This 4-star property offers a range of modern rooms and suites. If you are traveling with kids, book one of the interconnected rooms. The property has an indoor swimming pool, on-site spa, and a restaurant among other amenities.
The Sheraton Montreal Airport Hotel is also located right by the airport and offers free transportation to and from it. This upscale hotel has nicely decorated rooms and suites and offers room service if you don't feel like leaving them. The hotel also is pet friendly if you are traveling with a dog. Other amenities include a swimming pool, restaurant, spa, and fitness center.