Where to Stay in Kelowna: Best Areas & Hotels
A unique microclimate gives Kelowna and the Okanagan Valley world-class fruit orchards on either side of Lake Okanagan. The best place to stay in Kelowna is in the city center, near the lake, Rotary Beach, and artsy Bernard Avenue, where the best hotels in all categories are found.
Whether enjoying a luxurious romantic interlude, boisterous family walk along Mission Creek Greenway, a group conference retreat, or solo ski adventure, Kelowna is the perfect base to savor the many delights in Central British Columbia. Drive, fly, catch a train, or boat your way to the valley's largest city, but experience Kelowna's warm and inviting hospitality without delay.
Where to Stay in Kelowna for Luxury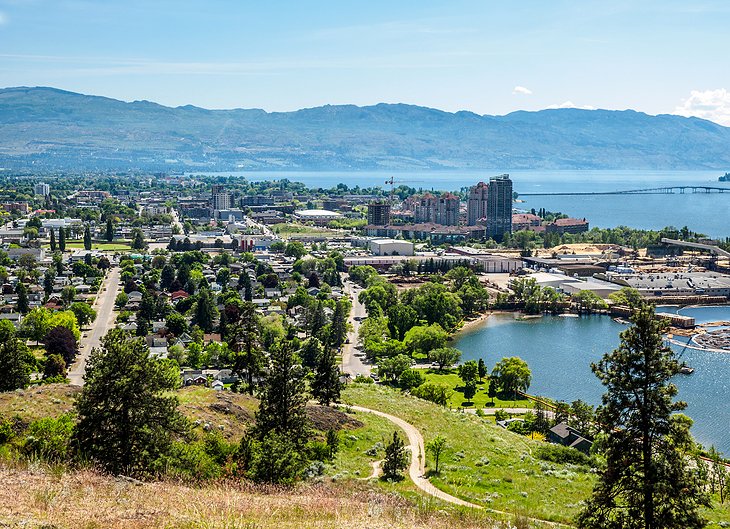 The Royal Private Residence Club has a private peninsula in the city center, overlooking Lake Okanagan, near trendy Bernard Avenue boutiques, cafés, artisan shops, and curiosities. Sumptuous bedrooms and spacious balconies soak in the surrounding spectacle of mountains, lakes, and orchards.
A rooftop infinity pool overlooks the marina and beach next door, and a fully equipped fitness center and spa offer a complete package of nourishing treatments and amenities on-site. Four in-house dining options spoil patrons with locally grown produce.
Delta Hotels by Marriott Grand Okanagan Resort boasts a complete upgrade to all 262 rooms and suites of its city center locale. Some of the most spectacular views of Lake Okanagan and valley orchards may be enjoyed here, while the on-site spa, fitness center, heated pools, and service staff are legendary.
Guests may easily walk to waterfront parks and attractions, plus the revamped Bernard Avenue, where boutique shops reign and dining options abound.
Manteo Resorts - Waterfront Hotel & Villas offers guests a breathtaking view of the mountains and Lake Okanagan from all the rooms, suites, and villas, plus a spectacular outdoor patio on the waterfront just south of the city center.
Floor-to-ceiling windows continue the outstanding visuals, while the range of quality amenities may turn you into a long-stay client. Ultra-plush bedding, flat-screen TVs, private balconies, and complimentary shuttles to the airport, city center, and the Orchard Park Mall add to the feeling of exclusivity.
Where to Stay in Kelowna: Mid-Range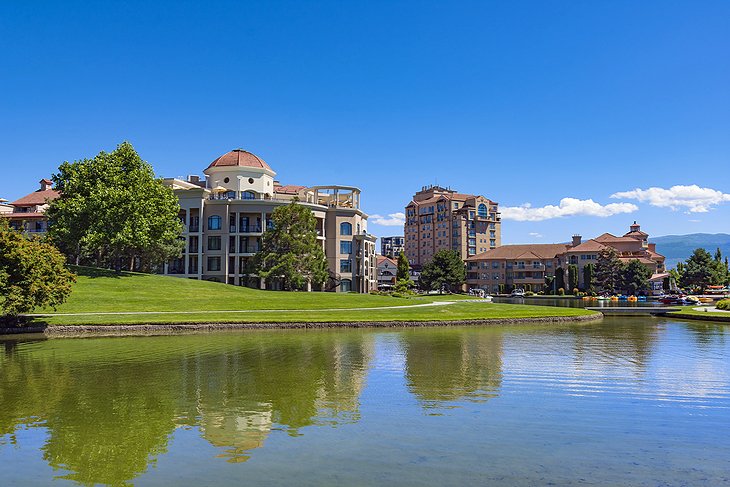 Hotel Eldorado is one of the top price deals in town, thrilling guests with a waterfront location overlooking Mission Creek as it empties into Lake Okanagan south of the city center. Home to one of the most scenic spectacles in Canada, this hotel has a storied legacy of hospitality, welcoming Olympic athletes, statesmen, artists, and common folk alike since 1926.
One block from the popular walkway Mission Creek Greenway, the property also adjoins Rotary Beach and offers marina facilities to private boats.
Best Western Plus Kelowna Hotel & Suites is famous for its huge indoor pool and an inner courtyard equipped with barbecues and hot tubs. Free airport shuttles and daily breakfast complement quiet rooms, and the service staff is impeccable.
Pet-friendly with free Wi-Fi, this building is a neighbor to the Mission Creek Regional Park. Free parking, an on-site spa and conference center, plus a family restaurant and room service complete this award-winning, environmentally conscious location.
Prestige Beach House sits across from Hot Sands Beach in the city center and invites guests staying in their 67 well-appointed, air-conditioned rooms to borrow beach toys, cruiser bikes, and board games. A walk to Prospera Place arena nearby or the Bernard Avenue curio shops, this family-run hotel is also minutes to 18 golf courses, hiking trails, swimming, and boating fun, and gives travelers easy access to touring Lake Okanagan on both scenic coasts.
Where to Stay in Kelowna on a Budget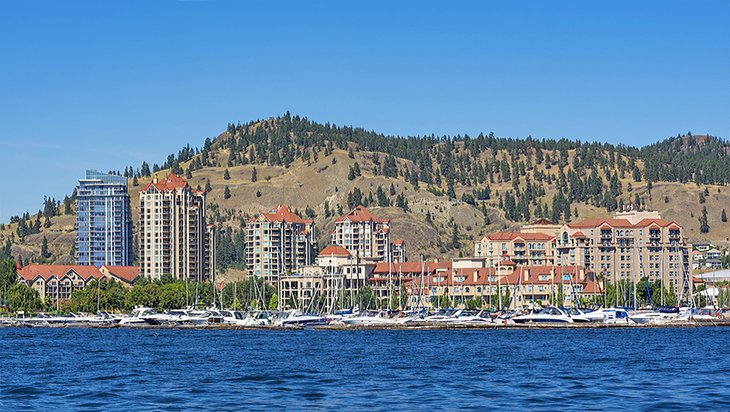 For a modest price, Accent Inn Kelowna offers free parking and Wi-Fi, a fitness center, and pool near all city center attractions. A short walk to Bernard Avenue gives shoppers access to a newly launched boutique district. Comfortable bedding and quality bathroom amenities complement full kitchens with fridges, microwaves, and kitchenware. The pool and fitness center on-site make this an attractive option for the budget conscious.
Comfort Suites Kelowna has an award-winning service team welcoming guests to its convenient location on Highway 97 just east of the city center. Vacationers are attracted by the free breakfast, complimentary Wi-Fi, and no-charge parking, but this newbie hotel has a full package of assets available to guests beyond the attractive price point. A splash pool, gym, hot tubs, business center, and self-serve laundry all add bonus points for this popular chain.
Siesta Suites makes its mark with nomads from a location south of the city center, where wanderers may stroll to the nearby Gyro beach or swim on-site indoors or out. Fully equipped kitchens head amenities at this all-suite property, with a sauna, fitness center, patios, and green space allowing a level of relaxation welcomed by families, groups, couples, or single travelers.
Stroll through the nearby charming neighborhood with its shops, attractions, and entertainment venues that make this area so much fun to visit.
Where to Stay in Kelowna for Families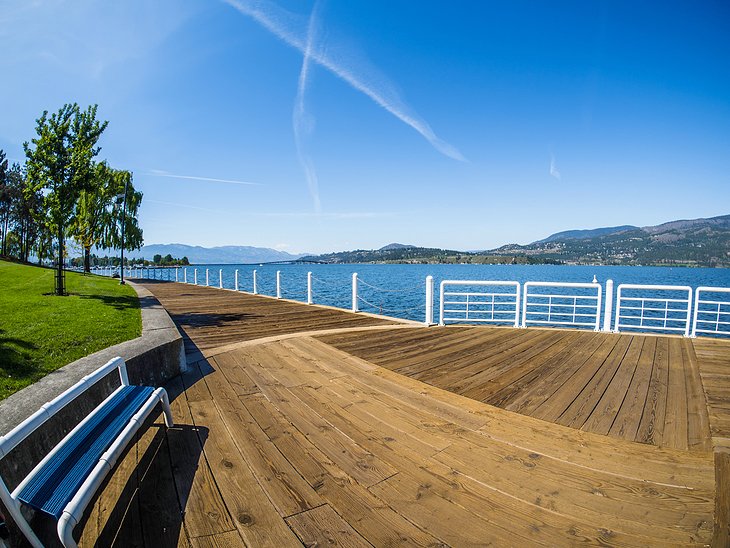 Kanata Kelowna Hotel and Conference Centre is east of the city center on Highway 97, across from Mission Creek Regional Park. The hotel is minutes from championship golf courses, hiking trails, boating fun, and fruit orchards, and you can enjoy the stunning winter sports available locally.
Free breakfast begins your day, while complimentary Wi-Fi keeps the gamers in your clan happy, and the fitness center, gym, pool, and kids' programs offer active diversion while parents relax. Clean rooms and suites are well-appointed, the underground parking is a bonus in the winter, and the staff is courteous.
With bright, colorful rooms and a retro 60s vibe, Hotel Zed Kelowna is a vibrant budget-friendly choice for families. Kids can complete a list of fun activities to enter the draw for a monthly prize, including using an old-fashioned typewriter, listening to the vintage vinyl record collection, playing ping pong, and using an old rotary-dial phone.
Other perks include a hot tub, free use of Zed bikes, and the mini-disco. The two-bed rooms with kitchenettes and the suite with a full kitchen are great for families.
Where to Stay in Kelowna for Romance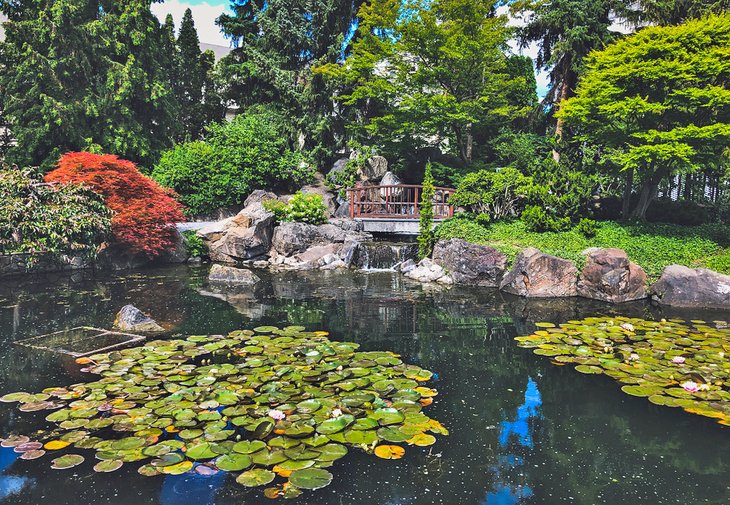 Coast Capri Hotel offers a picture-perfect starting point for romantic walks to nearby Lake Okanagan or the newly updated Bernard Avenue shopping district. On-site spa treatments offer ideal therapies, while elegant dining and the poolside grill nourish guests, and professional room service maintains total privacy when required. Free parking, no-charge Internet, and the fitness center help convince guests to stay longer.
Borgata Lodge Hotel is a treasure of romantic possibilities set against a dreamy lake and mountain backdrop at the edge of town. It offers the magic of seven nearby golf courses and four lakes and yet lies within a few short minutes to what some are calling the new cultural hub of Canada.
Couples may attend a night at the ballet, take in a symphony concert, visit artists-in-studios, shop for handmade mementos, or discover some of the best new culinary experiences in the country.
Kitchen suites plus one-, two-, and three-bedroom units come fully equipped with essentials. Wi-Fi and parking are free, and there is an on-site spa and restaurant.
Where to Stay in Kelowna near the Airport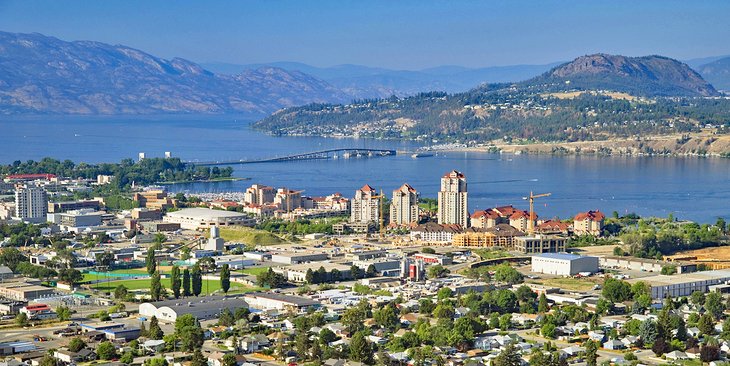 There are a number of hotel options to choose from if you want to stay near Kelowna International Airport (YLW). One popular choice is the Four Points by Sheraton Kelowna Airport. The hotel offers a range of rooms and suites. These are all stylish and comfortable with flatscreen TVs and work desks.
Amenities include a free airport shuttle, a heated swimming pool, a hot tub, and restaurant. For business travelers there are conference facilities and meeting rooms. The hotel is pet friendly and should you wish to get around on two wheels, there are even bicycle rentals.
Just a few miles farther away from the airport, Holiday Inn Express and Suites Kelowna - East is another option. It also runs a free shuttle service to and from the airport.
The hotel has 120 rooms that are clean and comfortable. Amenities include a free hot breakfast in the morning with free baked cinnamon rolls. The property is pet friendly. There is also a heated swimming pool, a hot tub, and fitness center on-site. If you're traveling with kids, they stay free.
Hampton Inn and Suites by Hilton Kelowna Airport is just across the highway from the airport and has artsy, modern rooms with fun color splashes and faux wood floors. An airport shuttle runs 24 hours a day, and there are perks like a free hot breakfast in the morning. Other amenities include an indoor swimming pool and fitness center.