Where to Stay in Halifax: Best Areas & Hotels
The best place for visitors to stay is in downtown Halifax at the foot of Citadel Hill, allowing access to sightseeing options, boat tours, and hotels in all categories. Overlooking the Atlantic waters of the commercial port called the Bedford Basin, hotels are a short walk to the iconic hilltop citadel, as well as major attractions such as the Maritime Museum, Bluenose II, Brewery Market, Historic Properties, and the Museum of Natural History.
Halifax is a walker's paradise, and outdoor adventures abound, including a host of choices based in Shubenacadie Park, such as canoeing, kayaking, swimming, paddle boating, walking trails, and historic exhibitions at Fairbanks Centre.
Where to Stay in Halifax for Luxury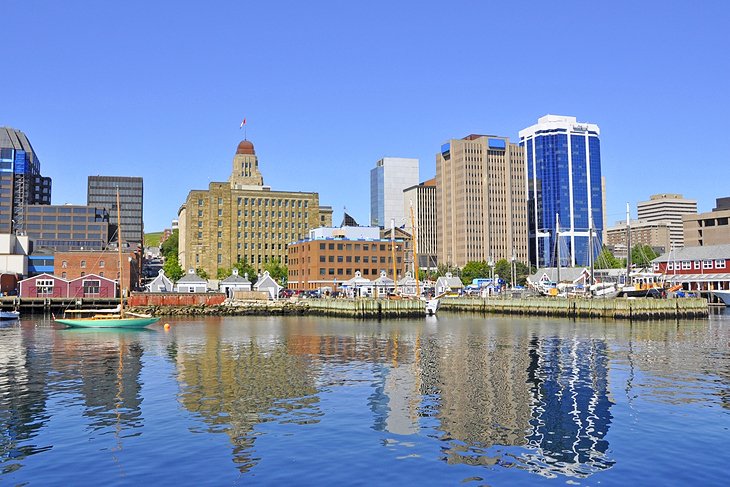 Prince George Hotel carries a four-diamond distinction, and it's easy to see why. From their sleek architecture and white-glove service standards to their award-winning culinary team and dreamy indoor rooftop pool and fitness center, this downtown gem connects guests to the Halifax Link - a unique climate-controlled web of pathways leading to entertainment venues, dining options, historic sights, and prime attractions.
Halifax Marriott Harbourfront Hotel places patrons directly at the heart of downtown sights and attractions, waterfront vistas and tours, historic sites and buildings, plus a surprisingly vigorous local culinary scene, including the prize-winning on-site option.
This hotel is also surrounded by walkable, safe streets and fun sightseeing. A popular and serene spa tops the service amenities, offering an extensive menu of soothing therapies.
The Westin Nova Scotian boasts knockout waterfront views, along with equally impressive high-end décor details throughout the downtown property. One block from Halifax Seaport Farmers' Market, the heavenly amenities here include spacious rooms and suites dressed up with first-class trimmings, abundant tech toys, and five-star service to match.
Try their day spa to update hair stylings or book a much-needed massage session, or savor in-room gourmet dining for culinary experiences to regale the folks back home.
Where to Stay in Halifax: Mid-Range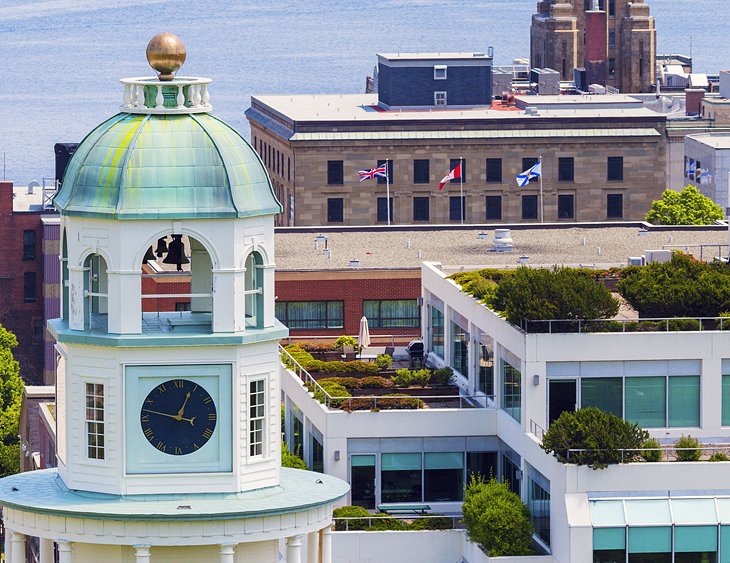 Homewood Suites by Hilton Halifax-Downtown strikes quite a downtown bargain for the price, featuring options and services usually associated with a much more expensive hotel. Spacious suites come with full kitchens, and daily breakfast and free Wi-Fi are included in the rates.
Evening socials are a fun way to meet other travelers in the dining area, and a fully endowed business center, 24-hour pantry market, pool, and fitness center mean added value for all patrons here.
The Hollis Halifax, a Doubletree Suites by Hilton welcomes guests to the center of downtown Halifax, where all major sights, events, and historic attractions are within easy reach overlooking the picturesque Bedford Basin port. Recently renovated throughout, travelers will discover an all-suite, boutique-style operation, geared to respecting guests and the environment. Fridges and microwaves lead the in-room amenities, followed by free Wi-Fi, rainfall showers, and fluffy bedding materials.
The Halliburton leads its list of offerings with free parking in a downtown quarter tight for space. The hotel encompasses a trio of redstone townhouses married artistically together with style, service, and a prime location near the waterfront.
Complimentary breakfast is included in the room rate, while free Wi-Fi and on-site gourmet dining increase the attraction to this charming address. Twenty-nine tastefully decorated rooms and suites plus a quiet interior garden zone, mean travelers will enjoy a deep sense of private relaxation.
Where to Stay in Halifax on a Budget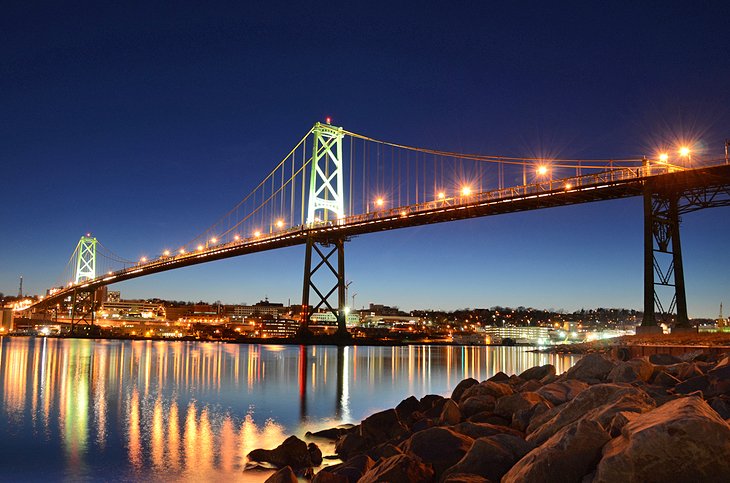 Coastal Inn Halifax is located just outside the main downtown crush and offers the best deals as a result. Feeling more like a country inn, this popular location presents clean, comfortable rooms and even some two-rooms suites. Features include an indoor pool and exercise room, free breakfast and Wi-Fi, plus complimentary parking and a complete business center.
The hotel is located across from a provincial park and huge lake, and guests are literally a few minutes from all the most alluring sightseeing, special events, and historical treasures Halifax has to offer.
Comfort Hotel Bayer's Lake is the city's newest hotel, located just beyond the fringe of city crowds and downtown traffic. The swimming pool, fitness gym, Jacuzzi hot tubs, and comfortably large rooms attract bargain hunters, but it's the free breakfast, complimentary Wi-Fi, no-charge parking, and abundance of extras creating repeat customers here.
Long Lake Provincial Park is across the street, a unique kids' arcade is nearby, and sightseeing and the main Halifax attractions are very close.
Where to Stay in Halifax for Families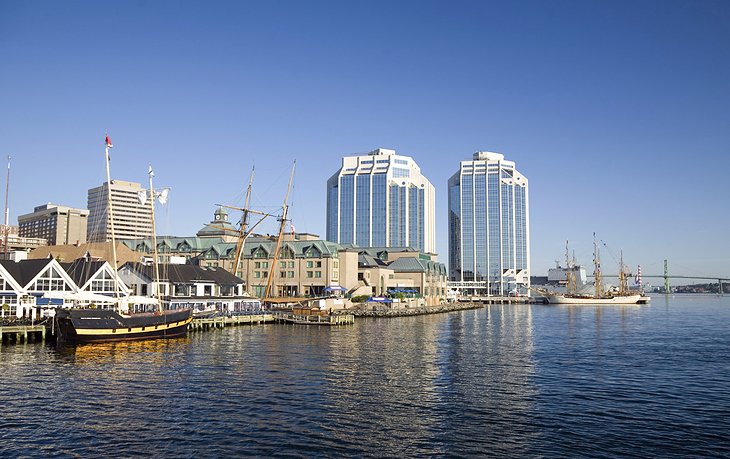 Hotel Halifax benefits families with a location easily accessing the downtown waterfront, must-see Citadel Hill, the Historic Properties, and numerous other tourist attractions throughout this walkable city. Broods may start early with a visit to the on-site heated pool, which opens at 6:00am; work up an appetite in the fully equipped gym; and enjoy breakfast together in-room or at the restaurant on the reception level.
This popular non-smoking property is air-conditioned, boasts a top flight service team, and has an in-house spa for parents to relax and rejuvenate, while kids busy themselves at the pool, gym, or with free Wi-Fi service.
Best Western Plus Chocolate Lake Hotel captures the hearts of families, starting with a convenient location just outside the hustle and bustle, a compelling name, and views across its namesake lake, and continuing with a full breakfast for the troops, plus free Wi-Fi, an indoor saltwater pool, games room, and workout gym. There is also a kids' program for activities on-site to channel any excess energy after touring the sights and attractions.
Where to Stay in Halifax for Romance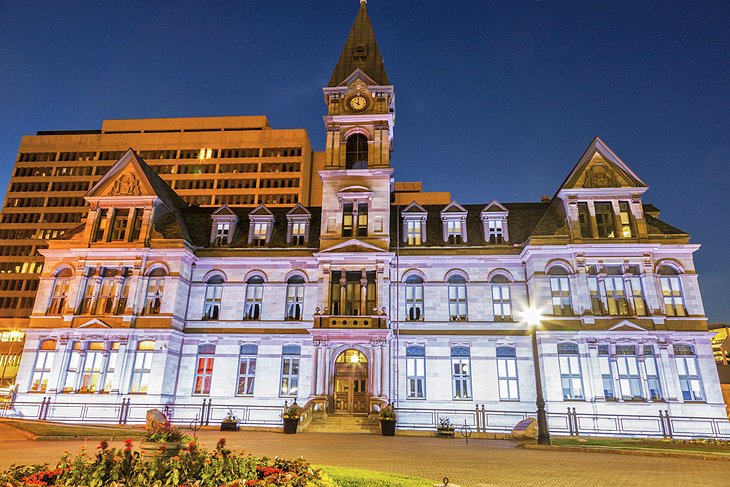 Courtyard Halifax Downtown invites romance with its dreamy location downtown overlooking the Bedford Basin waterfront. The impeccable service team's talents create a special visit for all the guests. Amenities include a heated pool, 24-hour fitness gym, and the temptations of the hotel's popular urban spa.
Of course the final verdict comes with the quality of the rooms and suites, and this property serves up crisp linens, fluffy feather pillows, and extra thick mattress covers in addition to technology treats, personalized temperature controls, fridges, and coffee makers.
Chateau Bedford Halifax is located just west of downtown, at the edge of Hemlock Ravine Park, where romantics may stroll leisurely through the ravine to the Bedford Basin waterfront. This non-smoking location is pet-friendly, has an indoor heated pool, and includes breakfast in its rates.
Comfortable king beds, soft bed linens, free Wi-Fi, and helpful staff, plus proximity to the Museum of Natural History and other great Halifax attractions, make this a dynamic choice for romantic travelers.
Where to Stay in Halifax near the Airport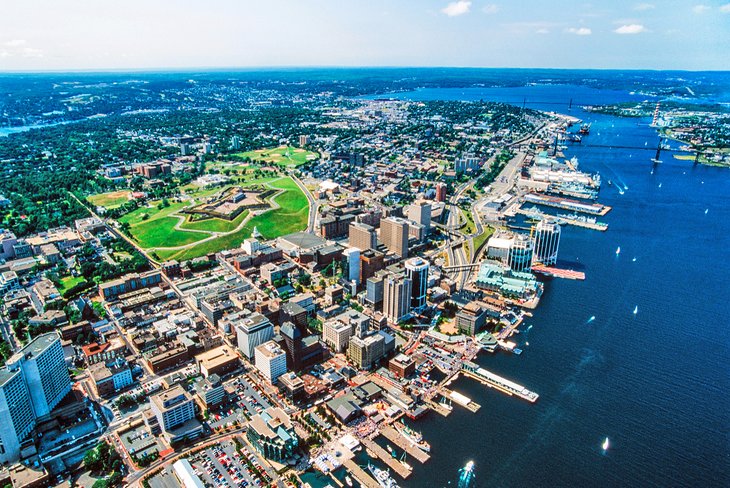 If you have an early morning or late night flight, booking a hotel near Halifax Stanfield International Airport is a smart idea. The Alt Hotel Halifax Airport is as close as you'll get, connected to the airport by a covered walkway.
This mid-range hotel features contemporary design in its comfy rooms. The hotel is pet friendly, and staff here speak multiple languages. There are conference facilities on-site, making it a popular choice for business travelers. Other amenities include free Wi-Fi, an indoor swimming pool, a lounge serving food, and a fitness center.
The Hilton Garden Inn Halifax Airport is just three miles from the airport and runs a free shuttle service. The hotel is packed with amenities, including an outdoor dining area, saltwater swimming pool, golf course, and gym. It caters to families with children's menus, and kids stay free with parents. There are a mix of rooms, including family rooms and suites, at this mid-range property.
Also near the airport is the Quality Inn Halifax Airport. The 2-star hotel has affordable rates and offers free airport transport. Rooms are clean and comfortable, with crisp white linens and enough space to move around.
Amenities include a free breakfast buffet, free parking, and free Wi-Fi. The hotel is dog friendly, and it also has a swimming pool and fitness center on-site.