Where to Stay in Calgary: Best Areas & Hotels
Calgary has developed into a bit of a sprawling city, but for most travelers, the best places to stay is in the core of downtown Calgary, close to sightseeing, events, and shopping along Stephen Avenue Walk. You'll find a this area also offers the best choices of hotels in all categories for families, groups, couples, or solo adventurers.
The romantic presence of the Bow River sweeps through this burgeoning western metropolis, where the outdoors are always present via idyllic walking paths, parklands, and the constant lure of the spectacular Rocky Mountains nearby.
Downtown's 17th Avenue SW is the go-to quarter for appealing shops, galleries, and popular dining outlets, connected via the efficient C-Train system. If you have an early morning flight to catch there are also hotel options near Calgary International Airport.
Where to Stay in Calgary for Luxury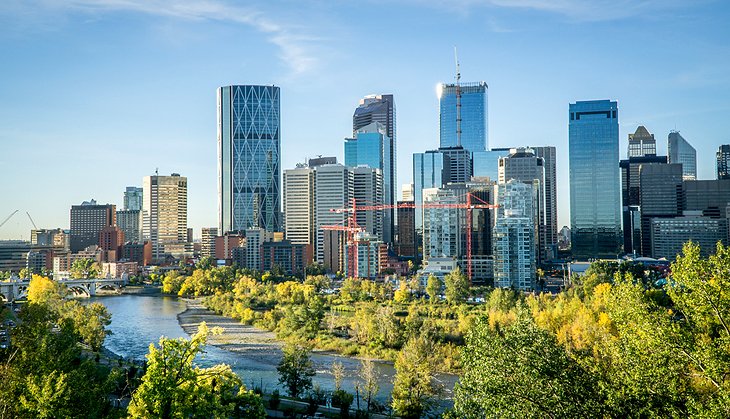 The Hyatt Regency Calgary holds prime downtown real estate on pedestrian-only Stephen Avenue Walk, leading to the +15 pathway system, convention center, and scores of the best sights in the city. It's literally in the shadow of the iconic Calgary Tower, and guests may easily walk to the Glenbow Museum, Centre for Performing Arts, and CORE luxury shopping center.
All 355 rooms & suites are 121 square meters of sumptuous comfort, decked out with a full contingent of top-tier conveniences, technologies, and tools. The gym, pool, and spa are complemented by delicious on-site dining options, gorgeous artwork, and generous business facilities.
Hotel Elan is located just off the stylish 17th Avenue boutique row in the hip Beltline District. Hipsters, bankers, poets, and cowboys who seek lodging with a distinct difference stay here. Spa-like bathrooms are featured in rooms and suites boasting unique décor, expanded color palettes, and comfortable amenities. Free breakfast is included, and the on-site gym is great for workouts.
Hotel Le Germain Calgary brings the winning French Canadian hotel group's best talents to downtown Stampede City. Starting with an awe-inspiring location at the foot of Calgary Tower, this boutique hotel amalgamates several heritage buildings, adding an ultra-chic contemporary crown of steel and glass to enliven the finished structure.
A delicious breakfast buffet is complimentary, and on-site dining is delicious, creative, and varied. Accommodations come with large bathrooms; goose down pillows and comforters; and trimmings that reflect an environmental philosophy of using natural, recycled materials and highlights.
Where to Stay in Calgary: Mid-Range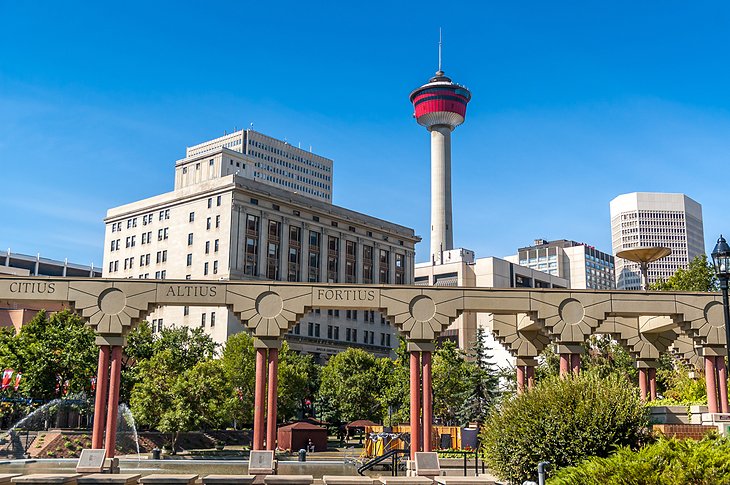 Hotel Arts has a super convenient location downtown, yet still close to Stampede Park. An intuitive service team leads the hip experience here and extends a warm welcome. Compelling art dresses all walls and public spaces, and the comfort and appeal of rooms and suites is refreshing. Indoor/outdoor pools and a gym headline the amenities, while complimentary Wi-Fi and fresh market cuisine served on-site create added value for patrons.
Wingate by Wyndham Calgary South is found south of the city proper, near the legendary equestrian site Spruce Meadows, the sprawling Fish Creek Provincial Park, and Midnapore Lake. Large, comfortable rooms are well equipped, and bathrooms feature all-natural toiletries, while the hotel boasts a heated pool, hot tub, and gym, and their impressive business center never closes.
International Hotel & Spa Calgary hails visitors from a central downtown location at the heart of sightseeing, attractions, and shopping venues. Hotel details are notable, with high quality linens and duvets, generous room sizes, and huge flat-screen TVs. Other features include free breakfast and parking and a complete gym and heated pool.
Where to Stay in Calgary on a Budget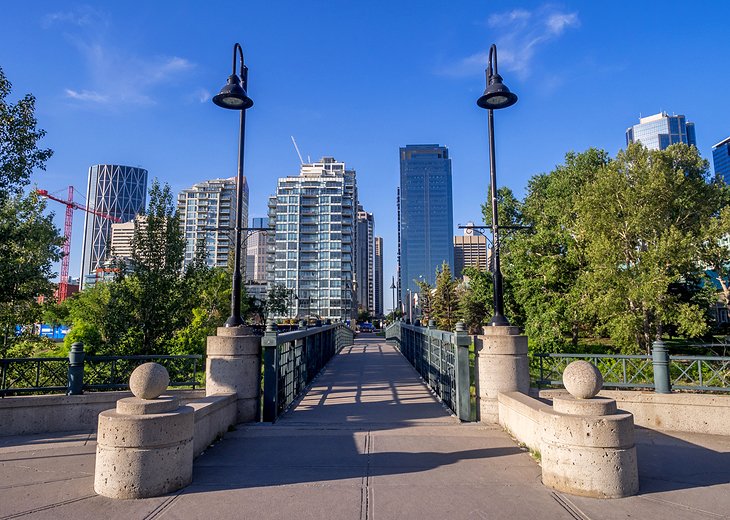 At the Best Western Plus Suites Downtown, guests enjoy knockout views of the Rocky Mountains from condominium-like rooms and suites dressed to please. Steps to 17th Avenue SW shops, dining venues, and entertainment downtown, this chain favorite has generous sized studios, plus one- and two-bedroom suites. These comfy digs come with free breakfast, Wi-Fi, and parking, and each air-conditioned unit has a microwave and fridge.
Fairfield Inn & Suites by Marriott Calgary Downtown is a new high-rise located in the Beltline downtown sector, immediately beside Central Memorial Park, a large green space with a library and food vendor. Light and space prevail throughout artful common areas, rooms, and suites, while amenities include free hot breakfast and Wi-Fi, with extras such as valet parking, a self-serve laundry, business center, and gym.
Best Western Plus Calgary Centre Inn is located on historic Macleod Trail south of the city center, near the Repsol Sports Centre, one of the city's iconic architectural landmarks. This clean, friendly overnighter near the convenience of the C-Train comes with a full set of fun options on-site, such as an indoor heated pool, hot tub, fitness center, and tennis court. Family rooms are available, free parking and Wi-Fi are a plus, and there is an on-site restaurant serving fresh fare.
Where to Stay in Calgary for Families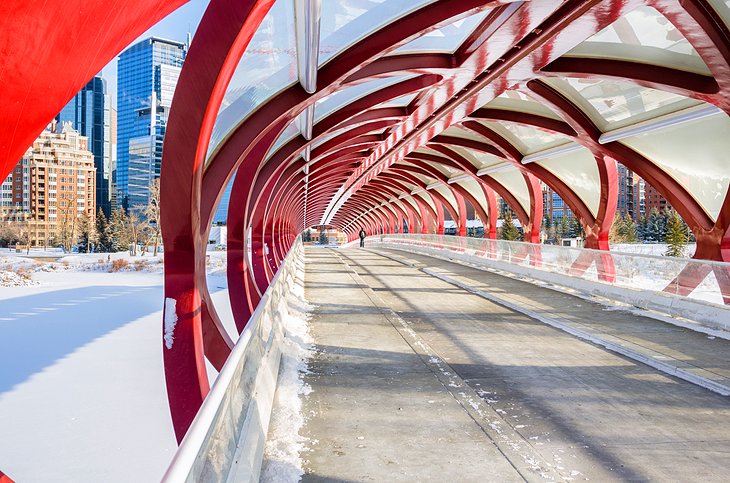 Sheraton Suites Calgary Eau Claire is convenient for families with a downtown central location close to the Bow River. Sightseeing treats abound here, and guests are within walking distance to the Gray Family Eau Claire YMCA and childcare centre, which provides drop-in fee access to facilities, programs, and diversions. Hotel on-site kids programs herald a positive stay for children and parents alike, and amenities include separate rooms for parents and kids, a heated pool and hot tub with a dreamy downtown view, a fitness center with a workout room, free Wi-Fi, and a spa.
The Fairmont Palliser is a great family destination, not only for its downtown access to sightseeing gems and nearby shopping, dining, and entertainment venues, but for its family-friendly features. Availability of adjoining rooms is a huge asset, along with cribs, playpens, babysitting services, an immense swimming pool, and the services of Nannies-on-Call.
Kids under five eat free here, while children six to 11 eat for half price, and the Lifestyle Cuisine program uses healthier ingredient options on kid-friendly favorites.
The Grey Eagle Resort is another family-friendly option. Located just a few minutes' drive from downtown, it features contemporary rooms and suites with city or mountain views. The suites have separate living space, and there are interconnected rooms available for families with kids.
Amenities include an indoor swimming pool, outdoor hot tub, fitness center, and a restaurant with high chairs. Massages can also be arranged. If you are traveling with a dog, the hotel is pet friendly.
Where to Stay in Calgary for Romance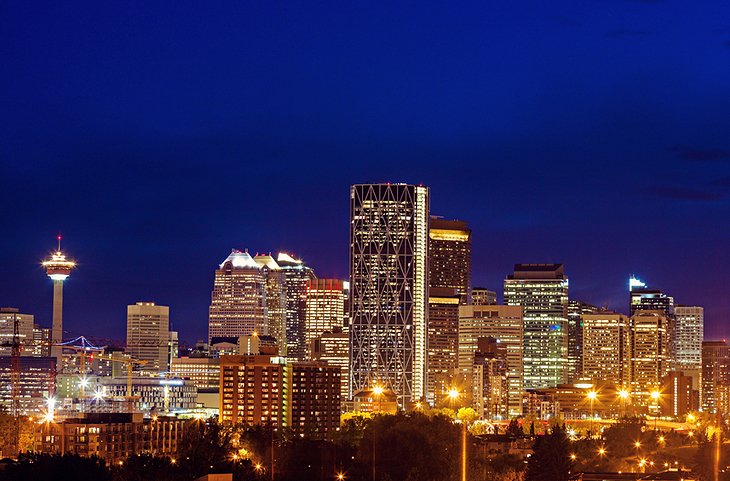 Calgary Marriott Downtown Hotel beckons romantic travelers with features sure to entice, captivate, and create a memorable stay while visiting downtown Stampede City. Set at the virtual foot of the impressive Calgary Tower, this stylish high-rise offers generous, posh rooms and suites oozing with contemporary elements of comfort. From blackout blinds to top-tier toiletries, from windows that open for fresh air to the availability of Netflix, anyone looking for getaway comfort, service, and location will find it here.
The best patio view in the city overlooks downtown, the Rocky Mountains, and the Bow River, while underground connections link guests with a huge inventory of nearby shopping, dining, and entertainment options.
Hotel Arts Kensington is steps from downtown action across the Bow River in the Kensington Village quarter. A tiny boutique operation with only 19 suites, its claim to fame is the attentive staff, comfort amenities, and on-site gourmet dining fit for discerning travelers.
Nightly turndown adds to the romance here, along with faux fireplaces, European toiletries, morning beverage tray with newspaper, room service, and a concierge to respond to your every need. Its location on Memorial Drive also allows easy day trips into the Rocky Mountains for one-of-a-kind mementos.
For a B&B style romantic getaway check out Along River Ridge B&B. There are just a few rooms, and each one is decorated differently, but all feature modern decor, bright pops of color, and cool artwork. One even has a spa bathtub.
The property has a serene backyard area that is nicely landscaped and backs up to the river. It has outdoor seating areas, and there are board games guests can borrow. A complimentary breakfast is served each morning. Bikes are also available, and there is free parking.
Where to Stay in Calgary near the Airport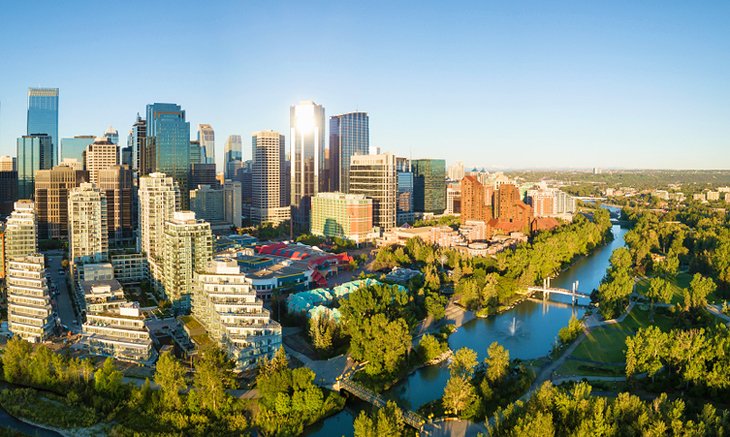 Calgary Airport Marriott In-Terminal Hotel is about as convenient as it gets when it comes to staying near the airport. The four-star hotel is located inside the Calgary International Airport, just steps from the boarding gates-it is also a great choice if your flight gets cancelled last second.
The trendy property offers clean and comfortable rooms that come with city skyline or mountain-meets-prairie views. The beds are sleep inducing, with pillowy soft duvets and quality sheets. There are family rooms and also pet-friendly rooms if you are traveling with a dog or cat.
Book the concierge-level for a free morning breakfast and evening dessert in the M Club Lounge. There is an on-site restaurant, 24-hour room service, and options for local food delivery. The on-site spa is another perk of staying here.
Also near the airport check out the Best Western Premier Freeport Inn Calgary Airport, which prides itself on being family friendly, offering a range of adjoining rooms, family rooms, and suites. The rooms are modern and comfortable. Beds have pillow-top mattresses and crisp white linens, and there is a fridge and microwave in the rooms.
Suites come with pullout sofa beds and fireplaces. On-site amenities include a restaurant, swimming pool, workout room, and free parking. The property is also close to other restaurants and popular family-friendly activities like SPEEDERS Indoor Electric Go Kart Race Track.
Another lodging option near the airport is Homewood Suites by Hilton Calgary-Airport. This three-star hotel is good value, and rooms are tidy and come with microwaves and kitchenettes. There are also family room selections. On-site amenities include a heated swimming pool, fitness room, and free breakfast.