19 Top-Rated Resorts in Ontario
We may earn a commission from affiliate links ()
Ontario is not only home to some of North America's best places to visit – natural attractions such as spectacular Niagara Falls top the list of visitors from across the globe – it's also where you can experience some of Canada's best resort vacations.
Sprinkled across this vast province (it's many times bigger than the UK, for instance) you'll find everything from luxurious wilderness lodges to beautiful country estate-style accommodations just begging you to stop awhile as you explore the surrounding areas.
Ontario attracts a good number of overseas visitors eager to explore its vast stretches of heavily forested and unspoiled scenery. There are also options close to larger urban centers.
Much, of course, depends upon the season. While some areas cater to guests wanting to experience activities such as skiing and snowmobiling in winter, others - such as Muskoka and Algonquin Park - tend to focus on experiences such hiking and canoeing in the summer months.
Whatever your preference and whatever time of year you visit, we're pleased to bring you this list of the best resorts in Ontario, Canada.
1. JW Marriott The Rosseau Muskoka Resort and Spa, Lake Rosseau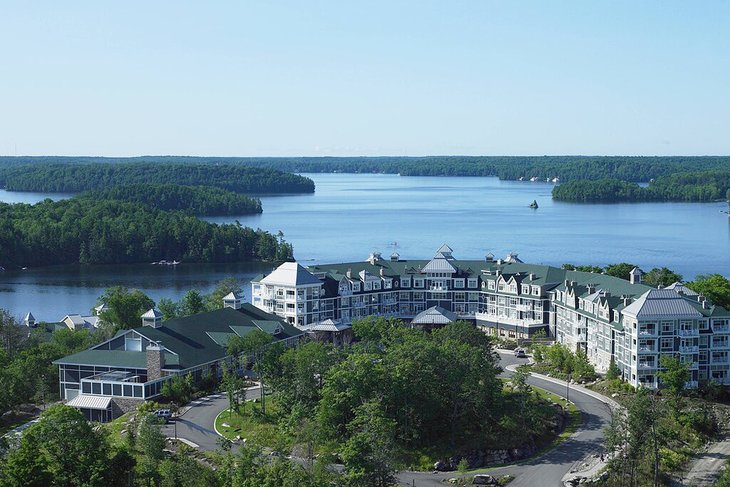 The resort's hillside setting offers superb views over Lake Rosseau, a body of water that's famous for being the summer home to Hollywood stars and billionaires (be sure to request a lake view when booking).
Accommodations range from bright studios and deluxe rooms that come with separate living and dining areas to spacious one- and two-bedroom suites. The largest of these measures 117 square meters and comes with a private balcony or patio.
2. Fairmont Chateau Laurier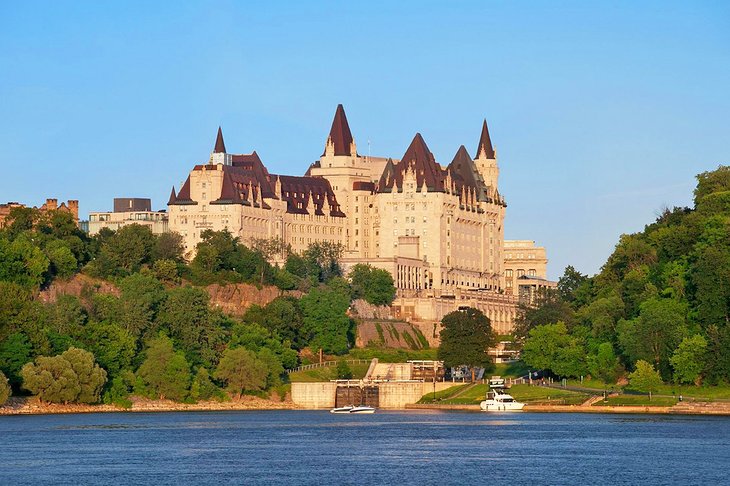 On-site amenities include fine dining (plus in-room dining), an attentive concierge service, as well as chic lounge areas. Those wanting to squeeze in some exercise can choose from the large indoor swimming pool or the well-equipped gym.
3. Great Wolf Lodge, Niagara Falls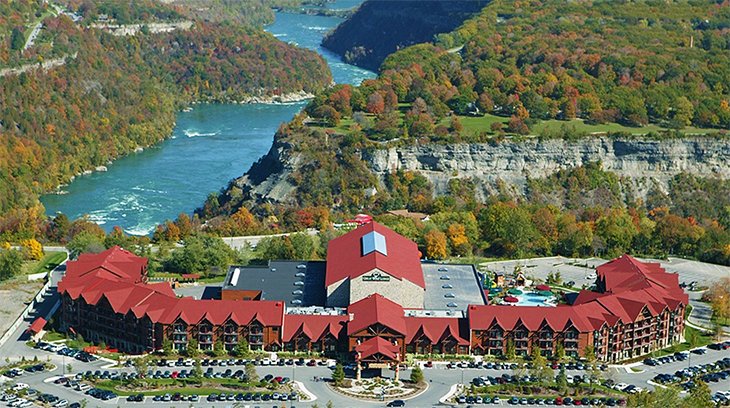 On-site amenities include a vast array of water-based rides, pools, and games; multiple dining options; kids programs; and mini-golf and bowling. There's also a large fitness center, and both an adults' and kids' spa.
Come bedtime, youngsters are going to love settling down for the night in one of the themed "Kid Kamp" suites. Capable of sleeping up to six guests comfortably, these fun suites consist of a tent-themed area with bunk beds just for the kids, along with a queen bed for mom and dad, plus a sofa bed if it's needed. Other features include large screen TVs, private balconies (or patios), fridges, and coffee makers.
4. Inn at Cobble Beach, Kemble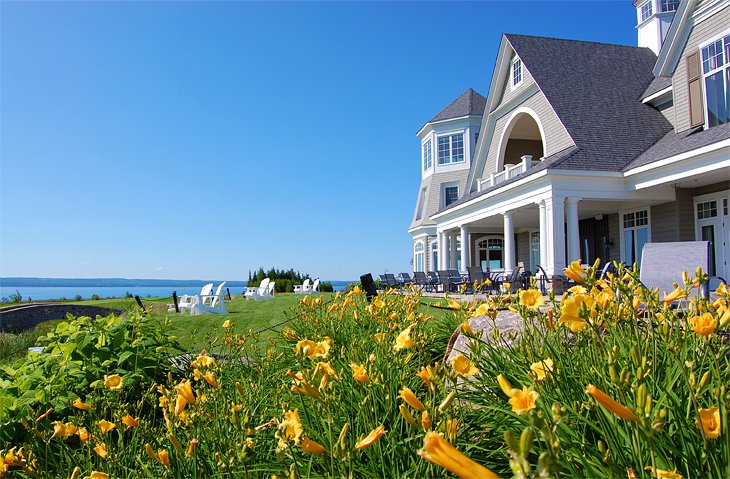 In addition to having access to Cobble Beach Golf Links, the resort also boasts great dining and world-class spa facilities. Other amenities include a fitness center, indoor golf facility, and a 14-kilometer trail network to explore. For winter sports enthusiasts, most of this expansive trail network is accessible with snowshoes and cross-country skis.
The inn's accommodations consist of 10 elegantly appointed suites plus an additional five stand-alone cottages. In-room features include spacious bathrooms with separate bathtubs and showers, comfortable up-graded bedding, free Wi-Fi, HD TVs, fridges, and great views over Georgian Bay or the golf course.
5. Deerhurst Resort, Huntsville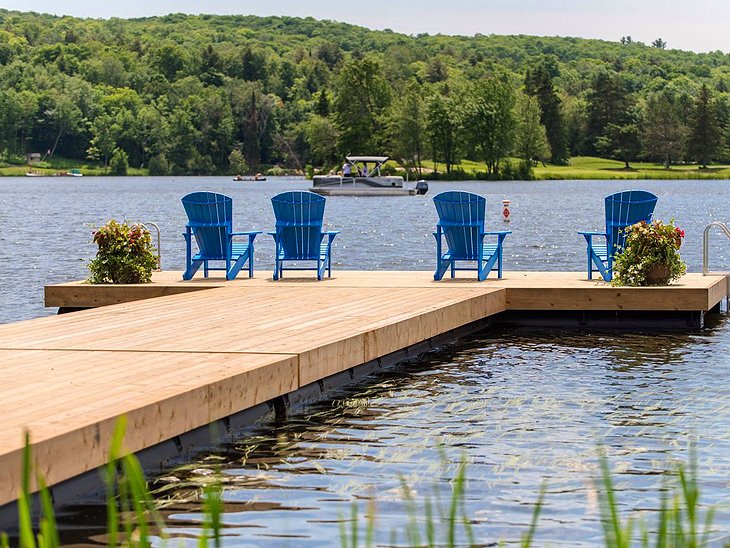 Its accommodations can handle groups of any size, whether in its nicely finished standard hotel rooms or in its larger open-concept suites. If your budget can handle it, consider opting for a one-, two- , or three-bedroom unit, many of which boast their own private kitchens.
Where Deerhurst outdoes most resorts, however, is on the activities front. On-site amenities include a large beach area with water toys, indoor and outdoor pools and hot tubs, two golf courses, horse riding, hiking and biking trails, and treetop trekking.
6. The Westin Trillium House, Blue Mountain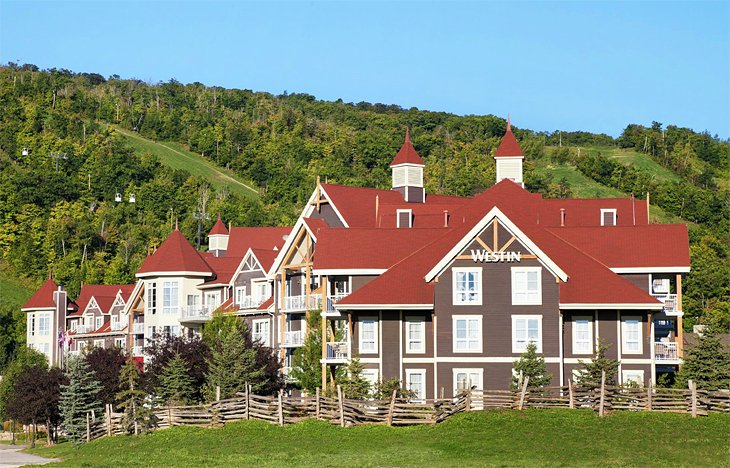 In addition to ski schools and programs for kids (they'll love the nearby aquatic center), families can enjoy snow tubing, cross-country skiing, and snowshoeing adventures, along with snowmobile rentals or ice fishing. In summer, the slopes become perfect terrain for mountain biking and hiking, while other sports include golf, sailing, and waterskiing. The resort also has a large fitness center and restaurant.
7. Sir Sam's Inn & Spa, Eagle Lake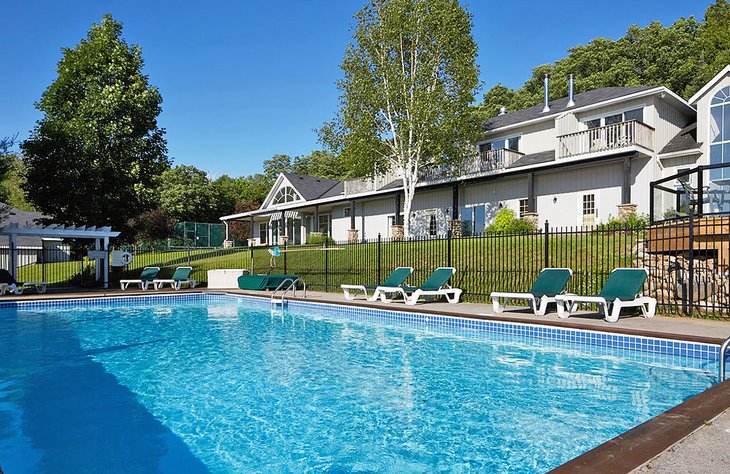 A highlight of any stay is the chance to lounge about in your luxuriously appointed room or private stand-alone cabin while admiring the views over the lake. Whichever you choose, you'll enjoy deluxe oversized bathrooms with large tubs, as well as real fireplaces with an ample supply of wood and kindling - a real treat for those traveling in fall or winter. Honeymooners in particular are drawn to the cozy two-story suites with cathedral ceilings.
There are also many things to do around the inn. Highlights of this all-season resort include the use of bikes, kayaks, and canoes; tennis courts; a private beach; plus direct access to plenty of good hiking trails. In winter, many guests will head next door to Sir Sam's Ski/Ride Park, which also offers ski rentals and lessons.
8. Totem Lodge, Sioux Narrows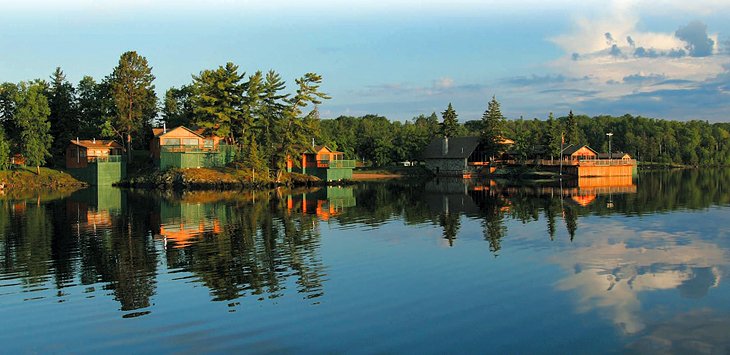 One of three vacation properties that make up the sprawling Totem Resorts complex, Totem Lodge offers a luxurious take on the traditional Canadian fishing lodge, offering visitors a superlative wilderness retreat experience.
Guests can choose from a variety of guided fishing packages that include state-of-the-art fishing boats and lunches. On-site amenities include a beach with diving platform, various dining options, and plenty of comfortable places to lounge about in the main lodge.
Consisting of attractive stand-alone cabins, the lodge's modern accommodations include plenty of great reasons to skip the occasional fishing trip: exquisite marble bathrooms with large Jacuzzi tubs, authentic stone fireplaces, full kitchens with the latest appliances, as well as large HD TVs (which you'll likely not watch thanks to the incredible lake views).
9. Killarney Mountain Lodge, Killarney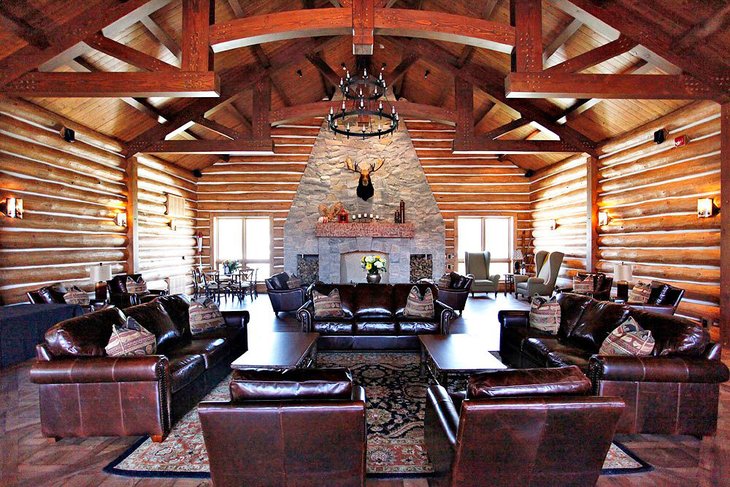 Larger groups should consider opting for one of the delightful cabins. Highlights include rich pine-clad interiors, spacious bathrooms with separate bathtubs and showers, plus rollaway beds when extra guests are expected.
The delightful accommodations at Killarney are certainly matched by the resort's public spaces and amenities. Overlooking Killarney Channel, the main lodge building is where you'll find comfortable lounge seating in which to relax, as well as on-site dining (a variety of personalized meal plans are available).
10. Severn Lodge, Port Severn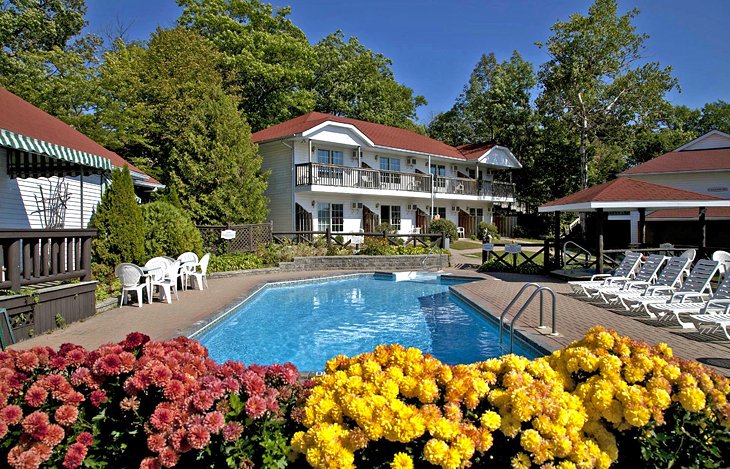 The lodge overlooks Gloucester Pool, which connects directly to Georgian Bay and the Great Lakes, and guests are often surprised to see the occasional yacht pass by as they relax (you could in fact sail all the way to the Atlantic Ocean from here). And for those wanting to get out on the water themselves, the resort offers Jet Ski rentals, as well as the use of kayaks and canoes. Tours aboard the resort's vintage wooden boat can also be arranged.
A variety of first-rate accommodations are available in the main lodge building, while those with a larger budget and needing extra space should consider one of the resort's larger units. A favorite for families are the well-appointed two-bedroom suites, which come with a great deal of additional space thanks to their living rooms. Each comes with a full kitchen, pull-out sofa bed, and large decks or terraces with screened-in porches and lovely water views.
11. The Briars, Jackson's Point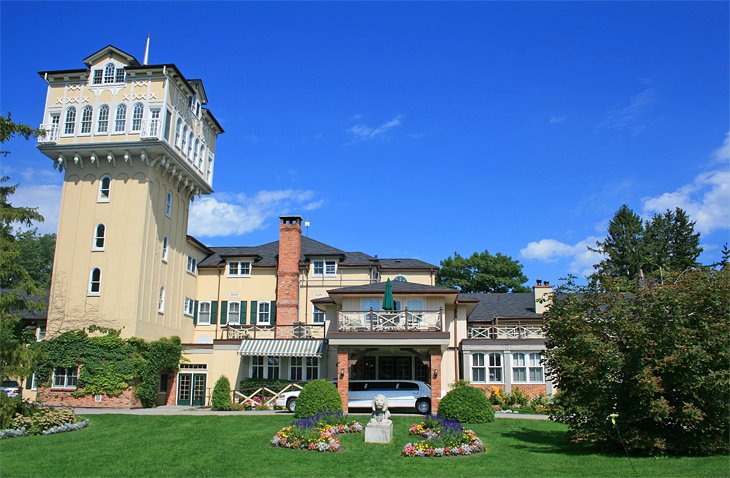 Other great reasons to visit include gourmet cuisine and plenty of year-round outdoor activities: in winter, it's all about cross-country skiing and ice fishing, while summer fun includes nature hikes and kayaking. Also worth checking out are the resort's indoor/outdoor swimming pools, hot tubs, sauna, and fitness center. Other fun tings to do include tennis, badminton, basketball, and volleyball. There's also a nearby golf course.
12. Bayview Wildwood Resort, Severn Bridge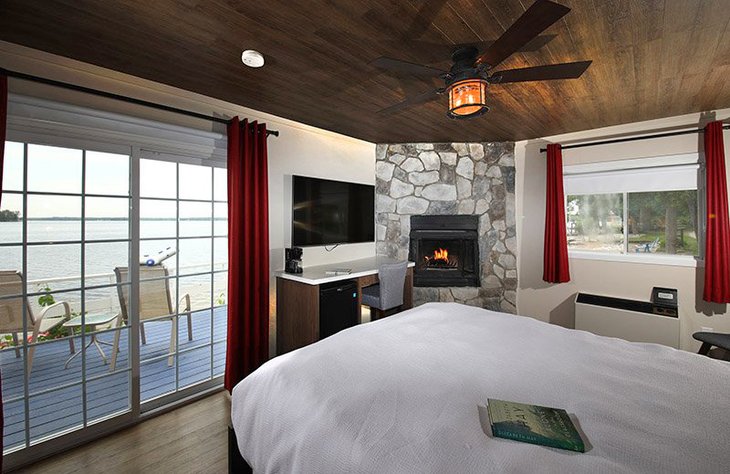 Outdoor winter fun includes ice fishing, skating, and snowmobiling, while summer activities include swimming at the beach or in the heated pool, hiking, boating, canoeing, tennis, and ATV rentals. Those looking for things to do indoors won't be disappointed, either. Highlights include supervised kids' programs, an indoor swimming pool, evening entertainment, and excellent dining.
13. Elmhirst's Resort, Keene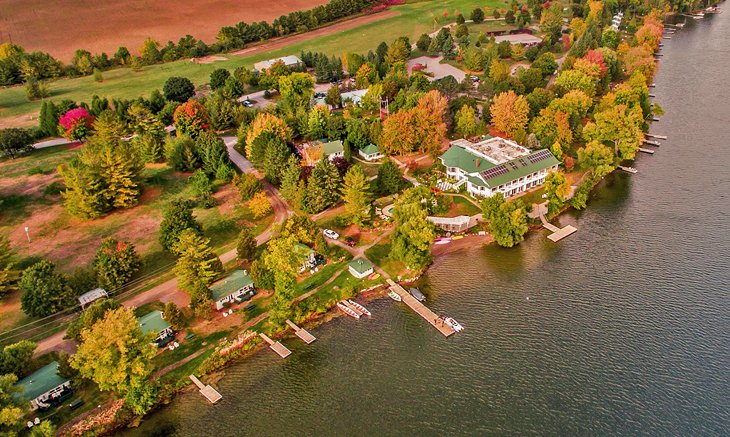 Guests can choose from a stay in the one-bedroom honeymoon suite, complete with king bed and large bathroom with separate shower and Jacuzzi tub, right up to a huge five-bedroom cottage with a wood burning fireplace, full kitchen, two large bathrooms, a large deck with a barbecue, plus its own private dock. There are also a number of three-bedroom cottages available. Pets can be accommodated with prior notice.
Elmhirst's offers a great deal of fun around its 240-acre property, too. Highlights include taking a pleasant stroll along the lakeside boardwalk, swimming in the resort's pools, working out in the gym, enjoying on-site dining (many ingredients come from the resort's working farm), or relaxing in the full-service spa. Kids also have space of their own to run around at the playground, with a selection of kids' programs available during the summer.
The resort also offers a number of off-site experiences, including guided nature hikes and horseback trail rides, sightseeing by air, fishing trips and boat rentals, and golf. Live music is frequently available, and an on-site art gallery showing works by local, national, and international artists adds a dash of culture to your stay.
14. Sherwood Inn, Port Carling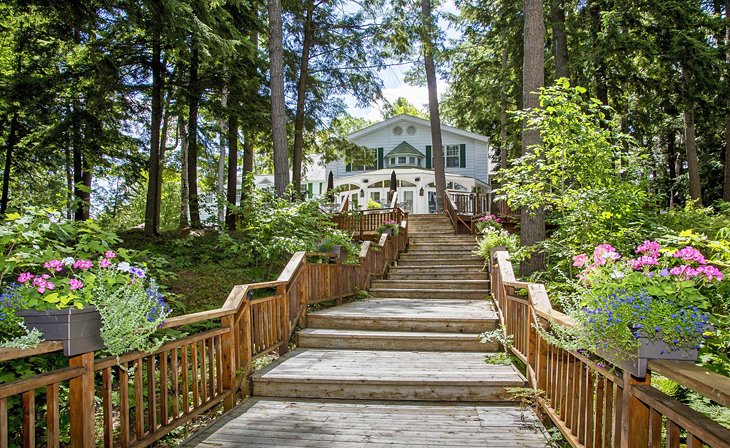 In addition to exploring the many boutique shops, art galleries, and dining options of Port Carling (also accessible from the resort by boat), guests can enjoy on-site amenities that include a full-service spa, a well-stocked games room, a fitness center, canoes and kayaks, and a restaurant.
Nearby activities include golf, boat rentals, and water-ski schools. For those interested in fun things to do in Ontario in winter, special weekend packages are available that include accommodations, cross-country skiing, and snowshoeing.
The accommodations at Sherwood Inn are well-suited to both couples and larger groups and include a selection of spacious suites and private cabins. While each of the well-appointed and elegant suites features a queen bed and bathroom with separate shower, some of the larger units also come with separate living areas with pull-out sofas and their own balcony.
15. Wander the Resort, Bloomfield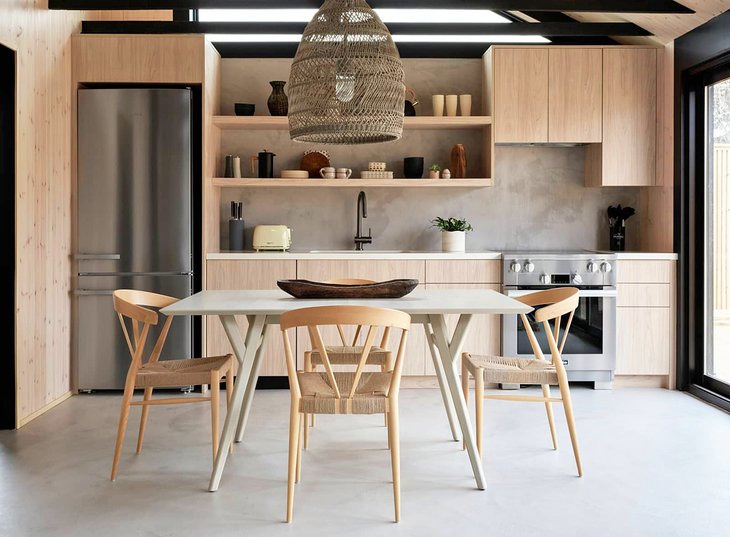 Capable of sleeping up to six guests, each cabin also includes a full kitchen with appliances and plenty of space to entertain, including a living room area and furnished terrace. There's even a barbecue for when the urge to cook outdoors strikes.
Topping the resort's amenities is its large beach area adjacent to West Lake. Plenty of beach seating is provided, as well as a lakeside campfire. While small, the clubhouse provides another area in which to hang out, and offers refreshments and pastries. A variety of children's' programs are available, along with a babysitting service.
16. Smoothwater Outfitters & Lodge, Temagami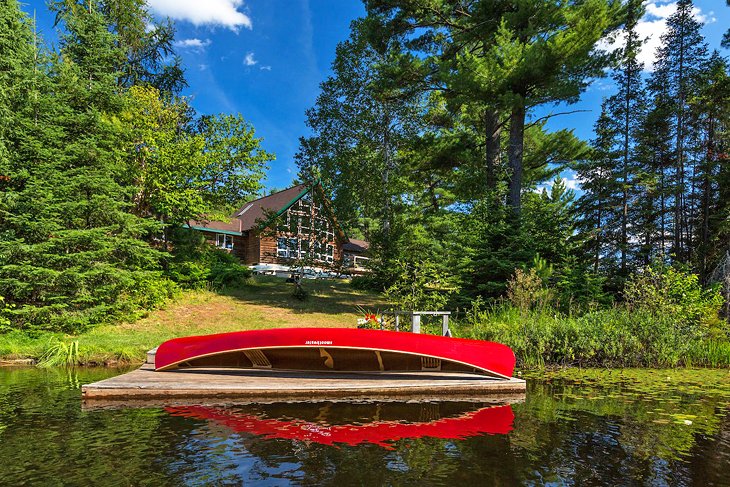 Accommodations include cozy private rooms perfect for couples, and larger dorm-style bunk rooms for groups of friends and families. Camping, of course, is also available. On-site amenities include unlimited use of a large public space that's perfect for relaxing, playing games, or planning the day's adventure; a lakeside sauna; fire-pits for campfires; and canoes.
Meal plans are also available and are well worth including in your stay, as all dishes are made using fresh local ingredients wherever possible, some of which is grown on-site.
17. Bondi Village Resort, Dwight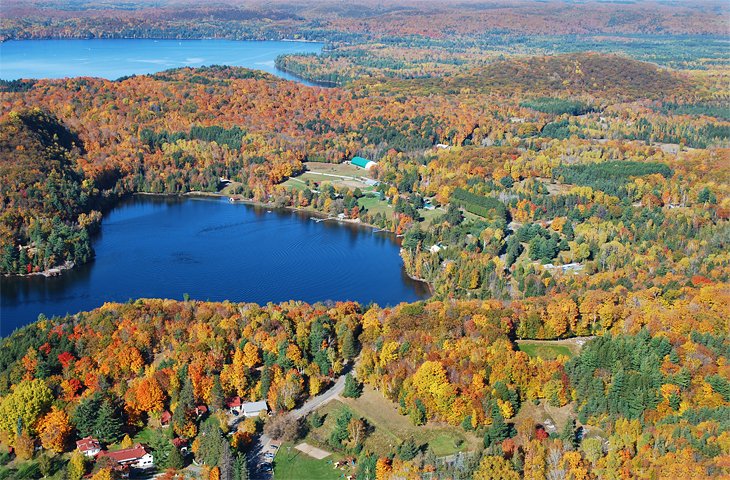 Many family-friendly activities are available at Bondi, including boat rentals (canoes are free), a play area for kids, a games room, shuffleboard, volleyball, plus a fun Frisbee golf course, to name but a few.
Guests can also access endless hiking trails through more than 600 acres of adjoining, unspoiled wilderness. Come winter, some of these same trails are groomed for cross-country skiing. The resort is also very close to Algonquin Provincial Park, popular for its many outdoor adventure opportunities and scenic hiking trails.
18. Heather Lodge, Minden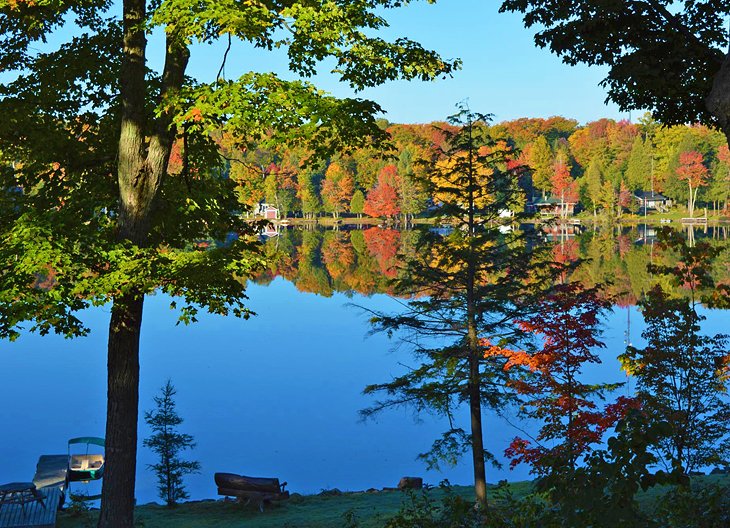 While all suites include comfortable king beds, fridges, coffee makers, satellite TVs, and cozy bathrobes, a number of larger options provide additional space and privacy, along with real fireplaces and a private balcony.
Guests have full access to the resort's amenities, including its never-crowded shoreline, outdoor seating, and swimming dock. Getting out and about on the water is also easy thanks to the provision of complimentary kayaks, canoes, and a paddleboat (a motorized fishing boat is available for rent).
19. Tomahawk Resort, Sioux Narrows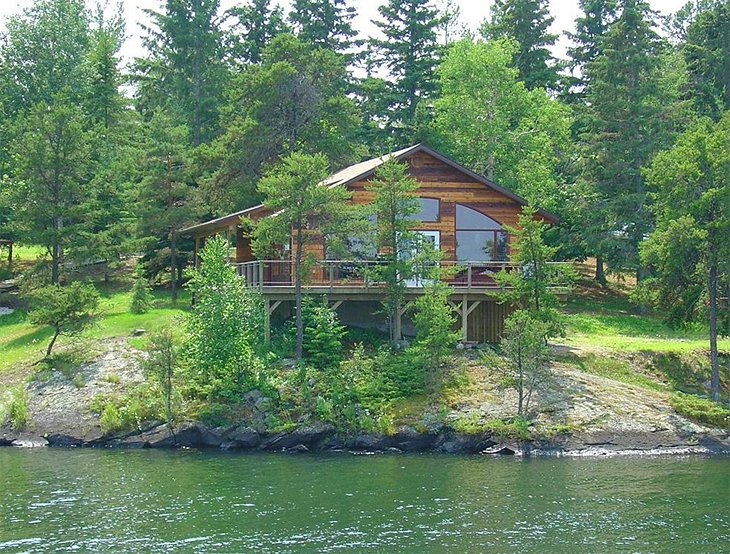 Other things to do include swimming and sunbathing at the private sandy beach, use of canoes and paddleboats, a full-service marina, volleyball court, horse-shoe pits, and a playground for the kids. There's also a nearby golf course, plus a fun mini-putt attraction. The resort is especially popular among snowmobilers and ice fishers during the winter months.
The resort's unique accommodations include a number of "floating cottages." These houseboats come complete with bathrooms, full kitchens, and comfortable beds, and can sleep up to six guests. Best of all, you can untie your lake home and sail away to the next great fishing spot. Larger groups of landlubbers should consider one of the resort's premium cottages.