11 Top-Rated Resorts in Huntsville
At the very heart of Muskoka, the pleasant town of Huntsville is the largest community in the region and one of the most popular places to visit in Ontario. It also happens to be a place of stunning natural beauty, a fact that has led to "cottage country" being a popular place to purchase summer homes.
Tourists and residents alike flock here to experience everything from superb attractions and a vibrant theater and music scene (Shania Twain cut her teeth here) to staying at some of Ontario's top resorts and hotels.
Setting the bar highest when it comes to accommodations is the sprawling Deerhurst Resort. This huge property is capable of hosting more than 1,000 guests, boasts world-class convention facilities that were good enough to host Canada's 2010 G8 Summit, and also offers plenty of great outdoor activities. Vacationers can also choose from a selection of more modest resorts, too, including family-owned operations.
Whatever your preference and budget, Huntsville offers numerous great options for those wanting to stay a while and explore Muskoka and nearby Algonquin and Arrowhead provincial parks. Plan your stay with our list of the top resorts in Huntsville, Ontario.
1. Deerhurst Resort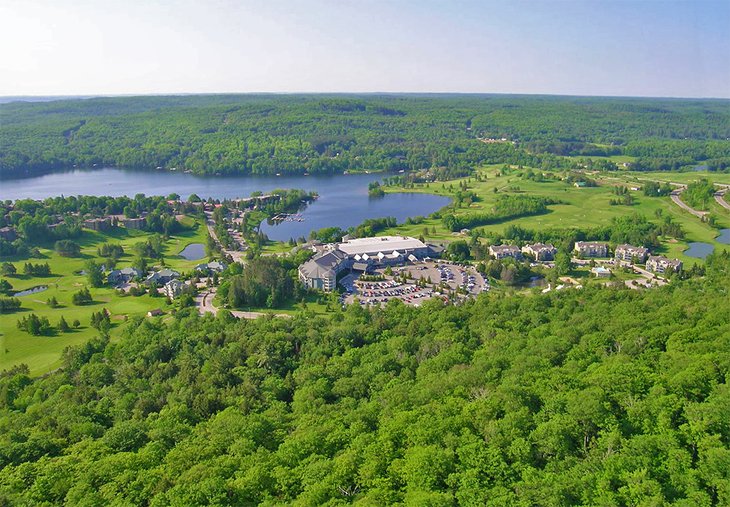 Tracing its roots to its beginnings as a hunting and fishing lodge in the late 19th century, Deerhurst Resort is the jewel in the crown of Huntsville's resort scene. As popular with families from Toronto as it is with golfers from the US and adventure seekers from Europe, Deerhurst offers endless outdoor fun.
On-site amenities at this popular 3-star Muskoka resort include a private beach and indoor/outdoor swimming pools, an extensive trail network, two golf courses, boat rentals, treetop trekking, and even stables offering horse rides.
There are plenty of things to do indoors, too, including a rock-climbing wall and play zone for kids, and babysitting services can be arranged. Other activities include squash and tennis courts, plus a fitness center, a full-service spa, and on-site dining.
Winter fun includes skiing at Hidden Valley, just minutes away by car; endless snowmobile trails; plus cross-country skiing and skating. ATV adventures and ziplining, as well as an escape room experience, can also be enjoyed here.
Deerhurst also offers a similar breadth of choice when it comes to accommodations. Guests can choose from traditional hotel rooms boasting great lake views to larger open-concept suites with separate seating areas and balconies. Better still for larger groups are a number of elegantly appointed one-, two-, and three-bedroom units with all the comforts of home, including kitchens, second bathrooms, and separate living rooms.
Address: 1235 Deerhurst Drive, Huntsville, Ontario
2. Arowhon Pines in Algonquin Park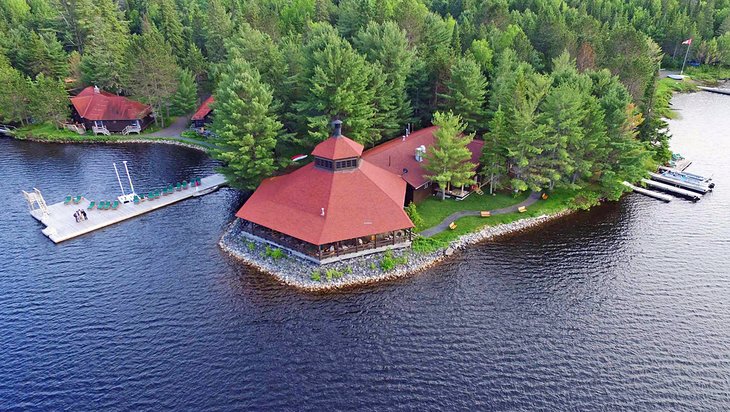 Although it's a little drive away from downtown Huntsville, Arowhon Pines in Algonquin Park is certainly worth including on your list of the best places to stay in Muskoka. Located in the popular tourist attraction of Algonquin Provincial Park and one of only three such resorts permitted to operate within the park, the 4-star Arowhon resort is hugely popular among visitors from overseas.
These guests are always easy to identify at meal times, when their reserved tables are adorned with a flag representing their home country. The food is a big draw here, with fresh, home-cooked meals served in the old and very large octagonal dining room that serves as the resort's centerpiece.
Accommodations at this all-inclusive wilderness lodge are rustic and cozy and consist of a number of shared and private log cabins, all of which have been recently renovated. In addition to wood-burning fireplaces and private decks, they come with cottage-themed bedding and furnishings.
On-site amenities include complimentary use of canoes and kayaks, as well as stand up paddleboards. Fishing is also fun here.
Address: Arowhon Road – Lease 1295, Algonquin Provincial Park, Ontario
3. Port Cunnington Lodge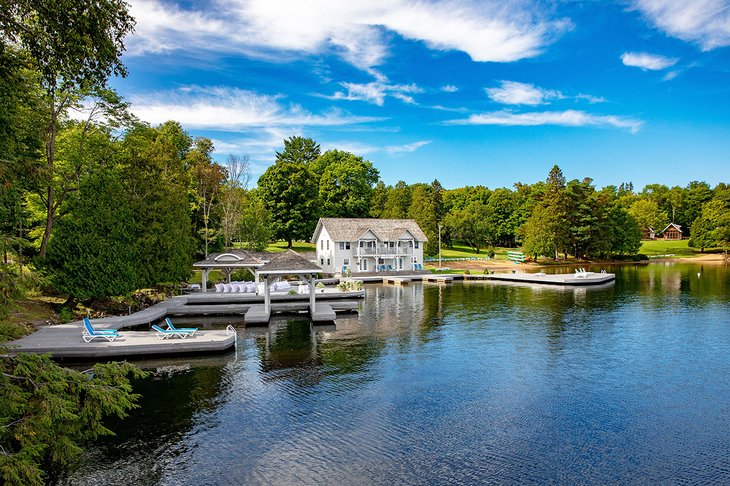 Located just a 25-minute drive from Huntsville, the 3-star Port Cunnington Lodge makes a great base from which to explore Huntsville and the neighboring Lake of Bays. The largest of Muskoka's lakes, Lake of Bays offers endless opportunities for water adventures, from boating and sailing to canoeing and kayaking.
Port Cunnington Lodge does a great job of satisfying the urge to play about on the water, too. Paddleboards and other people-powered watercraft are available for guest use, and there are plenty of places for young and old alike to enjoy a dip, from the sandy beach to the diving platforms.
Other activities include tennis and basketball, or simply relaxing in a hammock or sun lounger. Come nightfall, campfires and s'mores top the fun list. Golfers can also make use of the lodge's relationship with nearby Bigwin Island Golf Club, one of Canada's top golf courses. The resort also offers all-inclusive meal packages, which are definitely worth considering given their quality and use of locally sourced produce.
Come bedtime, guests can retreat to one of the lodge rooms or a stand-alone cottage. The latter come in a variety of sizes right up to four bedrooms and include fireplaces, patios with BBQs, and full kitchens.
Address: 1679 Port Cunnington Road, Dwight, Ontario
4. Hidden Valley Resort, Ascend Hotel Collection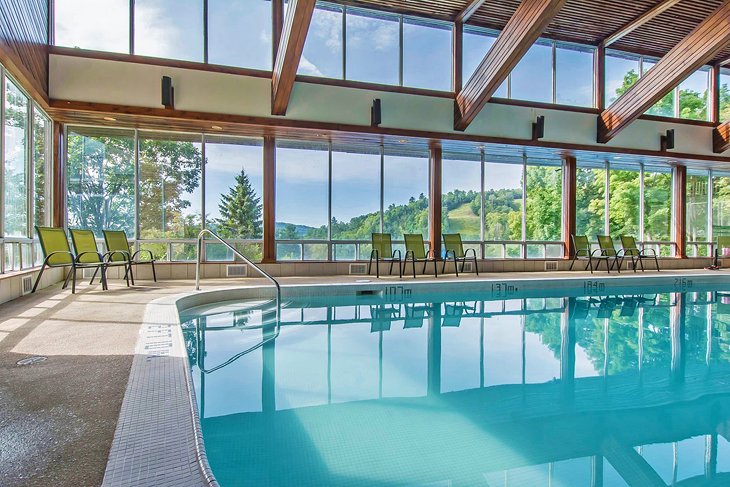 Just minutes away from Deerhurst Resort and downtown Huntsville, the 3-star Hidden Valley Resort, Ascend Hotel Collection, offers an affordable alternative for those seeking a great resort experience in Muskoka.
It's particularly popular during the winter months for its on-site ski facilities, including 11 runs, a terrain park for snowboarders, a ski club, private and group lessons, as well as ski camps for youngsters. Other fun winter activities available here include cross-country skiing, snowshoeing, and ice fishing.
Warmer weather options include a swimming pool, private beach, use of kayaks and canoes, along with a tennis court. Also available on-site are a gym, sauna, spa, and restaurant.
As for accommodations, guests have a variety of upgraded and spacious hotel-style options to choose from, most with king or queen beds, large bathrooms with bathtubs and showers, separate sitting areas, fridges, and great lake views from their balconies.
Address: 1755 Valley Road, Huntsville, Ontario
5. Trillium Resort and Spa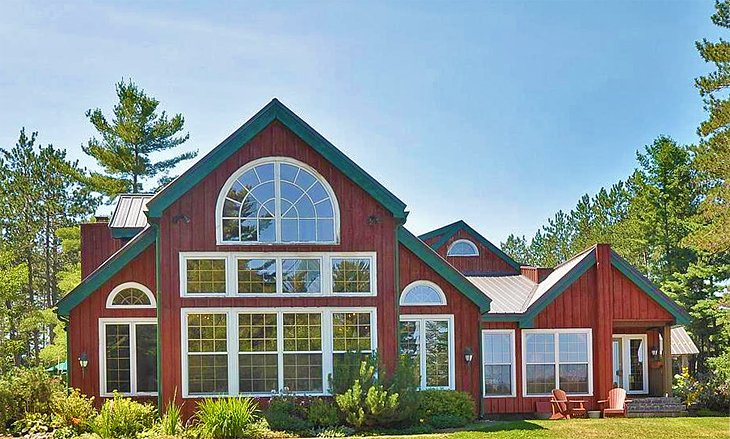 Located just a short drive south of Huntsville, Trillium Lake Resort and Spa is one of the most popular getaway destinations north of Toronto for couples seeking some downtime together. Set on a heavily wooded 86-acre site with its own waterfall and lake, this 3-star adults-only destination offers plenty of year-round fun, indoors and out.
Summer activities include exploring the resort's nature trails, rock climbing, tennis, swimming off the floating dock, a fitness center, a Finnish sauna, and an outdoor pool with a hot tub. Guests also have use of the resort's kayaks, canoes, and mountain bikes. Winter fun includes skating, cross-country skiing, snowshoeing, and direct access to the region's extensive snowmobile trails.
Accommodations at Trillium Resort consist of six delightful chalets set overlooking the lake, along with a further 10 smaller cabins set back in the woods. Spacious one-bedroom cabins feature large dining areas, full kitchens, bathrooms with large tubs, a wood-burning stove, and large private terraces or decks. Some also come with pullout couches. Pet-friendly options are available for an additional charge.
Address: 848 Clearwater Lake Road, Port Sydney, Ontario
6. Lumina Resort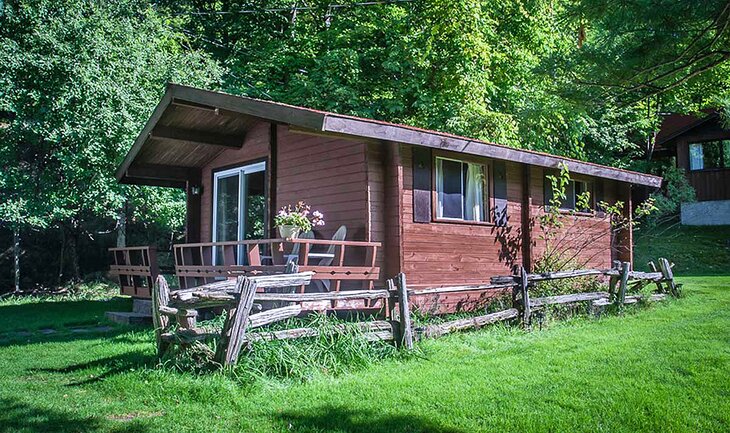 Since it was established in 1921, Lumina Resort has offered high-quality family vacations for those seeking an authentic Muskoka cottage experience. Located in Dwight on the shores of the beautiful Lake of Bays, this charming cottage resort is still managed by members of the original family who founded it over 90 years ago.
Set on 250 acres with 350 feet of shoreline including a wide, sandy beach area that's shallow and perfect for swimmers of all ages, it's a great spot for those wanting to explore Muskoka's largest lake by canoe or kayak. There's also docking available for those bringing their own boat, and the on-site marina offers a variety of boat rental options. A variety of fun kids programs are also available.
Time for bed? Lumina consists of 36 individual cottages along with 14 rooms in the Main Lodge. Full maid service is included in your all-inclusive package, as are fresh-prepared daily meals in the resort's cozy dining room.
Address: 348 Fox Point Rd, Dwight, Ontario
7. 3 Pines Lodge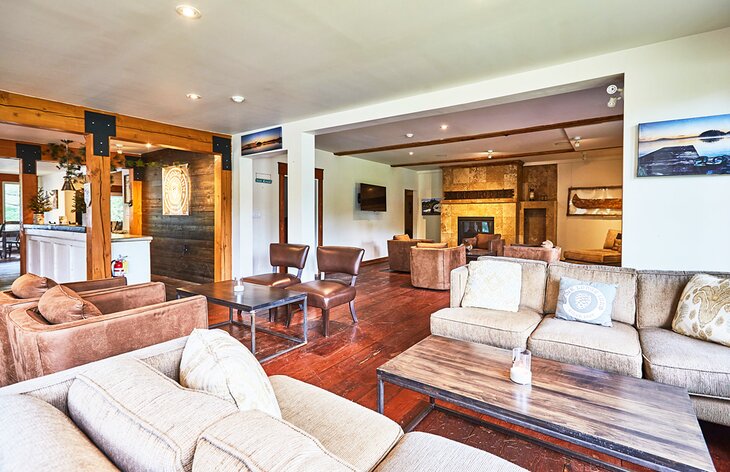 Located in the small village of Port Sydney just minutes from downtown Huntsville, 3 Pines Lodge has been providing visitors to Muskoka a wonderful small-resort experience since it opened in 1927.
Set overlooking lovely Mary Lake from where you can boat all the way to Huntsville, this charming, traditional 3-star resort offers just 14 accommodations, ensuring a peaceful vacation in a beautiful and tranquil setting.
Recently renovated guest rooms range from attractive standard rooms with comfortable bedding and walkout balconies to a larger two-story loft suite with a separate bedroom and living space, a mini-fridge, an electric fireplace, and a large private deck.
Guests will also want to indulge in some fine food on offer at Grille '27, the on-site restaurant, popular for its fresh home-cooked meals.
On your way home, be sure to check out Port Sydney's famous welcome sign. It includes the fact that the community even has a "grump" living there!
Address: 484 Muskoka Road 10, Port Sydney, Ontario
8. Walker Lake Resort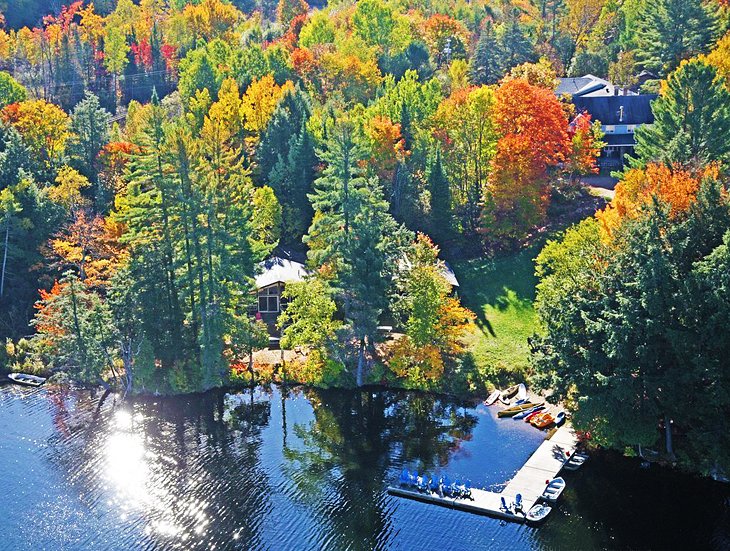 Located on beautiful Walkers Lake, one of thousands of smaller lakes spread across Muskoka, the 3-star Walker Lake Resort offers couples and families alike a relaxed getaway in a tranquil corner of cottage country.
Comprising just a handful of quaint cottage accommodations, this resort offers plenty of space to spread out and relax. Guests can also enjoy on-site amenities such as a shallow, sandy beach area with a diving platform and water trampoline; a variety of people-powered watercraft including canoes, kayaks, paddleboats, and paddleboards; as well as fishing boats. Walking and hiking trails are located nearby, as is Algonquin Provincial Park.
As for the cottages, a popular option is the modern two-bedroom unit with a separate living area, cathedral ceiling, real woodstove, full kitchen, and a large deck with a barbecue and superb views. Another good choice is the larger three-bedroom unit that sleeps up to eight comfortably.
Address: 1040 Walker Lake Drive, RR4, Huntsville, Ontario
9. Colonial Bay Cottage Resort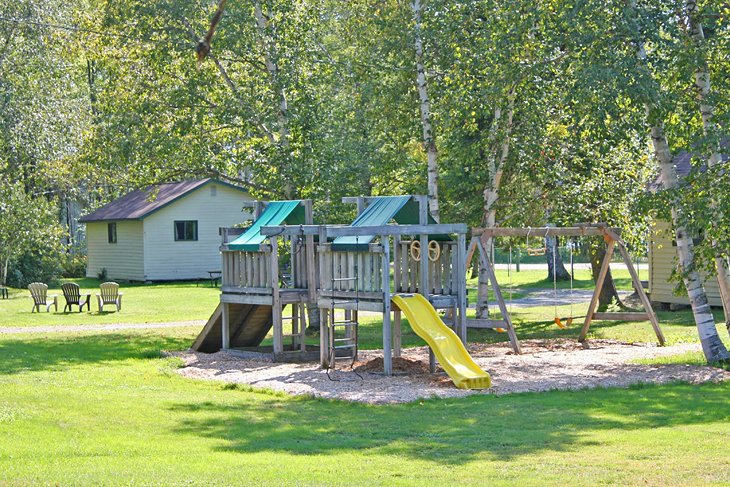 One of Muskoka's top-ranked family-owned and -operated resorts, Colonial Bay Cottage Resort is situated on pretty Peninsula Lake just minutes from downtown Huntsville.
It's also perfectly located for those wanting to experience the wilderness activities on offer in Algonquin Provincial Park, from kayaking and canoeing trips to wildlife and nature tours and endless hiking trails in summer, and snowshoeing and cross-country skiing in winter.
The resort itself offers much family fun, from a great sandy beach with a water trampoline, watercraft including kayaks and canoes, fishing, and a kids' play area.
When it comes to bedding down for the night, this resort delivers an excellent cottage experience. Stand-alone units include single-bedroom cottages capable of sleeping up to four guests (they come with a sofa bed), a combined living and dining area, a full kitchen, plus an outdoor barbecue. They also feature air conditioning and satellite TV.
A three-bedroom cottage is also available that can sleep up to six guests comfortably, while the standard studio suites are perfect for couples.
Address: 2218 ON-60, Huntsville, Ontario
10. Blue Water Acres Resort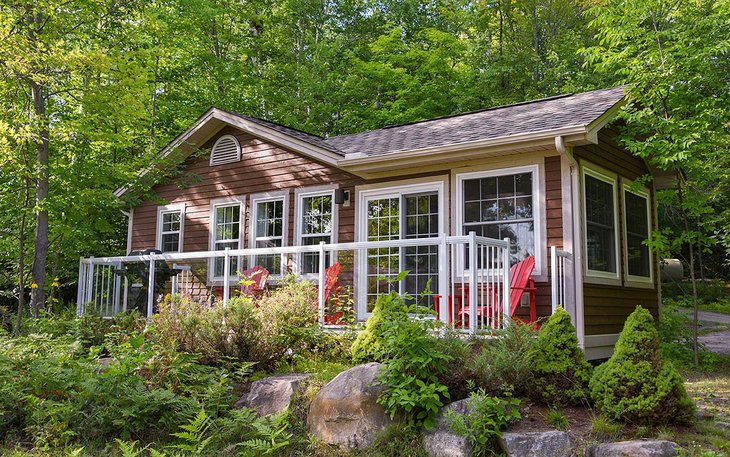 Another of Huntsville's popular traditional lakeside family resorts, the 3-star Blue Water Acres Resort is located on the lovely Lake of Bays, one of Muskoka's largest lakes and one that offers endless boating and water sports fun. Open year-round, summer fun includes access to a private beach and swimming pool, tennis court, fishing, and a games room.
Off-site amenities of note include nearby marinas providing boat rentals, plenty of golf options (be sure to try the day memberships available at beautiful Bigwin Island Golf Club), and access to the many trails and wildlife spotting options in nearby Algonquin Park.
Come winter, it's all about skating, tobogganing, ice fishing, cross-country skiing, and snowshoeing, while just a short drive away are the ski slopes of Hidden Valley.
Cottage-style accommodation options consist of stand-alone cabins huddled around the waterfront. Sleeping from two- to six guests comfortably, these quaint cottages come with full kitchens, spacious bathrooms, authentic wood-burning fireplaces, and large private decks.
Larger three-bedroom cottages are also available, complete with two bathrooms, huge sundecks, and propane fireplaces. If it's available, shoot for the two-story unit, which boasts a lovely traditional Muskoka room for added space.
Address: 1052 Rat Bay Road, Huntsville, Ontario
11. Cedar Grove Lodge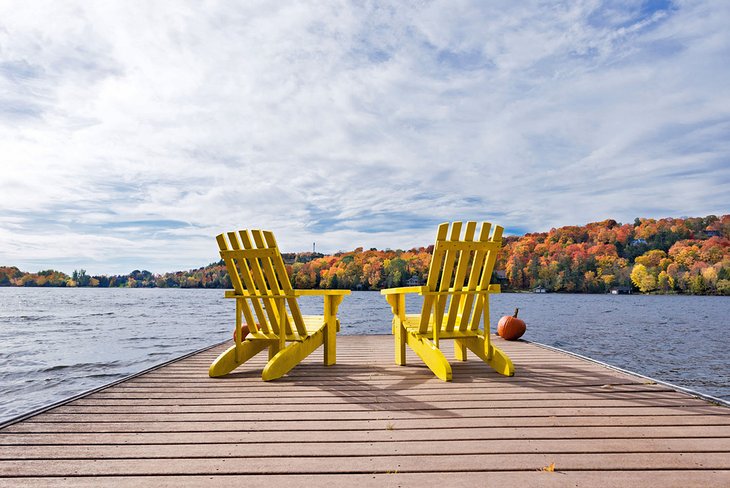 Located on the shores of Peninsula Lake, all-season Cedar Grove Lodge prides itself on its cozy, rustic log cabins and fun, family atmosphere. Located between Algonquin Provincial Park and Huntsville, the lodge offers no shortage of great things to do, from exploring the beautiful natural surroundings to enjoying the shopping, dining, and entertainment available in town.
There's also much to encourage guests to stay on-site, too, including a kid-friendly beach with shallow water and a water trampoline; water-skiing and tubing; a beach barbecue; use of canoes, kayaks, paddleboats, paddleboards, windsurfers, and rowboats; plus pontoon boat rides, all of which are included in the cost of your stay. Motorized boats are also available for rent.
Other perks include dining, with daily meals included in your stay, plus a 24-hour tea and coffee station. Special winter packages are also available.
Accommodations consist of 19 stand-alone cottages spread out across the property's expansive shoreline, each with its own stone fireplace and lake views. Guests can choose from well-appointed one-bedroom cottages all the way up to larger three-bedroom deluxe versions, with heated slate flooring in the bathrooms.
Pets are welcome here, but be sure to make your preferences known prior to your visit.
Address: 167 Grassmere Resort Road, Peninsula Lake, Huntsville, Ontario
Map of Resorts in Huntsville
Huntsville - Climate Chart
Average minimum and maximum temperatures for Huntsville, Canada in °C
J
F
M
A
M
J
J
A
S
O
N
D

-5

-16

-4

-16

2

-9

10

-2

18

4

22

9

25

12

24

11

19

7

13

2

5

-3

-2

-12

PlanetWare.com
Average monthly precipitation totals for Huntsville, Canada in mm.

89

64

69

74

84

86

76

91

109

97

112

107

Average monthly snowfall totals for Huntsville, Canada in cm.

86

53

38

14

3

0

0

0

0

4

43

85
Average minimum and maximum temperatures for Huntsville, Canada in °F
J
F
M
A
M
J
J
A
S
O
N
D

22

2

25

3

35

15

50

29

63

39

72

48

77

53

74

52

66

44

54

35

40

26

27

10

PlanetWare.com
Average monthly precipitation totals for Huntsville, Canada in inches.

3.5

2.5

2.7

2.9

3.3

3.4

3.0

3.6

4.3

3.8

4.4

4.2

Average monthly snowfall totals for Huntsville, Canada in inches.

34

21

15

5.6

1.1

0

0

0

0

1.5

17

33