10 Top-Rated Resorts in Canmore, Alberta
Famous for its dramatic mountain scenery and its proximity to pristine, glacier-fed lakes, Canmore has, over the past few decades, become one of the best places to visit in Canada for lovers of nature and adventure seekers.
While the big draws are Banff and Lake Louise, Canmore is also becomingly increasingly popular with couples and singles simply wanting to relax in a spectacular wilderness setting. As a result of this increased popularity among vacationers, a wide variety of accommodation options have sprung up in and around this charming town.
These include everything from large, luxurious, family-friendly affairs, such as Stoneridge Mountain Resort and Blackstone Mountain Lodge, to romantic spa properties like Solara Resort & Spa, and the spacious, home-away-from-home offerings at The Summit at Grande Rockies.
Whatever your budget, and whether your interests are indoor pampering or outdoor wilderness adventures, you'll find the very best accommodation options with our list of the best places to stay and top resorts in Canmore, Alberta.
1. Stoneridge Mountain Resort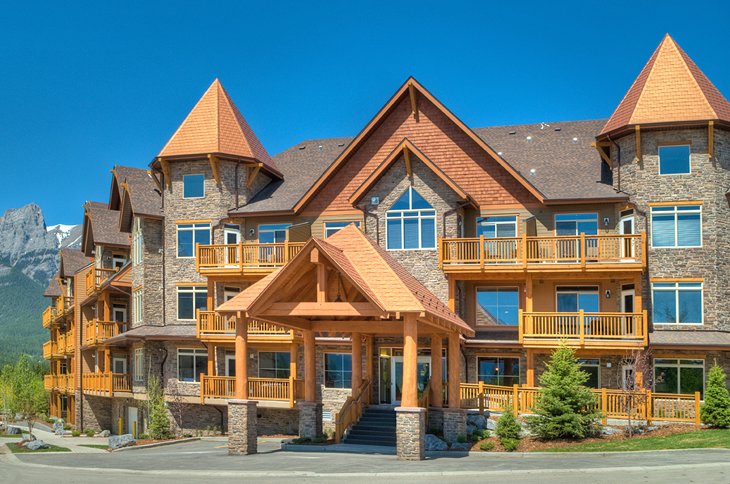 The 4-star Stoneridge Mountain Resort is deservedly rated as one of the best luxury resorts in Alberta. Stoneridge Mountain is a great place to stay for couples, families, and groups seeking thrilling outdoor adventures yet without being too far away from the town center.
In fact, Stoneridge is just a short stroll away from the downtown core, ensuring that things to do in Canmore, like shopping, visiting attractions, and dining, are all easily accessible. Another plus is the resort's proximity to Banff National Park in the very heart of the Rockies.
Whether you opt for a one-, two-, or three-bedroom condo-style suite, all accommodations come fully-equipped with all the comforts of home. Notable features of these spacious units include modern kitchens, TVs, and sound systems, along with large bathrooms with separate bathtubs and showers. A welcome inclusion are the sizable private patios, each with its own barbecue, patio furniture, and superb mountain views.
On-site guest amenities include a large indoor-outdoor pool that's heated year-round and features a large sundeck for sunbathing and relaxing, as well as a large hot tub. For those wanting to stay fit, there's also a well-equipped gym area.
Another big plus, especially in winter, is the inclusion of heated underground parking, which is free for resort guests. There's also a well-stocked DVD library.
Address: 30 Lincoln Park, Canmore, Alberta
2. The Malcolm Hotel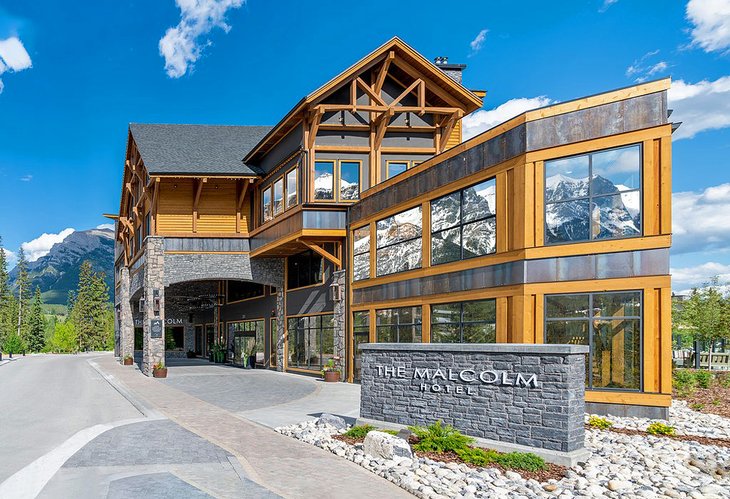 The elegant 4-star Malcolm Hotel offers its guests a great luxury vacation in the heart of the action. Located just a few minutes' walk away from some of the best places to visit in Canmore, including the town's top restaurants, shops, and entertainment, the resort serves as a great base for those wanting to explore the natural wonders of this beautiful part of Alberta.
Pretty much everywhere in the resort you'll catch great views of the nearby Three Sisters Mountains. And better still, some of Alberta's top winter sports activities, such as cross-country and downhill skiing, are just a few kilometers away when the snow flies
The resort's accommodations are equally attractive. Most rooms offer the same good views of the mountains and come equipped with everything needed for a great family vacation experience. In addition to standard features such as HD TVs and free Wi-Fi, you can expect to find mini-fridges and coffeemakers, along with spacious bathrooms with large soaker tubs and rainfall showers.
On-site amenities include a fitness center, free parking, a good restaurant, and concierge services. Meeting and function rooms are also available, along with a comfortable lounge and an outdoor terrace offering the same excellent mountain vistas.
Address: 321 Spring Creek Drive, Canmore, Alberta
3. Solara Resort by Bellstar Hotels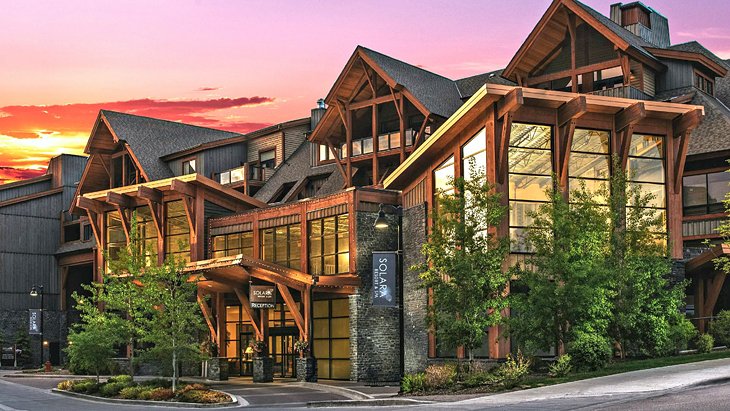 An award-winning wellness retreat, the elegant 4-star Solara Resort by Bellstar Hotels offers a variety of luxury lodge-style accommodation options.
Part of the Bellstar Hotels & Resorts group, the property offers accommodations that are suitable for everything from large groups to family gatherings to romantic getaways for couples. Suites range in size from one-, two-, and three-bedroom variants.
Elegantly furnished throughout, each suite features attractive granite-topped kitchens and high-end stainless steel appliances. Other standard features include custom-made wood furniture, large fireplaces, and huge windows that allow in plenty of natural light. They also come with handy pull-out beds in the living area.
A real treat is enjoying the incredible views from your private balcony or patio. The fully-furnished spaces also come equipped with a gas BBQ. A number of premium top-floor suites are also available. These deluxe units feature additional living space plus upgrades that include an island with stools in the kitchen, along with a dining room.
The resort's world-class amenities are also a good reason to stay here, whatever the season. Solara Resort amenities include a large conference center, along with Canmore's only movie theater, exclusive to guests and showing free movies each night. Another perk is free use of the resort's mountain bikes.
Guests can also enjoy the One Wellness & Spa with its steam and sauna rooms, comfortable lounge area, and full menu of spa services; but be sure to check for any special spa packages that may be available when you're ready to book. Other amenities include a fitness center, a video library, a ski waxing room, storage lockers, and heated underground parking,
Address: 187 Kananaskis Way, Canmore, Alberta
4. The Summit at Grande Rockies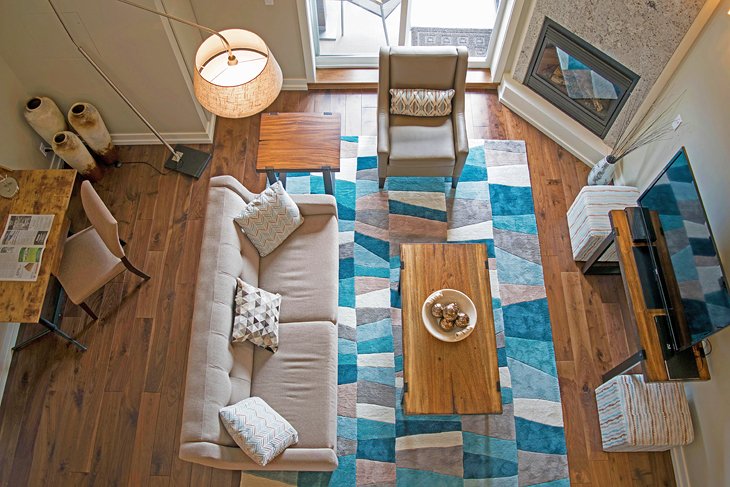 Offering what the resort calls an "elevated penthouse living experience" (pun intended, we presume!), the 4-star Summit at Grande Rockies delivers a veritable home-away-from-home experience.
Each spacious one- or two-bedroom condo-style unit covers two stories and comes complete with a large and fully-equipped kitchen, bathrooms with large soaker tubs and steam showers.
They also feature separate dining areas, gas fireplaces, and private balconies or decks with amazing views toward the Rockies. If available, be sure to request one of the deluxe units. Measuring 140 square meters, these spacious accommodations have their very own six-person hot tubs and second balcony.
Resort amenities available for guests include a swimming pool and hot tub, a spa, and an on-site restaurant. Each unit also comes with two dedicated underground parking spaces in the heated underground garage, ensuring there's plenty of parking for larger groups.
The resort is also popular among families for its kids' programs and activities. The resort's restaurant also features kid-friendly menu items.
Address: 901 Mountain Street, Canmore, Alberta
5. Spring Creek Vacations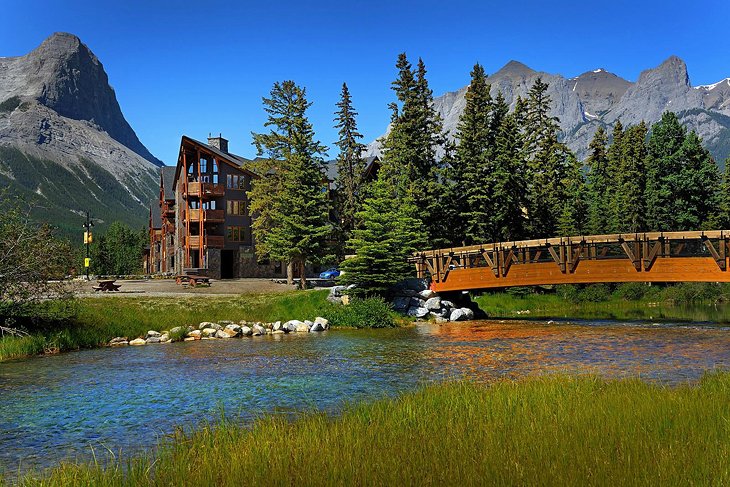 If location is a factor when it comes to choosing the best place to stay in Alberta, it doesn't get much better than Spring Creek Vacations. Located in the heart of the mountain village-style development of Spring Creek, this 4-star resort is popular for its easy access via attractive creekside pathways leading to great shopping, dining, and entertainment in downtown Canmore.
For those wanting to stay on-site, the resort offers plenty of fun things to do, from outdoor pools and hot tubs to a games room with pool tables, and a fitness center. Underground parking is also provided, ensuring guests a pleasant, pedestrian-only experience on the resort and along the route to town.
Guest room options include your choice of one-, two-, and three- bedroom lodge-style units, each with its own private deck with a barbecue plus unobstructed views over the Rockies. Other welcome touches include the use of bathrobes, complimentary toiletries, and well-appointed kitchens with stainless steel appliances.
A number of pet-friendly suites are also available. You and your pooch will be provided with goodie bags, dog park maps, and doggy treats.
Address: 375 Spring Creek Drive, Canmore, Alberta
6. A Bear and Bison Canadian Country Inn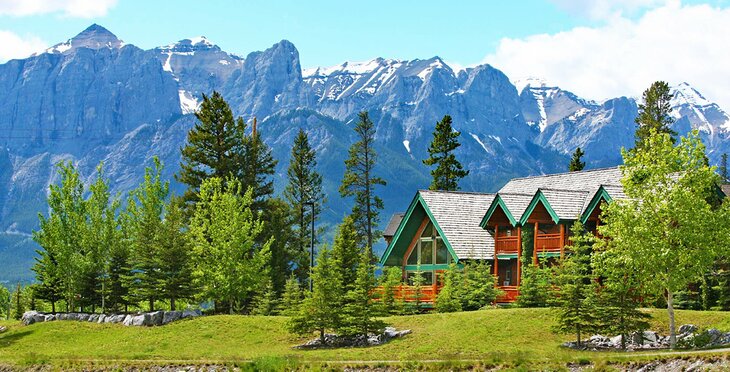 While very much a family-friendly destination, the wonderfully named Bear and Bison Canadian Country Inn is extremely well-suited for those seeking a couples' romantic getaway in the Rockies.
All accommodations are cozy and come with fireplaces, spacious balconies with stunning mountain views, real wood floors, and charming four poster beds. Other standard features include HDTVs and Wi-Fi, coffee and tea makers, as well as bathrooms with separate showers and Whirlpool tubs.
Those wanting more space should consider booking one of the larger suites. These feature additional living space and high ceilings with tall windows, ensuring great views can be enjoyed throughout the unit.
In addition to be close to many of Canmore's top attractions and restaurants, there are plenty of good amenities on-site. The resort's restaurant features patio seating in summer and also offers in-room dining, including at breakfast. A hot tub is also available for guest use, and a great network of hiking trails are easily accessible from the property.
Address: 705 Benchlands Trail, Canmore, Alberta
7. Blackstone Mountain Lodge by CLIQUE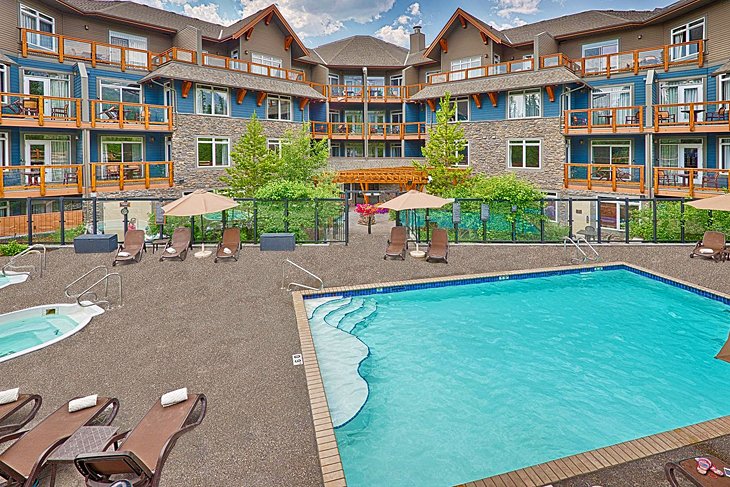 One of the best CLIQUE Hotels and Resorts' luxurious Alberta offerings, Blackstone Mountain Lodge in Canmore offers the perfect base from which to explore the Canadian Rockies and nearby points of interest such as Banff National Park and stunning Lake Louise.
Popular as one of the area's top 3-star resorts, Blackstone also offers numerous on-site amenities, too. These include a fully heated outdoor swimming pool that's open year-round, a number of hot tubs, a gym, plus a barbecue area for grilling those family feasts.
Also notable is the Verde Day Spa, a full-service spa that offers everything from pedicures and manicures to massages and body wraps. Ski and bike lockers are also provided, as is heated underground parking.
Accommodations here are certainly spacious. A choice of one-, two-, and three-bedroom suites are available, some with their own kitchen and breakfast bar.
Other features found in all these pleasantly decorated units include fireplaces, washer/dryers, full bathrooms with separate showers. They also feature private balconies large enough to relax on comfortably with friends and family as you enjoy the magnificent views.
Address: 170 Kananaskis Way, Canmore, Alberta
8. Copperstone Resort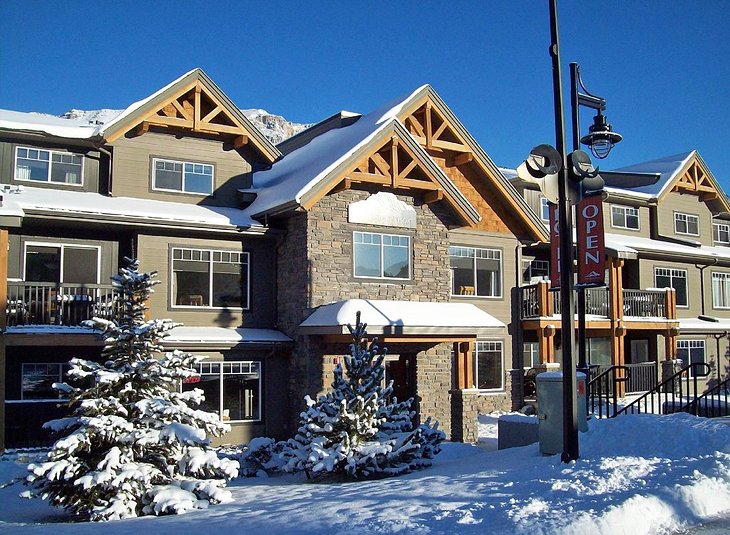 Despite being surrounded by some of the most stunning scenery in all of Canada, guests staying at the Copperstone Resort in the Canmore neighborhood of Dead Man's Flats have no shortage of good excuses to spend time on the premises.
In addition to having plenty of on-site amenities, including a large swimming pool and a 10-person hot tub, guests have access to this 3-star resort's fitness center, a DVD and games library, a fire pit, and plenty of barbecues.
The resort's accommodation options also make it a worthwhile contender for a memorable Canmore vacation. Available units include one- and two-bedroom units, some with an optional den when additional space is needed. Each of these spacious accommodations comes with a full kitchen, a separate living area with a pullout couch, a dining room, plus a large balcony. High-speed Wi-Fi is also included.
If traveling with pets, be sure to ask ahead of time for a pet-friendly unit. You'll be provided with a doggy bed and treat bag, along with access to plenty of walking trails that are perfect for your pooch to stretch its legs when nature calls.
Address: 250 2nd Avenue, Dead Man's Flats, Alberta
9. Falcon Crest Lodge by CLIQUE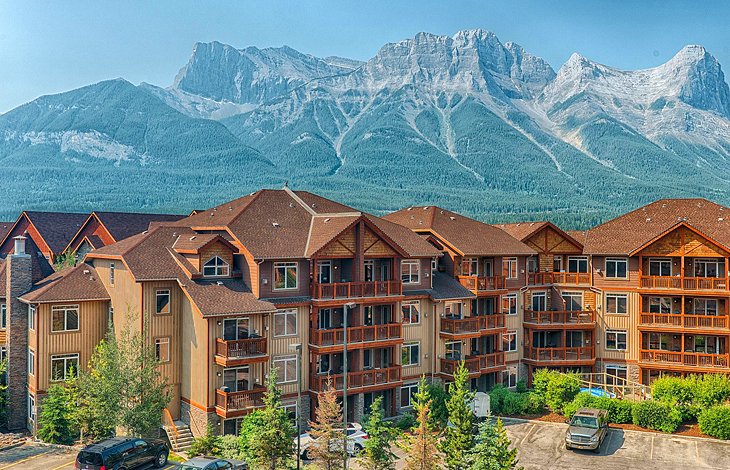 The fully refurbished suites at Falcon Crest Lodge by CLIQUE consist of spacious one- and two-bedroom units perfectly suited for family gatherings. There are also a number of lovely deluxe rooms and suites that are ideal for couples seeking an intimate getaway. Whatever your choice, all units come with bathrooms that feature oversized tubs, large walk-in showers, and his and hers bathrobes.
Another benefit of these spacious 3-star units are the kitchens or kitchenettes, which come with the latest appliances. Also of note are such standard features as fireplaces, large flat-screen TVs, and pull-out couches, along with private balconies or patios.
Wi-Fi is also included for guest use, as is heated underground parking and a self-service car wash. On-site amenities for guests to enjoy include two outdoor hot tubs, free use of games and puzzles, area guidebooks and maps, and a fitness room.
Address: 190 Kananaskis Way, Canmore, Alberta
10. Pocaterra Inn & Waterslide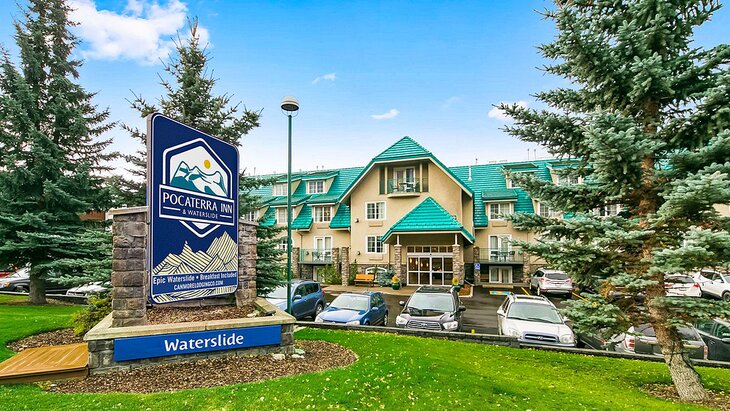 Offering a variety of spacious accommodations and a great location close to downtown Canmore, the 3-star Pocaterra Inn & Waterslide is a popular choice for families visiting one of Alberta's top tourist destinations.
Room choices range from comfortable, standard hotel-style affairs to luxury top-floor executive suites boasting beautiful views over Canmore and its surrounds. In-room features of these sumptuous suites include king beds; a two-sided fireplace; two bathrooms, including one with a bathtub big enough for two; a separate living area; and larger balcony.
Other notable accommodation options include the special "Hide-a-Bed" rooms, perfect for larger families as they contain two queen beds plus a pull-out sofa; fully accessible rooms, with a larger bathroom equipped with safety bars for those with mobility issues; and pet-friendly rooms.
On-site amenities include use of a business center, meeting rooms, a fitness center, indoor swimming pool, and yes, there's a great waterslide! Other amenities include a steam room, and a nice perk is the inclusion of a complimentary continental breakfast.
Address: 1725 Bow Valley Trail, Canmore, Alberta
Map of Resorts in Canmore, Alberta
Canmore - Climate Chart
Average minimum and maximum temperatures for Canmore, Canada in °C
J
F
M
A
M
J
J
A
S
O
N
D

-5

-15

0

-11

4

-8

9

-3

14

2

19

6

22

7

22

7

16

3

10

-1

1

-8

-5

-14

PlanetWare.com
Average monthly precipitation totals for Canmore, Canada in mm.

31

23

20

33

58

61

51

51

43

31

31

36

Average monthly snowfall totals for Canmore, Canada in cm.

38

30

27

26

17

2

0

0

7

19

34

44
Average minimum and maximum temperatures for Canmore, Canada in °F
J
F
M
A
M
J
J
A
S
O
N
D

23

5

32

12

39

18

48

27

58

35

66

42

72

45

71

44

61

37

50

30

33

17

23

7

PlanetWare.com
Average monthly precipitation totals for Canmore, Canada in inches.

1.2

0.9

0.8

1.3

2.3

2.4

2.0

2.0

1.7

1.2

1.2

1.4

Average monthly snowfall totals for Canmore, Canada in inches.

15

12

11

10

6.7

0.7

0

0

2.8

7.4

13

17