11 Top-Rated Resorts in Banff
Banff town is where all the resorts in Banff National Park are located. This small, bustling town at the park's south end is surrounded by the Canadian Rockies' soaring peaks, and is devoted to the tourists who come to explore Banff National Park.
Along with resorts that cater to all budgets and styles of traveler, the town's main streets are also home to numerous dining options and a host of shops.
Banff, and its resorts, are open year-round and are popular with couples on romantic getaways, groups of friends, and vacationing families.
In summer, the streets are packed with tourists from across the planet who come to soak up its natural beauty, hike Banff National Park's numerous trails, fish its high alpine lakes and rushing rivers, or traverse its mountain passes by horseback.
In winter, the town is a playground for snow enthusiasts, with good skiing, snowboarding, and Nordic terrain at Banff's ski resorts. It also has one of the longest ski seasons in North America running from mid-November through April.
Come in spring or fall for the lowest accommodation rates and fewer crowds.
Below are our favorite resorts to stay at in Banff.
1. Fairmont Banff Springs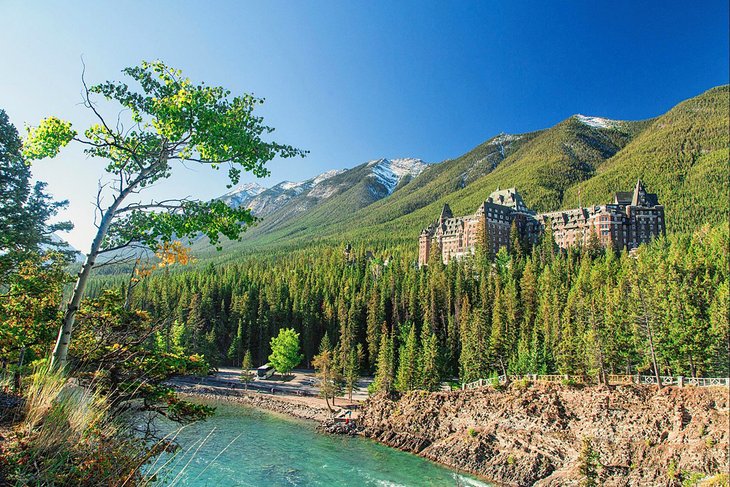 Accommodation: Fairmont Banff Springs
Banff's most famous lodging option is the mesmerizing Fairmont Banff Springs. It is set inside a castle-like building that is an attraction in its own right.
Constructed in 1888, the historic resort was originally planned as the world's largest hotel complex.
It didn't pan out that way, but the property, styled after a Scottish baronial castle, is still a grand affair that preserves the glamour of the railway tourism heyday that it was born into.
The 745 rooms and suites are elegantly decorated, and many offer sweeping mountain views. If you are traveling with kids, the two-bedroom suite is a good choice. Couples who just want to soak up the fairy-tale ambience will love the one-bedroom suites.
In summer, guests can golf the championship Fairmont Banff Springs Gold Course on the grounds, while skiing is the most popular winter activity.
Amenities include three pools, both indoor and outdoor; two hot tubs; a state-of-the-art gym; and a spa with saunas and natural mineral pools. There are also numerous restaurants on-site, ranging from casual to fine dining.
Address: 405 Spray Avenue, Banff, Banff National Park, Alberta
2. Rimrock Resort Hotel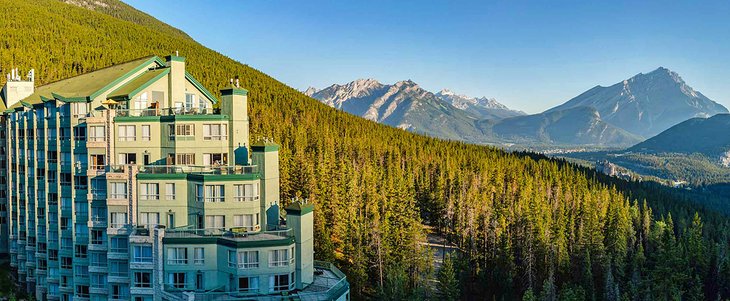 Accommodation: Rimrock Resort Hotel
Just outside downtown Banff, about a five-minute walk to the gondola, Rimrock Resort Hotel has gorgeous views in all directions.
Tucked into the side of Sulphur Mountain, where Banff Upper Hot Springs are located, the resort has 343 rooms and suites.
The most affordable rooms just have parking lot views, but if you just want a luxury sleep for less, they are the way to go. The best rooms have giant balconies with in-your-face mountain views. All rooms are modern, spacious affairs, with comfy beds and quality linens.
There is an indoor swimming pool, hot tub, steam room, sauna, and fitness center for guests to use. You can also indulge in some pampering at the luxe spa.
For dining, you'll have a choice of two restaurants. There is also a coffee shop for a morning fuel-up.
While Rimrock is not walking distance from downtown Banff, you can get into town via the free public shuttle service or drive there in a few minutes.
Address: 300 Mountain Avenue, Banff, Banff National Park, Alberta
3. Moose Hotel and Suites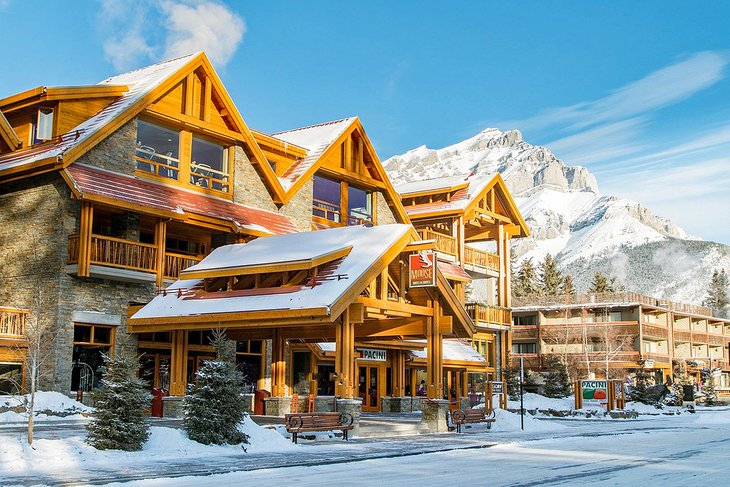 Accommodation: Moose Hotel and Suites
Just a minute walk from the heart of Banff's downtown, the Moose Hotel and Suites has a great location if you want to explore on foot.
The resort is a mountain-elegant affair that resembles a European Alpine lodge, with pitched-roof buildings and wooden balconies.
There are 174 rooms and suites. These come in a number of configurations, from double queens to two-bedroom suites, but all are comfortable and modern and boast extras like gas fireplaces. Suites feature kitchenettes and can be accessed from exterior entryways.
If you don't feel like leaving the hotel for dinner, the on-site Pacini Italian Restaurant serves authentic fare in large portions.
Also on-site is the Meadow Spa, which has 10 treatment rooms and a private outdoor hot tub. There is an indoor swimming pool, and two more hot tubs on the rooftop open to all guests. These have awesome Canadian Rocky Mountain views.
If you are traveling with a dog, the hotel is pet friendly.
Address: 345 Banff Avenue, Banff, Banff National Park, Alberta
4. Royal Canadian Lodge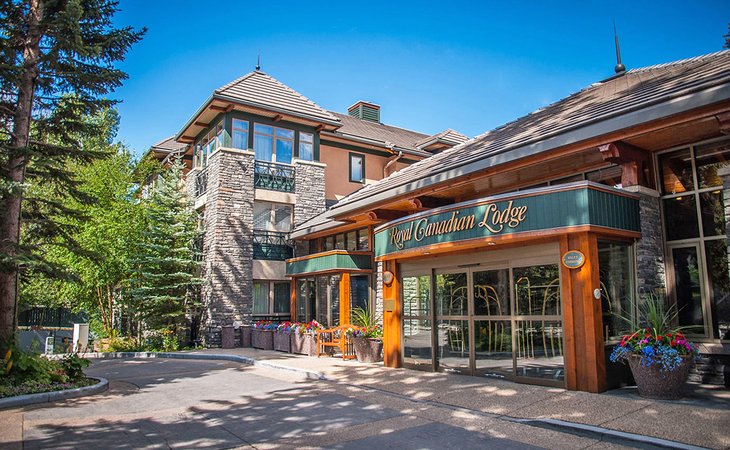 Accommodation: Royal Canadian Lodge
The Royal Canadian Lodge has a central location that is within walking distance from downtown Banff's restaurants and shops.
Upon checking in, guests are greeted by an impressive, vaulted wood-ceiling lobby, with a wood-burning fireplace and oversized chandelier. The lodge's look throughout is vintage mountain chalet.
Rooms and suites feature decorative wooden headboards and other classic stylings. If you enjoy the old-fashioned look, you'll find them quite comfortable. Many of the suites also have jetted tubs.
The restaurant here serves Canadian fare. There is also a heated indoor pool lit by a cool stained-glass window. There is a giant 10-person hot tub with a waterfall edge that empties into the pool at one end. The oversized steam room is another plus. There is also a small spa.
Address: 459 Banff Avenue, Banff, Banff National Park, Alberta
5. Banff Park Lodge Resort Hotel & Conference Centre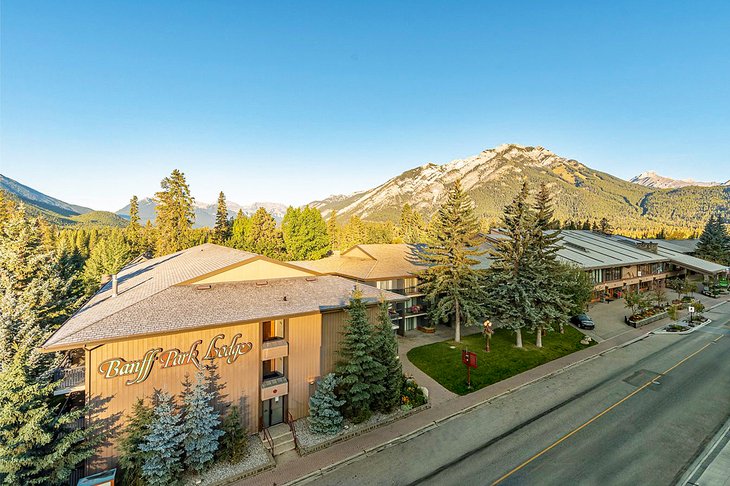 Accommodation: Banff Park Lodge Resort Hotel & Conference Centre
The sister property to Peaks Hotel and Suites, Banff Park Lodge Resort Hotel & Conference Center is located in the heart of downtown.
It is a great choice for anyone looking to explore on foot. It is also jam-packed with amenities.
The hotel has two restaurants. The Crave Mountain Grill serves casual Rocky Mountain fare for breakfast and dinner, while La Terrazza is a fine-dining Italian restaurant open for dinner only.
This resort also features an indoor swimming pool with a large hot tub, with a cascading water wall that drops into the pool. If you need to sweat it out, head to the oversized steam room. A fitness facility rounds out the amenity choices
The 211 rooms and suites are done up in mountain-casual style with comfy beds. Some of the suites have Jacuzzi tubs.
If you are traveling with the family, interconnected rooms are also available. Service is attentive, with a helpful concierge.
Address: 201 Lynx Street, Banff, Banff National Park, Alberta
6. Sunshine Mountain Lodge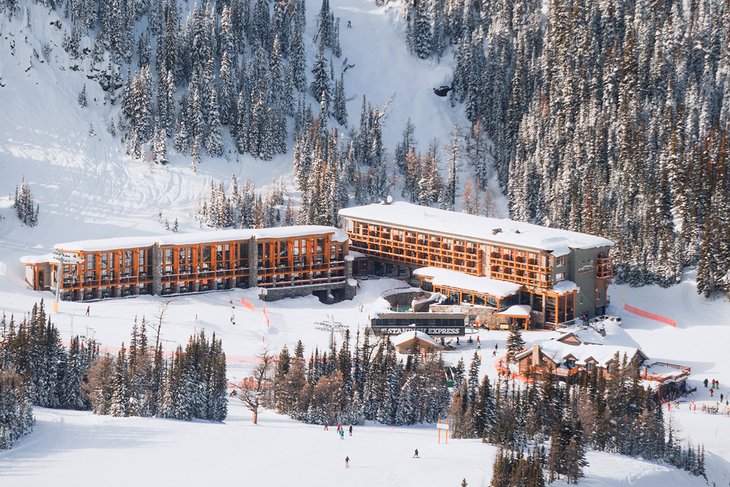 Accommodation: Sunshine Mountain Lodge
Atop the popular Sunshine Village ski resort in Banff National Park, Sunshine Mountain Lodge is the area's only direct base camp for on-mountain winter and summer adventures.
Offering ski-in, ski-out access in winter, the rooms and suites have a modern rustic mountain ambience about them. Expect lots of polished light wood accents, modern leather furnishings, and crisp white linens on comfy beds.
Accommodations are either in the West Wing or Main Lodge, and rooms come in multiple configurations.
The West Wing Loft Rooms are favorites, with remote-controlled blinds covering the 27-feet high windows that look directly onto Lookout Mountain. This two-floor room features a loft with a king bed and a main floor with a queen bed and jetted bathtub.
Resort amenities include Banff's largest outdoor hot tub, a dry sauna, and a small gym. There is also a day spa if you need some pampering. It offers everything from hot stone massage to facials and other treatments.
Address: 1 Sunshine Access Road, Banff, Banff National Park, Alberta
7. Peaks Hotel and Suites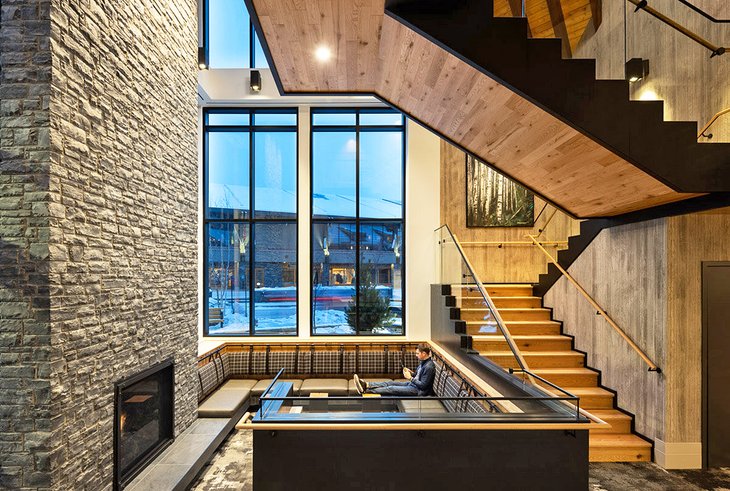 Accommodation: Peaks Hotel and Suites
In the heart of downtown Banff, Peaks Hotel and Suites is a top mid-range choice for anyone wanting to be within a quick stroll of more than 80 restaurants and dozens of shops and other attractions.
This tech-savvy hotel lets you use your phone to access your room. There is contactless 24-hour check-in as well.
Spread across four floors, there are a range of rooms and suites, all of which are modern with a mountain rustic vibe.
The loft suites are the most spacious room option on property. They come with vaulted ceilings and two-level configurations, with a king bed in the loft area and a living space with a pull-out sofa bed.
Resort-like amenities include a concierge to assist you with any dining or excursion bookings.
Although there is not a restaurant on the grounds, guests have signing privileges at the three restaurants across the street at sister property Banff Park Lodge. Here, you will also have access to an indoor pool, hot tub, steam room and fitness room.
Address: 218 Lynx Street, Banff, Banff National Park, Alberta
8. Canalta Lodge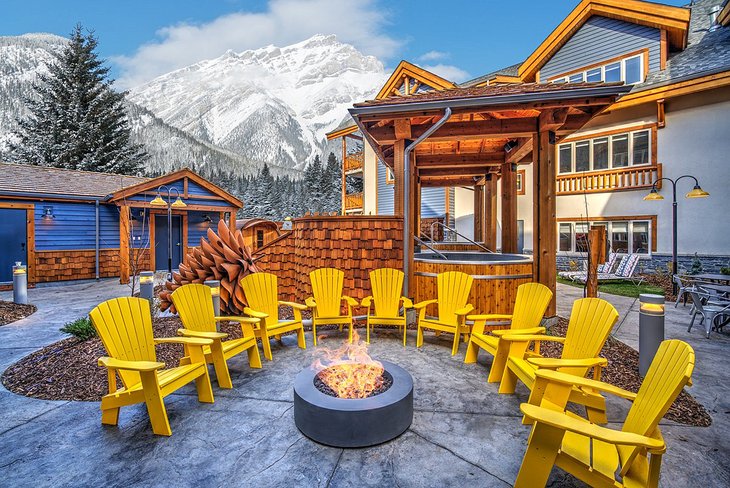 Accommodation: Canalta Lodge
The recent recipient of a multi-million renovation and rebranding, Canalta Lodge is about a 10-minute walk from downtown Banff.
This 3-star hotel has an eccentric vibe throughout. The 120 contemporary rooms are spacious and comfy. The loft suites are what to book here–they feature a two-floor layout and Jacuzzi bath tubs.
If you don't snag a room with a jetted tub, there are hot tubs in the courtyard area. Here, you'll also found a glacier plunge tub, an outdoor sauna, and a fire pit.
A free breakfast is offered, and although there is no lunch or dinner option, the hotel across the street has a restaurant.
If you are traveling with a dog, some rooms are pet-friendly. Guests are also offered free bus passes to take local buses downtown, where you can connect with the free ski shuttle.
Address: 545 Banff Avenue #1B5, Banff Banff National Park, Alberta
9. Mount Royal Hotel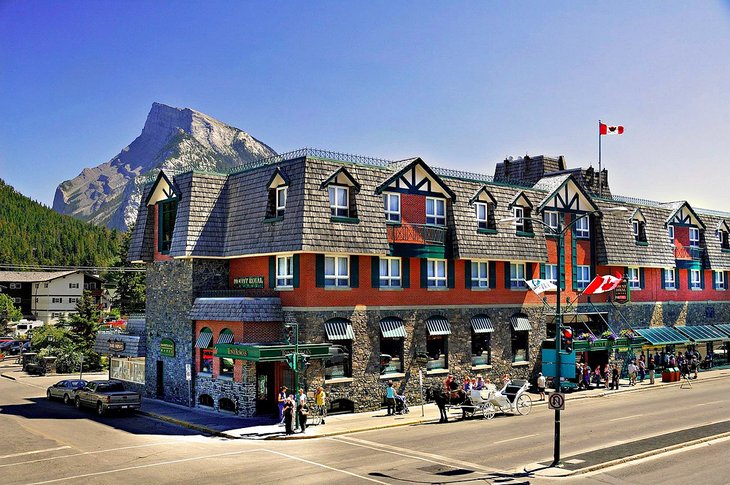 Accommodation: Mount Royal Hotel
Right on Banff Ave, the town's main street, the Mount Royal Hotel has a great location for shopping, dining, and catching the free ski shuttle to the slopes in winter.
This resort has a tour desk that can also help you plan excursions in all seasons.
The rooms and suites are mountain-chic with comfy beds. They do sometimes pick up street noise, but this is a part of staying downtown. The suites feature kitchenettes and separate living areas.
Amenities here include outdoor hot tubs on the roof that are perfect for post-activity soaking while the sun sets over the towering mountain peaks.
There is also a restaurant, general store, library, and even a museum that tells the history of Banff and the Mount Royal on the grounds.
Address: 138 Banff Avenue, Banff, Banff National Park
10. Banff Aspen Lodge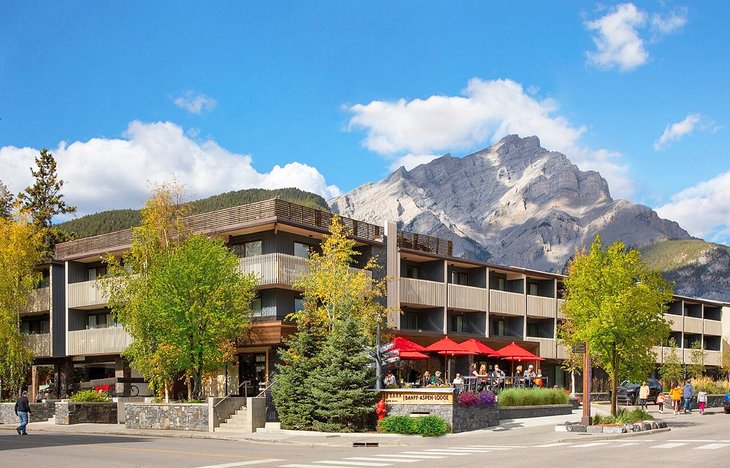 Accommodation: Banff Aspen Lodge
On Banff's main street, just a few minutes' walk from multiple restaurants and shops, the Banff Aspen Lodge is a casual-luxe place to stay.
This boutique property has 89 rooms that are spacious and modern. They come in three classes: economy, superior, and premium.
Economy rooms are a good choice for budget-conscious travelers who plan to spend a lot of time outdoors but want the comforts and amenities of a resort. These rooms are small and don't have balconies, but they do feature the same comfortable beds and artsy décor.
By comparison, premium rooms can sleep up to four people, with either two queen beds or one queen and two twin beds (great for families). They come with balconies or patios.
On-site amenities at Banff Aspen Lodge include a coffee shop that serves light lunches and snacks, and is also a popular local hang-out. There is also an outdoor courtyard with hot tubs and a fireplace for guests. The hotel is pet-friendly.
Address: 401 Banff Avenue, Banff, Banff National Park, Alberta
11. Elk + Avenue Hotel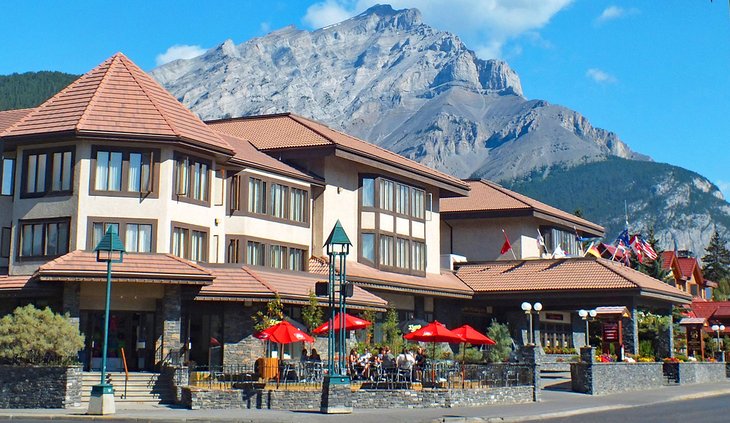 Accommodation: Elk + Avenue Hotel
Also on Banff's main street, and in the heart of the action, is Elk + Avenue.
The décor is Rocky Mountain-inspired and there is a cozy, stylish vibe throughout. The hotel is family-friendly and kids stay free here. There are 162 rooms in a few different classes.
The on-site Farm & Fire restaurant serves locally-sourced, wood-fire cooked fare. There is also a fireside lounge area with a winter après ski scene.
Other amenities include an indoor hot tub, a sauna and steam room, and an adventure and tour company that can set up area activities. The hotel recently started accepting pets in some rooms for a fee.
Address: 333 Banff Avenue, Banff, Banff National Park, Alberta
Map of Resorts in Banff
Banff, Canada - Climate Chart
Average minimum and maximum temperatures for Banff, Canada in °C
J
F
M
A
M
J
J
A
S
O
N
D

-5

-15

0

-11

4

-8

9

-3

14

2

19

6

22

7

22

7

16

3

10

-1

1

-8

-5

-14

PlanetWare.com
Average monthly precipitation totals for Banff, Canada in mm.

31

23

20

33

58

61

51

51

43

31

31

36

Average monthly snowfall totals for Banff, Canada in cm.

38

30

27

26

17

2

0

0

7

19

34

44
Average minimum and maximum temperatures for Banff, Canada in °F
J
F
M
A
M
J
J
A
S
O
N
D

23

5

32

12

39

18

48

27

58

35

66

42

72

45

71

44

61

37

50

30

33

17

23

7

PlanetWare.com
Average monthly precipitation totals for Banff, Canada in inches.

1.2

0.9

0.8

1.3

2.3

2.4

2.0

2.0

1.7

1.2

1.2

1.4

Average monthly snowfall totals for Banff, Canada in inches.

15

12

11

10

6.7

0.7

0

0

2.8

7.4

13

17