13 Top-Rated Resorts in Alberta
We may earn a commission from affiliate links ()
Alberta, Canada, offers tourists a vast array of magnificent scenery to experience and enjoy. It also just so happens to be one of the best places to visit for a variety of world-class accommodations from which to head out and explore the province's incredibly diverse and beautiful landscapes.
This rugged, natural setting serves as a backdrop to some of the most stunning resorts in Canada, from the iconic Fairmont Banff Springs to the majestic Fairmont Chateau Lake Louise. From either, you're only minutes away from breathtaking views; exciting outdoor adventures, including hiking, biking, and skiing (downhill and Nordic); and endless opportunities for wildlife spotting, from moose to bears and eagles.
Whether you're looking for an authentic Canadian back-to-nature experience or some serious pampering in the world's most beautiful settings, you'll find it on this list of top resorts in Alberta.
Note: Some businesses may be temporarily closed due to recent global health and safety issues.
1. Fairmont Chateau Lake Louise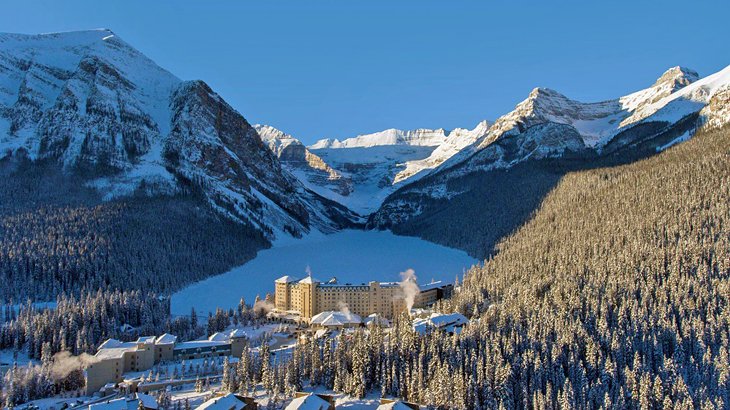 Set amid some of the most idyllic scenery to be found anywhere in Canada, the Fairmont Chateau Lake Louise overlooks the famous emerald waters of glacier-fed Lake Louise. Framed by majestic mountains and thick forest, this large, sumptuous 5-star resort, located in the heart of Alberta's Banff National Park, prides itself on its environmental stewardship and adherence to responsible tourism.
Popular as a base from which to explore the surrounding wilderness, this more than 100-year-old resort is a big draw for visitors year-round and is one of the attractions of Banff National Park. Popular summer adventures for outdoor enthusiasts include guided tours of the mountains and neighboring Victoria Glacier, as well as hiking, mountain biking, horseback riding, canoeing, kayaking, white water rafting, and fishing.
For younger guests, the resort puts on a fun kids' camp. Come winter, it's all about activities such as snowboarding, downhill and cross-country skiing, snowshoeing, skating, and snowmobiling.
In addition to enjoying a choice of luxury one- and two-bedroom suites (the hotel boasts 552 rooms altogether), guests can indulge in some downtime at The Spa, which offers everything from massages to facials and body wraps, as well as salon services. There's also a full-service health club with a large indoor swimming pool, steam room, and fitness center.
When it comes to dining, there are six different options to choose from, including the stylish Fairview and the casual-yet-gourmet offerings of the always-bustling Alpine Social. The hotel is noted for its excellent breakfasts, which are available for free to guests partaking in the luxurious Fairmont Gold Experience Package. This package also includes complimentary concierge services and access to a sumptuous private lounge.
Address: 111 Lake Louise Drive, Lake Louise, Alberta
Accommodation: Fairmont Chateau Lake Louise
2. Fairmont Banff Springs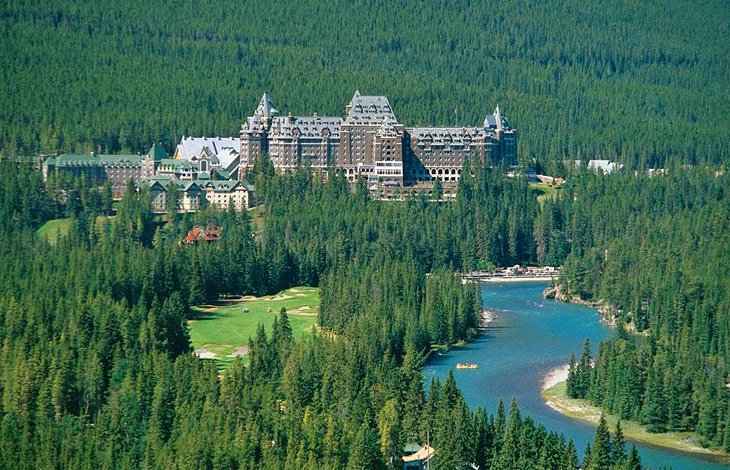 Another of Canada's iconic grand resorts, the historic Fairmont Banff Springs has provided tourists with luxurious stays in a stunning location for more than 125 years. Built in the style of an old Scottish castle, the resort sits at the base of the magnificent Rocky Mountains, peeking out over tall pine trees and offering incredible views of the surrounding wilderness.
Despite its size – this lovely 4-star luxury resort boasts an impressive 764 suites and rooms – there's plenty of space for guests to spread out, ensuring a real sense of seclusion. Popular summer activities include exploring the many nearby hiking and biking trails, or taking in a round of golf at the Banff Springs Golf Course, widely regarded as one of the most beautiful courses in all of Canada.
Designed by golf architect Stanley Thompson in 1928, this unique 27-hole championship course is as suitable for those new to the game as it is for the pros. Popular winter activities include snowshoeing, snow tubing, snowmobiling, dogsledding, and fun sleigh rides.
Other resort facilities worth checking out include the Willow Stream Spa, a huge facility that includes a waterfall and mineral pool along with treatment rooms, whirlpools, couples' suites, and a hair salon. Be sure to also make use of the aquatic and fitness center, too, with its large indoor and outdoor saltwater pools.
Also popular is spending time in the picturesque town of Banff, just minutes away by shuttle bus (but also fun to walk). Although small, the town has attracted a vibrant and creative arts community and is home to a number of exciting annual events, including the Banff Centre Mountain Film & Book Festival and the Banff World Media Festival.
Address: 405 Spray Ave, Banff, Alberta
Accommodation: Fairmont Banff Springs
3. The Post Hotel & Spa, Lake Louise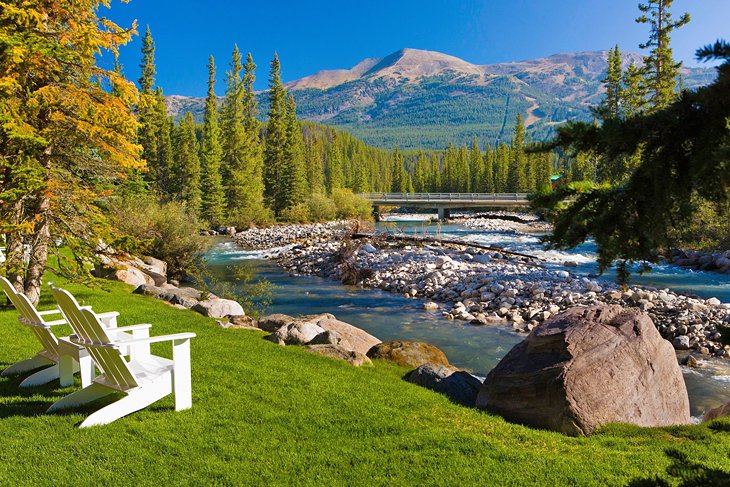 Located in Lake Louise Village, Canada's highest community (it's 1,500 meters above sea level), The Post Hotel & Spa welcomed its first guests back in 1942. Although it has benefitted from numerous renovations over the years, the resort has maintained its original charm. Now part of the acclaimed Relais & Châteaux hotel group, The Post offers guests an unsurpassed world-class resort experience in the heart of Banff National Park.
In addition to offering exquisite luxury accommodations, including traditional hotel rooms to magnificent multi-bedroom suites and cabins, The Post is home to one of Alberta's top spa complexes. Covering an impressive 297 square meters, the Temple Mountain Spa consists of treatment and steam rooms, a swimming pool, and plunge pools. Other guest amenities of note include a fitness room, meeting rooms, a library, and a first-rate fine dining restaurant.
A highlight of any stay is exploring magnificent Banff National Park and Lake Louise, the latter popular for paddlers and fishing enthusiasts in summer, and in winter as a massive skating rink. Guests also have easy access to more than 139 ski runs, plus exciting backcountry adventures year-round.
Address: 200 Pipestone Road, Lake Louise, Alberta
Accommodation: The Post Hotel & Spa
4. Stoneridge Mountain Resort by CLIQUE, Canmore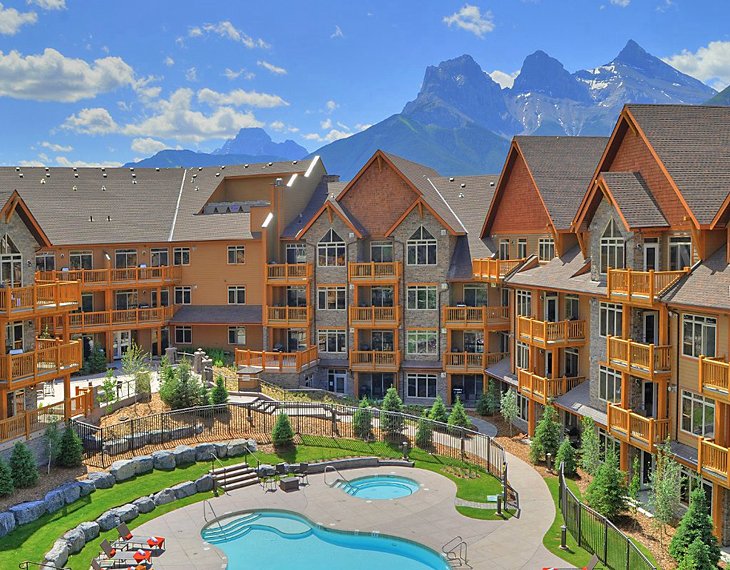 Another of Alberta's top luxury resorts, Stoneridge Mountain Resort by CLIQUE has earned a well-deserved reputation as one of the province's best places to stay for outdoor adventures. Located within easy walking distance of the town of Canmore in the Rocky Mountains, a short drive from Banff National Park, the resort's accommodations include spacious one-, two-, and three-bedroom condo-style suites with all the comforts of home.
In-room facilities include everything from private patios with barbecues to large well-equipped kitchens, large screen TVs, and stereo sound systems (plus free Wi-Fi), as well as huge bathtubs and walk-in showers.
Be sure to take advantage of the resort's numerous guest amenities. Highlights include a large, heated indoor-outdoor pool with hot tub; a well-equipped fitness center; a movie and book library; and convenient, heated underground parking.
Address: 30 Lincoln Park, Canmore, Alberta
Accommodation: Stoneridge Mountain Resort by CLIQUE
5. The Rimrock Resort Hotel, Banff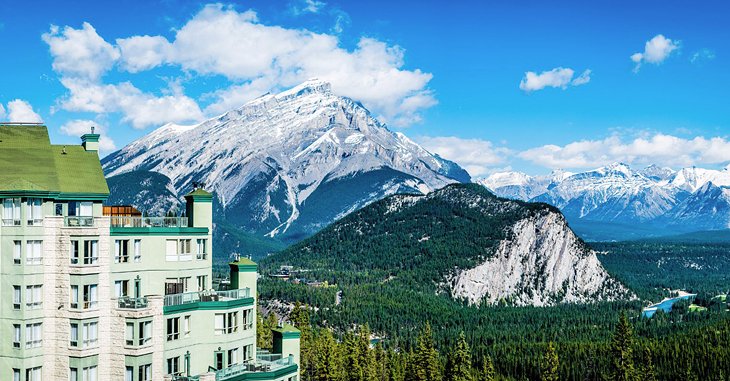 One of the top luxury resorts in Banff, The Rimrock Resort Hotel offers a variety of great Rocky Mountain accommodation options. Perfect for everything from family gatherings to romantic getaways, this AAA/CAA Four Diamond Hotel offers superb mountain vistas from the majority of its luxury rooms and suites.
Guests can choose from 343 guest rooms, including the sumptuous Signature Grandview suites, suitable for larger groups and perfect for entertaining. The hotel also has a pet-friendly policy and even provides special pet beds for your pooch.
The same great views of the Rockies can be enjoyed throughout the public areas of the resort, including in its fine- and casual dining restaurants, its café, lounges, pools, patios, and decks, as well as from its world-class spa. Other guest perks include in-room dining; access to an indoor pool, sauna, and steam rooms; a squash court; and a 24-hour, state-of-the-art fitness facility. Meeting and convention spaces are also available for rent.
Address: 300 Mountain Avenue, Banff, Alberta
Accommodation: The Rimrock Resort Hotel
6. Fairmont Jasper Park Lodge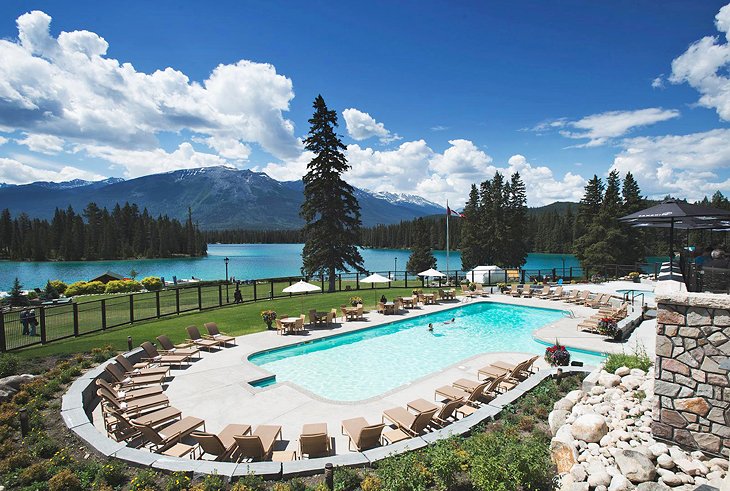 Guests staying at Fairmont Jasper Park Lodge have a great selection of fully renovated cabin-style accommodations, traditional hotel rooms, and suites to choose from. Located within the boundaries of Jasper National Park, a UNESCO World Heritage Site, this grand hotel is regarded as one of Canada's top nature-lovers' lodges.
Set amid 700 acres of unspoiled scenery, this all-season luxury resort sits on the shores of beautiful Lac Beauvert and is centered around a lovely village-like gathering of cedar chalets. Some of these attractive, cozy accommodations have been designated as Luxury Signature Cabins.
Guests have access not only to the many paths crisscrossing the resort, but also endless miles of hiking trails through the park and around the lake. The resort is also famous for its golf course. Designed by Canadian legend Stanley Thompson, the Fairmont Jasper Park Lodge Golf Club is known for its incredible mountain and lake views, its abundant wildlife (yes, you may see a moose), and, of course, its playability.
Other great reasons to stay include its water sports, numerous winter activities, including everything from skiing to snowshoeing, and its stunning natural setting - there's simply not a bad view on the property. Also on hand are the full-service Reflections Spa and plenty of great restaurants offering superb dining experiences.
Address: 1 Old Lodge Road, Jasper, Alberta
Accommodation: Fairmont Jasper Park Lodge
7. Fairmont Hotel Macdonald, Edmonton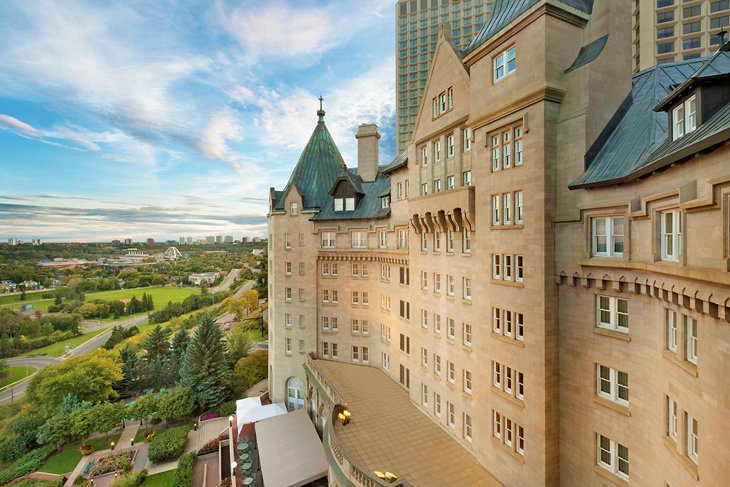 Perched overlooking the North Saskatchewan River Valley in Alberta's capital city of Edmonton, the Fairmont Hotel Macdonald has provided travelers with memorable city center stays since welcoming its first guests back in 1915.
In the more than 100 years since, this castle-like edifice has continued to treat guests with the same high-level of service that has made Fairmont one of the world's leading luxury hotel brands. It also lays claims to having one of the most unusual ghost stories of any hotel, with rumors of the spirit of a horse haunting the 8th floor.
The good-sized, elegant guest rooms feature bathrobes, high-definition TVs, Keurig coffee makers, morning papers, and windows that actually open. This grand old hotel also offers superlative dining options, including the Confederation Lounge, a large library-style salon boasting incredible river and park views, and a memorable Sunday brunch in the magnificent Empire Ballroom.
For something truly lavish, be sure to sample one of the hotel's excellent high tea experiences. Be sure to also spend time wandering the hotel's beautiful gardens. A fitness center and swimming pool are also available on-site, along with a full-service spa.
Address: 10065 - 100 Street, Edmonton, Alberta
Accommodation: Fairmont Hotel Macdonald
8. Fairmont Palliser, Calgary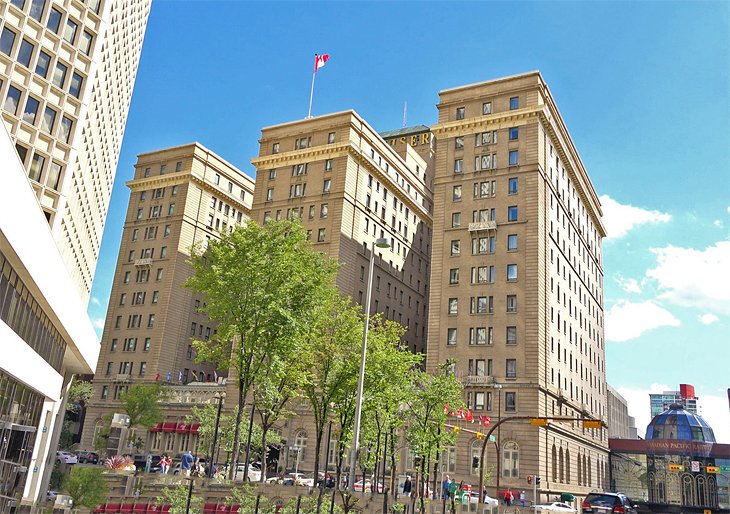 Another of Fairmont's popular city center hotels, the Fairmont Palliser has offered visitors to Calgary a high level of luxury since it first opened in 1914. As popular for its hip downtown location as it is for its old-world charm and sophistication, the Palliser prides itself on its elegant surroundings and its unsurpassed service.
While each of the 407 fully renovated guest rooms come with amenities such as bathrobes, cable TV, and windows that open, an upgrade to a suite is worth it if it's within your budget. And if money's no object, then why not go all out for the Royal Suite, where the Queen stayed during her Canadian Tour of 1990. Be sure to experience the hotel's dining options, too.
Popular choices are the highly-rated Hawthorn Dining Room, ranked among the best restaurants in the city, as well as private and in-room dining experiences. A classy afternoon high tea is also available. Other amenities worth experiencing include the popular RnR Wellness Spa (frequently voted the best independent spa in the city), kids programs, valet parking, and concierge services.
Just steps from Calgary's financial, shopping, and cultural districts, the hotel is the perfect place from which to explore Alberta's largest city and its many attractions.
Address: 133 9th Ave. SW, Calgary, Alberta
Accommodation: Fairmont Palliser
9. Moose Hotel & Suites, Banff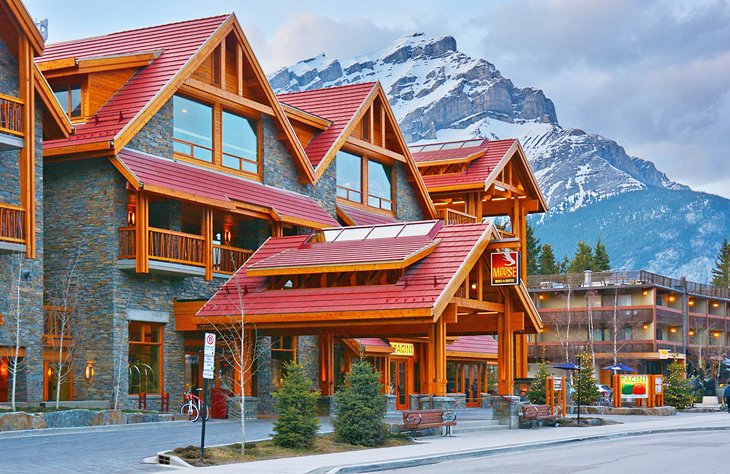 One of the newest large family resorts in Alberta - it opened to great fanfare in 2016 - the Moose Hotel & Suites has quickly established itself as one of the top places to stay in Banff. The 174 well-appointed guest rooms - many of them decorated with huge moose murals - run the gamut, from standard hotel rooms to the elegant, extremely spacious two-bedroom rooftop suites, complete with great mountain views from their large balconies.
For a special treat, check if the wonderful Corner House is available. Built in the early 1900s, this heritage home was recently moved to its new location and offers guests a unique resort experience in what amounts to a home of your own, but with all the amenities of the resort included.
Speaking of which, be sure to make use of on-site amenities like the Rooftop Health Club, with its panoramic views of the Rockies; The Meadow Spa & Pools; and fun dining options, including the Pacini Italian Restaurant. When it's time to explore, you're just a short walk from downtown Banff with its great shopping, art galleries, and attractions.
Address: 345 Banff Ave., Banff, Alberta
Accommodation: Moose Hotel & Suites
10. Prince of Wales Hotel, Waterton Park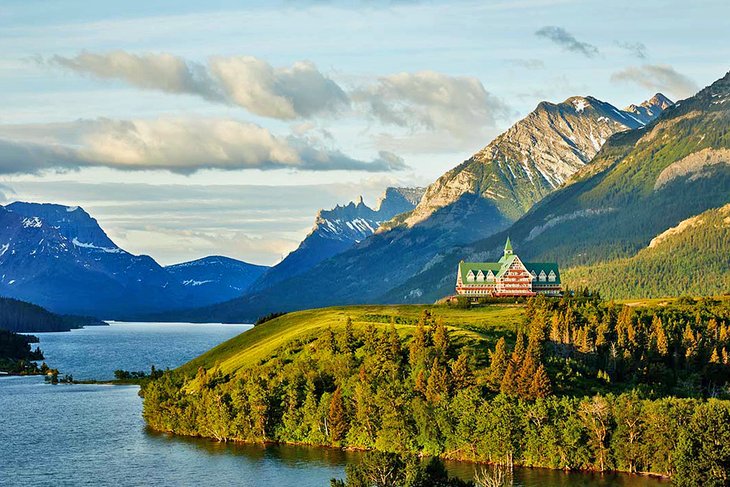 If you're looking for a unique luxury vacation experience in Alberta, the 3-star Prince of Wales Hotel in Waterton Park should be high on your list. Built in 927, this historic Canadian lodge-style resort is located just under three hours' drive from Calgary on the edge of the Rockies, and just minutes away from the Canada/US border.
Looking a little like a cross between a European chateau and a cathedral (it's impressively big and topped by a cupola that resembles a steeple), this famous resort is also extremely popular for its very dramatic setting. It stands on a promontory overlooking Waterton Lake at the base of Mount Crandell. The views from here (and of here!) are simply breathtaking.
The rooms themselves are rich with locally sourced wood, and come with authentic lodge-style, rustic furniture. A number of larger suites are available, the best of which come with lake views and separate living spaces.
While there aren't as many amenities as perhaps you'd find in the bigger brand name resorts in Alberta (remember the setting!), what is available for guests to use is certainly worth mentioning – especially the dining. The resort is well-known for the quality of its cuisine, which includes a mix of Canadian and international-inspired dishes. A favorite experience here is the afternoon tea, all the better for the spectacular views.
Address: AB-5, Waterton Park, Alberta
Accommodation: Prince Of Wales Hotel
11. Blackstone Mountain Lodge by CLIQUE, Canmore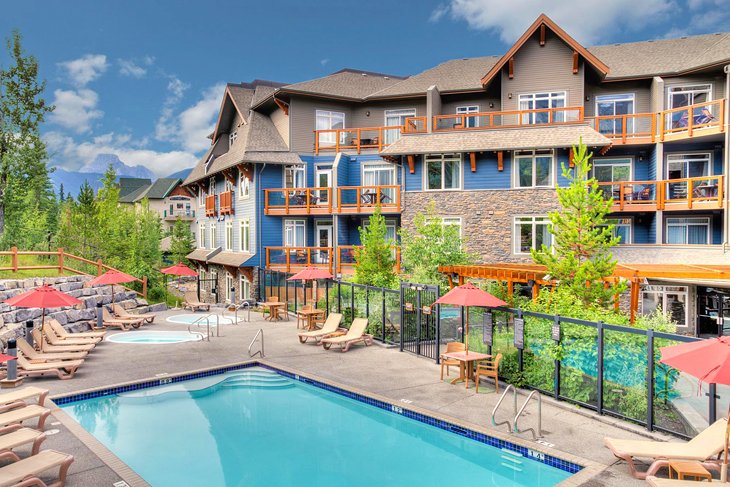 One of six Alberta luxury resorts owned and operated by the CLIQUE Hotels and Resorts, Blackstone Mountain Lodge is located in Canmore just 20 minutes' drive from Banff National Park. This popular year-round resort destination is the perfect jumping-off point for outdoor adventures and explorations of the surrounding wilderness.
It's especially popular with families for its large one-, two-, and three-bedroom suites (most with their own kitchens),In-room facilities include fully equipped kitchens with breakfast bars, cozy slate fireplaces, elegant furnishings, in-suite laundries, large balconies, and great views over the Rockies.
The resort's guest amenities are equally pleasing. Highlights include a large, all-season, heated outdoor pool; hot tubs; a fully equipped fitness center; banquet and meeting facilities; a pleasant BBQ area and courtyard; plus free Wi-Fi. Guests can also take advantage of underground heated parking and a self-service car wash.
Other amenities of note include the Verde Day Spa (perfect for a manicure, pedicure, body wrap, or relaxing massage), a games room, hot tub, and complimentary ski and bike lockers.
Address: 170 Kananaskis Way, Canmore, Alberta
Accommodation: Blackstone Mountain Lodge by CLIQUE
12. Copperstone Resort, Dead Man's Flats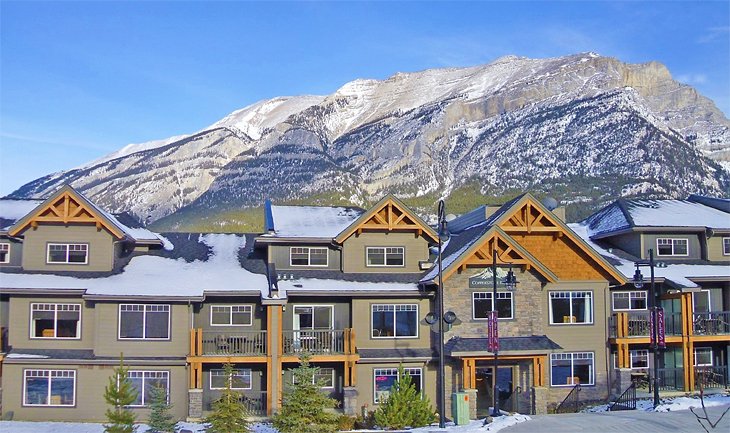 Copperstone Resort not only provides guests a chance to stay in one of Canmore's top family resorts, it's also an opportunity to send friends back home a postcard from the catchy-named hamlet of Dead Man's Flats.
While nobody knows the true story behind the village's name, don't let that stop you from enjoying your time at this luxurious all-suite resort located just a few minutes from downtown Canmore, with its great shopping, dining, sports, and leisure opportunities.
Each stylish unit consists of a sleeper sofa, fully-equipped kitchen, separate living and dining areas, high speed Wi-Fi, and perhaps most importantly, balconies offering incredible views over the Rockies. A number of pet-friendly units are also offered (be sure to check availability in advance), and four-legged guests are even presented with their very own goody bags, including toys and treats. Guests are also encouraged to make use of designated trails for dog walking.
Other fun things to do include enjoying the large 10-person hot tub, grabbing a movie from the DVD library, playing a game from the games library, having a barbecue, or making use of the fitness center.
Address: 250 2nd Ave., Dead Man's Flats, Alberta
Accommodation: Copperstone Resort
13. Moraine Lake Lodge, Lake Louise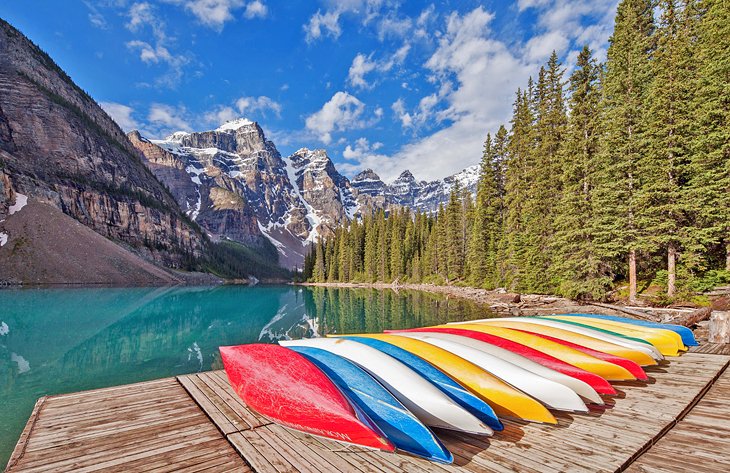 For a truly intimate, back-to-nature experience, be sure to book a stay at beautiful Moraine Lake Lodge. Nestled in a secluded corner of pristine Moraine Lake - a smaller but equally attractive version of nearby Lake Louise - this chic wilderness lodge offers a high degree of luxury in one of the most beautiful settings in Canada.
Perfect for relaxing, romantic couples' getaways, or as a base from which to explore the surrounding Banff National Park, Moraine Lake Lodge offers a variety of rooms suitable for couples, while groups of friends or families should consider one of the deluxe stand-alone cabins.
Drawing inspiration from its beautiful surroundings, all accommodations include custom-made log furniture, cozy down duvets, and Woolrich blankets and pillows. (Note: This is one of the few places you'll visit that prides itself on not putting TVs or phones in their rooms, so confident are they that their guests would rather spend time admiring the views - Wi-Fi, though, is available).
Guests can also enjoy a wide array of complimentary services, including fresh breakfasts, afternoon tea and coffee, kayaking and canoeing, naturalist-led hikes, nature presentations, and concierge services. For a little indulgence, be sure to order yourself an in-room treat such as a delectable cheeseboard or decadent chocolate-covered strawberries from the hotel's reputable restaurant.
Address: 1 Moraine Lake Road, Lake Louise, Alberta
Accommodation: Moraine Lake Lodge