8 Best Resorts in Kelowna, BC
Kelowna holds a winning hand when it comes to all the natural elements you're seeking in a quality full-service resort: scenic beauty, lakeside and mountain recreation, and a favorable climate. Luxurious resorts in Kelowna include all of this and the fashionable accommodations that cater to your every need and desire.
The vibrant urban center and surrounding countryside of Kelowna offer resort-style benefits for your vacation or reunion, a golfing getaway with the guys, a spa and hiking weekend with girlfriends, or a romantic second honeymoon with your sweetie. In addition to guest rooms, suites, and apartments, these resorts typically provide preferred amenities that nurture pleasure and relaxation.
Find your summertime bliss in Kelowna. Okanagan Lake has it all, from open water for sailing and jet skiing, to fabulous sandy beaches and waterside parks for deep R & R. Discover deluxe options to stay on our list of the best resorts in Kelowna.
1. Manteo at Eldorado Resort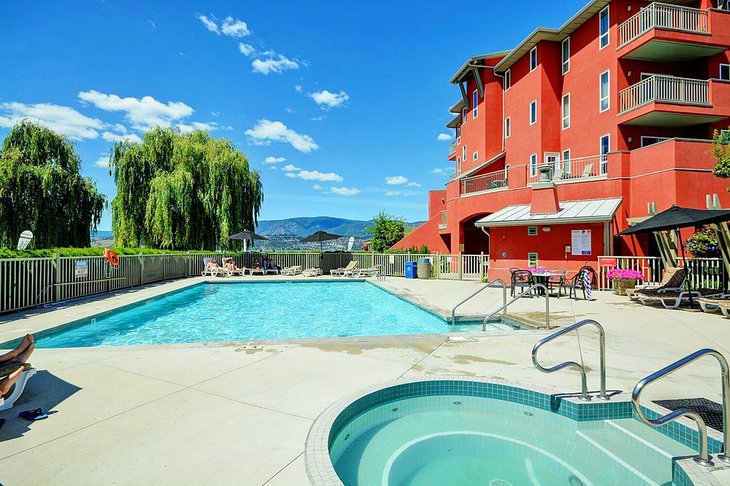 Accommodation: Manteo at Eldorado Resort
Manteo at Eldorado Resort is virtually and physically connected to its more well-established sibling that shares the same name (Eldorado Resort). Manteo offers more sleeping options with its guest rooms, suites, and villas-a total of 102 units. You can choose a garden view or a west-facing vista of Okanagan Lake.
One benefit of staying at the Manteo is expandable accommodations. You can get away here as a single guest or couple in a deluxe guest room or one-bedroom suite. You can also book a two or three-bedroom villa. Enjoy indoor-outdoor conveniences such as private patios or balconies, fully-equipped kitchens, gas barbecues, and ensuite bathrooms.
Sound sleeps are enhanced by comfortable beds with pillow-top mattresses and duvets. Stay connected with Wi-Fi for streaming, flatscreen TVs, and docking stations for your personal devices.
Guests at Manteo benefit from facilities shared with Eldorado Resort: The Eldorado Marina, beach, food and beverage services, and leisure amenities. Located next to Rotary Beach Park — one of the best beaches in Kelowna — Manteo at Eldorado Resort provides walk-on access to swimming and sandy beaches.
If you travel with a pet, be sure to reserve a pet-friendly room.
Address: 3762 Lakeshore Road, Kelowna, British Columbia
2. Delta Hotels by Marriott Grand Okanagan Resort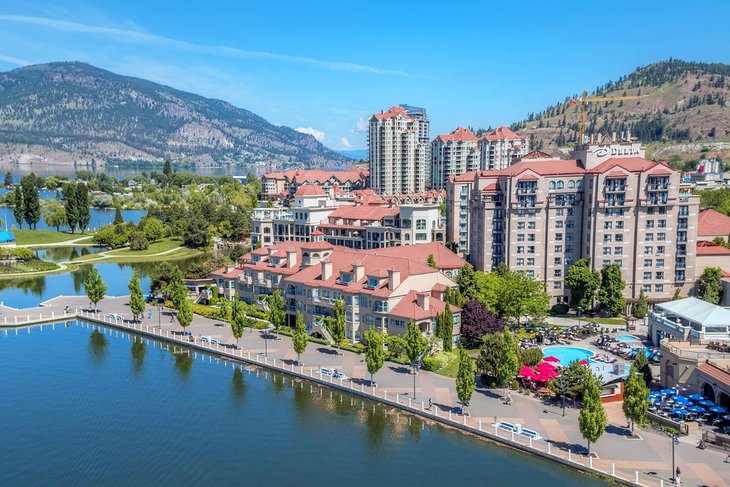 Accommodation: Delta Hotels by Marriott Grand Okanagan Resort
In downtown Kelowna, the Delta Hotels by Marriott Grand Okanagan Resort offers resort ambience in a high-rise lakefront setting. Everything about this resort reflects its urban personality. Location, facilities, style, and service fulfill guest expectations of luxury and convenience.
Grand Okanagan Resort excels at combining modern accommodations and professional hospitality services. Its location is framed by Okanagan Lake on the west side and Kelowna's vibrant downtown core to the south and east. A short walk north brings you to outstanding hikes and biking trails in Knox Mountain Park. At the sheltered lagoon between the hotel and lake, moor your boat and set sail.
The Delta Hotels by Marriott Grand Okanagan Resort offers 262 distinctive guest rooms on 10 floors. Rising above the boardwalk of one of the best walking trails in Kelowna-the Kelowna Waterfront Trail-guests have unimpeded water and mountain views. Guest rooms are ample, ranging from 27 to 36 square meters. Opt for a guest room on the Club Level for secure private floor access, and complimentary food and non-alcoholic beverages.
One-bedroom suites with 55 square meters feature a whirlpool. The Grand Okanagan two- and three-bedroom residences have 108 square meters with kitchens and gas fireplaces. One- or two-bedroom condominiums with whirlpools are expansive with 95 square meters of living area.
Speak to a reservation agent about accommodating your dog at this pet-friendly resort. In addition to paid underground parking, there are two fee-based charging stations for your electric vehicle.
Shared spaces foster connection between people and Kelowna's outdoors. Extending out from its OAK + CRU Social Kitchen restaurant, the patio on the lagoon is a large terrace with seating for 130 guests.
The lakeside pool and hot tub deck is another place to lounge and mingle, protected from the sun by colorful parasols. The intimate Canary Marketplace evokes a village mood when you drop in for a snack, a bottle of OJ, or cream for your morning coffee.
Address: 1310 Water Street, Kelowna, British Columbia
3. The Royal Kelowna - Bellstar Hotels & Resorts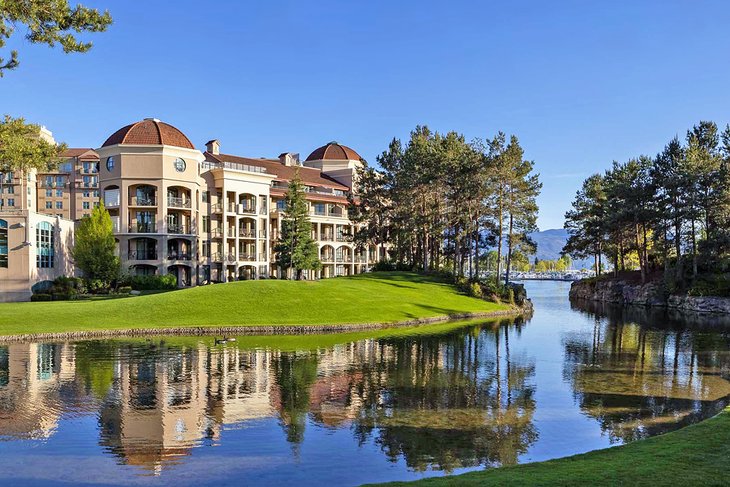 Accommodation: The Royal Kelowna - Bellstar Hotels & Resorts
The name of this resort elevates expectations, and staff at The Royal Kelowna stand on guard to exceed them. Guarding your privacy and security is also assured. Only guests with a pass key are allowed access into the lobby of this resort.
The Moorish influence of this low-rise complex with terra-cotta tiled gables is aesthetically pleasing. It overlooks the expansive lawn of Waterfront Park, and an arc of sand of Tugboat Bay Beach is just below your lakeside balcony. The lagoon that wraps around the resort completes the visual sweep and hints at luxury awaiting you inside.
The Royal Kelowna - Bellstar Hotels & Resorts offers some of the best accommodation in the Okanagan Valley. Every suite has a fully equipped residential kitchen. Restaurants and cafés are a short walk from this central downtown resort.
Select from one-, two-, or three-bedroom suites, each featuring separate living areas for dining and relaxing in front of a gas fireplace. For your convenience, there is in-suite laundry. Shared amenities include a fitness center and steam room. From the outdoor pool and hot tub on the resort's rooftop, soak in expansive views of Lake Okanagan and surrounding hills.
Address: 1288 Water Street, Kelowna, British Columbia
4. Eldorado Resort - Hotel Eldorado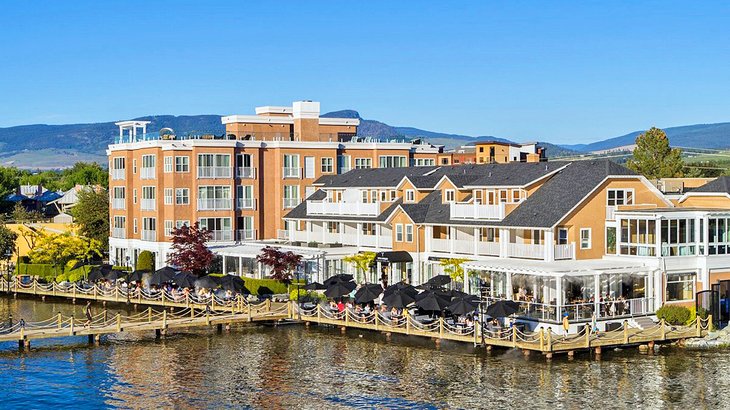 Accommodation: Eldorado Resort - Hotel Eldorado
Eldorado Resort has deep historical roots, and it continues to make history as our favorite choice for a lakeside retreat in Kelowna. With its grand opening in 1926 by aristocratic owners, Eldorado Resort became the place to go for an elegant European-style holiday. Luxury continues to be its hallmark, personalized service its charm, and access to boating and other leisure activities on the lake its destination.
With gorgeously restored vintage automobiles displayed at its entrance, Eldorado Resort retains the sophistication of bygone traditions of hospitality in a boutique setting. The casual and friendly service of staff makes everyone feel welcome. You will appreciate the bright décor and touchstones to the past while staying in one of its 53 rooms that range in size from 13 to 58 square meters.
The resort combines old-world allure with modern function. Its "heritage rooms" with antique accents are designed to respect what you might have experienced as a guest in the 1920s. Suites in the "arms wing" feature more contemporary design and unobstructed views through floor-to-ceiling windows.
Names of guest rooms and suites convey connections to royalty. Whether you sleep in a Heritage Queen room or a Deluxe Arms suite, consider an upgrade from a mountain view to a water-view unit. You can expect plush linens and modern conveniences such as fast Wi-Fi and Telus Optik TVs. Cork floors add warmth and enhance soundproofing in this historic lodge.
Eldorado Resort excels at providing exceptional food and beverage service in its classic lakefront setting. Award-winning dishes are offered in the Lakeside Fine-Dining + Boardwalk Restaurant. Chic picnic tables with parasols along the boardwalk are popular on warm summer evenings.
The resort has made a significant investment in its Eldorado Marina, where you can rent non-motorized watercraft or amped up machines, including waverunners and wake surf boats. With moorage available, you are welcome to contact the marina about bringing your own boat. A double lane concreted municipal boat launch is conveniently located at the south side of the resort.
Eldorado Resort and its adjacent sister property, Manteo at Eldorado Resort, share common amenities. This improves your options for rest, recreation, and exercise. You have access to two fitness centers, two indoor and two outdoor pools, three outdoor and two indoor hot tubs, and one sauna.
Unlike some downtown resorts, you don't pay extra to park your vehicle at Eldorado Resort. For a fee, plug your electronic vehicle into one of two charging bays. Expect to pay extra to stay in a dog-friendly room with your best friend.
Address: 3762 Lakeshore Road, Kelowna, British Columbia
5. Playa Del Sol Resort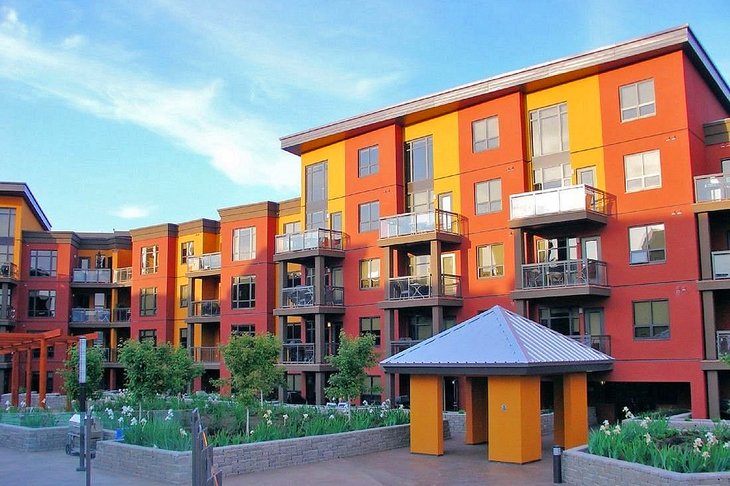 Accommodation: Playa Del Sol Resort
Playa Del Sol Resort is across Lakeshore Road from the sandy beach and treed surroundings of Rotary Beach Park. This resort is an elevated secure enclave that enables you to quickly settle into relax mode. The resort's location ensures that attractions and activities downtown and beyond are easily accessible during your stay. In-house facilities guarantee that all conveniences are under one roof when you stay put.
All the luxurious apartments at Playa Del Sol Resort are privately owned, and home ownership has its benefits in terms of attention to detail. Every apartment — whether a one-bedroom and den, two bedroom, or penthouse loft — offers welcoming and comfortable amenities. Some units allow you to walk to the pool deck. Others provide expansive views of Okanagan Lake or the surrounding mountain scenery. Every apartment includes a secure and complimentary parking stall.
Playa Del Sol Resort provides spacious accommodation. The smallest apartments are 230 square meters. The largest living spaces exceed 300 square meters. You will be satisfied with the luxurious amenities of the kitchen, patio, or balcony with a gas barbecue, entertainment center with a large flatscreen TV, and in-suite laundry.
Perks to enjoy with other guests include a huge terrace festooned with flower gardens and patches of grass surrounding a pool, hot tub, and lounging deck. The fitness center and steam room adds health benefits to your break from responsibilities at home. Ramp up your exercise routine with a spinning session at B Indoor Cycle & Strength Studio.
When you're ready to reward your taste buds, Basil & Mint Restaurant delivers local cuisine. The resort's Esther & Sons coffee shop will take your java order with a fresh muffin, and serve you breakfast any time of the day.
Address: 654 Cook Road, Kelowna, British Columbia
6. The Cove Lakeside Resort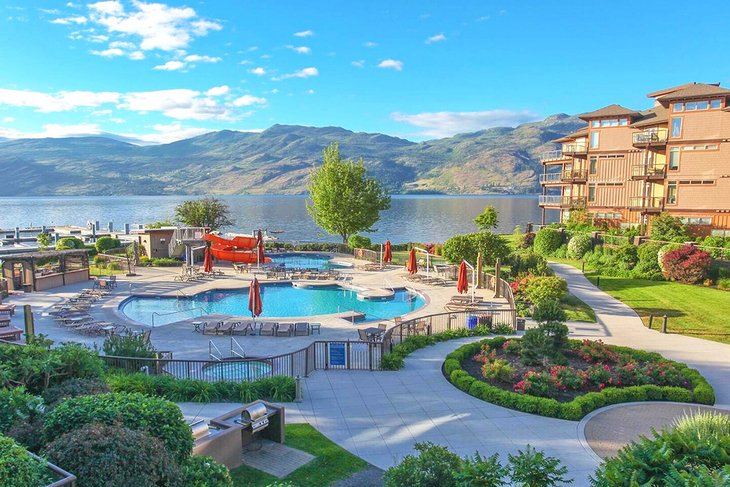 Accommodation: The Cove Lakeside Resort
On the west side of Lake Okanagan, a few resorts encourage you to experience Kelowna from a different perspective. The Cove Lakeside Resort in the Westbank area of West Kelowna offers luxury in 100 apartment condominiums with one, two, and three bedrooms. You can also book a dog-friendly suite for your best friend.
Ranging from 65 to 223 square meters, lake- and mountain-view suites feature kitchens to inspire gourmet meals. There are commodious spaces to dine and relax, large outdoor patios or balconies, as well as private laundry facilities. Grill on one of four gas barbecues near your suite. The Cove Lakeside's restaurant and picturesque garden terrace will satisfy a range of tastes.
The Cove Lakeside Resort is in the heart of Gellatly Bay-one of the best beach areas in Kelowna. Along Gellatly Bay's two-kilometer lakeside trail, you will find designated swimming beaches for people and dogs, an aquatic park, and green spaces. The historic Gellatly Bay Nut Farm Regional Park is adjacent to the resort.
Resort amenities will satisfy your vacation desires to be active: outdoor tennis and basketball courts, swimming pools and hot tubs, a waterslide, private swimming beach, and fitness room. The Cove Lakeside Resort marina will introduce you to LakeSurf-a full-service operator that rents motorized watercraft, kayaks, stand up paddleboards, and all the gear you need.
Splurge on a personalized treatment by Avenda specialists in the Spa at The Cove. Relax in the sauna or lounge under an umbrella by the pool. Light entertainment in the evening can include a stroll along the beachfront or a movie night in the private 18-seat entertainment theater.
Address: 4205 Gellatly Road, Kelowna, British Columbia
7. Casa Loma Lakeshore Resort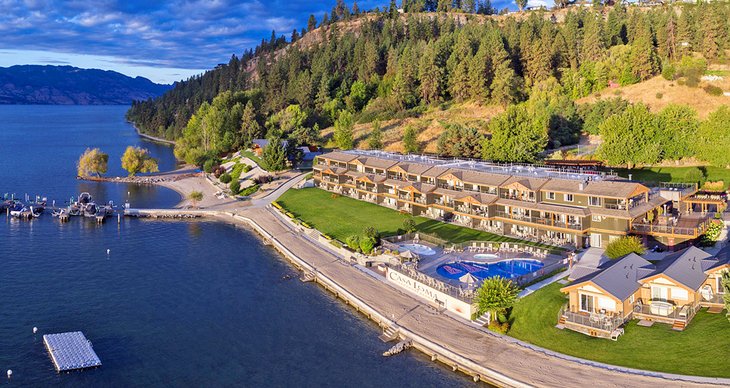 Accommodation: Casa Loma Lakeshore Resort
Across the William R. Bennett Bridge from downtown Kelowna, Casa Loma Lakeshore Resort provides a peaceful waterfront setting to host your self-catered vacation on the shores of Lake Okanagan.
Make yourself comfortable in a one-, two-, or two-plus-den condo apartment, or a two-bedroom villa or townhouse. If you need more space, book the Casa Grande Suite with three bedrooms and 457 square meters of space. The resort has a shared barbecue area with six deluxe gas grills, so bring the mains and all the fixings for your outdoor cook-off.
You and your family can look forward to splashing around on Casa Loma Lakeshore Resort's floating swim dock, in the designated swimming zone off its private beach, or in the heated pool. While the kiddie pool will help young children keep cool on hot days, you will appreciate the soothing water of the hot tub on cool nights. Bring your boat to expand your recreational options on the water and safely moor it in one of the resort's docking slips.
The resort features two tennis courts, a basketball play area, and children's playground. Given Casa Loma's immediate access to Kalamoir Regional Park, you have a selection of hiking and biking trails at your doorstep. The serenity of the park is ideal for a picnic on the beach or anywhere along the lakeside trail.
Address: 2777 Casa Loma Road, West Kelowna, British Columbia
8. Coast Capri Hotel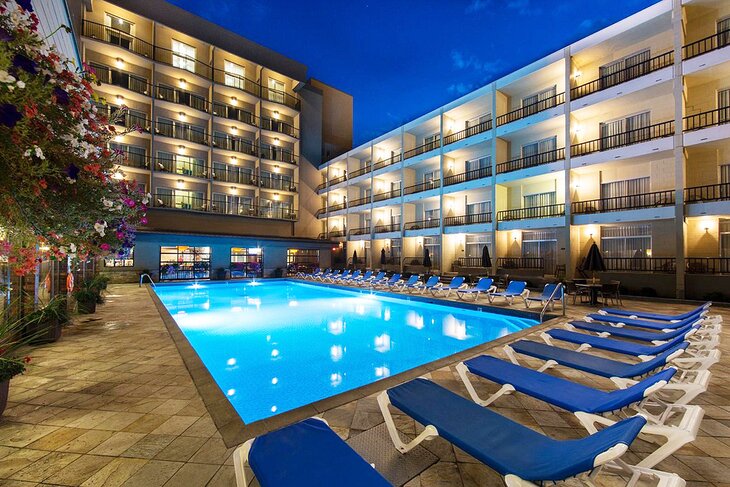 Accommodation: Coast Capri Hotel
Within walking distance of Okanagan Lake and the downtown area, Coast Capri Hotel is a family-friendly 3-star property with lots of resort-style amenities.
If your kids are canines, this hotel is super pet-friendly, and pups are welcome in many of the rooms and suites.
Accommodations come in multiple configurations, including rooms with double queen beds that are great for families. All are modern, with triple sheets and comfy duvets, pillows, and mattresses. They also have 55-inch flatscreen TVs, and Wi-Fi is complimentary.
The suites come with either a king or two queen beds, and a sofa bed in a separate living area. Suites have two balconies overlooking the pool deck or the mountains.
The hotel has a restaurant that showcases local, seasonal fare, as well as classics like nachos and spaghetti bolognese. It also does a large breakfast buffet each morning.
In summer, you can relax in the heated swimming pool. It is surrounded by sun loungers and parasols.
If you need some pampering, book a treatment at the spa. It offers a number of massage and facial options. A fitness center with bikes, treadmills, an elliptical trainer, and free weights rounds out the amenities.
Address: 1171 Harvey Ave, Kelowna, British Columbia
Map of Resorts in Kelowna, BC
Kelowna, Canada - Climate Chart
Average minimum and maximum temperatures for Kelowna, Canada in °C
J
F
M
A
M
J
J
A
S
O
N
D

-1

-8

3

-6

9

-3

15

1

20

5

24

8

28

10

27

10

21

5

14

1

5

-3

0

-7

PlanetWare.com
Average monthly precipitation totals for Kelowna, Canada in mm.

31

23

23

25

38

38

33

33

36

23

28

38

Average monthly snowfall totals for Kelowna, Canada in cm.

32

18

5

1

0

0

0

0

0

1

12

37
Average minimum and maximum temperatures for Kelowna, Canada in °F
J
F
M
A
M
J
J
A
S
O
N
D

30

16

37

20

48

27

59

32

68

40

75

47

81

50

81

49

69

41

56

32

41

26

32

19

PlanetWare.com
Average monthly precipitation totals for Kelowna, Canada in inches.

1.2

0.9

0.9

1.0

1.5

1.5

1.3

1.3

1.4

0.9

1.1

1.5

Average monthly snowfall totals for Kelowna, Canada in inches.

13

7.2

2.1

0.3

0

0

0

0

0

0.3

4.8

14