Where to Stay in San Francisco: Best Areas & Hotels
Nestled between the Pacific Ocean and the bay, San Francisco is surprisingly small for its sophistication. Tourist brochures showcase the iconic images of the city but rarely mention the practical considerations of where to stay in San Francisco, such as urban grit, congestion, difficult parking, and pedestrian routes that are not for the faint of heart. Choosing the best place to stay can alleviate these challenges.
There are two main areas of tourist accommodations: downtown and Fisherman's Wharf and the nearby Marina district. Without a car, downtown is best because so many attractions are within walking distance: Union Square shopping, North Beach (Little Italy), Chinatown, and scenic Nob Hill. Although getting around is a workout, awe-inspiring panoramas reward the effort.
For those with a car, the Fisherman's Wharf area offers a pleasant escape from the urban bustle. This waterfront neighborhood includes Ghirardelli Square and Aquatic Park, with its lovely outlook onto the Golden Gate Bridge and Alcatraz.
Within walking distance of Fisherman's Wharf, the residential Marina district gives tourists a chance to experience the local way of life. People who live in this neighborhood spend time at the Marina Green, a waterfront recreational area overlooking the Golden Gate Bridge. Chestnut Street in the Marina is a favorite San Francisco spot for dining at gourmet restaurants.
Learn about the charming neighborhoods of San Francisco and the best places to stay in the city. Our guide will help you find a hotel that suits your travel preferences and puts you in an area that's convenient for your vacation itinerary.
Where to Stay in San Francisco for Sightseeing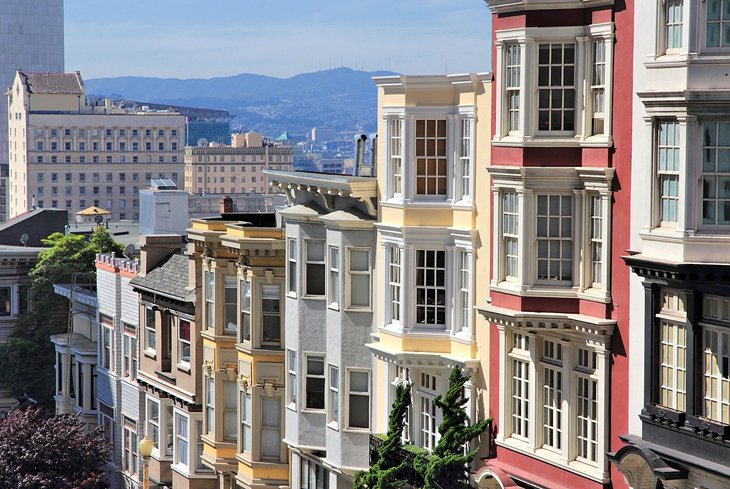 Of all the characteristic San Francisco neighborhoods, one of the most desirable is Nob Hill, with its stunning views of the bay and city skyline. This elegant area of downtown San Francisco is within walking distance to top attractions: Chinatown, North Beach (Little Italy), the Theater District, and Union Square shopping, making it a great place to stay, particularly for first-time visitors.
In Nob Hill, it's possible to hop on a cable car right in front of the four-star InterContinental Mark Hopkins San Francisco hotel or head up to the Top of the Mark restaurant to take in sweeping views. For sightseeing by foot, tourists can stroll down the hill to be dazzled by the fragrant cuisine and fascinating culture of Chinatown or to while away some time in the legendary coffeehouses and Italian restaurants of North Beach (the city's historic Little Italy neighborhood).
Downtown San Francisco encompasses several different neighborhoods besides Chinatown, North Beach, and Union Square. Another popular area is the Embarcadero along the waterfront, where the best choice of accommodation is the four-star Hyatt Regency San Francisco. This hotel boasts sleek modern architecture, a grand lobby, and proximity to the Embarcadero BART (Bay Area Rapid Transit) that tourists can take to Berkeley and Oakland in the East Bay.
Attractions of the Embarcadero area include the Embarcadero, a palm-fringed promenade overlooking the Bay Bridge, and the Ferry Building, a historic landmark that houses gourmet food boutiques and hosts the farmers market on Tuesdays, Thursdays, and Saturdays. The Ferry Building is also the terminal for the ferry that sails to the charming seaside towns of Sausalito and Tiburon in Marin.
In the bustling SoMa (south of Market Street) area of the downtown financial district is the W San Francisco, a trendy four-star boutique hotel. Slightly farther away (about a 20-minute walk) from the touristy areas of Chinatown, North Beach, and Union Square, this hotel has a modern, urban feel. Highlights nearby include the SFMOMA (San Francisco Museum of Modern Art), the Contemporary Jewish Museum, and the Museum of the African Diaspora (MoAD).
For many first-time visitors, the best place to stay is Fisherman's Wharf, the city's most tourist-friendly neighborhood. This lively waterfront area is actually San Francisco's historic fishing port. Fish shacks share space with souvenir shops, retail, boutiques, candy stores, ice cream parlors, and other attractions such as Madame Tussauds wax museum.
A short walk from the fishing pier and seafood eateries of Fisherman's Wharf are several large hotels, including the Courtyard by Marriott San Francisco Fisherman's Wharf, which has a hot tub, fitness center, and children's activities, and the Holiday Inn Express & Suites San Francisco Fisherman's Wharf, which offers a concierge, fitness center, and children's television networks.
For those who prefer boutique hotels, the Hotel Zephyr in the Fisherman's Wharf area is a good choice. This stylish three-star hotel delights guests with picture-postcard views and comfortable recently refurbished rooms. Amenities include a concierge, coffee shop, game room, fitness center, and discounts at Pier 39 restaurants.
Where to Stay in San Francisco for Luxury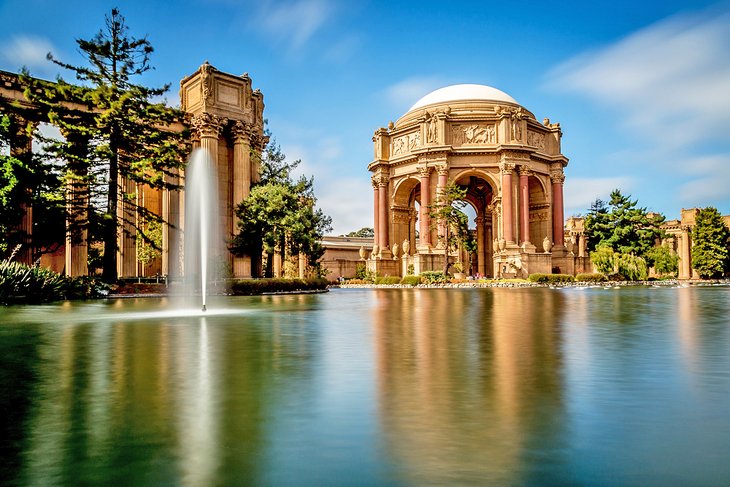 San Francisco has a wide range of choices in the luxury hotel category, but the ultimate is the four-star Fairmont San Francisco. Perched on Nob Hill high above the bay, this Parthenon-like icon affords incomparable 360-degree views. The hotel is ideally located at the corner of Mason and California streets, near two cable car stops.
The Fairmont is a magnificent Neoclassical edifice that was built in the early 1900s and withstood the 1906 earthquake. In 1907, famous architect Julia Morgan designed the dazzling Main Lobby with marble floors and gilded Corinthian columns.
Guests of the Fairmont Hotel swoon over the opulent lobby, with its gilded ceiling and velvet furniture recalling Victorian-era grandeur. The lavish rooms have pillow-top beds and plush comforters, which add to the feeling of being pampered. For an upscale dining experience, the hotel's Laurel Court Restaurant serves breakfast and dinner in a lovely colonnaded salon.
Another high-end Nob Hill hotel, The Ritz-Carlton, San Francisco is tucked away on a quiet side street, just steps away from the California Street cable car. The hotel's tastefully decorated guest rooms are outfitted with attention to detail, including luxurious bed linens, flat-screen TVs, and marble-paneled bathrooms. This five-star hotel has a fitness center, a chic lounge that offers gourmet meals, and a restaurant that serves healthy breakfasts prepared from local ingredients.
In downtown San Francisco, the landmark Palace Hotel, a Luxury Collection Hotel, San Francisco was built in 1875 and is listed by the National Trust as a Historic Hotel of America. The graceful architecture reveals Gilded Age, Neoclassical elements throughout the lobby and reception areas. The Garden Court serves breakfast, brunch, lunch, and afternoon tea in a beautiful glass-domed dining room, which is designated as a historic landmark.
Also downtown, in the heart of bustling SoMa (part of the financial district), is The St. Regis San Francisco. This sleek and sophisticated five-star hotel features signature "butler" service, posh rooms, and trendy gourmet-dining options. The neighborhood is less touristy than Nob Hill and Union Square, but it's still near top attractions, including shopping and restaurants. Highlights within walking distance are the SFMOMA and the Museum of the African Diaspora.
A high-end boutique hotel in Fisherman's Wharf, the four-star Argonaut Hotel, A Noble House Hotel features wonderful bay views. The hotel occupies a historic brick building (formerly the Haslett Warehouse) that recalls the neighborhood's storied Barbary Coast past. This family-friendly hotel offers children's activities and discounts at the Ben & Jerry's ice-cream shop and Subpar Miniature Golf. Aquatic Park, Ghirardelli Square and the old Cannery are found nearby.
Where to Stay in San Francisco for the Best Value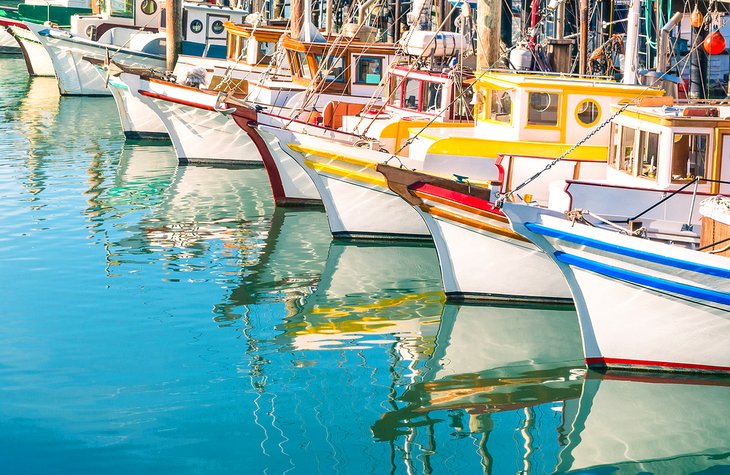 Staying in downtown San Francisco can be pricey, but there are a few affordable alternatives to the high-end luxury hotels.
Centrally located in the financial district on Kearny Street, near Chinatown and North Beach, the four-star Hilton San Francisco Financial District is located near many great Chinese restaurants and North Beach cafés. By taking a short walk from the Hilton hotel, up a steep hill, travelers can discover Coit Tower with its splendid murals and majestic bay views.
Near Union Square in downtown San Francisco, The Marker offers affordable rates considering its luxurious accommodations. This four-star boutique hotel, with bright, fashionable guest rooms and a sumptuous lobby, reveals the influence of Beaux-Arts design. Because of its central location, The Marker is a good choice for those traveling without a car. It's only a few blocks away from the Powell Street cable car line.
For those who prefer to stay by the Fisherman's Wharf waterfront, the Hotel Riu Plaza Fisherman's Wharf is within walking distance of Pier 39 shopping and restaurants, Fisherman's Wharf tourist attractions, and Ghirardelli Square. The hotel has spacious guest rooms with modern amenities, such as coffee machines. Four-star facilities include an outdoor swimming pool, sundeck, concierge, fitness center, and restaurant. A breakfast buffet is available.
Where to Stay in San Francisco on a Budget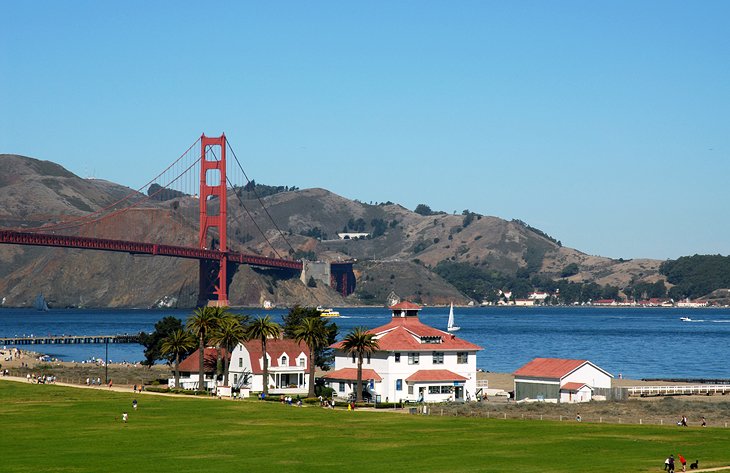 Although San Francisco is notoriously expensive, it is still possible to visit on a budget. Several hotels offer a reasonable price, as well as a convenient location for tourists.
In the downtown area, the centrally located Andrews Hotel is best for travelers who prefer to sightsee without a car. From this spot, visitors can walk to the art galleries, boutiques, and department stores of Union Square. A superb selection of restaurants, as well as the entertainment venues of the Theater District are also nearby.
Outside of downtown are other budget options. Well situated near the Presidio recreational area and park, the Travelodge by Wyndham Presidio San Francisco provides affordable lodging that includes breakfast and in-room refrigerators. Since this hotel is best for travelers with a car, the free on-site parking is helpful. San Francisco's largest green space, Golden Gate Park, is just a short drive from the hotel.
For a relaxing hotel stay in the Marina district, the Super 8 by Wyndham San Francisco on Lombard Street is several blocks away from the street's famous winding section and close to the top tourist attractions of Fisherman's Wharf and Ghirardelli Square. This budget-friendly motor lodge has a boutique feel and comfortable rooms featuring plush bedding. The hotel has limited parking. Accommodations include a complimentary breakfast.
Also in the Marina, the Greenwich Inn is on a quiet block of a residential neighborhood. This hotel is a short walk away from Crissy Field and the Marina Green, which boast dramatic views of the Golden Gate Bridge. Nearby Filmore and Chestnut streets are lined with enticing fashion boutiques, cafés, and restaurants.
Where to Stay in San Francisco with a Family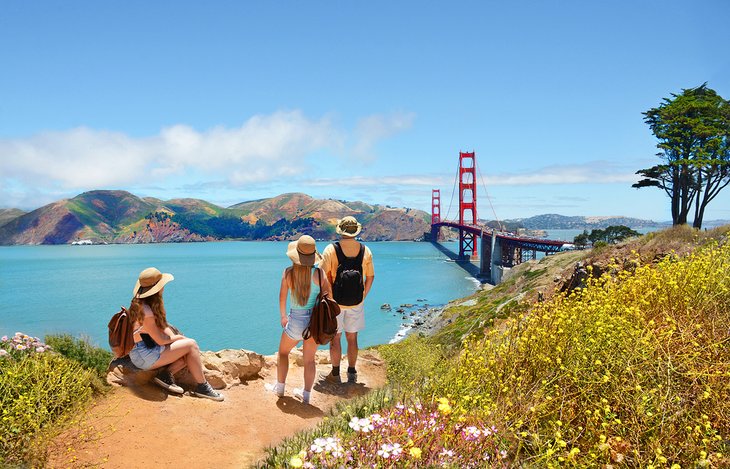 Deciding where to stay in San Francisco with kids can be challenging. Urban congestion abounds, and dicey neighborhoods in the downtown are right next to the touristy areas.
To avoid the city's grittiness and urban problems, it's best to stay at Fisherman's Wharf or in the Marina because these areas are cleaner, safer, and easier to get around by car. In these areas, parking is more plentiful and less expensive than downtown, and the accommodations are more spacious for the price.
In the ideal location for families with kids, the Hyatt Centric Fisherman's Wharf San Francisco is just steps away from Fisherman's Wharf, Ghirardelli Square, Aquatic Park, and the Aquarium of the Bay at Pier 39. Kids will also love the Hyatt's outdoor swimming pool, and parents will enjoy the hotel's casual restaurant that serves California cuisine prepared from local ingredients and sustainable seafood.
Another excellent choice at Fisherman's Wharf is the Holiday Inn Express & Suites San Francisco, right on the waterfront and two blocks from the cable car stop at Hyde and Beach streets. The hotel has many suites that are roomy enough for large families.
If you're looking for laid-back California beach-house-style accommodation, try the Hotel Del Sol. This cheerful boutique hotel is in the Marina district near the scenic Marina Green (the perfect spot for a picnic with a view). With its adjoining rooms and suites, the hotel is well suited for families. Amenities include an outdoor saltwater swimming pool, paid on-site parking, and complimentary breakfast.
Occupying one of the historic brick buildings of Ghirardelli Square, the five-star Fairmont Heritage Place, Ghirardelli Square is a residential-style hotel that's perfect for families. Each of the hotel's spacious one-bedroom, two-bedroom, or three-bedroom suites includes a well-equipped kitchen, dining room, and living room with a fireplace. An added bonus for parents, the hotel offers childcare services for an additional fee.
Where to Stay in San Francisco for Couples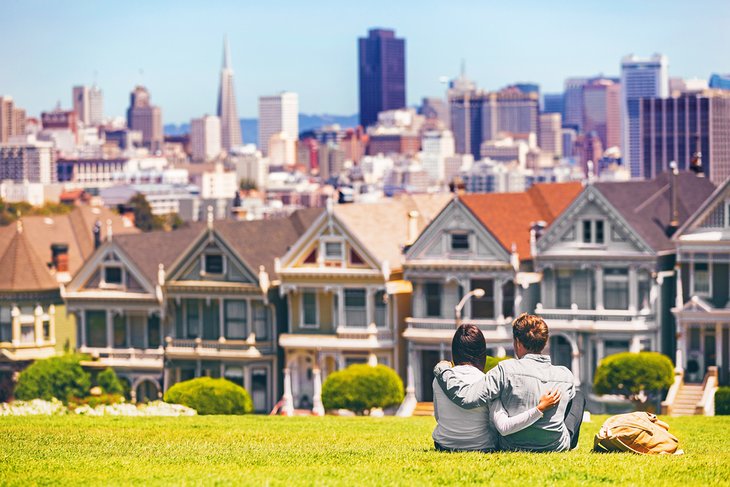 With its dreamy scenery and quaint neighborhoods, San Francisco invites romance. Several hotels in the city cater to couples, with luxurious rooms, spas, fine-dining restaurants, and spectacular bay views.
The four-star Huntington Hotel on Nob Hill blends historic charm with contemporary style and modern amenities. Guests will appreciate the warmth and character of the lobby, as well as the elegant restaurant that specializes in classic American cuisine. Decorated in a sophisticated style, the guest rooms and suites feature fine bed linens and gorgeous updated bathrooms. The hotel's spa is an urban oasis, with its infinity pool, saunas, steam rooms, and pampering treatments.
At the heart of Nob Hill, the cozy White Swan Inn charms guests with décor that channels an English country cottage with a touch of 1960s London mod style. The location is convenient for visitors traveling without a car because it's within walking distance to cable cars, Union Square shops, Chinatown, and North Beach. Accommodations include a complimentary breakfast, complete with freshly baked pastries, fruit, and coffee or tea.
The four-star Hotel Emblem offers an intimate ambience and a happening location, steps away from Union Square shops; excellent restaurants; and art galleries on Sutter, Post, and Geary streets. Inspired by the eclectic, edgy style of the Beat Generation, the Hotel Emblem has spacious guest rooms adorned with creative flair. The hotel also has an inviting library and a restaurant/jazz lounge that presents live music performances nightly. In keeping with its literary theme, the hotel hosts poetry readings on occasion.
For more entertainment options, visitors may walk from the Union Square area to the nearby Theater District to enjoy a play or musical.
One of the best places to stay in the Theater District is The Clift Royal Sonesta Hotel. Many locals can be found at the hotel's glamorous Redwood Room restaurant, adorned with Art Deco detailed redwood paneling that gives the space a subdued and romantic ambience. Guest rooms are exquisitely appointed with soothing minimalist decor and fine bedding.
Where to Stay near the Airport in San Francisco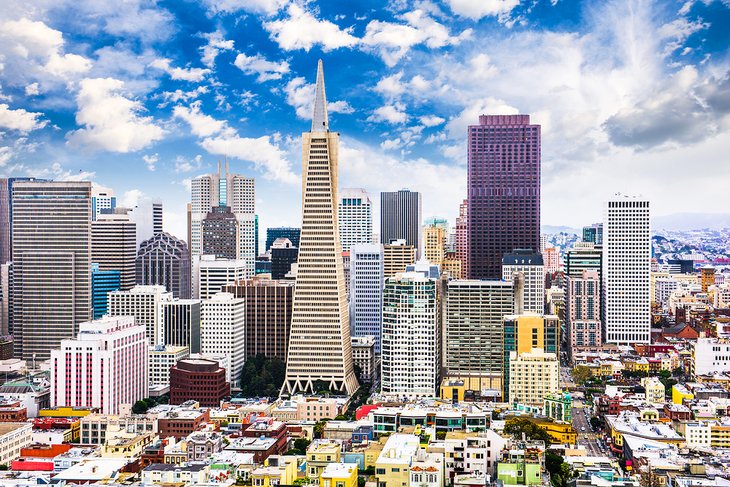 Travelers searching for ideas of where to stay outside of San Francisco should look at the hotels near SFO airport. This area (15 miles south of San Francisco), including the cities of Millbrae and Burlingame, is just a 30-minute BART train ride or drive into downtown San Francisco.
The main advantages of staying outside the city include easier parking and convenient proximity to the airport, especially if arriving late or departing early. With the exception of hotels that cater to business travelers, most accommodations outside of San Francisco tend to be less expensive than similar-category hotels in the city.
For those who appreciate plush accommodations and modern amenities, the Hyatt Regency San Francisco Airport in Burlingame (a five-minute drive to the airport) is the best choice. This four-star hotel has a restaurant, outdoor swimming pool, and fitness center. Guest rooms feature plush bedding and soundproofing to ensure a good night's sleep. The hotel also offers complimentary shuttle service to SFO airport, as well as a free trolley service to downtown Burlingame.
The downtown of Burlingame delights visitors with its pleasant tree-lined streets and wide selection of restaurants, cafés, and boutiques on and around Burlingame Avenue (the town's main street). From springtime through the fall, colorful potted flowers bloom on Burlingame Avenue, while the shaded sidewalk cafés and outdoor restaurant terraces are buzzing with activity.
Also a short drive from the airport and downtown Burlingame, the Hilton Garden Inn San Francisco Airport provides comfortable three-star accommodations at a reasonable price. The hotel has a restaurant, indoor swimming pool, and fitness center. Amenities include room service, free parking, and complimentary airport transportation service. Guest rooms feature mini refrigerators and microwaves.
Just minutes away from the SFO airport, the Bay Landing Hotel in Burlingame is a great value in the mid-range category. This three-star boutique hotel provides free parking and complimentary shuttle service to and from the airport. Guest rooms are equipped with mini refrigerators, microwaves, and coffee machines. Accommodations also include a complimentary continental breakfast, served in a dining room or on an outdoor terrace overlooking the San Francisco Bay.
Another affordable place to stay near SFO airport (less than one mile away) is the Aloft San Francisco Airport in the town of Millbrae. This hotel is the best choice for travelers without a car because it's within walking distance of the BART station where trains run every half hour to downtown San Francisco. The Aloft Hotel also provides a complimentary airport shuttle service. This three-star hotel has a trendy restaurant, an indoor swimming pool, fitness center, and paid parking lot. Guest rooms feature minimalistic decor and updated bathrooms.
More Related Articles on PlanetWare.com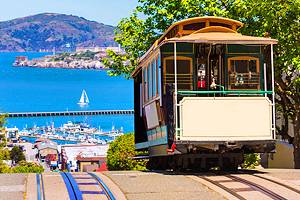 San Francisco Highlights: Depending on the type of trip you are planning, there are many ways to enjoy San Francisco. Families traveling with children should begin by having a read through our article on Things to Do in San Francisco with Kids. If you want to explore the city on foot at your own leisurely pace, see our San Francisco Walking Tour. For general sightseeing and guided tour ideas, refer to our guide to the Top Tourist Attractions in San Francisco.