Where to Stay in Palm Springs: Best Areas & Hotels
When you're considering a trip to Palm Springs, you have a wide range of hotels and accommodations to choose from. You also have a lot of choice when it comes to where to stay in Palm Springs, as the greater Palm Springs area, known as the Coachella Valley, covers several surrounding cities.
If you want to explore downtown Palm Springs, you can find hotels like the Hyatt Palm Springs or the Kimpton Rowan Palm Springs Hotel, where you can walk to all the downtown things to do. Sometimes the best areas to stay may be in one of the surrounding cities, like Rancho Mirage, home to the luxurious Ritz-Carlton, Rancho Mirage or La Quinta, home to the romantic Chateau Lake La Quinta Resort.
The busy season for Palm Springs hotels is between September and April, and the prices are much higher than they are during the very hot summertime. Palm Springs hotel prices also rise on the weekends, as this is a popular weekend getaway destination. You may also want to book your Palm Springs accommodations far in advance if you plan to visit during April, as that's when the Coachella and Stagecoach music festivals take place.
Where to Stay in Palm Springs for Luxury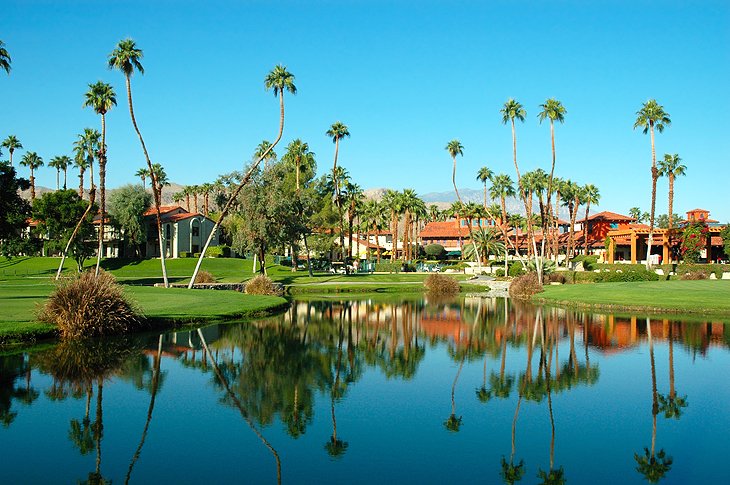 For a five-star luxury resort, you'll need to venture outside the city of Palm Springs, at least as far as Rancho Mirage. Only 10 minutes farther down CA 111, The Ritz-Carlton, Rancho Mirage sits on a promontory, overlooking the entire valley. It's one of the few Palm Springs hotels with a great view.
The hotel has two restaurants, whose seasonally changing menu focuses on locally sourced produce and ingredients. Of course, there's a great spa and a truly spectacular pool and rear terrace, also overlooking the Coachella Valley. The service is personal and wonderful, as expected from the luxury brand.
If you venture about 35 minutes out of Palm Springs to La Quinta, near the tennis haven of Indian Wells, you'll find the swanky La Quinta Resort & Club, A Waldorf Astoria Resort. The large resort is probably the area's best luxury accommodation, with multiple pools, a golf course, a great spa, several restaurants, and Waldorf luxury and service.
The Waldorf also has a wide range of accommodation types. You can get a regular hotel room; a suite; or an individual villa or casita, some with their own private plunge pools.
Just 10 minutes outside Palm Springs, the Agua Caliente Rancho Mirage is a great place to stay for a luxury experience. The Agua Caliente is a four-star luxury resort. The resort has 16 floors, so try for a room on a high floor, as they have some amazing views. The hotel is home to the Sunstone Spa, consistently ranked one of the top spas in the US. The hotel has an amazing 50,000-square-foot resort pool area with cabanas, perfect for enjoying the hot desert sun.
Where to Stay in Palm Springs: Mid-Range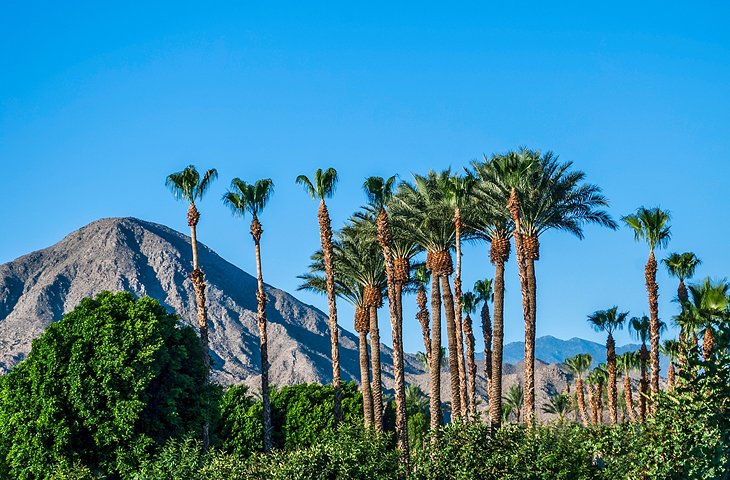 Palm Springs has a large inventory of newly-built, mid-range chain hotels, driven by the strong development of the surrounding areas. Also, many of the city's hip, retro boutique hotels fall in the mid-range category, as their roots as 1950s and 1960s motels limit their luxury possibilities.
The hip Ace Hotel and Swim Club is a thoughtful, stylish interpretation of a classic mid-century motel, re-imagined as a modern boutique property. Think rustic chic, but done on a luxury budget. There are two pools, one more lively than the other; a popular but compact spa; a Stumptown Coffee Roasters on-site; and King's Highway, a trendy roadside diner restaurant.
The 176-room hotel embraces its kitschy past - it used to be a Westward Ho motel with an attached Denny's. It's in Palm Springs, but you'll need a car or a bike to reach the downtown area.
The Renaissance Palm Springs Hotel is on Tahquitz Canyon, about a three-minute drive from downtown. It's a nice, reasonably priced property, set back from the street, with more of a resort feel. It's clean and well-managed, perhaps a bit more so than other hotels in this price range. It's very convenient to the airport, which is only a five-minute drive away.
Their restaurant Date pays tribute to the area's long-time history of growing date palms. The menu also makes use of locally produced dates in many dishes. The outdoor pool is the largest in Palm Springs, and it and the poolside restaurant are open late for night swims. Make sure you have a deli meal at Sherman's Deli, an iconic Palm Springs eatery that's about a 10-minute walk from the hotel.
The pet-friendly Hyatt Palm Springs is right in the center of town, making it a great base from which to explore the city on foot. The all-suite hotel also has some of the largest rooms and suites in Palm Springs. The hotel is also right at the center of the weekly Palm Springs VillageFest Thursday night street market and party.
Each room has two 42-inch flat-screen televisions and a marble-filled bathroom with a Jacuzzi whirlpool tub. The suites also have full kitchens. Foodies will enjoy SHARE, the hotel's small-plate kitchen restaurant, and there's also HooDoo Patio Restaurant, a larger, upscale lobby café.
The Kimpton Rowan Palm Springs Hotel delivers a lot for its mid-range pricing. It's right in the heart of the downtown area, which means you don't need a car. It's the area's only somewhat tall building (eight stories), so some of the rooms on higher floors have great views. It has the city's only rooftop pool, which also offers some great views of the surrounding mountains.
Rooms at the Kimpton are very modern and loft-like. The hotel (and all Kimpton properties) is extremely pet-friendly; they say as long as your pet will fit in the elevator, you can bring it with you.
Where to Stay in Palm Springs on a Budget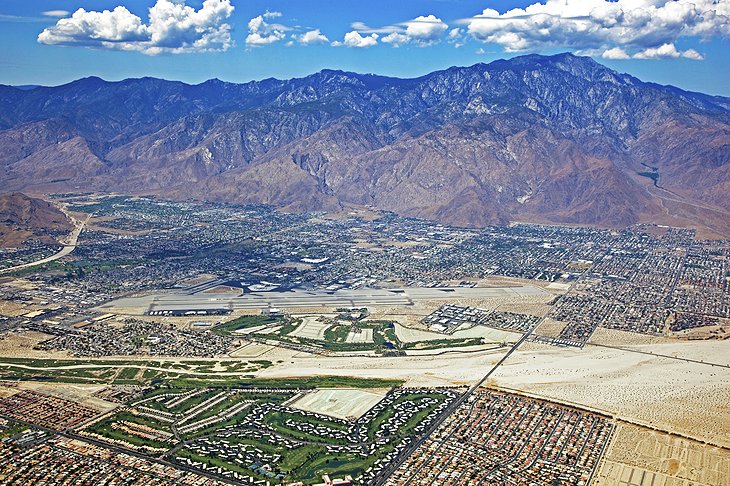 Palm Springs is unique in that many of its budget hotel options are quite close to the city's main downtown shopping and dining streets of Palm Canyon Drive and Indian Canyon Drive. The Best Western Plus Las Brisas Hotel is right on Indian Canyon, within walking distance of downtown Palm Springs. The budget-priced property adds to its value with free Wi-Fi and a free breakfast with an extensive menu, including an omelet station. There's also a pool and fitness center. It's right next to the popular Arenas Road nightlife area.
For a clean, basic room or suite in the heart of downtown Palm Springs, the Quality Inn Palm Springs Downtown delivers. Add in free Wi-Fi, two swimming pools and free breakfast, and for the price, it's an excellent deal. The hotel is right on Indian Canyon Drive within steps of the downtown shopping area. Like most hotels in the area, parking is also free.
The Motel 6 Palm Springs Downtown is an excellent budget place to stay. It's on Palm Canyon Drive at the very south end of the downtown area, so you can walk to all the downtown attractions and dining. The motel is pet-friendly, kids stay free, and they offer free local calls, free Wi-Fi, and free parking. There are vending machines for late night snacks, an outdoor pool, and a coin laundry. The rooms are basic but clean, and the hotel is well-managed.
Where to Stay in Palm Springs for Families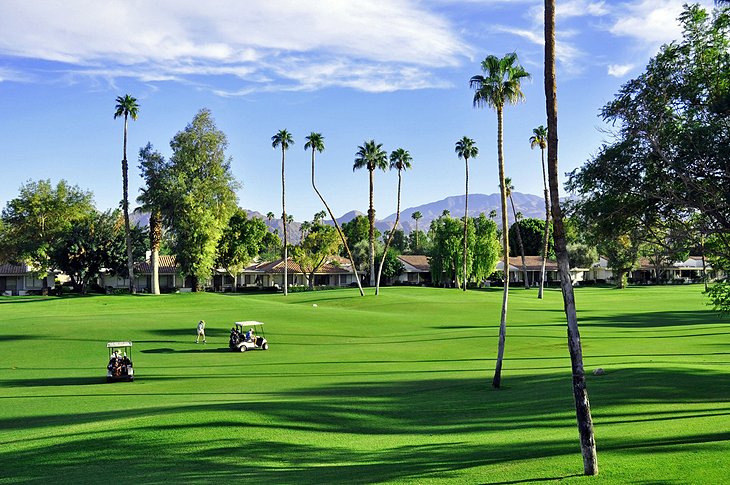 The plethora of all-suite hotels in the greater Palm Springs area, most in the mid-range price category, means families can get two full rooms (bedroom and living room with a sofa bed) for space and privacy. The WorldMark Palm Springs is a part-condo, part-hotel complex, with large units and plenty of amenities. Even the studio units are spacious, and they all have kitchens.
The WorldMark has studios and one- and two-bedroom suites. The studios have one Murphy bed; the one-bedroom suite has a queen bed and a queen Murphy bed. The two-bedroom suites have a sleeper sofa, so they can accommodate six people. The two-bedroom suites also have a washer/dryer in the unit.
For families, there are several pools (one with a little lazy river) and hot tubs, a movie theater, game room, and laundry room. Kids also love the ping pong and pool tables. The WorldMark is on Indian Canyon Drive at the north end of the downtown area.
One of the best places to stay for families is the Triada Palm Springs, Autograph Collection. The pet-friendly boutique hotel is part of Marriott's Autograph Collection, and it's on Indian Canyon, about a five-minute walk from downtown. It's a great hotel for families because you can get large casitas with full gourmet kitchens. The property is nicely landscaped with a luxury resort feel. There are two heated outdoor pools and two hot tubs.
One of the best places to stay for families with kids is the sprawling Omni Rancho Las Palmas Resort and Spa in Palm Desert, about 20 minutes from PSP or 30 minutes from downtown Palm Springs. The family-friendly resort is set on 240 acres which includes a 27-hole golf course and Splashtopia, its own water park.
The resort has five restaurants, 23 tennis courts, and an enormous, 20,000-square-foot spa. Kids will love the lazy river, the waterslides, and cliff-side hot tub, and parents will find some sanctuary in the separate adults-only pool area.
If all the on-site activities for kids aren't enough, there's a large shopping mall (with shopping, dining, and movie theaters) right across the street.
Where to Stay in Palm Springs for Romance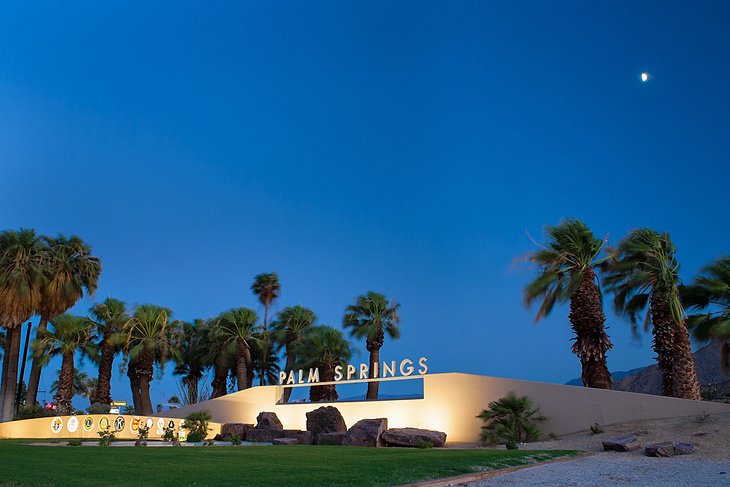 Take a short drive (about 20 minutes from PSP airport) out to Desert Hot Springs for a romantic stay at Two Bunch Palms. Rumored to be Al Capone's former desert retreat, the spa and luxury boutique hotel has villa-like accommodations and several natural hot spring and mineral spring pools and baths. There's a world-class spa and Essense, a restaurant with a special wellness menu. Its remote desert location gives it a very private, secluded vibe, perfect for romance.
For a wonderfully romantic lakeside experience try The Chateau at Lake La Quinta. This hidden gem features an impeccably designed and styled 24-room boutique hotel right next to a tranquil lake. It feels like a European bed-and-breakfast, with warm, personal service and usually only a few other guests. The hotel rooms come as either Deluxe, Premium, or Superior based on size and amenities; there are also two lake-side bungalows. All the accommodations look out over the lake and have private patios or balconies.
The Chateau at Lake La Quinta has a delightfully romantic restaurant called Melange, with some of the best food in the valley and romantic tables overlooking the lake. At night, the other buildings around the lake (private luxury homes and villas) have lights, creating a beautiful outdoor dining scene.
The Westin Rancho Mirage Golf Resort & Spa is another great place to stay for a romantic Palm Springs getaway, especially if you like to play golf. In Rancho Mirage, just outside Palm Springs, the large resort boasts lovely mountain views and a secluded location that couples will like. The Westin, which is consistently ranked as one of America's top 50 golf resorts by Golf Digest, offers clean and comfortable modern rooms and suites.
Amenities include a Pete Dye-designed championship golf course and three swimming pools, including one with a 75-foot waterslide. There is also a spa, where you can enjoy couples massage treatments. The on-site Italian restaurant, Pinzimini, also offers room service if you just want to have a romantic dinner in your room.