Where to Stay in Carmel: Best Areas & Hotels
The picture perfect village of Carmel-by-the-Sea has a wonderful location right on the Pacific Ocean at Big Sur in Central California. It offers a range of accommodation options for all types of travelers, whether you are on a budget and traveling with the kids or wanting to splurge on a romantic couples getaway.
The best areas to stay are either close to Carmel Beach or right off Ocean Avenue, which is the heart of the town's shops and galleries. Restaurants are located around the village, and some properties will offer shuttle service directly to them if you don't have a car - although having one makes getting to and around this destination much easier.
Outside the village of Carmel itself are a few excellent luxury and mid-range options set on large swaths of land, which provide a destination resort-style experience that is still easily accessible to town. In the luxury market, check out Carmel Valley Ranch, which sits on 500 acres.
Where to Stay in Carmel for Luxury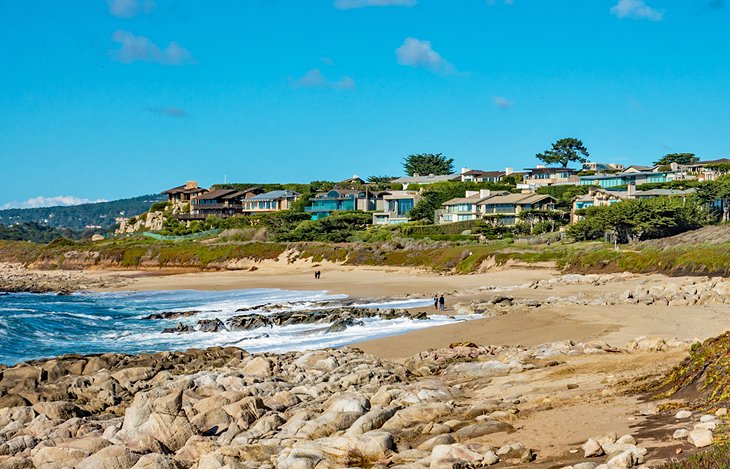 La Playa Carmel is a lovely boutique luxury bet that dates back to the early 20th-century and recently underwent a renovation to retain its yesteryear historic charm. The 75-room property has a great location in the heart of the village, just two blocks from the beach and close to many shops and restaurants.
The grounds here are meticulously maintained and include flowering gardens, quiet courtyards, and a heated swimming pool on a lush terrace. Rooms are elegant, well-appointed, and comfortable and come with ocean views and fireplaces. A breakfast buffet is included in the rate, as is a local shuttle service to area restaurants. Other amenities include a restaurant and business center.
Another excellent luxe option is L'Auberge Carmel, which is located just a block from the haute shopping found on Ocean Avenue and about a 10-minute walk from the beach. Inside a building dating back to 1929, the boutique property has just 20 elegantly decorated rooms, which feature comfortable beds draped in high-end linens, French windows, and original black and white photographs.
On-site amenities include a celebrated restaurant with just 12 tables, which also serves a free hot breakfast to guests. Cooking classes are also offered for a fee, and parking is free as is Wi-Fi. The property is also pet-friendly.
To escape in style, the Carmel Valley Ranch is located on 500 acres outside of the village proper and just three miles from Garland Ranch Regional Park, which is home to excellent hiking and biking. The resort offers elegant, contemporary suites with fireplaces, decks, and upscale amenities like Keurig coffee makers and iPhone docks.
Away from the rooms, amenities at this destination-style property include a golf course, multiple tennis courts, two saltwater swimming pools, a spa, and gym. There are also three different dining options, including an organic restaurant.
Where to Stay in Carmel: Mid-Range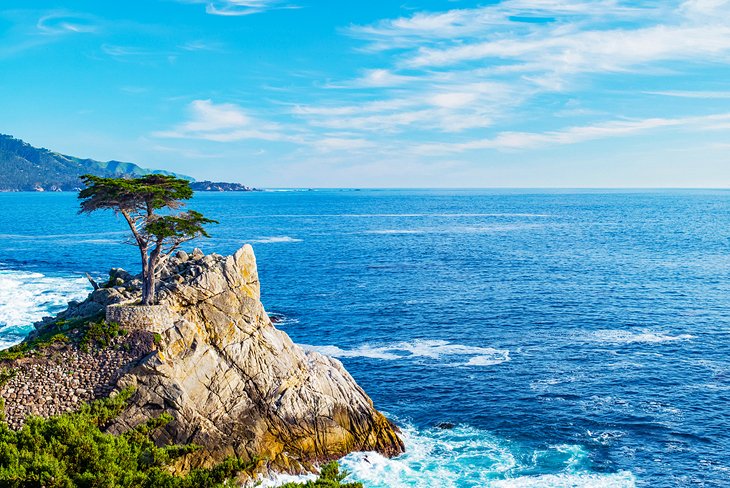 Tally Ho Inn is a popular mid-range choice in a great location, one block off Ocean Avenue with its numerous shops and restaurants, and less than a 10-minute walk from the beach. It offers a mix of rooms and suites, which are individually decorated and very spacious, clean, and comfortable and come with large flat-screen TVs, free Wi-Fi, and marble baths with Jacuzzi tubs.
Suites add private decks with sunset views, as well as fireplaces, and sitting areas separate from the bedrooms, which makes them an awesome choice for families with small kids who go to sleep early. Breakfast and parking is free. On weekdays, you get a full buffet, and on weekends, a continental breakfast. There is also a restaurant on-site.
Hotel Carmel is another excellent upper-end, mid-range option within walking distance of the beach and the village shops. Featuring cottage-style architecture, this boutique property offers stylish rooms with a seafaring vibe and comfortable beds with soft pillows.
They also come with quality coffee makers, toiletries, and balconies. The staff is friendly and knowledgeable here, and other perks include a free continental breakfast and free parking. There is also an on-site restaurant.
Also check out the Carmel River Inn located on 10-acres by the Carmel River and about two miles from Ocean Avenue and the village. The hotel offers a mix of clean and comfortable country-style rooms, many with balconies, as well as studio-style and one- and two-bedroom cottages with pine log furnishings, cozy duvets, and often wood burning fireplaces and kitchenettes - these are a great pick for families. Most of the cottages also accept pets. Beyond the rooms, amenities include an outdoor pool and walking paths through manicured gardens.
Where to Stay in Carmel on a Budget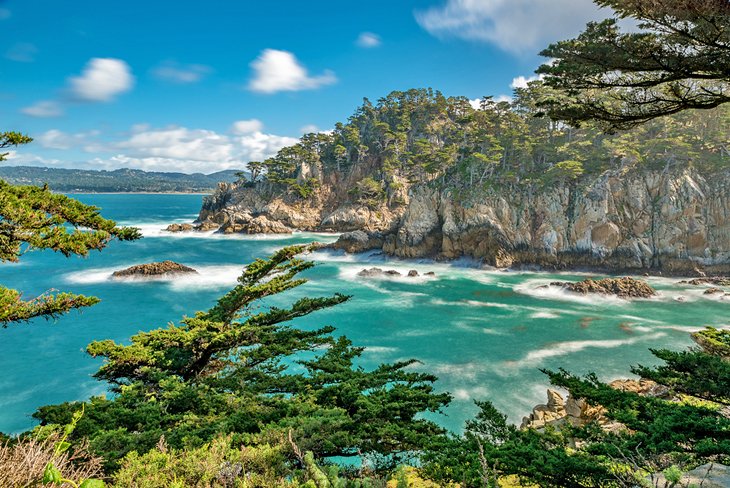 Casa de Carmel Inn is a good budget choice in the heart of Carmel, within walking distance of numerous shops and restaurants. It is just a half block from Ocean Ave, a few minutes from the beach, and provides relaxed, family-friendly lodging in clean and comfortable rooms.
These are individually decorated and come with quality linens, fluffy pillows, flat-screen TVs, and in-room refrigerators. Amenities include a healthy continental breakfast, which is delivered to your room each morning. Parking is free.
Carmel Resort Inn is located in a tree-filled, park-like setting, which is three miles form Carmel River State Beach. It offers basic but tidy accommodations in 25 rustic cabins, with one or two bedrooms, which come with kitchenettes and fireplaces.
On-site amenities include two restaurants, free parking, and barbecue facilities. The hotel is also pet-friendly.
Recently renovated, The Getaway Inn is a great value choice. Located on Ocean Ave just across the street from Carmel Plaza and Devendorf Park, this hotel offers easy access to the beach and downtown's restaurants and shops.
The rooms are clean and comfy with contemporary California decor and fireplaces. If you are traveling with a dog, it is also pet friendly. Parking is free, and there are bicycles available for guests to use.
Where to Stay in Carmel for Families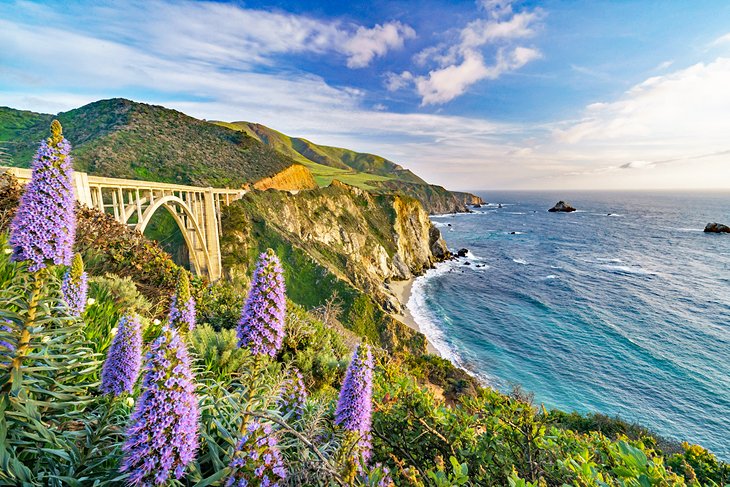 Quail Lodge & Golf Club is a great choice for families who like to golf together or those interested in getting their kids into the sport - the golf academy here will create custom lessons for children between the ages of 3 and 17.
The property is located outside the city in the Carmel Valley and is a destination-style resort property with stylish rooms and suites featuring hardwood floors, comfortable beds, and balconies.
A free continental breakfast is included in the rate as is parking. Amenities include an 18-hole championship golf course, tennis courts, a swimming pool, and two restaurants.
Another popular family pick is Coachman's Inn, A Four Sisters Inn, which is located in Carmel just half a mile from the beach and within walking distance of shopping and restaurants. This boutique hotel offers 30 spacious and charming rooms with brass bed frames and pillow-top mattresses. They also come with mini-fridges and microwaves, which make offering the kids snacks between meals much easier.
Amenities include a free hot breakfast and afternoon snacks, as well as a hot tub and sauna. Parking is also available.
Where to Stay in Carmel for Couples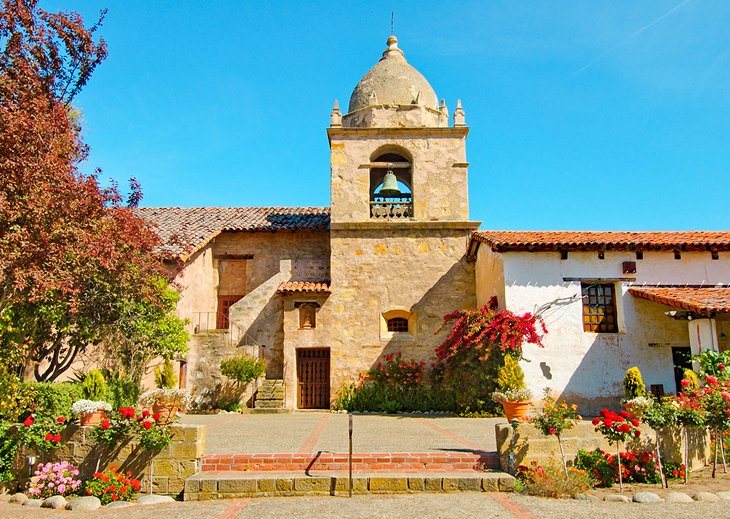 Tradewinds Carmel is a romantic pick, which is popular with couples. This boutique property has just 28 rooms, and these are done up in contemporary Asian style with accents like Japanese pen-and-ink art on the walls and custom bamboo and rattan furniture. The feather beds are very comfy with high-end Egyptian cotton linens and fluffy pillows, and bathrooms come with whirlpool tubs.
The grounds here are lush and zen-like, with a meditation garden and fire pits made for cuddling next to in the courtyard. A continental breakfast is included in the rate, and if your dog is like a child, bring the pup along - the property is pet-friendly.
Another romantic hotel is the Wayside Inn, which is located within walking distance of many boutiques and restaurants. Inside a redbrick building, the inn features colorful rooms done up in English and French country decor, which have a romantic vibe.
They also feature feather beds with high-end Italian linens and complimentary breakfast baskets, which are delivered to your room each morning. Suites add even more space and come with Jacuzzis and fireplaces.
Facing the ocean, Tickle Pink Inn has sweeping views of the rocky coastline - some of the best in town - from many of its rooms and suites, and a romantic vibe throughout that makes it a top choice for couples. Rooms come with balconies and, in many cases, fireplaces. Beds are draped in high quality European linens and are quite comfy. The furnishings are also appealing.
Amenities include a daily afternoon reception with beverages and snacks, as well as a complimentary breakfast. There is also a hot tub on the grounds. Parking is free.