15 Top-Rated Resorts in the Palm Springs Area
We may earn a commission from affiliate links ()
Palm Springs is a beautiful desert city about 100 miles (two hours by car) east of Los Angeles. This resort destination offers year-round warm weather and sunny skies. It also offers incredible natural scenery, amazing hiking trails, golf courses, and excellent restaurants.
The Greater Palm Springs area, which includes the surrounding cities of Rancho Mirage, Palm Desert, La Quinta, and Indian Wells, includes more than 100 golf courses, and the area is also home to many resort hotel properties, offering a full range of activities and amenities. You may also want to visit the hot springs of nearby Desert Hot Springs.
The high season for Palm Springs is when it's cold in other places in North America, lasting from early September through the end of May. Prices drop as it gets very hot during the summer, with daytime temperatures routinely exceeding 110 degrees Fahrenheit, creating an off-season time between June and August.
Find the best place to stay with our list of the top resorts in the Palm Springs area.
1. La Quinta Resort & Club, A Waldorf Astoria Resort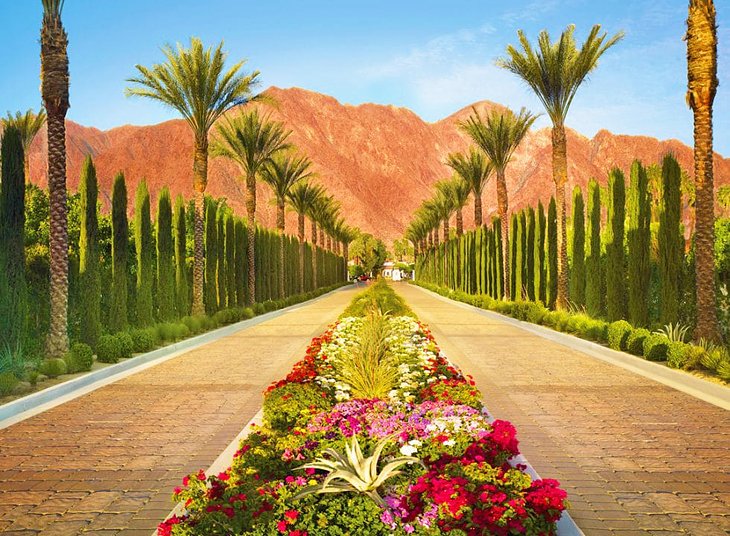 With 41 swimming pools (yes, 41), 53 whirlpool spas, nine golf courses, five restaurants, and a range of on-site activities, it's hard to find a reason to leave the property. The resort caters to romantic getaways, family vacations (they have excellent kids' programs), even pet parents, with dogs getting a bone on arrival.
The historic hotel first opened as a desert luxury resort in 1926 and was popular with Hollywood stars of the time. Some of the history is retained in the design and style of the individual accommodations, which include some original Spanish-style suites, villas, and casitas. You can also check out the history of the resort in a fascinating display of historic photographs in the lobby area.
2. Parker Palm Springs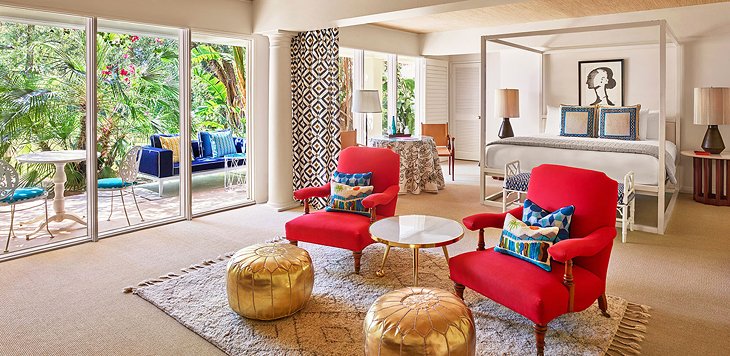 Created from the state's first Holiday Inn and a series of bungalows, this Jonathan Adler-designed property is on 13 acres of densely and beautifully landscaped gardens and plants, with pathways throughout. There are multiple swimming pools, a giant outdoor chess board, croquet lawn, tennis courts, a bocce ball court, and even a poolside lemonade stand and snack bar.
When you get hungry, the resort also has a good (but expensive) retro coffee shop and diner called Norma's and a stylishly designed fine dining restaurant called Mister Parker's. There's also a beautiful spa, humorously named the Palm Springs Yacht Club.
3. Two Bunch Palms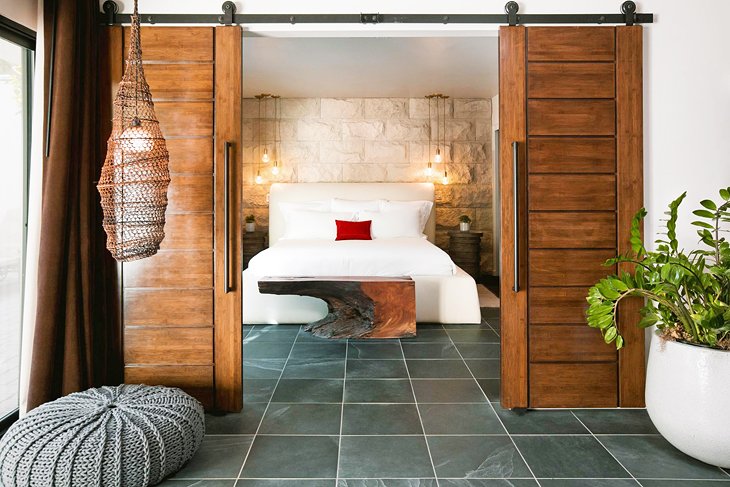 Rumored to have once been a desert hideaway for Al Capone, this spa resort now offers a range of luxurious treatments, hot and cold pools, and healthy food. The pools and spas are fed and heated with natural mineral spring water, which comes out of the ground from an on-site aquifer at 99 degrees Fahrenheit (32 degrees Celsius). Wellness is the focus here, with a healthy restaurant featuring locally sourced food (mostly organic and vegan) and an on-site juice bar.
The rooms, suites, and villas at the resort are beautiful and luxurious, with natural linens and products. Some are designed for technology detox with no phones or other electronic devices present or allowed. Day passes with spa and mineral pool access are also available.
4. JW Marriott Desert Springs Resort & Spa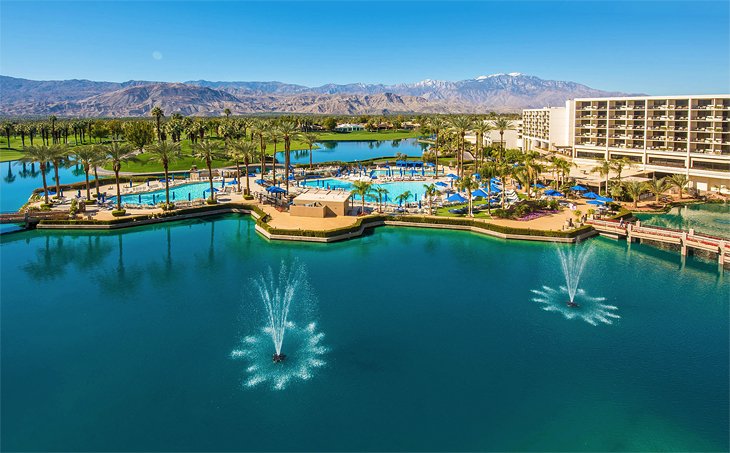 The JW Marriott Desert Springs Resort & Spa has everything you could want for a great vacation experience: two golf courses; five resort-style swimming pools; a wellness-focused spa; and even little rivers throughout the property, complete with gondolas to take guests around. The streams also lead out to a central island in front of the hotel's main entrance, where a flock of pink flamingos resides. There are tennis courts and no less than eight on-property dining options.
5. The Ritz-Carlton, Rancho Mirage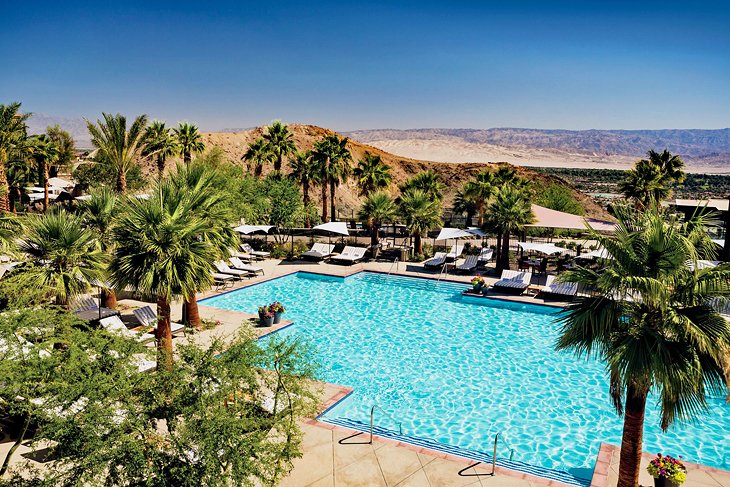 Foodies will enjoy the two on-site restaurants: State Fare Bar & Kitchen and The Edge steakhouse. State Fare focuses on locally sourced products and has a seasonal menu. The Edge lives up to its name, sitting right on the edge of a ridge, providing spectacular views of the valley below.
This luxury resort has plenty of wellness activities, including group sunrise and sunset hikes, lawn games, and bike (and helmet) loans. There are two large pools: a main pool and an adults-only cliffside pool. Of course, being a Ritz-Carlton, there is a also a large and luxurious spa.
The Ritz-Carlton is in Rancho Mirage on Frank Sinatra Drive, off Highway 111, about 15 minutes from Palm Springs.
6. Omni Rancho Las Palmas Resort & Spa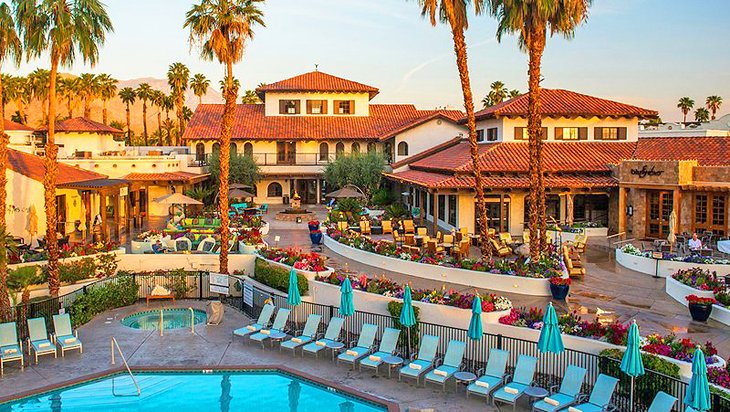 For golfers, there's a 27-hole championship golf course and for spa-lovers there's a 20,000-square-foot European spa. There are 25 tennis courts and three enormous resort-style pools, one reserved only for adults. In addition to the pools, the resort boasts its own two-acre water park called Splashtopia. The park has a range of attractions, including its own beach, a lazy river, and two 100-foot-tall waterslides.
There are five different restaurants at the resort, and if you still want something different, you're right across the street from The River, an upscale shopping and dining destination with several more restaurants and a movie theater.
7. Marriott's Shadow Ridge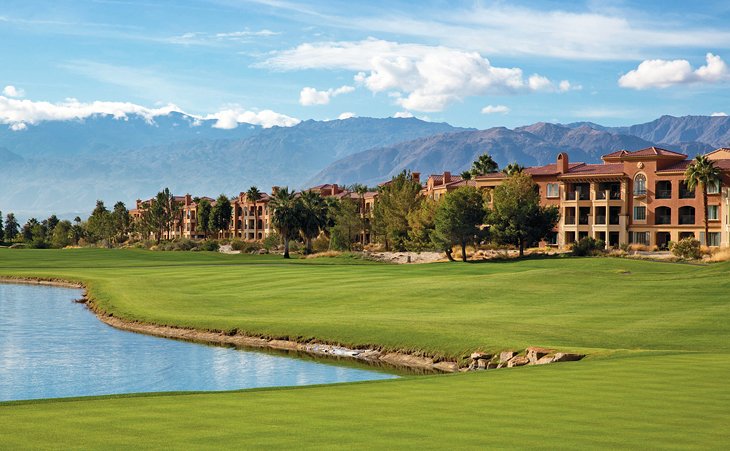 This large development is both a hotel and a fractional ownership property, so the units are mostly one- and two-bedroom condo-style accommodations. They're very large, and most come with full kitchens, washer/dryer units, furnished patios or balconies, free Wi-Fi, and separate master and second bedrooms.
Marriott's Shadow Ridge has an 18-hole championship golf course with a full-service golf center and pro shop. There are six resort-style swimming pools, one with a waterslide, and the property has its own movie theater that is free for guests and shows older movies.
When you are hungry, there are multiple restaurants on the property, including a Starbucks and a little 24-hour convenience store. It's also about a half-mile from a large shopping center with a Walmart, Kohl's, Lowe's, and several banks and restaurants.
The Shadow Ridge resort is on the border between Rancho Mirage and Palm Desert, a quick 25-minute drive from Palm Springs. There are two parts to Marriott's Shadow Ridge: The Villages and The Enclaves. They all share the same amenities. Part II, The Enclaves, was built more recently, but the units are a bit smaller.
8. Hyatt Regency Indian Wells Resort & Spa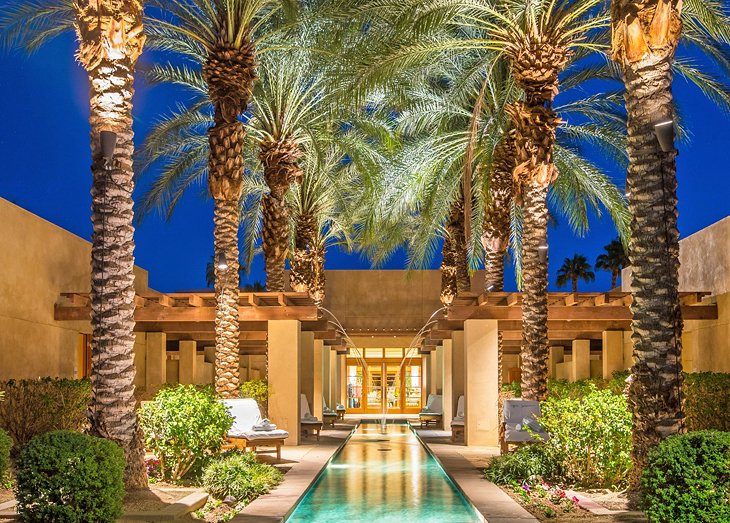 Aside from some good-sized rooms, the Hyatt Regency Indian Wells Resort & Spa has 70 suites, including some spectacular villas and penthouses. There are four different dining options at the hotel, plus 24-hour, in-room dining and a little take-out coffee bar in the lobby.
For water fun, there are seven pools to choose from (one just for adults) and one with a 60-foot-tall spiral waterslide. Of course, there is a full tennis center with multiple courts of all different types (regular, clay, and grass) along with a full golf center and two championship golf courses.
9. Renaissance Esmeralda Resort & Spa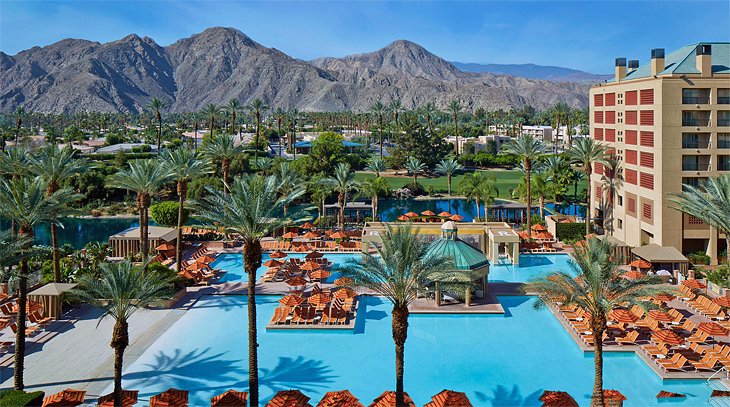 Every stylish room at the Renaissance has its own balcony, and the property boasts three popular restaurants. There's a sushi bar, an Italian restaurant with a big wood-fired oven, and an American restaurant focusing on dry-aged steaks and locally sourced products. There's also a small coffee shop serving Starbucks products and a poolside grill and snack bar.
This is a large property with many hiking and walking paths, as well as beautiful landscaping. The Renaissance also boasts a full-service luxury spa with a wide range of treatments and amenities.
10. Avalon Hotel & Bungalows Palm Springs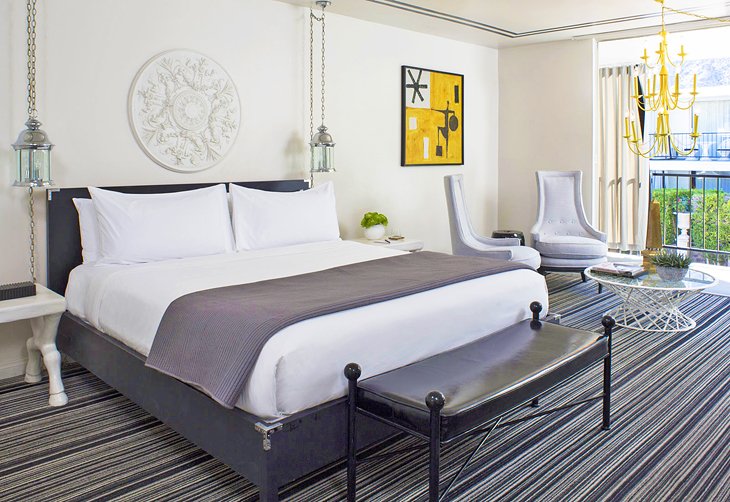 The Avalon Palm Springs is on four acres of perfectly manicured gardens and has 13 private villas and 54 guest rooms. The villas are mini houses, with full kitchens, fireplaces, and living rooms, and all the rooms and suites are done in a striking Hollywood Regency style.
There are three pools to enjoy, each surrounded by private cabanas, two Jacuzzis, and a small but well-appointed spa. The boutique luxury hotel has a restaurant, Chi Chi at The Avalon, serving American cuisine.
Importantly, the Avalon also puts you right in the heart of historic downtown Palm Springs, as the property has been here since the 1920s. It's on Belardo Road, only a block from Palm Canyon Drive's shopping and dining.
11. The Riviera Palm Springs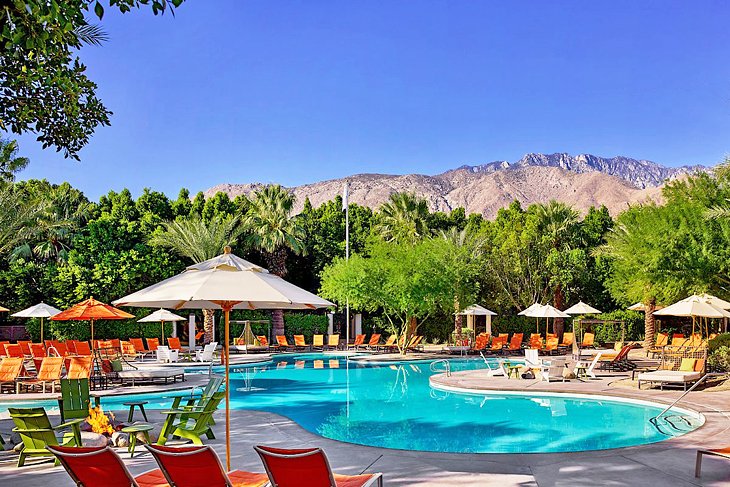 The rooms at the Riviera Palm Springs are large, and you have 24 acres of landscaped grounds to explore. There are two huge swimming pools, life-size Jenga and Connect Four games, and a full retro videogame arcade.
The Riviera has four different dining options on the property, along with a few snack bars and casual cafés. Guests can enjoy a full-service spa and a large fitness center with extensive wellness programing. They offer everything from yoga classes to free two-hour bike loans.
12. The Westin Mission Hills Golf Resort & Spa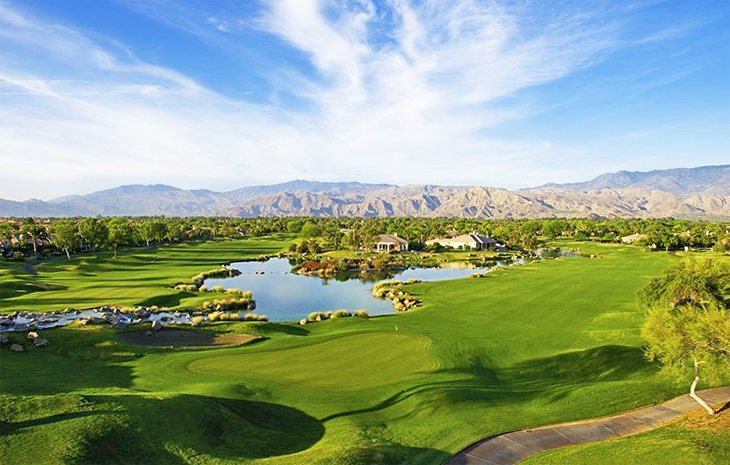 The Westin has two championship Troon golf courses (one designed by Pete Dye, the other by Gary Player) and three swimming pools, one with a 60-foot-tall waterslide.
The resort has three different restaurant options, along with 24-hour room service. The Westin has an extensive kids' program with camp-like activities all day long and into the early evening. There are more than 500 rooms at the property, including suites and large villas. The Spa at Westin Mission Hills has an extensive treatment menu, along with day-use facilities like whirlpools, saunas, and steam rooms.
13. Palm Canyon Resort & Spa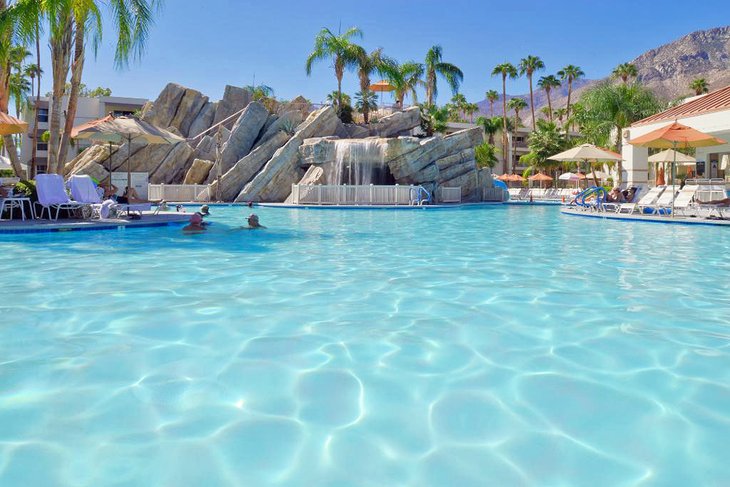 As a property that's also fractional ownership, the majority of the units are apartment-like in their size and amenities, with full kitchens. They also have multi-bedroom units, which are great for families traveling together.
The location is also closer to the downtown area than the other large resorts out in Palm Desert or Rancho Mirage, so it's just a short drive or Uber / Lyft ride away.
The Palm Canyon Resort has a lot of fun things to do, including a big fitness center, which has a full indoor basketball court. The accommodations surround a huge lagoon-style pool with rock features, several waterslides, and a cave with a whirlpool spa inside. There's also a separate kiddie pool.
The resort even has a small spa with a menu of massages along with body, beauty, and skin treatments.
14. Ingleside Inn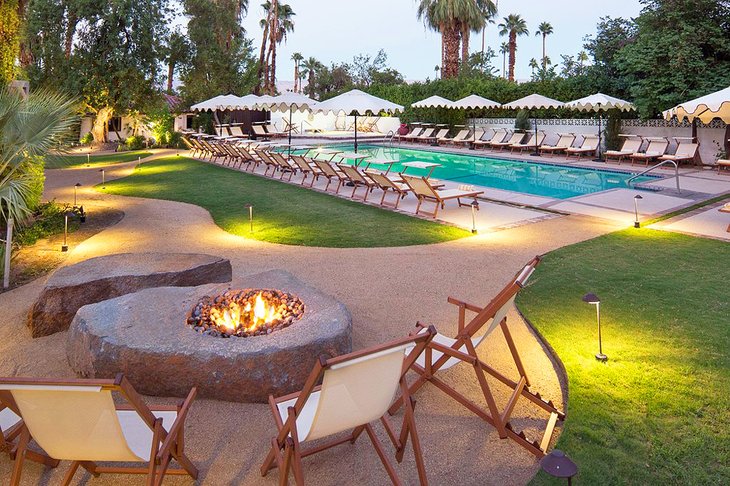 There are only 30 rooms and villa-like casitas, which means guests get a lot of personal attention from the caring and friendly staff. Rooms have an Old Hollywood Spanish style, and all of them have some kind of a private terrace or patio. The location at Ramon Road and Belardo means you can easily walk to Palm Canyon shopping and dining, which is only a block away.
When you're ready for great food and some lounge music, the Ingleside Inn is home to Melvyn's, a legendary Palm Springs restaurant, once frequented by Frank Sinatra and the Rat Pack.
15. Hotel Paseo, Autograph Collection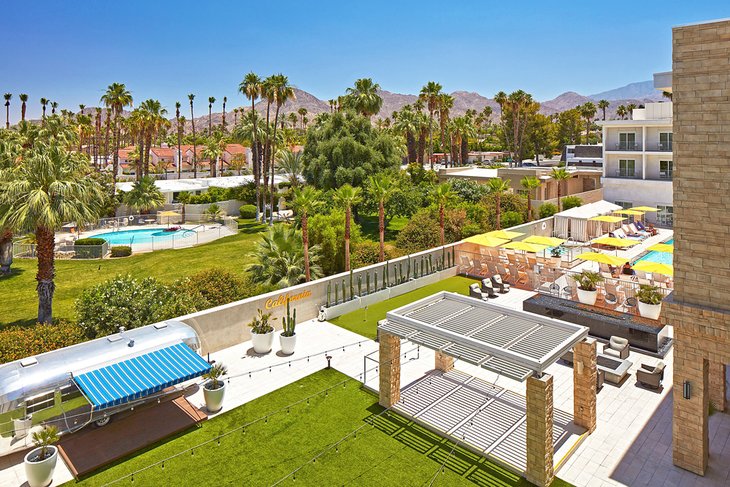 There are some cool accommodation options at this boutique lifestyle property. For something different (and perfect for Instagram posts) book the vintage 1950s Airstream Trailer. It is also comfortable to sleep in. Otherwise choose from stylish rooms or suites. All come with private balconies facing the San Jacinto Mountains.
Frequently Asked Questions
What's the best time of year to visit Palm Springs?
Palm Springs is great to visit all-year-round. The winter is high season, with more people and higher hotel prices. The season starts around Labor Day (the first weekend in September) and ends around Memorial Day (the last weekend in May). Summer has less crowds and lower prices, but the daytime temperatures are extreme, often exceeding 110 degrees Fahrenheit (43 degrees Celsius).
What's the best way to get to Palm Springs?
Palm Springs has an international airport, with daily flights to many cities across the U.S. and Canada There are more direct flights during the high season (wintertime).
For drivers, Palm Springs is right off I-10, about 100 miles from Los Angeles. Without traffic (avoid afternoon rush hour) the drive takes just about two hours. You can also take the bus: both Greyhound and FlixBus have routes that stop in Palm Springs.