12 Top-Rated Resorts in the Los Angeles Area
Travel writer Freddy Sherman has lived in Los Angeles for 30 years and loves staycationing at its many luxury resorts.
Los Angeles is a classic resort destination with a variety of luxury resorts that offer something for all kinds of travelers. Whether this is a couple's getaway or a family vacation, you are sure to find somewhere to suit your personal style in and around the City of Angels.
From resorts like the Peninsula Beverly Hills, in close proximity to high-end shopping along Beverly Hills' Rodeo Drive to resort hotels by the beach in Santa Monica and Marina Del Rey, the Los Angeles area is chock-full of great accommodation choices.
Beach lovers have some great choices with resort hotels like The Ritz-Carlton, Marina Del Rey or the Fairmont Miramar Hotel & Bungalows, and those looking for a more urban experience should check out Downtown LA's new Conrad Los Angeles.
Find a great base for your visit to the City of Angels with our list of the best resorts in the Los Angeles area.
1. The Beverly Hills Hotel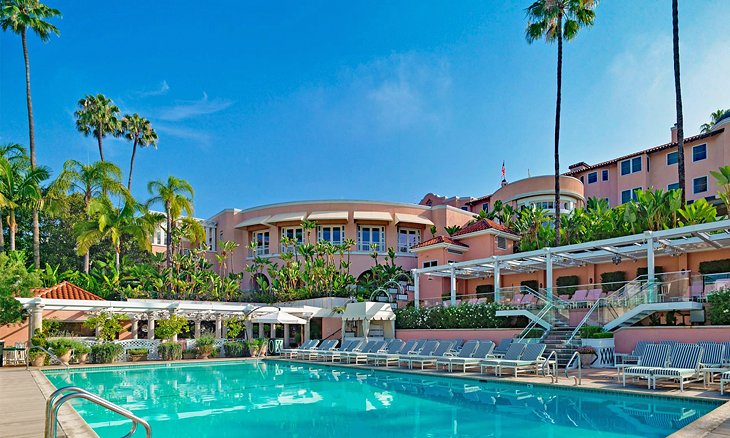 Accommodation: The Beverly Hills Hotel
First opened in 1912, the Pink Palace, as it's known, sits amid 12 acres of palm trees and tropical gardens with lush landscaping. There are elegantly beautiful rooms and suites in the main building (most with private balconies or patios) and a group of very expensive bungalows also on the property.
Any luxury resort can have expensive buildings and design, but century-old luxury hotels like The Beverly Hills Hotel develop a soul. It's the people and service that keep the resort at the top of every "best of" list, with many team members on staff for multiple decades.
The hotel's pool is famous as the place to see and be seen, it's surrounded by private cabanas available for rent. The large spa is considered one of the best in Los Angeles.
Foodies will love the hotel's iconic restaurant, the Polo Lounge. There's also a poolside cafe and, of course, great in-room dining. Regular guests and rich and famous locals love the hotel's tiny 20-stool Fountain Coffee Room with an upscale diner menu and all-day breakfast.
Address: 9641 Sunset Blvd, Beverly Hills, CA 90210
2. Fairmont Century Plaza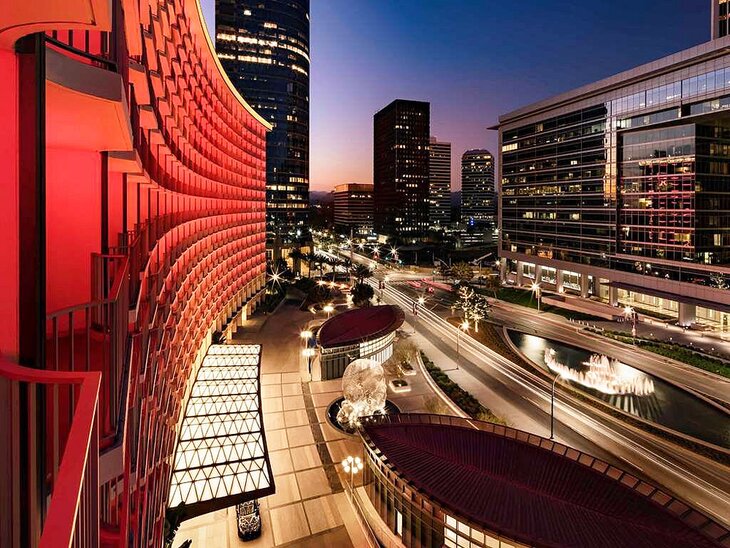 Accommodation: Fairmont Century Plaza
This newcomer to the LA hotel scene opened in 2021, following the renovation and rebirth of a historic hotel property popular since its first opening in 1966. The location puts you close to everything: you're in Century City, close to Beverly Hills on one side and Santa Monica and the beach a few miles to the other side. Of course, the upscale shopping and dining of Century City are just steps away.
Accommodations at the large resort hotel, with 400 rooms and 85 suites, were designed by the uber-popular interior design firm Yabu Pushelberg and really showcase the most current trends, muted pastels, and warm colors. Every room has a private, furnished balcony and a huge 65-inch HD Smart TV with streaming connectivity.
The Fairmont Spa Century Plaza is an award-winning, state-of-the-art wellness center that offers full spa services, as well as everything from a rooftop pool to cosmetic surgery procedures.
The hotel's main restaurant is Lumiere, a French-inspired brasserie with all-day dining and a very popular Sunday brunch. You can visit the in-house patisserie for pastries, baked goods, and even grab-n-go snacks and meals. A menu is offered at the lobby lounge, and there's a poolside café at the hotel's rooftop pool.
Address: 2025 Avenue of the Stars, Los Angeles, CA 90067
3. Hotel Bel-Air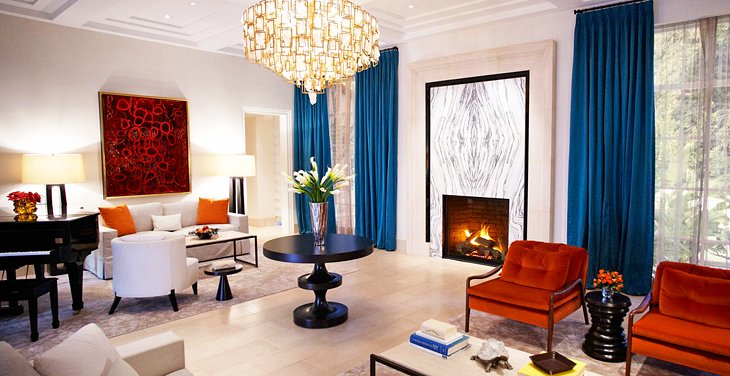 Accommodation: Hotel Bel-Air
First opened in 1946, this luxury hotel is the sister property to The Beverly Hills Hotel and is located about 10 minutes away, a short drive down Sunset Boulevard. It's hidden away in a super-luxurious residential area, on 12 lushly landscaped acres of grounds.
The rooms, suites, and villas are stylish with a California mid-century feel plus a touch of Hollywood Regency glam. Luxury is the name of the game here, and no expense is spared when it comes to furniture, amenities, and guest accommodation fit and finish. Service is also a highlight here, with many staff members who have been part of the hotel family for decades.
When it's time to eat, celebrity chef Wolfgang Puck has an eponymous restaurant here and oversees all the hotel's food (including room service). The restaurant is open to the public (with reservations) and is known as one of the best celebrity-spotting places in Los Angeles.
There's a luxurious spa, and guests of the Hotel Bel-Air have access to the facilities (spa, pool, gym, restaurants) at The Beverly Hills Hotel and can charge items to their room (and vice versa for guests staying at The Beverly Hills Hotel). The hotel has a large outdoor pool created in the space that was formerly a horseback riding ring, from the days when the resort was more equestrian-focused.
Address: 701 Stone Canyon Rd, Los Angeles, CA 90077
4. L'Ermitage Beverly Hills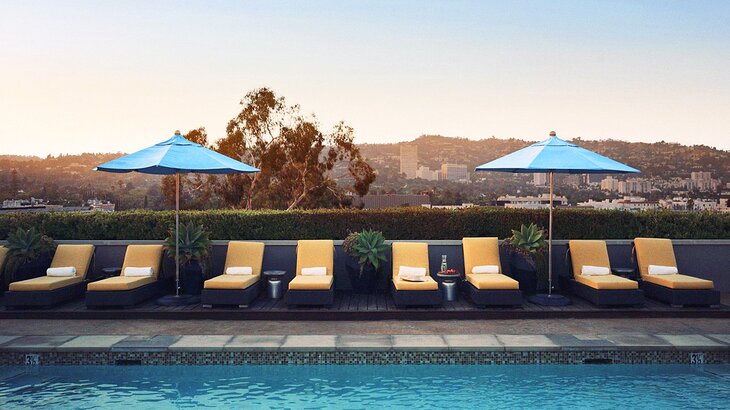 Accommodation: L'Ermitage Beverly Hills
Tucked away on a mainly residential street in Beverly Hills near city hall, L'Ermitage is probably one of the best hotels in Los Angeles you've never heard of.
First opened in 1975, the luxury hotel holds the distinction of being the longest-tenured Forbes Five-Star and AAA Five Diamond all-suite hotel in the whole world. Originally designed as an apartment building, the suites are all spacious, with huge spa-like onyx marble bathrooms with soaking tubs and separate dressing areas. All the suites have private French balconies or terraces.
You have your choice of 116 fantastic suites, some with the ability to be connected to form multiple-bedroom units. Service is warm and deeply personal — you'll find many celebrities and very wealthy individuals choose to stay for weeks, due to the privacy, luxury, and service.
You can relax in a poolside cabana at Canopy, the rooftop pool space, with views of the Hollywood Hills. Ricari Studios is the hotel's extremely popular wellness spa, another space where you're likely to run into someone famous.
Aside from a rooftop poolside café, the resort hotel is home to L'Restaurant, which features fresh, seasonal California cuisine. There's a large outdoor terrace, and the food is so good, it's popular with locals as well. All-day dining, breakfast, lunch, and dinner are offered.
Address: 9291 Burton Way, Beverly Hills, CA 90210
5. Four Seasons Hotel Los Angeles at Beverly Hills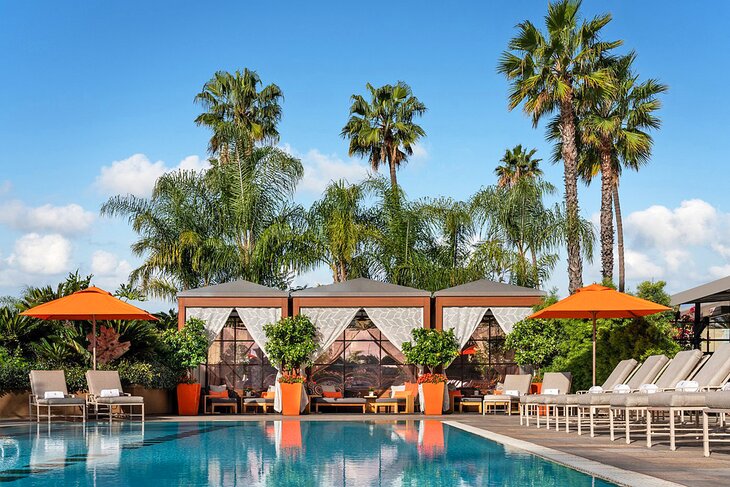 Accommodation: Four Seasons Hotel Los Angeles at Beverly Hills
One of three Four Seasons resorts in the Greater Los Angeles area (The Beverly Wilshire, a Four Seasons Hotel, and the Four Seasons Westlake Village are the others) the Four Seasons Los Angeles at Beverly Hills sits right on the border with Beverly Hills, not far from L'Ermitage.
It's a true urban resort offering delicious dining, entertainment, a huge resort-style pool, a fabulous and spacious spa, and large ultra-private accommodations with a residential feel. It's popular with presidents and celebrities, as it has a private, underground entrance with elevator access right to the top suites.
Those suites, and even basic rooms, have a beautiful California luxurious design, with hints of Hollywood Regency to remind you where you are. Everyone has a furnished balcony or patio.
The family-friendly hotel has a lot of kids' activities and children's menus in the restaurant. Kids under 18 stay free in their parents' rooms, and the hotel offers discounted rates for family connecting rooms.
Culina is the Four Seasons' upscale Italian trattoria with an in-house Italian café. Cabana is a large restaurant with a seasonal American menu and a large outdoor dining space. Food is also served in the lobby lounge, where live music happens on Friday nights. Of course, in-room dining is always an option and a good one, given the beautiful city views many of the accommodations offer.
The central location makes it easy to get anywhere in the city, from Beverly Hills (five minutes), the Valley (20 minutes), Santa Monica (20 mins) to Hollywood (10 mins), DTLA (20 mins), and even LAX (30 mins). These are, of course, non-rush-hour travel times.
Address: 300 South Doheny Drive, Los Angeles, CA 90048
6. Hotel Per La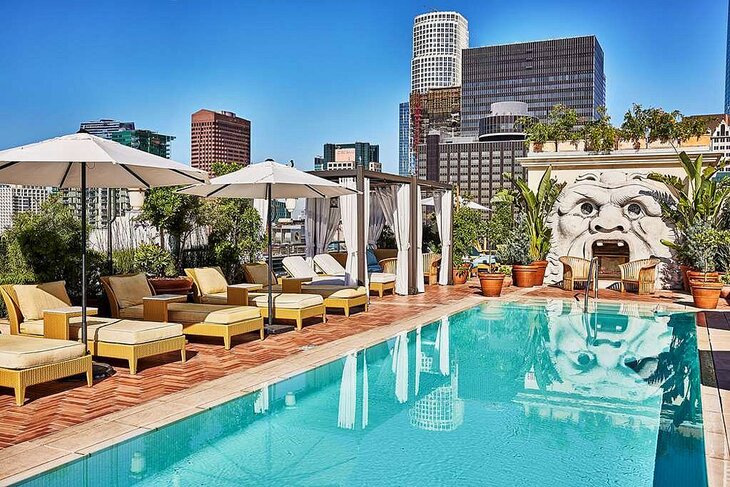 Accommodation: Hotel Per La
Another newcomer to the list of LA's top hotels, the Hotel Per La is an urban resort in the heart of DTLA. Formerly the headquarters building of the Bank of America, the grand 1922-built structure was re-purposed into a luxury hotel, opening in 2022. The hotel is part of the Preferred Hotels & Resorts group of luxury properties.
Some of the rooms and suites have great DTLA views — be sure to get an outward facing one, as some face the inside courtyard and lack any views. The exception is the Patio Study rooms on the ground floor, which feature a private patio with views of the courtyard garden. The Bank of America was founded as the Bank of Italy, and the accommodations reflect an Italian influence on the design and furniture.
There's a heated rooftop pool with a café and lounge menu and also daybeds and cabanas that can be reserved. The lobby is home to Per L'Ora, an excellent trattoria open for dinner, and Cafe Ora their Italian bakery and coffee shop, open from the early morning until the late afternoon.
The hotel is pet-friendly and family-friendly but probably better for solo travelers or couples, as it lacks activities, play space, and other things for kids to do.
Address: 649 South Olive Street, Los Angeles, CA 90014
7. The Ritz-Carlton, Marina del Rey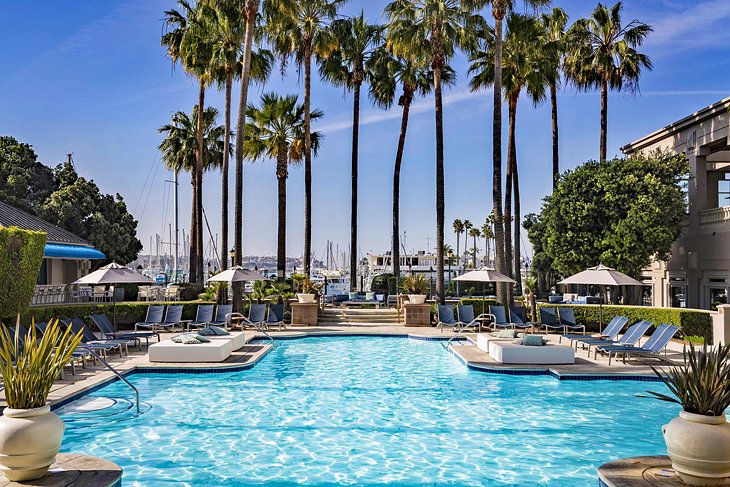 Accommodation: The Ritz-Carlton, Marina del Rey
This waterfront resort sits right on the harbor in Marina del Rey, the world's largest man-made, small craft harbor.
Many of the resort's rooms and suites have beautiful views of the marina and the boats within, and they all have private balconies.
The hotel is only a few steps from a cool little beach area called Mother's Beach. Great for children and families, the hotel company's Ritz Kids programming offers educational and entertaining activities, many incorporating ocean and environmental themes. They also have all kinds of water sports available, along with bicycles.
The Ritz-Carlton has a small, full-service luxury spa (with amazing water views) and a large, heated outdoor pool. Dining options include a poolside cafe or Cast & Plow, the hotel's farm-to-table and ocean-to-table restaurant.
Address: 4375 Admiralty Way, Marina Del Rey, CA 90292
8. The Ritz-Carlton, Los Angeles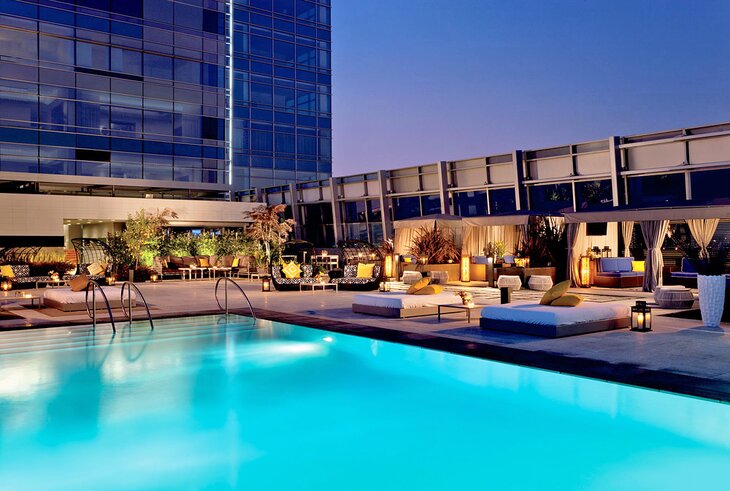 Accommodation: The Ritz-Carlton, Los Angeles
Still the best for DTLA luxury, The Ritz-Carlton, Los Angeles is at the heart of the L.A. Live entertainment district, adjacent to the Crypto.com Arena (formerly Staples Center). It's great if you're seeing the Lakers or a concert at the arena or one of the many venues in the area.
The resort hotel is a high-rise building, 54 stories tall, so all the rooms and suites (and the rooftop pool) have some amazing views, from the mountains to the ocean. If you're visiting Los Angeles for a convention, the hotel is right across the street from the convention center.
The 8,000-square-foot spa, the largest in DTLA, is popular with hotel guests and day visitors as well. The family-friendly hotel has the Ritz Kids activity program and the DTLA area is filled with museums and other interesting attractions and things to do for the whole family.
Six different dining options await your tastebuds, Sendero is the overall brand for several of the hotel's Latin-influenced restaurants, including Lena at Sendero, an Argentinian steakhouse. For an Italian experience, Savoca is the Ritz-Carlton's California-style trattoria with all-day dining. For Italian coffee connoisseurs, there's an Illy café in the lobby.
Address: 900 W Olympic Blvd, Los Angeles, CA 90015
9. The Peninsula Beverly Hills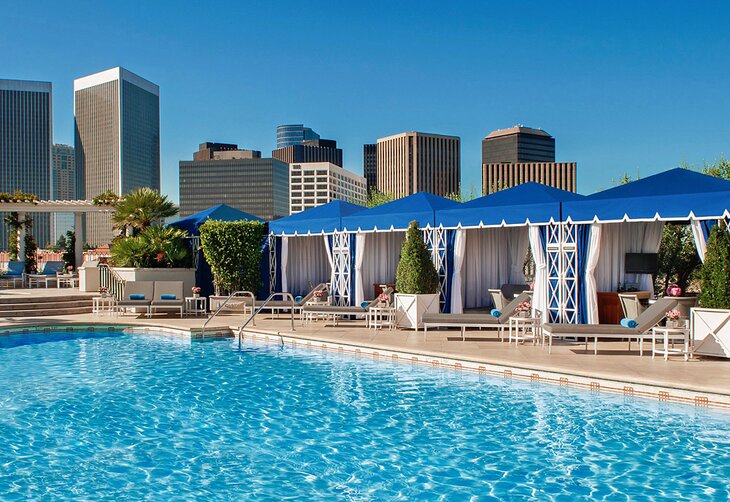 Accommodation: The Peninsula Beverly Hills
Another Beverly Hills-located property that needs to be on any list of Los Angeles' best hotels is the stately Peninsula. Tucked on a side street just off the intersection of busy Santa Monica and Wilshire Blvds., the grand hotel successfully exudes both modern style and old-world luxury.
Real Hollywood power players stay in one of the 18 magnificent villas, residential townhome-style accommodations costing well into five figures per night. The money-is-no-object accommodations come with butler service, a complimentary Rolls-Royce car service, and basically anything else you might need (airport pickup, concierge services, etc.). The villas have luxurious interior decor, lots of closet space, dining rooms, and small chef's kitchens.
Entry-level deluxe rooms (which start at just under $1,000 per night) are around 500 square feet and have French doors that open to sometimes nice rooftop views. Large marble bathrooms and luxe amenities, linens, and other features add to what you get for the premium price. Suites give you a lot of space, a private furnished terrace or balcony, and even a free BMW to use during your stay.
Dining is available at the Belvedere, a comfortable European brasserie with all-day dining, or the Roof Garden, with what they call "Cal-fusion" cuisine. The rooftop location and outdoor dining present a wonderful atmosphere, which is why it's so popular. The Living Room is the off-lobby lounge where a delicious, traditional afternoon tea is served daily.
Address: 9882 South (Little) Santa Monica Blvd, Beverly Hills, CA 90212
10. SLS Hotel, A Luxury Collection Hotel, Beverly Hills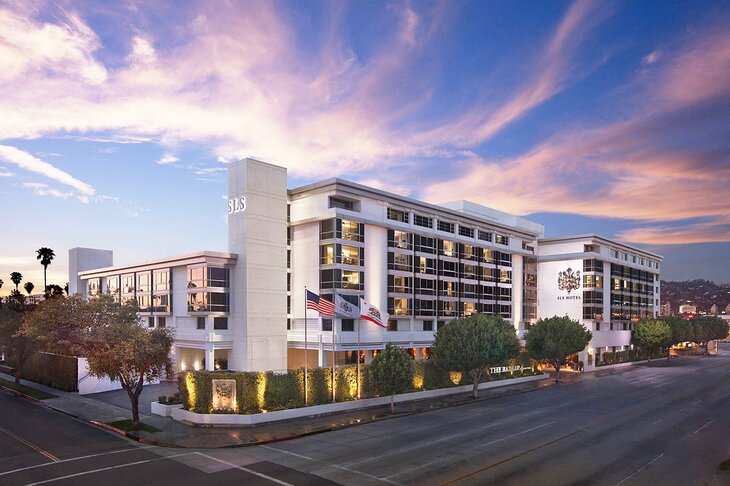 Accommodation: SLS Hotel, A Luxury Collection Hotel, Beverly Hills
The SLS Beverly Hills, now part of Marriott's Luxury Collection, is a great place to stay right on the border of Beverly Hills. The resort hotel is on La Cienega Blvd., steps from the amazing shopping and dining of LA's Beverly Center luxury mall. It's also located on what's called Restaurant Row, with a 50-year tradition of some of the city's best dining.
The SLS used to be home to the uber-popular Bazaar by Jose' Andres' but he left and opened up new restaurants at the Conrad Los Angeles in DTLA. The main foodie attraction at the SLS is now Le Monde, an Animated Culinary Experience. This is a TableMation French dining presentation, where the table becomes a visual stage for digital performance and display (think the touring immersive Van Gogh exhibition). Visuals appear on the table alongside the food servings.
Accommodations at the luxury hotel have a comfortable, modern style. Go for a terrace room or suite for their outdoor private terrace space. Aside from the rooms, there's a big fitness center, a full-service spa, and a popular rooftop pool and lounge that serves food.
Address: 465 South La Cienega Blvd., Los Angeles, CA 90048
11. Conrad Los Angeles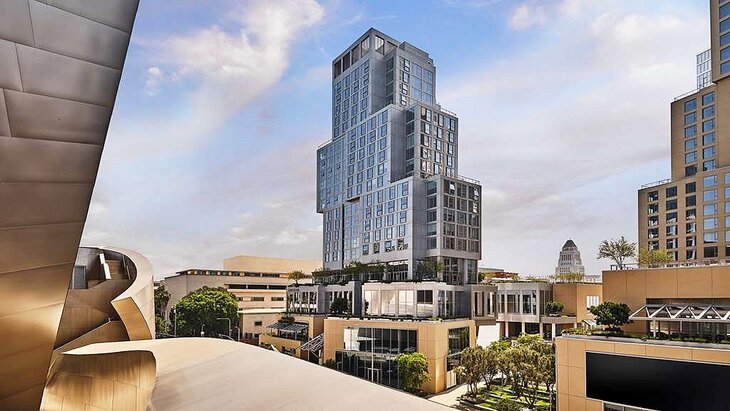 Accommodation: Conrad Los Angeles
Another DTLA newcomer, the Conrad Los Angeles opened in 2022 in the new Grand LA development. For those who may not know, Conrad, named for Hilton founder Conrad Hilton, is Hilton's other luxury brand, one step beneath their Waldorf-Astoria hotels. The luxury hotel (and surrounding development) was designed by celebrity architect Frank Gehry, as was Disney Concert Hall, which is right across the street.
Rooms and suites at the pet-friendly Conrad have a very contemporary, funky Los Angeles style, with wood-paneled walls, wide-planked pale oak floors, and various raw wood finishes on the furniture and trim. Bathrooms are elegant, with marble walls, separate soaking tubs, and an overall luxurious spa feel. Floor-to-ceiling windows let in natural light.
Amenities include a full-service spa presenting a range of beauty, body, and skin treatments and a great rooftop pool with cabanas and daybeds, which is part of a massive 16,000-foot roof terrace recreation and relaxing area.
Celebrity chef Jose' Andres' has two dining venues in the hotel, each offering distinctly different menus. You can also dine at Airlight, the rooftop pool café, or the Beaudry Room lobby lounge and its tapas menu.
Address: 100 S Grand Ave, Los Angeles, CA 90012
12. Fairmont Miramar Hotel & Bungalows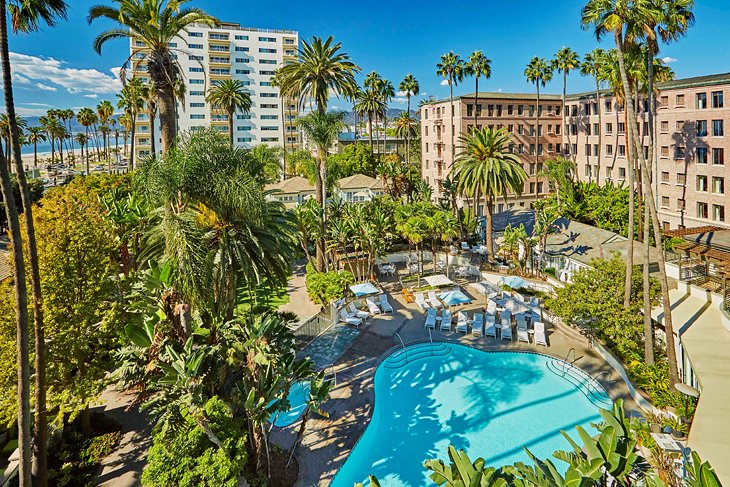 Accommodation: Fairmont Miramar Hotel & Bungalows
This luxury resort is in Santa Monica, one of the beachfront cities surrounding Los Angeles. The hotel is its own little 20-acre tropical oasis, across the street and up on a bluff from the beach.
The rooms and suites are in either a 10-story tower (with ocean views) or a six-story historic building (with mainly garden and pool views), and the hotel also has private bungalows. All the rooms and suites in the tower have private balconies, and the bungalows have private terraces and patios.
The Fairmont has a large, heated, outdoor pool and a full-service spa, Exhale Mind Body Spa, which is popular with both locals and hotel guests.
When you get hungry, there's a lobby lounge that serves food and FIG, their Mediterranean-inspired bistro. The hotel is also home to The Bungalow, a popular evening spot with live music and DJs.
Address: 101 Wilshire Blvd, Santa Monica, CA 90401
Map of Resorts in the Los Angeles Area