10 Top-Rated Resorts in Napa Valley, CA
We may earn a commission from affiliate links ()
A sea of undulating green fields, meticulous rows of grape vines, and lavish resorts greet visitors to the famed Napa Valley. Revered for its natural beauty and laid-back atmosphere, this award-winning region is one of California's must-see destinations.
When it comes time to rest, travelers are spoiled for a choice of accommodations. From luxe resorts boasting underground cave spas to boutique hotels with rooftop pools and private cottages, Napa boasts some of the most impressive resorts guaranteed to thrill (and rejuvenate) even the most highbrow traveler.
All that's left for you to do is figure out where to stay in Napa Valley. Use our list of the best resorts in Napa to help choose the perfect spot for your next Napa holiday.
1. Auberge du Soleil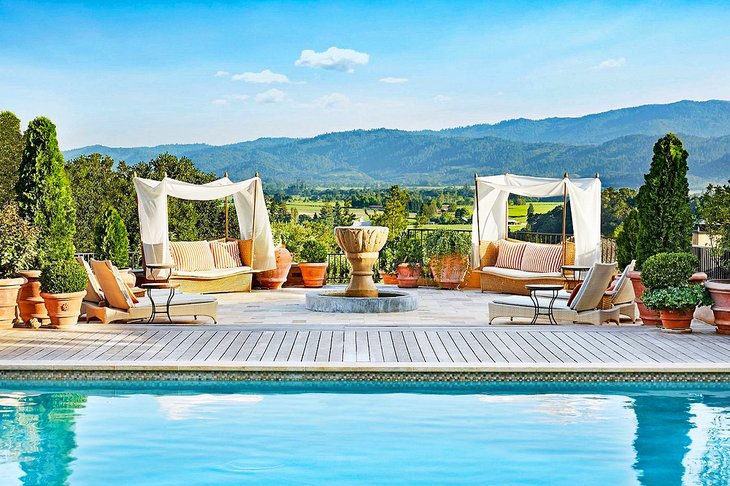 Accommodation: Auberge du Soleil
A word of warning: one stay at Auberge du Soleil may ruin hotels for you forever. Set upon a sun-kissed hilltop in Rutherford, this plush resort offers immaculate views over 33 verdant acres of oak trees and an expansive olive grove. An adults-only retreat, its gorgeous surroundings are the mere icing on the resort's proverbial cake. Its sophisticated substance can be found in the impeccable amenities.
The award-winning spa is so Zen, you'll feel blissed out just walking through its courtyard. The fitness center includes an outdoor weight deck with views so remarkable, you'll forget you're working up a sweat. And the food, oh the glorious food, is unbeatable. The Restaurant serves up dishes so divine, you'll beg for seconds.
Elegance seeps from every crevice of this five-star nirvana. Book a private mansion to really up your vacation game. These 1,800-square-foot masterpieces provide the ultimate luxury experience. Sweeping vistas, fireplaces, and outdoor soaking tubs are a mere glimpse into the extravagant offerings.
Not quite ready to part with that much cash? The classic and deluxe rooms and suites are just as magnificent, offering French doors that open onto views so breathtaking, you'll hate to tear yourself away from your private terrace.
Address: 180 Rutherford Hill Road, Rutherford, California
2. Meadowood Napa Valley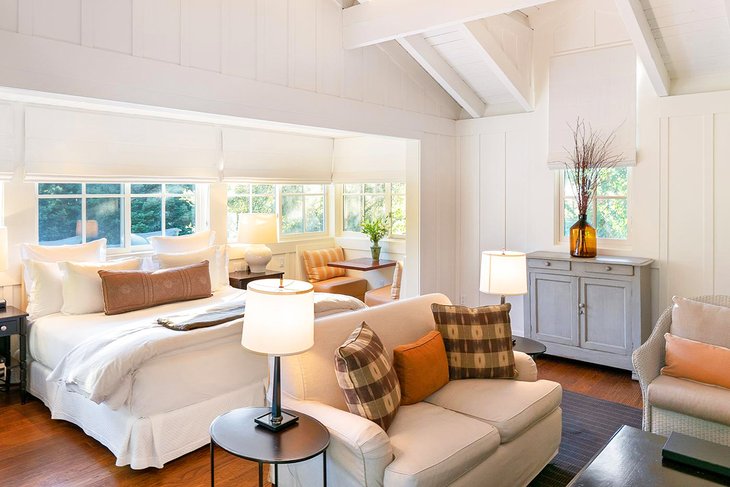 Accommodation: Meadowood Napa Valley
It's hard to feel stressed when staying at the glamorous Meadowood Napa Valley resort in St. Helena. Home to a vast expanse of lush scenery, a five-star spa, and Michelin three-star restaurant (aptly named The Restaurant at Meadowood), guests are well and truly spoiled during their stay.
Staff go out of their way to make visitors feel at home, smiling and eager to help in any way. Multiple pools sparkle their welcome, inviting overheated guests to enjoy a cooling dip or some downtime on the comfy lounge chairs. Hiking trails, tennis courts, a fitness center, daily fitness classes, bike rentals, and a croquet lawn are also available.
All suites and cottages exude elegance, their lavish furnishings so lovely, they beg to be enjoyed – who wouldn't want to cozy up by a wood-burning fireplace on a cool evening? Heated floors and marble counters as well as soaking tubs enhance the bathrooms, and the views from your private balcony are spectacular.
Note: Sadly, much of the upper section of the resort's luxurious estate was damaged by the 2020 wildfires. Thankfully, the spa, fitness center, pools, tennis courts, and multiple cottages were undamaged, and the southern section is expected to reopen on August 1, 2021.
Address: 900 Meadowood Lane, St. Helena, California
3. Bardessono Hotel and Spa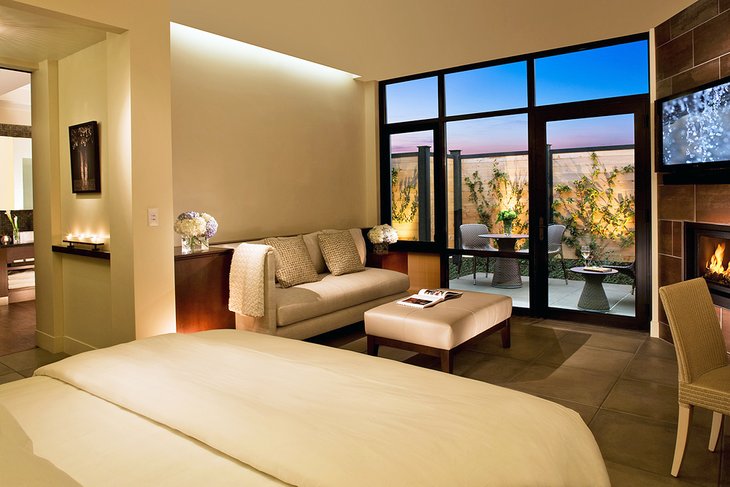 Accommodation: Bardessono Hotel and Spa
The rooftop pool at Bardessono Hotel and Spa sparkles under the Californian sun, inviting visitors to relax on the comfy sun loungers while enjoying a captivating hilltop view. Those hoping to immerse themselves in the scenery can hop on a complimentary bike to explore Yountville and the surrounding Napa Valley.
Also included in your nightly "destination fee" are in-room refreshments, breakfast bites, and access to the fitness center. A visit to B Spa isn't included, but it's more than worth the price – a treatment here will leave you so relaxed, your legs will feel like jelly. Don't miss a chance to detoxify in the infra-red sauna prior.
Hoping for a little more privacy? Opt for an in-room treatment. A spa butler will arrive to set up everything you need to transform your suite into a tranquil space.
Curb your food cravings at the tempting Lucy Field-to-Fork Eats, a tasty spot with dishes that will please your belly as well as your tastebuds.
Whether you choose a suite or private villa, you're sure to be impressed by the high quality décor, oversized bathroom, fireplace, and private patio or balcony.
Address: 6526 Yount Street, Yountville, California
4. The Cottages of Napa Valley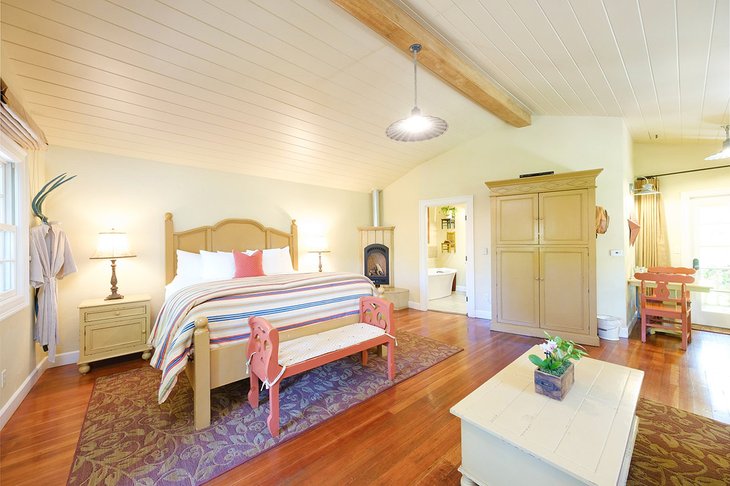 Accommodation: The Cottages of Napa Valley
It's easy to recover from the hustle and bustle of everyday life while staying at the tranquil Cottages of Napa Valley resort. A calming mix of rustic chic design, the cozy cottages are the perfect place to put your feet up, lounge by the outdoor wood-burning fireplace, read in the private gazebo, or soak in a tub made for two. Another plus, you won't suffer from cold toes – the tiled bathroom floor is heated.
Each unit comes with a fully equipped kitchenette (or kitchen), and freshly baked breakfast treats are delivered by basket to your porch each morning. While you'll have to venture out to explore nearby restaurants at some point, the kitchen offers the option to cook a quick meal in your cottage when you'd rather stay in.
Guests can borrow a bicycle and head into town in about 15 minutes, or use the provided picnic backpack to enjoy a meal outdoors.
Address: 1012 Darms Lane, Napa, California
5. Carneros Resort and Spa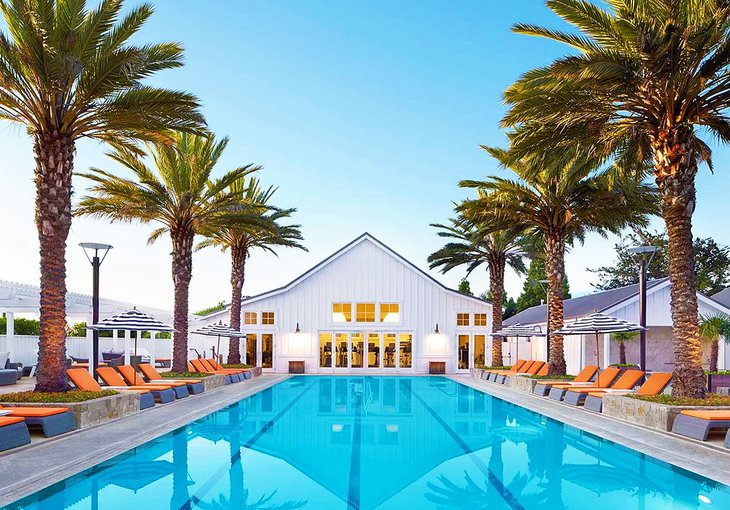 Accommodation: Carneros Resort and Spa
The Carneros Resort and Spa offers guests a little slice of heaven set in the heart of the Napa Valley. Almost Tuscan in its appearance, the sprawling vistas are peppered with views of perfectly manicured gardens, rugged hills, and immaculately ordered grape vines.
The adult-only Hilltop Pool is long and magical, optimally located to reward swimmers with impeccable views. Speaking of vistas, each of the private, free-standing cottages makes the most of the spectacular surroundings, with luxurious outdoor patios flanked by fireplaces and al fresco showers and soaking tubs. The enclosed yards feature glorious gardens.
Make a meal in your cottage kitchen or visit one of the three on-site restaurants, which proffer a wide variety of options for tasty, farm-fresh food. The offerings at GARM at Carneros, Boon Fly Café, and Hilltop Dining Room are sure to please any palate.
A 3,000-square-foot fitness center offers complimentary classes to help you work off those second helpings. Choose from a relaxing hike, yoga, and boot camp lessons, among others. Kids are more than welcome at Carneros, and there's a family-friendly pool awaiting their cannonballs.
Address: 4048 Sonoma Highway, Napa, California
6. Solage, Auberge Resorts Collection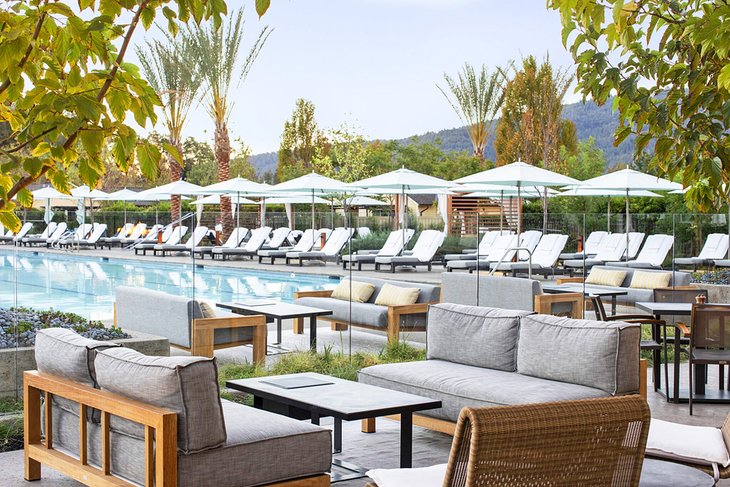 Accommodation: Solage, Auberge Resorts Collection
Relaxation is at the heart of every stay at Solage, an Auberge Resort. Whether you're hoping to enjoy a soothing massage in a 20,000-square-foot spa, a decadent Michelin-rated meal, or a relaxing soak in one of three geothermal mineral pools, you'll find plenty of ways to unwind in this lovely spot.
Make use of the resort's cruiser bikes to explore the area's winding roads. Don't miss visiting nearby downtown Calistoga on your journey. Back on the grounds, try your luck at a game of bocce ball, take a fitness class, or chase your kids around the fun family pool and splash pad.
Friday and Saturday mark the ever-popular S'mores night, an evening favored by adults and kids alike. You can enjoy using the provided S'mores kits at the bocce court fire pit, or take one back to your private terrace.
Whether you choose to stay in a studio room or a more private (and much larger) one- or two-bedroom cottage suite, you'll be privy to vaulted ceilings, luxurious bathrooms, and outdoor patios. The suites also offer outdoor soaking or hot tubs, fire pits, and al fresco showers.
Address: 755 Silverado Trail, Calistoga, California
7. Vista Collina Resort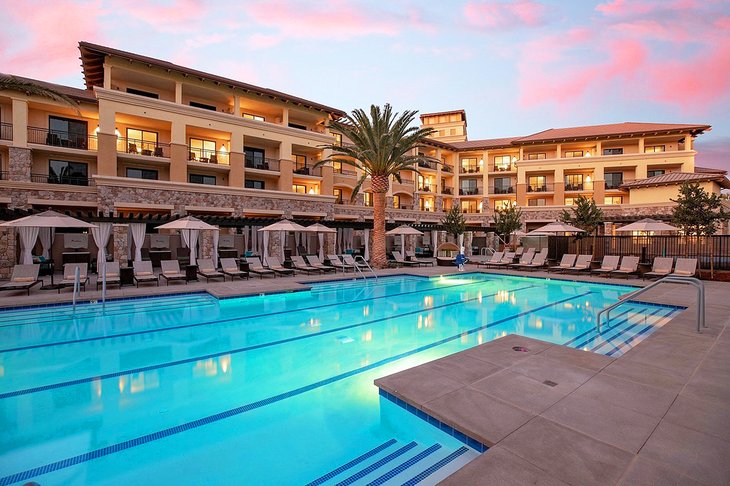 Accommodation: Vista Collina Resort
A sprawling green lawn serves as the heart of Vista Collina Resort. An ideal spot for a picnic or family game, this is also the venue for weekend concerts performed by local musicians.
There's no need to look elsewhere for a good meal, as the resort's fabulous Olive & Hay Restaurant serves up fresh, farm-to-table meals so tasty, you'll beg for more. Also on-site is the Fivetown Grocery, a marketplace serving meals that highlight the cuisine of the five towns of Napa Valley.
The underground SpaTerra is housed in a unique Estate Cave. Treatments include stone massages (of course) and facials, among others, and they use locally grown organic ingredients. Participating in wellness classes like yoga or Pilates, joining a drum circle, and swimming in the pool are other ways to unwind.
Sweeping views of the surrounding hills and grape vines can be enjoyed from your modern-style Premier King or Double Queen room's private balcony or patio. The Deluxe version is decorated just as beautifully and features views of the pool or courtyard.
If you're really looking to lap up the luxury, book the Vista Concerto Suite, a 1,275-square-foot masterpiece with plush décor, a fully equipped kitchen, 12-seater dining table, and extra-large balcony.
Address: 850 Bordeaux Way, Napa, California
8. Indian Springs Calistoga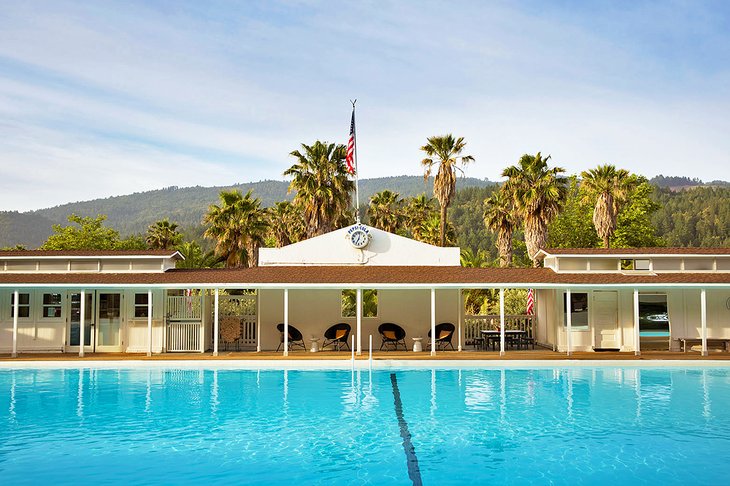 Accommodation: Indian Springs Calistoga
The sweet scent of roses and lavender fills the air around the Indian Springs Calistoga resort. Peppered throughout the 17-acre grounds, these fragrant beauties add to the relaxing ambience. A historic gem, this resort has been serving guests for more than a century and was home to one of California's original spas.
Don't worry, the resort has undergone multiple updates since its early days. That said, its authentic charm still reigns supreme, and a Bohemian vibe exists in the whimsical decor. An Olympic-sized mineral pool dating back to 1910 serves as one of the resort's main attractions, and this is one of the best places to unwind.
Relax even more in a mud bath or other enjoyable treatment in the spa. The Buddha Pond is a serene spot to meditate or merely lap up some quiet time in an idyllic venue. Then enjoy a farm-fresh meal at Sam's Social Club, where you can dine on seasonal dishes in a romantic setting.
Today, guests are led through a long driveway lined by waving palm trees to the accommodation of their choice: a bungalow, historic cottage, adult-only room in the lodge, or a cozy room in a Mission Revival-style building. Each unit boasts a private patio or balcony while the bungalows are also home to fireplaces, fire pits, and a front porch.
Address: 1712 Lincoln Avenue, Calistoga, California
9. Andaz Napa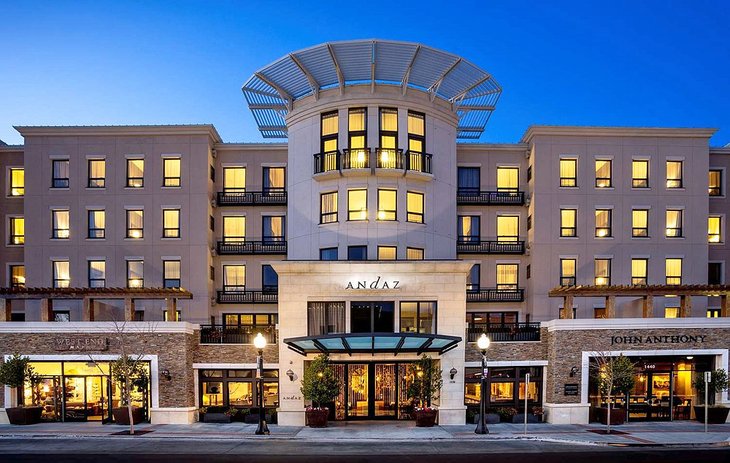 Accommodation: Andaz Napa
The Hyatt's Andaz Napa is the perfect location for those looking to walk to the shops, restaurants, attractions, and evening entertainment located in the heart of downtown Napa. Despite being close to the "action," guests won't feel overwhelmed by noise or big-city stresses during their stay.
Fifty luxe boutique rooms and 91 suites feature crisp marble bathrooms, waterfall showers, deep tubs, and floor-to-ceiling windows that bring the outside in. The mini bar is always stocked, and there's plenty of space to lounge at the end of a busy day spent exploring.
Catch a performance by local musicians every Wednesday and Saturday night at the Mercantile Social (on the second floor) or Lobby Lounge, or sign up for a painting class to unleash your inner Picasso. In the morning, grab a tasty breakfast at the Andaz Farmers Table, a fab spot set around a large communal dining table.
The Mercantile Social offers light fare, including burgers, from 7am to 7pm on weekends, while the Mercantile Terrace boasts smaller bites on clear weekend evenings (from 4pm to 10pm) around a fire pit.
Address: 1450 First Street, Napa, California
10. Archer Hotel Napa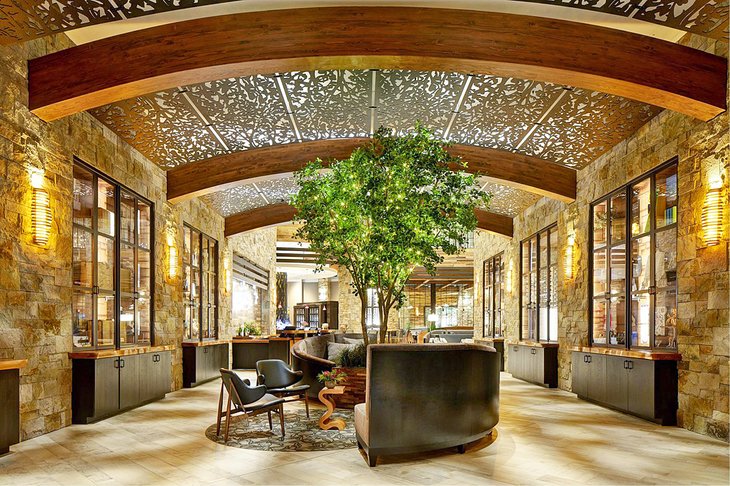 Accommodation: Archer Hotel Napa
Another downtown Napa luxury resort, the funky Archer Hotel Napa is the place to be for those who like a side of energy with their vacation. It's within walking distance of the town's best attractions, restaurants, and shops, so you won't have to wander far for entertainment.
That said, the resort's fabulous restaurant, Charlie Palmer Steak, and rooftop lounge, Sky & Vine,® make it easy to stay put while enjoying a great meal with a stunning view.
Guests are granted access to the on-site fitness center, a complimentary shoeshine, free Wi-Fi, and over 17,000 square feet of overall space to explore. Those who hate to leave Fido at home can rest well knowing that furry friends under 50 pounds are welcome to stay (for a fee).
The 183 rooms are spacious and modern, and 39 suites offer guests private balconies on which to enjoy stellar vistas. A rooftop pool and spa are perfect for a rejuvenating afternoon.
Address: 1230 1st Street, Napa, California