12 Top-Rated Beach Resorts in Southern California
We may earn a commission from affiliate links ()
Southern California, stretching roughly from San Diego to Santa Barbara, offers a wide range of beach resort experiences. There are grand, historic resorts like San Diego's Hotel del Coronado, which sits right on the sand, and Santa Barbara's grande dame Four Seasons Santa Barbara The Biltmore, which is perched above a tranquil beach and done up in Spanish-colonial style.
The area's beach resorts appeal to couples seeking a romantic getaway or families looking for an activity-filled vacation. There's also something for every budget, with expensive luxury resorts like Montage Laguna Beach, which is perched on a bluff over the sea, and Shutters on the Beach in trendy Santa Monica, as well as more affordable properties like the Catamaran Resort Hotel and Spa on a private beach in the Mission Bay part of San Diego or the La Jolla Beach and Tennis Club, also near San Diego in gorgeous La Jolla.
Find the best place to stay with our list of the top beach resorts in Southern California.
Note: Some businesses may be temporarily closed due to recent global health and safety issues.
1. Four Seasons Resort The Biltmore Santa Barbara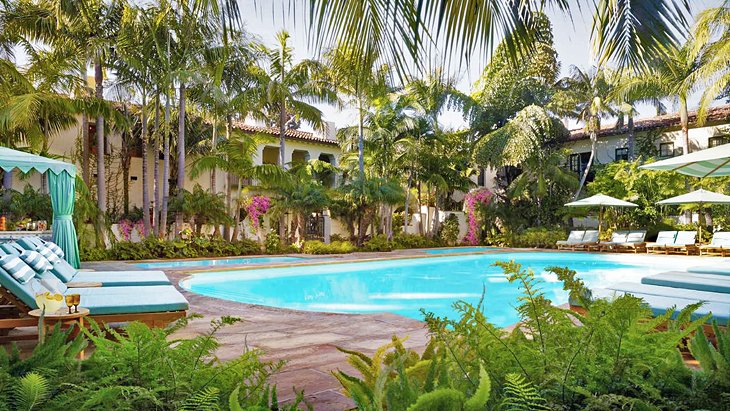 First opened in 1927, the Four Seasons Resort The Biltmore Santa Barbara is a luxurious oceanfront property, which sits on 22 acres of lush, manicured gardens across the road from beautiful Butterfly Beach, just four miles from all the things to do in downtown Santa Barbara.
It features Spanish Colonial design throughout, with red roof tiles, adobe walls, and elegant archways and wood-beamed ceilings. The accommodations here are the epitome of sophisticated California casual and come in multiple styles, including rooms and suites in the main building and 12 freestanding bungalows tucked away in a secluded jungle garden. These are a fantastic pick for couples looking for a romantic getaway.
On-site amenities include two restaurants, one serving Italian fare the other California cuisine, as well as a poolside cafe and a lounge for tapas. There are also two swimming pools and a relaxing spa.
Accommodation: Four Seasons Resort The Biltmore Santa Barbara
2. Montage Laguna Beach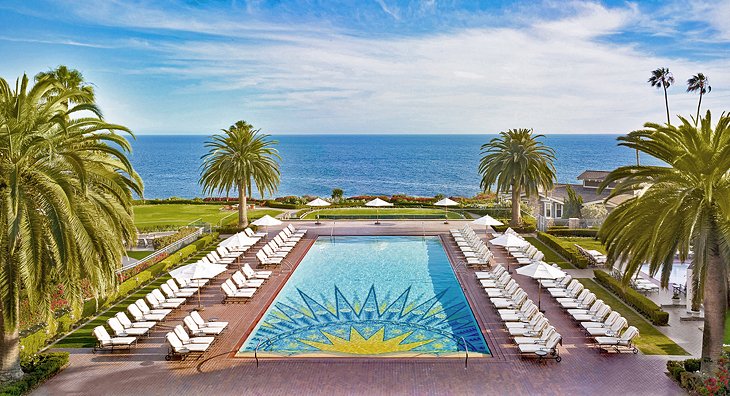 Every room at the gorgeous Montage Laguna Beach faces the sea. Overlooking the Pacific Ocean, this art-inspired, luxury property has a fantastic locale atop a 50-foot bluff in posh Laguna Beach. There are 248 spacious rooms, suites, and beach bungalows, which feature local artwork on the walls, marble baths, and ridiculously comfortable feathertop beds.
Away from the rooms, you'll find a 20,000-square-foot spa with delightful amenities like dry redwood saunas and eucalyptus steam rooms. There is also a lovely outdoor pool lined with private cabanas, as well as a Jacuzzi and a children's play area.
There are also three on-site restaurants. Check out Studio for contemporary California coastal cuisine, as well as chef's tasting menus and options to arrange for private dinner parties at the chef's table. For something more casual, The Loft, is a favorite with locals and guests and does modern American fare paired with stunning views on the hotel's fourth floor.
Accommodation: Montage Laguna Beach
3. The Resort at Pelican Hill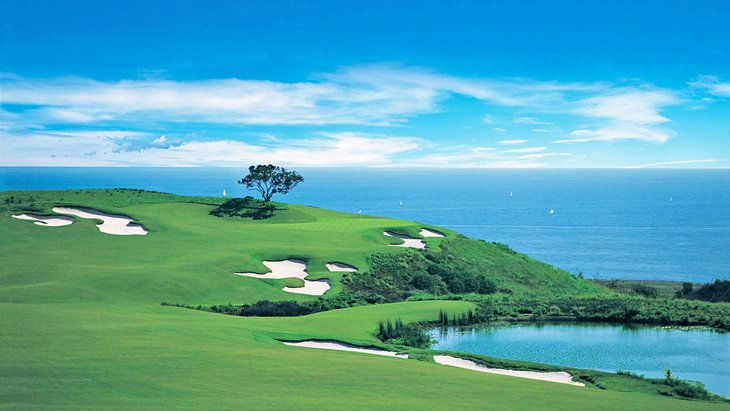 This luxury resort in Newport Beach is located on the bluffs overlooking the ocean. The hotel and some of the beautiful rooms and suites have ocean views, but it's a long walk or a short drive to actually get to the sand (the resort itself is 504 acres).
The hotel has a luxury van, which operates hourly between Pelican Hill and the quaint Crystal Cove State Park beach area. It's a clean, protected state beach, and the nearby small historic district has some shops and restaurants. Beach chairs and umbrellas are provided for guests.
Back at the resort, the pools are beautiful. The main Coliseum Pool is a round swimming pool, almost 150 feet in diameter, with more than a million, hand-set glass mosaic tiles forming the bottom. There's a separate children's pool and another separate pool for villa guests.
The hotel has live music nightly in several lounges and poolside music during the summer season. For dining, there's Andrea, a fine-dining Italian restaurant; the Pelican Grill, with upscale yet casual California cuisine; and a pool terrace cafe.
Accommodation: The Resort at Pelican Hill
4. Terranea Resort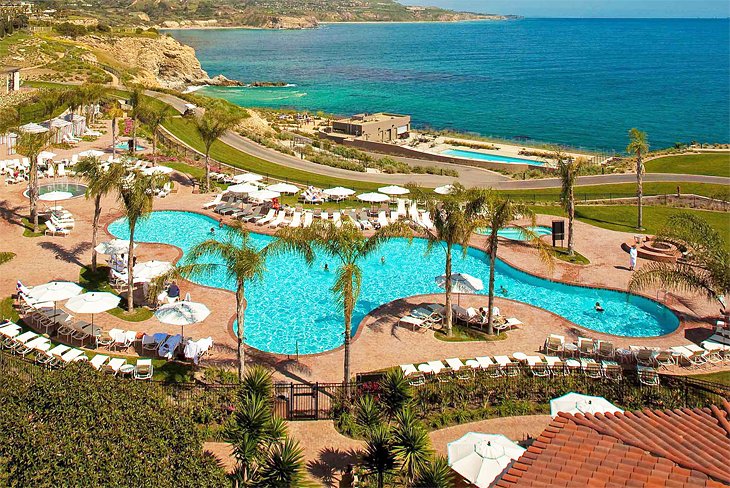 This 102-acre seaside luxury resort is also high on a cliff overlooking the ocean. It's in Rancho Palos Verdes, only 40 minutes from downtown LA (DTLA) or 20 minutes from LAX. The beach is a short walk down the stairs, as is whale watching, tide pool exploring, and water sports like sea kayaking and boogie boarding.
You may not want to leave the resort and its 5,000-square-foot pool with a 140-foot-long waterslide. For a quieter experience, there's another large saltwater pool (for guests 13 years and older) and a third pool at the resort's amazing spa. Terranea has a championship golf course and the full range of outdoor activities, from bike riding to tennis.
There's also a changing menu of educational and cultural programs for adults and kids, everything from nature walks to photography classes to cooking experiences with the resort's chefs.
For food, there are four different restaurants to choose from, along with several lounges that serve food, a pool café, spa café, and a small coffee shop. One of the top restaurants is Catalina Kitchen. It serves Mediterranean bistro fare and has lots of outdoor dining space.
Accommodation: Terranea Resort
5. Monarch Beach Resort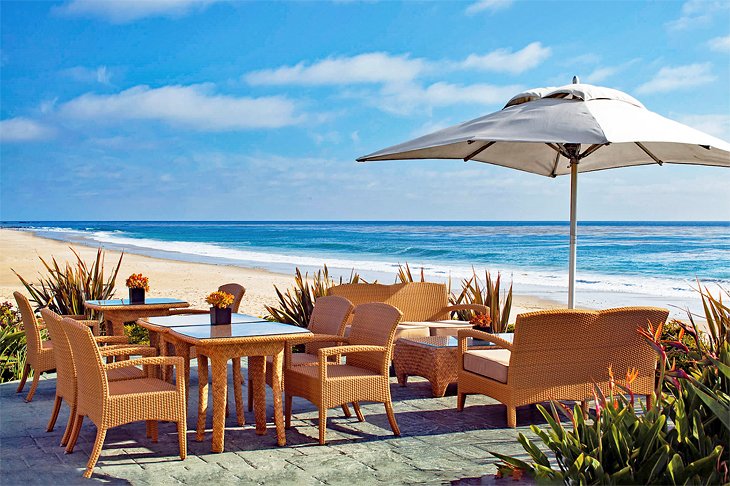 Monarch Beach Resort is a fabulous luxury choice for families. The top-end resort sits on a hill overlooking the beach in Dana Point, which is on the coast between Los Angeles and San Diego.
The rooms and suites here have a beach house casual vibe but are very comfortable and spacious, with a blue, green, and white color palette and fully furnished balconies.
Away from the rooms there are seven restaurants to choose from serving a range of cuisine, from Mediterranean to modern Mexican/Californian fare.
The resort is also home to the first coastal Miraval Life in Balance Spa, which offers some 40 different wellness and fitness classes per week along with the usual assortment of treatments; a championship golf course; tennis courts; kids' club; and a multi-level swimming pool design, which features a family pool and adults-only spa pool.
Accommodation: Monarch Beach Resort
6. Shutters on the Beach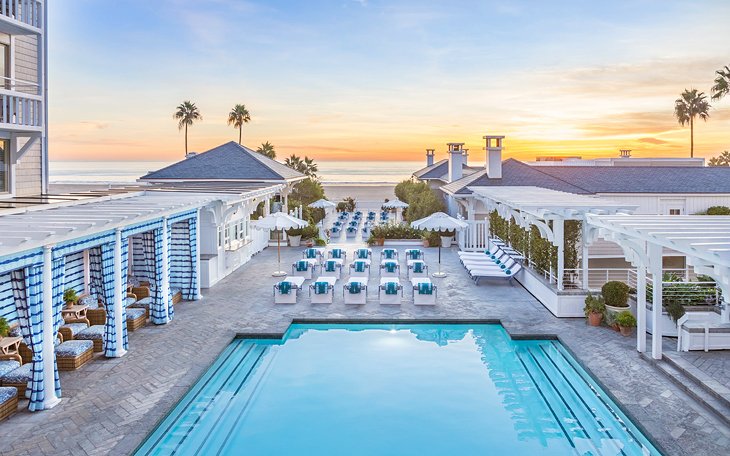 This grand beachfront luxury hotel sits right on Santa Monica's wide, flat beach, almost in front of the Santa Monica Pier (an amusement park), and right next to the opulent Casa del Mar. It's a great place to stay for both families or romantic getaways.
The guest rooms have a beachy, shabby chic design with cool touches like yo-yos and juggling kits. Most rooms have full or partial balconies.
There are three dining experiences: 1 Pico is the hotel's fine-dining, yet still beach-casual restaurant. Coast is an even more casual option, and the Living Room is a part of their spacious and homey lobby area, serving coffee and a light menu of food throughout the day.
Only the bike path separates the hotel from the sand, and guests have access to a range of outdoor, indoor, and water-related activities.
Accommodation: Shutters on the Beach
7. The Ritz-Carlton Bacara, Santa Barbara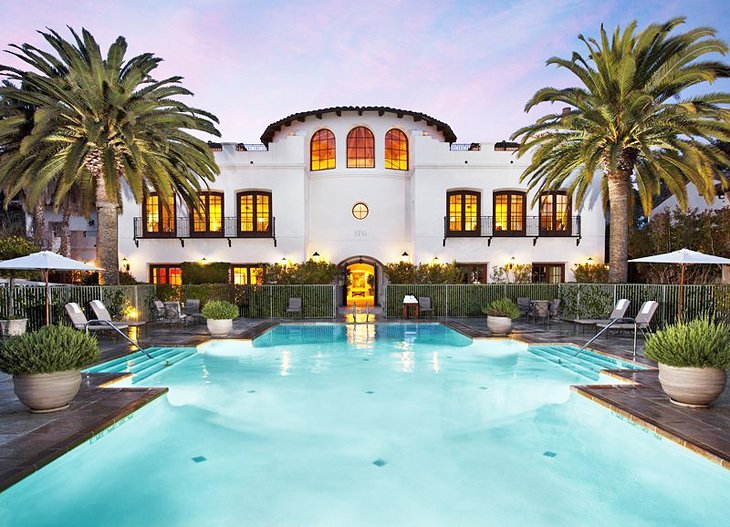 About 20 minutes' drive west of Santa Barbara, The Ritz Carlton has direct beach access and a secluded, luxury vibe, which makes it a favorite celebrity hideout. It sits on 78 gently sloping acres and features a mix of Mediterranean and East Coast beach styles in its decor.
Expect plenty of Spanish tile, as well as a color palette of various hues of blue, gold, white, and cream in the 354 rooms and suites, which also feature giant marble bathrooms with deep soaking tubs and Frette robes. The rooms are spread across the property in more than a dozen different Spanish Revival-style buildings, which each come with a courtyard graced by a fountain and lushly landscaped gardens.
There is much to do on the property away from the rooms, including shopping at three high-end boutiques, relaxing in the giant spa or one of the three saltwater swimming pools, walking on the beach, or watching a movie in the screening room. There are also a few dining options on-site.
Accommodation: The Ritz-Carlton Bacara, Santa Barbara
8. Hotel del Coronado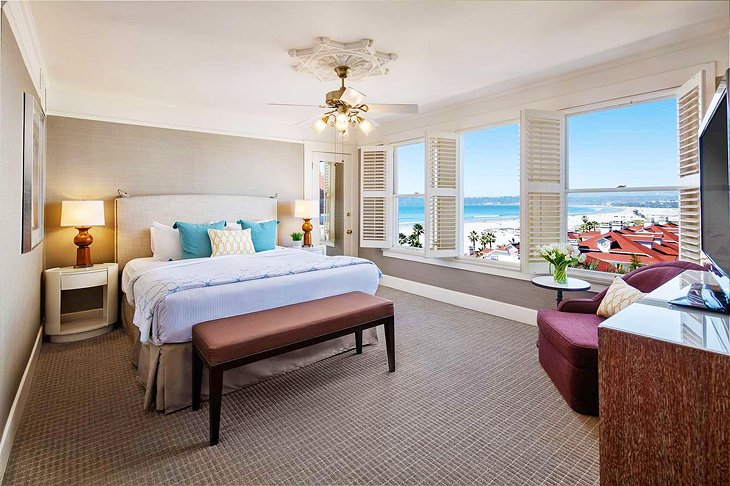 This beachfront resort has been welcoming guests with its beautiful beach for more than 100 years. The Hotel del Coronado is on Coronado Island in San Diego Bay, so its wide, bright sandy beach is protected and great for swimming. The beach here is bright and shiny due to the sand's high mica content. It's one of the reasons the hotel (and its beach) were featured in the Marilyn Monroe movie Some Like it Hot.
There are many different types of luxurious accommodations at the Del, some in its historic Victorian building, some in a modern low-rise tower, and some in the Club-Floor-like Beach Village. The historic building offers the most character, with no two rooms the same size and a rumor that this area is haunted. Many feature walk-out patios.
If you're traveling with the family or just want a more private experience, you'll want to book one of the Beach Villa cottages. These come with personalized service and amazing views.
There are almost 20 different shops at the resort, multiple swimming pools, and three different dining experiences. Head to the Crown Room for brunch in ornate environs. While at Sheerwater, you can find American bistro fare, ocean views, and a large patio space for al fresco meals.
Accommodation: Hotel del Coronado
9. Catamaran Resort Hotel and Spa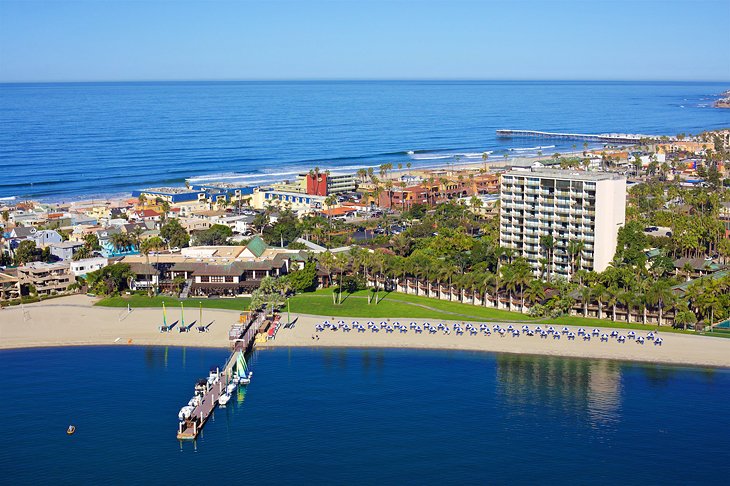 This hip, Polynesian-style resort has its own private beach in Mission Bay (part of San Diego). The waves are calm and gentle, so it's perfect for families. The hotel isn't new, but the rooms are nicely maintained, and all of them have balconies or patios. There are studio rooms with kitchenettes and some suites as well.
The resort is right on the beach, with a range of water sports equipment (kayaks, rafts, boogie boards, surfboards, snorkel sets, etc.). The resort also offers a spa; fitness center; and a big, outdoor pool and whirlpool.
The Catamaran has a few popular restaurants, including one with an outdoor terrance and another that does Polynesian fare in tiki-style environs.
Accommodation: Catamaran Resort Hotel and Spa
10. Malibu Beach Inn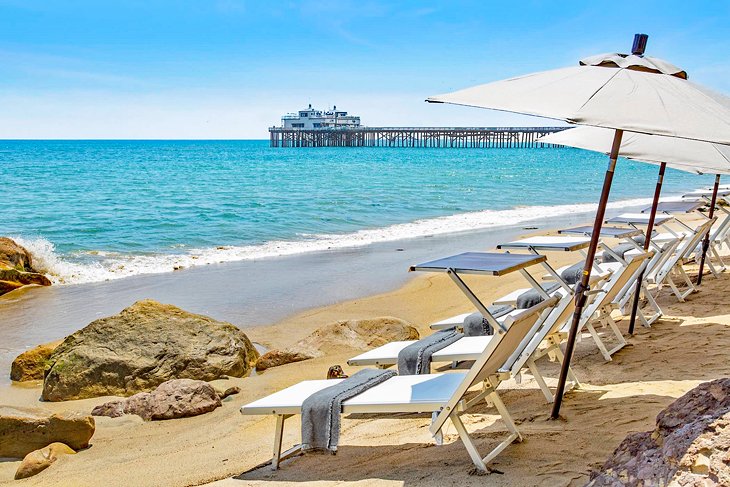 This posh beachfront, boutique hotel sits right on Malibu's ultra-exclusive Carbon Beach. There are no other hotels around, just million-dollar beachfront mansions. It's an easy five-minute walk to Malibu Pier, where there is a cool public beach and a few restaurants.
The Malibu Beach Inn has beautifully designed rooms and suites, and this luxury hotel is better for couples and romantic getaways than family outings. All the rooms have private balconies with glass fronts, and all face the ocean.
The Malibu Beach Inn has its own fine-dining restaurant (with an oceanfront terrace) featuring a seasonally changing menu of fresh, California cuisine. The hotel has a small spa with a range of luxury treatment options, which are popular with Malibu locals in addition to hotel guests.
Accommodation: Malibu Beach Inn
11. Pier South Resort, Autograph Collection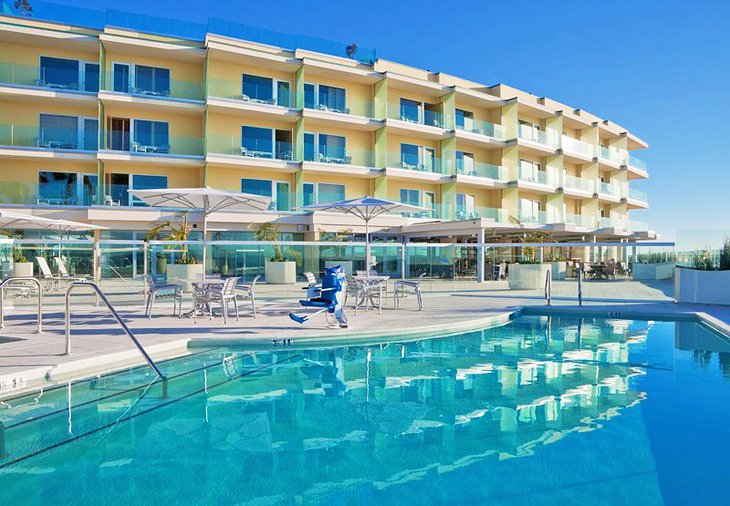 Located at the very tip of Southern California (the Mexican border is a short walk down the beach), the Pier South Resort is in Imperial Beach, south of San Diego. The newly constructed Marriott Autograph Collection property is right on the sand, with only the bike path between the building and the beach.
Most of the rooms and suites have sweeping beach and ocean views, and all of the accommodations have private balconies with a table and chairs to enjoy the view.
There's a spa, a heated outdoor pool, a rooftop lounge and restaurant, and a large fitness center. The resort also offers beach yoga and fitness classes, along with bikes to ride and water sports equipment to rent. Aside from the beach, the hotel is near miles of protected wetland area and offers walking tours and nature hikes.
Accommodation: Pier South Resort, Autograph Collection
12. La Jolla Beach & Tennis Club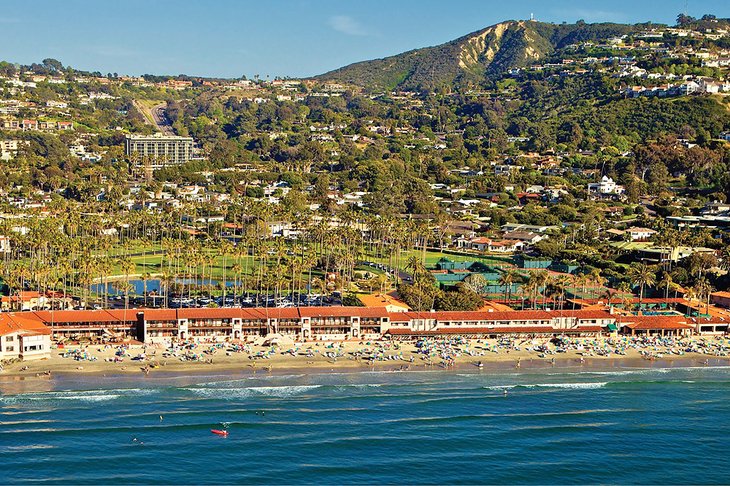 In beautiful La Jolla, an upscale San Diego suburb known for its picturesque cliffs-meet-ocean landscape, this resort is a good-value beachfront property.
The rooms and suites are airy and comfortable, with ocean views and kitchenettes in the best rooms, and full kitchens with separate living spaces and pullout sofas in the suites, making them a popular pick with families.
Away from the rooms, you'll find a private beach area with fireplaces and grills, a nine-hole golf course, tennis courts, an outdoor swimming pool, and a fitness center.
There are also multiple restaurants, including one focusing on fresh seafood with a lovely patio. If you'd rather not worry about what you spend on each meal, book the all-inclusive package here.
La Jolla Beach and Tennis Club is also just five miles from the famed Torrey Pines Golf Course.
Accommodation: La Jolla Beach & Tennis Club