16 Best Hotels in Palm Springs
We may earn a commission from affiliate links ()
For a small resort city, Palm Springs offers quite a good range of hotel options. There are many high-end, full-service luxury hotels; some are vast resorts, while others are more boutique-style. The city celebrates mid-century modern architecture, and a few lodging options showcase this design style. Many are revitalized former motels that are now boutique hotels and even luxury resorts.
You also have a lot of locations to choose from. There are hotels and resorts in the downtown area and some in the outlying cities of the Coachella Valley, including Rancho Mirage, La Quinta, and Indian Wells. The hotels in these cities tend to be larger resorts with spas and multiple pools.
There's a good selection of clean, basic, cheap hotels and motels, even some in excellent locations in the downtown Palm Springs area and many in the cities just outside downtown, like Palm Desert and Cathedral City. This is a winter destination, so the best hotel deals can be found during the summer, even at the area's resorts.
On This Page:
Best Luxury Hotels in Palm Springs
1. The Ritz-Carlton, Rancho Mirage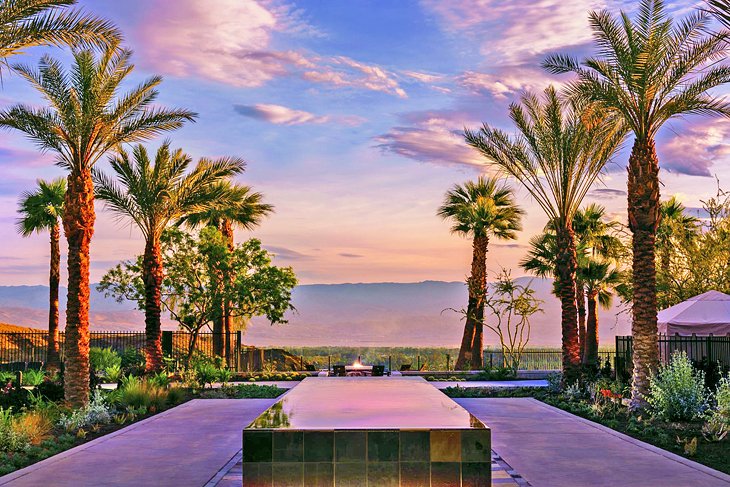 Most of the rooms and suites have private balconies, so you can take advantage of the views from your room. Go for a ground-level room if you want your own private fire pit. Rooms come with luxury touches like Frette linens, Asprey bath products, and 55-inch flat-screen TVs.
2. La Quinta Resort & Club, A Waldorf Astoria Resort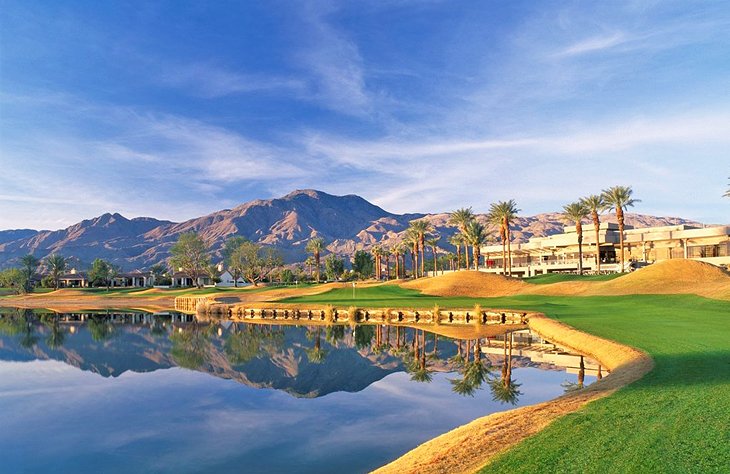 3. La Maison Hotel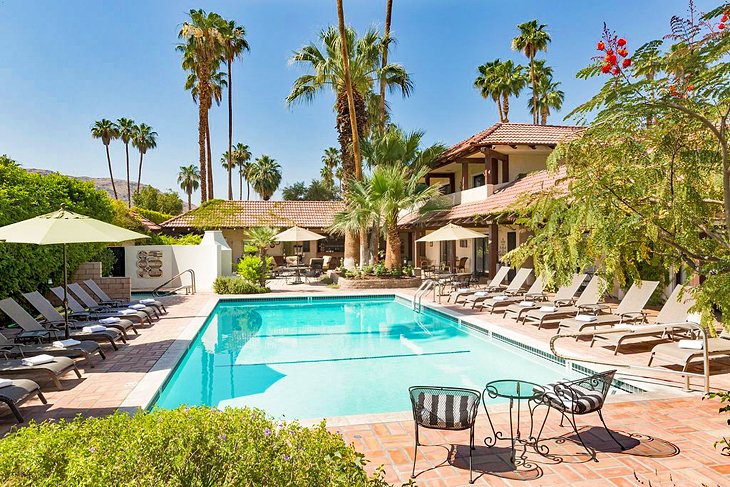 While the name is French, the design is Spanish-style with terra cotta tile floors and tile roofs. The lodging is in buildings around a pool in the center courtyard. Guest rooms also have tile floors and come with luxury imported linens, bathrobes, and really nice spa-like bathrooms with high-end fixtures.
There's no restaurant on-site, but guests have access to barbecue facilities should they wish to cook for themselves. There's a daily, complimentary afternoon tea, and a continental breakfast is served each morning for guests. Wi-Fi is free as is parking. Water and sodas are free, as are the handmade cappuccinos and lattes available all day long.
4. Colony Palms Hotel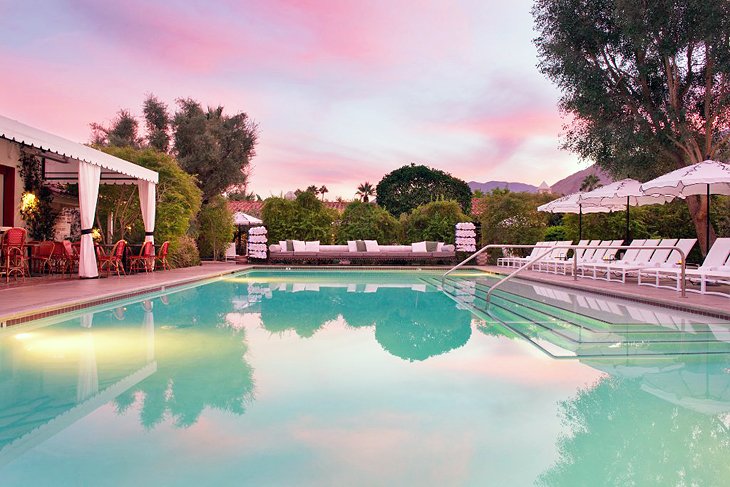 You have your choice of 57 stylish rooms, suites, and bungalows, each with its own unique style. The overall feel here, in both architecture and interior design, is Spanish and Moroccan.
It's also where many stars stay during the annual Palm Springs Film Festival (which happens each January). The hotel's restaurant, the Colony Club, serves re-imagined California cooking, with a seasonal menu using fresh, locally sourced ingredients. The poolside lounge, which also serves food, is a great place to escape the desert heat.
5. The Willows Historic Palm Springs Inn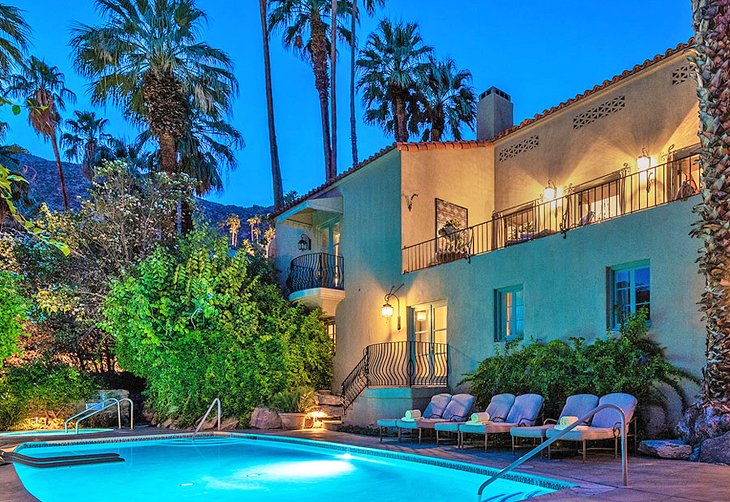 The Italianate mansion sits on a hillside overlooking downtown with lots of gardens and pathways to explore and wander along. There's a 50-foot waterfall as the centerpiece of the landscaping, and a swimming pool and Jacuzzi.
6. The Weekend, Palm Springs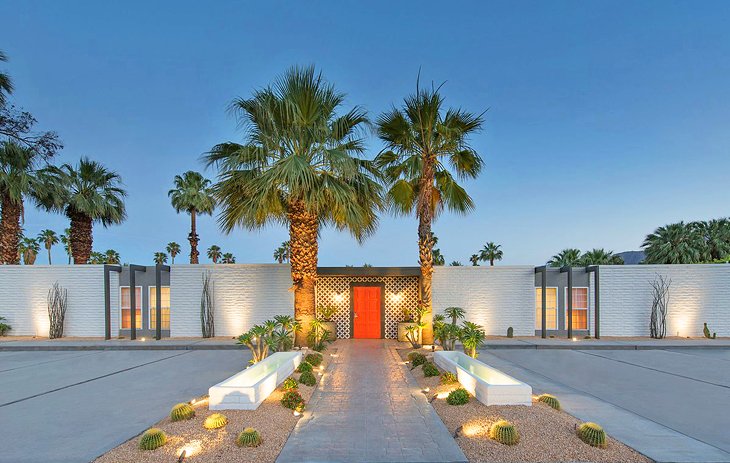 The carefully restored and modernized mid-century modern luxury hotel has one- and two-bedroom villa suites, some with their own little backyard area. All come with Frette linens and towels, rain showers in the bathrooms, and their own private patios. They also have multiple smart TVs, so you can watch content from the various online services.
Best Boutique Hotels in Palm Springs
Most of the lodging options in Palm Springs could be called boutique hotels. These are small (usually under 50 rooms) luxury properties without a connection to a corporate hotel brand. They provide a more personal, intimate experience. Some lack restaurants, but Palm Springs is well-served by Uber Eats and Postmates.
1. Ingleside Inn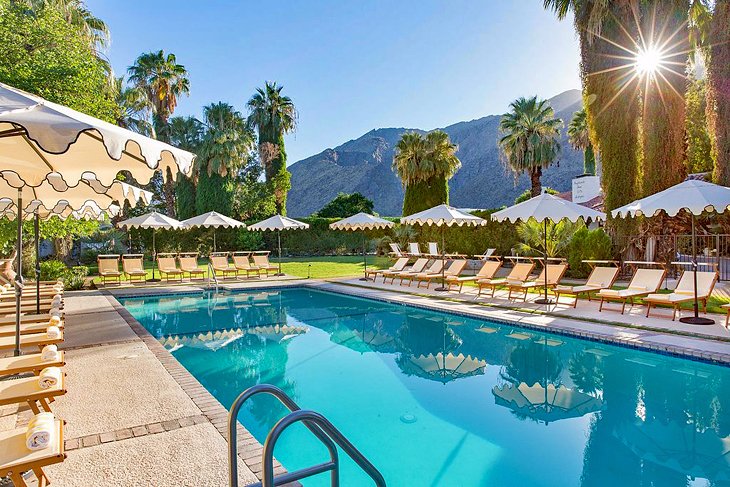 This pet friendly property is made up of small casitas and cottages of various sizes. There's even a modern, two-bedroom house available for rent.
The Ingleside Inn was totally renovated by new owners, re-opening in 2019. The grounds have a large swimming pool, hot tub, fire pit, and hammock. They have pool games, board games, playing cards, and even croquet sets and cruiser bikes available for guest use. Breakfast is included in the room rate and can be taken in the lobby, in your room, or poolside.
2. Sparrows Lodge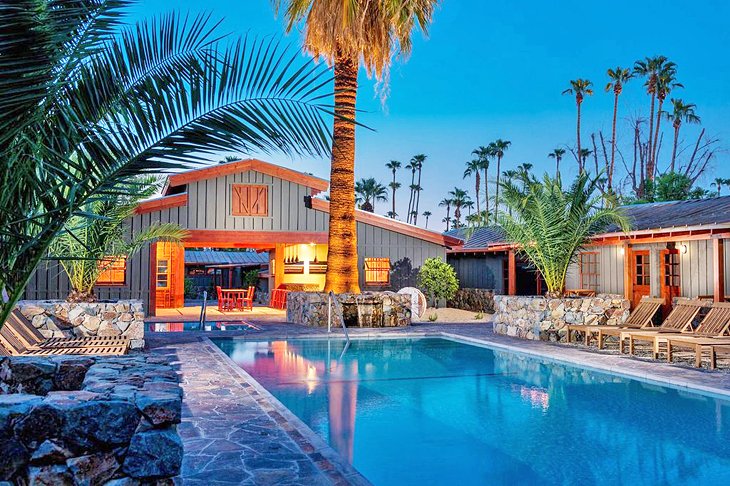 The Barn Kitchen serves a basic yet really delicious breakfast each morning (included in your room rate), as well as offering lunch and dinner. The restaurant is known locally for its Chicken Wednesdays and Steak Saturdays, where they serve exclusively family-style, no-substitution, really-hard-to-get-a-seat-at dinners. They're considered one of the best foodie experiences in Palm Springs.
3. ARRIVE Palm Springs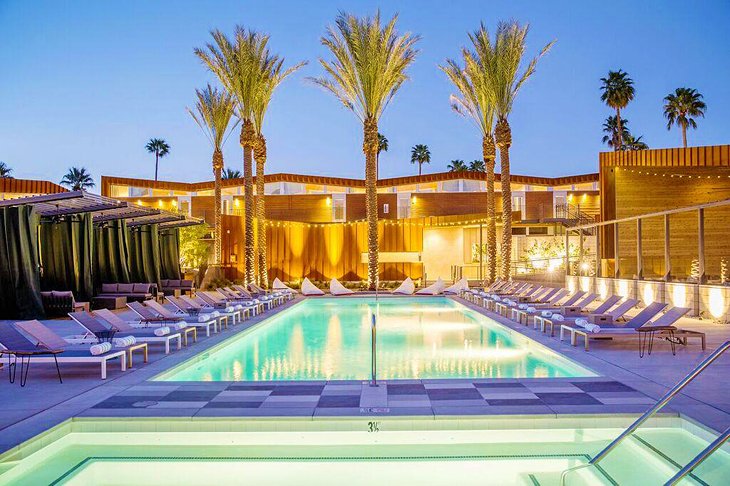 Although it's newly built, the hotel pays tribute to the city's mid-century vibe in style and design. Luxury amenities abound here (the owners used to work for the Four Seasons), so you get AppleTV and DirecTV in every room, free filtered water and high-speed Wi-Fi, and luxury bathrobes and linens.
4. Avalon Hotel and Bungalows Palm Springs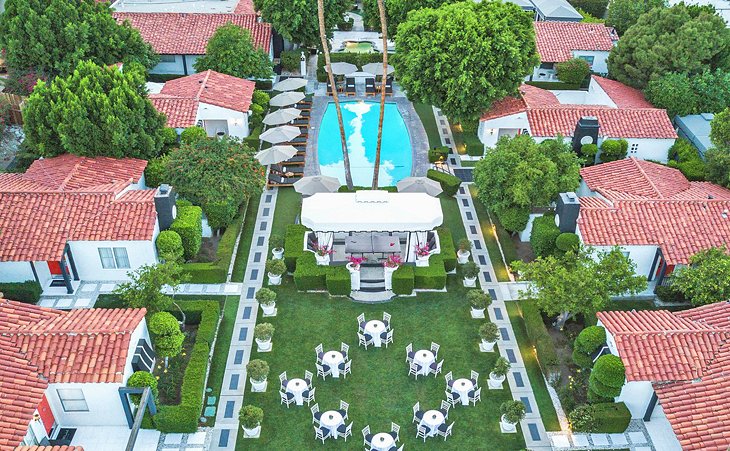 The hotel is on four acres of gardens and has 13 very private villas and 54 guest rooms. The villas are like little houses with full kitchens, fireplaces, and living rooms, and all the rooms and suites are done in a Hollywood Regency style.
Best Resorts in Palm Springs
Palm Springs and the surrounding areas are filled with a number of large resorts and hotels with lots of space to explore and lots of things to do. These are resorts with multiple swimming pools, different types of accommodations, and various places to eat, all without leaving the property.
1. Parker Palm Springs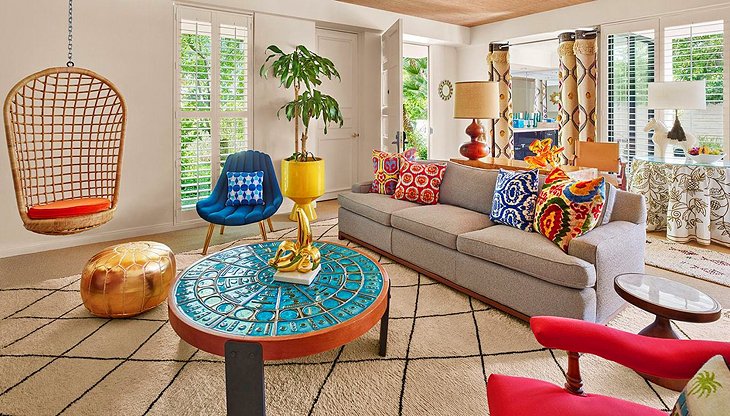 This Jonathan Adler-designed hotel opened in 2004 and was the first luxury hotel in Palm Springs to cater to guests under 50, with cool food, a funky style, and an overall luxurious hipster experience. This was a former Holiday Inn, so the rooms can be small (suites and villas are available), but the design is so cool and well-curated, you forget the size and instead focus on the hip style.
For dining, the resort has a few options. Check out the brightly colored, retro diner, Norma's, for typical diner fare, from eggs to French toast served in over-sized portions. It is pricy but fun. There is also a stylish fine-dining restaurant called Mister Parker's, which boasts decadent decor and an equally opulent menu. Check before planning dinner here, however, as at the time of writing, the restaurant was closed.
2. JW Marriott Desert Springs Resort and Spa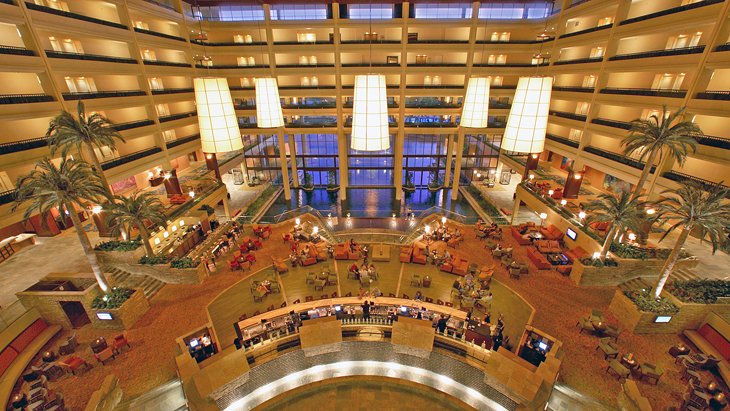 The resort's accommodation buildings surround a large, central outdoor space, which has streams flowing through it. Here, you will find exotic birds, like cockatoos, black and white swans, and ducks. In front of the main entrance, Flamingo Island is home to the resort's flock of pink Chilean flamingos. The lakes and streams are home to koi and other types of fish.
3. Renaissance Palm Springs Hotel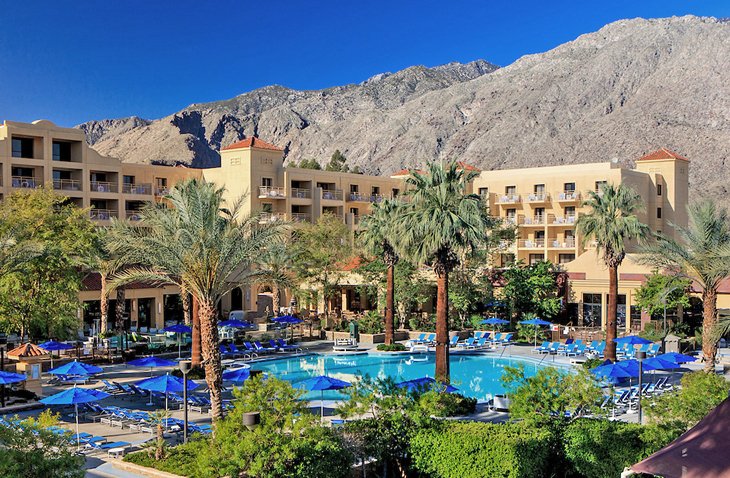 The hotel's Spa Del Sol offers massages, along with facials and beauty and body treatments. There's an enormous, heated outdoor pool (they claim it's the largest in Palm Springs), with a poolside cafe and cabanas for rent. There's a separate kiddie pool and a big sand box. There's also a big Jacuzzi spa next to the pool.
4. Margaritaville Resort Palm Springs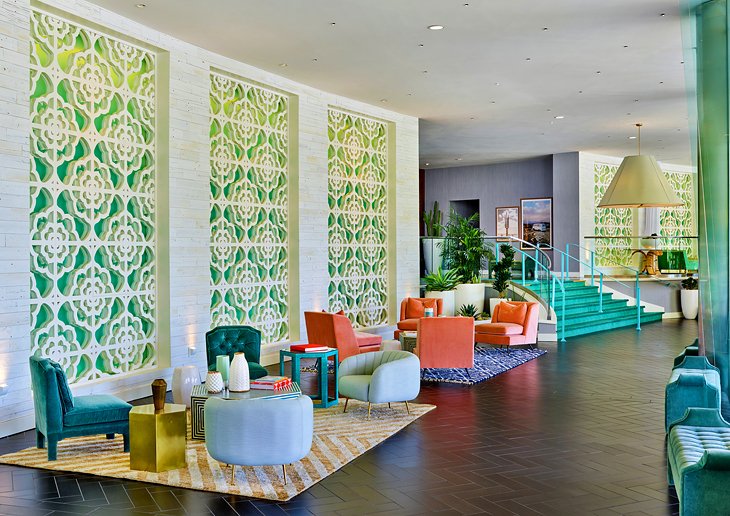 This is a true luxury resort, set on 24 acres of lushly landscaped grounds, lined with pathways. There are two enormous swimming pools and a range of fun activities for adults and families. It's probably the best family resort in the downtown area.
Margaritaville has four different dining options on the property and a fifth that is set to open soon. The new restaurant will be called the JWB Grill, named for Jimmy Buffet. It will feature fine dining, serving everything from coastal cooking to prime aged steaks.
Best Hotels in Downtown Palm Springs
Most of the shopping, dining, and resort area of downtown Palm Springs is focused on a two-mile-long area, roughly bordered by Palm Canyon Drive and Indian Canyon Drive to the east and west, and Vista Chino and Ramon Road to the north and south. Many visitors prefer to stay in this downtown area so they can walk to most of the things they want to see and do.
1. Kimpton Rowan Palm Springs Hotel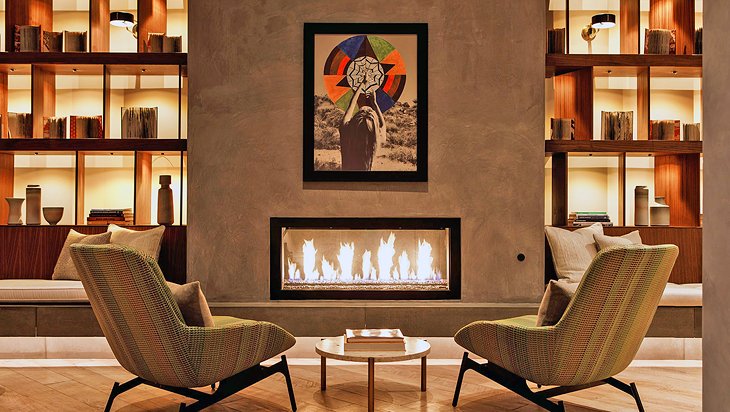 2. Hyatt Palm Springs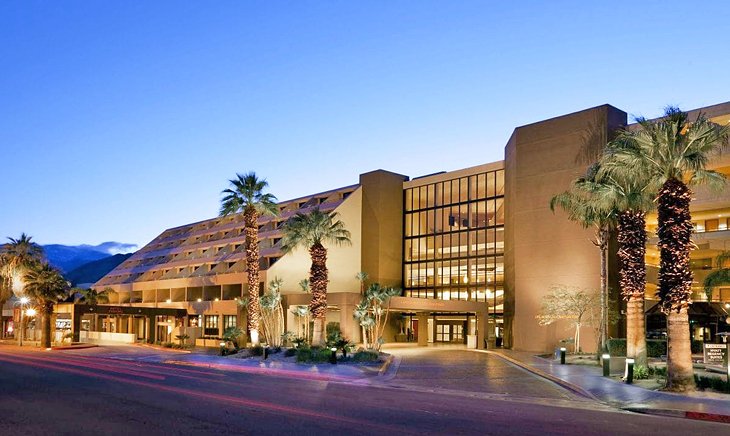 There's a large, outdoor heated pool, and you can book a cabana suite, rooms with private patios that lead right to the pool deck. All the suites have private patios, and some face the mountains behind the hotel. The suites have pullout sofa beds in the living rooms so they can accommodate four people. There's no spa but in-room treatments are available.
More Related Articles on PlanetWare.com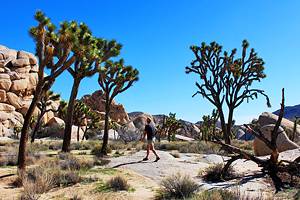 Palm Springs and Nearby Attractions: Plan out your time in Palm Springs with the help of our Top Tourist Attractions in Palm Springs article. If you have time for a day trip, don't miss a chance to explore the highlights of Joshua Tree National Park, less than an hour away.