12 Best Resorts in the British Virgin Islands
We may earn a commission from affiliate links ()
Steeped in the exceptional beauty of the Caribbean Sea, the British Virgin Islands (BVI) are a collection of about 50 islands, with hotels and resorts for all budgets and styles of traveler awaiting your exploration. The largest island is Tortola - but if you want to find a hidden gem, don't stop your search there. If you'd like to do a little island hopping, you'll certainly have the chance.
Across this stunning island collection, you'll find resorts of every stripe, from super luxurious to stripped down budget-friendly accommodations to the most remote destinations, where it's just you, your loved ones, and the beach – and hardly anyone else standing between you and relaxation.
Depending on which resort and island you choose, you're sure to find friendly hospitality, mouthwatering Caribbean cuisine, and inviting beaches. From family-friendly to pet-friendly resorts and romantic couples' getaways, plan your next Caribbean vacation with our list of the best resorts in the British Virgin Islands.
1. Rosewood Little Dix Bay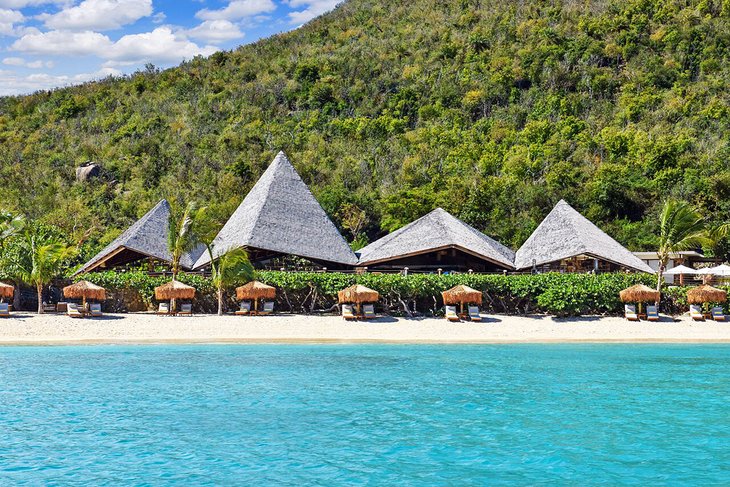 Accommodation: Rosewood Little Dix Bay
Tucked away on a half-mile of crescent beach on the island of Virgin Gorda, the iconic Rosewood Little Dix Bay has been known for "barefoot luxury" and sophistication since its founding in 1964. Though childcare is available, this resort is ideally suited for couples.

The resort has been refreshed with updated accommodations and luxurious amenities. Choose from beachfront cottages, treehouse suites, or villas. Some of these accommodations include private plunge pools, outdoor showers, and expansive patios for the ultimate in exclusive getaways.
Dining al fresco, with breathtaking views of the waterfront, is the name of the game here, and you'll have your choice of three breezy restaurants serving farm - (or sea)-to-table cuisine in a relaxed yet elegant setting, just steps from the ocean.

Treat yourself to a tour of seven private beaches on Virgin Gorda, some of which are only accessible by boat. If you're seeking calmer waters, check out the two on-site pools, including an infinity pool at the spa. Rosewood Little Dix Bay also offers meticulously groomed tennis courts and a full-service on-site spa and fitness center. Yoga and meditation sessions are offered to help guide your bliss.
2. Scrub Island Resort, Spa & Marina, Autograph Collection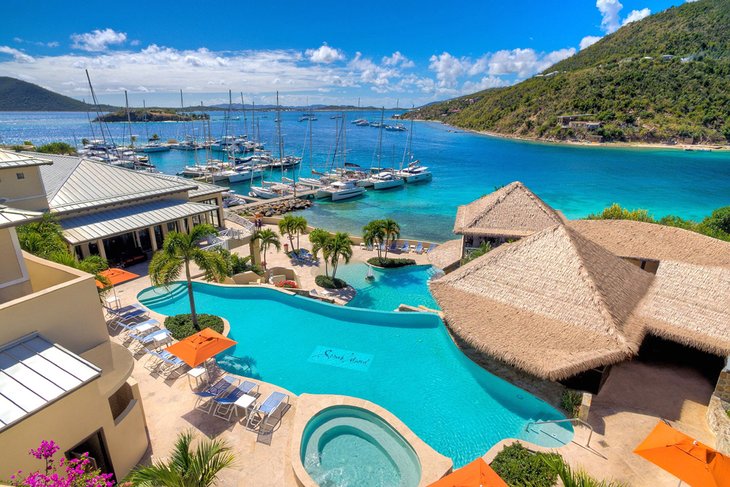 Accommodation: Scrub Island Resort, Spa & Marina, Autograph Collection
A hidden gem located on rugged Scrub Island in the British Virgin Islands, this boutique resort offers ocean-view guest rooms, one-bedroom suites, and luxurious villas nestled in the hills and overlooking the marina, which glows beautifully after dark.
Choose from four restaurants, ranging from international to American cuisine, plus a gourmet market and an open-air grill. There are three pools, including a children's pool on-site, as well as a whirlpool.

Feeling adventurous? Take your pick of boating activities, hiking the local fitness trail, kayaking or sailing, snorkeling or scuba diving. Get in a workout session at the on-site gym. Then pamper yourself with a post-workout treatment at the spa, which offers Ayurvedic treatments, including massages, wraps, and facials with views of the ocean.
3. Guana Island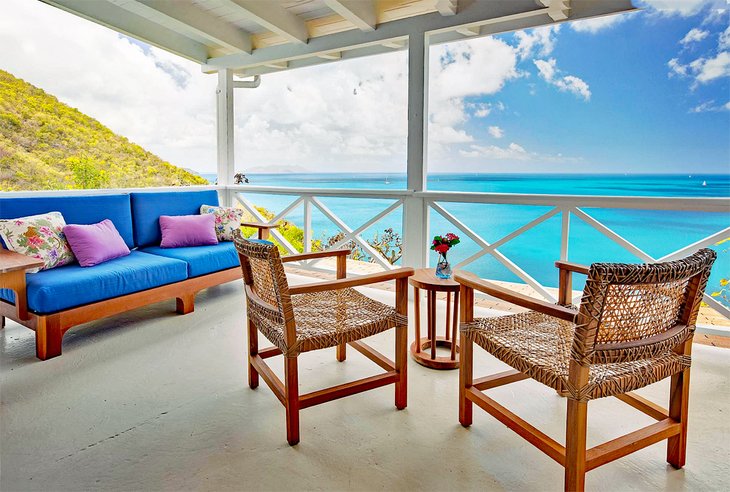 Accommodation: Guana Island
This secluded island resort is only accessible by the resort's private ferry from Tortola - giving you your very own private island retreat during your stay in the British Virgin Islands. Guana Island offers 850 acres of rugged natural beauty and seven secluded white powder beaches, which you only have to share with a few dozen guests, at most.
The resort was created in 1934 on the foundation of a centuries-old Quaker estate and offers 18 rooms and villas with views of the Caribbean Sea. All meals are included with your stay and are created by chefs using island-grown produce, fresh-baked breads, and cookies.
Spend your days hiking the dozens of trails dotting the island, relax on the deserted beaches, and enjoy the ultimate expression of "getting away from it all."
4. Wyndham Tortola BVI Lambert Beach Resort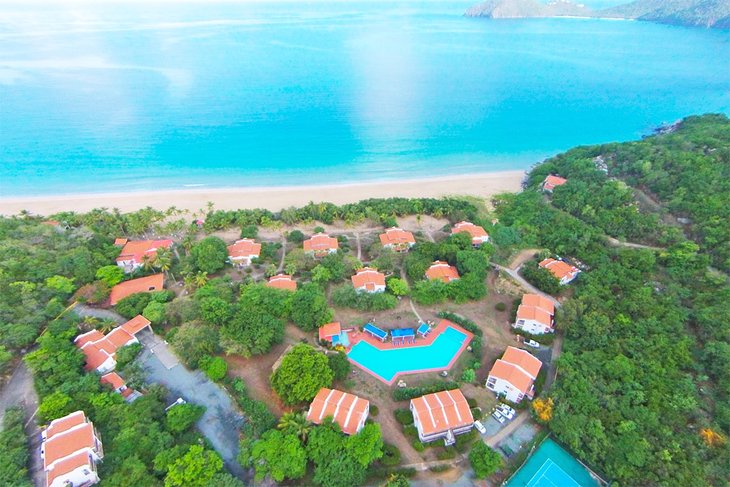 Accommodation: Wyndham Tortola BVI Lambert Beach Resort
Located on the island of Tortola in the British Virgin Islands, Wyndham Tortola BVI Lambert Beach Resort offers guests access to a perfect Caribbean beach and one of the largest pools in the islands, complete with private cabanas.
Italian-inspired rooms and suites are decorated in muted colors with romantic canopies sweeping over beds and bright pops of turquoise to complement the ocean views from Lambert Beach outside your window. Free Wi-Fi access is available, and the resort is also pet-friendly.

The outdoor pool is 170 feet long with a spacious sun deck, and there is a children's pool. The resort also offers a fitness center, on-site spa, and laundry service.

Enjoy Caribbean and Mediterranean cuisine at the understated and elegant outdoor restaurant or a quick bite to eat at the poolside café - or enjoy a private meal in your room with full room service.
5. Bitter End Yacht Club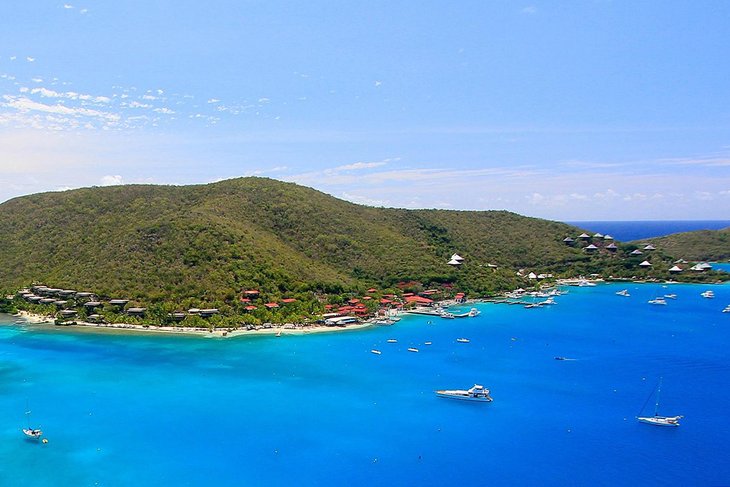 Accommodation: Bitter End Yacht Club
After being completely destroyed by Hurricane Irma in 2017, the Bitter End Yacht Club is re-opening in 2022. Accessible only by boat or seaplane, the four-star resort has over a mile of beachfront property and a laid-back vibe that has been attracting guests since the 1970s.
The property caters to boat owners, with a decked-out marina, as well as travelers just arriving on one, with its brand new Mariner Lofts. These are the only over-water bungalows in BVI and are inspired by vintage sail lofts. The wooden structures have floor-to-ceiling doors that open onto furnished patios and allow you to float right up to them in a paddleboard or kayak.
There is an on-site restaurant and plenty of activities to keep you busy. Near some beautiful coral reefs, the snorkeling and diving here is excellent. There are also opportunities to learn how to sail, windsurf, and kiteboard.
6. The Sugar Mill Hotel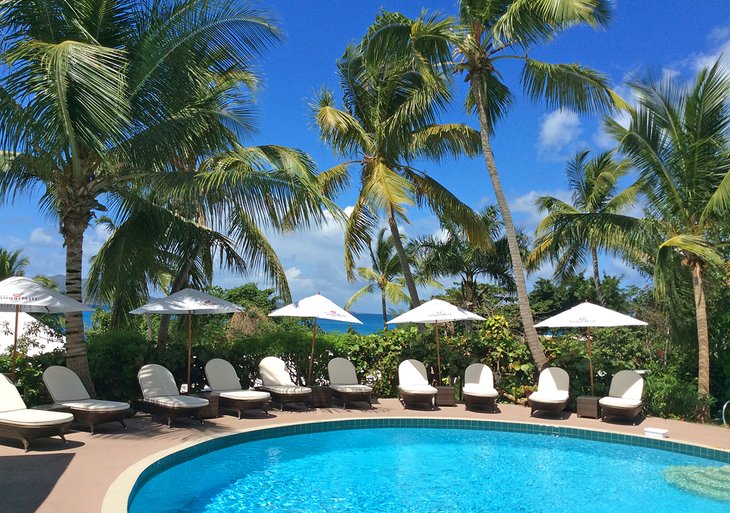 Accommodation: The Sugar Mill Hotel
Located at a 400-year-old sugar mill, the Sugar Mill Hotel is on Tortola's Apple Bay. It is a boutique hotel with just two dozen rooms, allowing guests to have an intimate getaway in the classic Caribbean style.
Each of the hotel's 24 double or twin rooms have been recently renovated, and offer views of the sea from the balcony or terrace. Rooms include refrigerators, robes, and slippers, and some include outdoor showers. Free Wi-Fi access is available.

There are two restaurants on-site, including one fine-dining restaurant and a Mediterranean restaurant situated right at the water's edge. An all-inclusive dining option is available with your stay if you wish.

Enjoy the hotel's private beach, outfitted with complimentary loungers and sun umbrellas. Other amenities include a freshwater pool on-site underneath palm trees and bordered by lush, tropical floral gardens. Take your relaxation to the next level with a scrub, wrap, or massage treatment at the on-site spa.
7. Anegada Beach Club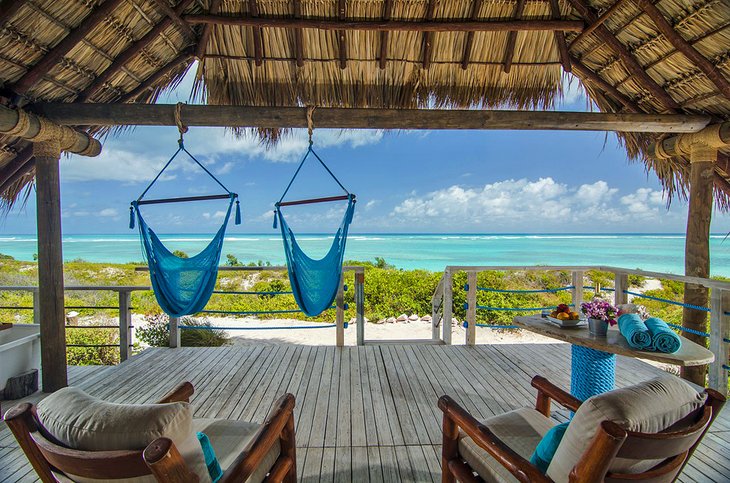 Accommodation: Anegada Beach Club
It doesn't get anymore Caribbean than this: your own private thatched-roof, palapa-style luxurious accommodations right on the beach, including outdoor bathtubs and gently swinging hammocks on your front-row seat to the exquisite turquoise sea.
Anegada Beach Club offers nine exclusive "glamping-style" Palapa Retreats and 16 standard rooms, depending on your needs. The on-site restaurant serves up breakfast, lunch, and dinner each day, including fresh-caught entrees and local Caribbean favorites. The resort offers a complimentary airport and ferry shuttle.
Want to learn a new skill? Book your adventure at the kitesurfing school located right at the beach club, where in addition to kitesurfing, you can rent stand up paddleboards, kayaks, and everything you need to enjoy a snorkeling adventure.

Elsewhere on the property, you'll find beach volleyball courts, cornhole, Jenga, and horseshoes. You can also rent bicycles and electric scooters to explore Anegada on your own.
8. Mango Bay Resort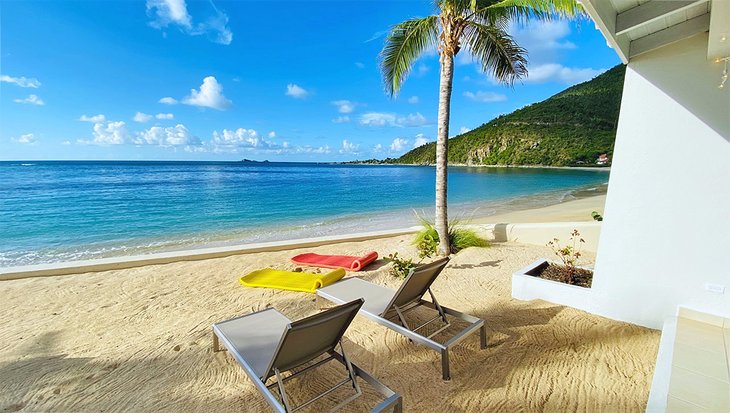 Accommodation: Mango Bay Resort
Virgin Gorda's Mango Bay Resort offers a quaint and luxurious beach vacation ideal for couples, singles, and families on four beachfront acres in the British Virgin Islands. You'll have your choice of six private villas, each nestled among lush tropical greenery - two just 30 feet from the water - and decorated in a contemporary Italian style.
Villas have one- and two-bedroom suites, which can be rented together for groups if you wish. Each has a separate living room, as well as a full kitchen and spacious bathroom. Enjoy a quiet meal or a moment of relaxation on your spacious terrace. Smaller upstairs studios have kitchenettes. Each unit includes an outdoor shower for refreshing yourself after a day at the beach.
You might want to spend your day exploring the coral reef barrier that surrounds the resort's beach - go snorkeling, sailing, or kayaking here for spectacular underwater landscapes. Snorkeling equipment, beach mats, and kayaks are available for guest use for free. Or take a hike along the trails that snake through the surrounding hilltops.
Other excursions, such as scuba diving, fishing trips, and Jeep rentals, can be arranged through resort staff. You can also arrange for an en-suite spa treatment, such as a massage, pedicure, or manicure, in the comfort of your guest room or villa.
9. Myett's Garden Inn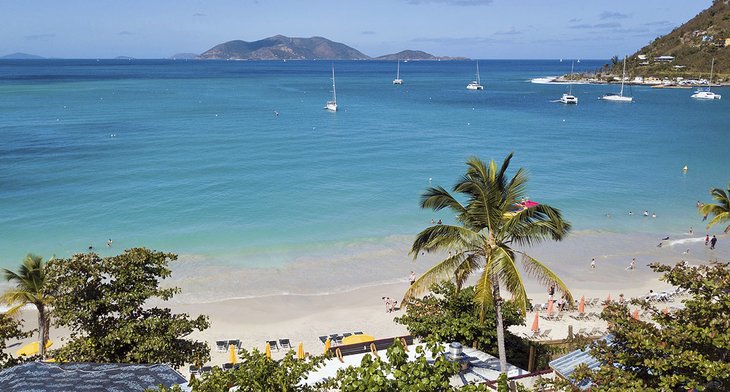 Accommodation: Myett's Garden Inn
Renovated in 2018, Myett's Garden Inn is situated on Tortola in the British Virgin Islands, with views of Cane Garden Bay right outside your window. Comfortable and laid-back, this inn is a great getaway for couples and family travelers. Suites are open and spacious, with wood-beamed ceilings and rustic tile floors.
The casual and colorful Caribbean restaurant on-site has been a local favorite since it opened in 1992, with a menu chock-full of fresh grilled entrees and vegetarian items. Music and live entertainment are scheduled many days of the week.
An on-site spa offers luxurious treatments in your choice of environment: private room or open air by the beach, using locally-produced coconut oil. Myett's Garden Inn also offers two on-site gift shops. The concierge can help arrange local tours, fishing trips, and water sport rentals.
10. Saba Rock Resort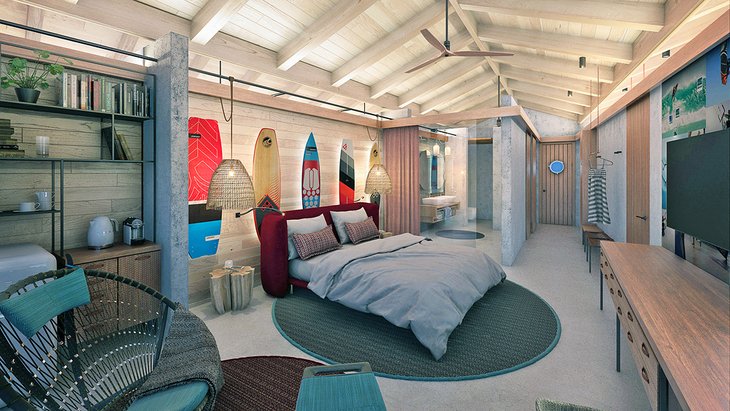 Accommodation: Saba Rock Resort
Completely rebuilt following Hurricane Irma in 2017, Saba Rock Resort has retained its irresistible offbeat charm that has drawn so many travelers here since the first "Bohemian Sabarockans" of the 1960s.
This Virgin Gorda resort offers seven "beach chic" guest rooms and two island suites decorated in a surf motif - all completely renovated, and all with spectacular sea views. An all new open-air restaurant offers fresh catches and grilled-to-order lunch and dinner entrees. There's also an on-site boutique with Saba Rock branded logo wear.
Guests can explore the underwater terrain as well, renting equipment from the on-site dive shop. Or try your hand at kiteboarding. Be sure to keep your ears open for a fun pirate or dive story - and be prepared to take your own stories home in the form of lasting memories.
11. Maria's by the Sea

Accommodation: Maria's by the Sea
Located in the capital of the British Virgin Islands, Road Town, Maria's by the Sea offers a convenient location to town services and shopping, as well as inspiring views of the harbor and Sir Francis Drake Channel.
This locally owned boutique hotel offers free Wi-Fi and an on-site business center. Budget-friendly accommodations include refrigerators and private balconies.

A restaurant serves Caribbean and international cuisine specialties for breakfast, lunch, and dinner with panoramic views of the sea.
Hop on an island ferry - just a three-minute walk from the hotel - to explore nearby islands such as Anegada, Virgin Gorda, and St. Thomas.
12. The Heritage Inn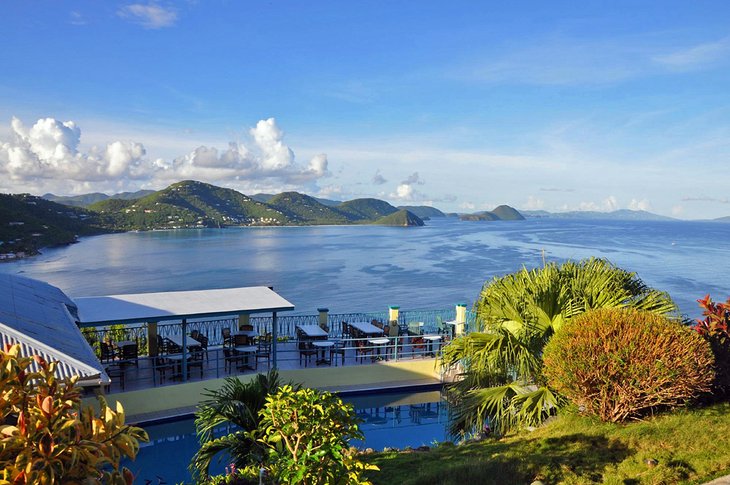 Accommodation: The Heritage Inn
Located on Tortola's north side on Carrot Bay, the Heritage Inn offers a quiet getaway for couples or families with amazing, 180-degree sunset views of three different bays, in addition to 11 islands and cays.
The locally owned inn has six one-bedroom suites and three two-bedroom suites, each with a private balcony, full kitchen, living room, and separate sleeping area.

While the Heritage Inn doesn't offer the full-service amenities of some of the larger resorts in the British Virgin Islands, travelers love the secluded and laid-back island vibe of this destination.

Go for a dip in the on-site pool and enjoy a quiet meal on the poolside veranda with chef-prepared cuisine from BananaKeet Cafe - and don't forget to catch as many sunsets as you can.