Where to Stay in Brussels: Best Areas & Hotels
We may earn a commission from affiliate links ()
Tourists will find the highest concentration of attractions within the Old Town, Brussels' historic center, which is split into the Upper Town (Haut de la Ville) and Lower Town (Bas de la Ville). This is the best place to stay in Brussels if you want to be in the heart of the action.
Those who prefer to explore on foot will want to find a hotel within walking distance of the Lower Town's Grand Place (Grote Markt), home to landmarks like the Town Hall and Guild Houses. The Lower Town is also where you will find other well-known old town attractions, including the Manneken Pis and Saint-Michel Cathedral, as well as some of the city's best restaurants and plenty of shopping.
Adjacent to the Grand Place, straddling the Upper Town is the compact Ilot Sacré (Sacred Isle) neighborhood, known for its numerous restaurants and the Mont des Arts museum complex. The eastern section of Upper Town has become known as the European District, thanks to the European Union buildings, and this area is home to several beautiful parks, including Parc Leopold and the Parc de Cinquantenaire.
The upper town neighborhood of Sablon sits to the south of the city center and is known for its picturesque Gothic architecture and narrow streets. Sablon is also where you will find most of Brussels' fine chocolatiers, as well as many antique shops. Beyond this is the Marolles district, a traditionally working-class neighborhood, where tourists can find authentic restaurants and markets. Those looking for an upscale shopping and dining district can travel from here down Avenue Louise, which separates the suburban Uccle and Ixelles neighborhoods.
Public transportation is a great option for those who choose to stay a little farther from the center or want to visit the outlying attractions and museums. Those who are driving should be aware that parking is scarce in the center of town and is often not included in room charges in the more popular tourist areas.
On This Page:
Where to Stay in Brussels for Luxury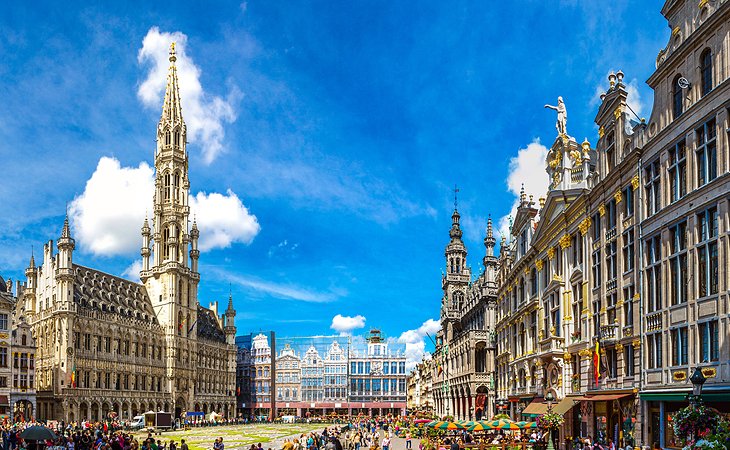 In an ideal spot in the Lower Town, just three blocks to Grand Place and less than two to the Manneken Pis, the Hotel Amigo has modern, spacious rooms that are individually decorated. Available services include babysitting, room service, airport transportation, turndown service, and an excellent in-house restaurant that serves breakfast. Guests are welcome to use the large and well-equipped fitness center or get in some cardio by climbing the impressive spiral staircase that rises up the core of the building.
The Hotel - Brussels puts a hip spin on luxury lodgings with its aura of modern sophistication in the common areas and guest rooms. Located in the Upper Town's Sablon neighborhood, it is known for its excellent views of the city. The hotel is just a two-minute walk to the Jardin du Petit Sablon and less than five minutes to the Place Royal and other prime old town attractions. The hotel has a trendy gourmet restaurant and a chic spa and offers airport transportation, concierge service, and a fully equipped business center.
Also in the center of the Sablon neighborhood, just next door to the Fine Arts Museum and only minutes from the Parc de Bruxelles, NH Collection Brussels Grand Sablon offers four-star service and amenities. Housed in a freshly remodeled historic building, guests can enjoy bright and spacious rooms with modern décor and conveniences like coffee and tea service, desks, mini-fridges, and safes. Paid on-site parking is available, and the hotel has a restaurant, as well as shopping.
Those looking for a quieter neighborhood might enjoy the Tangla Hotel Brussels, located on the eastern outskirts of the Upper Town, near the university, in the Woluwe-Saint-Lambert neighborhood. Although a five-star property, the rates at this Asian-themed hotel are very reasonable. It is best known for its breakfast buffet, which includes specialties from the hotel's Chinese restaurant.
Where to Stay in Brussels: Mid-Range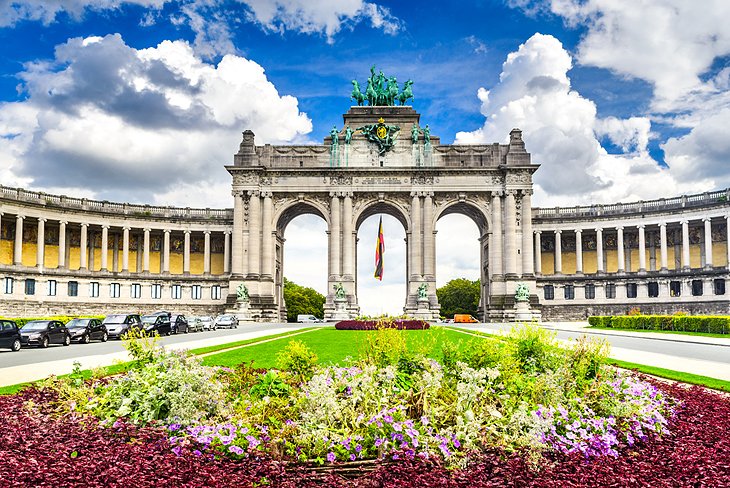 Conveniently located in the central European District, Thon Hotel EU is right on Rue de la Loi, between the Parc de Bruxelles museum complex and the Parc de Cinquantenaire. This reasonably priced hotel has a fun, quirky feel, with colorful accents that pop against the clean, modern architecture. Rooms and suites are spacious, furnished with safes and mini-fridges, and property amenities include an on-site restaurant with room service, a fitness center, and parking.
Just three blocks from the Parc de Bruxelles and Place Royal, the Marriott property Courtyard Brussels EU is a reasonably priced hotel with a simple design and modern amenities. It is ideal for anyone who wants dependable service and quality combined with a good location between the Ilot Sacré and the European District, especially business travelers who want to spend some time sightseeing. Amenities include a fitness center, a restaurant that serves breakfast, and secure underground parking on-site.
The guest rooms at Motel One are ultra-modern and efficient, and there are several beautiful public spaces, including a terrace patio with cozy dewdrop-shaped nooks. This hotel is conveniently located in the Lower Town near the train station, just two blocks from the Saint-Michel Cathedral, five minutes by foot to the Belgian Comic Strip Center, and about 10 minutes to the rest of the city's prime sightseeing.
The Aloft Brussels Schuman Hotel is in the European District, and although it is a bit farther from the center of the old town, it is convenient to several attractions, including Parc du Cinquantenaire, Autoworld, the Museum of Natural Sciences, and the Royal Museum of the Armed Forces and Military History. This trendy technology-focused hotel is designed for younger travelers and features spacious rooms and public spaces equipped with social games like pool and foosball.
Where to Stay in Brussels on a Budget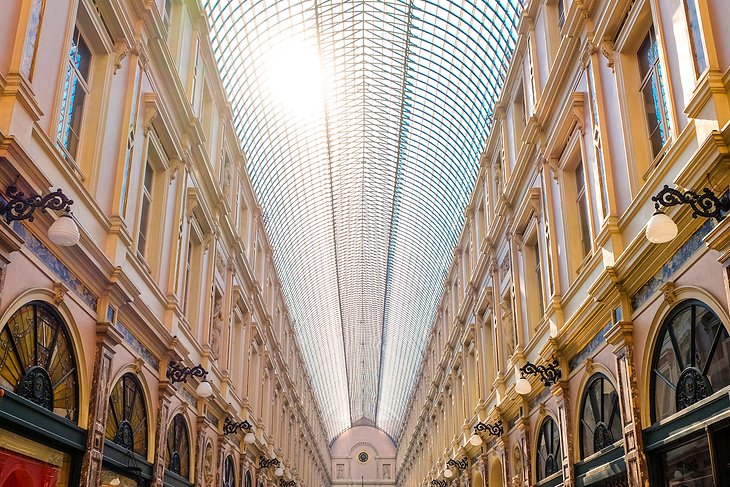 Young travelers will appreciate the prices at the MEININGER Hotel Bruxeeles City Center, a clean and modern hostel-style lodging that features a guest kitchen and prides itself in being carbon-neutral. It is located on the outer edge of the Lower Town, about a 20-minute walk or a short bus ride to the city center and sits on the Bruxelles-Charleroi Canal, next door to MIMA & La Fonderie Bruxelles museums.
The inexpensive, family-operated Hotel a la Grande Cloche provides surprisingly spacious rooms that are bright and spotless, some of which have private baths. It is located in the southern region of the Lower Town, and the city center is easily accessible via the nearby bus or metro; alternately the Grote Markt and other central sights can be reached by a fifteen-minute walk, and the Manneken Pis is only four blocks away.
Despite its reasonable prices, the easyHotel Brussels City Centre is centrally located in the Lower Town, around 10 minutes by foot to the main sightseeing attractions and just two blocks from the Comic Strip Museum. It has snug but impeccably clean guest rooms that all have a private bath. Facilities are modern, including dedicated USB charging outlets for electronics.
Where to Stay in Brussels for Families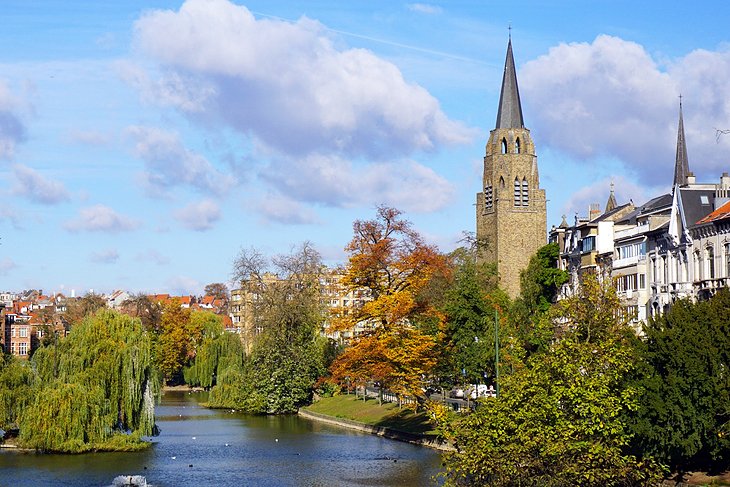 Families looking for an upscale retreat will love Made In Louise, a family-run boutique hotel in the Ixelles neighborhood, close to the shops and boutiques of Avenue Louise. The breakfast spread has fresh-baked bread, Belgian waffles, as well as several good gluten-free options, and there is a small market in the lobby.
There are family rooms, plus plenty of comfortable common areas, like the lounge, a games room with board games and a pool table, and a lovely courtyard with a giant chess set. Babysitting is available for parents who want some time to themselves.
The FunKey Hotel has a name that sums it up well - the place is funky indeed, and kids of all ages will love it. Brightly colored carpeting in primary colors, and architecture with clean lines gives the hotel a modern but playful feel. The activity room has something for everyone, with board games, foosball, a keyboard, video games, and a vending machine.
Family rooms come with a kitchenette, and there is a guest kitchen that anyone can use. Breakfast is complimentary, as are snacks and beverages for the whole family at any time.
The hotel is located north of the Upper Town in a suburban area, perfect for those traveling by car. Parking is included, and the property is close to a grocery store and a bus stop that can get you into the city center in 10 minutes.
In a great location on the colorful Jourdan Place next to Leopold Park in the heart of the European quarter, Sofitel Brussels Europe is an elegant 5-star property that is also family friendly. The rooms and suites have a contemporary vibe with lots of windows. They are also quite spacious. If you are traveling with older kids, there are interconnected rooms available here.
The Sofitel is also dog friendly. There is a restaurant on-site, as well as a fitness center, steam room, and a sauna.
Where to Stay in Brussels for Romance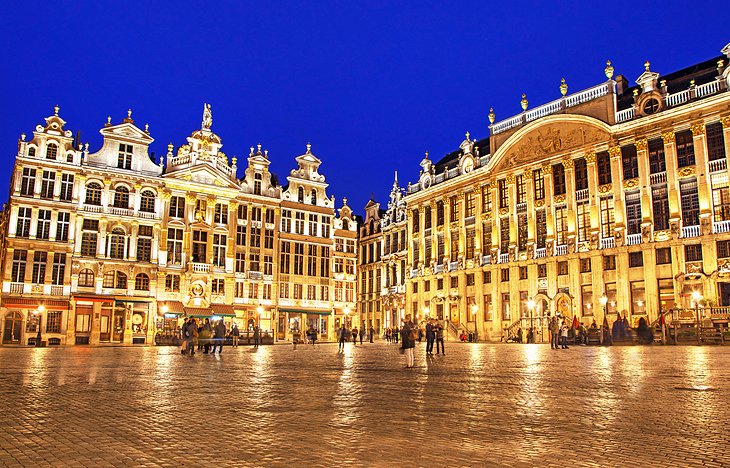 Just outside the city center in a safe, quiet neighborhood in the southern end of the Lower Town, the four-star Pillows Grand Hotel Place Rouppe is just a five-minute walk to Manneken Pis and 10 minutes to Grand Place. There is a gourmet restaurant on-site and there are several good restaurants nearby to choose from.
Décor is modern but chic, with tastefully decorated rooms that include a wireless sound system, Nespresso machine, and luxurious marble bathroom. The hotel also features a new state-of-the-art fitness center and spa.
For a more laid-back romantic getaway, seclusion-seekers will adore the MAS Residence. This boutique hotel is only a fifteen-minute walk to most main attractions but is located in a tranquil part of the Upper Town, between the Mont des Arts museum complex and the Square Ambiorix.
There are small grocery stores nearby for those who want to take advantage of the kitchen that comes standard with all suites. Rooms are spacious, with high ceilings, and decorated in a way that perfectly merges the old and the new.
For a boutique romantic hotel experience try the luxury Stanhope Hotel Brussels by Thon Hotels. It has a beautiful interior garden surrounded by ivy-covered walls and is inside a turn of the 20th-century Brussels residence. Rooms and suites have period decor and cozy touches like fireplaces. The location between the European Quarter and the historic city center, with the Royal Palace just a few hundred feet away, is also ideal.
More Related Articles on PlanetWare.com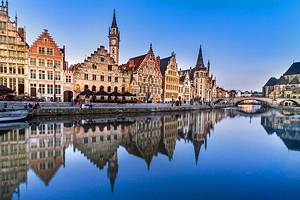 Exploring Belgium: Once you've found a place to stay, you can relax and take some time to explore the top attractions in Brussels. If you are planning on seeing more of the country, be sure to have a read through our list of top attractions in Belgium. Some of the most popular cities for tourists include Bruges, Ghent, and Antwerp.