9 Best Resorts in the Exumas
Everything is better in the Exumas. The sky is a more vibrant blue, the water a more translucent turquoise, and the sand a softer white. A collection of 365 secluded cays, this serene Caribbean destination is the ideal vacation spot for those looking to escape to a quiet, uncrowded slice of paradise. With a handful of top resorts welcoming visitors, it won't be hard to find a place to settle in.
Whether you're searching for an all-inclusive, family-friendly resort with a pool, or a luxurious adults-only escape filled with romance, you'll find it in this Bahamian masterpiece. Since this is the Exumas, your resort will most likely be on the beach, which is a huge plus considering how impeccable the sand and shallow waters are in this region.
Before you go, find the perfect place to stay with our list of the best resorts in the Exumas. Don't forget to pack sunblock!
1. Fowl Cay Resort, Fowl Cay Island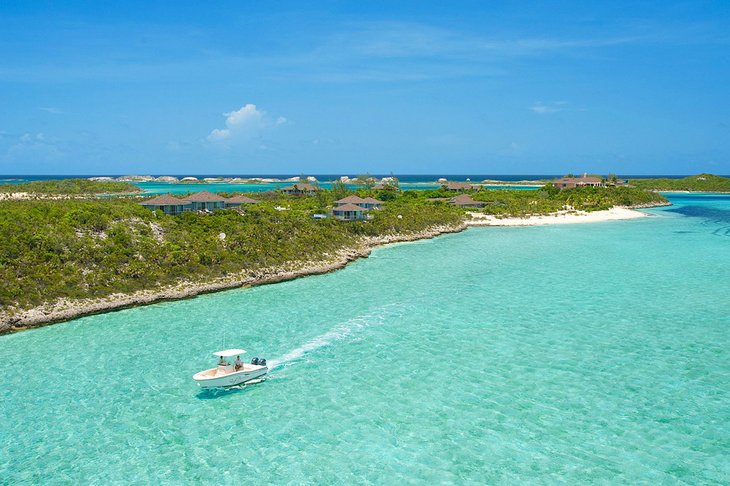 Accommodation: Fowl Cay Resort
Ever wanted to feel like a celebrity? Plan a stay at the five-star, Diamond Award-winning Fowl Cay Resort, an intimate retreat set on its own private island. There are only six villas spotted throughout this lush 50-acre resort. That means you won't have to elbow your way for a spot on the beach in this exclusive locale, and the luxurious villas are so splendid, you'll immediately feel like an A-lister.
The one-, two-, and three-bedroom villas are stunning. They feature open-plan living rooms with remarkable ocean views, a fully equipped kitchen, private patios, and something you're not likely to find offered at any other resort: a personal motorboat. What better way to explore the neighboring cays and islands than by boat? Guests are also granted golf carts to help them explore the island.
Breakfast is prepared by you and enjoyed in your villa (don't worry, the food is stocked in your unit). Fresh fruit and pastries are delivered to your villa daily between 8 and 8:30am. Lunch consists of a packed picnic to take on your excursion, or a meal at the Hill House Restaurant. This is also where you can enjoy a tasty dinner. All meals are included in your stay.
Hill House is where you'll find the resort's freshwater pool and exercise room. You'll also find tennis courts, kayaks, sailboats, snorkel gear, water skis, fishing gear, paddleboards, and kayaks on offer.
Address: Fowl Cay Island, Great Exuma, The Bahamas
2. Sandals Emerald Bay, Great Exuma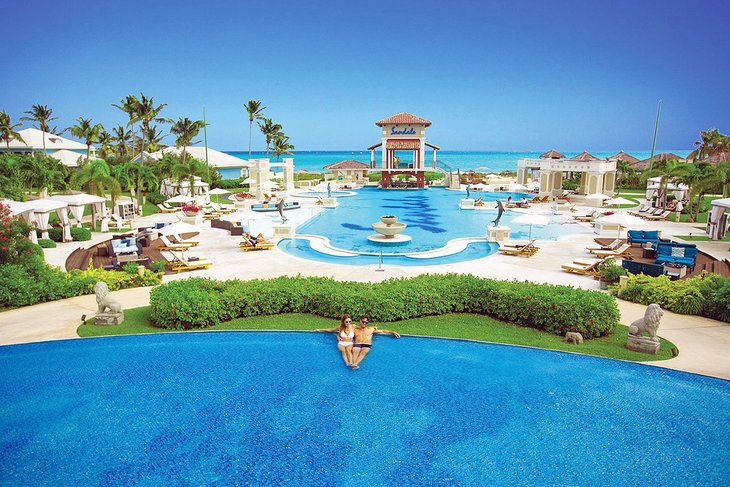 Accommodation: Sandals Emerald Bay
Sandals Emerald Bay is an all-inclusive, adults-only paradise where your greatest daily decision will be whether to lounge by the pool or relax on the beach. You'll be happy you chose this plush five-star retreat geared towards those who like to lap up luxury with a side of Bahamian charm.
Rooms include upscale villas and suites set among the tropical gardens that line the immaculate, mile-long beach. If you're looking to up your vacation game, choose the two-story, one-bedroom butler villa suite. It includes a private patio, floor-to-ceiling windows, a personal pool, direct access to the beach, and 24-hour butler service. There's also a large living room, dining room, and den.
There are 11 restaurants to choose from, which means you'll never get bored of the cuisine no matter how long you stay. Feel free to order seconds since all food is included. We'd advise booking a reservation if you're visiting during high season.
The number of activities offered at this resort seems endless, and all are included with your rate. Whether you want to become PADI® Certified at scuba diving, head out on a sailing adventure, windsurf, play tennis, or enjoy a round of golf, you can do it all right here. Did we mention there's a top spa on the premises? You're never going to want to leave!
Address: Queens Highway, Great Exuma, The Bahamas
3. Grand Isle Resort & Residences, Great Exuma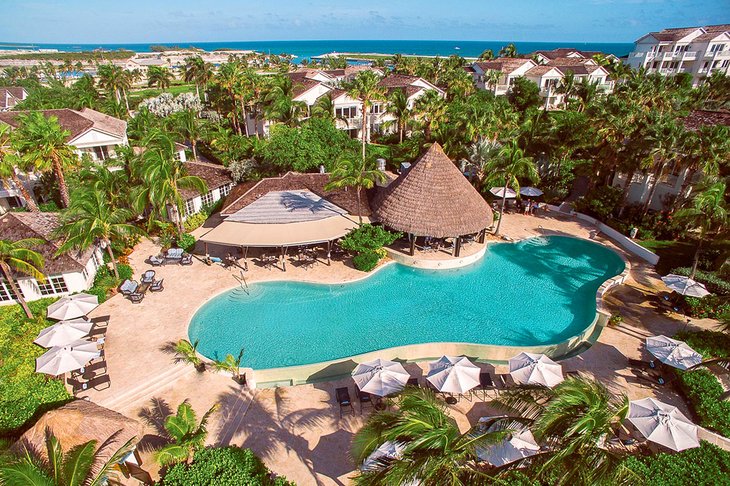 Accommodation: Grand Isle Resort & Residences
It's easy to see why the Grand Isle Resort & Spa on Great Exuma has been dubbed one of the best resorts in the Bahamas. Set on the pristine sandy shore of Emerald Bay, there's little to dislike about this AAA Diamond Award-winning luxury property.
Guests are housed in bright and airy villas, which feature a private terrace, gourmet kitchen, large dining room, custom-designed furniture, and up to four bedrooms. Choose from an ocean or garden view, and rest assured that as soon as your head hits the plush pillow, you'll be in for the most relaxing sleep you've had in a long while.
If you don't feel like cooking, don't worry. You're on vacation after all. Order a custom menu prepared by the resort chef, or grab a bite in one of the resort's restaurants. Take a break from the ocean fun to play a round of golf, luxuriate in a seawater-infused treatment at the award-winning spa, or float in the infinity pool.
Address: Emerald Bay, Great Exuma, The Bahamas
4. Kahari Resort, Stocking Island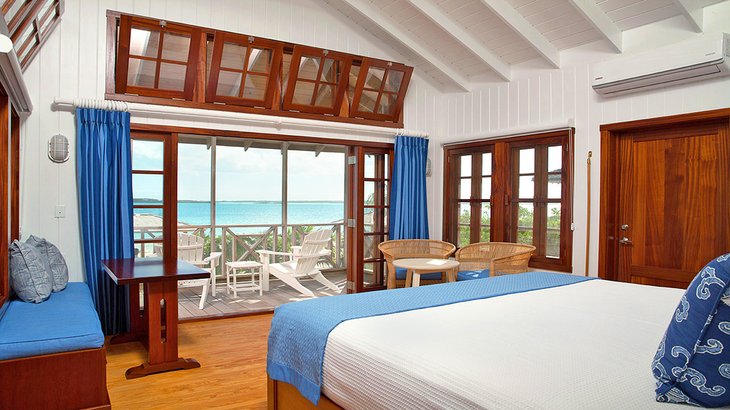 Accommodation: Kahari Resort
It's impossible to feel stressed at the Kahari Resort on Stocking Island. A luxurious and intimate retreat, there are only 12 rooms spread between six bungalows (two in each) at this pretty resort. They are all decorated with bright white walls, and accented in dark wood to evoke the tropical, Caribbean feel. Bright colors are used as accents to play off the colorful ocean views.
Each room in this eco-friendly boutique resort includes a private furnished deck, and the resort fee presents guests with paddleboard rentals, snorkel gear to borrow, access to the fitness center, and use of cabanas and umbrellas to help keep the hot sun at bay. There's also a saltwater pool, access to kayaks and sailboats, and hiking trails on-site.
Beacon Restaurant is a winner–it serves up fare as divine as its view of the sparkling Turtle Lagoon. The resort is located a five-minute boat ride away from its sister resort, the Peace & Plenty Hotel, which you'll learn more about below.
While this resort offers children's activities, the pool is small. You may find this accommodation better suited to adult guests, especially for a longer vacation.
Address: Stocking Island, The Bahamas
5. Peace & Plenty Resort, Great Exuma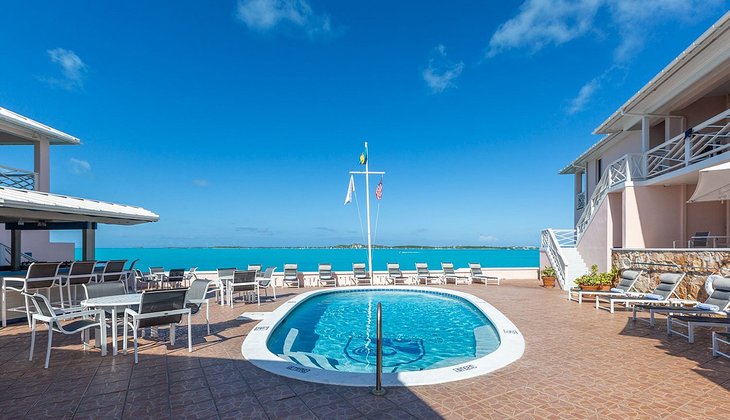 Accommodation: Peace & Plenty Resort
You'll forget you're staying at a three-star property during your stay at the Peace & Plenty Resort in Georgetown. This newly renovated Great Exuma resort is located on the soft, sandy shore.
A two-minute drive to the striking Palm Bay Beach and a mere six minutes from sparkling Hoopers Bay, this popular resort in the Exumas is perfectly located for those who like to further explore their destinations. There is one restaurant on the property, three lounges, and beach and poolside establishments that offer refreshing drinks and snacks to help ward off the heat.
With two main types of accommodations, there are plenty of options to please every type of traveler. The Hotel in Georgetown boasts 35 rooms with either a waterfront or garden view. Some come with a kitchenette, and the suites offer extra room to stretch out. They're all clean, bright, and simply decorated. They also come with private balconies that make it easy to enjoy the gorgeous views.
Across the way, on Stocking Island, you'll find five cottages that are perfect for those traveling with family or friends. With one- and two-bedroom options, those looking for romance will enjoy the extra privacy, while larger parties will welcome the extra space. Each comes with a kitchen, balcony, and living area, as well as a boat service to get you to the mainland.
Guests of the Peace & Plenty Resort are granted access to a boat shuttle to Stocking Island where they can make use of the amenities available at the Beach Club. These include paddleboards, snorkeling gear, a restaurant, a private section of beach, lounge chairs, and more.
Address: Queen's Highway, Georgetown, Great Exuma, The Bahamas
6. Saint Francis Resort & Marina, Stocking Island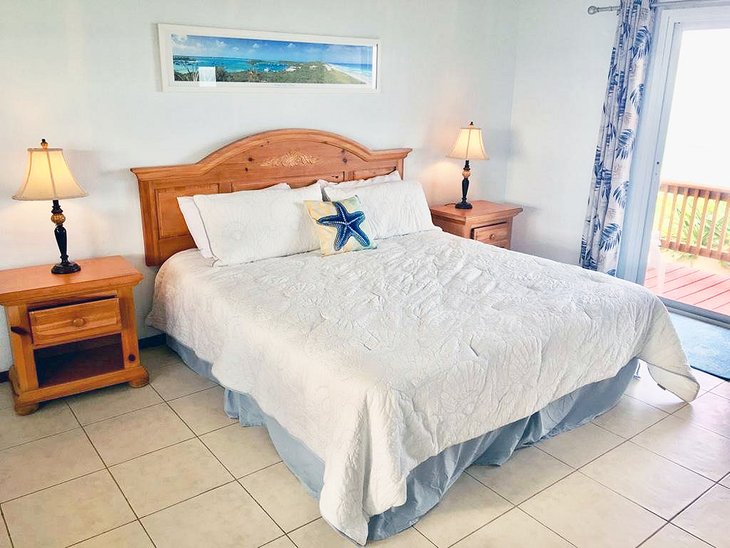 Accommodation: Saint Francis Resort & Marina
Saint Francis Resort & Marina is a fun place to enjoy a getaway in the Exumas. Friendly staff, clean rooms, and tasty food help give this all-inclusive Stocking Island resort an excellent rating by guests. The two miles of white, sandy beach and endless water activities (like sailing, scuba diving, and SUPing) help keep guests busy, while the on-site restaurant keeps them well (and happily) fed.
The resort is a 10-minute boat ride from Georgetown on Great Exuma, and boasts eight large waterfront bungalows. If you came with your own yacht, you're in luck – there's a marina and moorings attached. The fees at this three-star resort are affordable, especially since meals are included, and the rooms are large and bright.
Psst: The resort staff hope to add Houseboats (aka Aqua Villas) and Eco Glamping domes to the property in 2022).
Address: Stocking Island, The Bahamas
7. Exuma Beach Resort, Great Exuma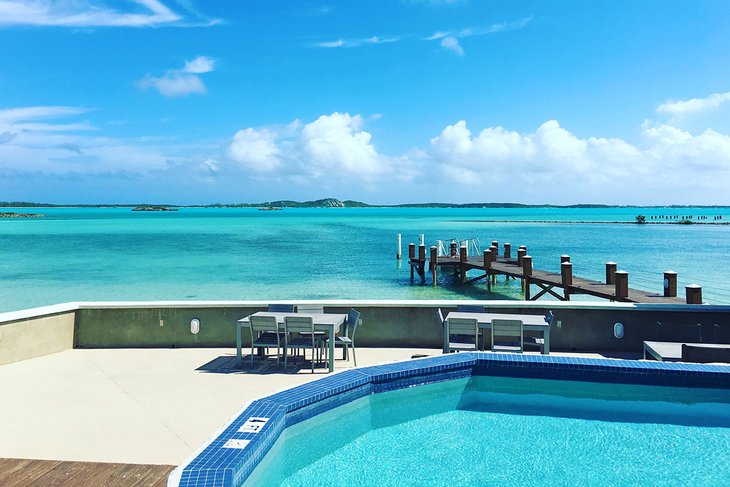 Accommodation: Exuma Beach Resort
Exuma Beach Resort is the place to be if you prefer a quiet beach vacation. This intimate resort in the Exumas is home to an outdoor pool and nine boutique rooms. It lies on the glistening Elizabeth Harbour in Great Exuma.
Although small, the resort boasts its own restaurant, Latitudes, which is open for lunch and dinner Tuesday through Sunday. With Georgetown close by, it's easy to nip into town for the other meals.
The rooms are Caribbean themed, accentuated by vibrant colors and private balconies. Hooper's Suite is just as colorful, but offers more space, including a living room with a pull-out queen-size bed. Book the Cottage if you're traveling with kids. It has a kitchen and living room with a large pull-out bed. The rooms have either a beach or garden view.
Address: Queen's Highway, Great Exuma, The Bahamas
8. Hideaways Exuma, Great Exuma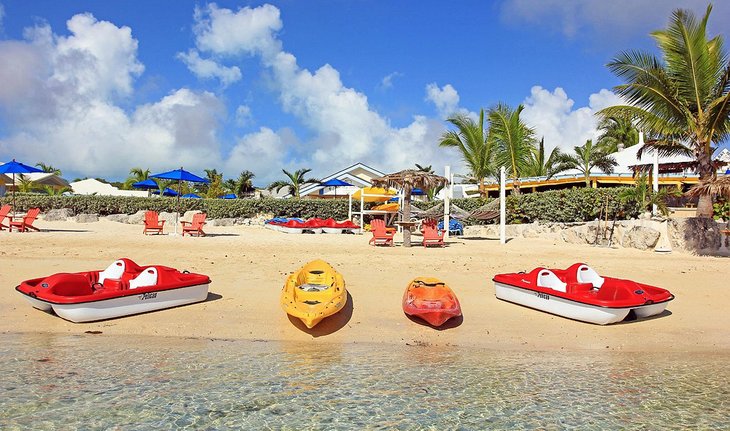 Accommodation: Hideaways Exuma
It's easy to see why Hideaways Exuma is such a popular resort in the Exumas. First, it's set on the breathtaking shore of Palm Bay. Mere steps get you to the pristine sandy beach in Elizabeth Harbour, where you'll want to while away the day kayaking, bonefishing, swimming, snorkeling, or lounging in the sun.
Second, the resort offers an array of room options to suit your every need. Whether you're flying solo and don't mind staying in a smaller studio room or have kids and choose a one-, two-, or three-bedroom villa, you're sure to find the perfect spot to rest your head at the end of the day.
The villas come with a fully equipped kitchen, private patio, dining room, and living room. The cottages come with smaller kitchenettes, a dining room, and a private patio.
If you're sick of feeling sand between your toes, head to the pool for a game of water basketball or a quiet respite under an umbrella. Splash! Restaurant is located next to the pool, so it's easy to grab a cooling refreshment and a bite to eat without having to go far.
A games room and fitness room help give you a break from the heat (or a way to stay occupied when it rains).
Address: Jolly Hall Bay at Queen's Highway, Georgetown, Great Exuma, The Bahamas
9. Exuma Palms, Great Exuma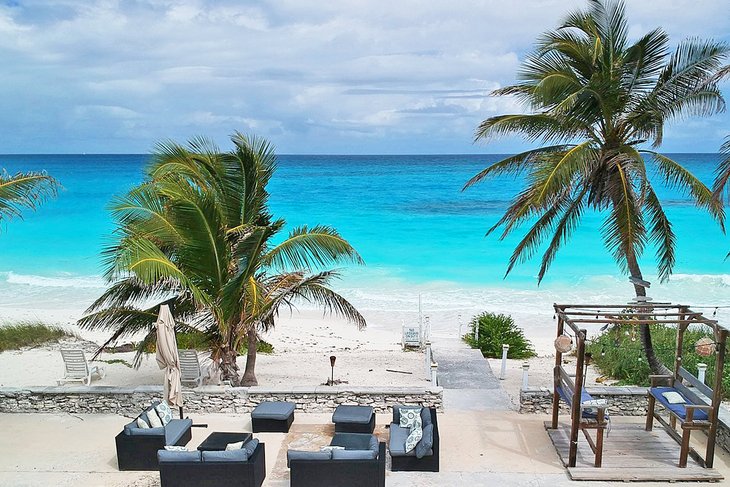 Accommodation: Exuma Palms
Not many three-star resorts have access to an on-site marine biologist, but Exuma Palms is an exception. A small and friendly resort in Great Exuma, this environmentally conscious establishment is dedicated to improving their carbon footprint and educating guests about the area's impressive flora and fauna.
This boutique resort has an on-site restaurant, a picnic area, and grills, so you can cook your own meal if you so choose. There are 12 rooms to choose from, which means the resort will never be overcrowded. They are simple, and some seem dated, but they're comfortable and have a ceiling fan and air conditioning to keep you cool.
Each room also has a fridge, microwave, private patio or balcony, and premium bedding. Bottled water is free, and there's a coffee machine in each room. This resort is super close to the airport, which makes it a convenient locale if you have an early morning flight home.
Address: Queen's Highway, Farmer's Hill, Great Exuma, The Bahamas