Where to Stay in Vienna: Best Areas & Hotels
For convenient access to the most popular sites, the inner city neighborhood and its Old University Quarter are the best places to stay in Vienna. Cheaper hotels can be found in the surrounding neighborhoods, which also have attractions and restaurants of their own.
The Neubau, Mariahilf, and Weiden districts, which extend from the city center to the southwest, are good places to look. Although more removed, Hietzing is a lovely option as well, home to the Schönbrunn Palace and its expansive grounds, as well as the zoo.
To the northeast of the city center, Leopoldstadt stretches along the Danube and has an abundance of natural areas. All of these neighborhoods are connected by both subway and tram, both of which are exceptionally efficient and safe.
Where to Stay in Vienna for Luxury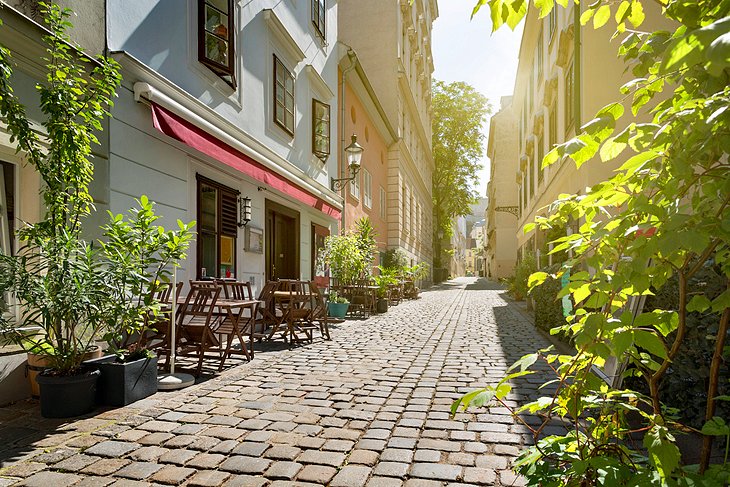 One of Vienna's top luxury hotels is the Hotel Sans Souci Wien in the Neubau neighborhood, but just a few blocks from the cute shops and cafes in the Spittelberg Quarter of the inner city. This five-star hotel has a fully-equipped fitness room and 20-meter pool as well as a holistic spa that offers a range of treatments.
Sitting across from the State Opera House in the inner city, the Hotel Sacher Wien is convenient to the popular Kaerntnerstrasse shopping district and has views over the city from its upper suites. This opulent hotel is well known for its chic spa, as well as its classic grandeur, characterized by antique furnishings and authentic décor.
Modern rooms offer the height of comfort, with amenities like radiant floor heating in the marble bathrooms and televisions integrated into the mirrors. The hotel's stylish café serves the famous Sacher Torte.
Nearby, only two blocks from Park Burggarten and the Mozart Statue and across the street from the Albertina Museum, is The Guesthouse Vienna. Modern elegance permeates the spacious apartment-like rooms, which come equipped with complimentary non-alcoholic beverages and an espresso machine. For those who want to sleep in, the in-house bakery serves breakfast all day long.
Overlooking Am Hof square on the north side of the inner city, the Park Hyatt Vienna has spacious rooms, a full spa with a fitness center and pool, as well as special children's activities for traveling families.
Fashionistas will love its proximity to Vienna's high-end shopping district, where Armani, Prada, and Vuitton display their latest styles. It is also within a ten-minute walk to some of the city's most significant historic sights, including the Imperial Palace and Treasury, the Jewish Museum, Karlsplatz, Stephansplatz, and St. Stephen's Cathedral.
Where to Stay in Vienna: Mid-Range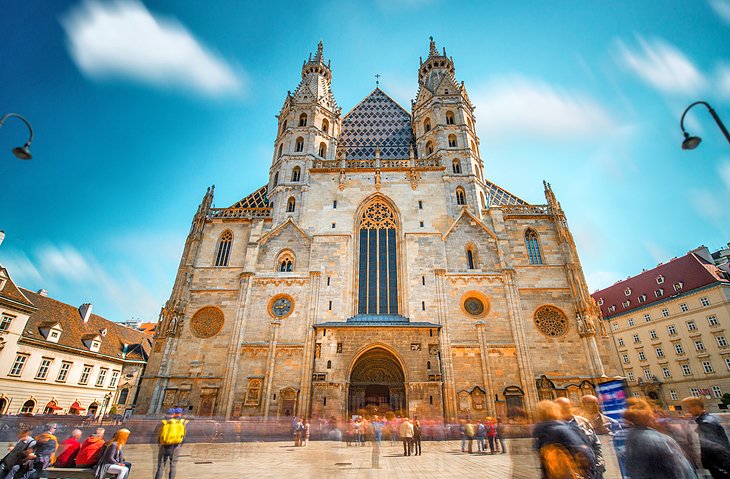 Despite its incredibly central location overlooking St. Stephen's Cathedral in the heart of the inner city, Hotel Am Stephansplatz has quiet rooms and reasonable rates while offering complimentary breakfast, a business center, and airport transportation. This four-star boutique hotel is just a block from the Kohlmarkt shopping district, St. Peter's Cathedral, and Mozarthaus Vienna.
Although the Hotel Das Tyrol is located in the Mariahilf neighborhood, it is in an ideal location by the high-end shops and cafes of the Mariahilfer Strasse pedestrian zone, as well as just a few steps from Vienna's museum quarter. This small hotel has lively art-inspired décor, spacious rooms, and a unique charm.
Just a few blocks away, the Hotel Beethoven Vienna has rooms that are modern and fun, accented with vibrant colors. Guests can help themselves to coffee and baked goodies all day and enjoy the fresh fruit and specialties sold at the Naschmarkt.
In the Wieden neighborhood near Karlsplatz Station, the Vienna Philharmonic, and several opera houses, the Hotel Kaiserhof Wien exceeds expectations. In addition to having a good selection of gluten- and lactose-free breakfast options, they also offer rooms that are allergy-friendly, specifically outfitted to help reduce exposure to irritants.
On the opposite side of the city in the Leopoldstadt neighborhood and just a few minutes from the underground stop, Der Wilhelmshof is an ideal hotel for families traveling with children. It is close to the Praterstern water park and Riesenrad amusement park, as well as other attractions like Madame Tussauds Vienna, the chocolate museum, and a planetarium.
Where to Stay in Vienna on a Budget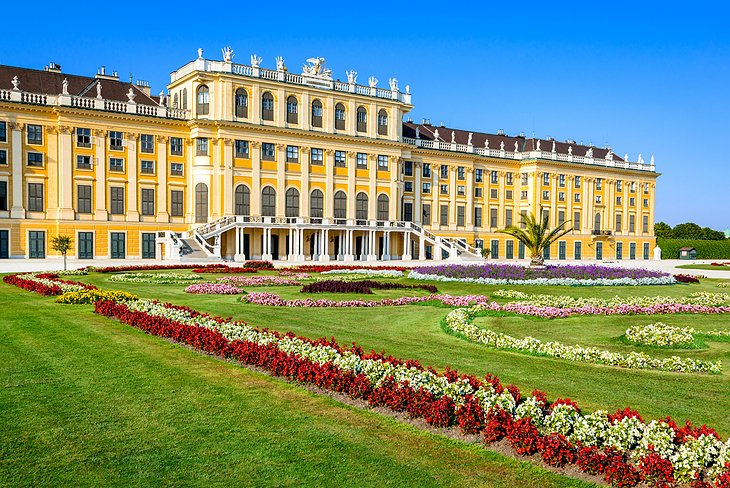 If you are looking for a cheap hotel in Vienna and don't need amenities like a pool, turn your attention to the pensions, which are generally private rooms with breakfast included.
Located a few blocks to the east of the Wieden neighborhood, next to Belvedere Palace & Museum and large natural areas, like the Alpengarten and the Botanical Garden of the University of Vienna, the Hotel Pension Bosch is convenient to several tram stops. Rooms, accented with lovely wooden armoires and classic touches, have high ceilings and are a peaceful respite from the city center.
The practical Pension Pharmador is ideal for longer stays, offering newly updated suites with kitchens, laundry, and secure parking. Located in Vienna's art district, the Neubau neighborhood, it is close to tram stops as well as restaurants, two shopping centers, and many art galleries and museums.
A bit farther out from the city neighborhoods but convenient to the metro station for easy access, the Star Inn Hotel Wien Schonbrunn, a Comfort hotel, has clean, efficient rooms with refrigerators and a supermarket next door.
In the even more removed Hietzing neighborhood, the Austria Trend Parkhotel Schoenbrunn Vienna is a good choice for those traveling with young children. Once a guesthouse for the Schonbrunn Palace, the bright, well-appointed rooms overlook the palace and expansive park, which includes a maze and labyrinth as well as the Vienna Zoo, home to several happy pandas.
Where to Stay in Vienna for Couples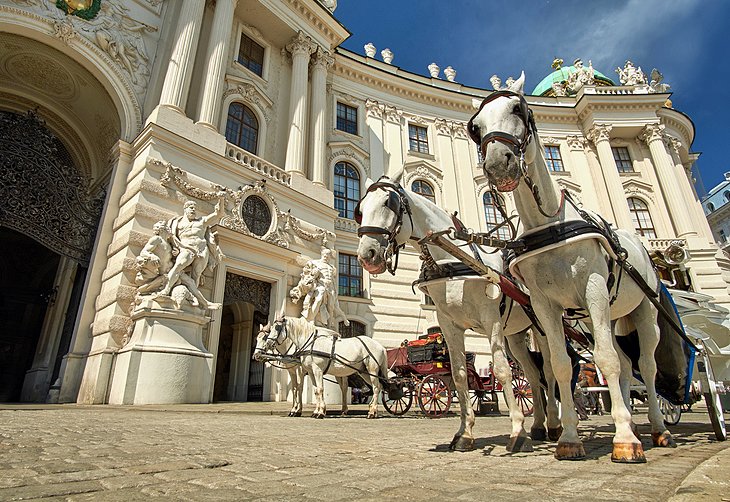 The five-star service at the luxury Hotel Imperial, a Luxury Collection Hotel, Vienna includes butler service with a stay in one of their enormous suites. Everything about the building's architecture and design is grand, with truly stunning inlaid marble floors, soaring ceilings with chandeliers, and even a red carpet. This restored Venetian-style palace is located in the inner city close to several performance venues as well as the Giesswein shopping center and several art galleries.
The Palais Hansen Kempinski is just two blocks from the lovely Hermann-Gmeiner Park, where couples can enjoy a peaceful afternoon or the excitement of the zipline. This hotel has been in operation since 1873, when it was built, but it has the best in modern amenities and updated styles, offering a fitness center, pool, and spa, as well as a full range of services, including babysitting and airport transportation.
Tucked in the historic Old University Center, the Hollmann Beletage is just two blocks from the Anker Clock and less than a ten-minute walk to St. Stephen's, Mozarthaus, and Karlsplatz. This romantic boutique hotel is in a lively area, but tucked away on a quiet side street, and has open and spacious rooms that have unique and whimsical touches. Breakfast is made to order, free snacks are available in the afternoon, and there is a stylish game lounge with chess, checkers, backgammon, and many more choices.
Where to Stay in Vienna for Families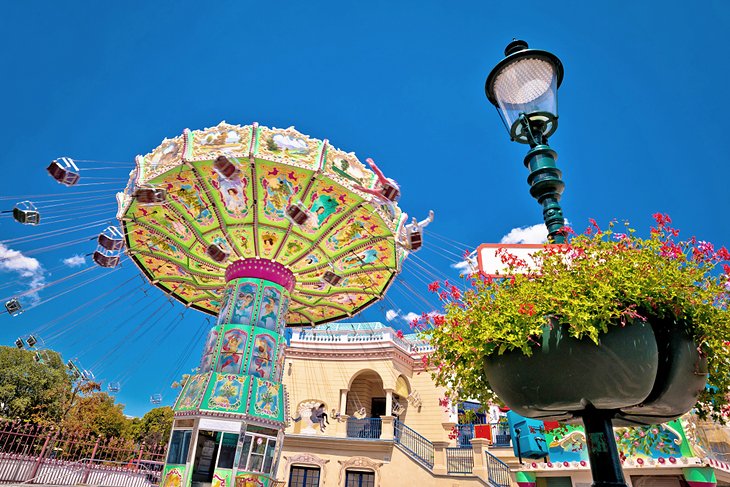 For families, the Hotel Kaiserhof Wien is inside a historic building dating back to the late 1800s. The hotel has been run by the same family for eight generations now, and the rooms and suites offer a mix of period and contemporary decor and furnishings. Parents will appreciate the free breakfast buffet. The location is great, within walking distance of a number of restaurants. There is a gym with a sauna on-site, and parking is available for a fee.
The Hotel Altstadt Vienna is another family hotel. Thi boutique property is located in the fashion forward Boboville district in central Vienna. There are 49 rooms and suites, and each is uniquely decorated with art and design in mind. Families love the apartments with kitchenettes and, in some cases, bunk beds. Regardless of what room you choose, kids under six sleep free. Other freebies include a buffet breakfast and afternoon tea and cakes.
Boutiquehotel Stadthalle is the place to stay for families looking for an eco-conscious slumber. This green hotel's best feature is its rooftop, which is filled with gardens of lavender and is a wonderful place to relax. The hotel offers three family rooms, each with a unique design, which can sleep up to four people. Breakfast is included in the rate, and parking is available for an extra fee.
For a luxury family hotel, try The Ritz-Carlton, Vienna. This five-star hotel is in a fantastic location right on the Ring Boulevard and is known for its impeccable service and wonderful style. The rooms and suites are elegant posh with super comfy beds and Nespresso machines. Suites also have kitchenettes, which parents appreciate. On-site amenities include a free breakfast in the lobby lounge, a restaurant, indoor swimming pool, swank spa, and a fitness center.
Where to Stay in Vienna near the Airport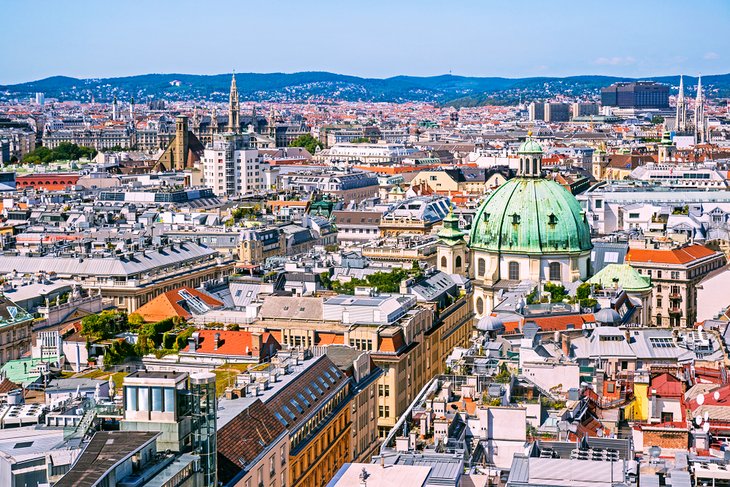 Vienna International Airport is located in Schwechat, which is 11 miles southeast of the city center. If you are arriving late at night, have an early morning flight to catch, or are just on a 24-hour layover in the city, then it may make sense to book a hotel that is near the airport. There are several options.
The NH Vienna Airport Conference Center is the nearest hotel to the airport. This 4-star property offers clean and comfortable rooms that are soundproof and come with desks and flatscreen TVs. There is a restaurant on-site, or you can order room service and not leave your bed. Other amenities include a spa, steam room, sauna, and a fitness center.
Another option near the airport is the Moxy Vienna Airport. This new hotel has a fun vibe, with high-tech rooms and comfy beds. You can order food 24 hours a day from Now 24/7 in the hotel lounge. Other amenities include a fitness center and the opportunity to arrange for a rental car.